Scrumptious grilled cheese bagel breakfast sandwich with sliced apple, pear, cheddar cheese, caramelized onions, arugula, and sunny-side up egg – a melt-in-your-mouth experience for any meal of the day.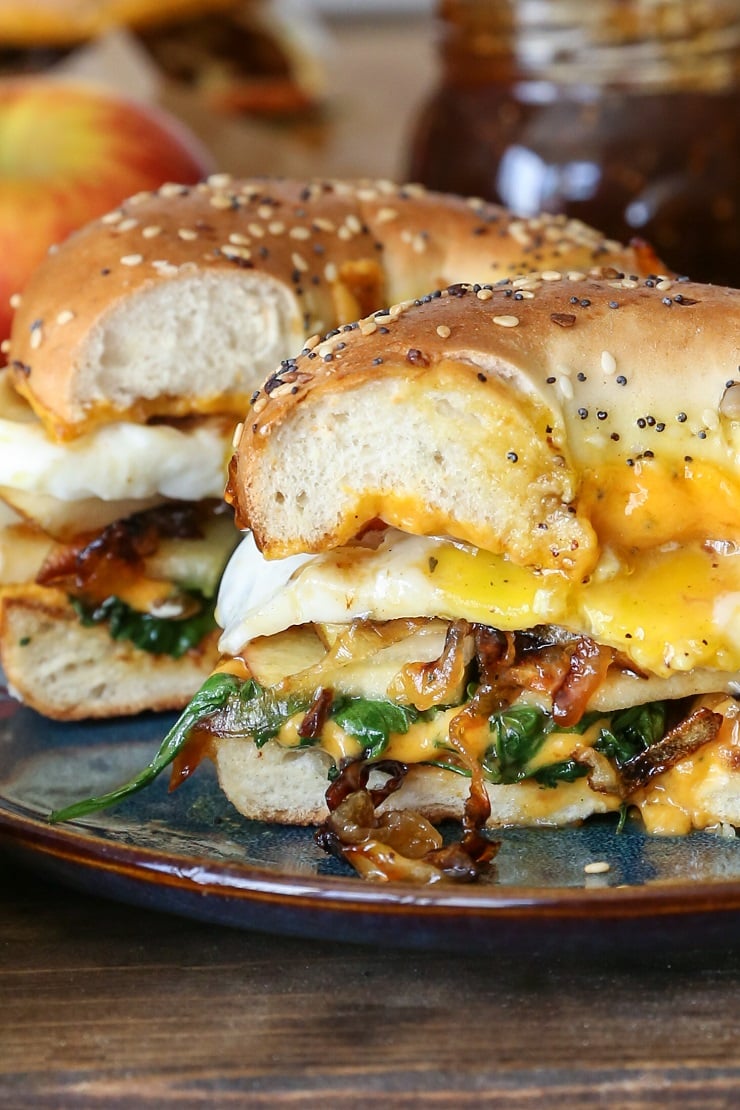 There comes a time in every person's life when he or she must throw caution to the wind, take a flying leap of faith off the trust cliff, and have confidence that his or her chute will deploy properly.
Or that your squirrel suit tear-free and ready to take flight…whichever's your choice mode of gravity defiance.
M'dear, that time is now.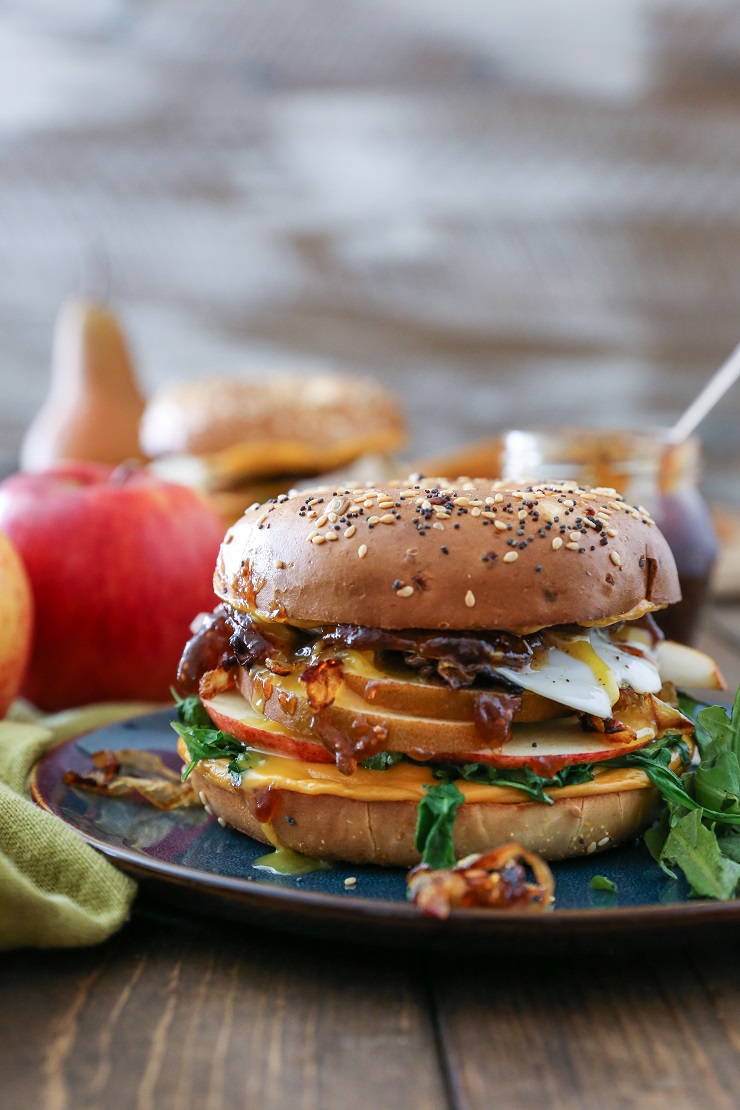 This grilled cheese bagel sandwich is about to blow your mind in the best way possible.
As you cross your arms, close your eyes, stiffen your body and intentionally fall backwards into my scrawny arms, remember that I have your best interest in mind.
With pure intentions, I give you the bagel sandwich that changed my life.
It may seem odd – combining sliced apple, pear, and cheddar cheese with caramelized onions, arugula, a sunny-side up egg, and fig jam sandwiched between a toasty everything bagel, but my darlings, it jives.
Side note: If you want to try your hand at homemade bagels, my Keto Everything Bagels made with almond flour are absolutely delicious AND easier to make than traditional bagels!
When you take a bite, it's like you're sinking your teeth into a sweet, buttery, crunchy fantasy that you can hardly wrap your mind gnomes around.
And can you just imagine using a cinnamon-raisin bagel? Ohhhhh momma, now that would just jettison us into an alternate dimension.
Let's talk cheese. Do you love the apple-cheddar combo? I certainly do!
I find apples and pears were made for pairing with cheese, and a classic cheddar always whets my whistle.
I know what you're thinking…caramelizing an onion for a sandwich seems like a lot of prep for just a sandwich.
But folks, this isn't just any sandwich, and I promise you, caramelizing the onion is well worth it!
Plus, you can multi-task while the onion is caramelizing, and you can also caramelize it ahead of time. I guarantee, taking the time to caramelize an onion will never result in regrets.
Recipe Adaptations:
Looking for ways to change up this breakfast sandwich? Boy oh boy do you have options.
Omit the sunnyside up egg to make it vegan.

If you're a meat eater, throw on some crispy bacon or a hunk of ham.

Use only apples or only pears if desired.

Caramelize the fruit in a skillet in coconut oil to heat it up, soften it, and give it a sweeter, buttery flavor.

Substitute spinach in for the arugula.

Use a cinnamon-raisin bagel or any multi-grain or gluten-free bread of choice.

Omit the fig preserves or use any jam/jelly of choice. Hot pepper jelly would be marvelous.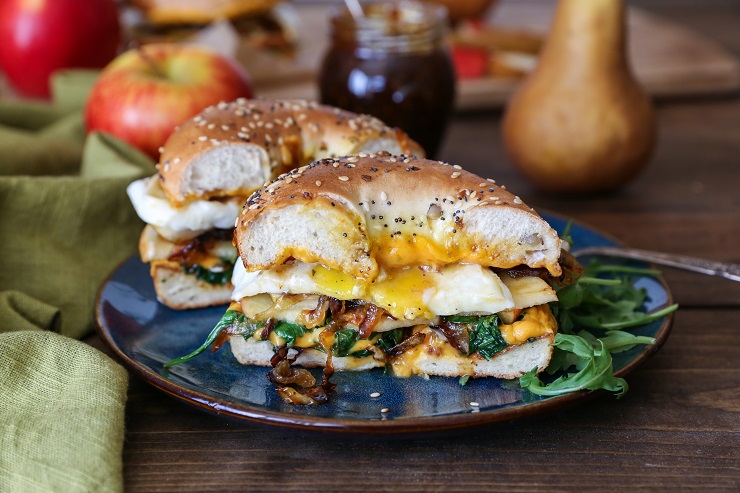 Breakfast? Lunch? Dinner?
I'm calling this bagel sandwich an anytime of day meal.
Just be sure to go heavy on the cheese to help glue the grilled cheese together. Plus, the more cheese, the better I always say.
More Delicious Breakfast Recipes:
My cookbook,
Paleo Power Bowls
, is now available! CLICK HERE to check it out. Thank you for your support!
If you make this recipe, please feel free to share a photo and tag me at @The.Roasted.Root on Instagram!
Pear Apple Cheddar Caramelized Onion Grilled Cheese Bagel Sandwich
A grilled cheese bagel sandwich with egg, cheddar, pear, apple and more! A fun, delicious breakfast!
Servings:
2
bagel sandwiches
Ingredients
3

tablespoons

olive oil

1

large yellow onion

thinly sliced

2

heaping handfuls arugula

2

eggs

sunnyside up

2

everything bagels

toasted, I used gluten-free

4

slices

Cheddar cheese

or cheese of choice

1/2

ripe apple

sliced (I used an Envy apple)

1/2

ripe bosc pear

cored and sliced

4

tablespoons

fig preserves
Instructions
Heat the oil in a large skillet over medium-high. Add the sliced onion and saute, stirring occasionally, until onions begin to sweat and turn translucent, about 8 minutes. Sprinkle liberally with sea salt, reduce heat to medium-low, and continue cooking, stirring occasionally, until onions are golden-brown and caramelized, about 45 minutes more.

Preheat the oven to the high broil setting.

Slice the bagels in half and place them on a baking sheet. Toast on the top shelf of the oven under the broiler until golden-brown, about 1 minute. Remove bagels from the oven and add a slice of cheddar on all four slices of bagel. Place back in the hot oven until melted, about 1 to 2 minutes.

Smear 1 tablespoon of fig preserves over each cheesy bagel slice.

Top the bagel bottoms with wilted arugula, sliced apple, pear, caramelized onions, and a sunny side up egg. Place the bagel tops on top, slice in half and serve.
Nutrition
Serving:
1
of 2
|
Calories:
433
kcal
|
Carbohydrates:
63
g
|
Protein:
17
g
|
Fat:
13
g
|
Fiber:
4
g
|
Sugar:
21
g