Paleo Banana Bread Mug Cake is a single-serve grain-free, refined sugar-free dessert (or breakfast) in a mug! This recipe post includes an option using almond flour and an option using coconut flour.
I originally posted this recipe on April 16, 2015 and it has been made thousands of times since! I still make it when I'm craving something comforting and banana bread-like but don't want to bake a full loaf of banana bread.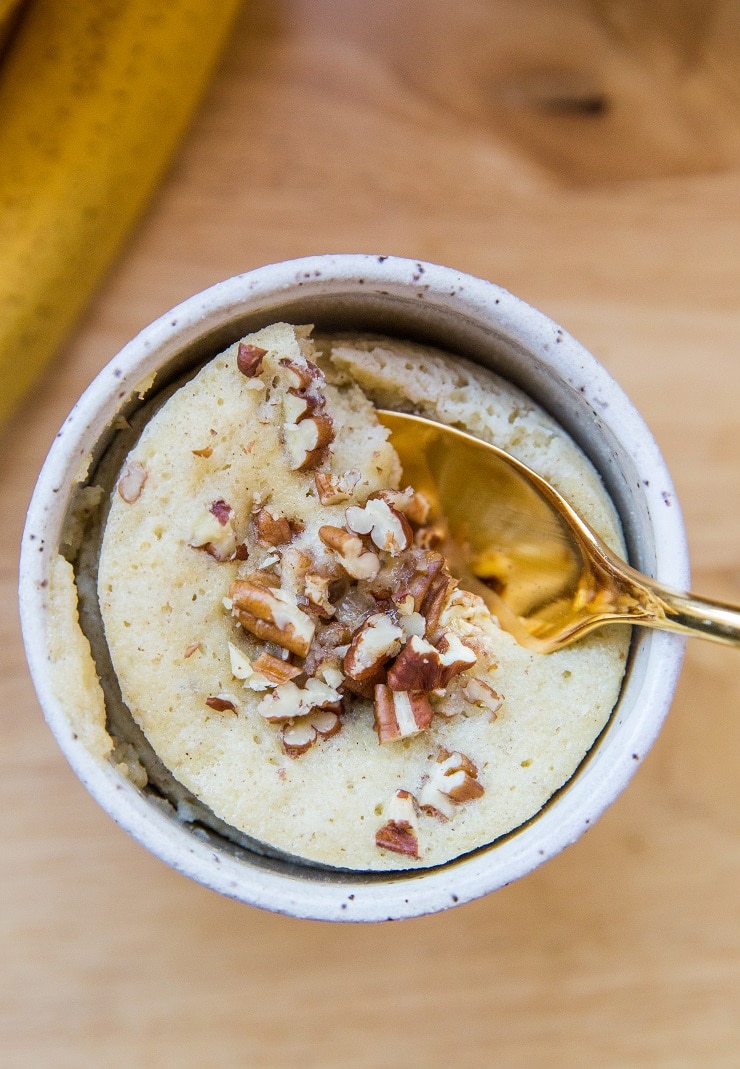 Cake for one?! With zero guilt or regrets? What more could we need in life??
I mean, the thing literally takes 5 minutes to make! And there's no cleanup involved. No leftovers to tempt you at 2am.
Plus, this Paleo Banana Bread Mug Cake is legitimately healthy!
Grain-free, refined sugar-free, dairy-free, and you'd never even know it! This banana mug cake is ultra fluffy, moist and sweet!
So what it boils down to, is you've got yourself a crazy convenient breakfast or dessert that is 200% nutritious and scrumtrulescent.
I have included two versions in this post – an almond flour version and a coconut flour version. I have found most people have a preference of one over the other, so I figured I would share both methods.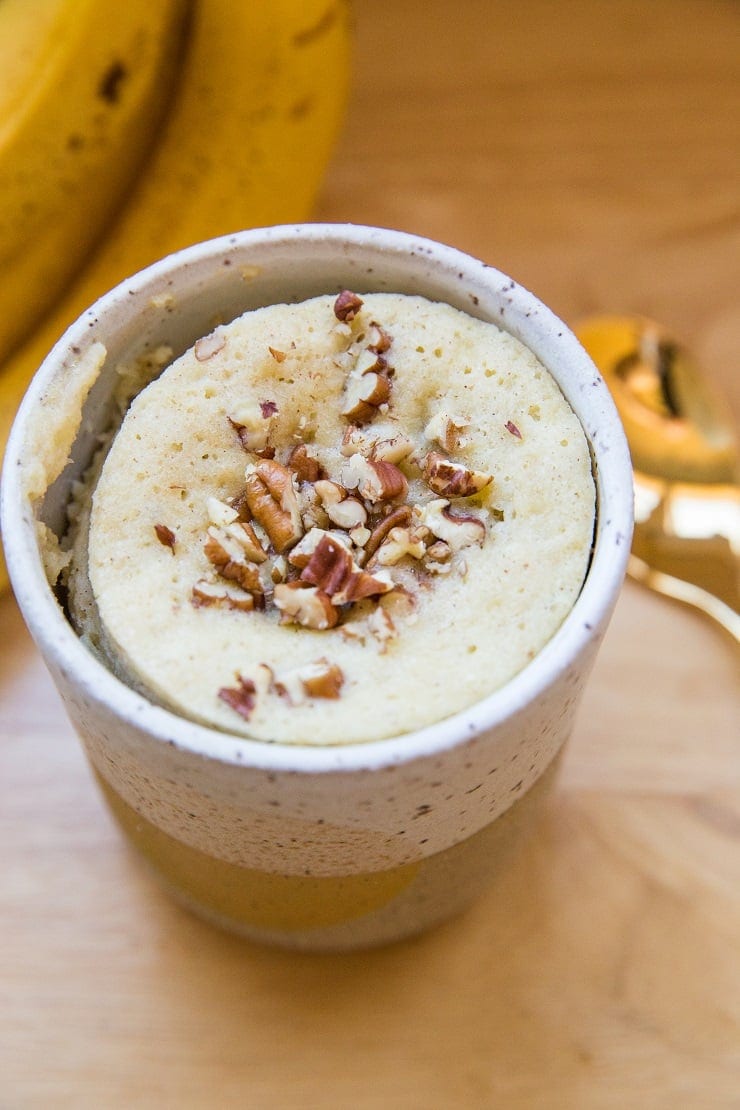 THIS JUST IN: Mug cake is the lowest maintenance thing you will ever do in your entire life. Other than eating an apple. Or sleeping. Or…just trust me on this one.
What if I told you I ate this for breakfast and dessert every day for two solid weeks? I had to exercise my will power and remind myself that diets rich in mug cake, while delicious, are not well-balanced.
I did have to come up for air and eat some animal proteins and greens before solidifying an impossible-to-break habit of consuming Nothing But Mug Cake forever and ever amen.
Take it from me, once you go mug cake, you never go back.
How to Make Banana Mug Cake:
Because haven't you heard? This thing's a cinch.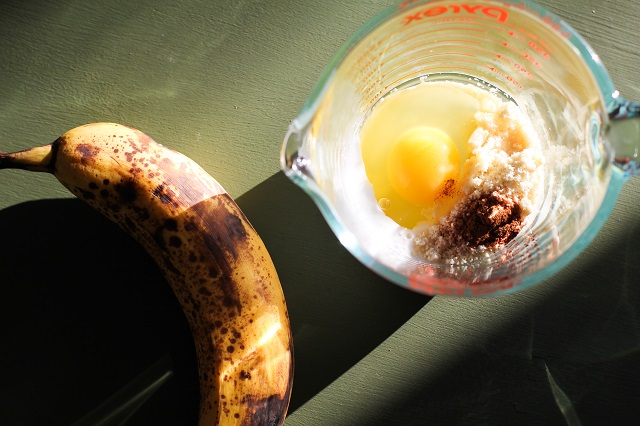 All you do is mash everything together in no particular order and nuke it in the microwave.
Because I took it upon myself to test this recipe 17,000 times with my face, I can give you a little insight as to how to make it two delicious ways with either coconut flour or almond flour. The recipe is pretty much the same, you just use slightly different quantities of flour.
The Coconut Flour Version:
Banana bread mug cake made with coconut flour turns out light and fluffy, with a texture very similar to regular cake. Plus: delicious. And: full of fiber. Ladies? You want.
In order to make the recipe using coconut flour, follow the recipe card below, using 2 tablespoons coconut flour (instead of 1/4 cup almond flour). Simply stir everything vigorously in a mug and microwave on high for 3 to 3.5 minutes, or until the cake has risen quite a bit, is fluffy, and cooked through.
The Almond Flour Version:
Almond flour mug cake comes out light and spongy, and almost custard-y. The texture isn't an exact replica of regular cake, but it's still super delish, full of protein, and is rich in banana flavor.
In order to make the mug cake with almond flour, you'll use a very similar recipe to the one in the recipe card below, but substitute 1/4 cup of almond flour for the coconut flour. Here are the ingredients:
1 large ripe banana
1 large egg
1 to 3 tsp pure maple syrup, optional
1/4 cup superfine almond flour
1/4 tsp baking powder
1/4 tsp ground cinnamon, optional
1 Tbsp raw pecans or walnuts, chopped, optional
pinch sea salt
Simply mix it all up thoroughly in a mug, microwave for 2 to 3 minutes (this will depend entirely on your microwave), until the cake has risen substantially and has set up in the center.
Note: I have found that the almond flour version doesn't need the two tablespoons of coconut milk if your banana is nice and moist, so you can leave out the coconut milk and add it in if the batter looks dry (not like cake batter).
I will report, the almond flour version is my personal favorite. Let me know which one you like best!
How to Make Mug Cake in the Oven:
I know, I know, I'm not a fan of microwaving things either…you can also bake the mug cake in the oven at 350 degrees F for about 30 minutes (or until the cake tests clean).
My take on that is you may as well bake a full cake if you're going to go through the trouble of pre-heating and such. We trade microwaves for convenience in this life of compromise.
Recipe Adaptations:
Substitute almond milk for coconut milk.
Use pure honey instead of pure maple syrup, or omit the sweetener altogether (the mug cake will be plenty sweet without it!).
Add more cinnamon or no cinnamon at all.
Eliminate the pecans.
You can pretty much do anything you dang-well please. How about we add chocolate chips? Okay, twist my arm.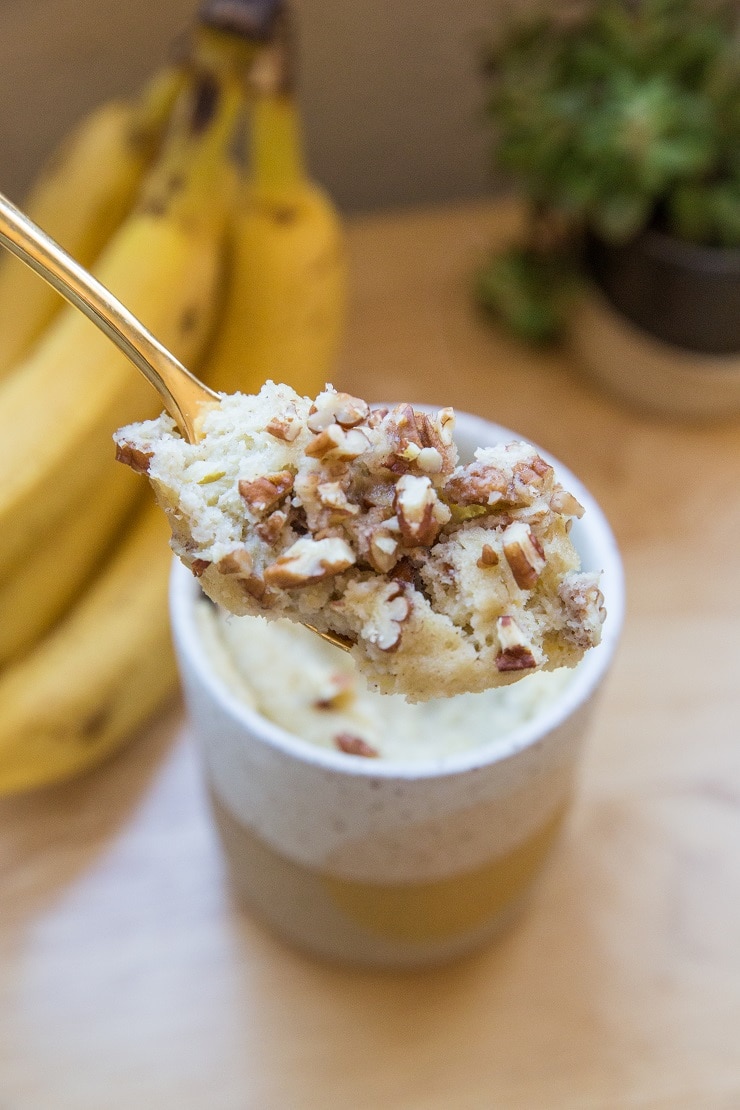 Of course, if you have a hankering for a full loaf of banana bread, you can always make my Paleo Banana Bread using almond flour, or my Coconut Flour Banana Bread.
More Desserts in Mugs:
My cookbook,
Paleo Power Bowls
, is now available! CLICK HERE to check it out. Thank you for your all your support!
If you make this recipe, feel free to snap a photo of it and share it on Instagram, tagging @TheRoastedRoot!
Paleo Banana Bread Mug Cake for all them meals!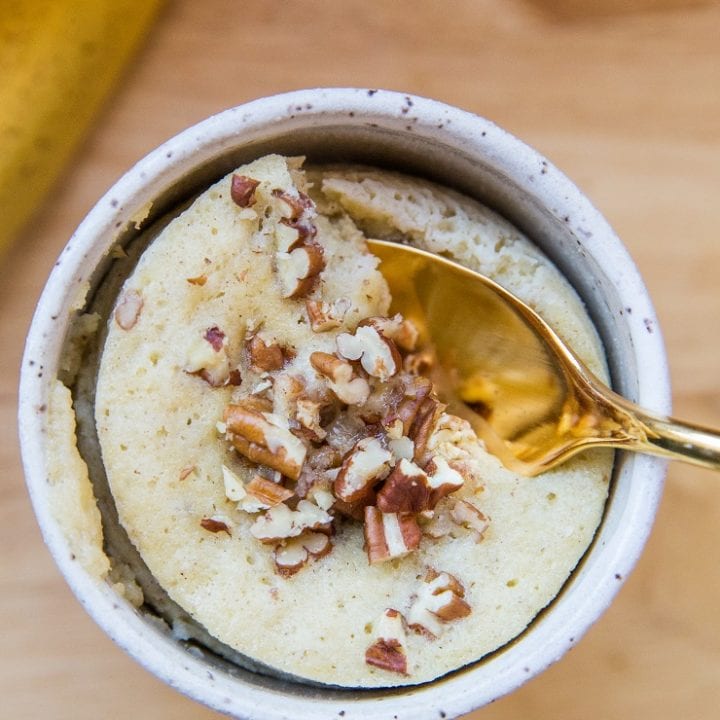 Paleo Banana Bread Mug Cake
Grain-free paleo banana bread mug cake made with either almond flour or coconut flour. A light and delicious breakfast or snack.
Ingredients
1 large ripe banana, mashed
1 large egg, lightly beaten
1 tablespoon raw pecans, or walnuts, chopped
Instructions
Add all ingredients to a microwave-safe mug and mash/stir together until well-combined.
Microwave on high for 2 to 3 minutes, or until cake has set up and tests clean.
Allow cake to cool slightly before diving in!
Notes
Nutrition facts are calculated for the coconut flour version.
*If making the almond flour version, omit the coconut milk unless it appears as though the batter looks dry.
Nutrition Information
Yield

1
Serving Size

1 mug cake
Amount Per Serving
Calories

358
Total Fat

17g
Unsaturated Fat

0g
Carbohydrates

44g
Sugar

21g
Protein

11g