Paleo banana bread mug cake – a grain-free, refined sugar-free dessert (or breakfast) – this post showcases two ways of preparing the mug cake – either using coconut flour or almond flour.
NOTE: Photos updated 6/12/2017
Just look at this thang.
Cake for one?! With zero guilt or regrets? Why didn't we do this sooner?
Mug cakes have been the talk of the blog for yeeeeeears now. Fashionably late as always, this is my first go-round with the cake-in-the-mug situation. Like many of the food trends I've resisted, I was baffled upon trying the mug cake and wondered why I had waited for so dang long. I mean, the thing LITRALLY takes 5 minutes to make! And there's no cleanup involved. And no leftovers to tempt you at 2am. And duh, this version's healthy! So what it boils down to, is you've got yourself a crazy convenient breakfast/dessert that is 200% nutritious and scrumtrulescent.
THIS JUST IN: Mug cake is the lowest maintenance thing you will ever do in your entire life. Other than eating an apple. Or sleeping. Or…just trust me on this one.
What if I told you I ate this for breakfast and dessert every day for two solid weeks? I had to exercise my will power and remind myself that diets rich in mug cake, while delicious, are not well rounded. As in, you should probably come up for air and eat some greens before solidifying an impossible-to-break habit of consuming Nothing But Mug Cake forever and ever amen. Take it from me, once you go mug cake, you never go back.
Because haven't you heard? This thing's a cinch.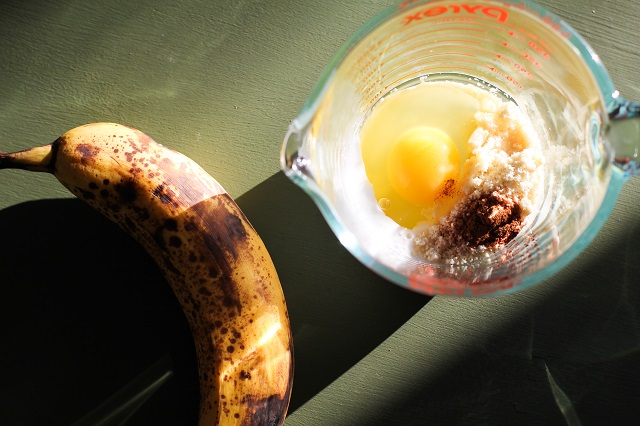 All's you do is mash everything together in no particular order and nuke it in the microwave.
I know, I know, I'm not a fan of microwaving things either…you can also bake the mug cake in the oven at 350 degrees F for 30-ish minutes (or until the cake tests clean), but my take on that is you may as well bake a full cake if you're going to go through the trouble of pre-heating and such. We trade microwaves for convenience in this life of compromise.
Because I took it upon myself to test this recipe 17,000 times with my face, I can give you a little insight as to how to make it two delicious ways with either coconut flour or almond flour. The recipe is puh-reeeetty much the same, you just use slightly different quantities of flour.
Method #1 with Coconut Flour: Turns out light and fluffy, with a texture very similar to regular cake. Plus: delicious. Plus: full of fiber. Ladies? You want.
Method #2 with Almond Flour: Comes out light and spongy, and almost custard-y…the texture isn't an exact replica of regular cake, but it's still suuuupah delish and full of protein.
Note: If you use coconut flour, you will use 2 tablespoons, and if you use almond flour, you will use 1/4 cup.
Adaptations: You can substitute almond milk for coconut milk, and maple syrup for honey. You can add more cinnamon or no cinnamon at all. You can eliminate the walnuts. You can pretty much do anything you dang-well please. How about we add chocolate chips? Okay, twist my arm.
I'm jetting off to Illinois for the weekend to go to Stephie and Alex's wedding! I'm so excited to see the two lovebirds tie the knot and to spend some quality time with their families. Before I make like a baby and head out, I'll be needing my fill of breakfast. You bet your bottom dollar I'll be eating this mug cake before I climb on that plane and surrender to a mug cake coma. I hope you all have a lovely weekend, and I'll catch up with you on Monday!
My cup runneth over.
My cookbook,
Paleo Power Bowls
, is now available! CLICK HERE to check it out. Thank you for your all your support!
Paleo Banana Bread Mug Cake for all them meals!
Paleo Banana Bread Mug Cake
Print
Instructions
Add all ingredients to a microwave-safe mug and mash/stir together until well-combined.

Microwave on high for 3 to 3-1/2 minutes, or until cake has set up and tests clean. Note: If using coconut flour, I microwave for 3 minutes, and if using almond flour, I microwave for 3.5 minutes.

Allow cake to cool slightly before diving in!
Recipe Notes
Nutrition facts are calculated for the coconut flour version.
Nutrition Facts
Paleo Banana Bread Mug Cake
Amount Per Serving (1 mug cake)
Calories 358
Calories from Fat 153
% Daily Value*
Total Fat 17g 26%
Total Carbohydrates 44g 15%
Protein 11g 22%
* Percent Daily Values are based on a 2000 calorie diet.