Paleo Chocolate Chip Waffles with pecans topped with almond butter, coconut butter, and more pecans and chocolate. This easy recipe may appear to be decadent, but it is indeed healthful!
I have a question for you…are you sitting down?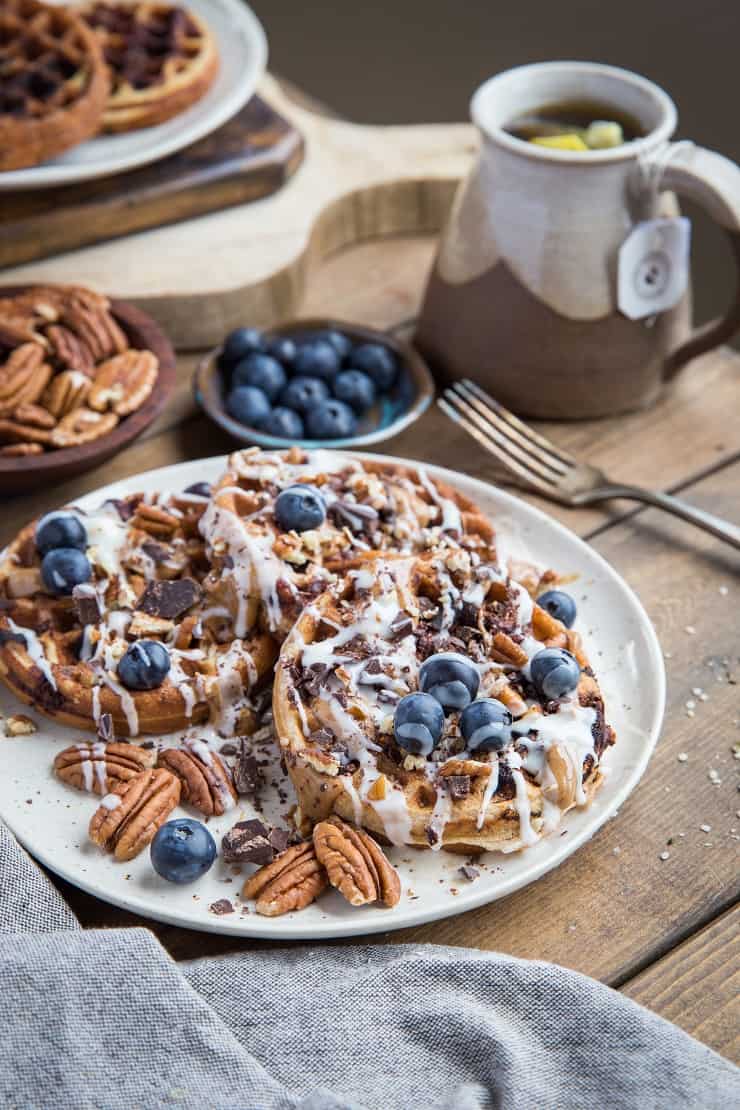 When pressed to choose a favorite, do you prefer pancakes or waffles?, how do you respond?
Loaded question, I know. How do we even begin to approach the subject?
Perhaps the same way you would dissect any major life decision..by asking yourself a series of questions.
For instance:
Which one

feels

righter? Allow your gut to do the talking here.

If you stripped away all the frills, which one would you take as is, sans improvements, therapy, future projections of what each may be like 10 years from now, etc.

If you were on a 14-hour bus ride through a desert with no cell phone reception, which would you choose to sit in the seat next to you?

Which one tells the best jokes?
Are we still discussing pancakes and waffles?
It's funny how just the change in texture can make all the difference in the world…the waffle has that nice firm crunch and the holes collect syrup, butter, and other delicious toppings into magical pools of yam, which to me is a major win.
The fact that pancakes are so pillowy and soak up toppings for a spongy mouth splooge is otherworldly…also a major win.
So you can see the true Gemini in me comes out when it comes to the pancakes v. waffles dichotomy…each has their place on the space-time continuum, and I don't know how I could possibly choose a favorite. I plead the 5th… you choose for me… the pressure is just to great.
I teased you guys on my Instagram stories a couple weekends ago with these waffles…they were a Saturday morning adventure and you all expressed so much love for them I couldn't not post the recipe.
All you need is some basic pantry ingredients for these beauties and my guess is if you're familiar with grain-free baking you probably already have everything you need.
How to Make Paleo Chocolate Chip Waffles:
The batter for these Paleo Chocolate Chip Waffles is prepared in your blender! Minimal effort or cleanup.
You can easily whip it up in a mixing bowl just as you would regular waffles. Note that the batter will appear thin – this is normal.
Rather than stirring the pecans and chocolate into the waffle batter, my trick is to pour the batter onto the waffle iron and then sprinkle it with the nuts and chocolate.
This way you're not left with only a few waffles that are packed with each ingredient, as the chunks have a tendency to sink to the bottom of the batter. So for even distribution purposes, I like the sprinkle approach.
If you'd prefer to stir them in, you absolutely can – it's your rodeo!
Waffle Toppings:
Topping these waffles is near and dear to my heart…it takes the over-the-top glorious experience we discussed earlier and sends it interstellar. You'll just have to trust me. Here's how I topped these waffles: I heated up almond butter and coconut butter in the microwave (if you're anti-microwave, you can easily use a double boiler or even a skillet) to make them easily drizzleable.
I then drizzled each the almond butter and coconut butter over the waffles and sprinkled them with dark chocolate, chopped pecans, and blueberries.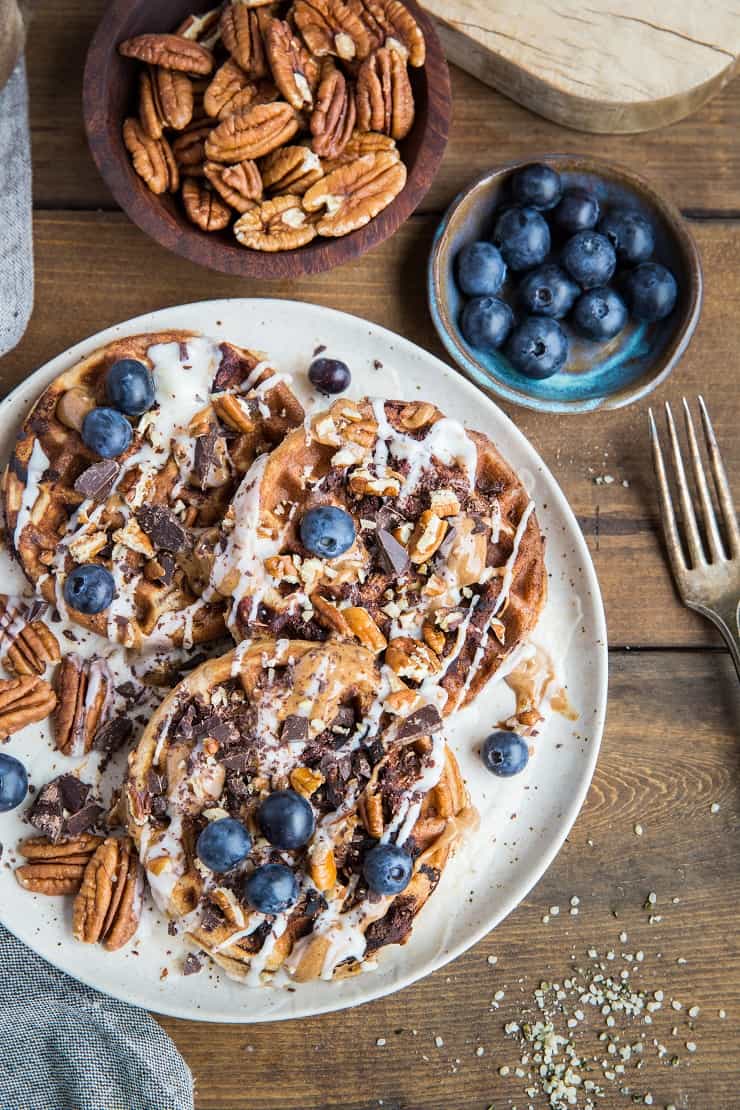 The combination of everything together made the most perfect bite that it stole my words and reduced my communication capability to mere sounds, grunts and moans. Not to mention, everything is completely healthful (provided you eat a high-fat diet) but tastes like a million bucks…or what I imagine the food version of a million bucks would taste like.
If you have any affinity for waffles whatsoever, I highly recommend you make these your main squeeze.
Let's discuss topping adaptations here, because they are aplenty.
Recipe Adaptations:
Use peanut butter, cashew butter, or walnut butter in place of almond butter

Make my Chocolate Magic Shell or Paleo Salted Caramel

as decadent topping options

Drizzle pure maple syrup or add a pat of butter – I found neither of these necessary, but still an option.

Top with sliced banana or fresh fruit of choice.
The waffle batter itself can easily be made using hazelnut flour in place of almond flour, and you can also use any of your favorite non-dairy milks in place of almond milk. For the chocolate portion of this recipe, I used a paleo chocolate bar (Eating Evolved's chocolate bars have been my favorite lately), but you can use chocolate chips or any of your favorite chocolate bar options. I've made these with Theo's 85% which was lovely but not very sweet.
More Healthy Waffle Recipes:
Enjoy your Waffle Wednesday!
Paleo Chocolate Chip Waffles with Pecans
Amazing chocolate chip waffles made grain-free and refined sugar-free for a special breakfast treat.
Instructions
Heat your waffle iron and lightly spray it with cooking oil. Add all ingredient except the pecans and chocolate to a blender and blend until smooth.

Pour a small amount of waffle batter onto the hot waffle iron and sprinkle with desired amount of pecans and chocolate. Secure the lid on the waffle iron and cook until waffle is golden-brown and cooked through. Repeat for remaining batter.

Serve waffles with almond butter, coconut butter, chopped pecans and dark chocolate, and blueberries
Notes
*you can also use grapeseed, avocado, or olive oil
Nutrition
Serving:
1
of 8
|
Calories:
256
kcal
|
Carbohydrates:
12
g
|
Protein:
7
g
|
Fat:
20
g
|
Fiber:
2
g
|
Sugar:
5
g