Filling Entrée Summer Salad Recipes to keep you feeling satisfied during the hot summer months! Beat the summer heat with these healthy, colorful, refreshing and nutritious delicious summer salads!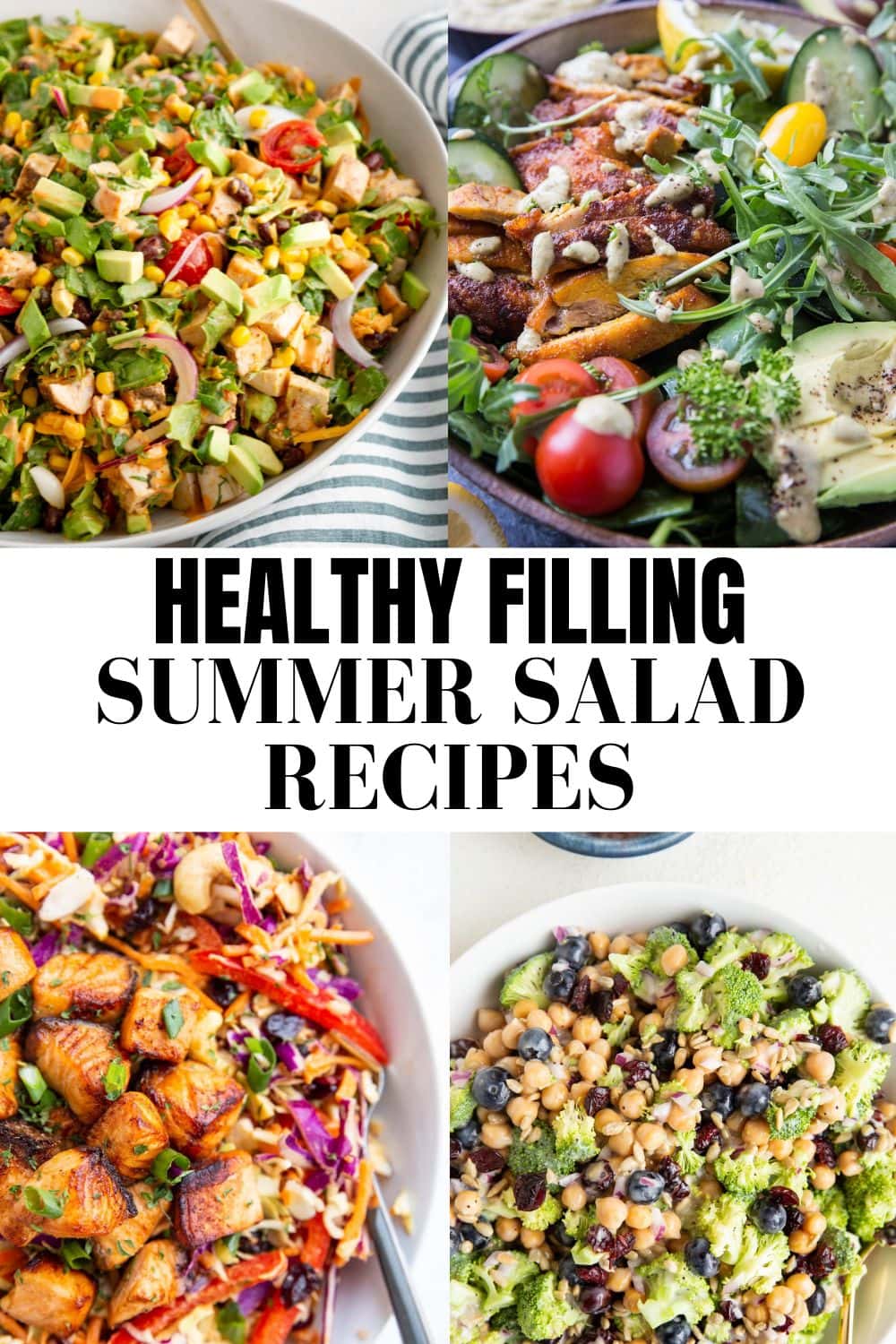 If you're looking for tasty summer salads to keep you feeling cool and fresh, you're in the right spot!
These amazing healthy salad recipes are complete meals to keep you full and energized.
Between various types of leafy greens, fresh veggies, animal proteins, fruit, nuts, seeds, and cheeses, all of the options are included in this post to keep your salad game strong!
Protein-forward meals with healthy fats always feel the most satiating to me, how about you? I've found large salads to be incredibly satisfying and they keep me full for hours!
While everyone has different nutritional needs, I find meals that include lots of fiber, variety, and textures to be so belly filling and palate pleasing.
I've learned the key to an incredible salad is including plenty of variety. Pick your favorite vegetables and also include a delicious protein source, something crunchy (like raw nuts or seeds), and something creamy like avocado and/or cheese.
Fresh vegetables like spinach, kale, spring greens, tomatoes, cucumbers, and carrots are all amazing in salads.
Leftover steak, rotisserie chicken, and turkey deli meat are all easy, great options for protein.
Raw chopped walnuts, pecans, pumpkin seeds, sunflower seeds and pistachios are marvelous for nutty crunch.
Feta cheese, blue cheese, goat cheese, and cheddar cheese are all lovely cheese options!
Toss in goodies like black beans, corn, tortilla chips, etc. for a real good time!
Any type of fresh fruit such as blueberries, apples, peaches, plums, strawberries add a burst of fresh sweetness. Dried fruit such as dried cranberries, raisins or craisins are amazing as well.
And of course, tie it all together with an incredible homemade salad dressing (store-bought works too).
My favorite salad dressing recipes are Creamy Balsamic Vinaigrette, Paleo Caesar Salad Dressing, Homemade Italian Dressing, and Mayo-Free Green Goddess Dressing.
I have rounded up all of my favorite healthy salad recipes that are nutritious, filling, and full of delicious flavors.
Serve them up any night of the week for healthy weeknight dinners!
But don't let me keep you!
Let's get our biggest bowls out and make some ginormous badass salads!
Healthy Summer Salad Recipes:
Thai Chicken Chopped Salad – Tender chicken, crunchy cabbage, carrot, toasted cashews, and a delicious creamy sesame ginger peanut dressing. This vibrant, filling salad recipe is that feel-good meal that leaves you energized and happy.
Southwest Chicken Chopped Salad – This Southwest Chicken Chopped Salad with fresh vegetables, tender chicken and yummy cheese is an energizing and filling meal! Perfect for any time of year, this easy to make entrée salad recipe is so versatile and leaves you feeling great!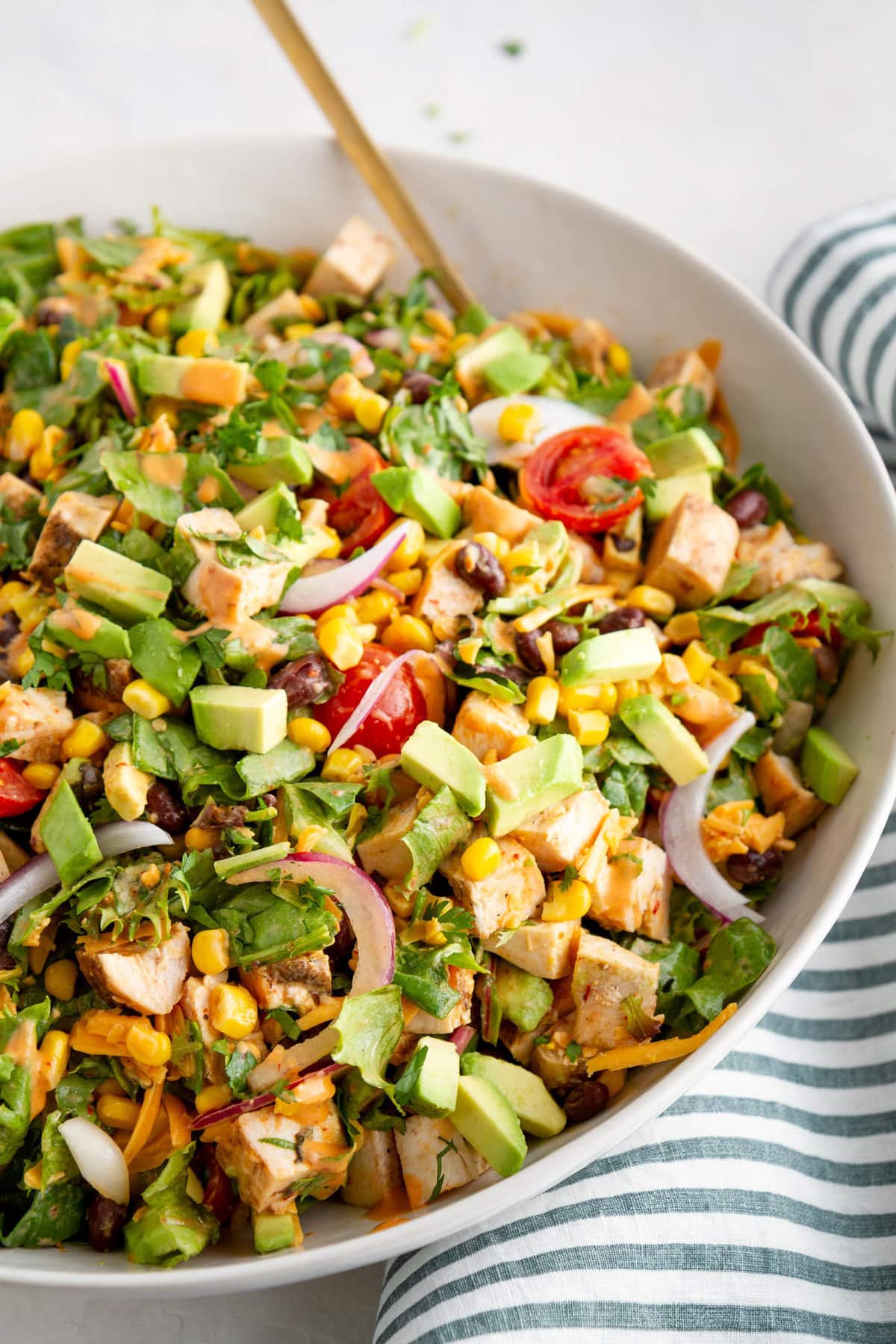 Mediterranean Chicken Salad with Lemon Tahini Dressing – Crispy Chicken Salad with a fresh, zesty lemon herb tahini dressing, cherry tomatoes, avocado, arugula, and cucumber. This nutritious dinner recipe is packed with flavor and is perfect for anyone who loves a big vibrant meal as well as those on a carb-conscious, paleo, or keto diet.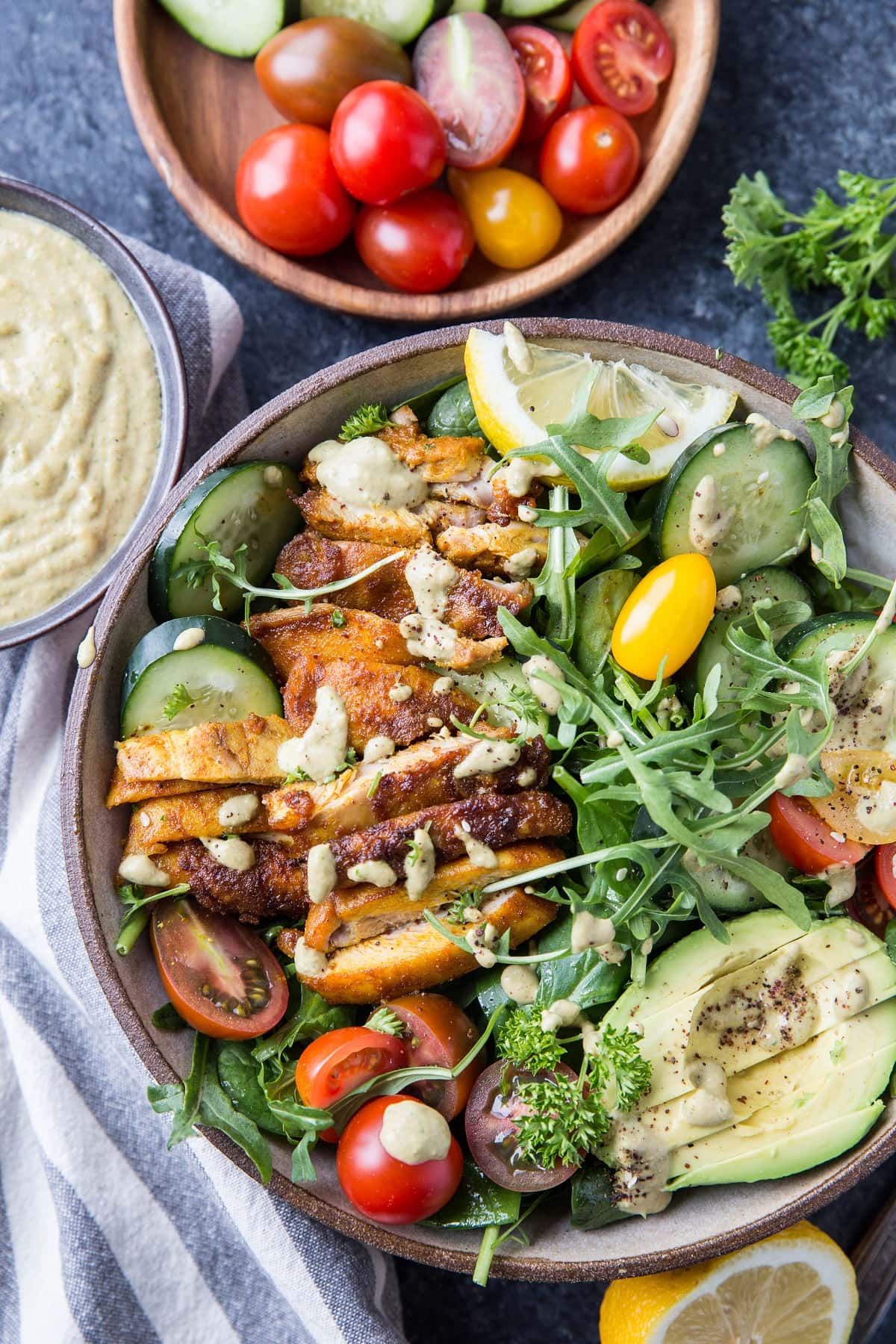 Mediterranean Salmon Salad – A high-protein salad with canned salmon, avocado, red onion, sun-dried tomatoes, and dill is a creamy, wildly flavorful protein-rich meal. Eat it as is or serve it up as a green salad on top of spring greens or sandwich for an amazing meal.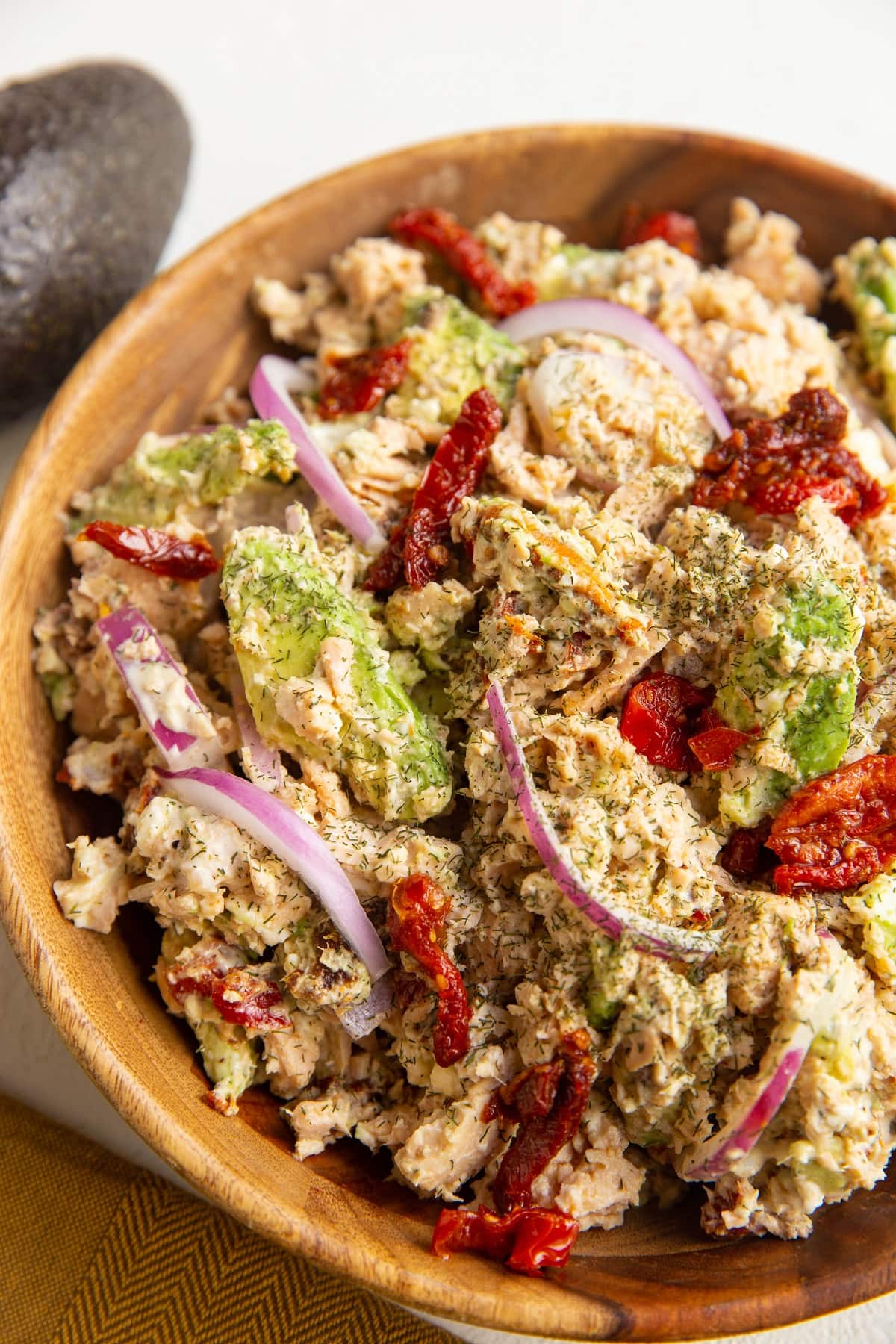 Crispy Salmon Salad – Crispy Salmon Salad with cabbage, carrots, cashews, sliced almonds, dried cranberries, and an amazing peanut dressing to tie it all together. This big, filling entrée salad recipe serves up to four individuals.
Sesame Ginger Chicken Salad – Featuring marinated Asian chicken, cabbage, spinach, carrot, cashews, dried cranberries, a delicious peanut dressing, and more! This healthy chicken salad is loaded with nutrients, flavor, and yummy textures.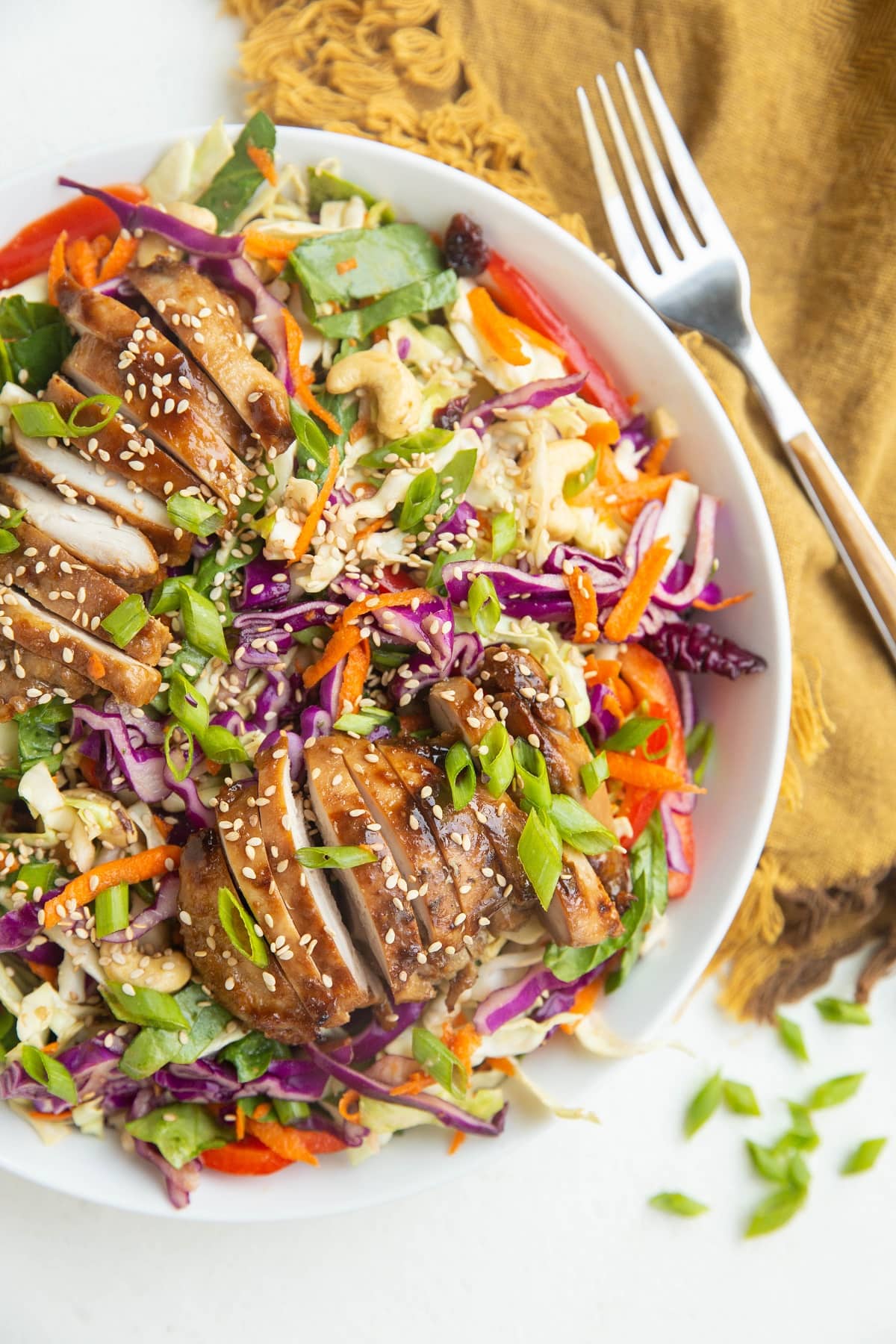 My Current Favorite Salad – My all-time favorite go-to salad recipe with roasted chicken, spring greens, avocado, pumpkin seeds, pecans, carrot, heirloom tomato, and green onion, all swaddled in Caesar salad dressing. This easy-to-assemble meal is incredibly satiating and loaded with nutrients!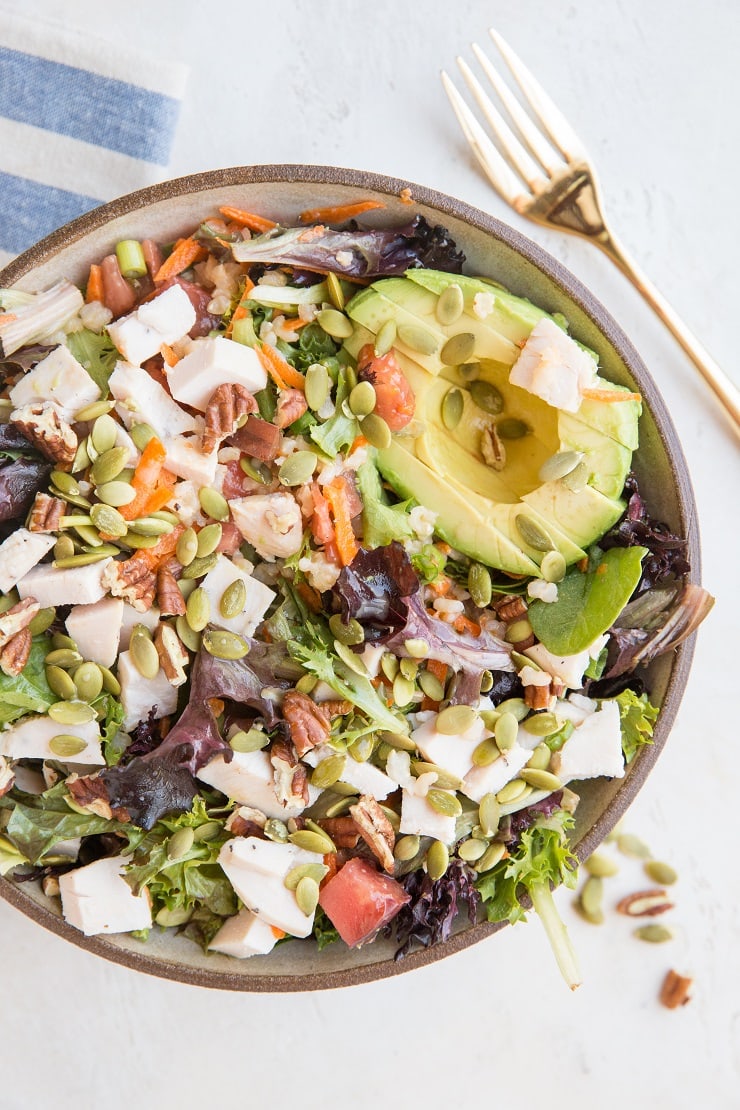 Grilled Salmon Salad with Strawberry Salsa – Balsamic vinaigrette and fresh strawberry avocado salsa tie this grilled salmon salad together magnificently! Fresh, loaded with sweet, charred, creamy flavors with just a slight kick, this winner of a salad is so palate-pleasing.
Pesto Chicken Salad with Avocado – A quick and easy Pesto Avocado Chicken Salad recipe requires only 5 basic ingredients and is just so delicious! This chilled and refreshing chicken salad recipe is ideal for the warm months of the year, plus it's easy to customize!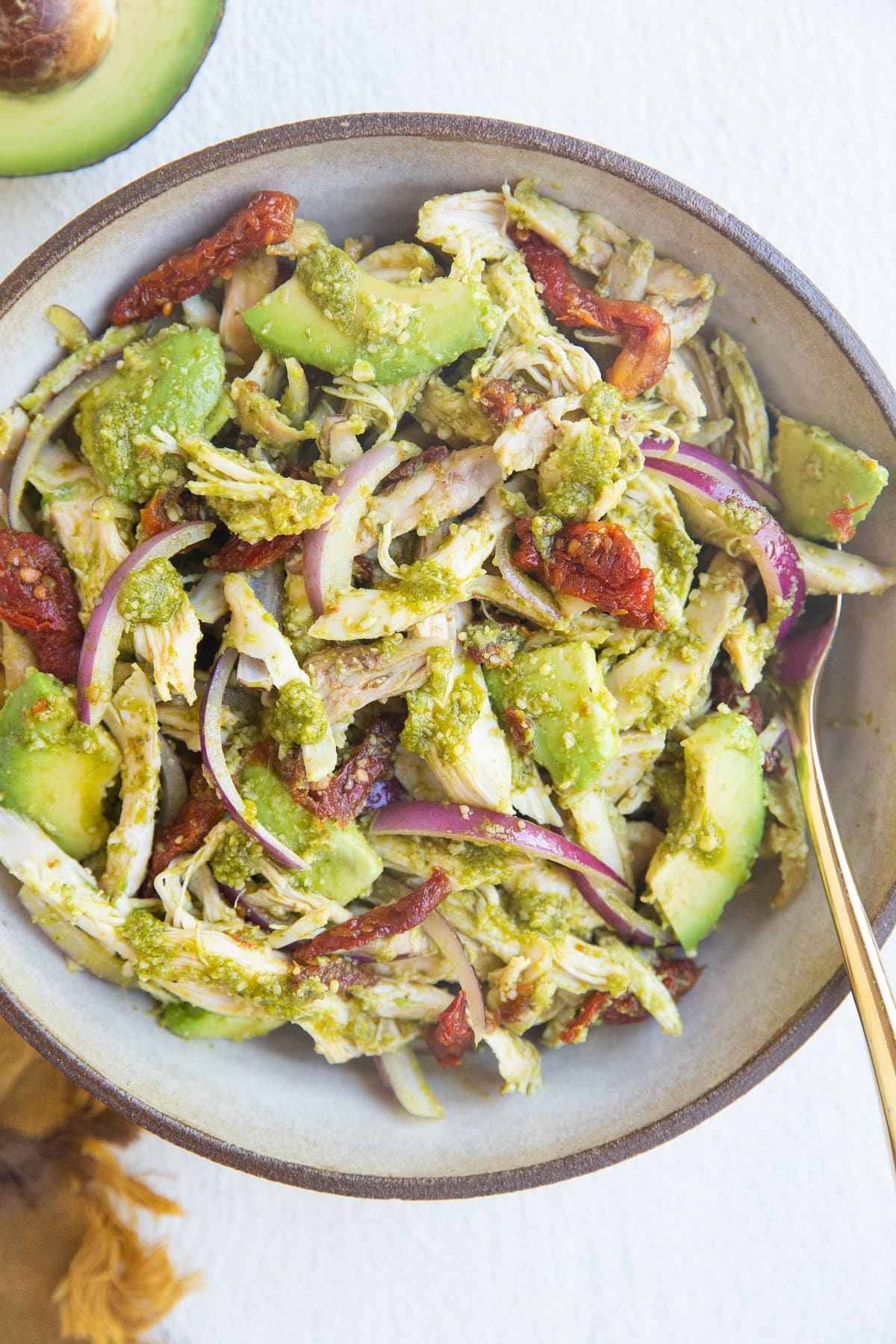 Cod Salad with Basil Walnut Pesto – Have you ever made salad dressing using PESTO?! It's an absolute dream. Cod salad with basil-walnut pesto is so easy to make and a quick and delicious dinner that can be prepared any night of the week. This healthy recipe is all-things low-carb, low-FODMAP, paleo, keto, and Whole30.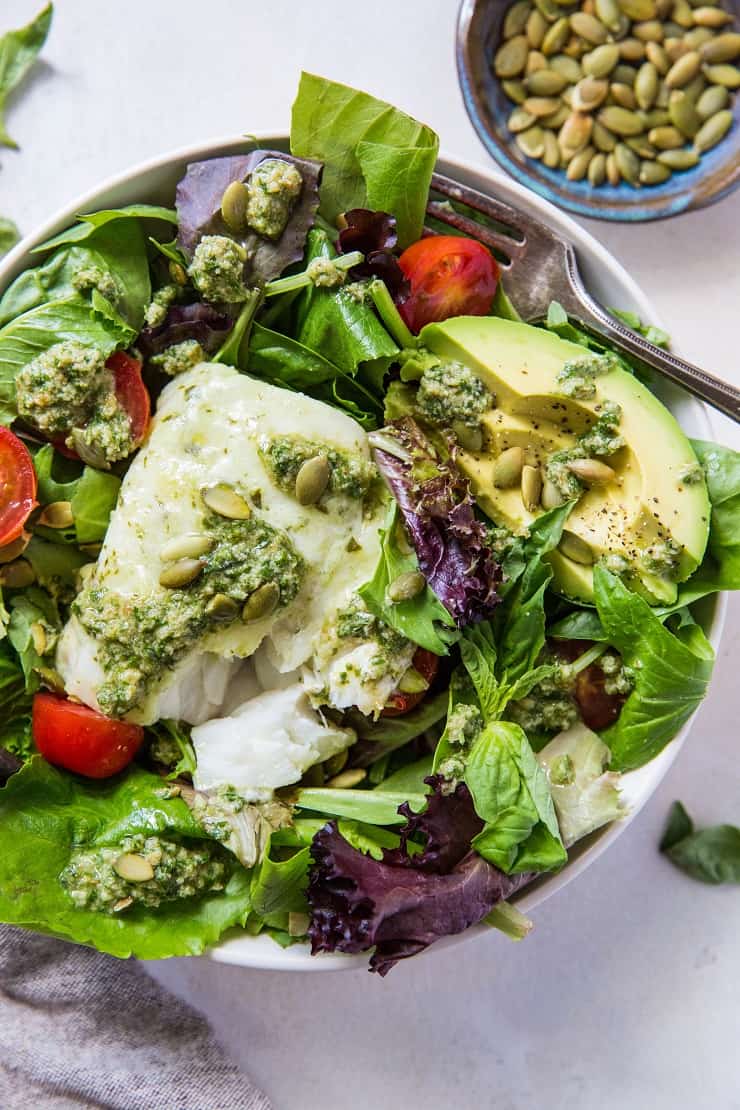 Mediterranean Chickpea Salad – The Best Chickpea Salad with cucumber, cherry tomatoes, feta cheese, and a zesty lemon dressing makes for a refreshing healthy side dish to any meal.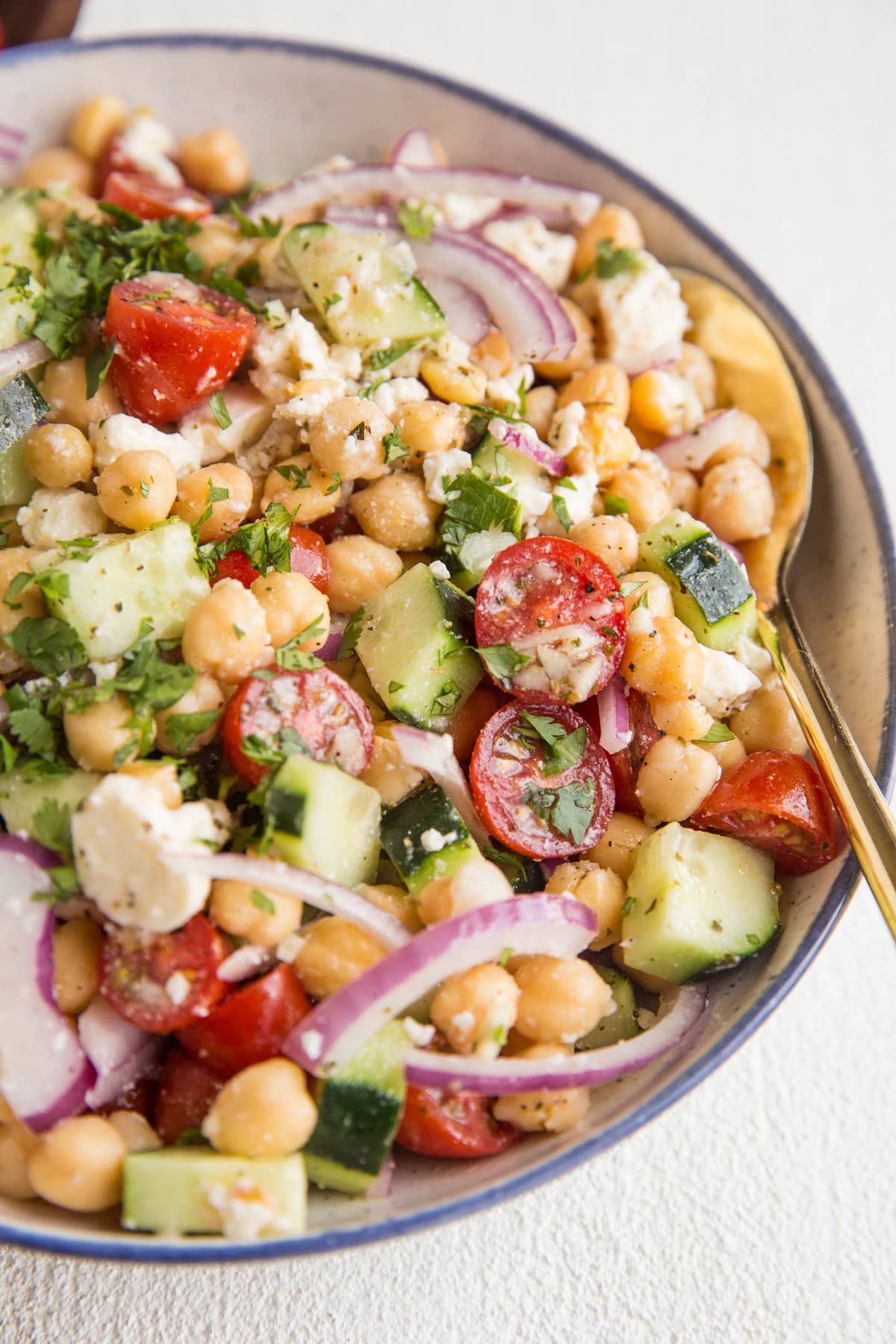 Greek Chicken Spinach Salad – Herby Greek Chicken Salad with baked chicken, spinach, avocado, red onion, pine nuts, and an amazing Greek salad dressing. This fresh and flavorful dinner salad recipe is a filling, clean meal worthy of putting on repeat!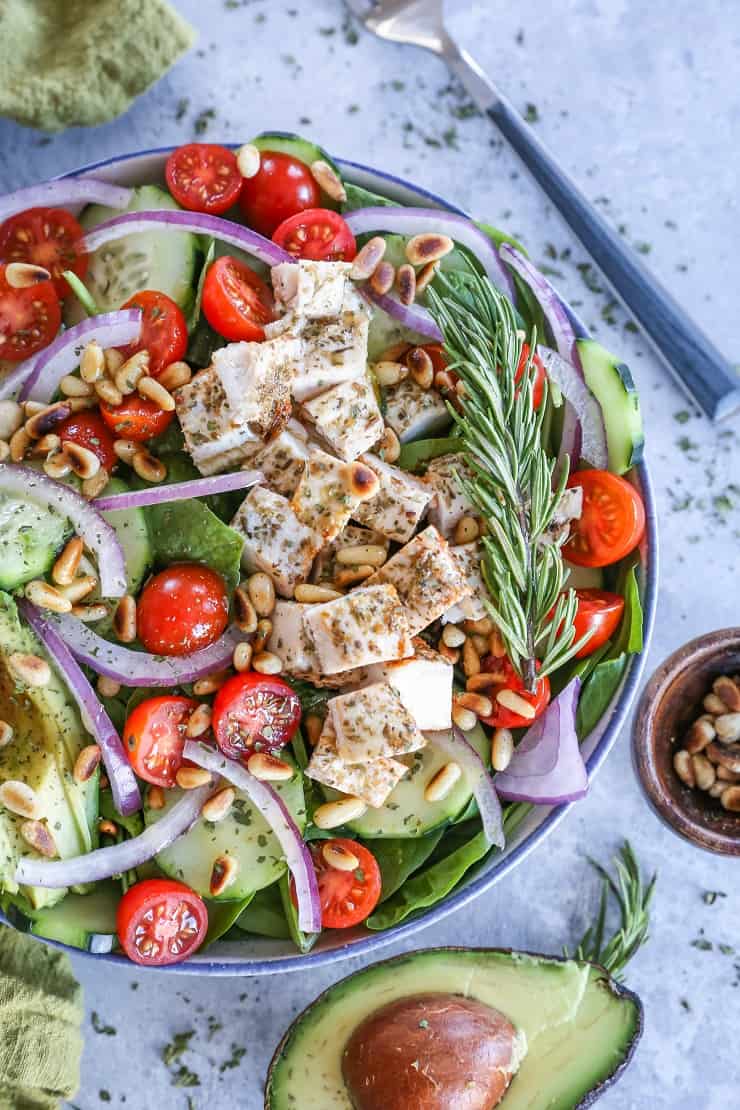 A Really Great Summer Salad Recipe – Just a really great, easy green summer salad recipe with spring greens, avocado, sunflower seeds, carrot, cherry tomatoes, brown rice, and more! This nourishing, light yet filling entrée salad recipe for dinners or lunches will keep you satisfied during the hot summer months.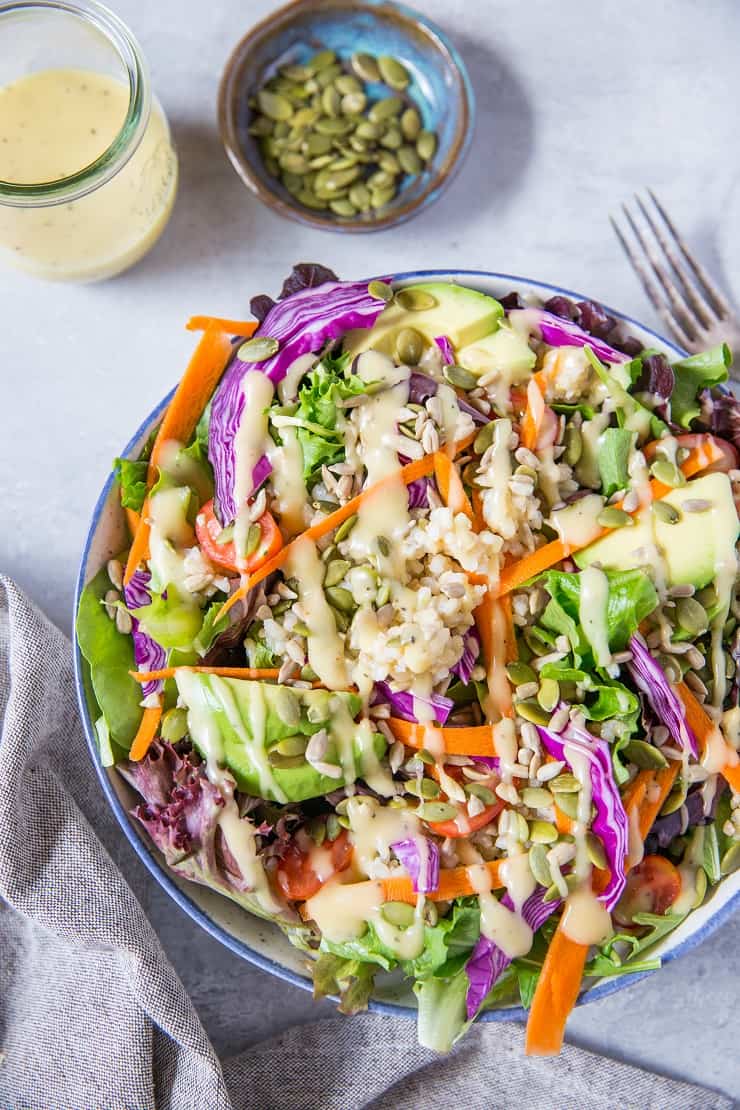 Greek Lentil Salad – A chilled legume salad with cucumber, cherry tomatoes, feta cheese, red onion, sun-dried tomatoes and a simple lemon dressing. This easy healthy salad recipe is the perfect side dish to go alongside any main dish no matter the time of year!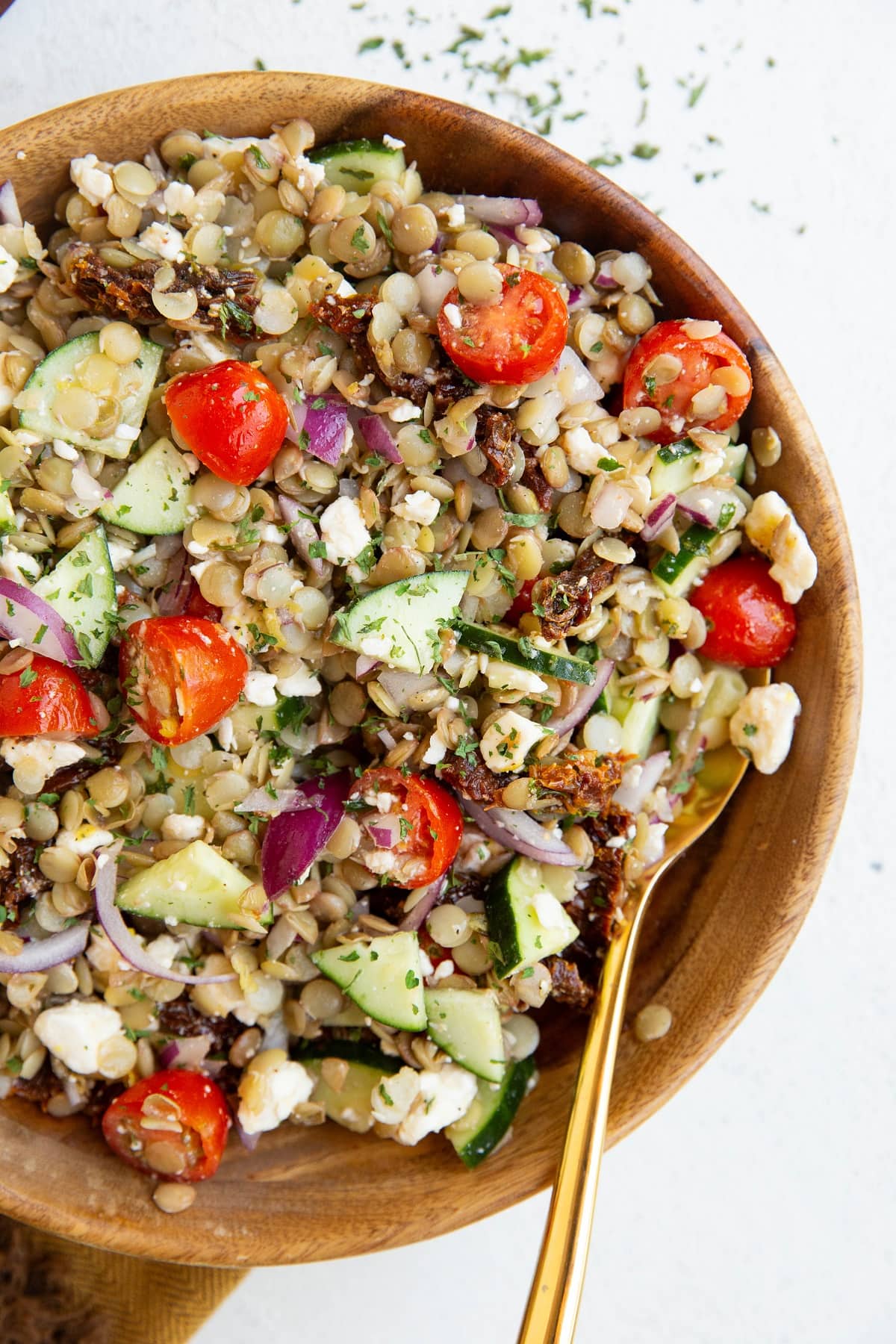 Blueberry Avocado Sunflower Seed Chopped Salad – If you're looking for a side salad for any occasion or a light main dish, look no further! This Blueberry Avocado Sunflower Seed Chopped Salad with balsamic vinaigrette is the perfect side dish to any main entrée and is sure to impress!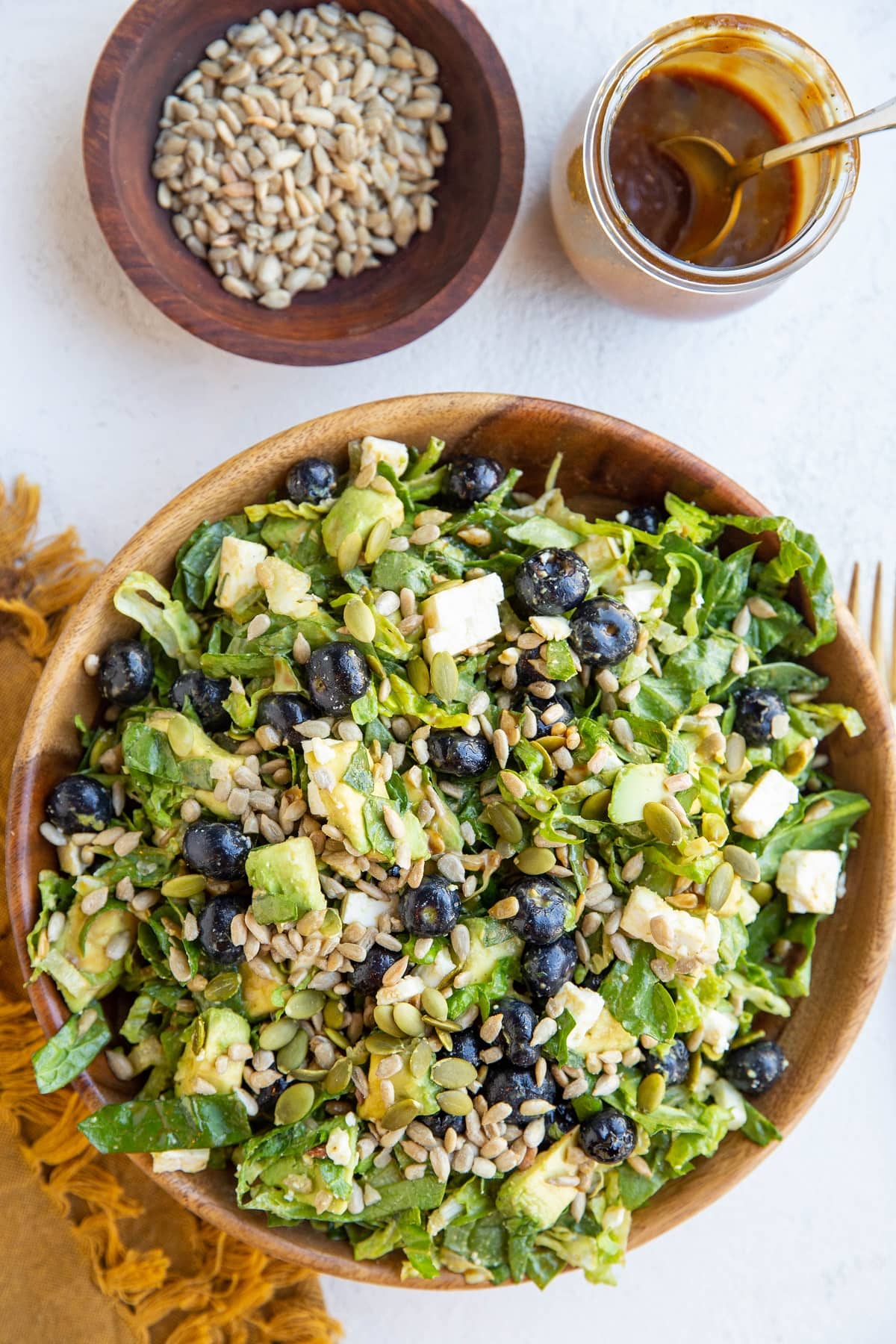 Arugula Strawberry Salad with Pickled Red Onions and Strawberry Vinaigrette – Arugula Strawberry Salad with Pickled Red Onions, Feta, Pistachios, Avocado and Strawberry Vinaigrette is a fresh, ultra flavorful salad perfect for serving as a side dish! Add your favorite protein to turn it into a main entrée or keep it as a light meatless meal!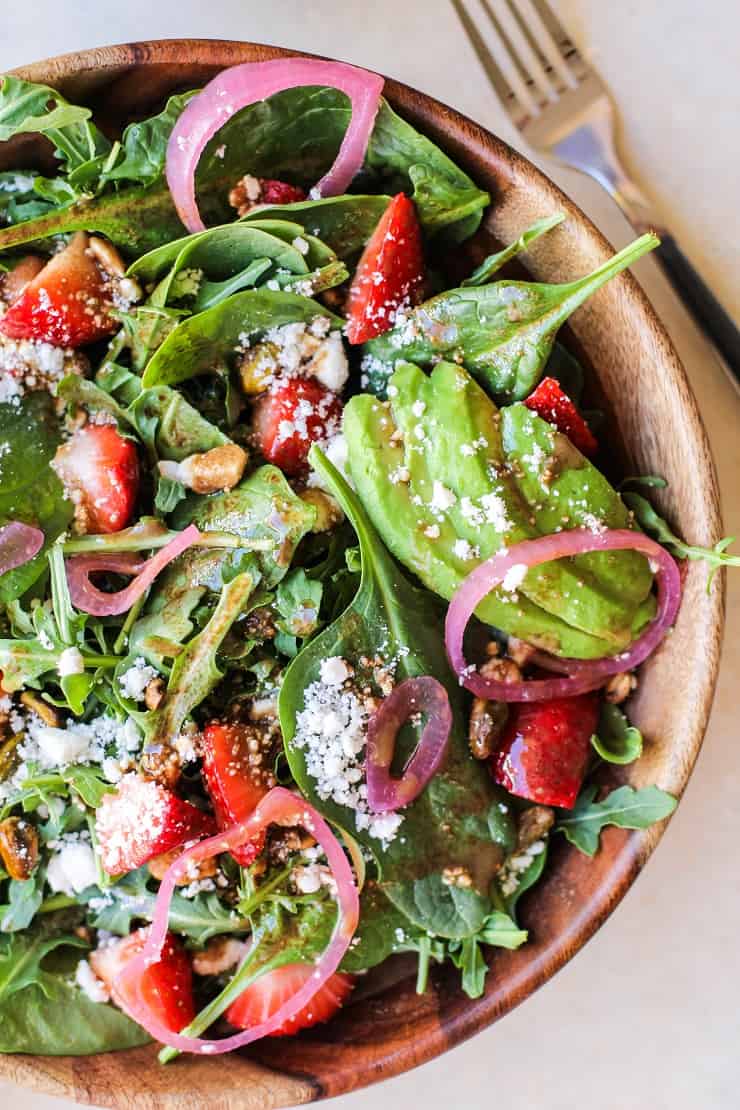 Pesto Quinoa Salad with Asparagus and Avocado – Okay, so my personal opinion is a well-balanced meal includes plenty of protein so if you add chicken, salmon, or shrimp to this experience you will win yourself a very satiating meal. The recipe as is (meatless) works too for a light meal. This nutrient-packed dish is perfect for packing up and taking for lunches or to barbecues and picnics. Avocado, walnuts, feta and pesto sauce make this quinoa salad an absolute dream!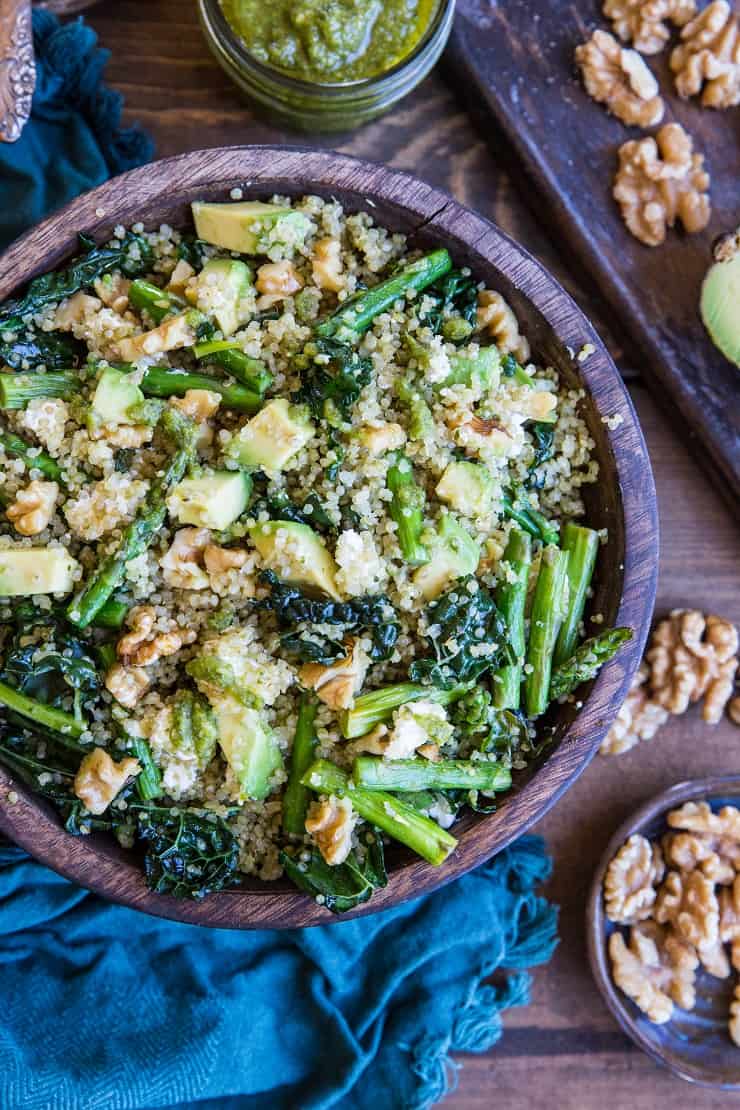 California Cobb Salad with Chipotle Ranch Avocado Dressing – Fresh and vibrant California-style cobb salad with a spicy chipotle ranch dressing made with AVOCADO! The ranch dressing is fresh and herby with the perfect kick and is loaded with healthy fats.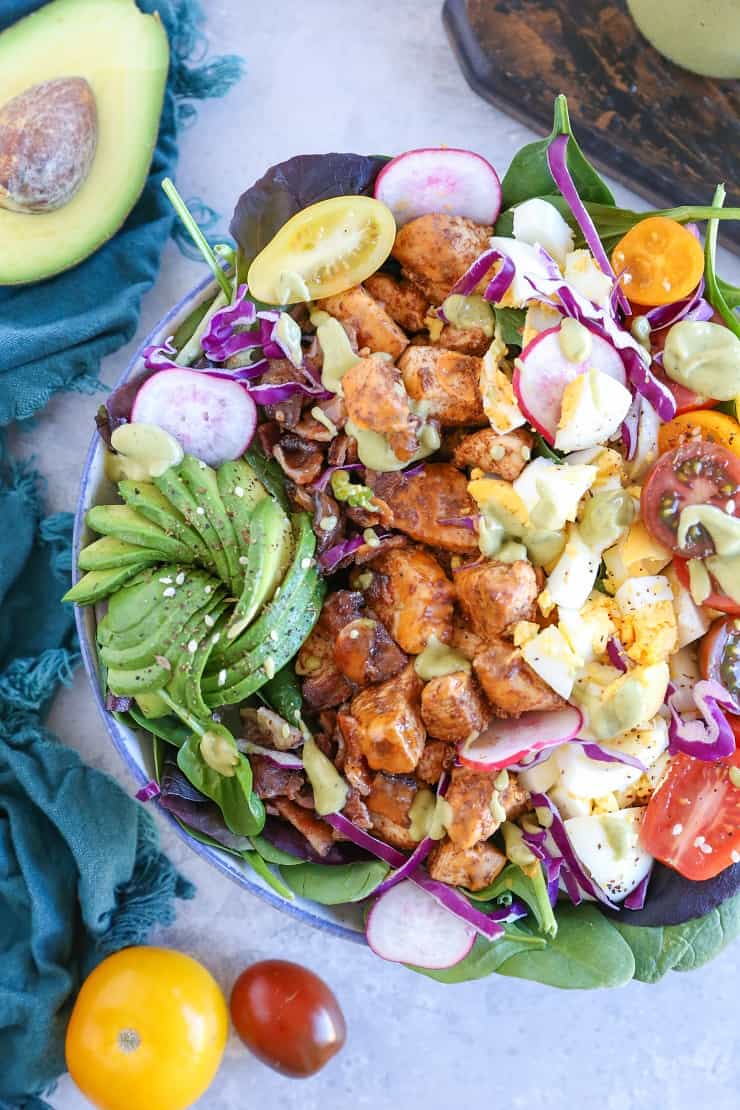 Shrimp Taco Salad with Avocado Chimichurri Dressing – Crunchy, vibrant taco salad with sautéed shrimp, jicama, cabbage, tomato (and more!), tied together with a healthful creamy avocado chimichurri dressing. This easy recipe takes no longer than 30 minutes to make and is a well-balanced meal.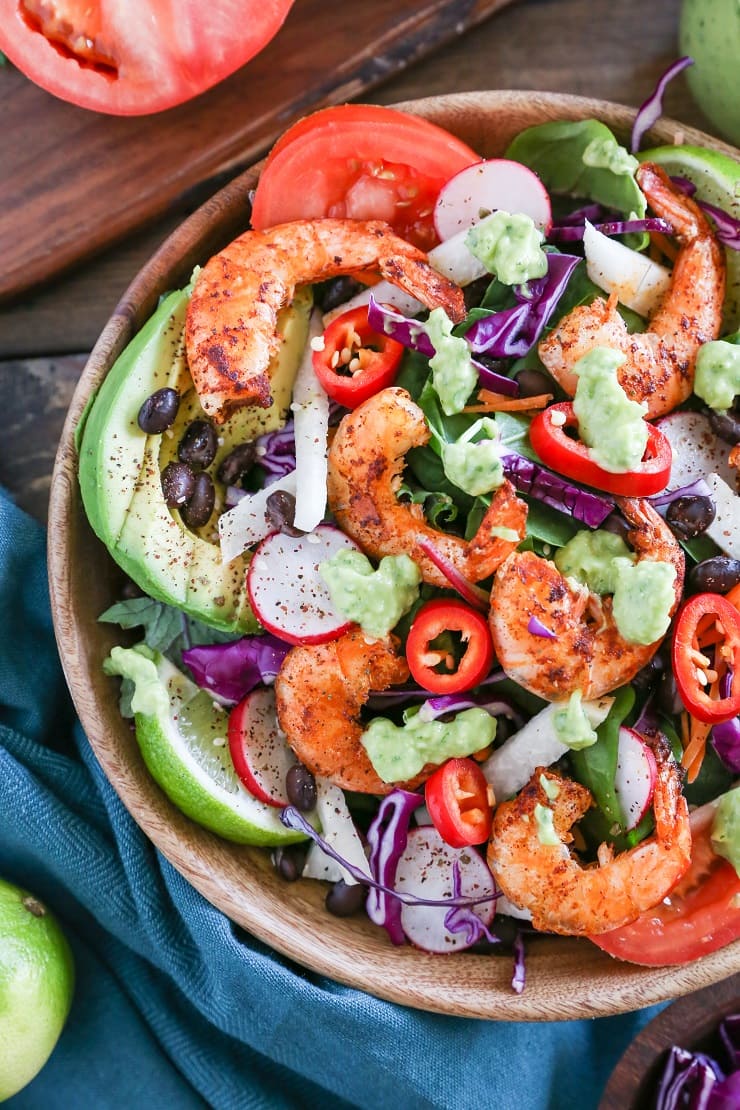 Balsamic Baked Chicken Paleo Caesar Salad – The best Chicken Caesar Salad with balsamic baked chicken and homemade Paleo-friendly lemony Caesar salad dressing. This delicious approach to Caesar is paleo, low-carb and worthy of putting on repeat.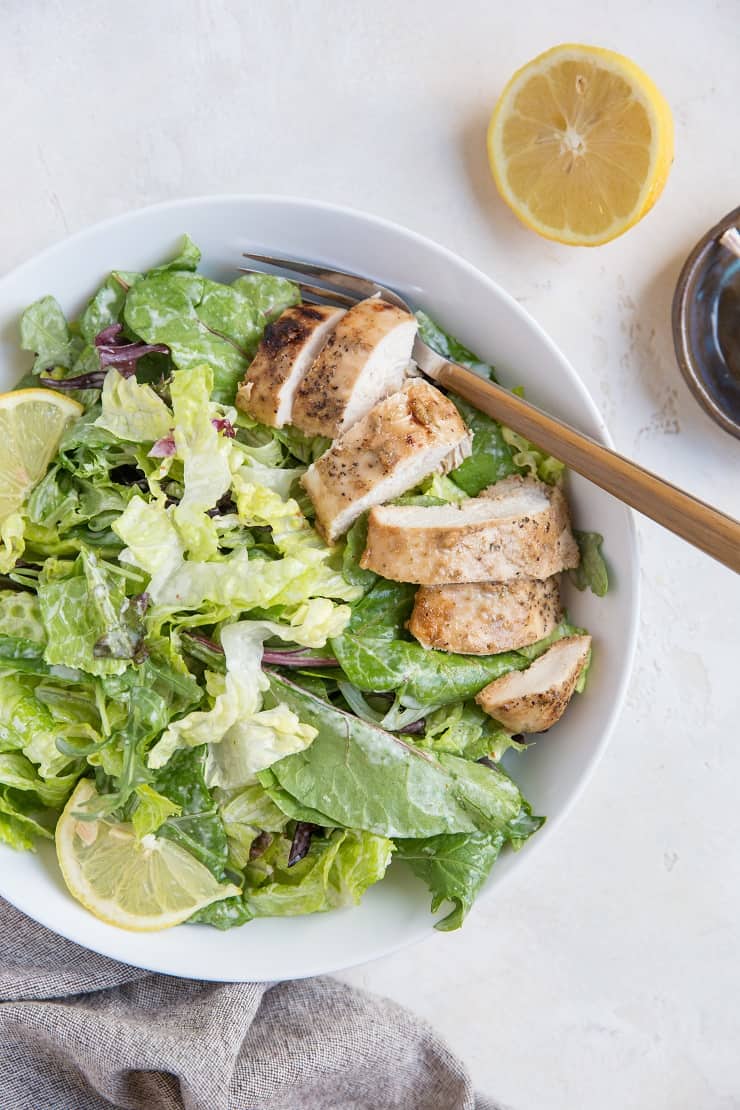 Chickpea Broccoli Salad with Sunflower Seeds – The perfect combination of chickpea salad and broccoli salad, this Chickpea Broccoli Salad boasts big flavors! Featuring fresh blueberries, red onion, dried cranberries, sunflower seeds and feta cheese, this fresh and simple salad is the perfect chilled summer side dish or a light dinner.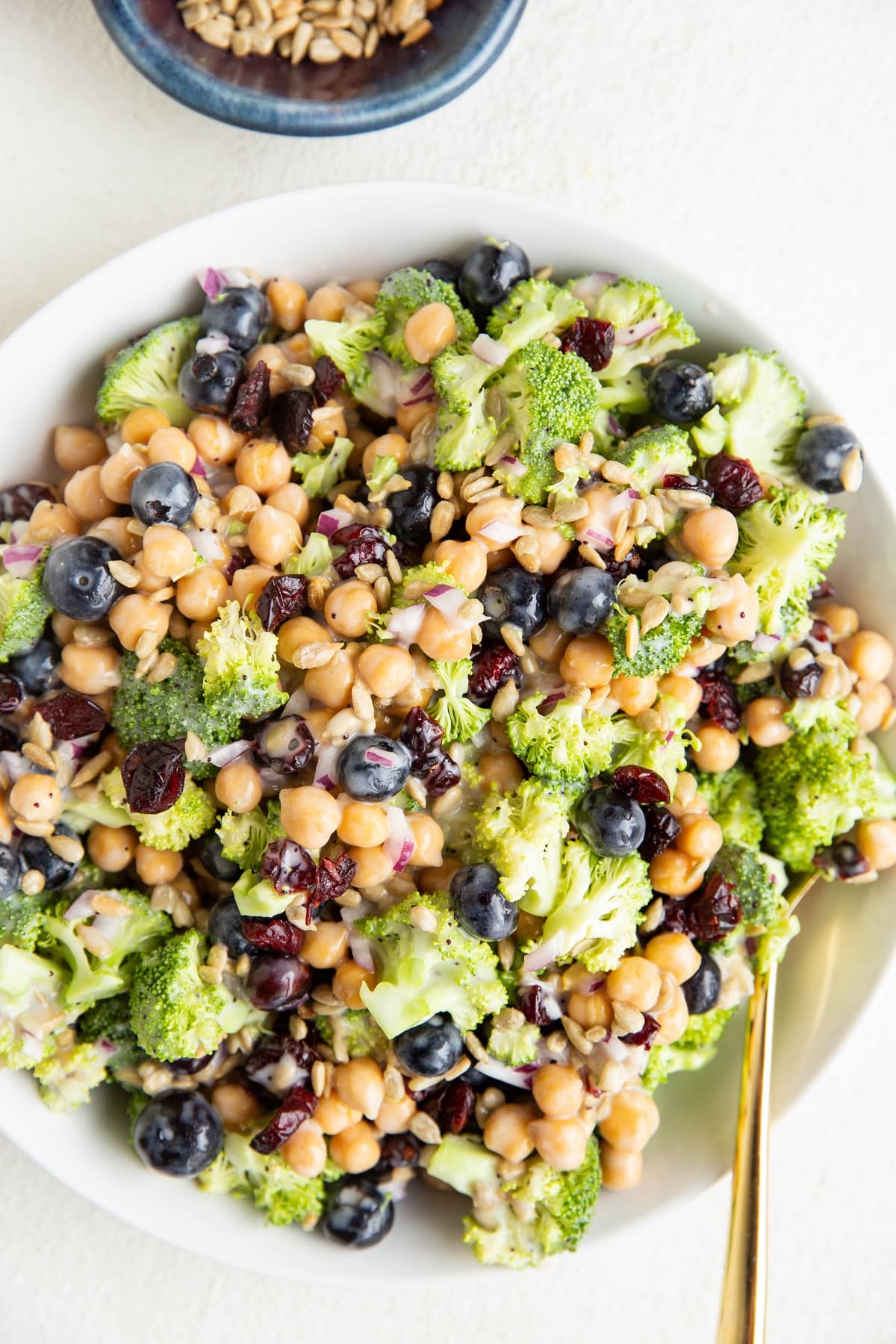 Avocado Pesto Tuna Salad – Tuna Salad made with avocado pesto instead of mayonnaise with sun-dried tomatoes comes together in a FLASH! It is loaded with flavor and nutrients! Enjoy it as is or on top of a green salad for a light yet satiating meal.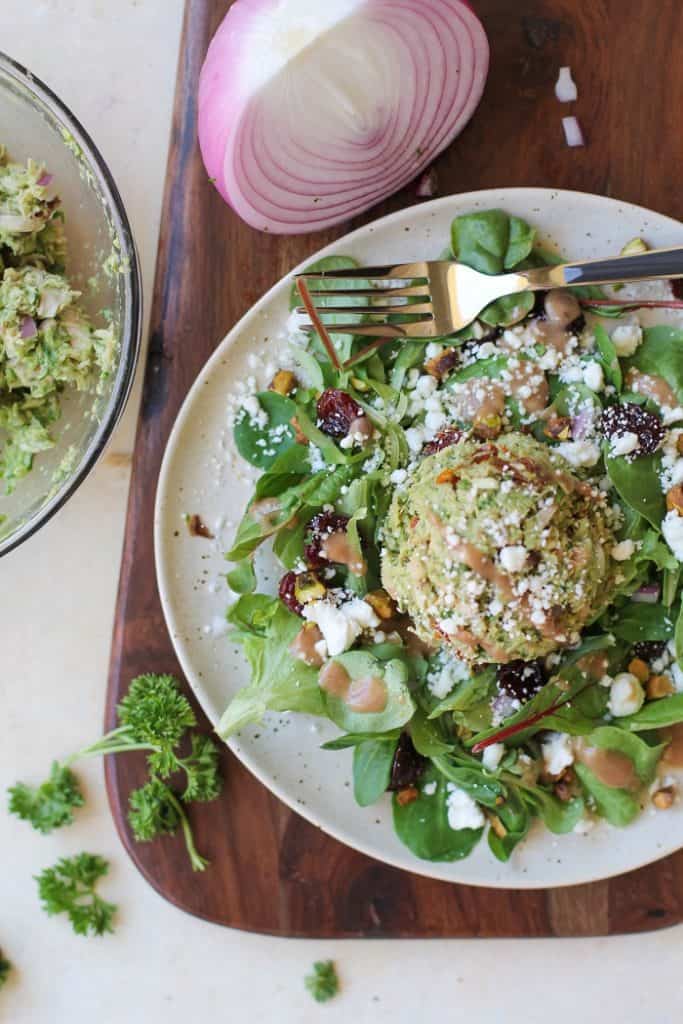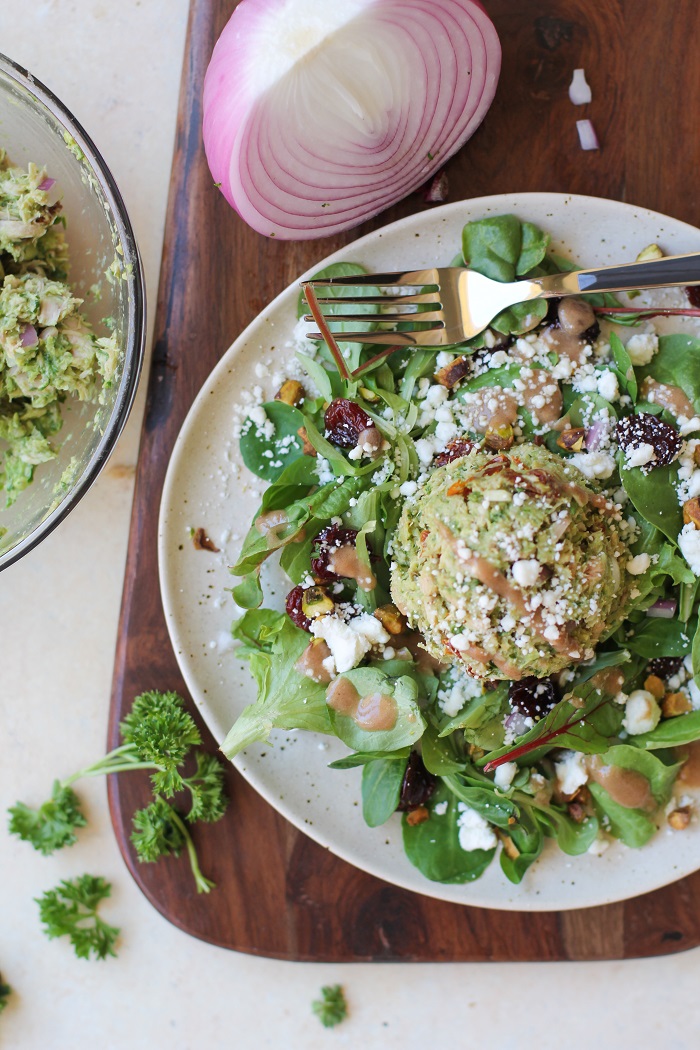 Baked Chicken Spinach Salad – Perfectly tender chicken and fresh fruit and greens makes this salad an absolute delight! Baked chicken spinach salad with roasted pumpkin seeds, dried cranberries, fresh blueberries, feta cheese, and homemade raspberry vinaigrette is a nutritious lunch or dinner perfect for meal prep!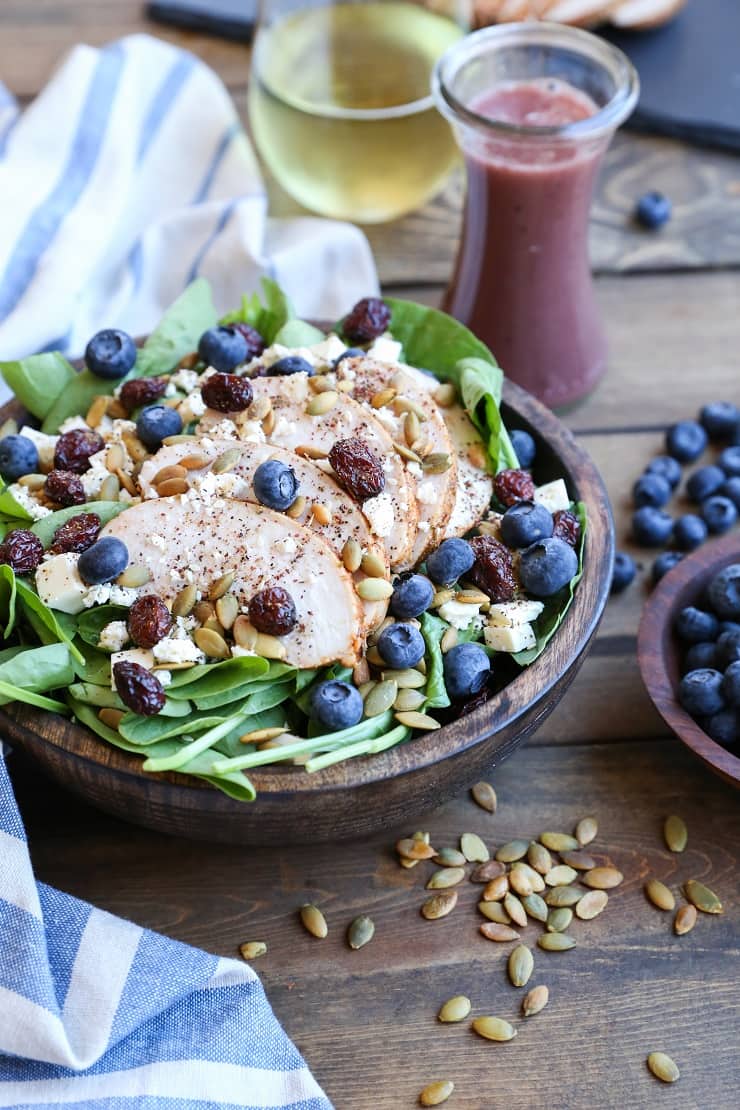 Seared Ahi Salad – If you're savvy with raw fish, this seared ahi salad may just be for you! With perfectly spiced tuna tossed with fresh greens, mango, avocado, tomato, red onion, crystallized ginger, and creamy wasabi dressing, this salad is light and refreshing.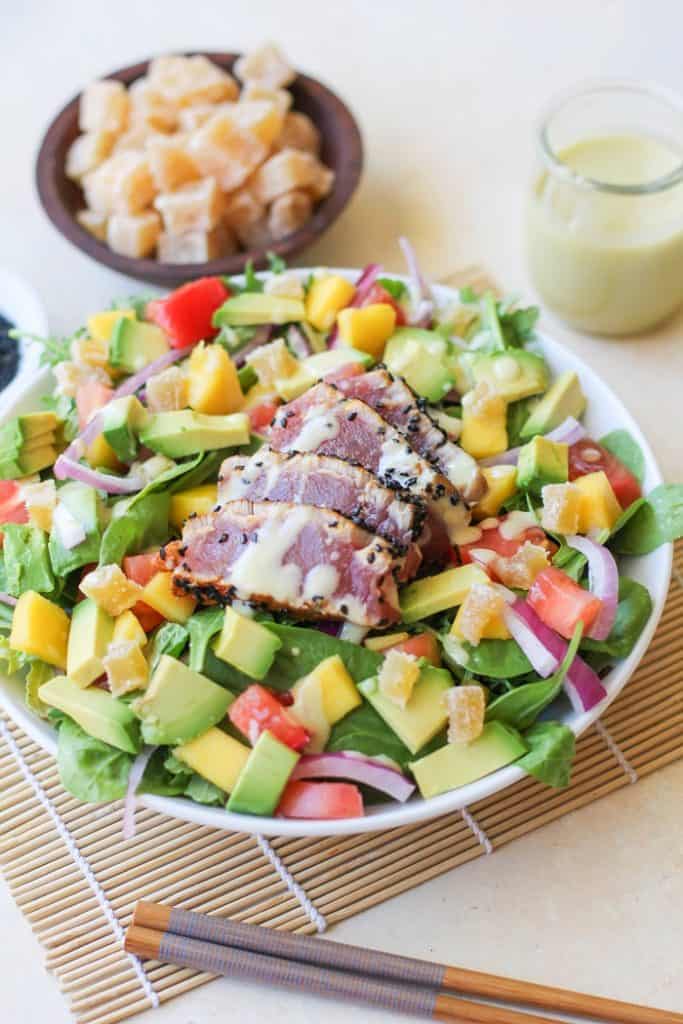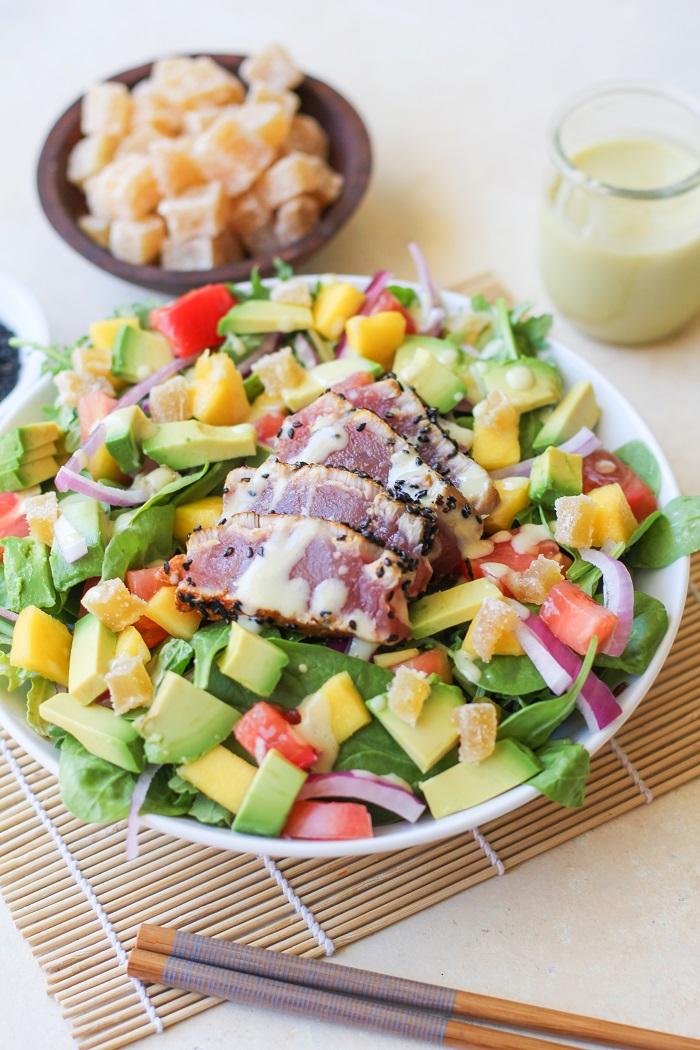 Roasted Summer Vegetable Quinoa Salad – Quinoa salad with roasted summer vegetables, walnuts, and a citrusy dressing is such an amazing go-to for the warm weather months. This easy vegan dish can serve as a light vegetarian dinner, or a side dish at any of your summer gatherings!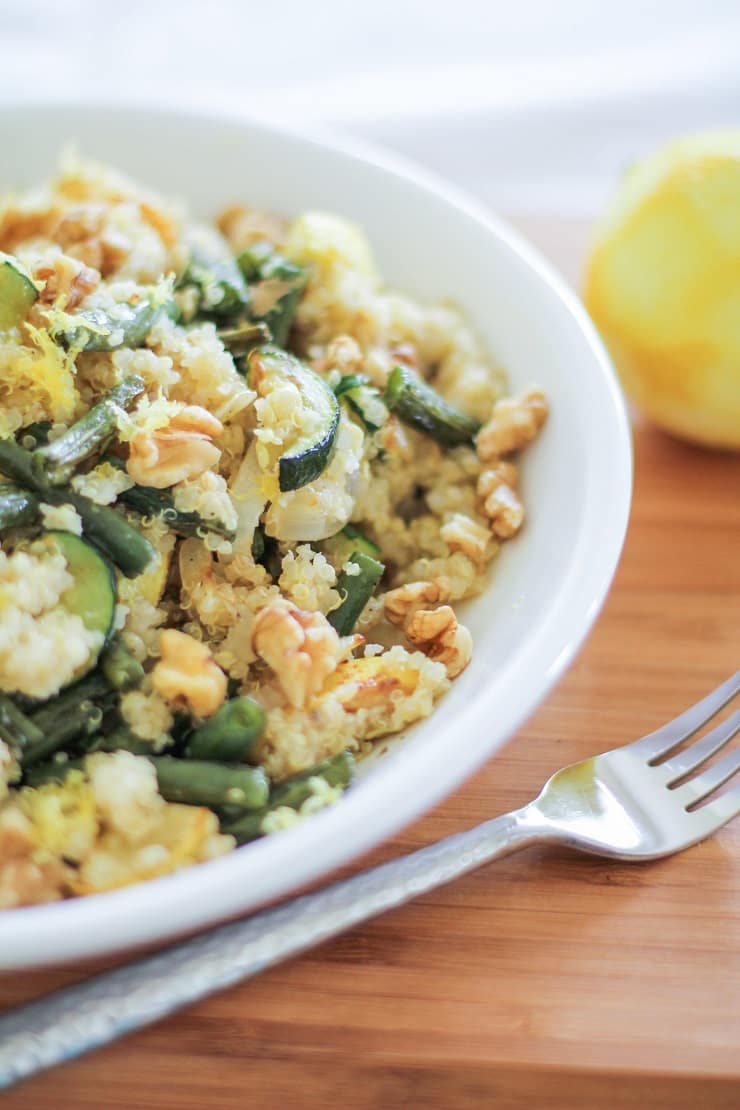 Turkey Taco Salad with Cilantro Lime Dressing – My taco lovers, you'll go crazy for this easy turkey taco salad recipe! It's fresh, it's flavorful, you can add all sorts of veggies, avocado, beans, guacamole, cheese, tortilla strips for added crunch, you name it!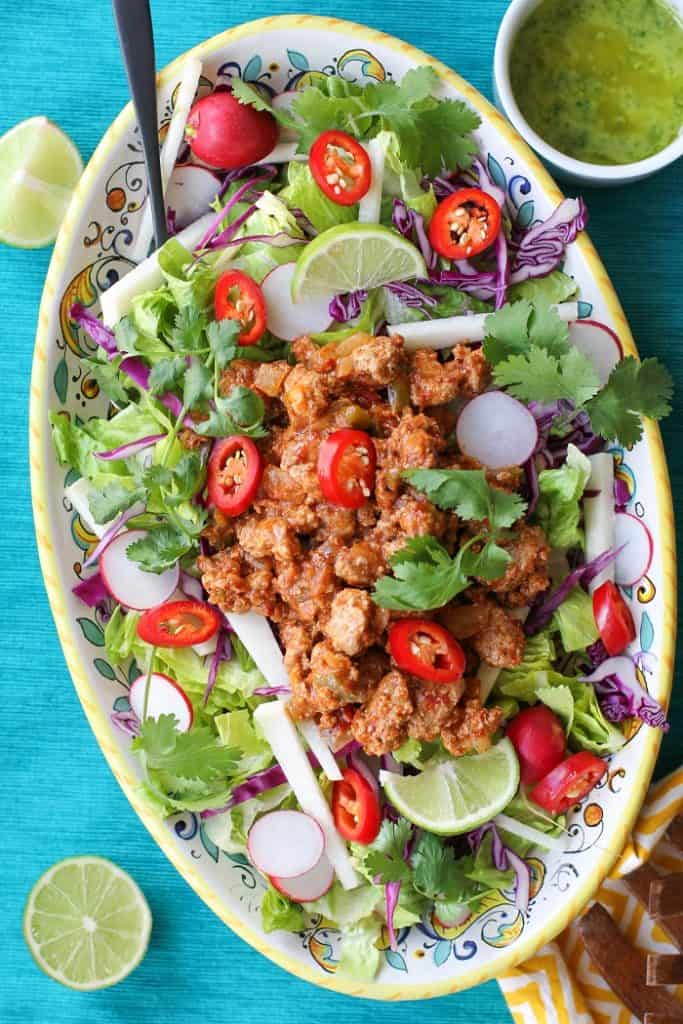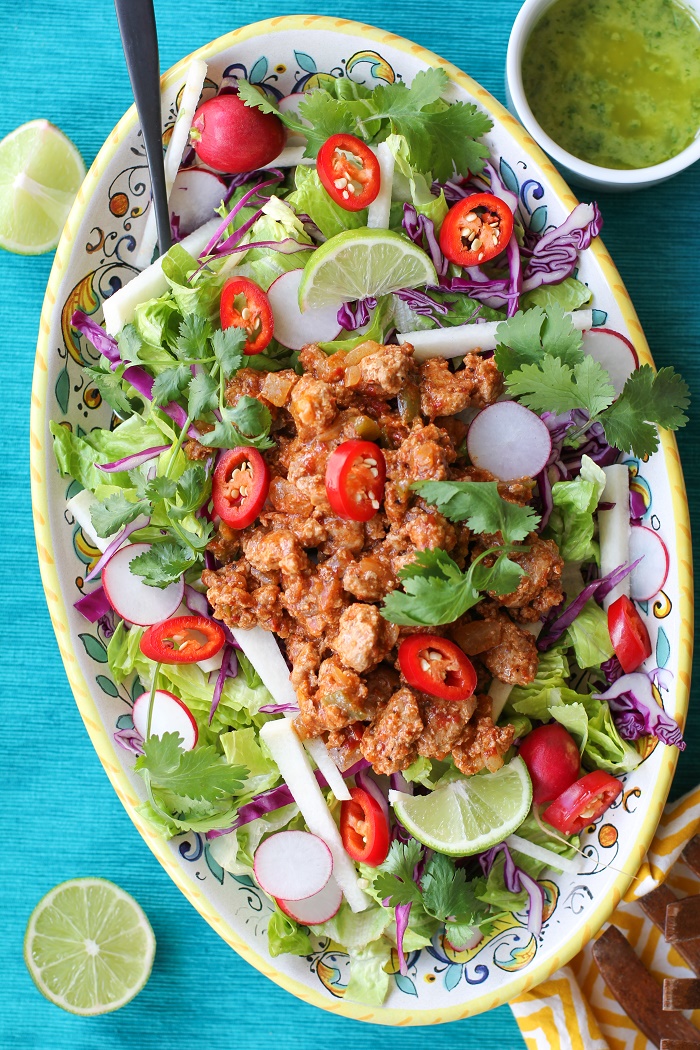 Spring Cleaning Detox Salad – A vibrant detox salad with kale, carrots, bell pepper, radishes, cucumber, avocado, walnuts, beets, and liver-cleansing lemon-parsley vinaigrette. This flavorful salad is packed with vitamins, minerals, antioxidants, and healthy fat. Add your favorite protein to make it more filling!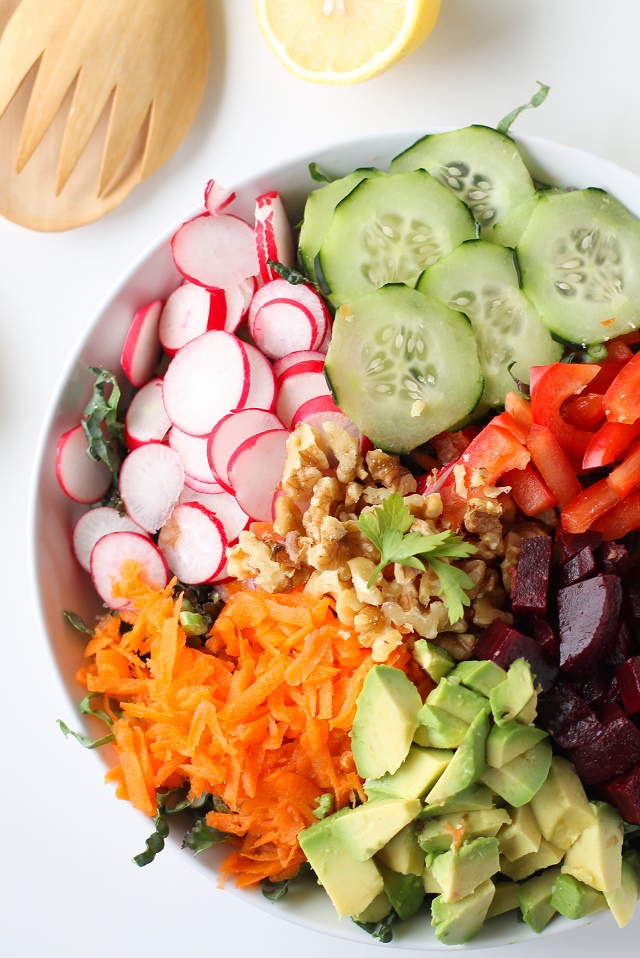 Sesame Turkey Avocado Chopped Salad – Sesame Turkey Avocado Chopped Salad combines delicious fresh vegetables with sliced turkey and an amazing homemade sesame ginger dressing for a crunchy salad that's loaded with goodies. Whip it up for lunch or dinner on repeat!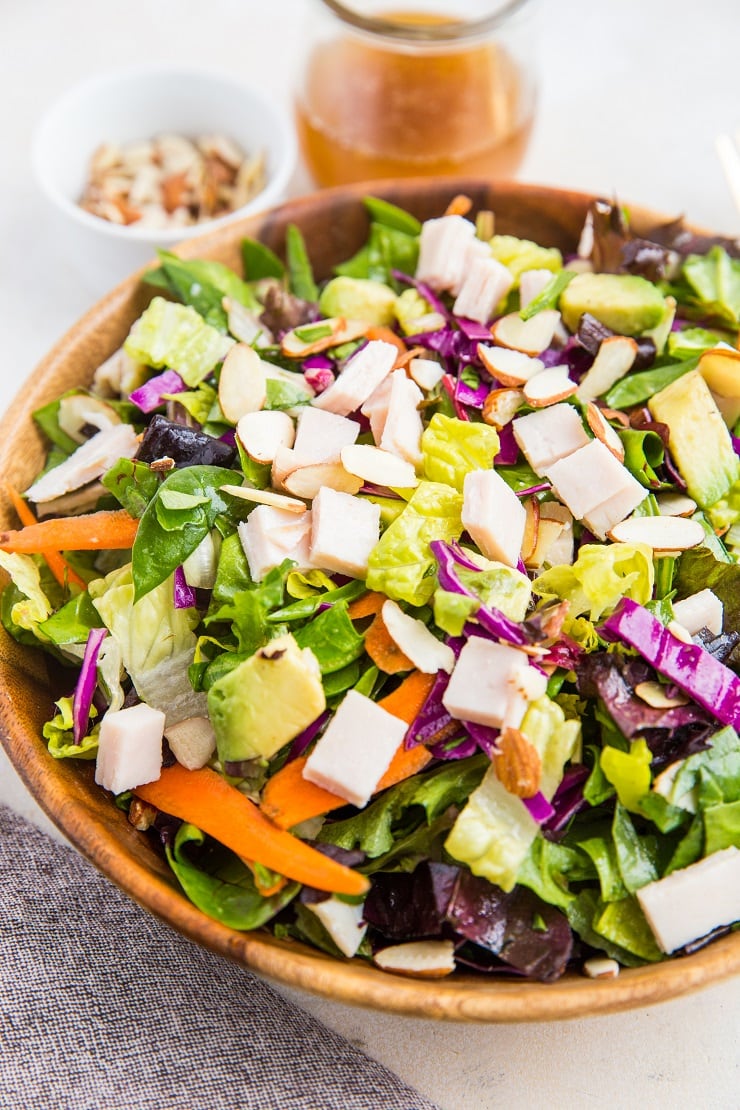 Roasted Sweet Potato Salad with Spinach and Grapes – This hearty, healthy salad recipe is both light and filling! It's perfect for those times you want a meatless meal, or you can add your favorite protein to make it well-balanced.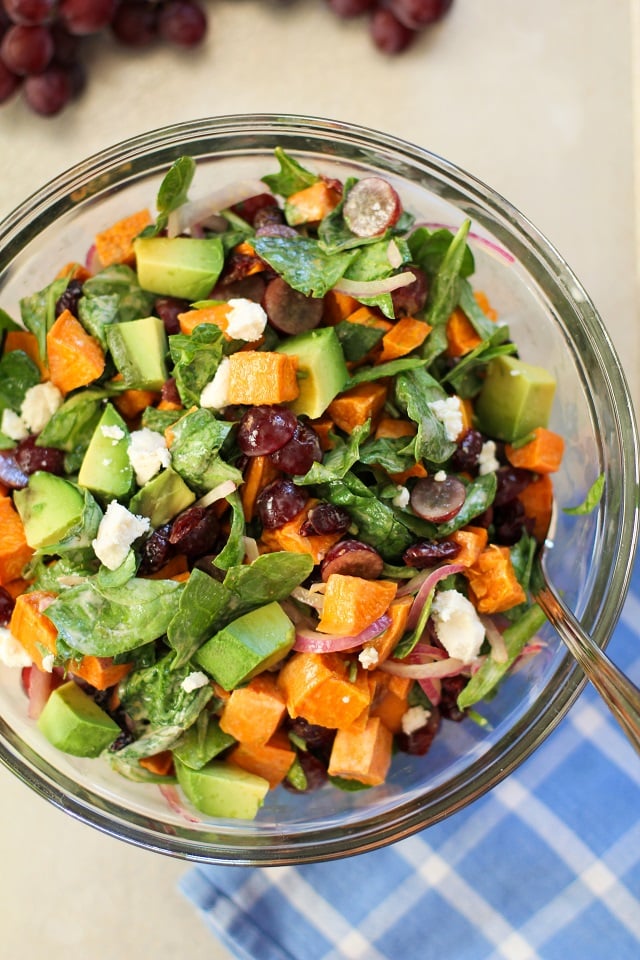 Curried Egg Salad – While this isn't your typical green salad, it is super satiating and flavorful! All it takes is a little egg salad to fill me up for lunch. You can also add it to your green salads with your favorite toppings and dressings.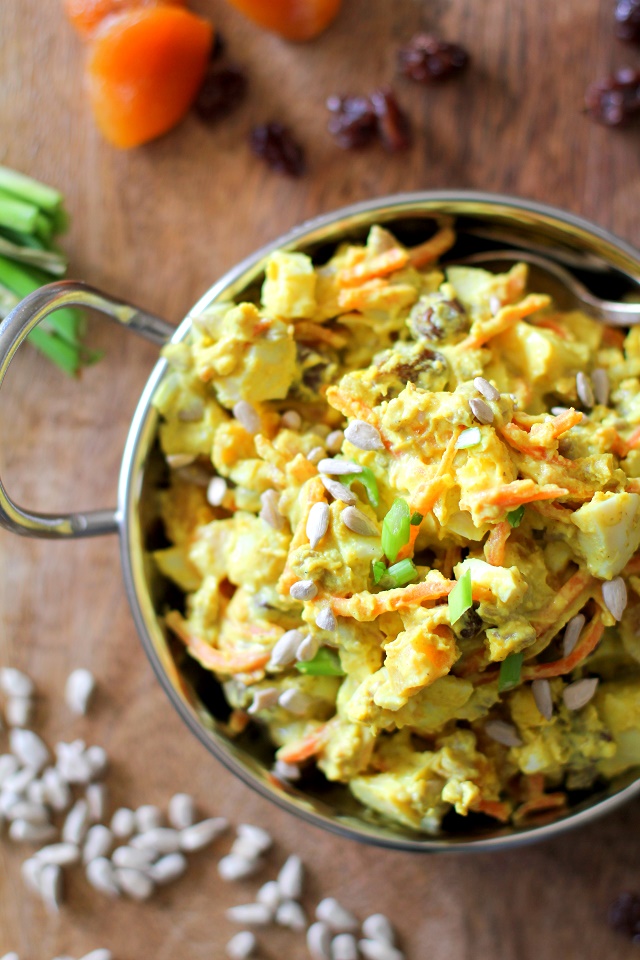 Broccoli Salad with Honey-Toasted Walnuts – Alright, this isn't technically an entrée salad, but it is one of my favorites. I often make it to add it to my entrée salad for more flavor, crunch and pizzazz!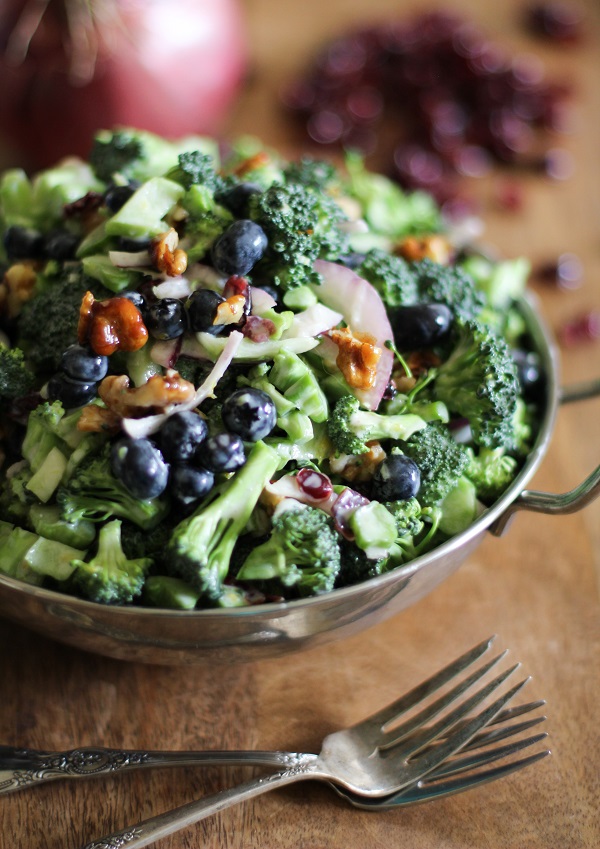 Raw Cauliflower Salad with Cabbage and Kale – Grated cauliflower salad with kale, cabbage, walnuts, dried cranberries, and lemon-mustard vinaigrette is packed with nutrients, full of flavor and makes for a marvelous main dish when you just add some protein! Chicken, salmon and shrimp are all great options!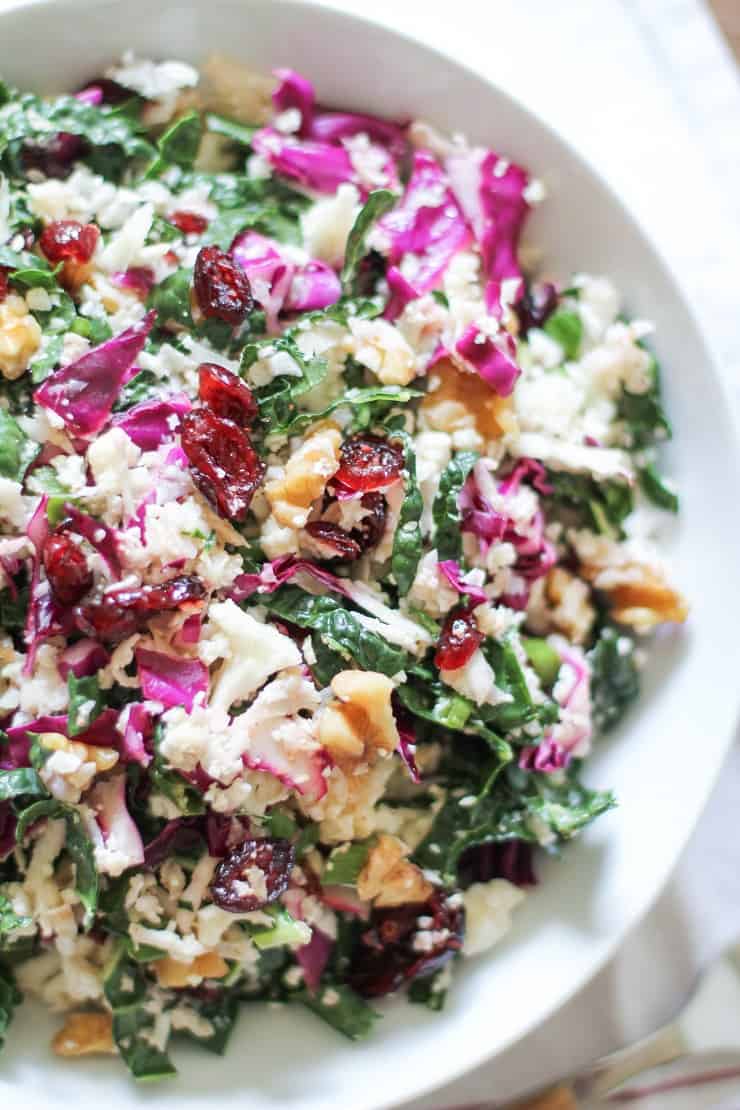 Mango Edamame Quinoa Salad – Light and flavorful quinoa salad with mango, edamame, bell pepper, flaked coconut, roasted almonds, and basil is an amazing side dish or entrée salad if you just add your favorite protein.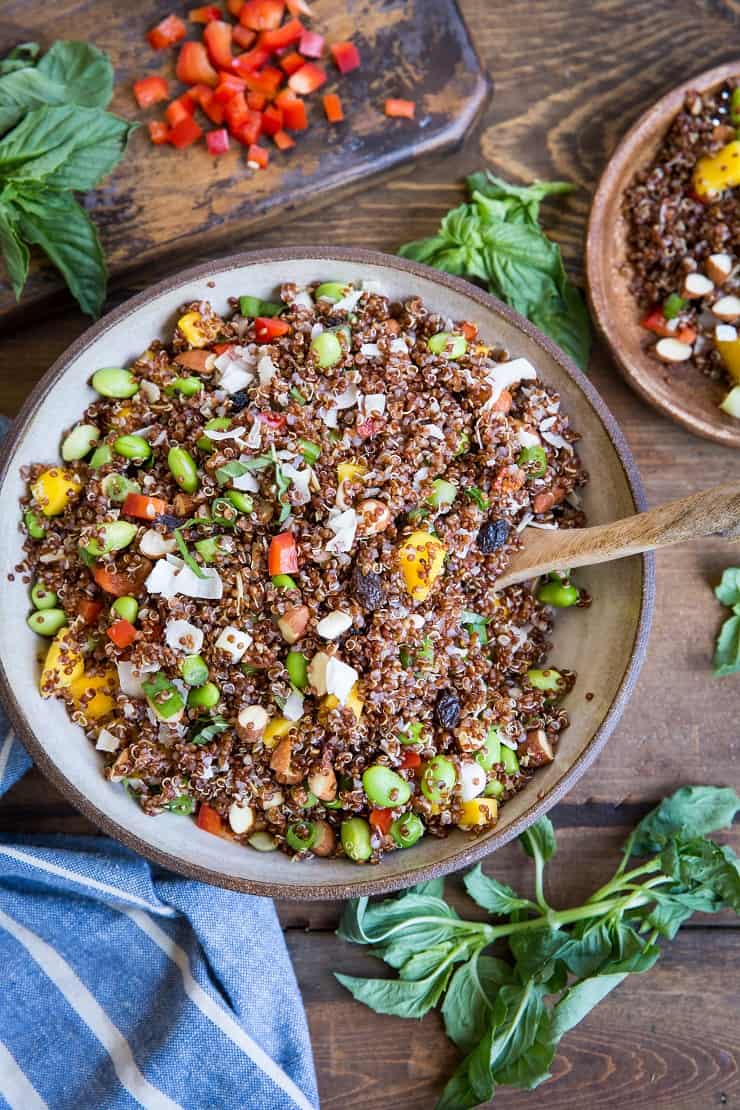 Enjoy!