Cauliflower "Couscous" with kale, cabbage, walnuts, dried cranberries, and lemon-mustard vinaigrette is packed with nutrients, full of flavor and makes for a marvelous side dish! Just add animal protein to turn it into a main entree.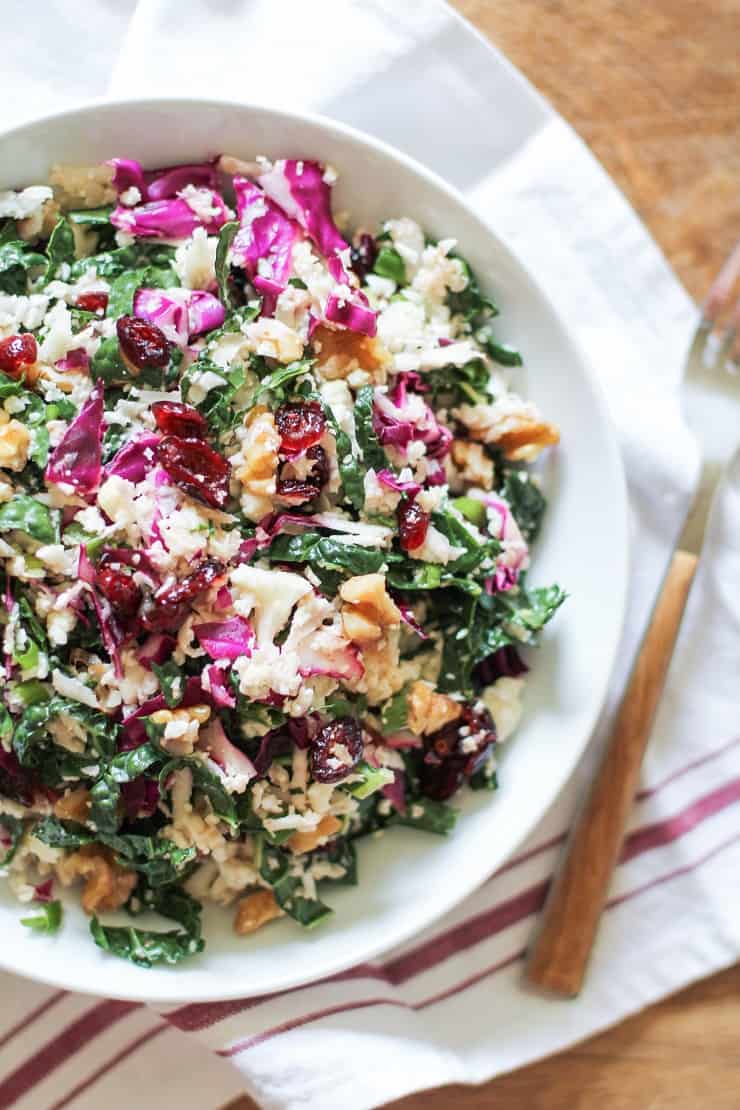 So I've been doing this thing that has been making me feel like a natural woman…
…And no, it has nothing to do with bathing, shaving, behaving, or any action verb that requires proper hygiene or social normalcy.
I've been taking an online photography class, people!
A few years ago, I came across Eva's blog, Adventures in Cooking. I was immediately drawn to her photography, and since then, she has been my photography idol. Can I be you, Eva? Please and thank you. When I saw that she was offering an online food styling and photography workshop, I just about died.
And then I did some pacing. And some head scratching. And some ice cream binge eating. Followed by some wall-staring, followed by more pacing. Because this is how I deal with the thought of change.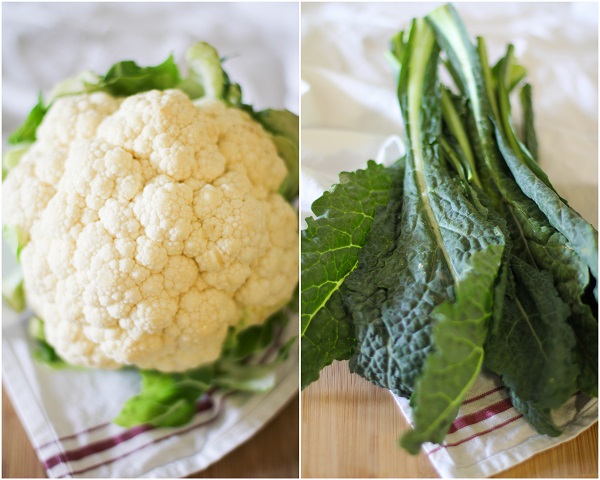 Let's chat about this "couscous," as it is not your regular couscous at all.
What is Cauliflower Couscous?:
Simply put, cauliflower "couscous" is cauliflower grated into small pieces that resemble actual couscous. It is essentially the same thing as cauliflower rice. When cooked, cauliflower couscous even has a similar texture to regular couscous. BOOM! Innovation.
I wasn't sure what to name this recipe.. Power Couscous Bamboozle. Superfood Cauliflower Jamborooski. Bad Mama Jama Cruciferous Vegetable Bowl. I'm real creative.
So I ended up naming it something blasé, yet relevant, so that I would get SEO bonus points for really buzz-wording it out.
There's a lot going on in this bowl. You should investigate it.
I was inspired by Andrea's Cauliflower Couscous with Lentils and Turmeric-Tahini Dressing and had been meaning to do cauliflower in the raw for quite some time. So I whipped up this recipe and it is the latest object of my affection.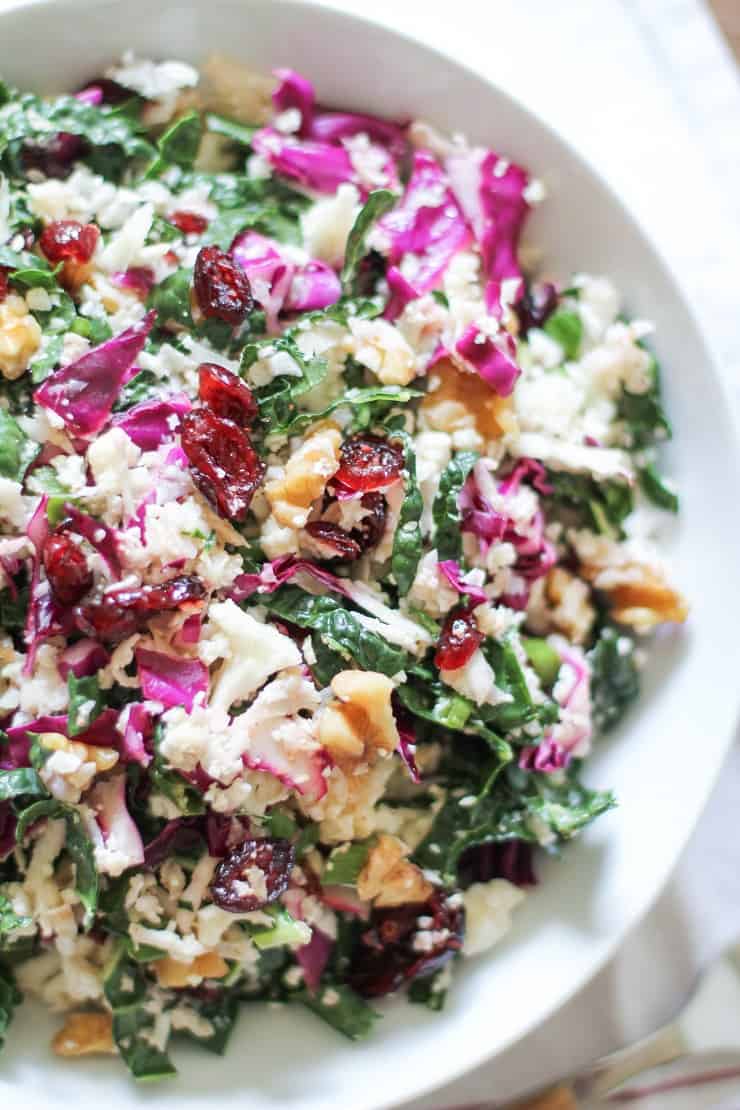 Ingredients for Raw Cauliflower Couscous:
Cauliflower
Cabbage
Kale
Walnuts
Dried Cranberries
Green Onion
Lemon Vinaigrette of olive oil, lemon juice, and stone ground mustard!
Health Benefits of Cauliflower Couscous:
This cauliflower couscous packs a mean antioxidant punch! Between the kale, cabbage, and cauliflower (three AMAZING cruciferous vegetables), it contains Vitamin C, Vitamin K, choline, fiber, and more! These vegetables have been touted as cancer-fighting and disease prevention foods. Making them a regular part of your diet is a sweet little insurance policy.
More Cauliflower Recipes:
My cookbook,
Paleo Power Bowls
, is now available! CLICK HERE to check it out. Thank you for your support!
Go raw, dog (not to be confused with…never mind).
Raw Cauliflower Couscous with Kale
Cauliflower couscous with kale, cabbage, dried cranberries, walnuts and lemon vinaigrette.
Ingredients
½

head cauliflower

grated (4 cups)

2

cups

red cabbage

thinly sliced

2

cups

tightly packed dino kale

thinly sliced*

5

stalks green onion

chopped (3/4 cup)

1/2

cup

dried cranberries

1/2

cup

raw walnuts

chopped
Dressing:
2

tablespoons

olive oil

or more to taste

¼

cup

fresh lemon juice

2

tablespoons

stone ground mustard

Salt and cracked pepper to taste
Instructions
Rinse all of the vegetables very well and pat dry.

Remove the stems on the cauliflower, chop the head in half, and grate one of the halves using a box grater (note: you can also pulse cauliflower florets in a food processor).

Add cauliflower couscous, cabbage, kale, green onion, dried cranberries, and walnuts to a large serving bowl.

Whisk together the olive oil, lemon juice, and stone ground mustard together in a small bowl. Pour it over the veggies and toss everything together well. Taste the "couscous" for flavor and add more olive oil, lemon juice, and/or sea salt to taste.

Serve alongside your favorite entree.
Notes
*you can also use curly kale or Russian kale
Nutrition
Serving:
1
Serving
|
Calories:
334
kcal
|
Carbohydrates:
40
g
|
Protein:
10
g
|
Fat:
18
g
|
Fiber:
10
g
|
Sugar:
24
g