A vibrant detox salad with kale, carrots, bell pepper, radishes, cucumber, avocado, walnuts, beets, and lemon-parsley vinaigrette. This flavorful salad is packed with vitamins, minerals, antioxidants, healthy fat and protein.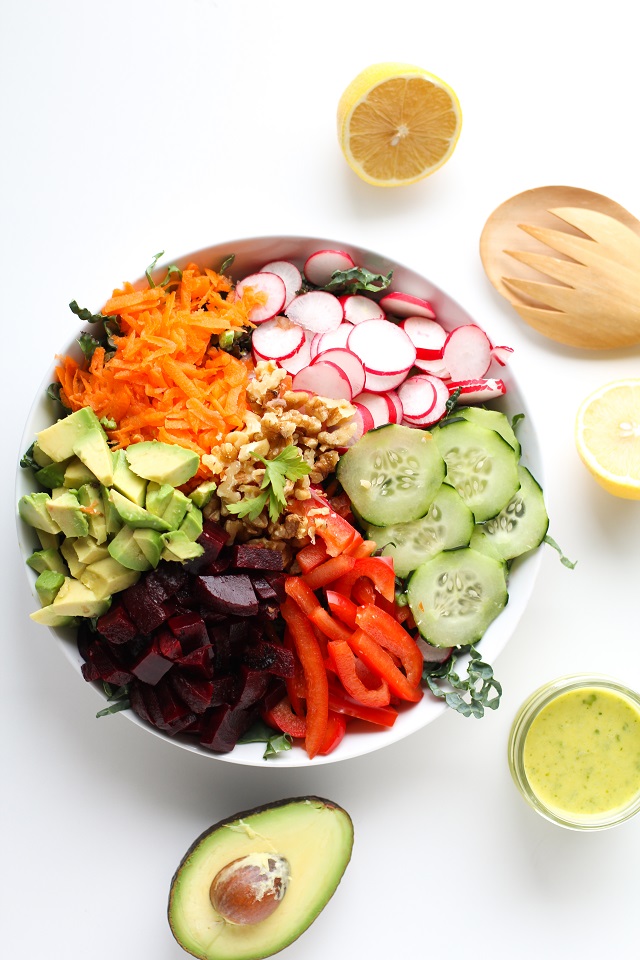 There's been an above average amount of fog in my harbor lately…please tell me you can relate!
Blame it on back-to-back Q4 through Q1 holidays, complete with all the heavy (read: delicious) foods.
Blame it on not paying a lick of attention to my ratio of kale-to-alcohol.
Or my beet-to-dairy or radish-to-sugar consumption. Blame it on visiting über fun friends who really know how to tie one on.
The fog-laiden harbor can only mean one thing…
Time for a little spring cleaning!
And not just the kind that requires washing the base boards, removing the cobwebs from the window sill, and wiping the beet juice stains off your cabinets…the kind that detoxes your bodacious bod.
I'm all about enjoying a bottle glass of vino and a bar piece of chocolate, but without interspersions of clean-as-a-whistle superfood bowls of vegetables, this girl's mind, body, and soul becomes – how do I say this? – lazy. The cleaner I eat, the better my mind functions, and the more efficiently I move and work.
Which is why I'm going to eat paleo for the rest of my life. Just kidding.
But a big ass salad from time to time will suffice.
If only for one meal, all it takes is a little attention to dirt-ail to re-set the system, allow the fog to lift, and get your body back to homeostasis. This particular varietal of detox salad functions marvelously as a dual refrigerator-cleanout slash body-cleanout.
Complete with kale, cucumbers, cooked beets, carrots, bell pepper, radishes, walnuts, and avocado, and dressed in a super cleansing lemon-parsley vinaigrette.
I posted a very similar Detox Kale Salad a couple years back, but wanted to re-visit the idea of a bowl full of raw goodness because dang good squeaky clean food is timeless, ya feel?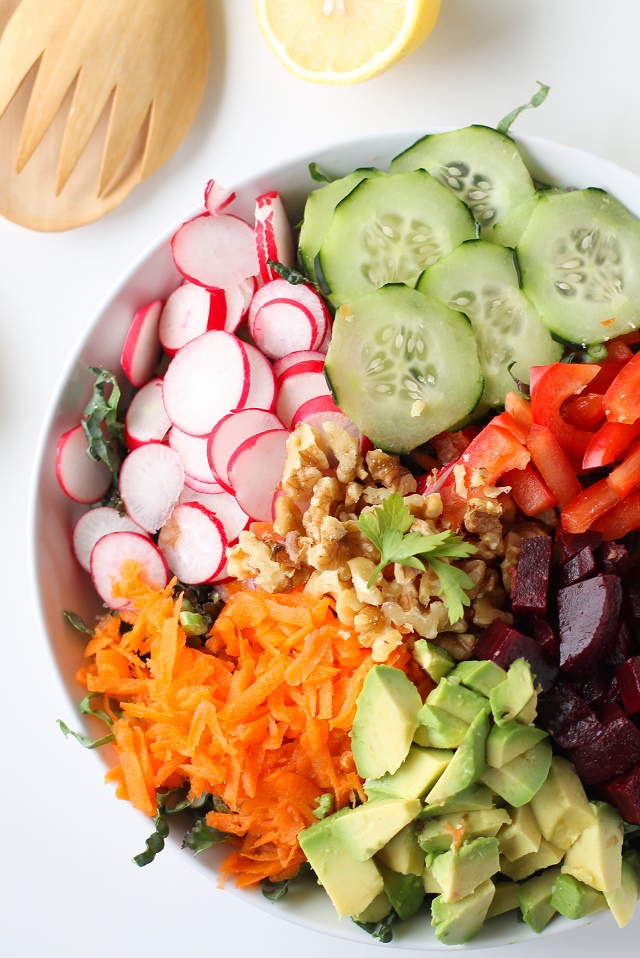 Let's talk about everything you get in this incredible immunity-boosting salad recipe!
Detox Salad Ingredients & Health Benefits:
Kale: High in Vitamins K, A, and C, powerful antioxidants that help fight and prevent cancer and cleanse your system of damaged cells. Contains the B Vitamin, Folate, which is important for keeping your brain healthy. Supports healthy digestion with a high amount of fiber.
Carrots: Full of beta-carotene, and antioxidant that prevents cancer and slows the aging of cells. Promotes healthy skin, vision, and digestion, and cleanses the liver due to a high concentration of Vitamin A.
Radishes: Calm inflammation, bloating and indigestion. Full of Vitamin C, phosphorous, and zinc, which keep your body hydrated and boost your immune system.
Bell pepper: Contains beta-carotene – that amazing antioxidant that helps cleanse your liver of damaged cells. Full of Vitamin C, Vitamin A, and Vitamin B6, and folate which support your immune system and brain function.
Beets: Chock full of Vitamins A, B, C, potassium, magnesium, fiber, phosphorous, and iron. These nutrients kick your immune system into high gear by preventing disease and cancer, and help calm inflammation. The carbohydrates in beets lend an incredible source of energy to your system without spiking your blood sugar. Plus, beets are nature's Viagra…so there is that.
Cucumber: Because cucumbers are primarily water, they are great at keeping you hydrated. Their natural ability to lower your body temperature helps relieves heart burn by cooling down your system. Cucumbers also lower your cortisol (stress hormone) and lowers uric acid levels, which keeps your kidneys healthy.
Walnuts: Contain antioxidants that support heart health, lower blood pressure, and are full of omega-3 fatty acids. Walnuts are a good source of vegan protein, which makes for a well-rounded meal.
Avocado: Full of monounsaturated fats (omega-3 fatty acids), which are the healthy fats that help you process food and absorb nutrients. Omega 3s also support emotional health and keep you happy!
So there you have it! A powerhouse infusion of a variety of raw veggies works wonders for cleansing your system, undoing some damage, and filling you with the proper nutrients to keep your body and brain working at full speed.
Also a great hangover cure. Just add bacon.
Spring Cleaning Detox Salad
A nutrient-dense salad recipe that actually tastes amazing! Give your immune system a boost with this beauty!
Ingredients
Detox Kale Salad:
1

head lacinato kale

thinly sliced, dino

1

head Russian red kale

finely chopped

1/2

red bell pepper

cut into matchsticks

6

small radishes

thinly sliced

1

medium carrot

peeled and grated

1/2

small cucumber

peeled and thinly sliced

1

large ripe avocado

peeled and diced

1

medium red beet

roasted and chopped

1/2

cup

raw walnut halves

chopped
Lemon-Parsley Dressing:
1/4

cup

+ 1 tablespoon avocado oil*

1/4

cup

fresh lemon juice

1 large lemon

1

clove

garlic

minced

1/4

cup

packed fresh parsley leaves

2

teaspoons

pure maple syrup

2

teaspoons

stone ground mustard

A pinch of salt
Instructions
Prepare the Detox Kale Salad:
Wash the kale leaves under cold water and pat dry with a paper towel. Remove the stalks and discard. Finely chop the leaves and place in a large serving bowl.

Add the remaining ingredients to the serving bowl and add desired amount of dressing. Toss everything together to combine.
Prepare the Lemon-Parsley Dressing:
In a small blender or food processor, add all of the ingredients for the dressing and blend until smooth and creamy. If you don't have a small blender, whisking the ingredients together in a bowl works well, too.
Notes
*avocado oil can be replaced with grapeseed oil or olive oil
Nutrition
Serving:
1
of 2
|
Calories:
490
kcal
|
Carbohydrates:
26
g
|
Protein:
8
g
|
Fat:
43
g
|
Fiber:
7
g
|
Sugar:
12
g