A healthy tuna salad recipe with avocado pesto and sun-dried tomatoes.
Truth: I have always, always been a tuna salad sandwich kind of gal. When my mom made school lunches for my siblings and I, I was always beyond excited each time I discovered she packed a tuna sandwich. In fact – and buckle up, because I know this will be a shocker – when faced with the decision to enjoy a classic PB&J or tuna salad sandwich, I'd always select the latter. And this is coming from a girl who has loathed mayonnaise since birth. Tuna salad continues to be the ONE THING including mayo that I would happily, wholeheartedly consume.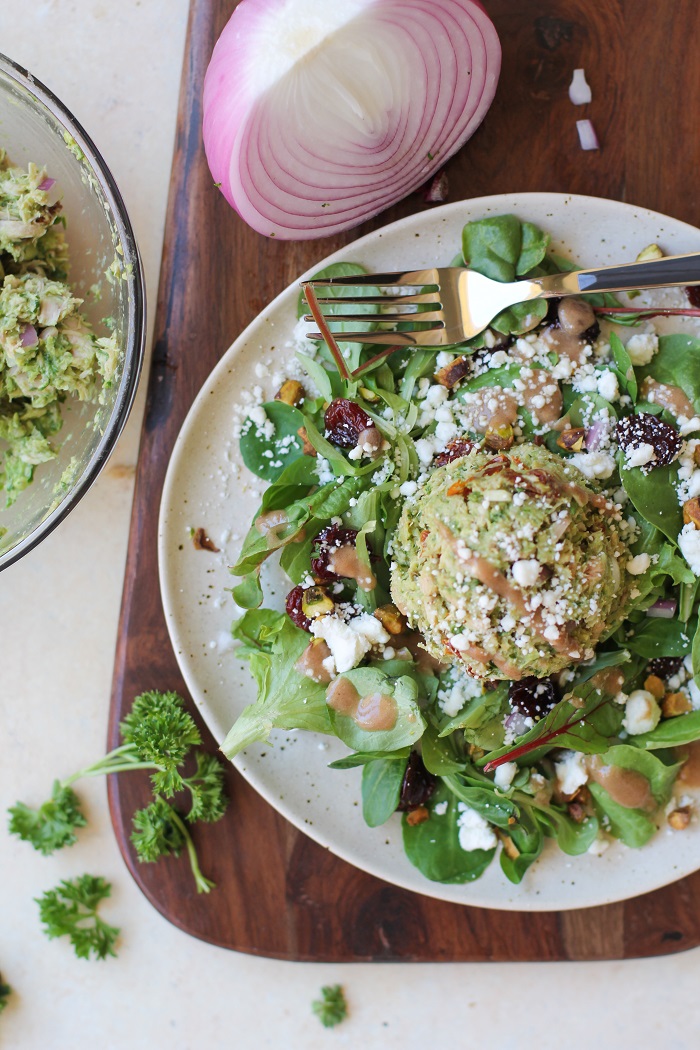 Which brings me to my next point: mayo. Still not a mega fan. Whenever possible, I substitute mayonnaise for something else, such as avocado, plain yogurt, or hummus. The sub-out sub-in always results in a fresher, healthier and – in my opinion – just as tasty result.
Instead of using mayo for this tuna salad recipe, I used avocado. Avocado pesto to be exact. Have you ever made avocado pesto? The idea behind it is simple: use avocado in place of olive oil for a wicked creamy pesto sauce. In order to make the pesto, all you do is add avocado, basil (or parsley or herb of choice), pine nuts, lemon juice, and garlic to a food processor and process until it reaches your preferred consistency. You can also add parmesan cheese, but I find I like the pesto better without.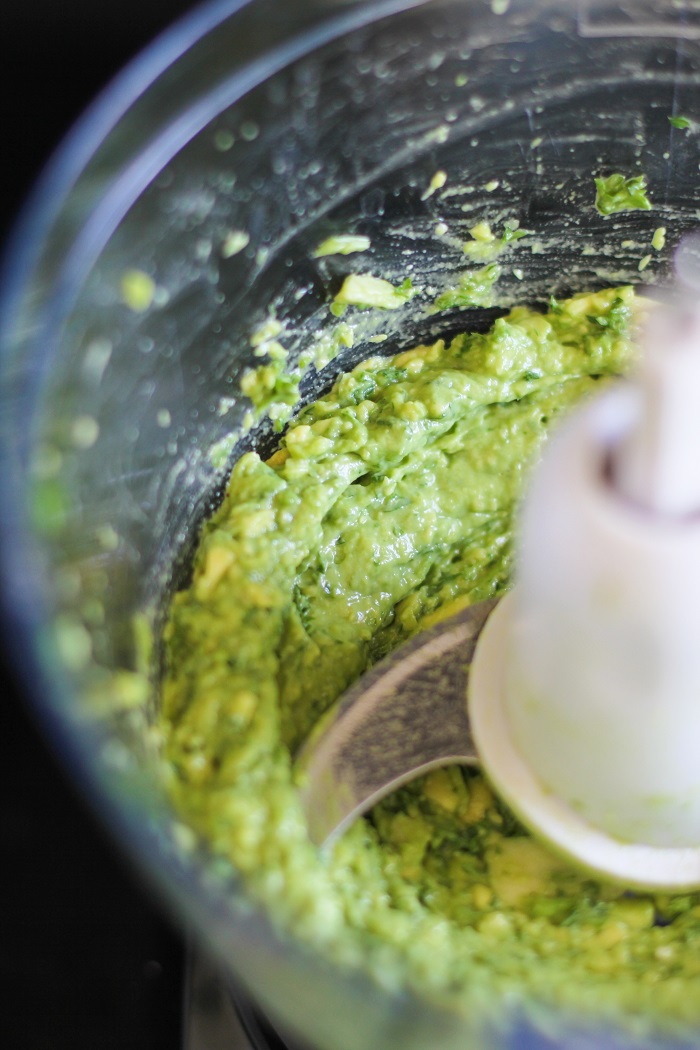 Mix said avocado pesto in with your drained canned tuna, throw in a couple of other savagely flavorful ingredients, such as sun-dried tomatoes and red onion, and BOOM!: lunch of my dreams.
For serving, I ate the avocado pesto tuna salad in three ways: as is with a fork, as a sandwich between pieces of toasted gluten-free bread, and atop a green salad with feta cheese, dried cranberries, pistachios, and balsamic vinaigrette. You can also serve this tuna salad up as a wrap with veggies and greens, or as a pita.
Let's talk tuna preferences…I'm pretty particular. When it comes to tuna, I'm all about choosing a quality brand, as I'm a firm believer that fish never has to taste overly "fishy." I was thrilled when I was introduced to Genova Seafood, a premium tuna brand that serves up Mediterranean-style (packed in olive oil) tuna. All of their tuna is certified wild-caught, and each fillet is hand-picked to ensure the utmost quality in flavor and texture. Plus, there are no additives or preservatives, ensuring you're consuming fresh, real, wholesome food.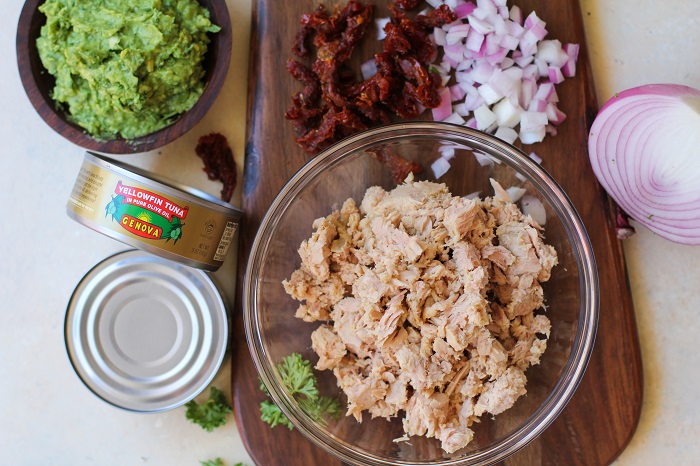 The second I opened a can and took a bite, I was hooked. The tuna is tender yet chunky, giving the salad a perfect texture. I used Genova Seafood's Yellowfin Tuna in Olive Oil for this recipe and loved the way it turned out. You can also use Genova's Albacore Tuna in Olive Oil for all of your tuna salad-ing needs.
You can find Genova Tuna at your local Kroger (or Kroger-affiliated) store. To find where Genova is sold in your area, go to Kroger's store locator.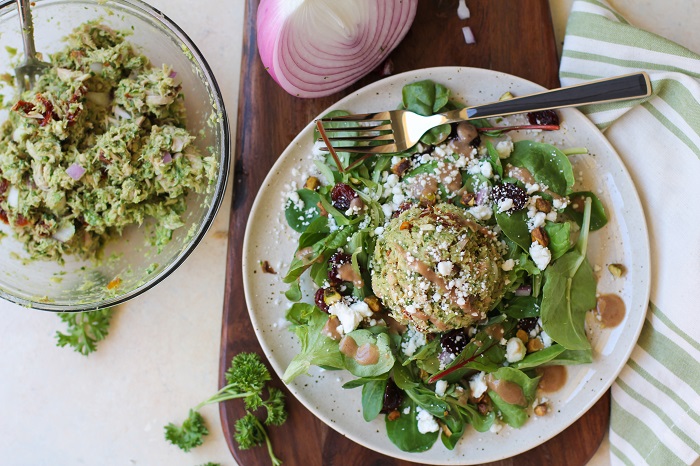 To make the experience easy peasy, you can print out a coupon to use against your purchase of Genova tuna. Simply click HERE to get your coupon!
And that's it! All you need is a few ingredients and less than 30 minutes of time to prepare this super scrumptious tuna salad recipe.
Tools I used to prepare this recipe: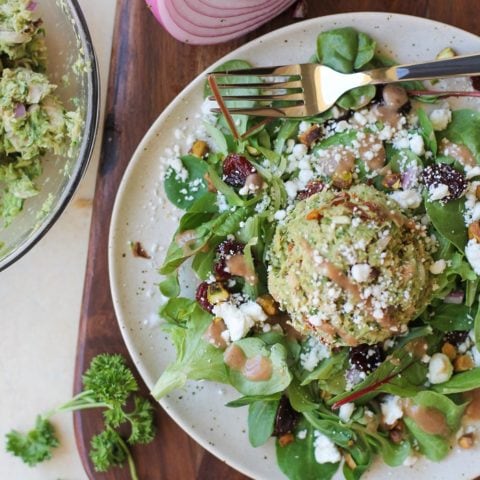 Avocado Pesto Tuna Salad with Sun-Dried Tomatoes
Roasted Summer Vegetable Burrito Bowls with Avocado-Basil Crema is a delicious lunch or dinner loaded with nutrients!
Ingredients
Avocado Pesto:
1 large ripe avocado, peeled and pitted
½ cup basil or parsley leaves
¼ cup pine nuts
3 tablespoons lemon juice
1 clove large garlic, minced
sea salt
Tuna Salad:
Avocado Pesto, recipe above
2 (5-ounce) cans Genova Yellowfin Tuna, drained
¼ cup red onion, finely chopped
1/3 cup sun-dried tomatoes, drained and patted dry
Instructions
Add all of the ingredients for the avocado pesto to a food processor. Pulse until completely smooth. Taste for flavor and add more salt to taste.
Add the tuna, red onion, and sun-dried tomatoes to a mixing bowl. Mix in the avocado pesto and stir until well-combined.
Spread tuna salad on toasted bread to make a sandwich or add to your favorite green salad.
Nutrition Information
Serving Size

1 grams
Amount Per Serving
Unsaturated Fat

0g
Genova provided me with product for the purpose of this post, as well as compensation for my time. As always, all opinions expressed in this post are mine.