Seared Ahi Salad with perfectly spiced tuna tossed with fresh greens, mango, avocado, tomato, red onion, and creamy wasabi dressing. A vibrant, flavorful healthy dinner recipe that can be made any night of the week in 30 minutes or less!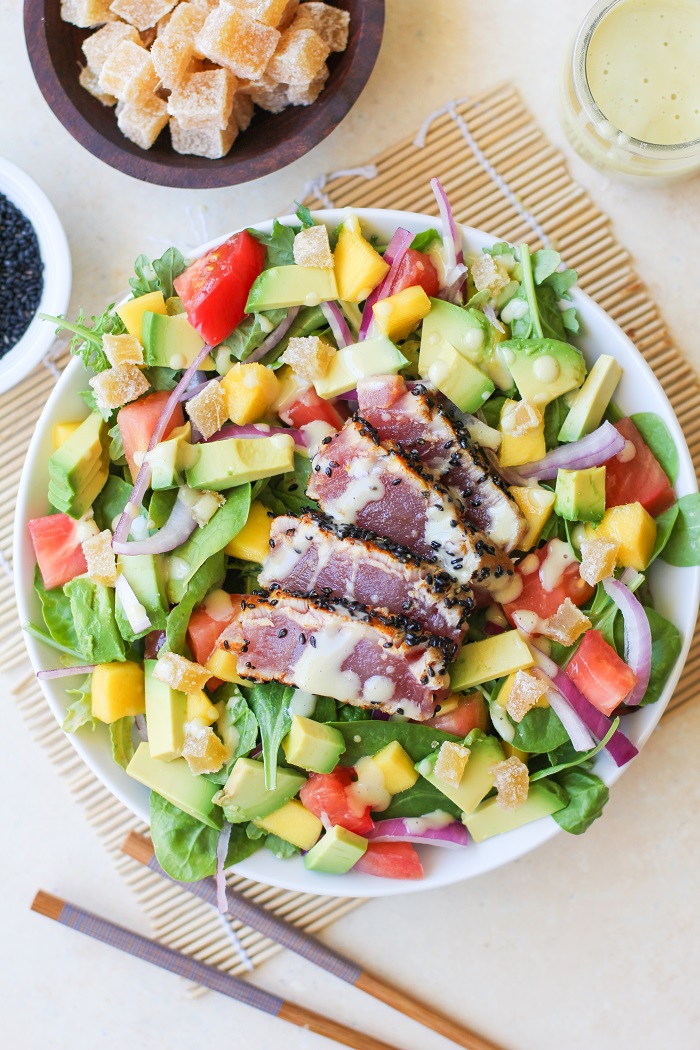 You're looking at my all-time favorite salad. And that's saying a lot, considering salad consists of roughly 60% of my diet.
Why is it my favorite, you ask? I have answers.
This healthy salad recipe is packed with lean, healthy protein. As you saw in my Ahi Poke post, I'm a big fan of raw fish. I also love a good crispy sear-on-the-outside, raw-on-the-inside situation for some added texture and flavor. Plus, it's tough to beat a super fresh ahi tuna fillet!
It is full of superfood greens to fill up your vitamin tank, and studded with flavorful ingredients like mango, avocado, red onion, and heirloom tomato.
Tossed in a creamy yet light homemade dressing to bring the whole meal into the most magnificent flavor meld you've ever experienced, this salad is, in a phrase: the perfect bite.
How to Sear Ahi:
If you've never seared ahi at home, it's nothing scary, I promise!
Simply heat some oil in a cast iron skillet over medium-high (you want it pretty hot in order to make the outside of the fish crispy), sprinkle the ahi fillet with spices, and cook the fillet for 1 to 1.5 minutes on each side, leaving the center rare.
Allow the fillet to sit for a few minutes on a cutting board before chopping it into strips with a sharp knife.
That's it! Never will you ever need to dine out again in order to enjoy a fresh and tasty ahi experience.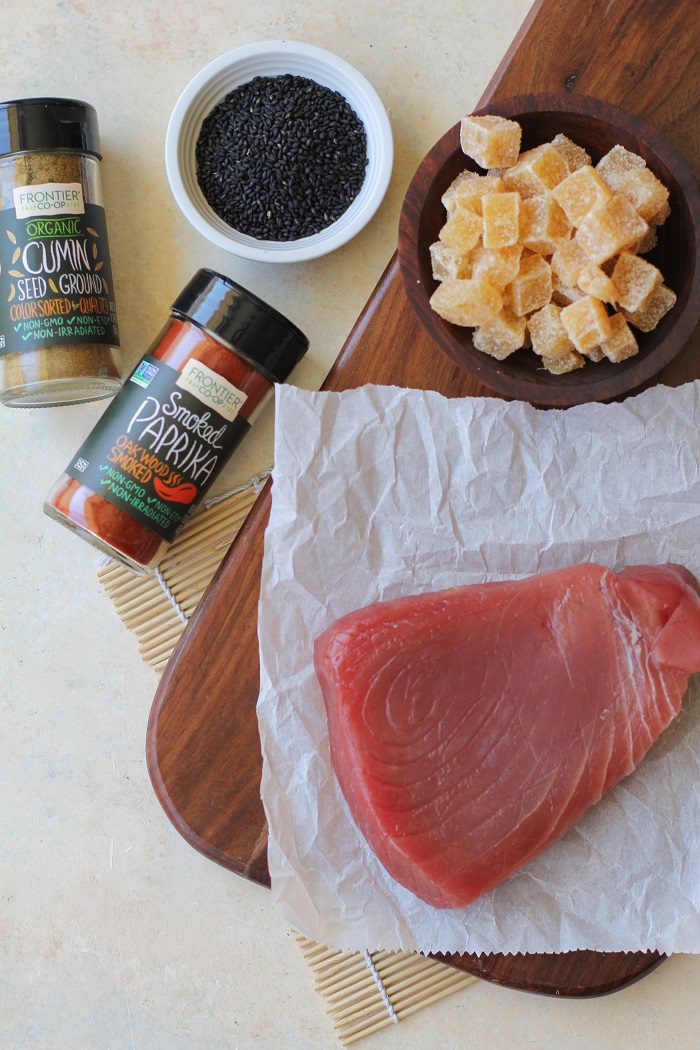 I used ground cumin and smoked paprika for seasoning the ahi, along with a pinch of turmeric and cloves.
The seasoning is so flavorful, it doesn't take much in order to give the fish a little something special.
Just be sure to select a cut of tuna that is sushi grade – it should say on the label, but if there is any confusion as to whether or not it can be safely consumed raw, be sure to ask the butcher at your grocery store.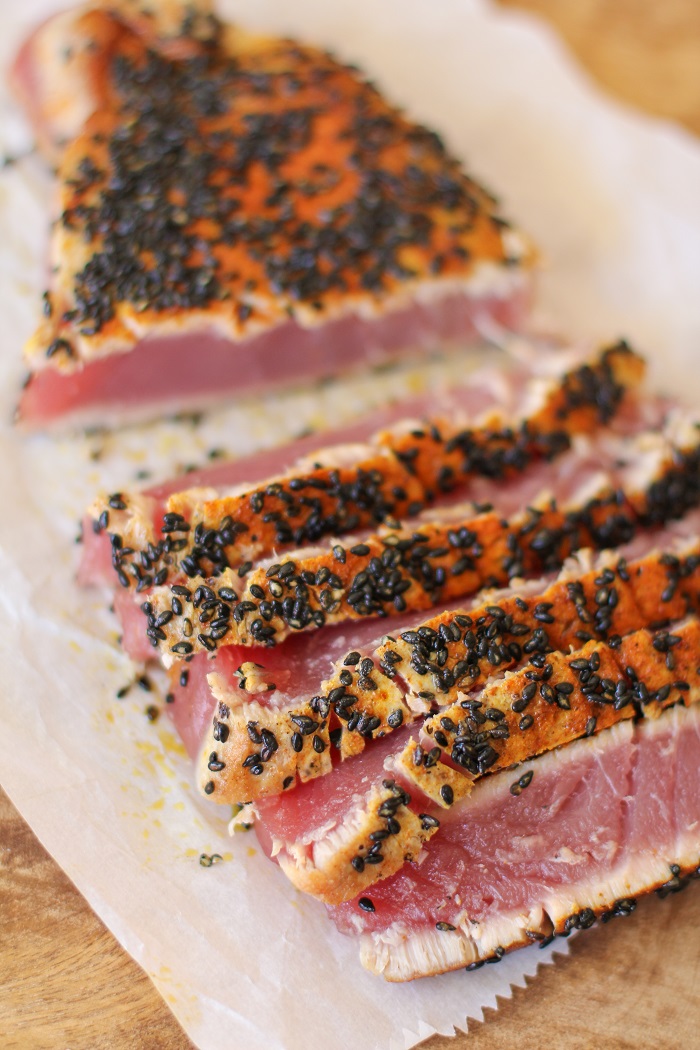 The creamy wasabi dressing here, guys…mind blowing.
Tahini gives the dressing a creamy texture, while liquid aminos (or soy sauce), wasabi, and rice vinegar make it super zingy.
Even if you're wasabi-averse, I encourage you to try the dressing! It's fairly mild from a heat standpoint, but big on flavor. You can adjust the amount of wasabi paste you use accordingly.
For the salad portion of this meal, I used a mixture of power greens – baby kale, chard, and spinach, and tossed in some chopped mango, avocado, heirloom tomato, red onion, and crystallized ginger.
Amazing how well all of these ingredients jive!
I know what you're thinking – crystallized ginger in a salad? Is Julia off her rocker?
For lack of a better way to describe it, it's like adding dried cranberries or raisins to a salad, except it lends a bit of heat.
For those of you who have never purchased crystallized ginger, it can be found in the spice aisle of your local grocery store, or you can buy it online.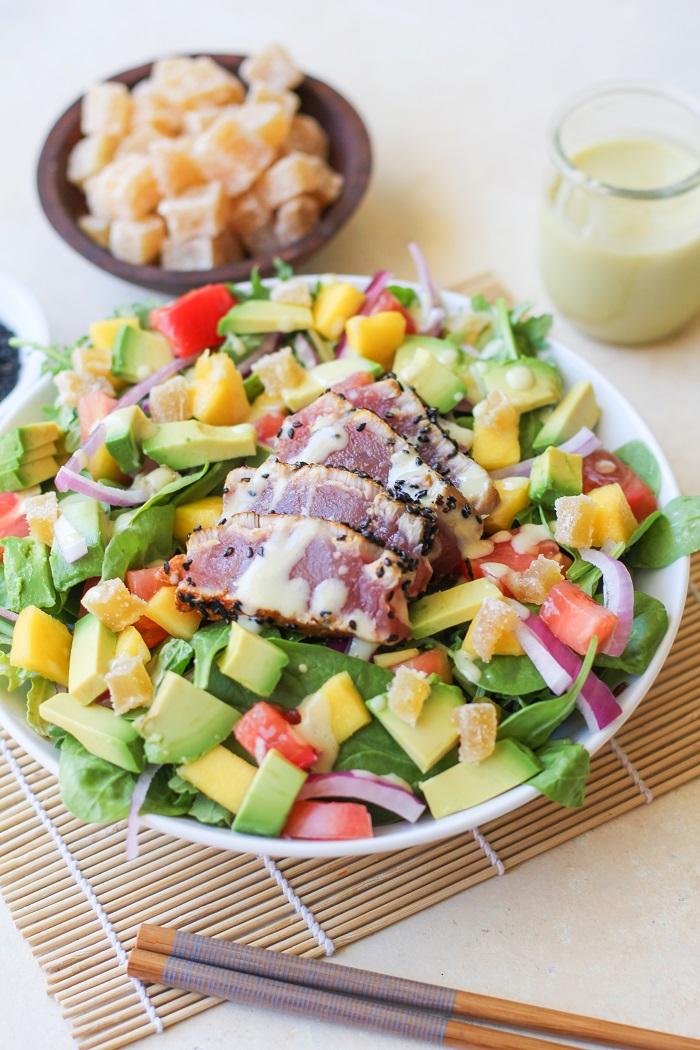 While the list of ingredients required for this recipe is lengthy, I assure you the meal is simple to prepare.
How to Make Seared Ahi Salad:
It is completed in three parts:
1.) Prepare the creamy wasabi dressing.
2.) Toss the salad ingredients in a serving bowl
3.) Sear the ahi.
Altogether, the recipe took me 30 minutes to make from start-to-finish. Whether you're having a date night in, or are just looking for a special meal to fancify a weeknight meal, this salad's your main squeeze!
If you love salads like this, also try my Broiled Salmon and Fig Salad.
Seared Ahi Salad with Creamy Wasabi Dressing
Seared ahi salad with wasabi dressing is a fresh, vibrant, nutritious dinner!
Ingredients
Salad:
5

ounces

mixed greens*

1

ripe mango

peeled and diced

½

ripe avocado

diced

1

small heirloom tomato

diced

¼

red onion

thinly sliced

¼

cup

crystallized ginger

chopped, optional
Instructions
Prepare the Seared Ahi:
Heat a cast iron skillet to medium-high with enough oil to coat the surface, about 2 tablespoons.

Stir together the ground cumin, smoked paprika, turmeric, cloves, and sea salt in a small bowl. Sprinkle both sides of the ahi fillet with the spice blend.

Carefully place the ahi fillet on the center of the surface of the hot skillet. Cook 1 to 1-½ minutes, or until the fillet is golden-brown and crispy. Flip and cook on the other side for 1 to 1-½ minutes, or until tuna reaches desired done-ness. Transfer to a cutting board and allow fish to cool. Once cool enough to handle, cut the tuna into strips. Refrigerate until ready to use.
Prepare the Creamy Wasabi Dressing:
Combine all of the ingredients for the dressing in a small blender. Blend until completely smooth.
Prepare the Salad:
Add all of the ingredients for the salad in a large serving bowl. Toss in desired amount of creamy wasabi dressing. Serve salad with seared ahi tuna on top.
Notes
*I used a mix of power greens - baby kale, chard, and spinach
**replace sesame oil with an additional tablespoon of olive oil
***use low-sodium soy sauce instead of liquid aminos
You can omit the crystallized ginger or use dried cranberries
Nutrition
Serving:
1
Serving
|
Calories:
503
kcal
|
Carbohydrates:
18
g
|
Protein:
39
g
|
Fat:
32
g
|
Fiber:
4
g
|
Sugar:
12
g