Curried egg salad is a beautifully flavored, unique take on the classic egg salad.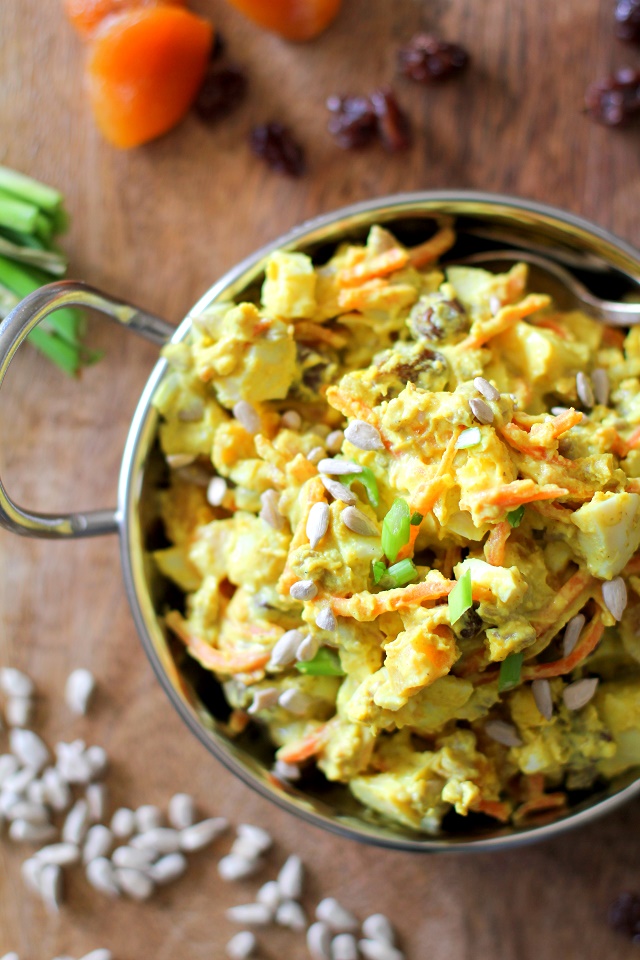 Howdy hooo from Coloradoooooo! Yup, I'm still in the sunshine state! I haven't fallen out of a bunk bed built by Paul Bunyan like I did the last time I was in Breckenridge, but I still have one more day here, so there's no telling what could happen. I'll fill you in on all the fun deets of the trip on Wednesday.
So how was the Easter of yourn? Did you share a tasty brunch with friends and/or family? Did you go for a scavenger hunt and bedazzle some eggs? I bet you're searching high and low around the intranets for Delicious Things to do with Hard Boiled Eggs. Don't worry, smalls, I've gotcha covered.
CURRIED EGG SALAD.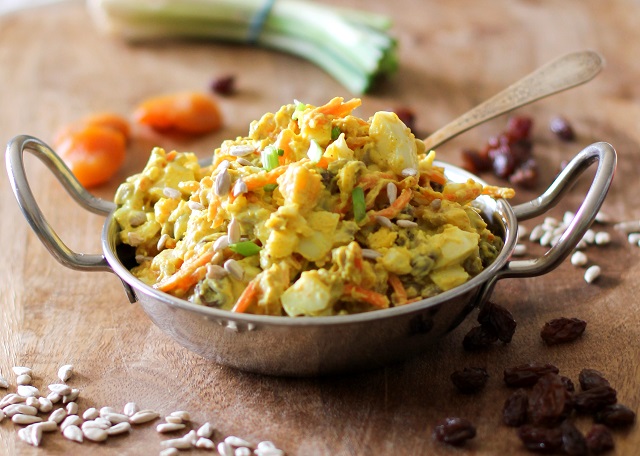 I lightened up the recipe by using whole milk plain yogurt (you can also use Greek) to replace some of the mayo, and added cashews, raisins, dried apricots, and sunflower seeds for a little crunch and flavaaah. If you tried my Copycat Trader Joe's Curried Chicken Salad and fell ass over teakettle for it, then you'll love this egg version, too!
Oh, and if you have 18 trillion hard boiled eggs to re-purpose and need another egg salad varietal, you can also try my Avocado Egg Salad. It requires just 4 ingredients and is mayo-free and suuupah cuh-reee-mee!
Eggs for daaaayz.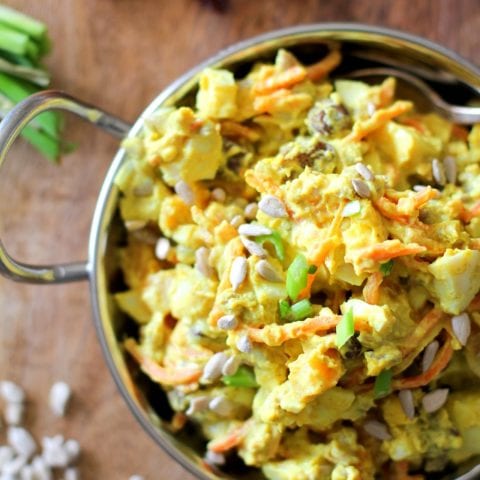 Curried Egg Salad
Take your egg salad to a whole new level by adding curry flavors to it. This flavorful egg salad recipe will blow you away!
Ingredients
6 hard boiled eggs
3 tablespoons whole milk plain yogurt
2 tablespoons mayonnaise
1 tablespoon fresh lemon juice
1 teaspoon pure maple syrup
1 tablespoon yellow curry powder
¼ teaspoon fine sea salt or to taste
1 cup grated carrot
3 green onions, chopped
½ cup raisins
6 dried apricots, chopped
¼ cup raw sunflower seeds
Instructions
Peel and roughly chop the hard boiled eggs and transfer to a mixing bowl.
Whisk together the yogurt, mayonnaise, lemon juice, maple syrup, curry powder and salt in a small bowl. Pour this mixture into the bowl with the chopped hard boiled eggs.
Add the remaining ingredients to the mixing bowl and stir everything together until well-combined. Serve as is or make a curried egg salad sando!
Nutrition Information
Serving Size

1 grams
Amount Per Serving
Unsaturated Fat

0g