Crunchy Taco Salad with Spiced Ground Turkey and Cilantro-Lime Vinaigrette from Heather Christo's cookbook, Pure Delicious.
Oh.my.Gaaaah…have I got a book for you?!
Heather Christo, creator of the food blog, HeatherChristo.com just released her cookbook, Pure Delicious on May 9, 2016. Just like the tasty eats Heather serves up on her blog, the book includes recipes from breakfast to dessert (and everything in between) that are free of gluten, dairy, soy, peanuts and tree nuts, shellfish, and cane sugar. Many of the recipes are even paleo-friendly, vegetarian, or vegan! With over 150 whole food recipes to choose from that exclude all of the Big 8 food allergens, the book truly is a something-for-everyone cookbook. Plus, it is marvelous for those who simply enjoy delicious food and a healthy lifestyle.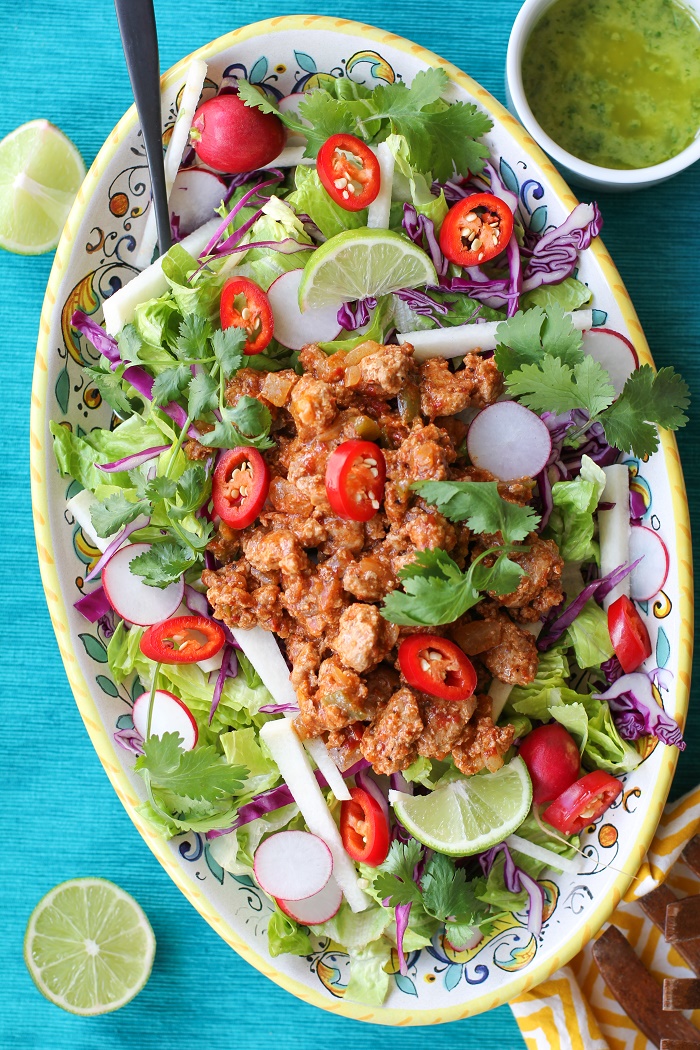 Hands down, Pure Delicious is what I consider to be the ultimate Guide for living a happy, healthy food allergy-free lifestyle.
Truthfully, I normally skip the introduction and beginning chapters in cookbooks and go right to the recipes – such was not the case for me for this book. I read every single word leading up to the recipes as Heather's knowledge and expertise on food sensitivities drew me in. As someone who harbors her own set of digestive ailments, I picked up new-to-me information about dealing with food sensitivities.
It is important to bear in mind that many folks who have a food intolerance don't just have one but have several to tens of sensitivities (or allergies), which is why it can be difficult to dissect each and every food that causes health and digestive discomfort. For example, I know beyond the shadow of a doubt that I'm sensitive to gluten, oats (even gluten-free oats) cane sugar, quinoa, corn, peanuts, almonds, and cashews, and am starting to think bananas are a no-go, too. Making this discovery can be frustrating, but it should be more of a relief than anything else, because there is an easy solution: elimination and substitution. There are plenty of options for replacements for so many problem-causing foods – the key is to make a commitment to prioritizing your well-being.
Christo begins Pure Delicious with the story of her and her family's own journey with food allergies. Heather and her daughters, Pia and Coco, have numerous food allergies and sensitivities, which posed many struggles until the allergies were discovered as the culprit to their constant battles with illness. Having gone through hospital visits and allergy testing with her daughters, Heather's book is designed to save us all the time, headache, and money that comes with doctors visits and battling insurance companies. Her book helps you to discover your own allergies and intolerances by providing a guide to an eight-week elimination diet, and all the resources you need to live a nourished, happy, allergen-free life.
While eight weeks may seem a bit overkill to some for an elimination diet, that truly is the amount of time it takes to remove all traces of allergens from your system. It may seem daunting, but the key is to have the end goal in mind and remember the result is worth the initial adjustment. Christo states, "In our case, we found that the symptoms Pia had suffered from since infancy – colic and stomach aches, ear infections, chronic constipation, eczema, rashes, hives, migraines, sinus infections, mystery ailments – were entirely gone within eight weeks, along with a host of other complaints for the whole family!"
I'm going to give it to you straight: those of us who struggle with food intolerances know how overwhelming and difficult it can be to not only transition to, but to maintain a life without the foods that give us health ailments. Heather's book makes the entire process simple…and I'm not just saying that. From start-to-finish, she provides you with the information you need to make the big life change to eliminate your own personal problem foods, and stick to a plan that keeps your body happy and healthy.
Other interesting topics Heather covers in her book:
The difference between a food allergy and intolerance

Food allergy trends in the U.S.

The symptoms you may face when you react poorly to one or more of the Top 8 food allergens

How to stock an allergy-free household

How to transition your family (particularly school-aged kids) to living a life without problem foods.

Coming up with a realistic food plan to facilitate cooking during the week.
…and of course, she provides over 150 insane-o delicious recipes to help support your journey. The book is organized by recipe type: Soups & Chilis, Salads, Appetizers, Sides, Baked Goods, Pizza & Burgers, Pasta, Mains, Desserts, and Breakfast. When going through the book page-by-page, I marked the recipes I was instantly drawn to.
Recipes from Pure Delicious I'm dying to try:
Mulligatawny Soup

Spicy Thai Curry Noodle Soup

Roasted Squash and Arugula Salad with Maple-Mustard Vinaigrette

Veggie Summer Rolls with Spicy Sunflower Butter Dipping Sauce

Asian Salmon Burgers

Pasta with Roasted Tomatoes and Hot Basil Vinaigrette

Asian Pulled Pork with Coconut Rice

Chocolate Fudge Brownies

Pia's Famous Chocolate Brownie Mug Cake

Fruit Crisp (recipe re-posted over at Girl Versus Dough)

Pumpkin Layer Cake with Maple Frosting and Salted Caramel Drizzle

Lemon Blueberry Coffee Cake

Chicken Mango Breakfast Sausage
The more I read through the book in detail, the more I add to my wish list. I could keep going, but I'll spare you and just say you should probably pick up the book and make it a staple in your food life.
Now for this taco salad…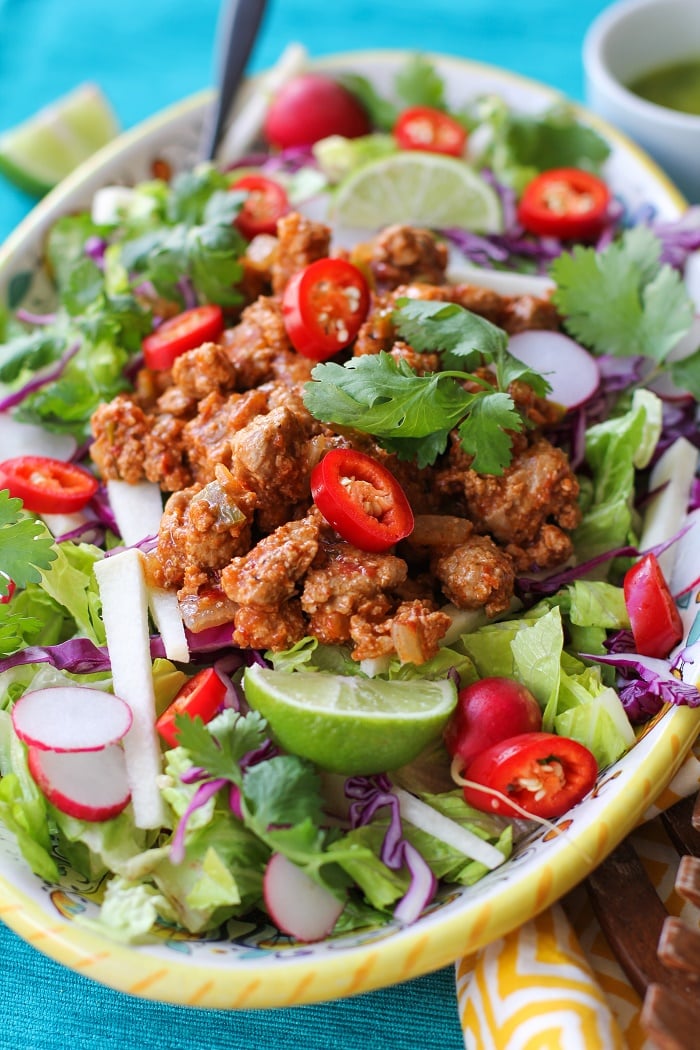 Heather was gracious enough to let me re-publish one of the recipes from her book. While the decision took me forever long to make, I settled on this crazy vibrant and delicious Taco Salad with Spiced Ground Turkey and Cilantro-Lime Vinaigrette. This recipe is the perfect well-rounded meal, is super easy to throw together any night of the week, and is a great example of the type of food I eat for dinner every night. Plus, the salad contains not one, but TWO of my favorite root vegetables: radishes and jicama.
Before I send you on your way, I'll leave you with one last quote from Heather:
"When you think about all the things that our bodies do for us, daily and throughout our lives, it doesn't seem like such a sacrifice to eat this way – you are simply taking care of yourself at the highest level. You will very quickly come to realize that the rewards drastically outweigh the sacrifices."
Giveaway!
One lucky winner will receive a copy of Heather Christo's cookbook, Pure Delicious. All you need to do to enter the giveaway is leave a comment on this post. The giveaway ends Wednesday, May 25, 2016 at midnight EST. The winner will be notified by me through email and will have 24 hours to respond before a new winner is selected.
Or, if you don't want to chance it, you can purchase Heather Christo's Pure Delicious now through Amazon.com right now!
Crunchy Taco Salad with Spiced Ground Turkey
Recipe adapted and re-printed with permission from Penguin Random House. This crunchy taco salad is a delicious clean meal for everyday eating!
Ingredients
Cilantro-Lime Vinaigrette:
1

cup

packed fresh cilantro stems and leaves

1

clove

garlic

coarsely chopped

2

tablespoons

pure maple syrup

1/4

cup

fresh lime juice

1 to 2 limes

1/4

cup

olive oil
Salad:
4

cups

finely shredded red cabbage

4

cups

chopped romaine hearts

1

cup

julienned peeled jicama

6

radishes

finely sliced

1/2

cup

lightly packed fresh cilantro leaves

1

red Fresno chile

thinly sliced
Instructions
Prepare the Cilantro-Lime Vinaigrette:
In a blender, combine all of the ingredients for the vinaigrette. Puree on high until smooth and season with salt. Set aside.
Prepare the Spiced Ground Turkey:
In a large heavy pan, heat the oil over medium heat. Add the red onion and bell pepper and sweat for 5 to 7 minutes. Add the turkey and cook, breaking it up with a wooden spoon, until cooked through, about 3 minutes. Stir in the chili powder, cumin, and salt. Add 1/3 cup of water, stir, and cook until turkey is completely cooked through and water has cooked off, 3 minutes more. Remove from the heat.
Prepare the Salad:
Arrange the cabbage and romaine hearts on a large serving platter or individual plates. Top with the jicama, radishes, cilantro, and chile. Spoon the ground turkey on top and drizzle the salad with a generous amount of the vinaigrette.
Nutrition