Just a really great, easy green summer salad recipe with spring greens, avocado, sunflower seeds, carrot, cherry tomatoes, brown rice, and more! This nourishing, light yet filling entrée salad recipe for dinners or lunches will keep you satisfied during the hot summer months.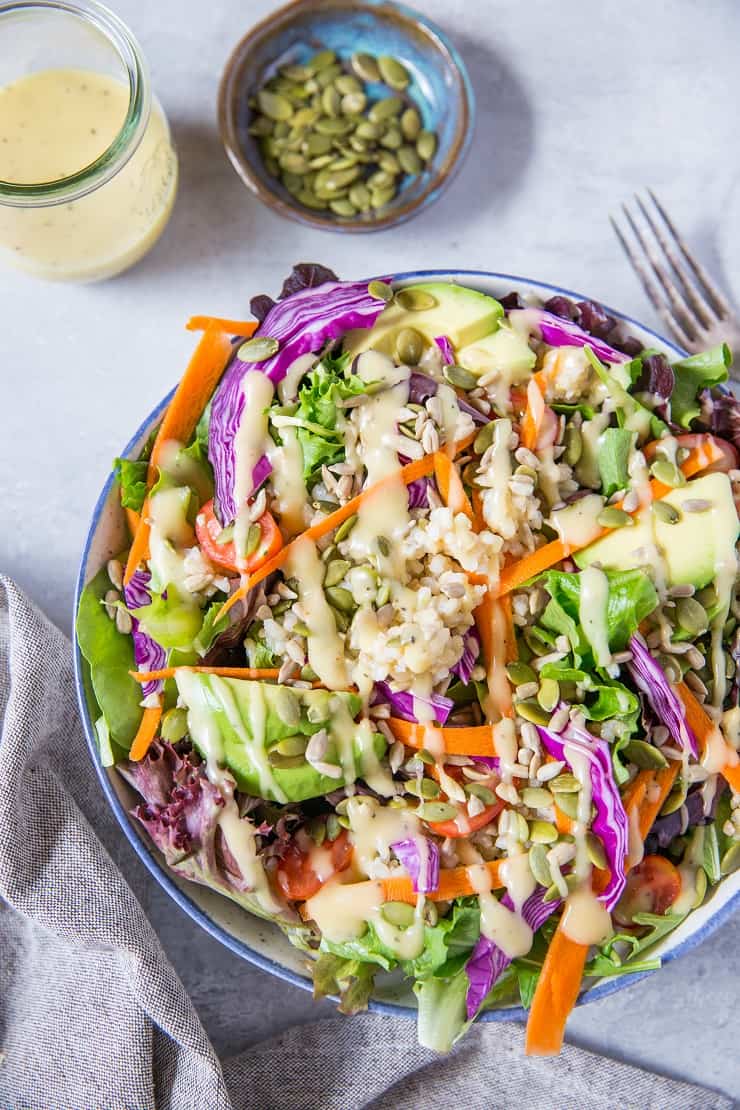 If it's hot AF degrees where you live and you're looking for a filling dinner recipe that won't make you sweat whilst preparing it, you're in the right spot!
This is my favorite summer salad that I can put on repeat day in and day out. It tastes so fresh with plenty of different flavors and textures, which makes it a complete pleasure to consume (rather than a chore ;))
I modify this summer salad to add animal protein depending on my activity level and need. Roasted chopped turkey, hard boiled egg, baked chicken, or crispy salmon are my go-tos.
For dressing the salad, I use my Paleo Caesar Salad Dressing (it's totally okay to use Caesar dressing on a non-Caesar salad…permission granted), one of my 3 Keto Salad Dressings or my Mayo-Free Green Goddess Dressing.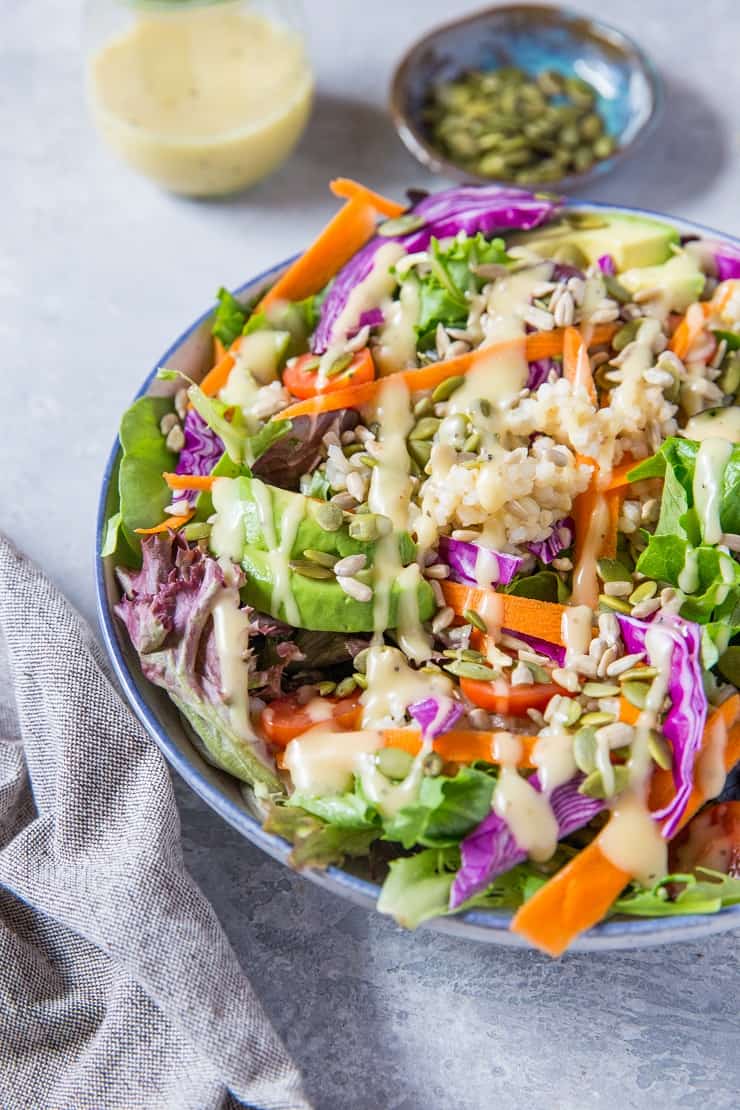 Brown rice. Can you dig it in a salad? I find salad is easier on my GI when it is combined with resistant starch, like rice. A couple of years ago, when I was going through an IBS flare, I cut out raw vegetables entirely, but have since added them back in moderation, usually in combination with brown rice.
For me, spunky snappy vegetables, like carrot and cabbage with quality leafy greens, crunchy nuts and/or seeds along with creamy delicious avocado and swaddling everything up with a tasty homemade dressing is the only formula you need to make a magnificent summer salad!
Here's what we have going on in this one –
Ingredients for Summer Salad Recipe:
Spring Greens

Avocado

Grated Carrot

Cabbage

Cherry Tomatoes

Brown Rice

Sunflower Seeds

Pumpkin Seeds

Salad Dressing of Choice! I love Caesar.
Modify the vegetables according to what you're in the mood for and what is available!
How Many People Does This Salad Serve?
In my opinion, 2. However, take that with a grain of salt, because I consume a tremendous amount of food, so this may serve closer to 3 in normal people standards. If you're serving it as a side dish, you can stretch it to 4 to 6 people depending on the hunger level of the folks you're serving.
Recipe Adaptations:
Mix up the greens by using spinach, arugula, and/or romain hearts or a combination thereof.

Swap the sunflower seeds and pumpkin seeds for roasted walnuts, sliced almonds, and/or pecans.

Use white rice or quinoa instead of brown rice or keep it grain-free.

Add your favorite animal protein. I like adding hard boiled egg, roast turkey, or baked chicken or salmon.
More Healthy Salad Recipes:
May all your summer salads be vibrant and delicious!
My cookbook,
Paleo Power Bowls
, is now available! CLICK HERE to check it out. Thank you for your support!
If you make this recipe, please feel free to share a photo and tag @The.Roasted.Root on Instagram!
A Really Great Summer Salad Recipe
Just a really great, easy green summer salad recipe with spring greens, avocado, sunflower seeds, carrot, cherry tomatoes, brown rice, and more!
Instructions
Add all ingredients to a huge serving bowl and drizzle in desired amount of Caesar dressing (or dressing of choice). Toss well until everything is coated in dressing to taste. Serve and enjoy!
Nutrition
Serving:
1
of 2
|
Calories:
628
kcal
|
Carbohydrates:
42
g
|
Protein:
24
g
|
Fat:
46
g
|
Fiber:
13
g
|
Sugar:
6
g