Fresh and vibrant California Cobb Salad with a spicy chipotle ranch dressing. Made with fresh California avocado, the ranch dressing is a healthier option to keep your salads squeaky clean.
This post is sponsored by California Avocado Commission.
This time of year, when the weather gets warmer and we have more daylight hours, I begin craving big, fresh, filling salads.
There's something so satisfying about a meal that satisfies, while staying light and nutritious.
I have a salad for you that fits that exact bill – California Cobb Salad, which is a classic Cobb salad with a fresh spin and a few tweaks to keep it cleaner than your typical Cobb.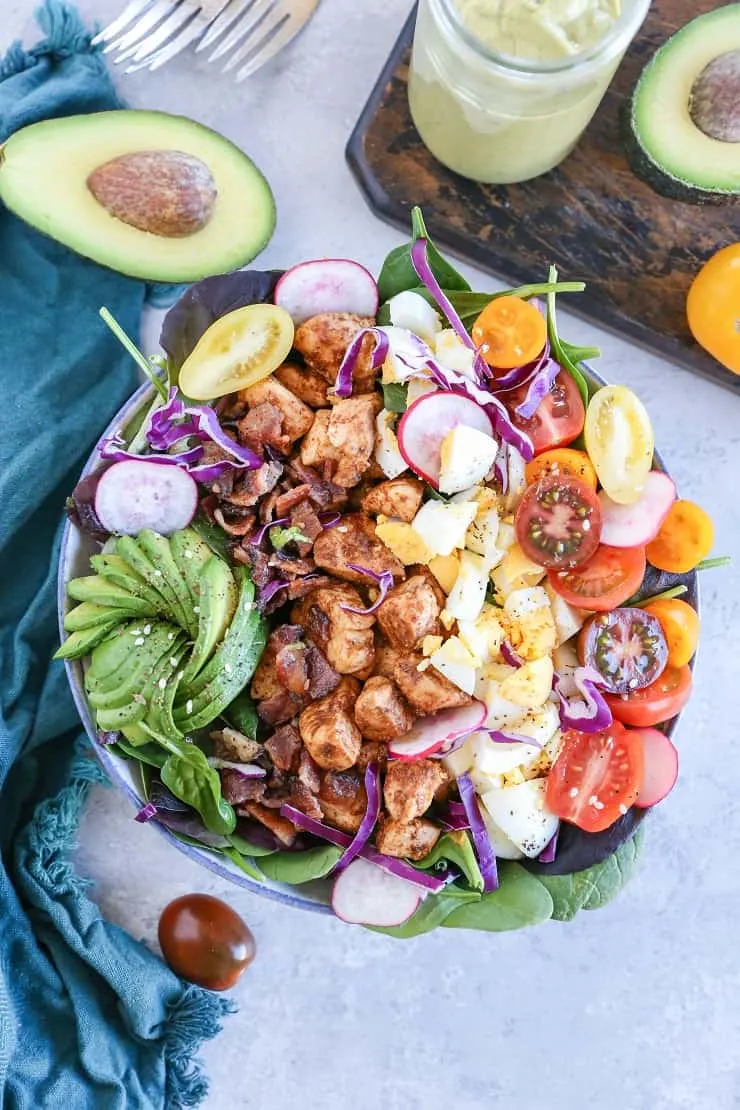 This California cobb salad hits so many bases.
It's packed with protein (hello chicken, bacon, and hard boiled egg), nutritious fresh vegetables, and delicious creamy avocado.
I kept the whole salad dairy-free, paleo, whole30 friendly.
Lettuce discuss this chipotle avocado ranch dressing situation, because lemme just tell you: game.change.er.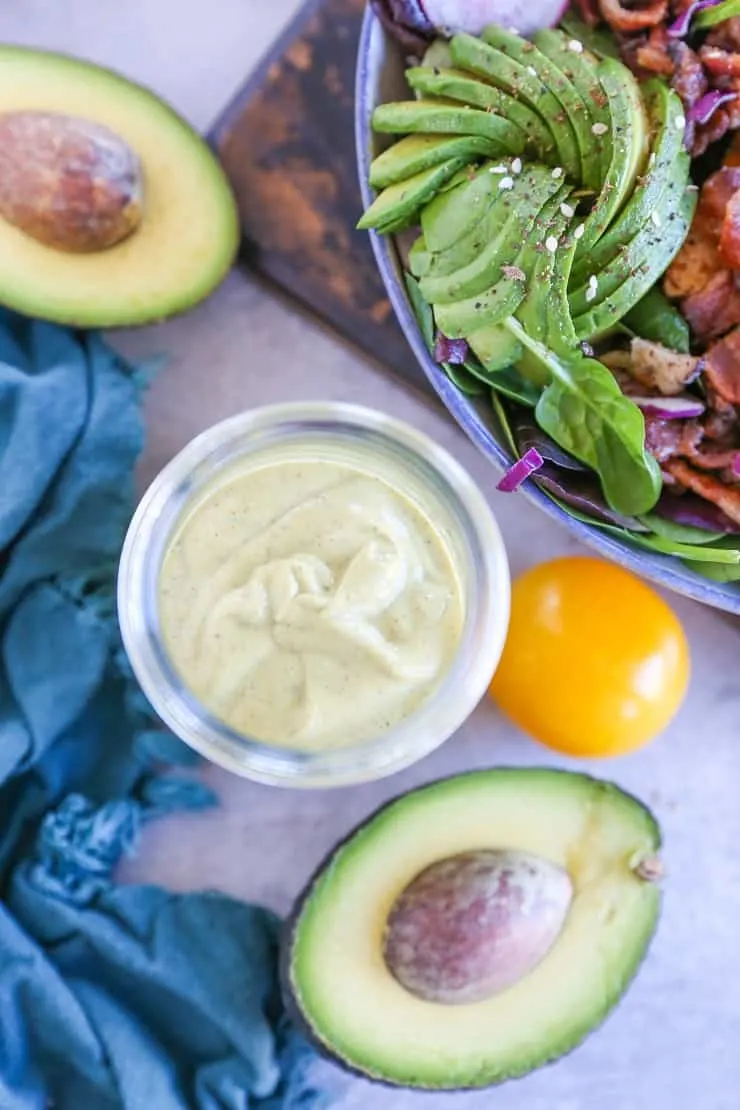 Ingredients for California Cobb Salad:
Chipotle Avocado Ranch Dressing: Avocado, coconut milk, lemon juice, chipotle powder, and dried herbs. I use an avocado and full-fat coconut milk instead of mayonnaise to keep it clean and full of healthy fats.
The avocado keeps it tasting fresh, while lending a nice creamy texture to the dressing.
I add chipotle powder for some spice, turning up the flavor profile on the salad. You can adjust the spice level up or down to taste, and obviously feel free to apply this dressing to any of your favorite salads.
For the Salad: Chicken, hard boiled egg, bacon, fresh greens, radishes, cabbage, cherry tomatoes, and avocado.
You can play with the add-ins here according to what you like. If you do cheese, feel free to add it!
The chicken portion of this salad is pretty epic. I simply chop a chicken breast and cook it in a skillet with coconut oil and chili powder…BOOM! SO much flavor with very little effort.
If you like extra spice, consider adding a little hot sauce to the chicken during the cooking process.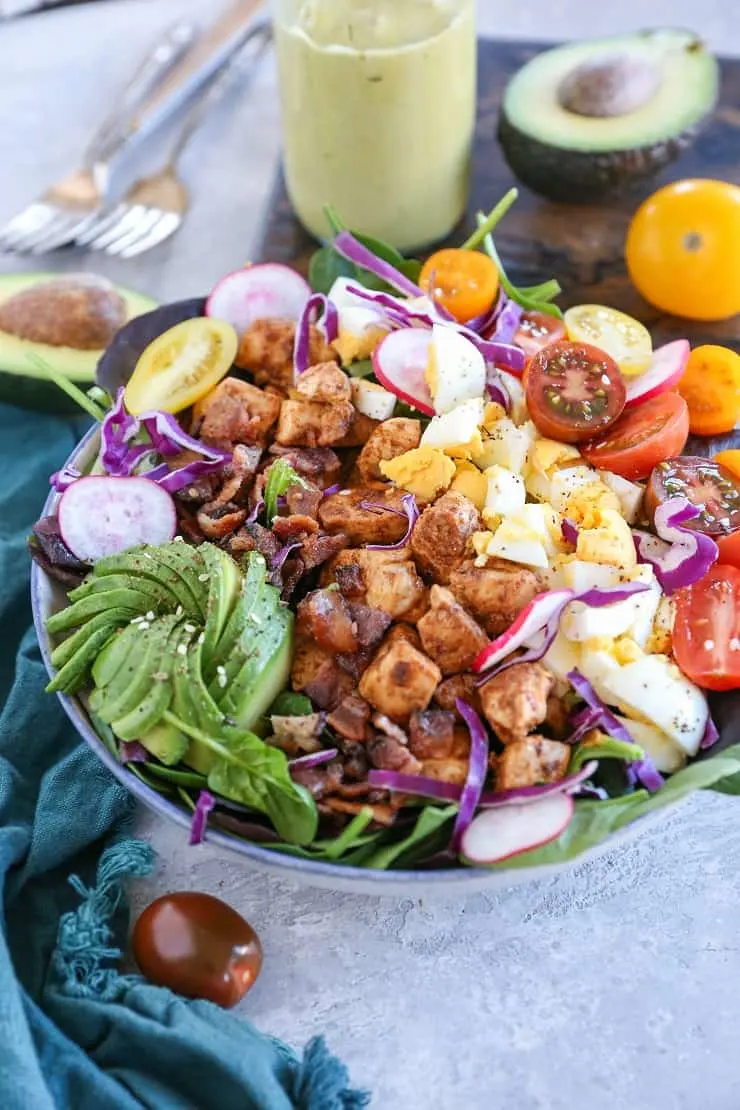 Recipe Adaptations:
Use any of your favorite greens, such as kale, spinach, or romaine in place of the spring greens.

Replace the chicken with steak or seared ahi.

Add feta or gorgonzola cheese.

Incorporate additional vegetables, like carrot or green or red onion.

Omit the chipotle powder from the dressing to keep it mild.
Also check out my Greek Chicken Spinach Salad and my Steak Salad with Berries Avocado and Goddess Dressing for similar recipes.
Get that avocado ranch dressing!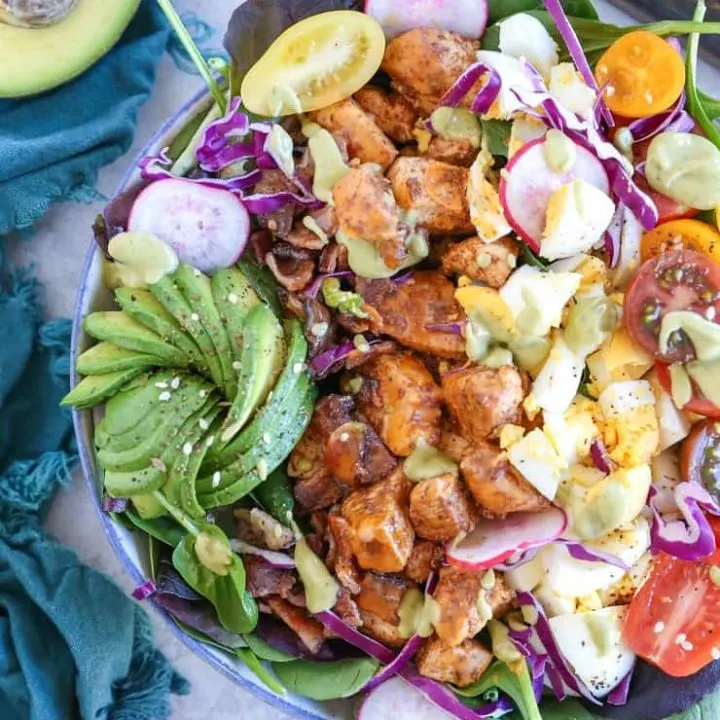 California Cobb Salad with Chipotle Ranch Dressing
ALL the goodies California Cobb Salad with so much flavor and texture! Serve it up with homemade chipotle avocado ranch dressing for an unforgettable meal!
Ingredients
Chipotle Ranch Dressing:
1 large ripe California avocado, peeled and diced
1/4 cup fresh lemon juice
1/4 cup water
3/4 teaspoon chipotle powder
1 teaspoon dried dill
1 teaspoon dried oregano
1 teaspoon dried parsley
1 teaspoon dried chives
Chili Chicken:
1 large boneless skinless chicken breast, chopped
Cobb Salad
5 ounces Spring greens
2 slices thick-cut bacon, cooked and chopped
2 hard-boiled eggs, peeled and chopped
1 ripe avocado, peeled and sliced
1 cup red cabbage, thinly sliced
1 cup cherry tomatoes, halved
2 large radishes, thinly sliced
Instructions
Prepare the Dressing:
Add ingredients for the chipotle ranch dressing to a small blender and blend until completely smooth. Refrigerate until ready to use.
Cook the Chicken:
Heat the oil over medium heat in a skillet and add the chopped chicken. Sprinkle with chili powder and sea salt. Cook, stirring occasionally, until chicken has cooked through, about 5 to 8 minutes. Remove from heat and set aside.
Make the Salad
Divide greens among two to three salad bowls, and arrange remaining salad ingredients on top (including cooked chicken). Drizzle with desired amount of chipotle ranch dressing and serve.
Nutrition Information
Yield

3
Serving Size

1 Serving (of 3)
Amount Per Serving
Calories

566
Total Fat

37g
Unsaturated Fat

11g
Carbohydrates

14g
Net Carbohydrates

9g
Fiber

5g
Sugar

6g
Protein

42g