Roasted Sweet Potato Salad with Spinach, grapes, avocado, feta cheese and more! This hearty, healthy salad recipe is both light and filling! Make it for your guests for a crowd-pleasing side dish, or just add your favorite animal protein to turn it into an entree salad.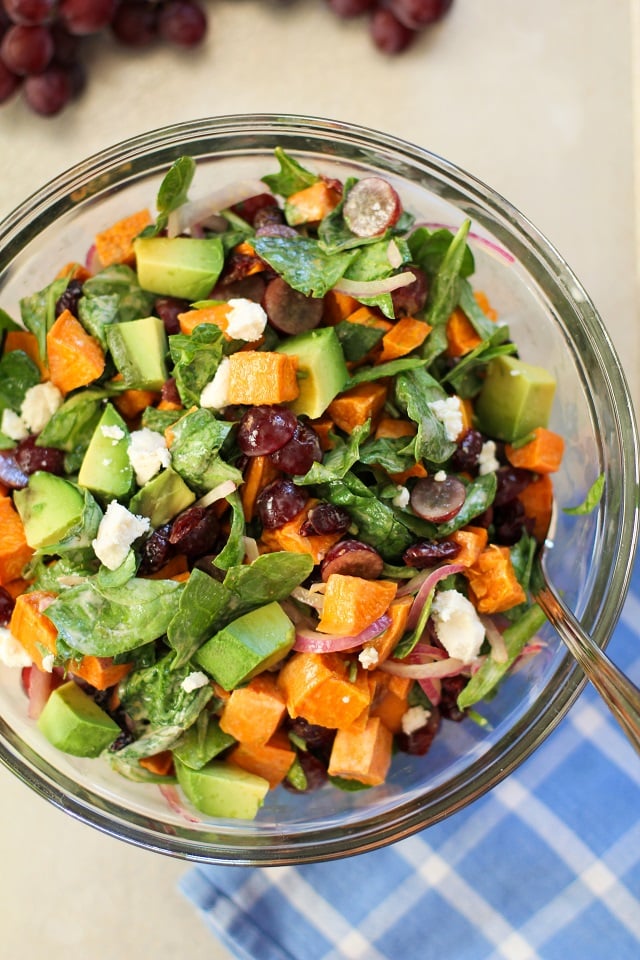 Not yo momma's tater salad right here, folks!
Oh hey, Hi! How was your Memorial Day Weekend?
My weekend in the Sierra Foothills was a blast and a half. Trails were hiked, drinks were drank, laughs were chuckled, I ate glutens, people. Finished Parenthood on Netflix, started Prison Break. There were face-sized cookies, pints of ice cream, cheese wherever a cheese can go. Did I mention I've been eating like a ravenous under-fed teenager at.every.meal?
This is where I tell you I read a book, but I totally didn't.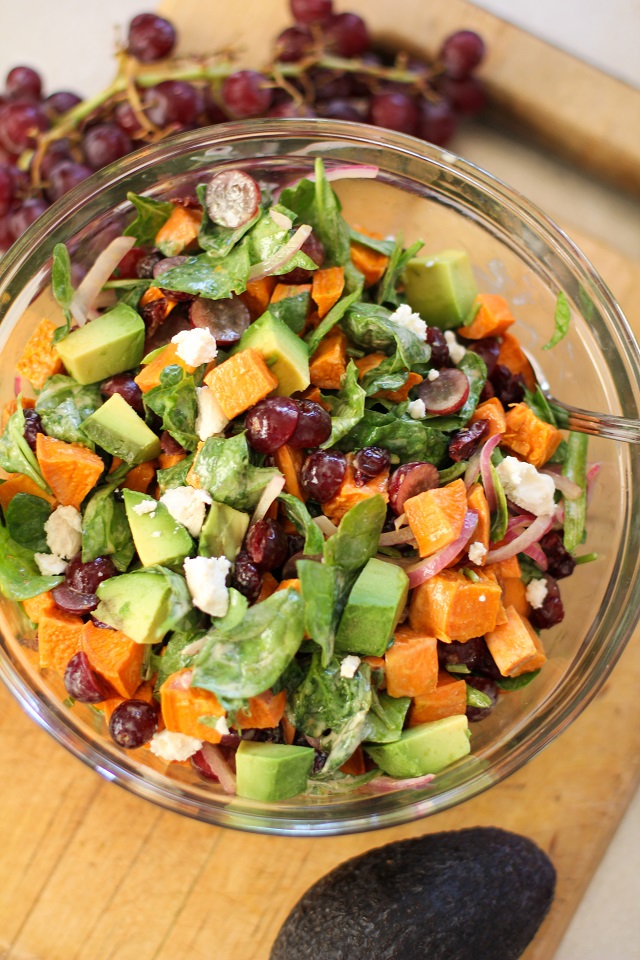 Suffice it to say, I could use a full-fledge cleanse. BUT, I'm at that pivotal point where I've dug pretty deep into the addictive food groups and it just seems too complicated and un-fun to edit -> undo days upon days of off-trackedness. Plus, life feels real good when carbs are involved, can I get an amen?
I've been drumming up ways of replacing my alcohol and ice cream carbs with healthful carbs. This recipe instantly came to mind when I spotted Eating Bird Food's Sweet Potato Salad on Pinterest. It's one of those super filling dishes that tricks you into thinking you're eating something naughty, when you're really eating something nice. Carby, yet nutritious. Comforting, yet healthful.
Not swimming in mayo,
Won't make you need a nap,
It's crunchy,
It's sqooshy,
It's adult braces-friendly,
Well…kinda,
You and your friends will just love it,
Make it for all your summer picnics!
I can't say I've ever been a uuuuuge fan of potato salad. When I was younger, I wouldn't touch it on account of all the mayo. Over the last few years, I've learned to appreciate a great homemade potato salad, but to be quite honest, this is the first potato salad I've ever made by my onesie. As you can see, it's a pretty unconventional version.
Sweet potatoes take the place of yukon potatoes. Minus the hard boiled eggs, plus some bombtastic add-ins like dried cranberries, avocado, red grapes, and spinach. It's all tied together with just a smidge of mayonnaise (my favorite vegan mayo from Hampton Creek) and lime juice with a little sriracha kicker in right there in the back. It has all the essential elements to a tasty side dish – a little heat, a little sweet, a little cream action, and super nutritious to boot!
Obsessed with this idea of sweet potato salad, I'm thinking my next go at it should be grilled, being as it is grilling season at all. If you're hot to trot about firing up the grill, this Grilled Sweet Potato Salad from CookingLight.com has been making my mouth water!
As is the case with regular potato salad, this sweet potato salad is even better the day after you make it. Keeping this in mind, I tossed everything together except for the avocado and allowed it to sit all day before adding the avocado and tapping in.
Get your tater salad!
Roasted Sweet Potato Salad with Spinach and Grapes
A unique and delicious sweet potato salad with grapes, avocado, goat cheese and more! An updated, fresh take on sweet potato salad!
Ingredients
3

medium sweet potatoes

peeled and chopped into 1-inch cubes

½

small red onion

thinly sliced

½

cup

dried cranberries

2

cups

red grapes

halved

1

large ripe but firm avocado

diced

5

ounces

baby spinach

chopped

2

tablespoons

mayonnaise

2

tablespoons

fresh lime juice

1

teaspoon

sriracha

optional

Pinch

cayenne pepper

optional

¼

teaspoon

sea salt

to taste
Instructions
Preheat the oven to 400 degrees F.

Spread the chopped sweet potato over one or two baking sheets and drizzle with olive oil, sea salt, and pepper. Roast for 40 to to 50 minutes or until golden-brown and cooked through, turning once half-way through baking.

Remove sweet potatoes from oven, and allow them to cool to room temperature.

In a small bowl, whisk together the mayonnaise, lime juice, sriracha, cayenne, and salt.

Add the roasted sweet potato, red onion, dried cranberries, grapes, avocado, and spinach to a large serving bowl. Pour the mayo dressing over everything and toss well to combine. Serve alongside your favorite entree.
Nutrition
Serving:
1
of 8
|
Calories:
208
kcal
|
Carbohydrates:
36
g
|
Protein:
2
g
|
Fat:
7
g
|
Fiber:
2
g
|
Sugar:
14
g