Broccoli Salad with Blueberries and Honey-Toasted Walnuts. It's like a dream.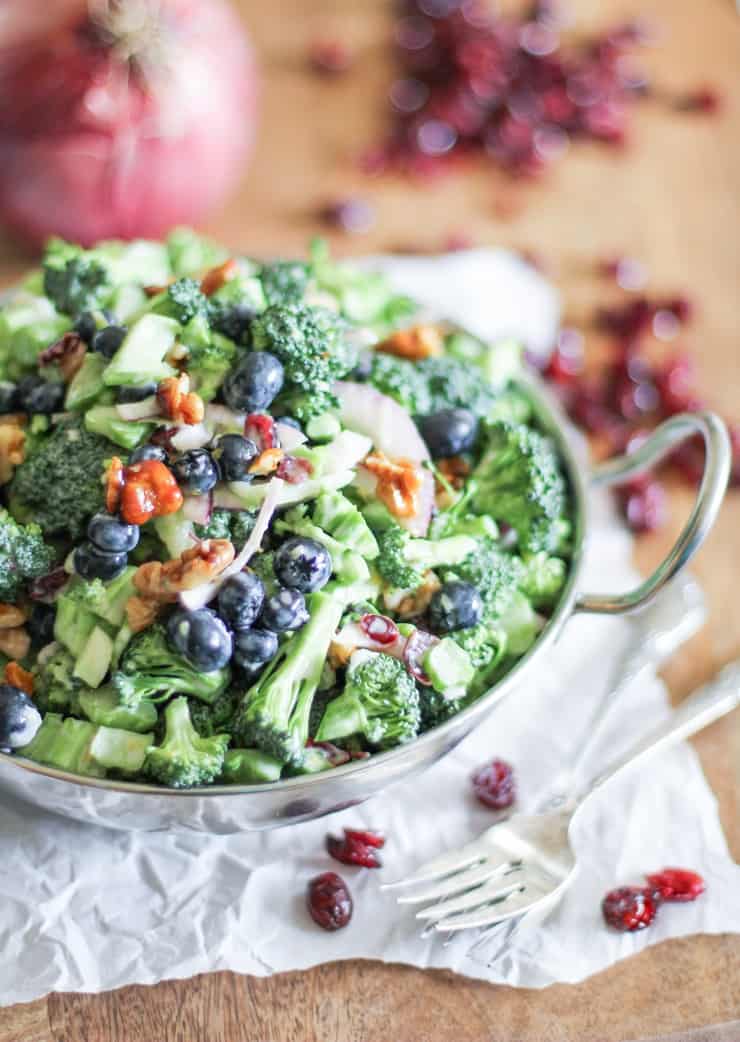 You know those dreams you had when you were a kid about showing up to grade school in your underwear? And no matter how hard you tried to pull your shirt down to cover your forgetfulness, the damage had already been done…because you already showed up…in your underwear?  This is kind of like that.
Only it's not you, it's me. And this is not a dream, it's real. But everyone's fully clothed, and the underwear's the broccoli salad. What?
Let's put the car in R and back up.
Today is a special day!  You didn't realize it, but you walked right in to a baby shower!  My friend Stephanie over at Girl Versus Dough will be having a baby girl in just a few short weeks. To celebrate the new addition to her family, we've rounded up the blogger troops for a virtual baby shower.
T-Rex hugs and congratulations, Stephanie! We all brought tasty treats to nom on as we hang out and measure each other's bellies (men: this is what you do at baby showers. We won't judge your use of measuring tape if you don't judge ours).  As we gaze around the room at all the potlucky baby shower eats, we have to wonder who it was who brought the greens. Who done it? Whooooo brought the greens? Yeah, that was me. I'm pointing my own index finger at my own skull right now, just so you know.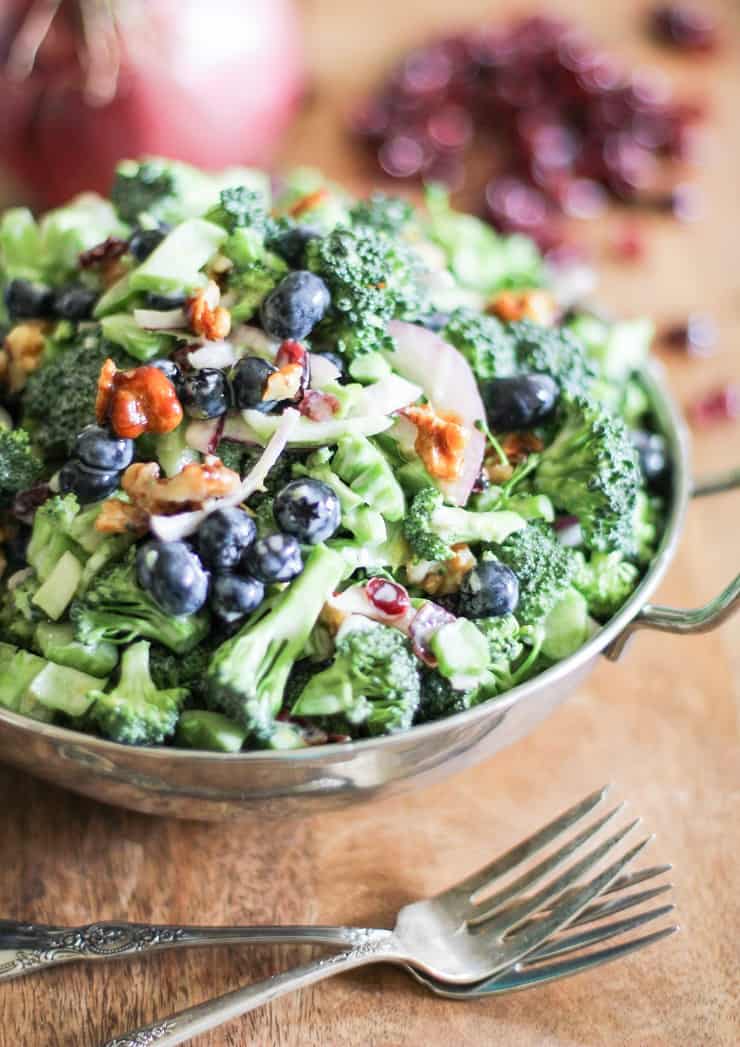 This is not your momma's broccoli salad. I don't even know what that means, I just wanted to say it.
Fact is, everyone who has been to a family reunion, picnic, or has spent time with large groups of people (read: everyone) has had broccoli salad. But this one is a little different. Firsties: blueberries. Seconds: honey-toasted walnuts. Could this get any better? Unless you're planning on letting your hair down and turning the walnuts into Rosemary Candied Walnuts, the answer is no. But you should still make Rosemary Candied Walnuts at some point in your life.
Third and lastly: Remember the discussion we had on Monday about mayonnaise? The down-with-mayo convo? Same applies here. I used plain yogurt instead of mayo, and added fresh lemon juice and zest to dress this chockerblock-full-o-goodies salad. Am I still talking about broccoli salad?
Here's the recipe:
Broccoli Salad with Honey-Toasted Walnuts
Print
Ingredients
2

crown

broccoli

chopped into florets

¼

red onion

thinly sliced

4.5

ounces

fresh blueberries

½

cup

dried cranberries

2/3

cup

plain whole milk yogurt

Zest of 1 lemon

2

tablespoons

fresh lemon juice

2

tablespoons

honey

1

teaspoon

kosher salt
Instructions
To Prepare the Honey Toasted Walnuts:
Add all ingredients for the walnuts to a

small skillet

and heat over medium. Cook 5 to 8 minutes until mixture is very bubbly and walnuts have caramelized and turned golden-brown. Set aside and allow to cool. Chop the walnuts when cool enough to handle.
To Prepare the Broccoli Salad:
Chop the broccoli crowns into small florets, and chop the broccoli stems. Add stems and florets to a large serving bowl.

In a small bowl, stir together the yogurt, lemon zest and juice, honey, and salt.

Pour this mixture over the broccoli and stir well to coat all of the broccoli with dressing.

Add the red onion, blueberries, dried cranberries, and toasted walnuts. Toss everything together and serve with your favorite entree.
How about we shed some light on what other ladies brought! Take a looksy:
Mini Strawberry Cheesecakes from Sarcastic Cooking
Lemon Blueberry Coffee Cake with Lemon Drizzle from Greens & Chocolate
Super Chewy M&M Blondies from The Realistic Nutritionist
Strawberry Cinnamon Twist Knots from A Kitchen Addiction
Lemon Shortbread with Salted Chocolate Drizzle from The Lemon Bowl
Chocolate Cherry Ice Cream from A Zesty Bite
Blackberry and Mango Curd Pie from Joanne Eats Well With Others
Pecan Sticky Buns from Warm Vanilla Sugar
Strawberry Rhubarb Muffins from Garnish with Lemon
Chocolate Chip and Banana Pancakes from Susie Freaking Homemaker
Super Simple Sugar Cookies from Espresso and Cream
Raspberry Acai Frozen Margarita from Nutmeg Nanny
Berry Coconut Frozen Yogurt from The Law Student's Wife
Pretty in Pink Buttercream Cups from Keep it Sweet Desserts
Neapolitan Baked Doughnuts from Climbing Grier Mountain
Giant Pink M&M and Raisinette Cookies from Steph's Bite by Bite
No-Bake Rhubarb Cheesecake Parfait Cups from Hungry Girl Por Vida
Strawberry Rhubarb Crisp from A Cedar Spoon
Freckled Strawberry Rhubarb Lemonade from Take a Megabite
Vanilla Anise Cupcakes from Blahnik Baker
Mini Vanilla Bean Layer Cakes from The Baker Chick
Mini Blackberry Hazelnut Meringue Cakes from Eat Your Heart Out
Congratulations again, Stephanie! We can't wait to see your beautiful baby girl!