The best chicken thigh recipes for any occasion! These simple and easy recipes for chicken thighs are perfect for weeknight meals and special occasions alike. Included in this roundup are recipes for boneless skinless chicken thighs as well as recipes for bone-in skin-on chicken thighs.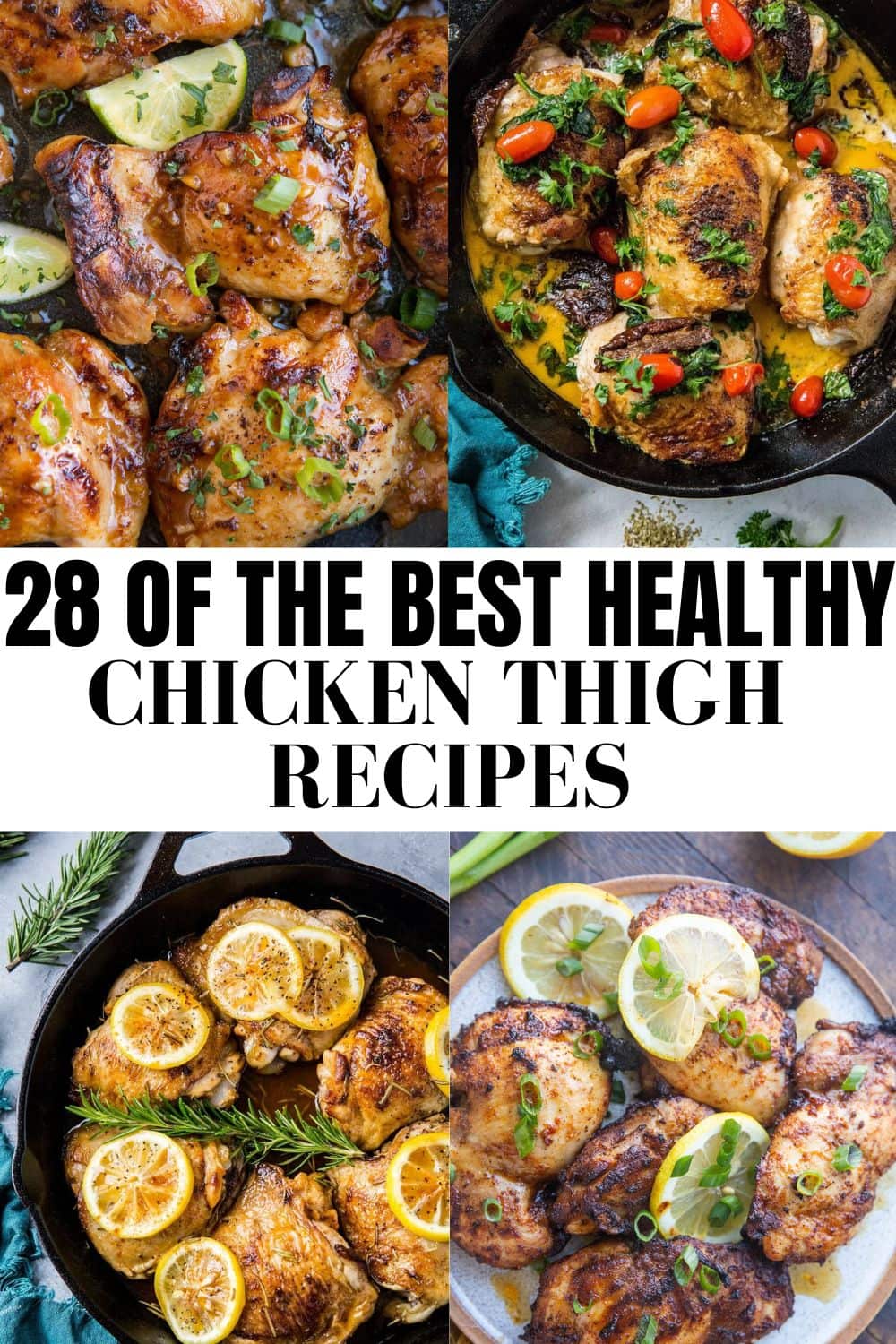 Chicken thigh lovers, have I got a treat for you?!
I have compiled all my favorite chicken thigh recipes and am sharing them in one spot.
For me, crispy yet tender chicken thighs are way up there with an amazing grilled steak or a lovely piece of salmon.
This recipe roundup includes every method for cooking chicken thighs. From instant pot chicken thighs, grilled chicken thighs, baked chicken thighs, crock pot chicken thighs, to air fryer chicken thighs, we've got you covered!
In addition to chicken thigh main dishes, this roundup also includes complete meals for easy, nourishing clean eating.
Each chicken thighs recipe is made using simple ingredients that can be found at any grocery store. Fresh ingredients yield the best flavor so that you end up with a next level meal for any busy weeknight.
Scroll down to the recipes or read on to learn more about this delicious cut of chicken.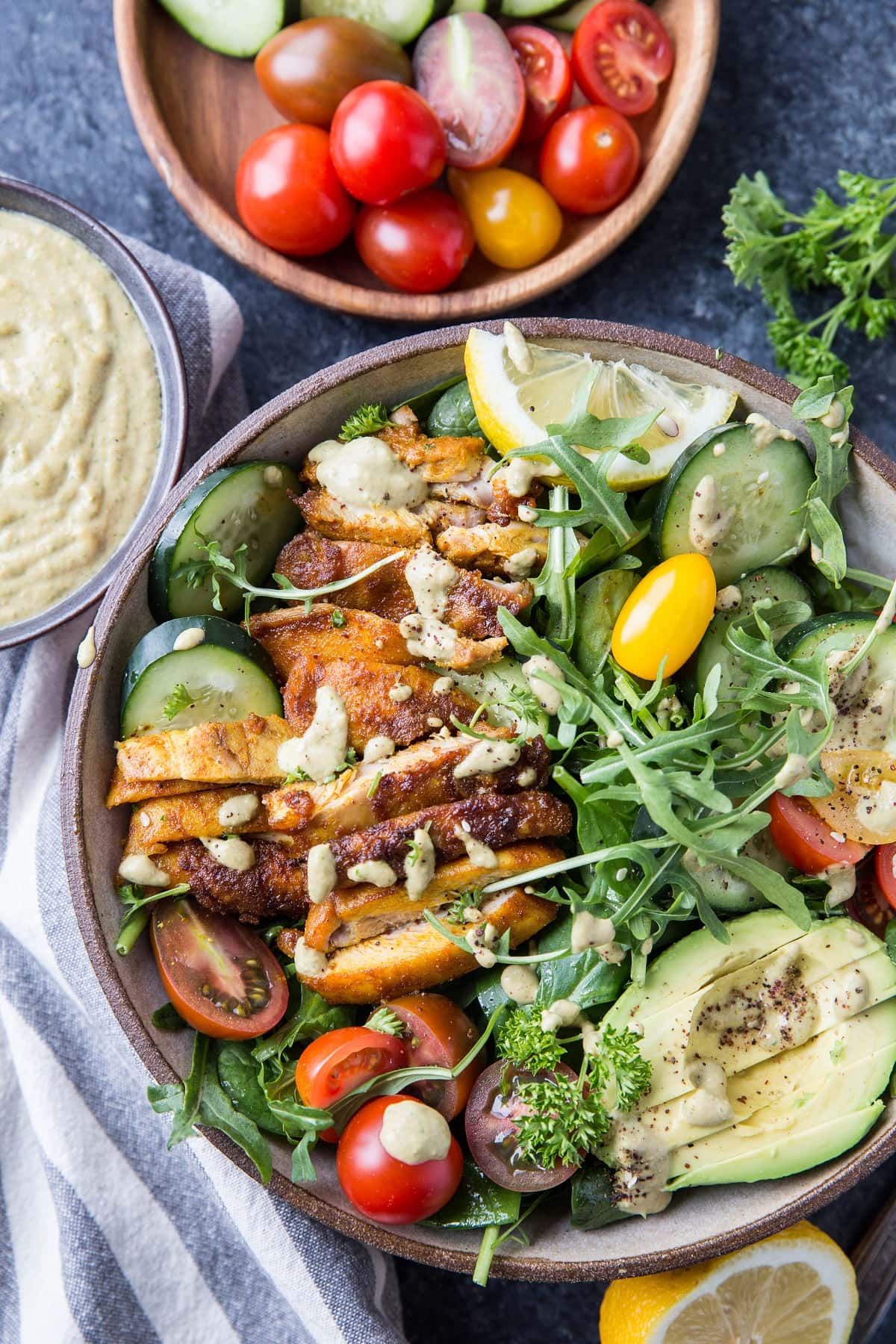 Are Chicken Thighs Better For You Thank Chicken Breasts?
That depends on what your goal is. Chicken thighs contain more fat than chicken breasts; however, they contain a higher concentration of iron and zinc than chicken breasts.
Iron is crucial for creating and maintaining a healthy blood cell count, and zinc helps your body fight disease. Both iron and zinc give the immune system a boost.
For those of you who select bone-in chicken thighs, you're also getting the added benefit of collagen and gelatin. Both collagen and gelatin are great for your intestinal lining, thereby improving digestion.
They also play a crucial role in maintaining healthy bones, joints, skin, hair and nails, as they provide the amino acid building blocks for all of these body parts.
In this sense, chicken breasts are proportionally higher in lean protein than the dark meat counterpart, but you're getting a bigger boost of nutrients with the thighs.
Truly, while I do love a good boneless skinless chicken breast for the high amount of lean protein it offers, I must prefer the flavor and texture of juicy chicken thighs.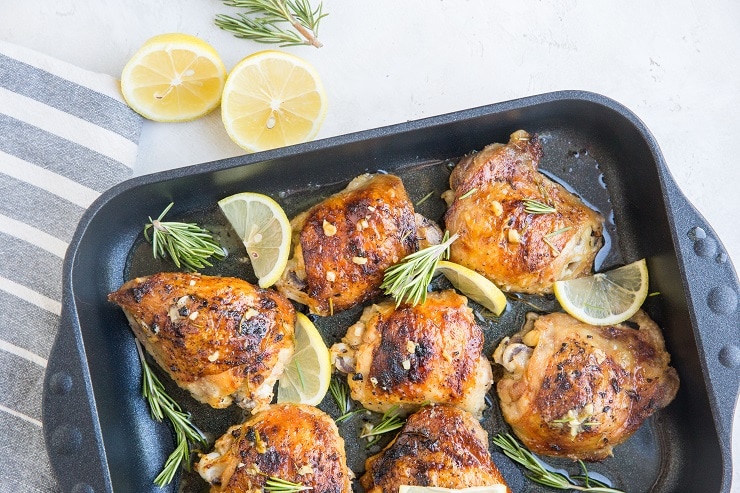 Nutrition Facts For Chicken Thighs:
One large 6-ounce boneless skinless chicken thigh contains 195 calories, 7 grams of fat, 33 grams of protein and 0 grams of carbohydrate. Most boneless thighs weigh between 3.5 and 6 ounces each.
One 6-ounce bone-in chicken thigh contains about 344 calories, 23 grams of fat and 38 grams of protein.
In this sense, if you don't eat the skin on the chicken thigh, the calories and fat are dramatically reduced.
I will say that the crispy chicken skin is my favorite part!
Final Cooking Temperatures for Chicken Thighs:
According to the FDA, chicken thighs are safe to consume once they have reached an internal temperature of 165 degrees Fahrenheit. While chicken breasts can become dry and tough when they go much past 165, most people prefer the texture of chicken thighs once they have reached about 185 to 195 degrees Fahrenheit.
​Due to the higher fat content in chicken thighs and the fact that the texture itself improves with higher temperatures, you don't need to worry as much about overcooking chicken thighs as you do chicken breasts.
To verify the internal temperature of a chicken thigh, insert an instant read thermometer into the thickest part of the thigh (away from the bone, if any) and wait until the numbers stop moving.
The exact cook time of chicken thighs depends on the method you use to prepare the thighs, the size of the thighs, as well as their temperature before cooking.
Because there are many variables, using a meat thermometer will ensure you end up with your desired result.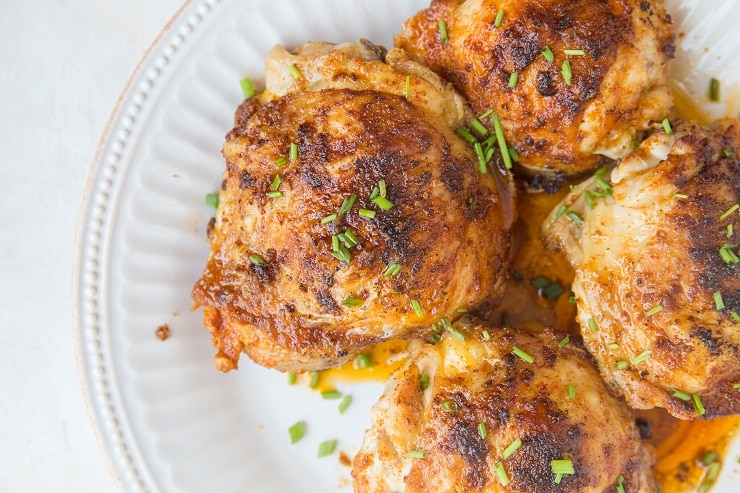 Tips For Cooking Chicken Thighs:
1.) My number one tip in achieving juicy meat is keeping an eye on the internal temperature of the thighs. I recommend cooking them to anywhere between 175 and 195 degrees Fahrenheit for the best results. Because I love crispy thighs, I stop cooking the thighs once the outside has reached my desired level of crisp.
2.) Marinate the thighs or dry brine them with a dry rub. Taking this step ensures plenty of flavor gets injected into the meat so that you end up with the most delicious result.
A dry rub of sea salt, black pepper, onion powder, garlic powder and Italian seasoning is my favorite.
Marinades with olive oil, soy sauce, white wine, fresh garlic, lemon juice, and a little chicken broth turn out so tasty!
3.) Before you cook the chicken, bring it to room temperature by allowing it to sit on the counter for 10 to 15 minutes prior to cooking. This ensures the meat cooks evenly so that the outside doesn't become overcooked before the inside is finished.
4.) Store cooked chicken thighs in an airtight container in the refrigerator for up to 1 week after cooking.
Now that we've discussed the main highlights of the nutritional information, let's dive into the recipes!
Here are the internet's best chicken thigh recipes the whole family will love.
Enjoy these easy chicken thigh recipes on regular rotation!
The Best Chicken Thigh Recipes
Boneless Skinless Chicken Thigh Recipes:
Asian Baked Boneless Chicken Thighs – These tender on the inside, crispy on the outside boneless chicken thighs are loaded with sweet, sour, and umami savory flavors. The Asian-inspired glaze makes them so dreamy!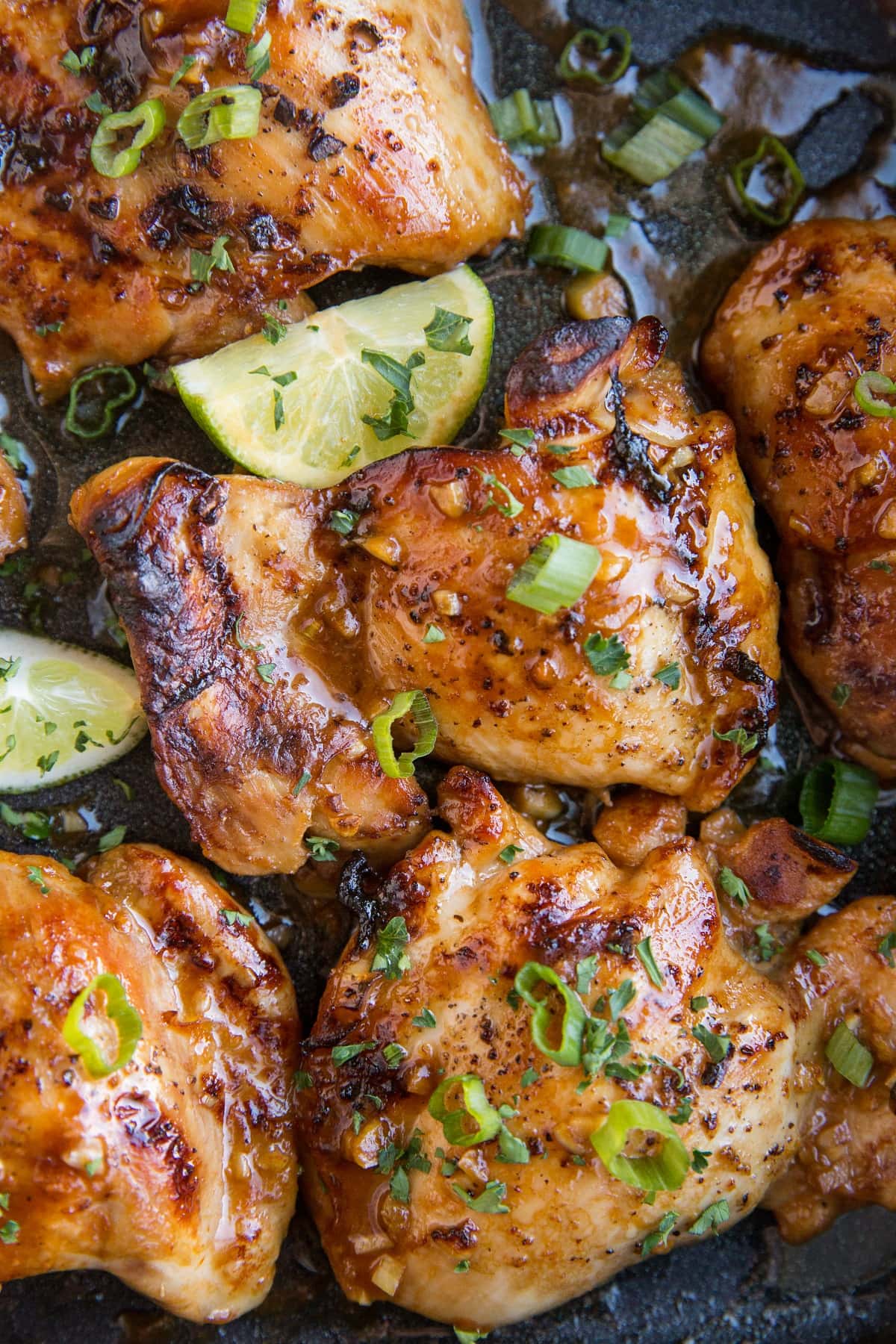 Lemon Garlic Air Fryer Boneless Chicken Thighs – Making boneless chicken thighs in the air fryer is a quick goof-proof method for cooking chicken! These lemon garlic air fryer boneless chicken thighs have the perfect texture and are easy to pair with any side dish.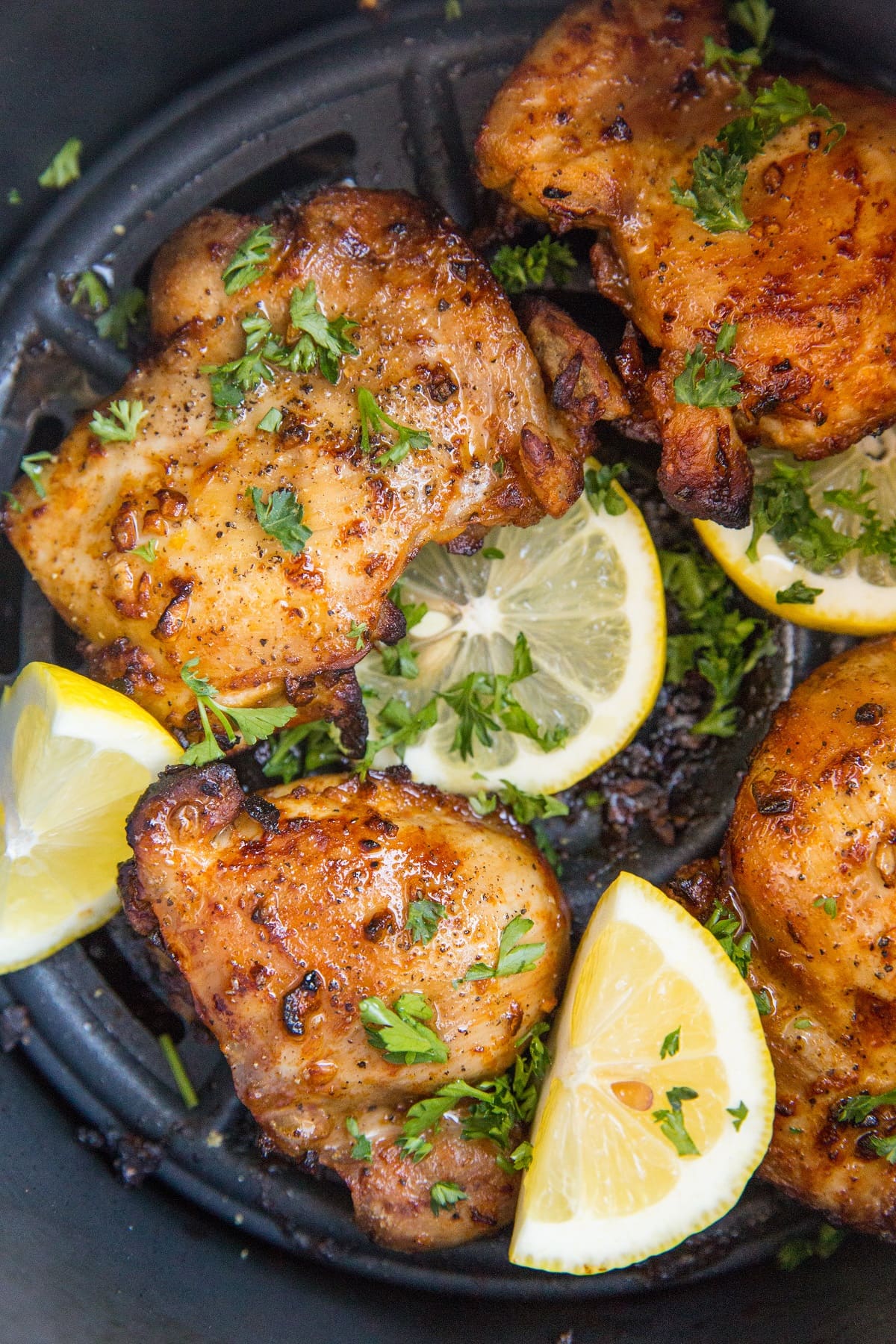 The Best Grilled Chicken Thighs – Whether you're new to grilling or you are a seasoned grill master, you'll love this super simple and goof-proof approach to grilled chicken! Few ingredients, very little prep time, and an absolutely succulent, charred texture.
5-Ingredient Crock Pot Mexican Shredded Chicken – All you need is 5 basic ingredients for this incredible Mexican-inspired shredded chicken! Use it for tacos, burritos, enchiladas, and more!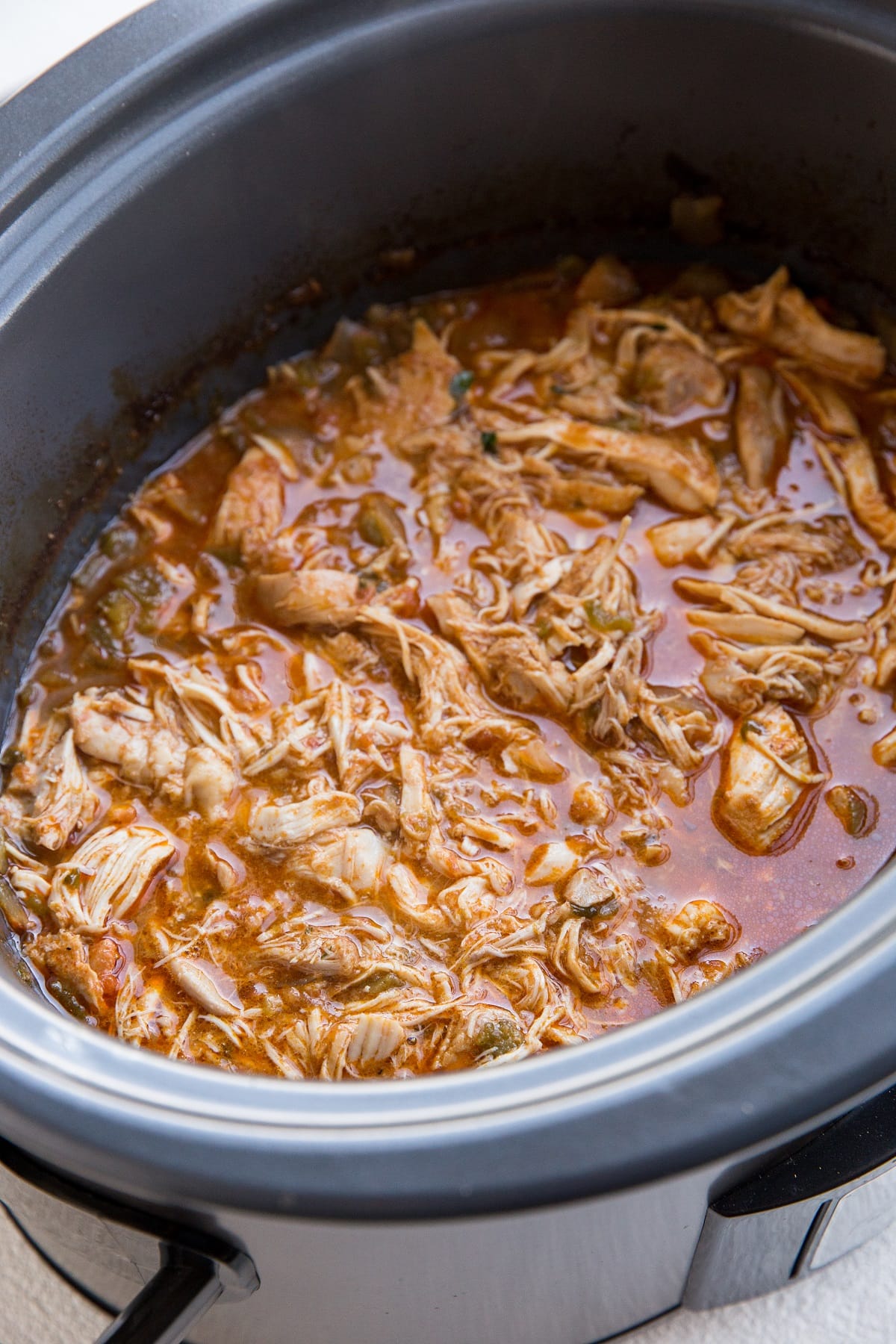 Honey Garlic Baked Chicken Thighs – Serve these easy Honey Garlic Chicken Thighs with your favorite healthy side dishes for a perfect weeknight dinner. Tender, zesty, with just the right amount of sweetness, this delicious sticky chicken recipe is worthy of keeping on constant rotation.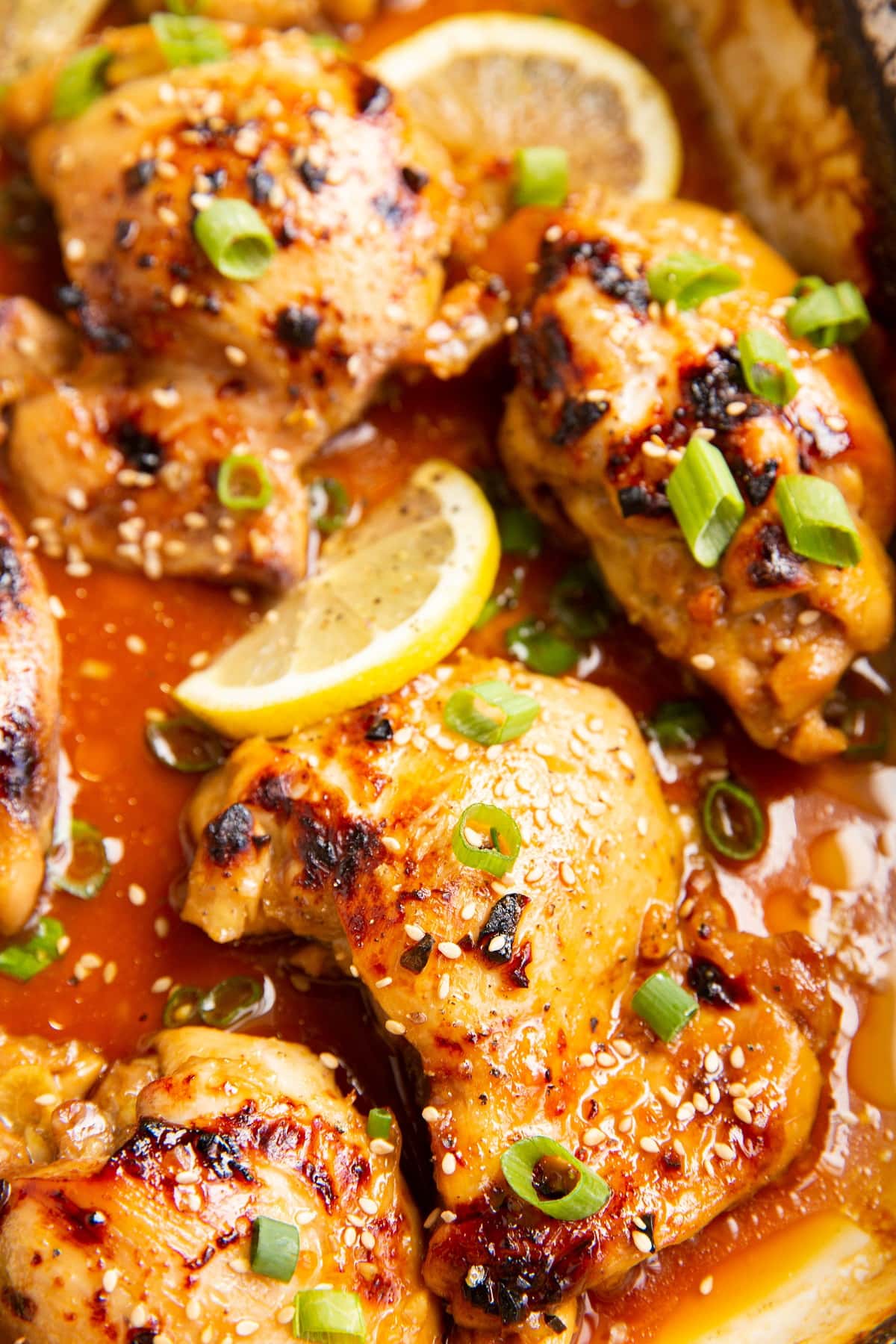 Chicken Pesto Spaghetti Squash – A complete meal for the history books, this Chicken Pesto Spaghetti Squash has been a reader favorite on this site for years!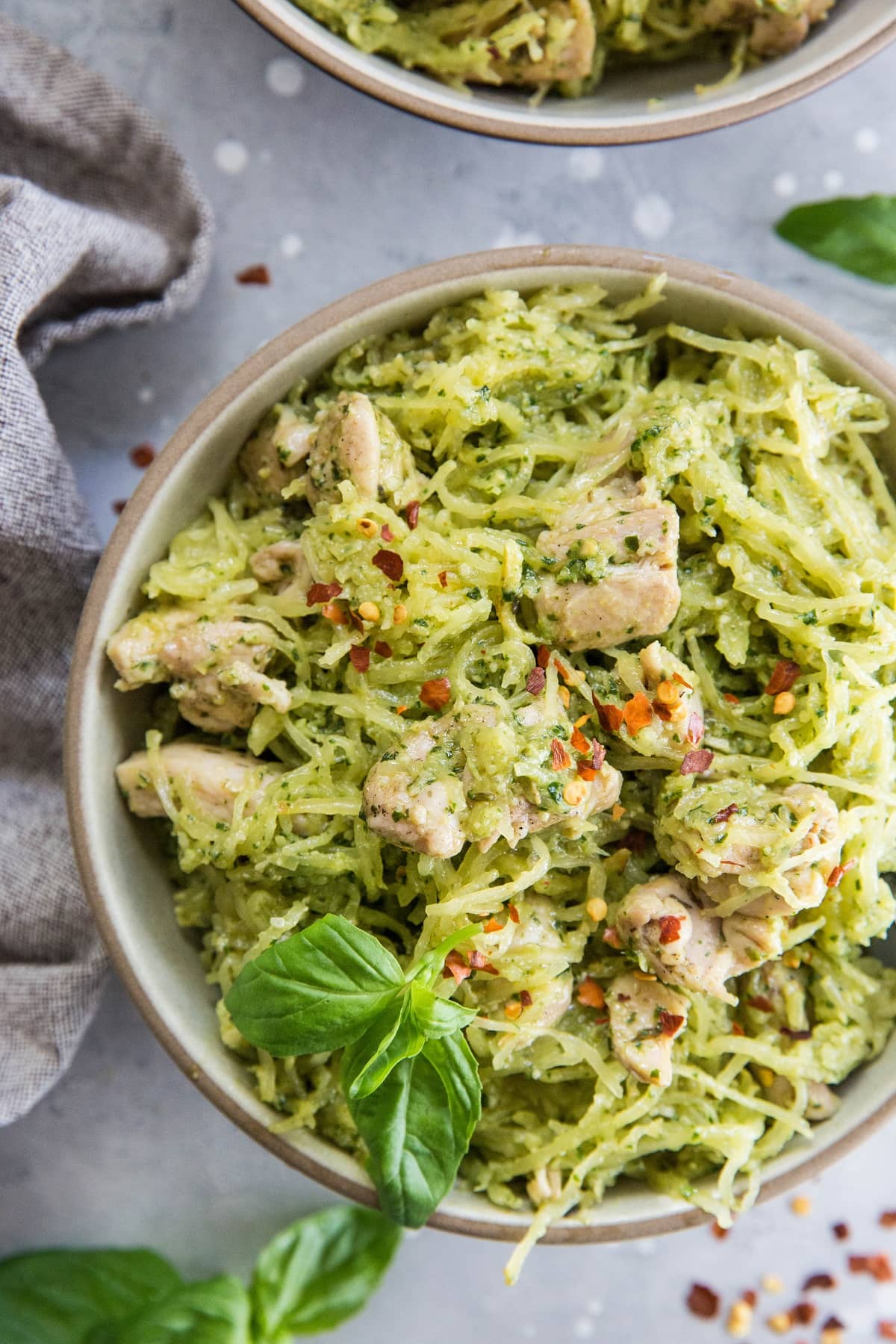 Crispy Mediterranean Air Fryer Chicken Thighs – A generous amount of mild spices makes the chicken marinade positively delightful in these Mediterranean air fryer chicken thighs. Very similar to Chicken Shawarma, this recipe is blasted with zesty flavor and warm spices.
Crispy Mediterranean Chicken Salad with Lemon Herb Tahini Herb Dressing – Flavorful crispy chicken on a bed of greens with cherry tomatoes, avocado, arugula, cucumber and an amazing citrusy creamy dressing. This nutritious dinner recipe is packed with flavor and is perfect for anyone who loves a big vibrant meal!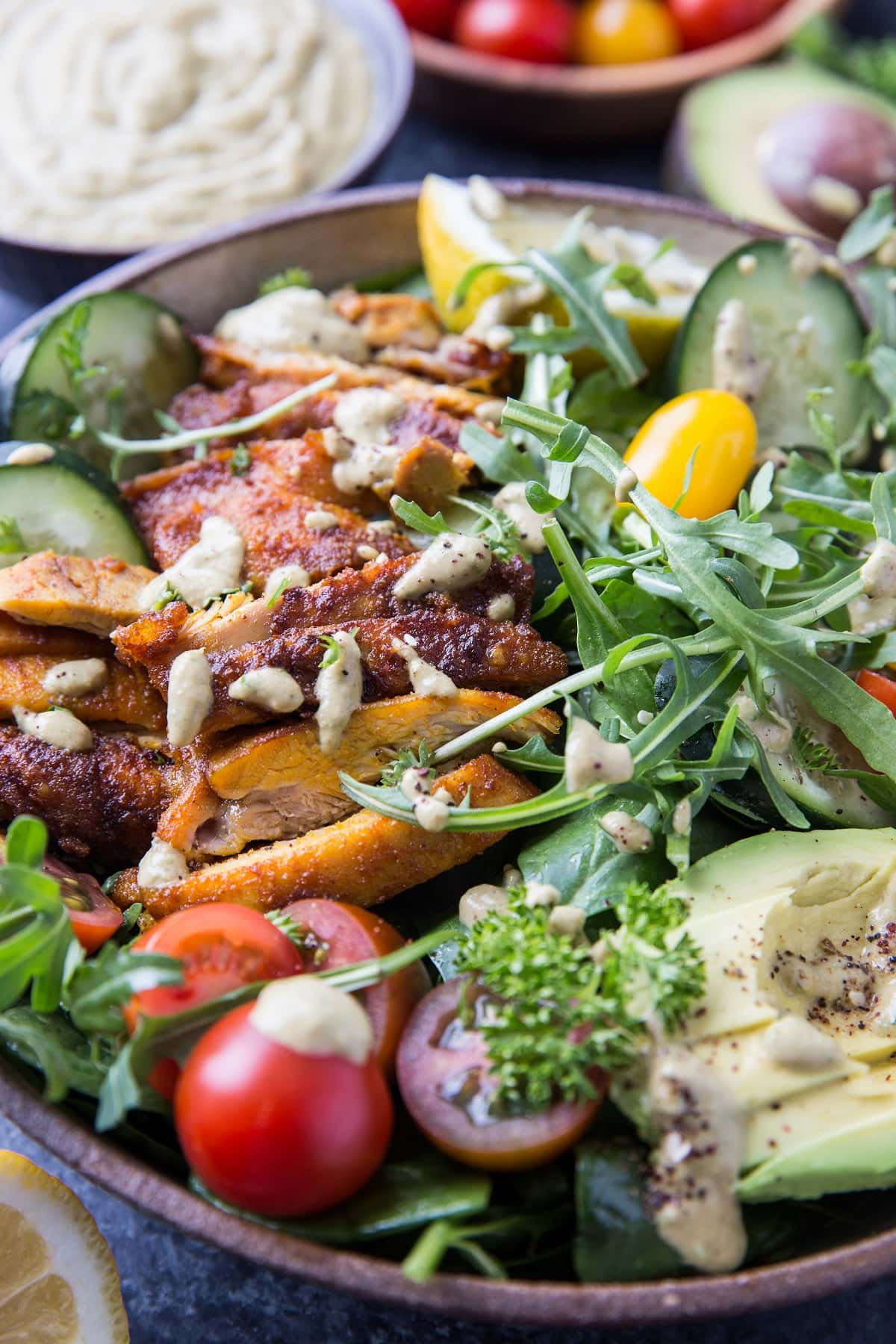 Thai Zucchini Chicken Skillet – Boneless chicken thighs, zucchini, onion, carrots, garlic, and cabbage all come together with a sweet and savory peanut sauce for a hearty flavorful dish that takes only 30 minutes to make. Make a double or triple batch to meal prep for dinners throughout the week!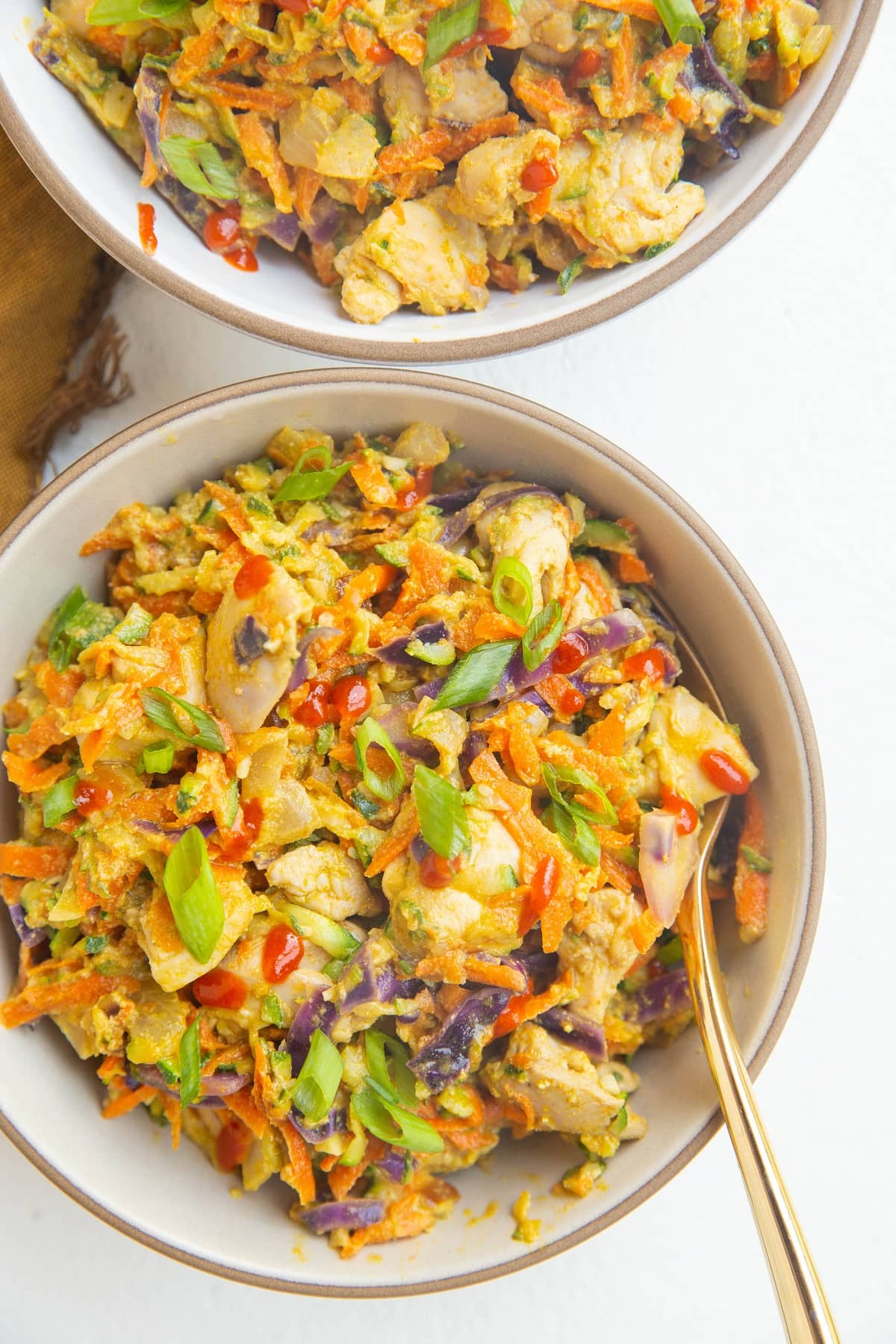 Asian-Inspired Instant Pot Chicken Thighs – These tender, flavorful juicy thighs turn out perfectly in the Instant Pot! A little soy sauce and lime juice go a long way in this easy chicken thigh recipe. This recipe includes instructions for boneless skinless chicken thighs, bone-in skin-on chicken thighs, and cooking thighs from frozen.
Paleo Chinese Lemon Chicken – Healthy Chinese Lemon Chicken features deliciously breaded and pan-fried chicken in a zesty sweet sticky sauce for the ultimate dining experience! Soy-free, refined sugar-free, and gluten-free!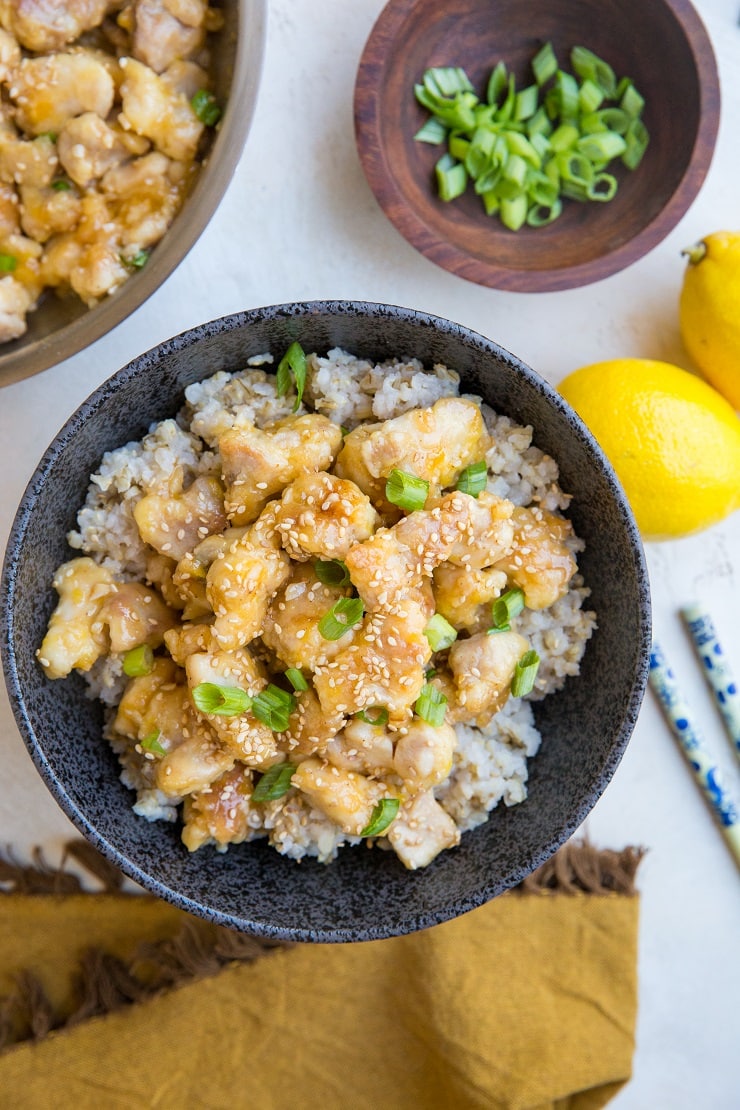 30-Minute Paleo Mongolian Chicken – Quick and easy 30-Minute Paleo Mongolian Chicken comes together in a flash! This simple recipe is loaded with flavor and can easily be made any night of the week. Make a double or triple batch to meal prep it!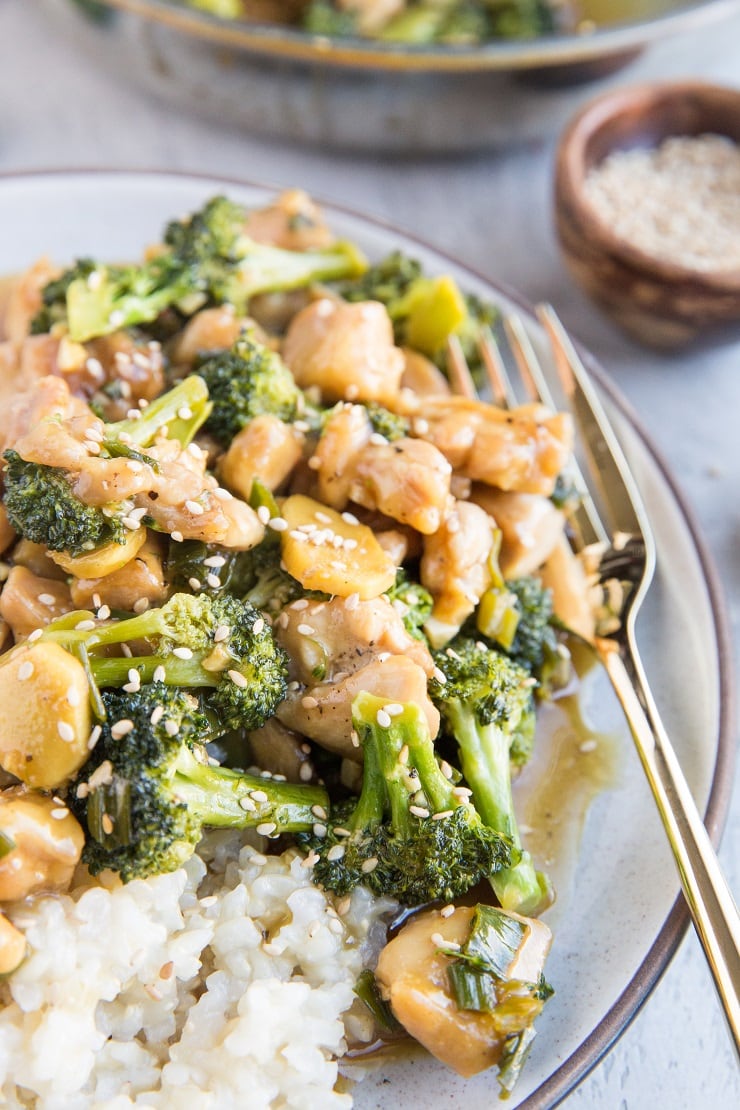 Baked Hawaiian BBQ Chicken – Perfect any time you're craving a twist on barbecue, these Hawaiian chicken thighs can be whipped up at a moment's notice. Serve them with your favorite side dishes like rice and roasted veggies at any summer bbq or for weeknight dinners.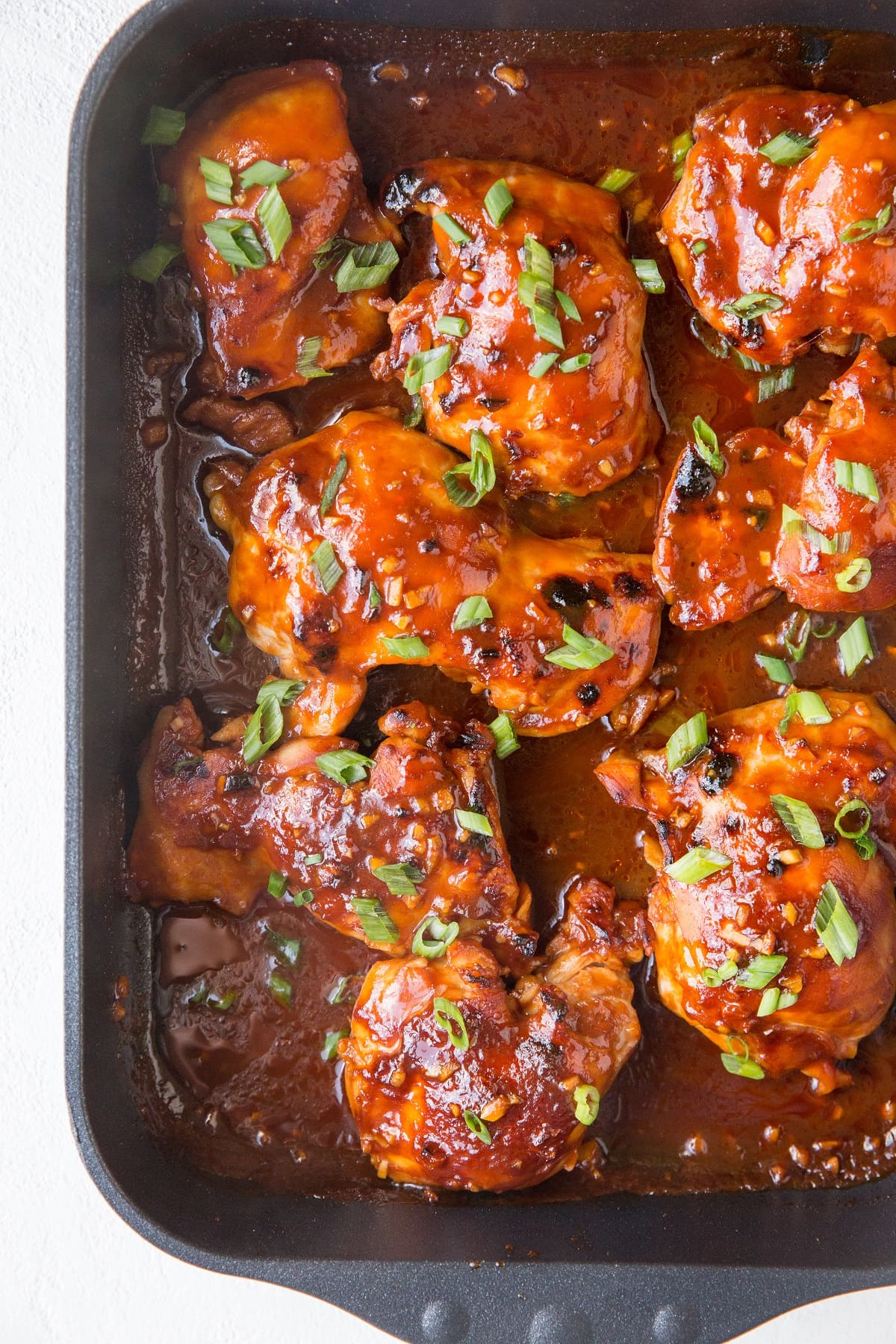 Lemon Garlic Baked Chicken Thighs – An all time classic, this simple lemon garlic chicken recipe is a household staple! Serve it with different side dishes and keep it on constant rotation!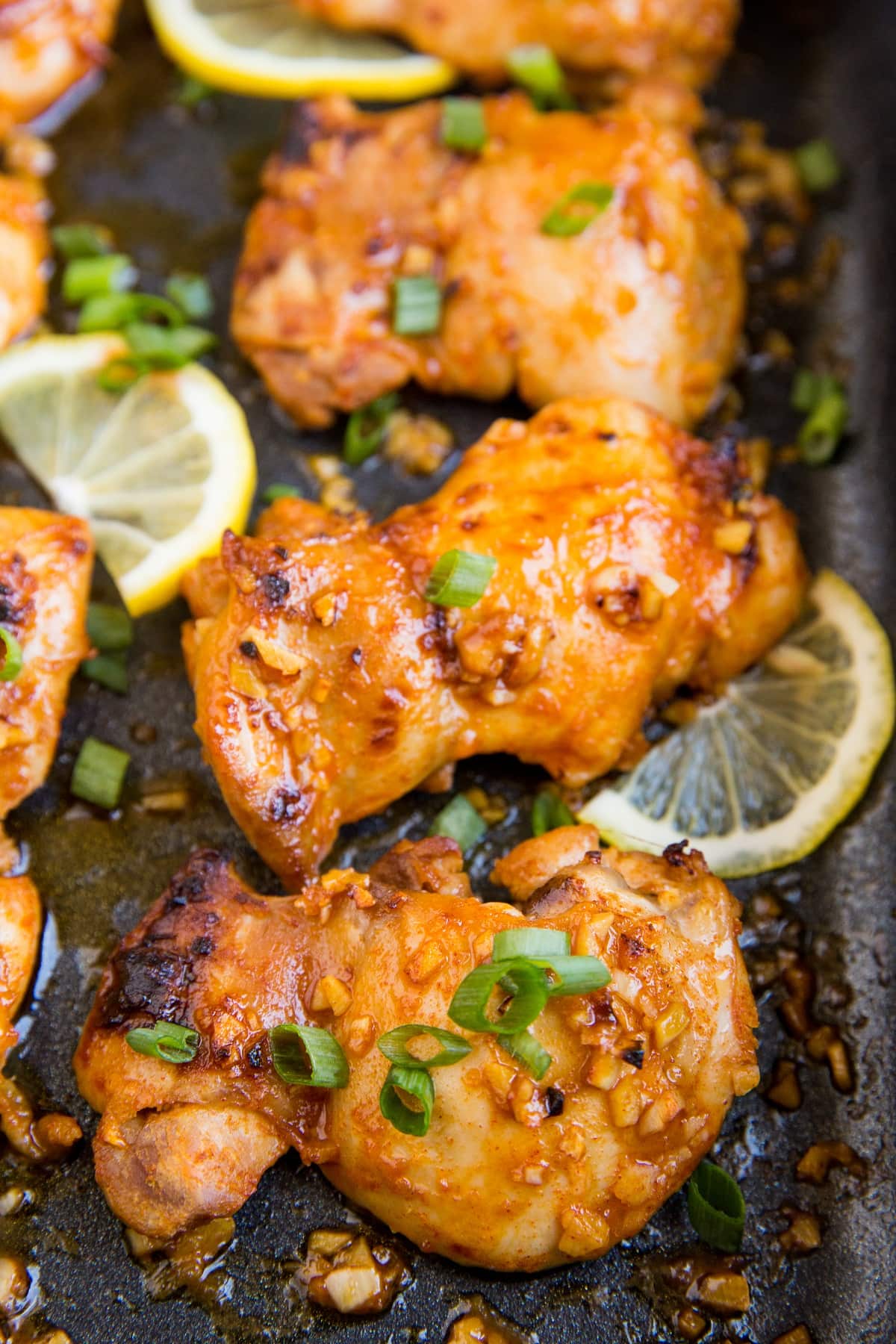 Gluten-Free Chicken Chow Mein – Quick and easy gluten-free Chicken Chow Mein comes together in 40 minutes or less! Bring your favorite takeout recipe into the comfort of your own kitchen!
30-Minute Paleo Orange Chicken – Healthy Chinese Orange Chicken made grain-free, soy-free, and refined sugar-free. This simple recipe requires few ingredients and about 30 to 40 minutes to prepare.
Sesame Ginger Chicken Salad – This big, filling salad recipe includes marinated chicken thighs, cabbage, spinach, carrot, cashews, dried cranberries, a delicious peanut dressing, and more! All the colors of the rainbow and so many textures to enjoy!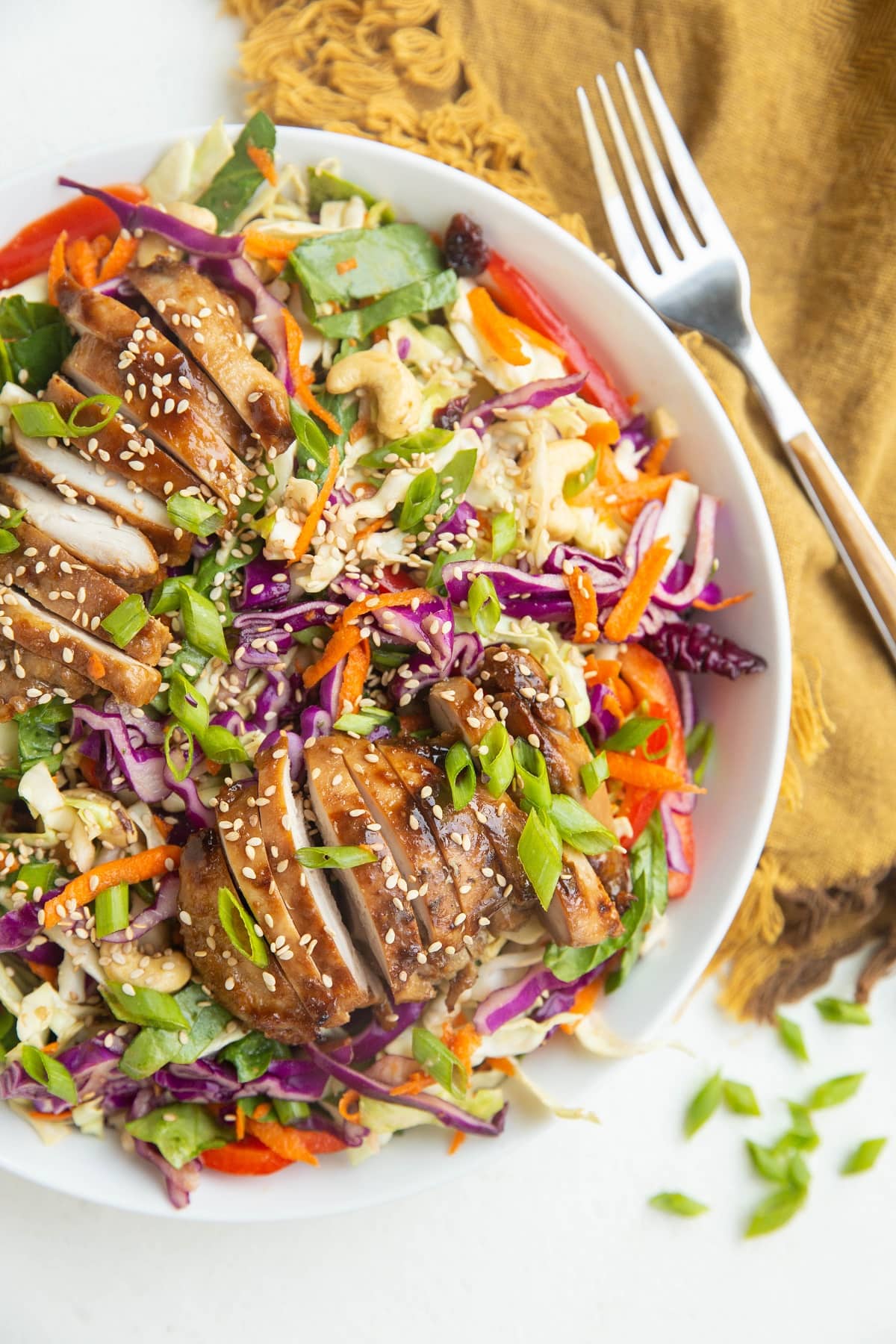 Baked Honey Lime Chicken Thighs – Sweet, savory, tangy, with all the right flavors! Citrusy sesame sticky chicken is here for those who love their thighs wild!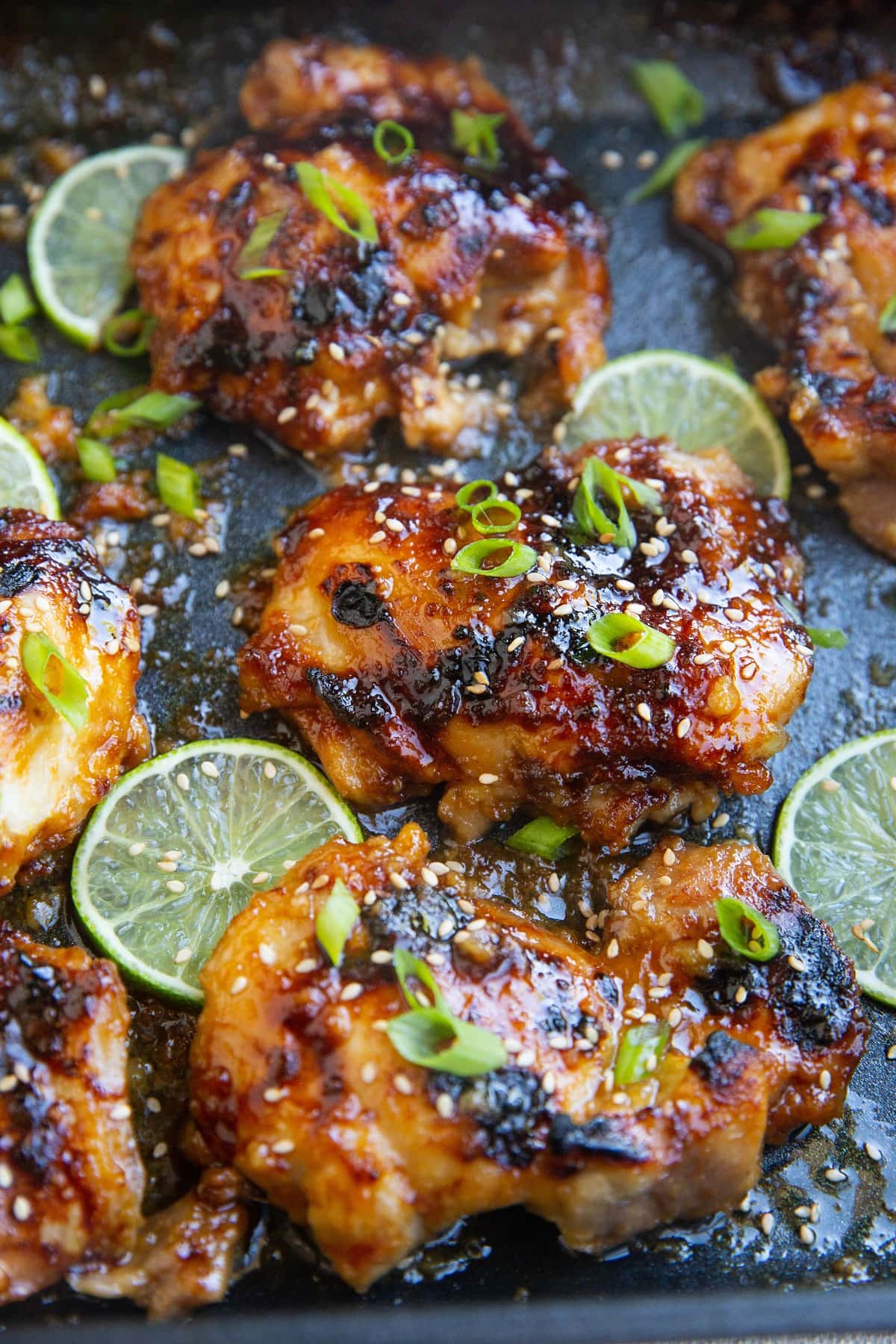 Now let's move on to the bone-in chicken recipes!
Bone-In Skin-On Chicken Thighs:
Lemon Rosemary Braised Chicken Thighs – Succulent fall-off-the-bone braised chicken thighs made easy in your cast iron skillet. This clean and healthful dinner recipe is perfect for low-carb, paleo, or keto living.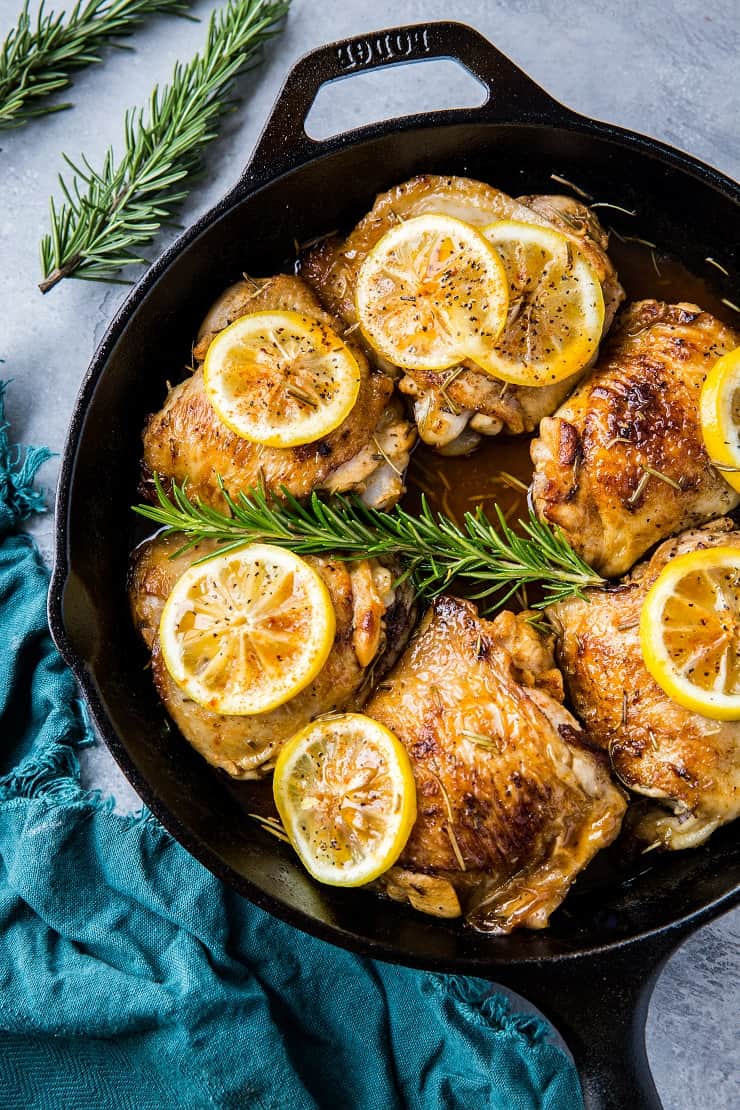 Mediterranean Sheet Pan Chicken – Marinated chicken thighs, fresh vegetables, olives, and chunks of feta cheese makes for the freshest, most flavorful easy one-pan sheet pan dinner recipe!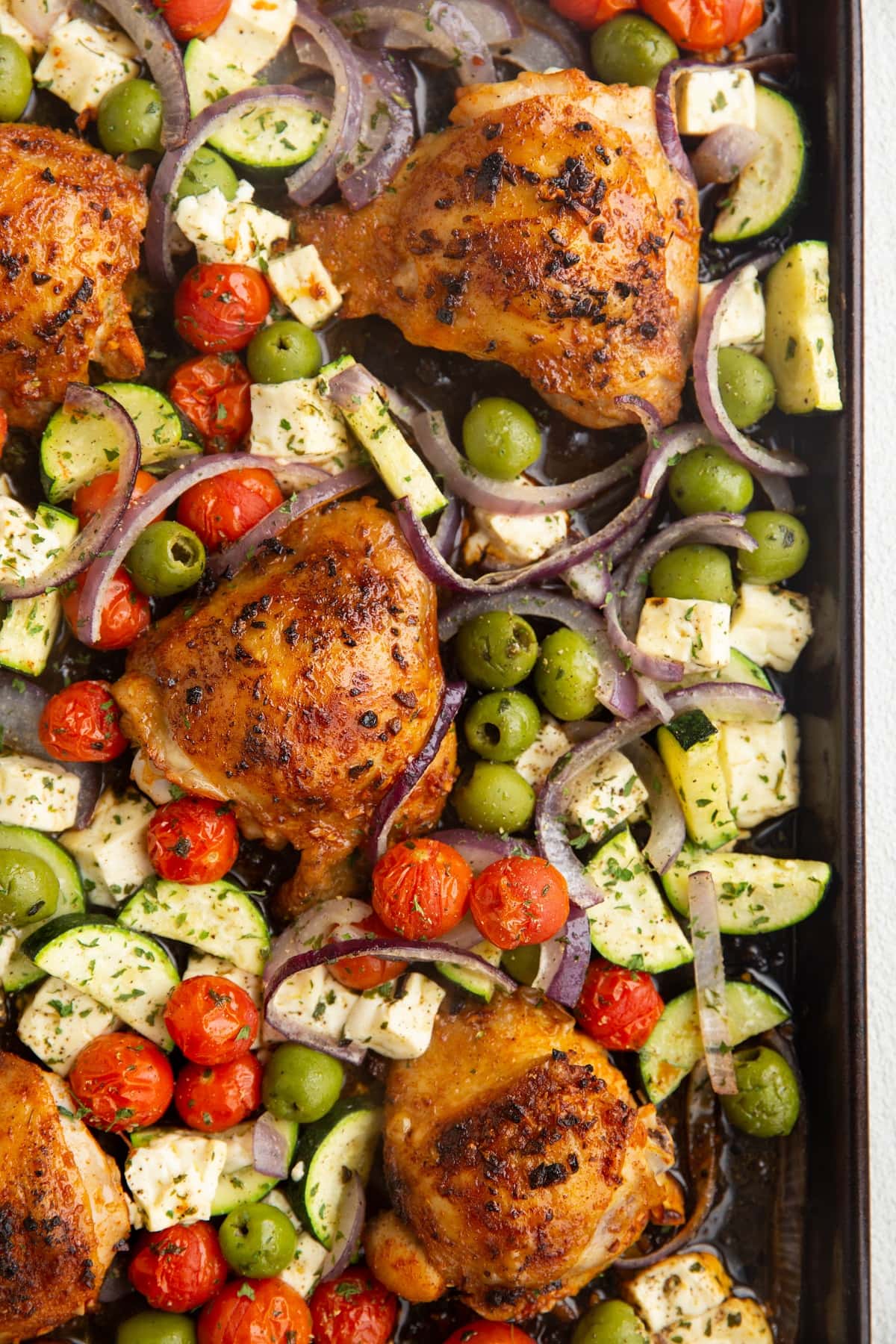 Creamy Tuscan Chicken – Tuscan Chicken with a creamy spinach and sun-dried tomatoes dairy-free cream sauce is a tried and true reader favorite! This easy paleo-friendly recipe is dairy-free, low-carb, keto, and whole30 compliant.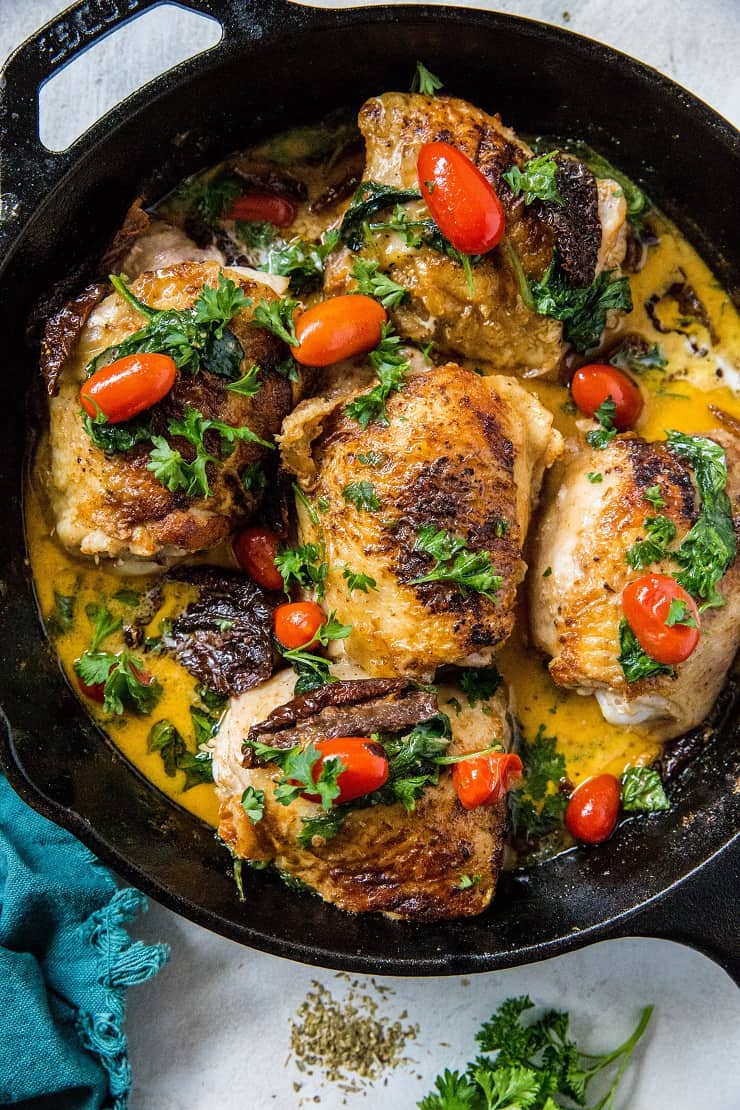 Crock Pot Creamy Mushroom Chicken With Potatoes – Easy slow cooker Creamy Mushroom Chicken with Potatoes is one of those feel-good comforting meals that the whole family can enjoy! The dairy-free cream sauce is loaded with onion, garlic, and lemon for a dish that is big in flavor! Add white wine if you're a fan of cooking with wine!
Baked Blackened Chicken Thighs – Perfectly tender and juicy blackened chicken with amazing crispy skin. You'll be amazed at just how show-stopping delicious this incredibly easy main dish turns out, and the whole family is guaranteed to love it!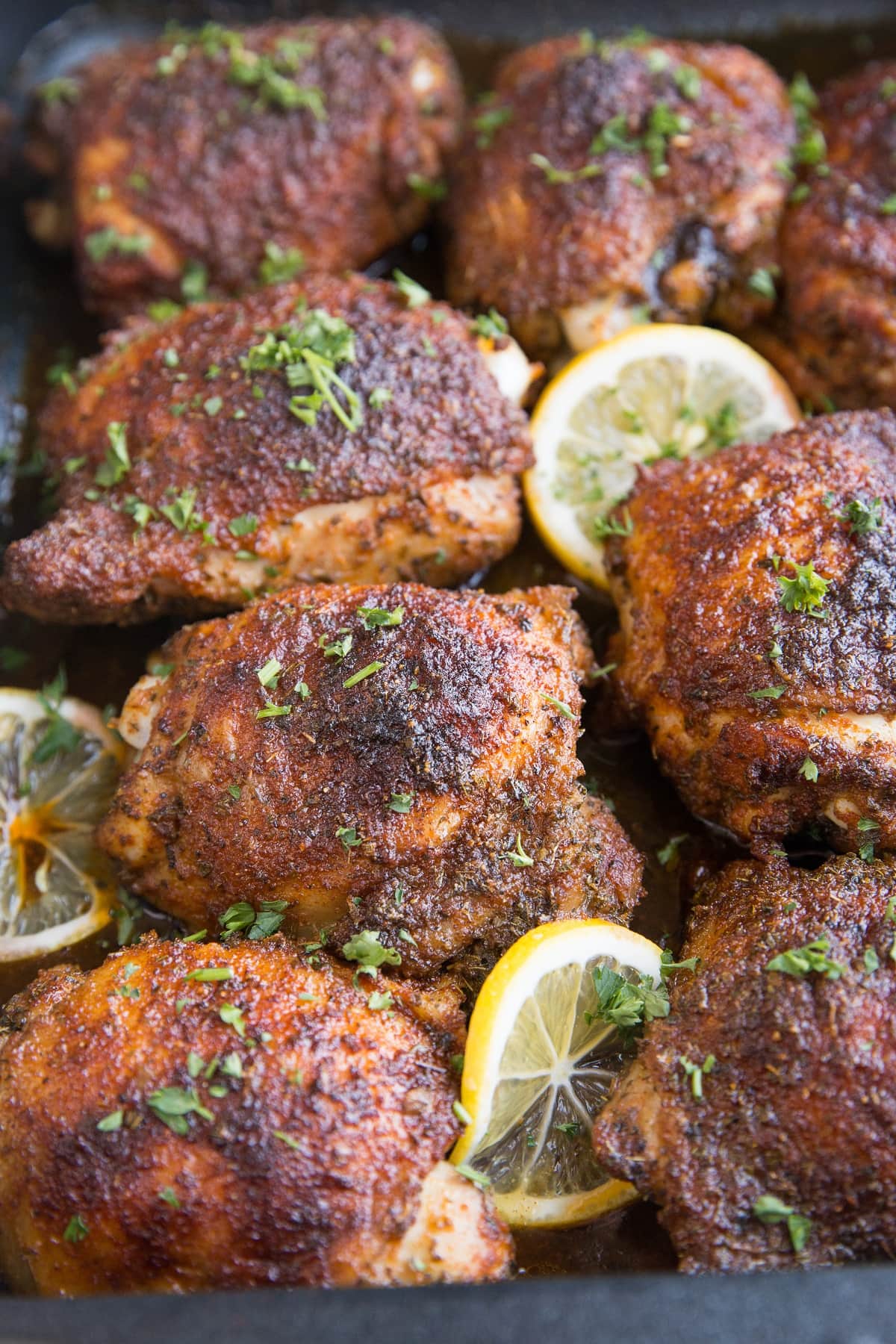 Air Fryer Crispy Chicken Thighs – Tender and juicy Air Fryer Crispy Chicken Thighs are an absolute delight! Not only do they take very little time to prepare, but they turn out incredibly flavorful with amazing crispy skin.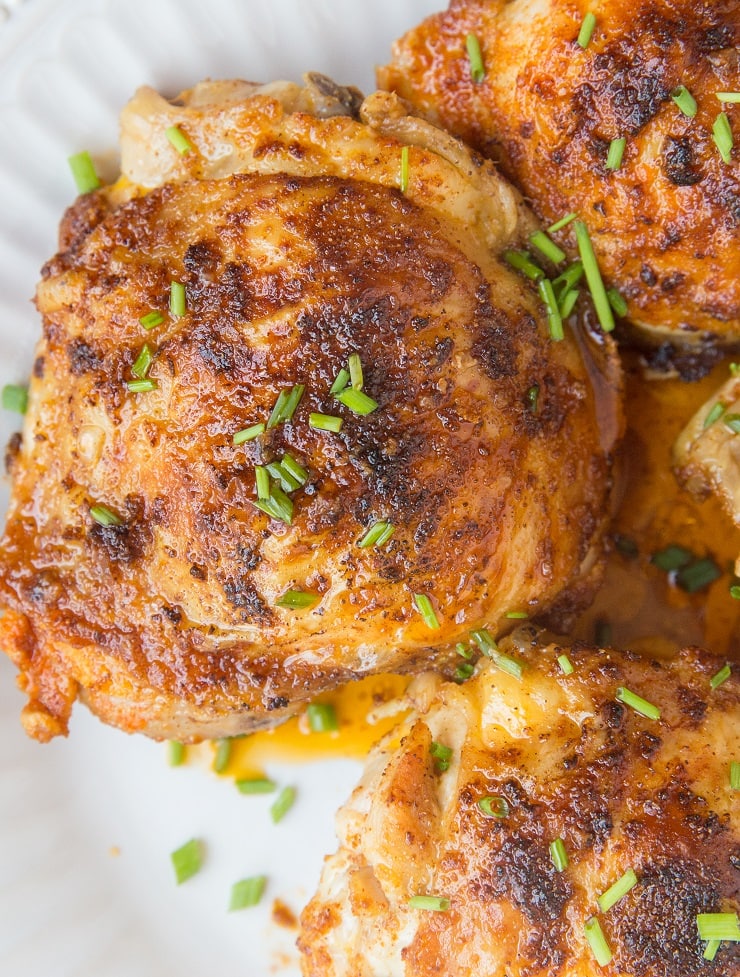 Basil Crispy Baked Chicken – A fresh, herby, flavorful main entrée. You're not going to believe how easy this finger-lickin' good, juicy tender chicken thigh recipe is!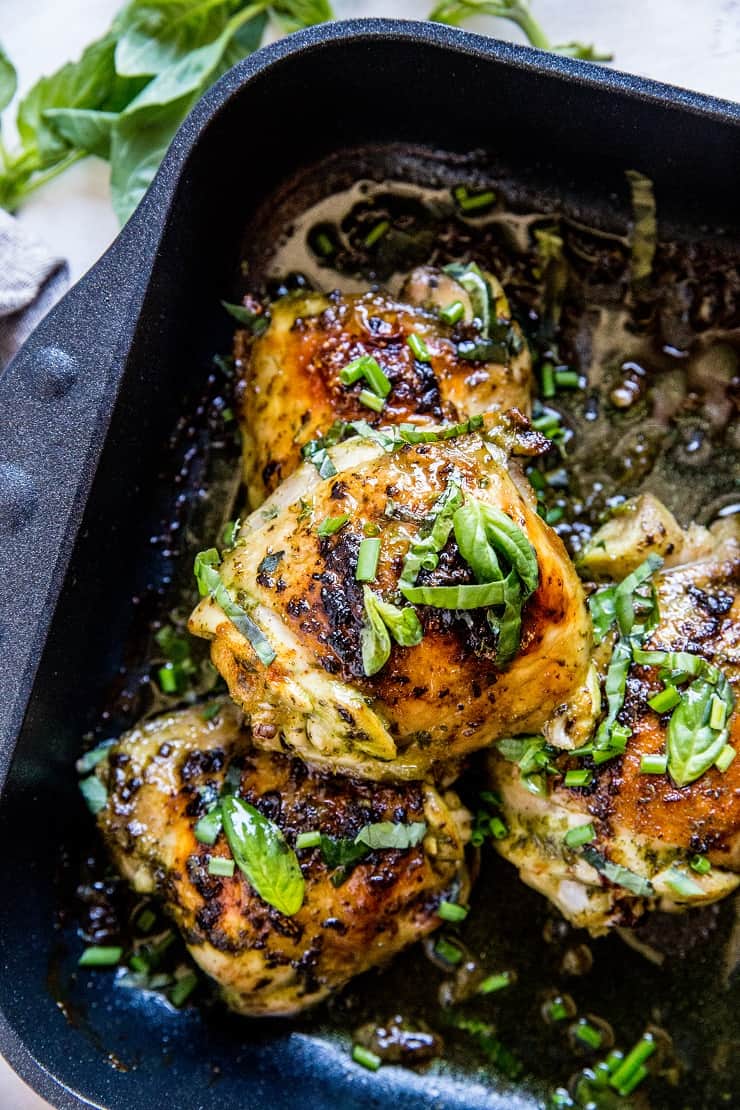 Baked Teriyaki Chicken Thighs – Made with just four basic ingredients in the oven for the most tender, crispy, delicious mouth-watering teriyaki chicken. Serve it up with your choice of side dishes (I recommend homemade fried rice) for a meal that never gets old!
Instant Pot Turmeric Chicken and Root Vegetables – An aromatic turmeric coconut milk sauce with carrots, sweet potatoes, and parsnips makes this amazing Instant Pot chicken recipe so rich and delicious. This nutritious meal is perfect for any night of the week!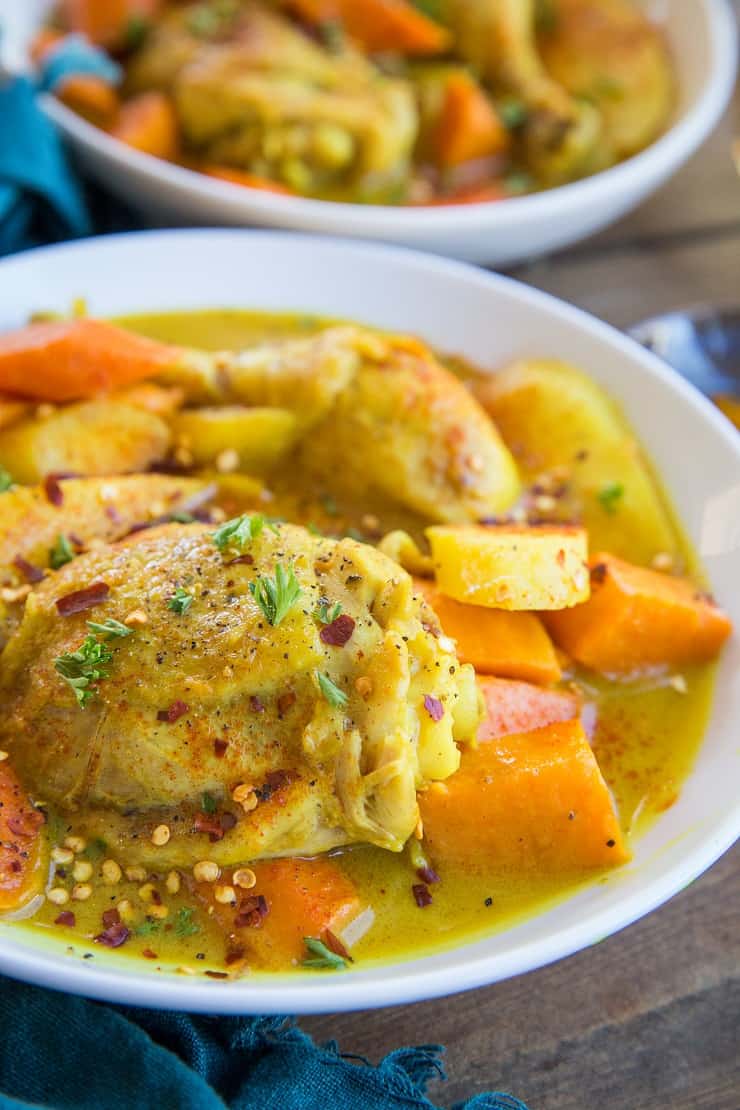 Orange Ginger Grilled Chicken – Zesty, crispy, and packed with flavor! This easy-to-prepare orange-ginger grilled chicken recipe requires only a few basic ingredients and hardly any time to make!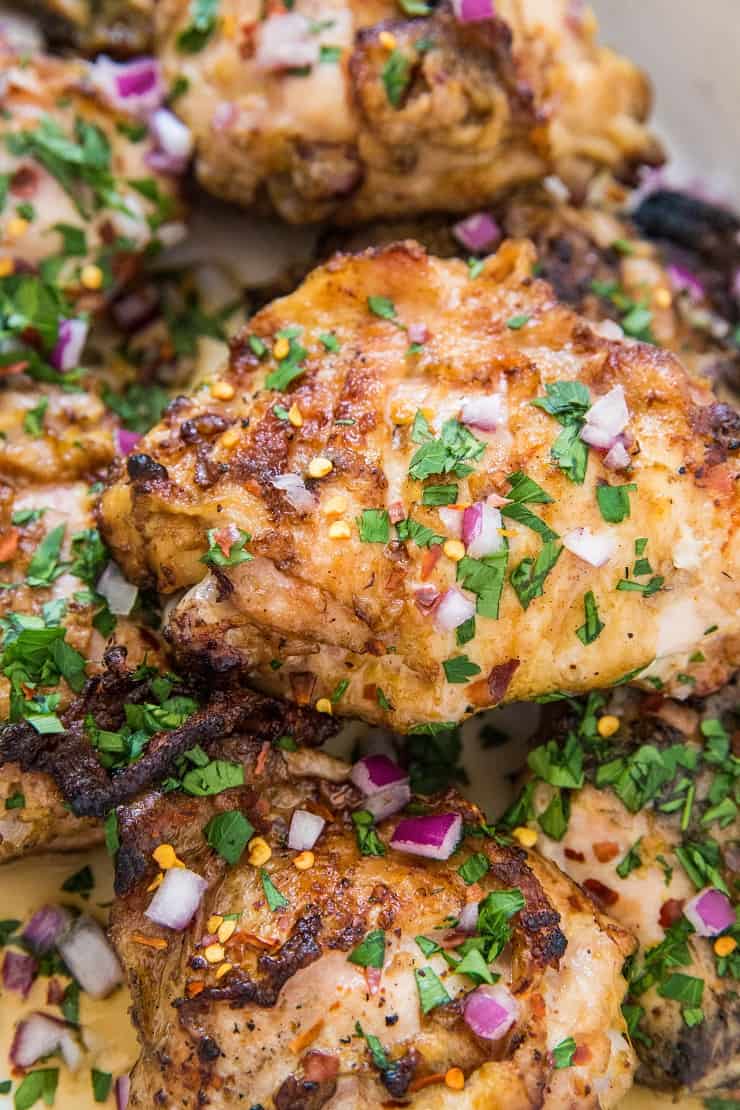 Moroccan Chicken Stew – An incredibly satisfying meal that feels fancy and exotic yet is fairly quick and easy to prepare! Serve it up with my Ginger-Turmeric Rice for a wildly adventurous night in.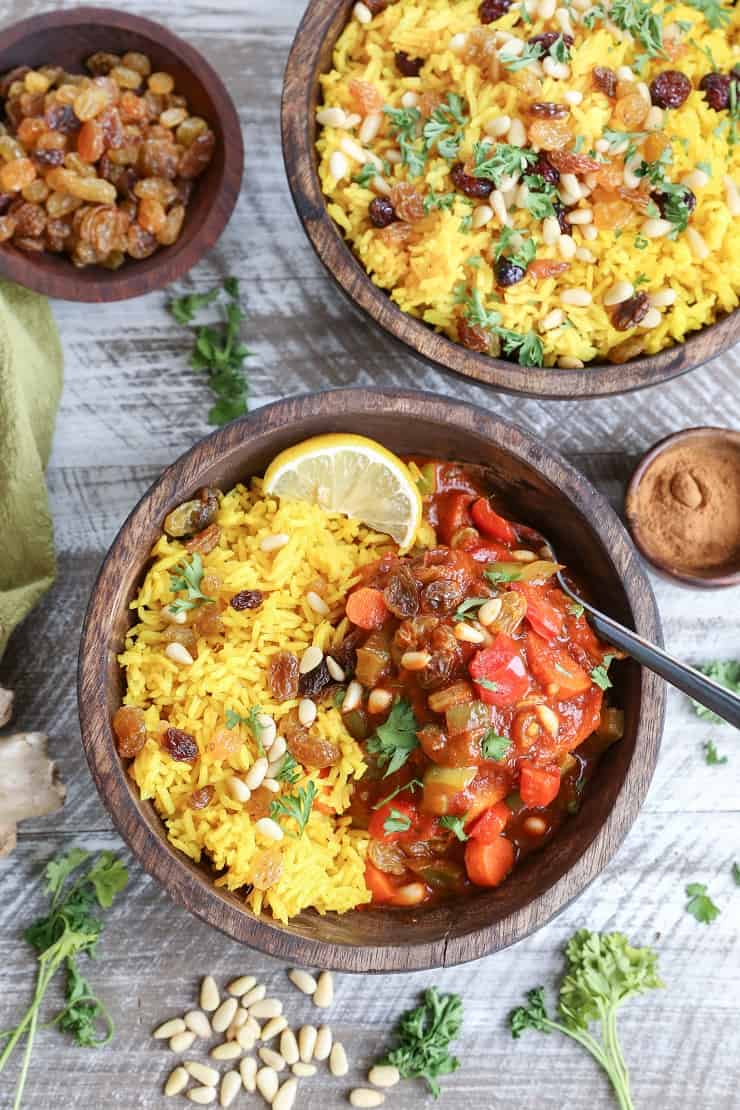 Wondering what to serve with chicken thighs?
What to Serve With Chicken?
In the event you're looking for some healthy side dishes to pair with any of these chicken main dishes, here are my top recommendations.
There you have it! Easy chicken recipes for your next dinner party or weeknight meal at home.
This post contains affiliate links, which means I make a small commission off items you purchase at no additional cost to you.