Ginger turmeric basmati aromatic rice – a unique and delicious Middle Eastern side dish perfect for pairing with your favorite entrees.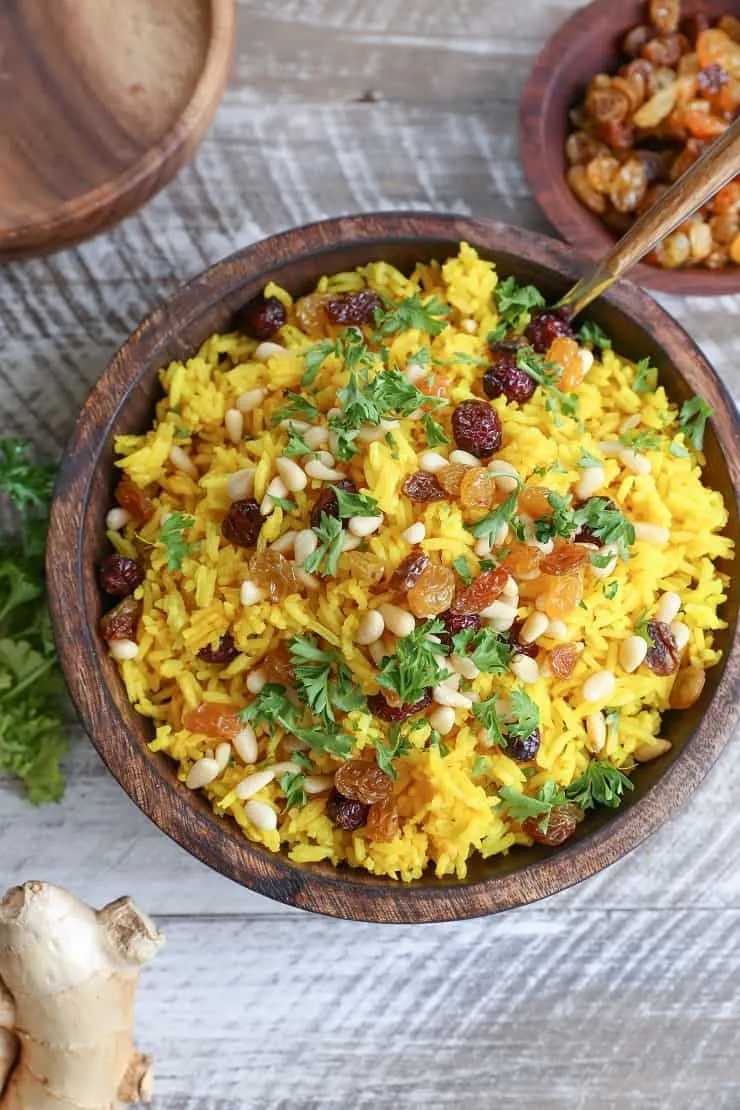 This blows instant white rice out of the freaking water.
When I was a kid, 62% of what I ate was white rice with butter and soy sauce. The end.
Okay, 78%.
Carbs + Fat + Sodium = Scrumtrulescence to the nth degree, which is why 91% of what I ate as a child was white rice with butter and soy. There may have been a canned pea in there somewhere, but not by my own choosing.
As an quasi adult, this Ginger and Turmeric Aromatic Rice is the butter and soy to my rice. It's an all grown-up version of a comforting dish. I recommend it henceforth be the replacement for all your rices, not just because it's tasty, but also because it includes the magical root, turmeric.
Which brings me to my next point. For today's edition of root vegetables 101, we're talking about turmeric.
You guys, this plant is insane. No matter your feelings on root vegetables, or vegetables in general, your life needs to be infused with turmeric. It will make you all the healthies.
What the Hillary Swank is Aromatic Rice?
The title has a therapeutic ring to it, but what is it?
What is Aromatic Rice?
Aromatic rice is simply medium or long-grain basmati or jasmine rice. It has a nutty flavor, is commonly prepared with saffron threads or ground turmeric, and is typically incorporated into Asian, Indian, North African, and Middle Eastern cuisine.
Some cultures serve aromatic rice with fresh chopped cilantro, pine nuts, and/or dried fruit. The rice adds vibrance and flavor to a meal, and is served alongside sauce-y vegetarian or meat dishes.
I have shown you turmeric in smoothie-form with my Anti-Inflammatory Smoothie, Beet, Turmeric, and Mango Smoothie, and Mango Lassi recipes; however, it's high time we cook with it.
What is Turmeric?
Turmeric is from the root of the Curcuma longa (any botanists in the house? Anyone? Anyone? Bueller?), which is a leafy plant related to ginger.
For such a small root, turmeric packs an insanely healthful punch and has been touted in the medical industry for its ability to prevent and fight cancer.
Let's talk basics.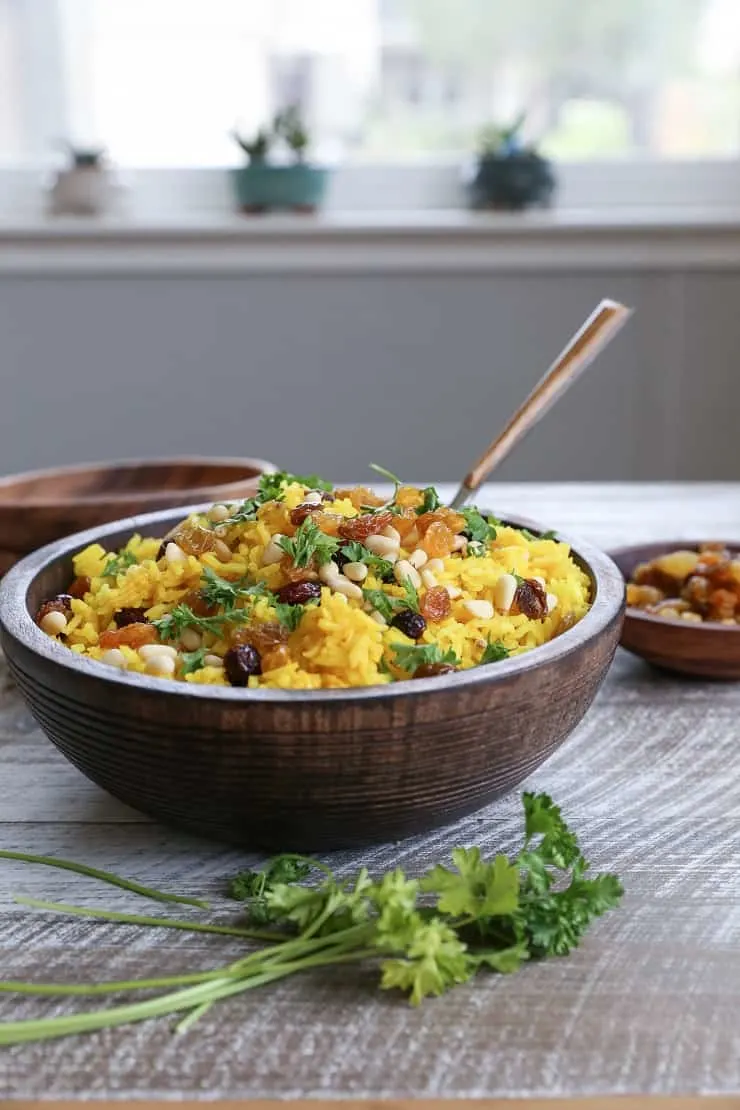 Turmeric 101:
What does turmeric look like?: Put simply, turmeric looks like the orange version of ginger root, only its smaller than ginger. The orange peel gives way to a bright orange interior. Careful, because although turmeric's color is brilliant and pretty, it stains your clothes, plastic, and wood.
What does turmeric taste like?: Turmeric may look like ginger, but it tastes nothing like it. It has a peppery and bitter flavor. The fresh version does have a slight creaminess to it, the way fresh ginger has. Be careful with how much turmeric you use, lest your dish end up with a bitter flavor.
Health benefits of turmeric: Turmeric has been used as a natural remedy in Chinese and Indian culture for centuries. It is a natural anti-inflammatory, and has been used to treat jaundice, inflammatory bowel disease, cystic fibrosis, arthritis, and cancer. Turmeric also eases digestive discomfort, and boosts your immune system. Full of antioxidants, turmeric helps cleanse and heal your liver.
How to select and store fresh turmeric: Choose fresh turmeric that is firm with an un-damaged peel. Store turmeric in a plastic bag in the crisper of your refrigerator. It should last between 3 and 4 weeks. If it hasn't been cut or damaged, you can store whole turmeric roots in a root cellar for a couple of months.
How to cook with fresh turmeric: In order to cook with it, peel the skin using a paring knife and either finely chop it or grate it. You can use it in the same types of dishes you would ginger, and most curry dishes call for turmeric.
In the past, I've used ground turmeric for aromatic rice, but this time around I used fresh. I also added fresh ginger and garlic, dried cranberries, and pine nuts. The rice comes out full of color and fresh flavor.
I enjoy the rice with Chicken Tikka Masala and Paleo Butter Chicken, and will definitely be making it time and again when I cook ethnic food.
I've used both brown rice and white basmati rice in this dish and love them both equally. Be sure to read the instructions on the back of the package of rice you're using if you go with anything other than white basmati. Brown rice will require more water and cook time.
Turmeric. It un-does all your debaucherous doings. Do that.
My cookbook,
Paleo Power Bowls
, is now available! CLICK HERE to check it out. Thank you for your support!
If you make this recipe, please feel free to share a photo and tag @The.Roasted.Root on Instagram!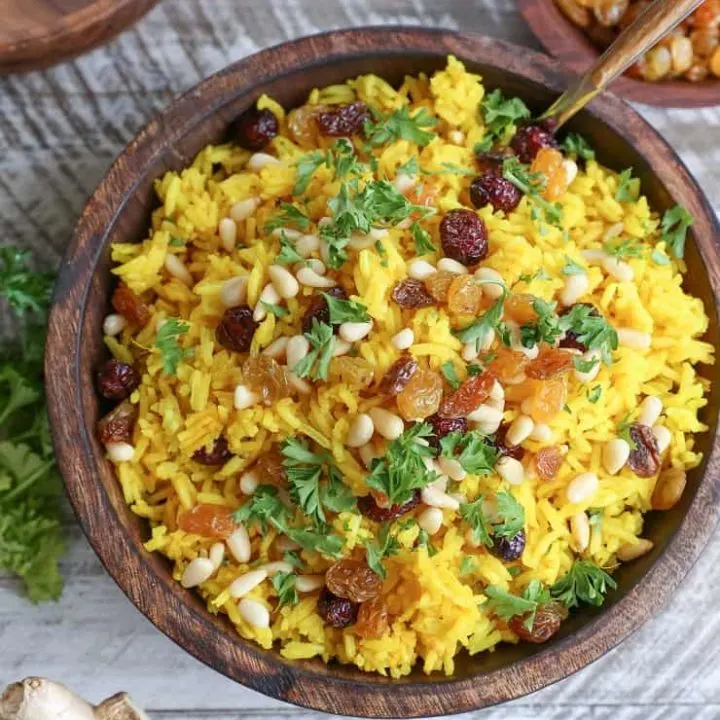 Ginger and Turmeric Aromatic Rice
Ginger and Turmeric Aromatic Rice is a flavorful healthful rice to serve alongside just about any entree
Ingredients
1.5 cups water
2 cloves garlic, minced
1 tablespoon ginger, peeled and grated
1 teaspoon fresh turmeric, peeled and grated*
1 tablespoon fresh lemon juice
For serving:
¼ cup fresh cilantro, chopped
Instructions
Add all ingredients for the rice except for the dried cranberries to a small pot, cover, and bring to a full boil. Reduce heat to a simmer and cook, covered, until rice has absorbed all liquid, 15 minutes (or according to package instructions). NOTE: if using a rice other than white basmati rice, follow package instructions for amount of water and cook time.
A few minutes before rice is finished cooking, stir the dried cranberries into the rice - this allows them to plump up and lends more flavor to the rice. Re-place the cover and continue to cook.
Taste rice for flavor and add more sea salt if desired. Serve with fresh cilantro and pine nuts alongside your favorite main dish.
Nutrition Information
Yield

3
Serving Size

1 of 3
Amount Per Serving
Calories

271
Total Fat

5g
Unsaturated Fat

0g
Carbohydrates

49g
Fiber

1g
Sugar

10g
Protein

4g