Instant Pot turmeric chicken in an aromatic turmeric coconut milk sauce with carrots, sweet potatoes, and parsnips. This nutritious meal is perfect for any night of the week!
This post is sponsored by Thrive® Culinary Algae Oil.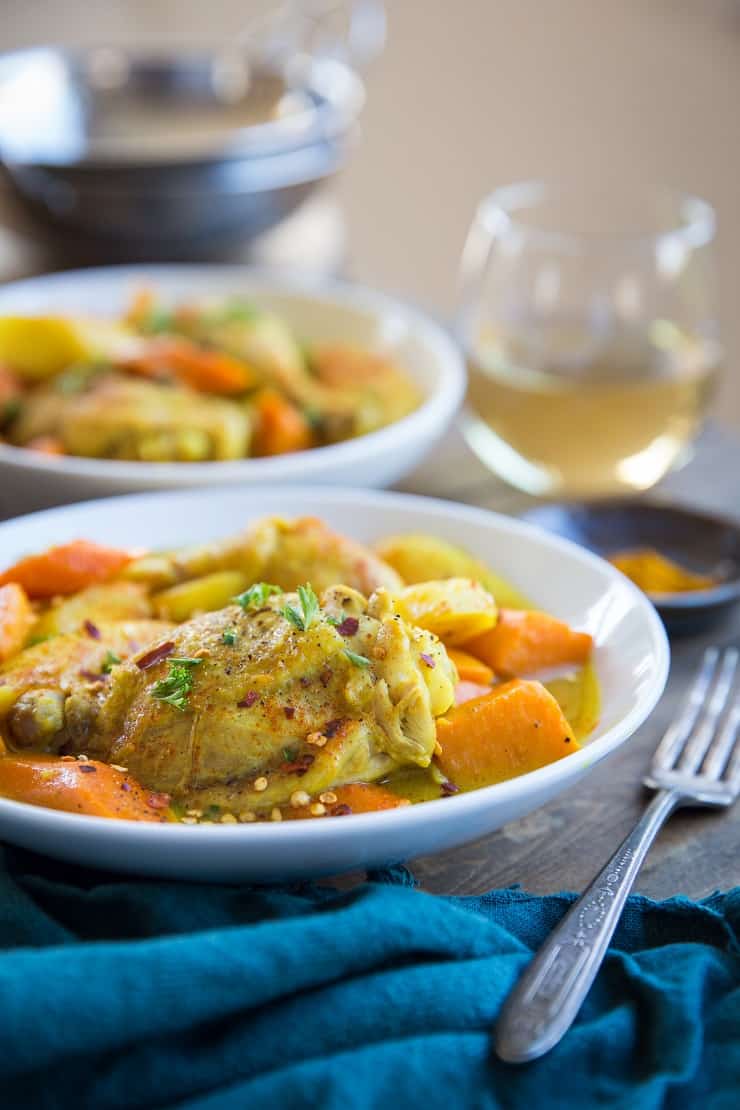 Say hello to my new favorite chicken recipe!
Tender fall-off-the-bone chicken is one of those foods I continuously crave, and this turmeric chicken recipe is mind-blowingly tasty! It is comforting yet nutritious in addition to being super easy to prepare in your Instant Pot.
This easy one-pot meal is all you need for an evening in.
The chicken, sauce, and vegetables cook together in the Instant Pot, eliminating the need for multiple kitchen tools and making cleanup a breeze.
The aromatic turmeric-spiced coconut milk sauce is what ties this recipe together and gives it that stew-like coziness. Between the chicken and root veggies, you have yourself a complete meal that's paleo-friendly, fairly low-carb, and Whole30 approved.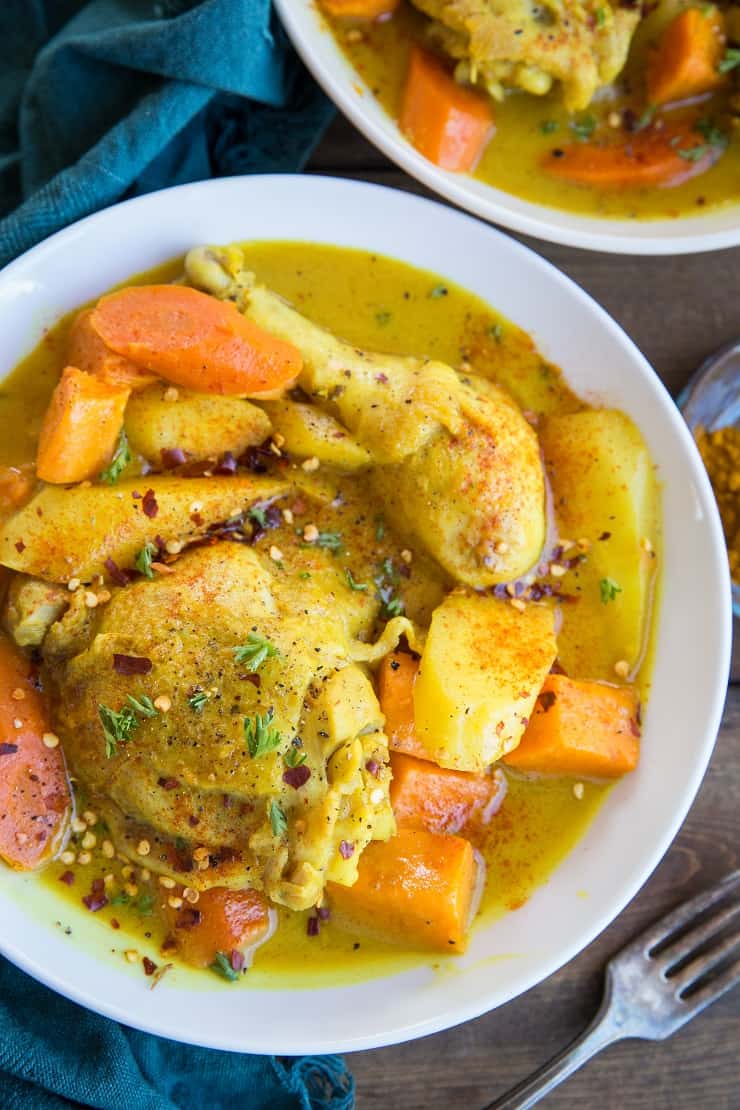 Let's discuss one of my favorite topics: oils and fats. You may remember me discussing Thrive® Culinary Algae Oil in my Turmeric Quinoa Breakfast Bowls with Peppers and Kale, where I gave you the full rundown on algae oil.
For those of you who are new to algae oil…
Here's the Skinny on Algae Oil
Thrive® Culinary Algae Oil has a high smoke point (up to 485 degrees), which means it doesn't burn at high temperatures. This important to consider when you're frying, searing, sautéing, and roasting, or in the case of this recipe, browning meat.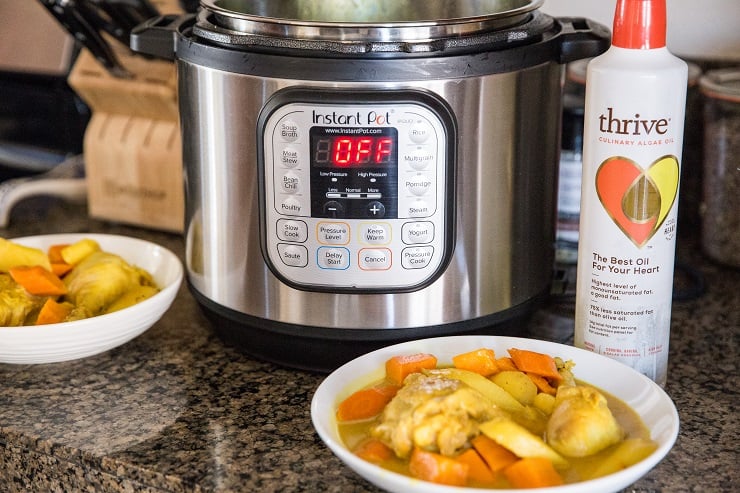 I always recommend being cognizant of the oil you're using for the application – sure, olive oil can be great for dressings and marinades, but for high-temperature uses, you want to stick with oil that has a higher smoke point so you aren't compromising the health quality of the oil or the flavor of the dish.
Algae oil contains the highest amount of monounsaturated fat (the good fat), at 13 grams per serving. Thrive contains 90% MUFAs, while olive oil contains about 70% MUFAs. At .5 grams per serving, algae oil has the lowest amount of saturated fat out of all the cooking oils. This becomes particularly important for folks who have high cholesterol and need to pay close attention to the type of fat they're consuming.
In addition, algae oil is very light and neutral in flavor, making it ideal for any cooking application.
If you have avocado oil on hand, it also works great as a high-temperature cooking oil.
So, with all of that said, we're using algae oil to sear chicken in the Instant Pot before pressure cooking it. This browning process is important so you're locking the moisture into the meat and ensuring the texture turns out tender. Because we're browning at a high temperature, we want to be sure we're using an oil that won't burn, and algae oil is the perfect choice.
Let's get started!
How to Make Instant Pot Turmeric Chicken
First things first, we make the turmeric sauce. Simply put all the ingredients for the sauce in a blender and blend until it's well-combined. Set sauce aside until you're ready to use it.
Plug in your Instant Pot, press the "Sauté" button, and bump the time up to 12 minutes. Drizzle 2 tablespoons Thrive Algae Oil and allow it to heat up for a minute or so.
Place the chicken in the hot Instant Pot. Brown the chicken for 6 minutes per side – you will need to do this in two separate batches as there won't be enough room to brown all of the chicken at once. Simply transfer the first batch to a plate so you can brown the second batch.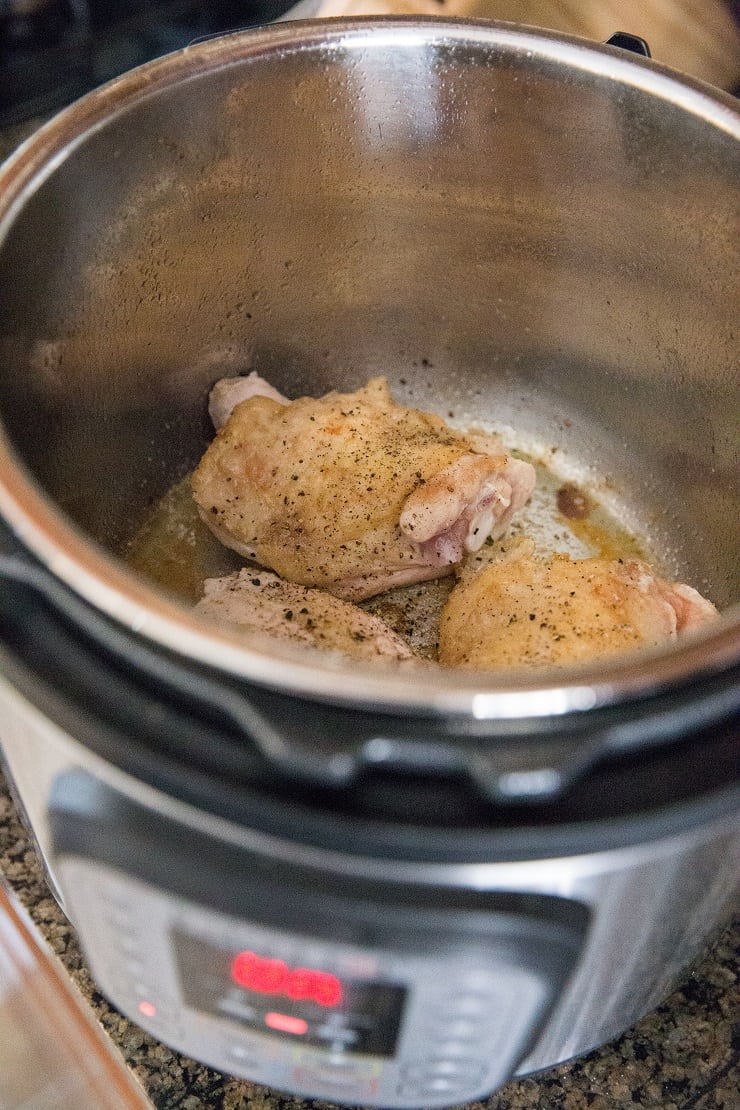 Once all of the chicken has browned, pour in the broth, then transfer all of the chicken to the pot. Pour the turmeric sauce over the chicken, then add in the chopped vegetables. No need to stir! All we need to do at this point is switch the Instant Pot to the Pressure Cook setting and set the time at 20 minutes.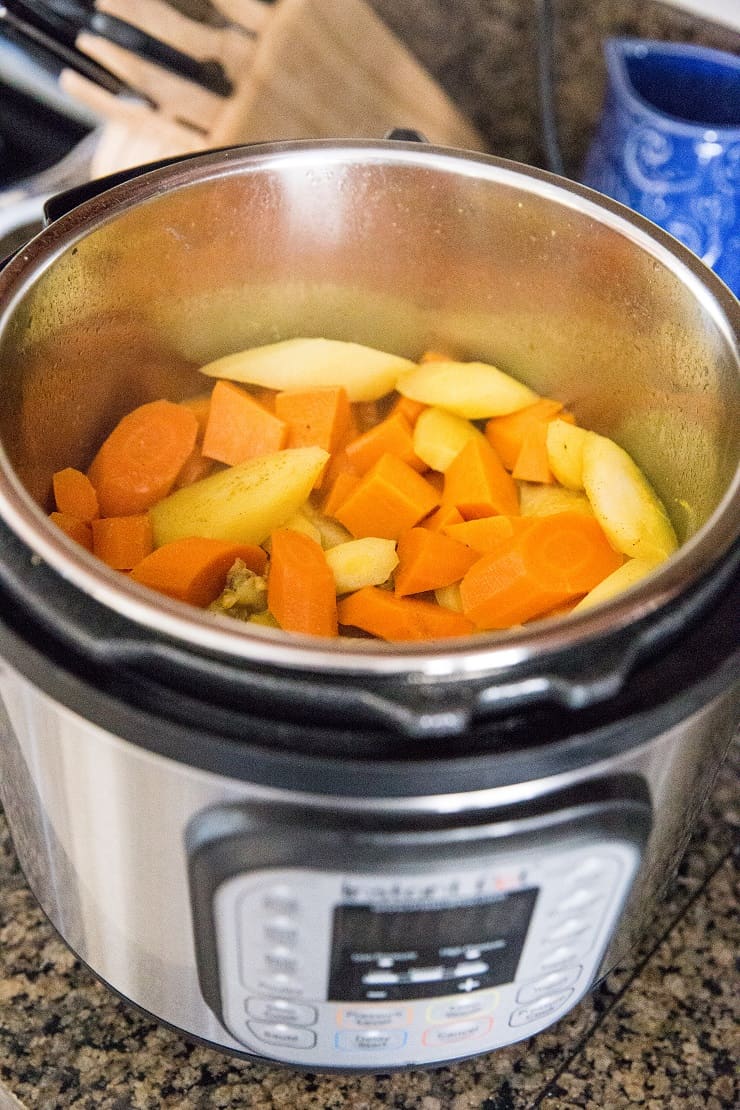 Keep the pressure release at Venting. Once all of the steam has vented, you can open up the Instant Pot and your whole meal is ready to be consumed!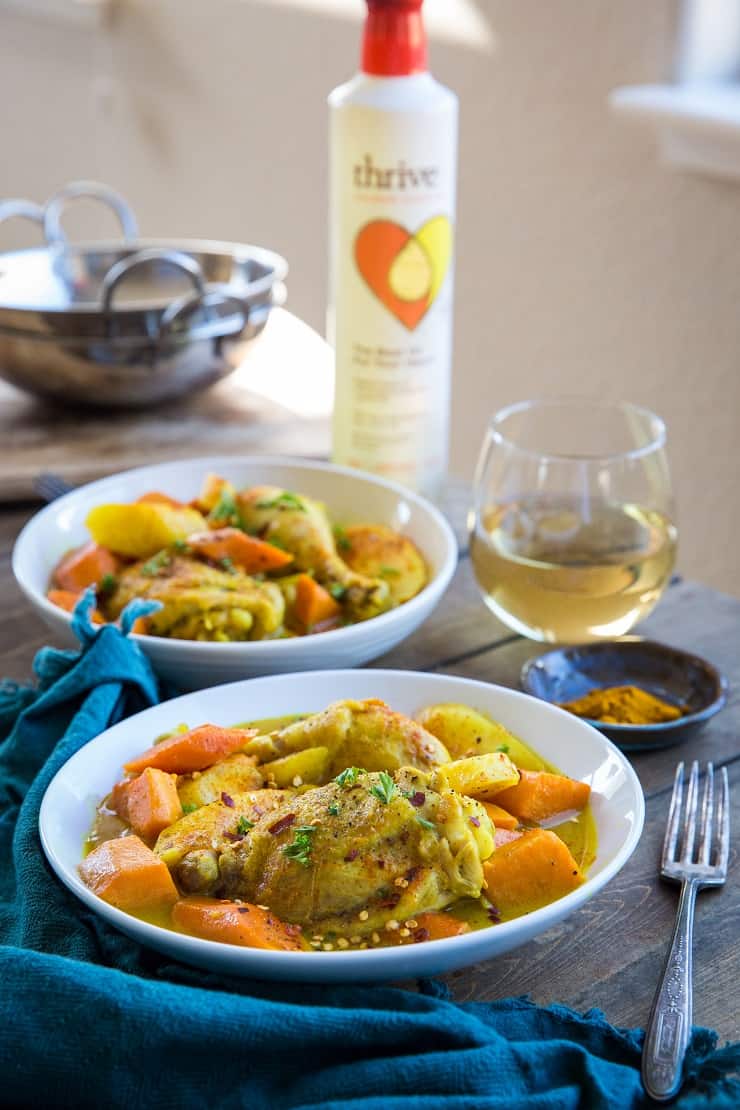 Recipe Adaptations:
If you don't follow a Low-FODMAP diet, feel free to chop up a small onion and 4 cloves of garlic and add it in. I found the chicken to be

plenty

flavorful without onion and garlic, but you do you.

Use any of your favorite root vegetables. Rutabaga, turnips, and beets would work marvelously.

Go the winter squash route by swapping out the root vegetables for butternut squash, acorn squash, pumpkin, or kabocha squash.

Serve the turmeric chicken with rice for added starch, or zucchini noodles, cauliflower rice, etc. I found the meal to be filling as is, but you have plenty of serving options if you're extra hungry.

If you don't own an Instant Pot, no sweat! You can still prepare this recipe with a slow cooker – just see the instructions on the recipe card for the slow cooker version.
Meal Prep:
This meal is crazy-awesome as a make-ahead meal prep option! Make the whole thing and eat off of it for up to 5 days. You can also prepare the sauce up to 5 days ahead of time if you like making recipes in parts.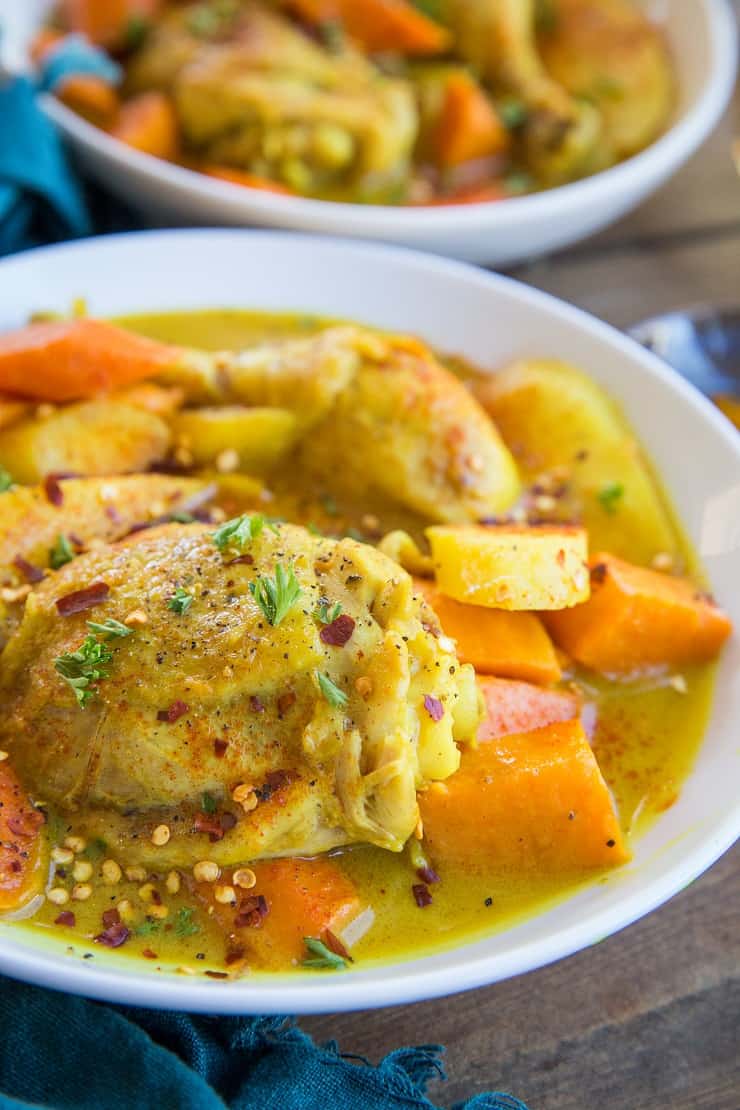 Tender golden turmeric chicken with delicious root vegetables? I have a feeling this will be your new favorite recipe to prepare in your Instant Pot!
More Healthy Instant Pot Recipes:
My cookbook,
Paleo Power Bowls
, is now available! CLICK HERE to check it out. Thank you for your support!
If you make this recipe, please feel free to share a photo and tag @The.Roasted.Root on Instagram!
Instant Pot Turmeric Chicken
Instant Pot Turmeric Chicken with root vegetables is a clean and easy dinner recipe!
Ingredients
Chicken & Vegetables
2

Tbsp

Thrive Culinary Algae Oil

3 to 4

lbs

bone-in chicken pieces

1/3

cup

chicken broth

or beef broth

2

large parsnips

peeled and chopped into 2-inch pieces

2

large carrots

peeled and chopped into 2-inch pieces

1

medium sweet potato

peeled and chopped into 2-inch pieces
Instructions
Add all ingredients for the turmeric sauce to a blender and blend until combined. Set aside until ready to use.

Turn the Saute function on your Instant Pot, and press the + button until it reads 12 minutes. Add the algae oil to the instant pot and let it heat for 1 minute.

Place half of the chicken pieces on the hot surface of the instant pot and sprinkle liberally with sea salt and pepper. Cook 6 minutes, flip and cook another 6 minutes, or until skin is golden-brown. Transfer chicken to a plate and perform this task again for the remaining chicken.

Once all of the chicken has browned, add the broth to the bottom of the Instant Pot and place chicken pieces back in the pot. Pour the sauce over the chicken.

Place all chopped vegetables on top of the chicken and sauce (note: there's no need to stir!) and secure the lid. Press the Pressure Cook button, then set the timer for 20 minutes. Keep the release valve set at Venting.

Allow the Instant Pot to cook and vent until all the steam is released. Once it's finished, open the instant pot and transfer chicken, vegetables, and sauce to bowls for serving.

If desired, serve Turmeric Chicken & Vegetables with cooked rice, cauliflower rice, or zucchini noodles.
Slow Cooker Instructions:
Add all ingredients for the turmeric sauce to a blender and blend until combined. Set aside until ready to use.

Add algae oil to a large cast iron skillet and heat to medium. Place the chicken on the skillet skin-side down and cook 5 to 6 minutes, until skin is golden-brown and crispy. Flip and continue cooking another 4 to 5 minutes. Transfer to a plate and repeat for remaining chicken.

Pour broth in your slow cooker and transfer browned chicken to your slow cooker. Pour the turmeric sauce over the chicken, secure the lid, and cook on low heat for 6 to 8 hours, until chicken is very tender.

When the chicken has 2 hours left, add the vegetables to the slow cooker and stir them into the juices as much as you can (no worries if they aren't submerged in liquid). Replace the lid and continue cooking the remaining 2 hours, or until vegetables are tender.

Serve turmeric chicken & vegetables in bowls and enjoy!
Nutrition
Serving:
1
of 6
|
Calories:
547
kcal
|
Carbohydrates:
26
g
|
Protein:
69
g
|
Fat:
23
g
|
Fiber:
5
g
|
Sugar:
11
g