A basic recipe for roasted vegetables that never fails to impress! This healthy and delicious side dish is perfect for meal prepping or serving a group of people.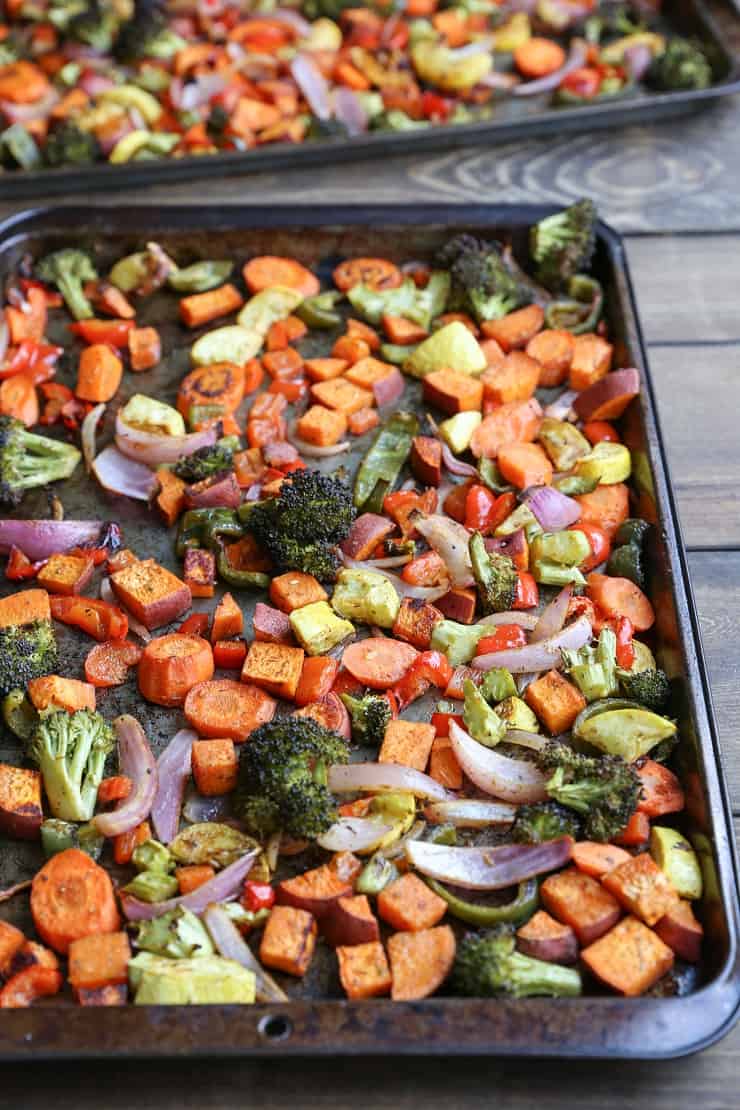 In all likelihood, if I've made you dinner in real life, I've made us roasted vegetables. It's one of those dishes that never fails to satisfy, regardless of with whom I'm dining.
It's easy to make in a large volume, and even those who don't normally eat many vegetables are impressed and go back for seconds!
Or thirds.. If there's one type of food over which I undoubtedly have zero self control, it is, the oven-roasted vegetable!
I was strongly tempted to title this post "The Best Roasted Vegetable Recipe Ever," or "The Only Roasted Vegetable Recipe You'll Ever Need," but because I posted The Best Vegan Caesar Salad on Monday, I figured I would cool it on the ego-inflamed titles for a hot second 😉
Truly, whenever someone is at a loss on what to make for dinner whether or not they're cooking for themselves or serving guests, I always recommend this here recipe.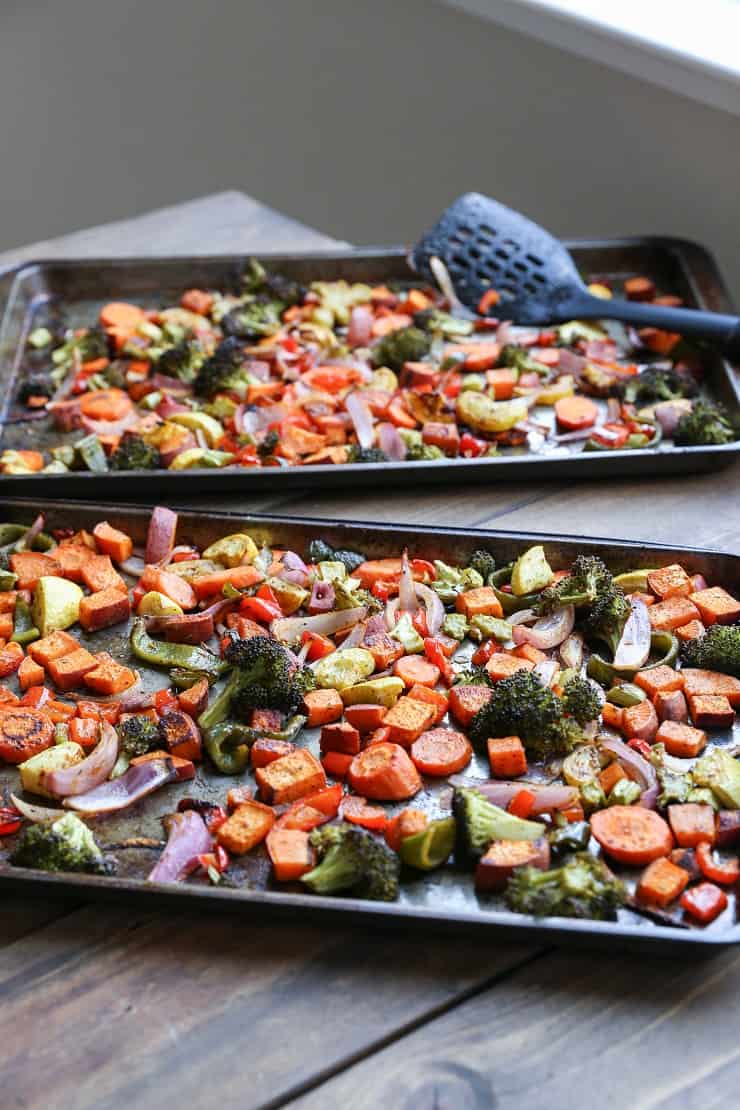 If you've been around The Roasted Root for a while, you've seen all sorts of variations of roasted vegetables, as my methodology has metamorphosized over time.
For instance, you noticed with My Go-To Balsamic Roasted Vegetables and my Cajun Seasoned Roasted Vegetables I used to prepare the dish in a casserole dish.
While doing so makes for easy prep and cleanup, a couple years ago, I caved and began using two baking sheets in order to achieve the optimal crisp on the veggies.
A casserole dish works, but the results can vary and sometimes you end up with soggy veggies since they don't have enough room to dry out in a casserole dish
Since that discovery, I've shown you Orange Ginger Turmeric Roasted Root Vegetables (SO good!) and Roasted Vegetables with Asian Garlic-Ginger Glaze, but I haven't shown you my current go-to.
How to Make Roasted Vegetables:
My current go-to is a no-frills, easy peasy approach that only requires the vegetables, olive oil, sea, salt, and whatever spices and dried herbs your heart is drawn to. I don't spend much time making sauces or deciding what flavors to toss in.
My favorite spices are dried oregano, parsley, paprika, garlic powder, onion powder, cumin, chili powder, and sometimes a dash of garam masala. Basically any iteration of the above results in a winning roasted veg.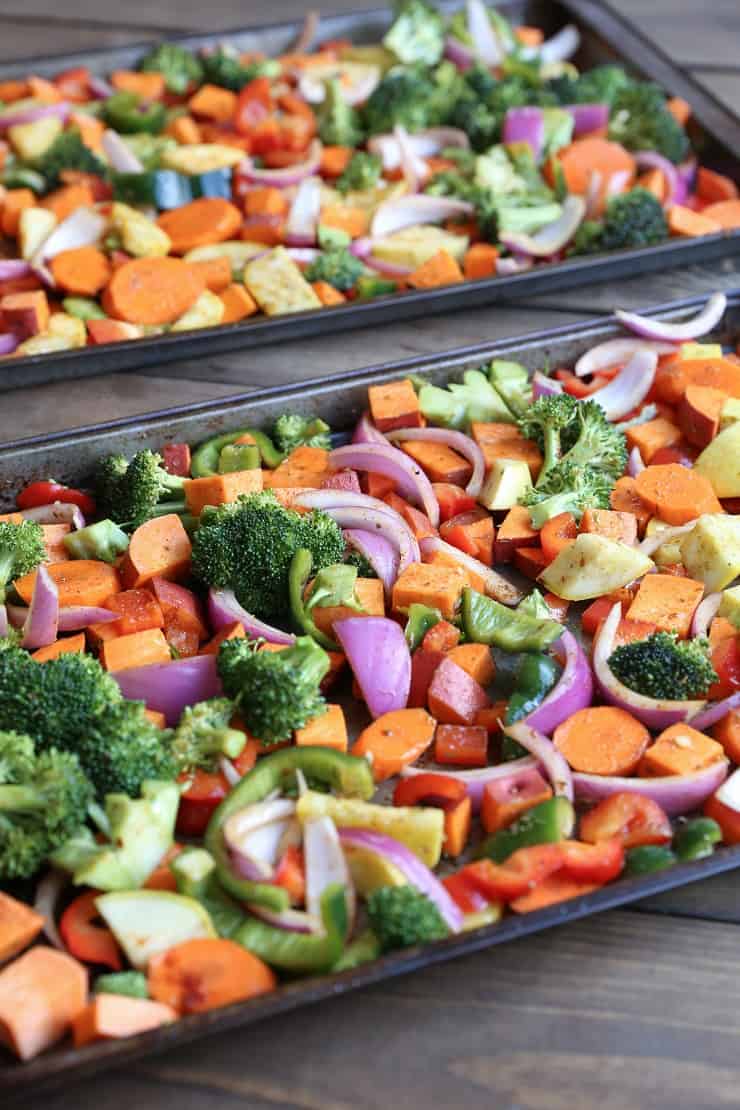 How I choose my produce is based largely on what's looking good in the produce section. This usually means selecting seasonal veggies, but virtually anything that catches your eye at the store, farmer's market, or is given to you in your CSA box will work!
Tip For Making Perfect Roasted Vegetables:
Make sure the vegetables have space for roasting so that they don't become soggy – roast in a single layer on baking sheets for best results.
For this roasted vegetables recipe, I divide everything between two baking sheets.
This means I put half the broccoli, half the onion, sweet potato, etc. on each baking sheet. Then I drizzle half the oil over each baking sheet, followed by half the spices.
If you have a mixing bowl large enough, please do feel free to toss everything in the mixing bowl then spread it over the baking sheets!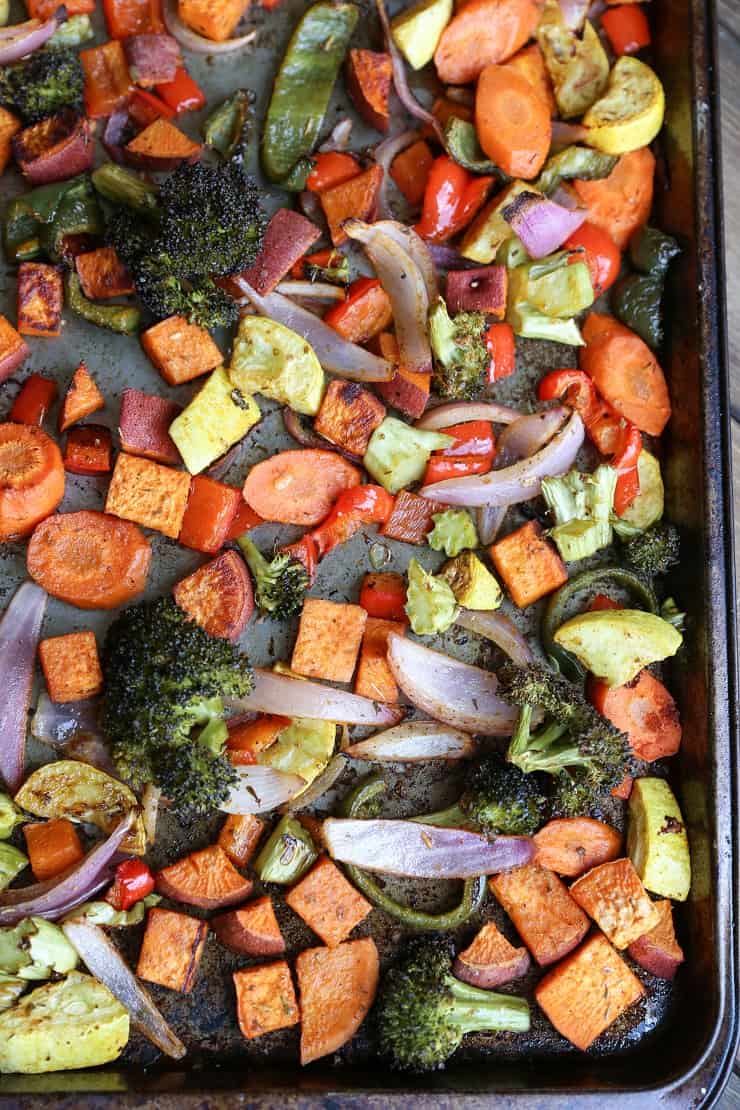 If you're one of those folks who cooks intuitively, you can go rogue and you don't need to pay much attention to the amount of oil or spices.
Just know that I go pretty heavy handed on the spices and the sea salt, because I like big flavors!
How Long to Roast Vegetables:
Depending on your oven, baking tools, and elevation, bake times will vary.
My recommendation is to keep that oven door closed and allow the veggies to go the full length of time (35 minutes) – if they aren't looking golden-brown and crispy after 35 minutes, keep them going until they have nice color!
If you're roasting a big batch of vegetables in a casserole dish, the bake time will be longer at closer to 45 to 60 minutes.
Nevertheless, as long as the vegetables are in a single layer on a large baking sheet, the bake time should be between 35 and 40 minutes, depending on how you like your vegetables done.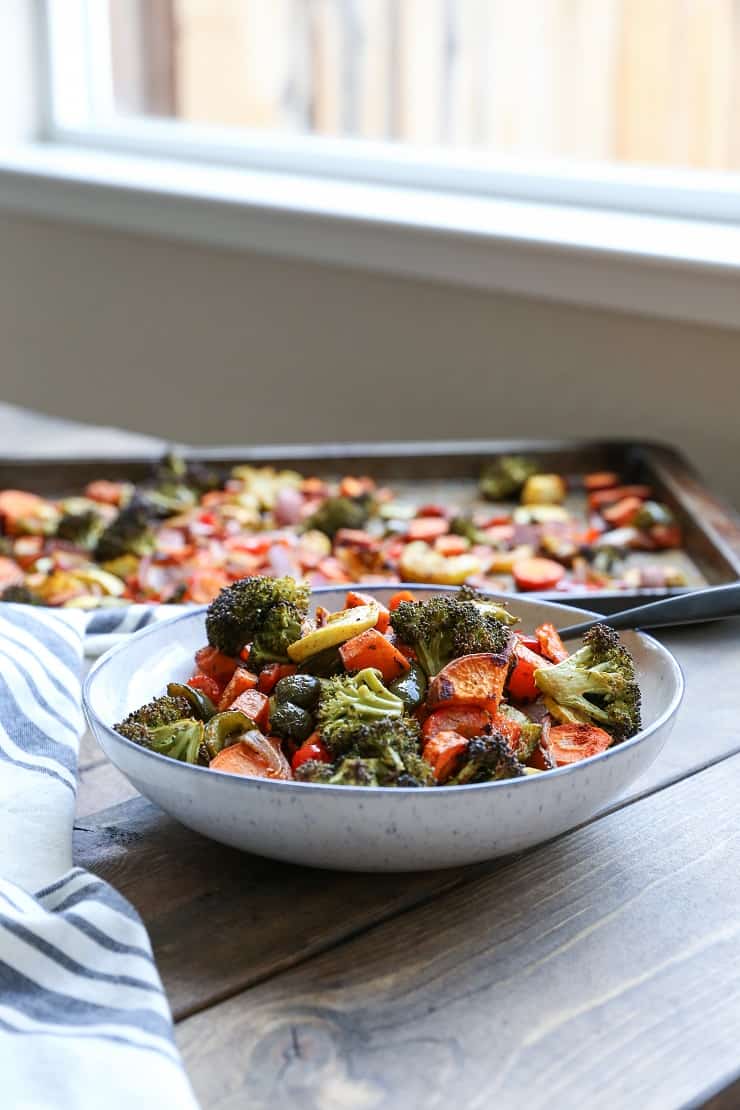 You can meal prep these ahead of time and munch on them throughout the week, or serve them up at any dinner/potluck/BBQ/picnic you'll be attending!
For those of you who are looking to eat healthier and/or are encouraging a friend or family member to eat healthy, these roasted vegetables are the perfect gateway drug to convince yourself or others it's possible to eat well and actually love it!
If you love roasted veggies, also try my Perfect Roasted Carrots or my Roasted Asparagus with Parmesan and Lemon.
I hope you enjoy this healthy side dish that I, myself, do so love!
Questions? Holler at your girl!
My cookbook,
Paleo Power Bowls
, is now available! CLICK HERE to check it out. Thank you for your all your support!
Crowd-Pleasing Roasted Vegetables
Crowd-Pleasing Roasted Vegetables with sweet potato, broccoli, onion, and more! Perfect roasted veggies every time!
Ingredients
2

medium crowns broccoli

chopped into florets

1

medium red onion

sliced into wedges

1

medium sweet potato

diced

1

red bell pepper

cored and chopped

1

pasilla pepper

cored and chopped

1

large yellow squash

chopped

2

large carrots

peeled and chopped

1/4

cup

olive oil

divided

2

teaspoons

sea salt

to taste

2

teaspoons

dried oregano

1

teaspoon

paprika

1

teaspoon

garlic powder

1

teaspoon

ground cumin
Instructions
Preheat the oven to 425 degrees F.

Divide all of the vegetables between two baking sheets. Drizzle half the olive oil and sprinkle half the salt and spices over each baking sheet. Use your hands to toss everything together until the vegetables are all coated with spices and oil.

Place both baking sheets in the oven (aim for the center racks) and roast 25 minutes without touching. Remove the vegetables from the oven, give each tray a quick stir or shake, and place them back in the oven. Roast 10 minutes more, or until vegetables are golden-brown and have reached desired done-ness.

Serve alongside your favorite entree!
Nutrition
Serving:
1
of 8
|
Calories:
122
kcal
|
Carbohydrates:
13
g
|
Protein:
2
g
|
Fat:
7
g
|
Fiber:
3
g
|
Sugar:
4
g