25 Healthy Christmas Dinner Ideas that will surely WOW your guests! These nutritious, straightforward Christmas Dinner Recipes are geared toward making your holiday as simple and mouth-watering delicious as possible! Included in the post are Christmas dinner sides and desserts too!
What does your family make for Christmas?
I asked this question on my Instagram story recently and was met with a large variety of answers.
Lasagna, turkey, tacos, pho soup, and bagels and lox are some examples.
When I was a kid, my family repeated Thanksgiving dinner on Christmas (turkey, ham, mashed potatoes, stuffing, etc.), but now we mix it up every year.
Rather than having one household in charge of all the cooking, we do our holiday dinners potluck style.
This year for Christmas, we're making burrito bowls!
Each person is bringing burrito bowl add-ins (various meat options, rice, guacamole, salsa, cabbage slaw, cheese, tomatoes, etc.).
Whether you're having a traditional or non-traditional holiday, I have rounded up my favorite sharable show-stopping dinner recipes from this site that have received rave reviews (so you don't need to worry whether or not they will land well 😉
I have broken out the recipes by protein type to make it a bit easier and have added some of my personal favorite side dishes at the end.
Let me know what you make! I hope you and your family enjoy a marvelous holiday, full of laughter, great conversation, and of course: tasty food.
25 Healthy Christmas Dinner Ideas:
BEEF:
Instant Pot Paleo Pumpkin Chili – A reader favorite! This easy pumpkin chili recipe is beanless and loaded with flavor and ideal for those who love a good hearty meal. Just be sure to serve it with Paleo Cornbread or Gluten-Free Cornbread!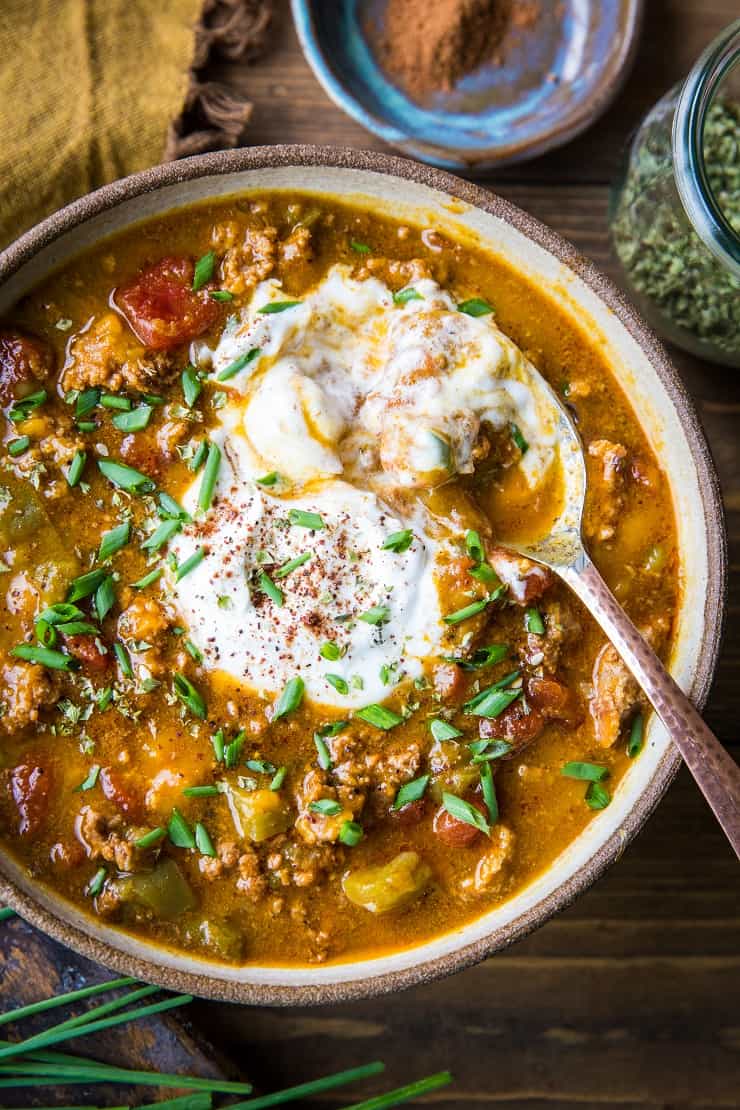 Prime Rib – Is prime rib your family's go-to? Read this post before you have at it! I have included all my best tips and tricks for making the best, perfectly cooked prime rib that will be the talk of the table for years to come.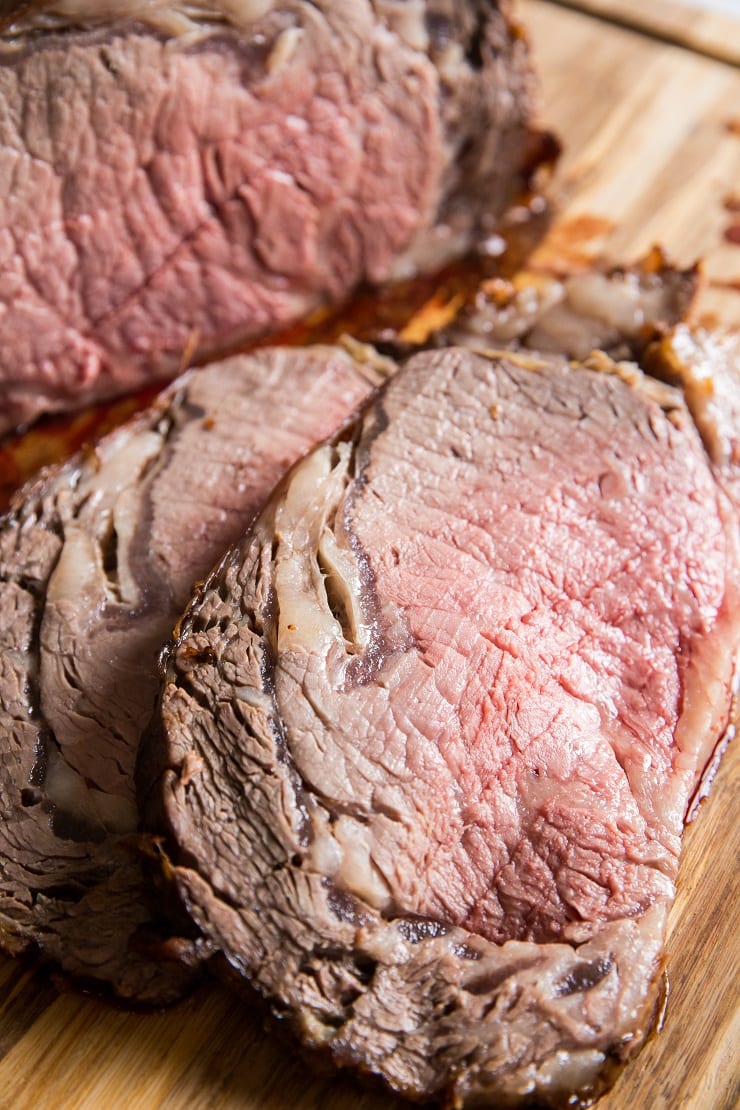 Rigatoni Pasta Bolognese – If you love an amazing classic pasta, this hearty, healthy Rigatoni Bolognese (pasta with meat sauce) is out of this world! I make it using grain-free (or gluten-free) pasta noodles, but you can pick your favorite noodle.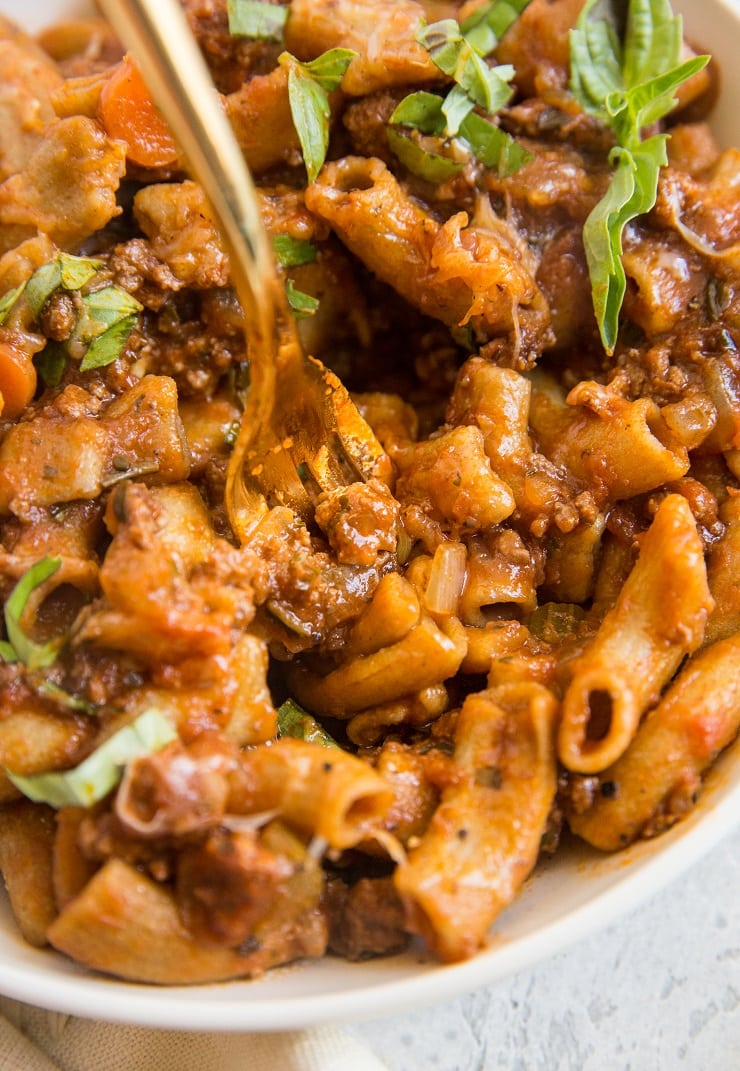 Beef Tenderloin– If tenderloin is more your jam, here is everything you need to know in order to cook it perfectly! I love how tender and flavorful this cut is without much fat!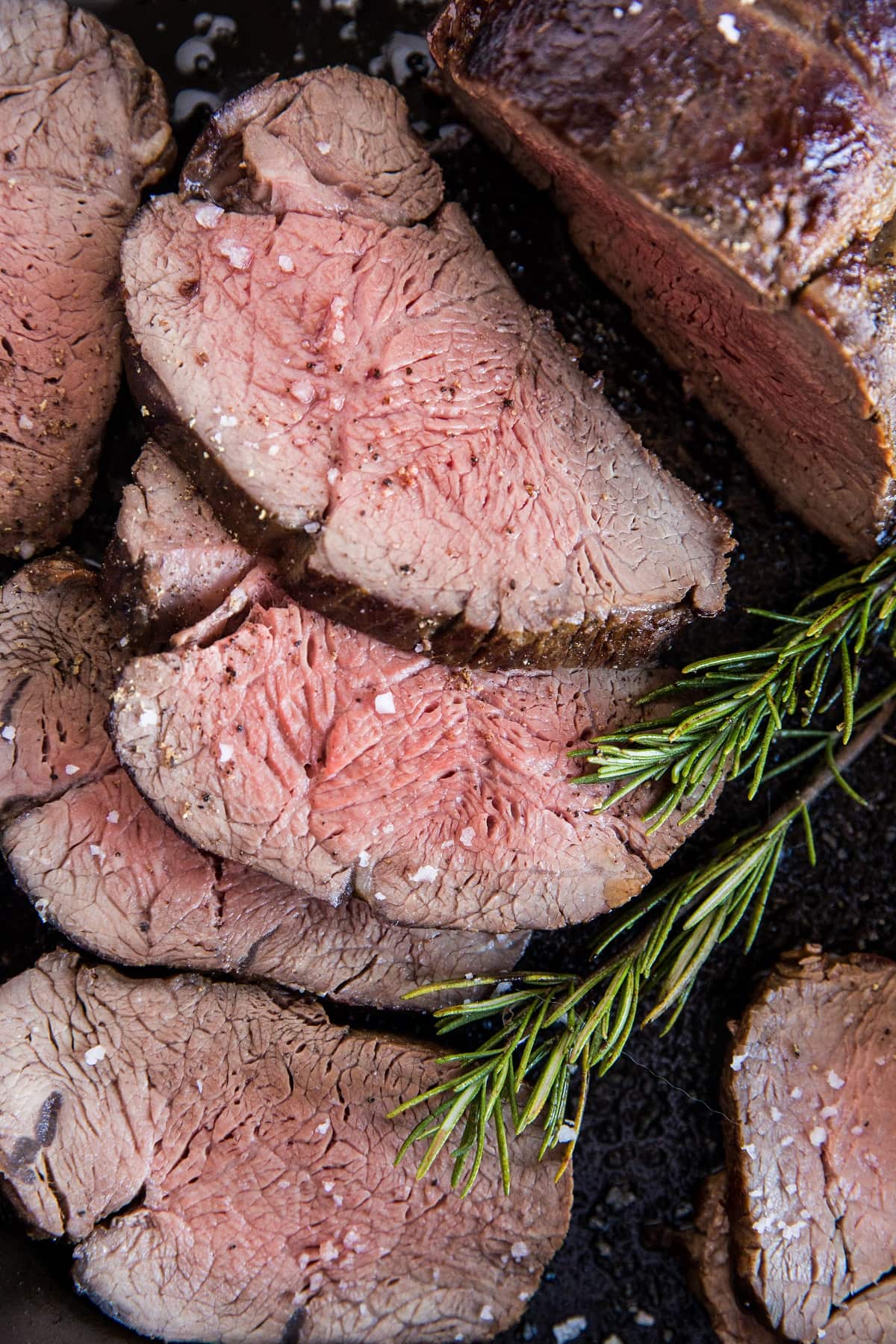 Slow Cooker Beef Short Ribs – Tender fall-off-the-bone Slow Cooker Beef Short Ribs are remarkably rich and make for a show-stopping main entrée for any special occasion. This goof-proof short rib recipe couldn't be any easier! If you prefer cooking in your pressure cooker, make my Instant Pot Paleo Short Ribs!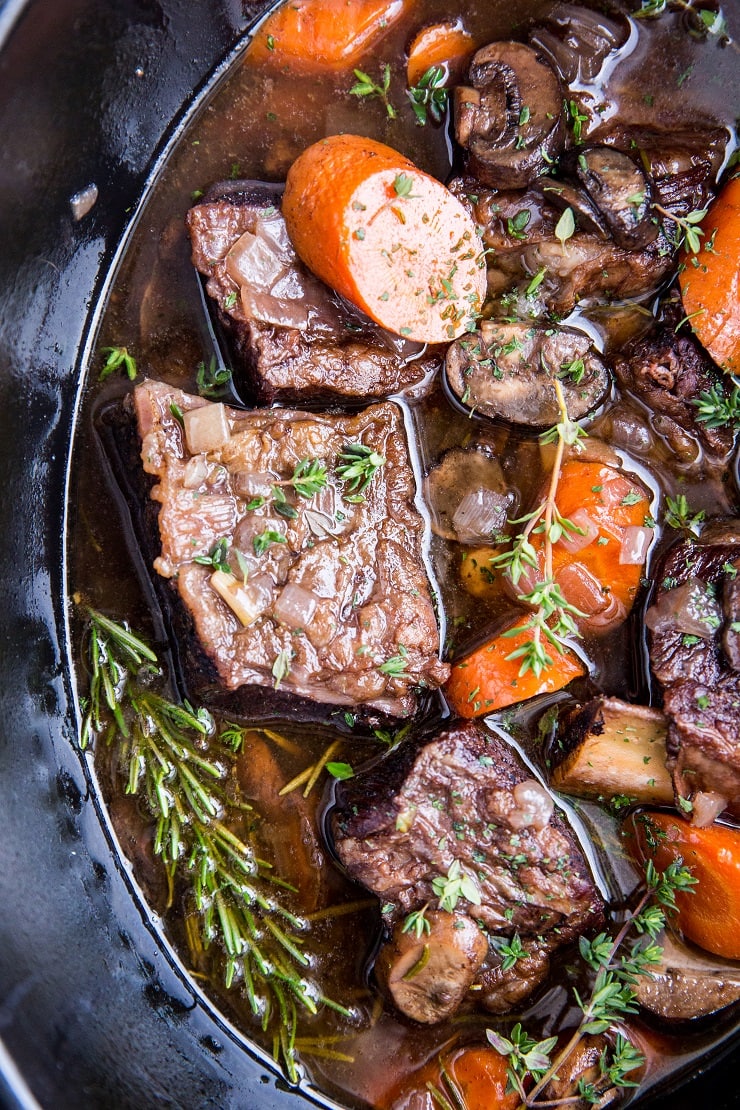 Instant Pot Pot Roast – Potentially one of the most goof-proof yet equally satisfying methods for cooking amazing shredded beef, pot roast is a win every time!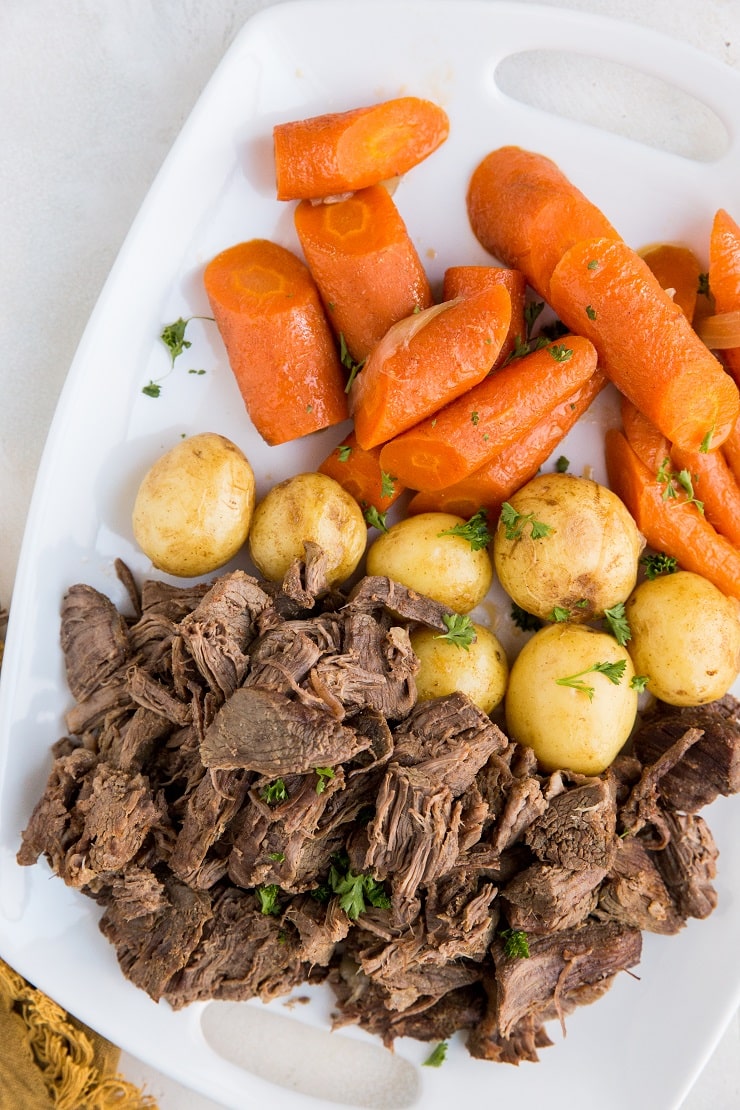 Crock Pot Beef Stew – I'd be hard pressed to find a meal that isn't as universally well received as beef stew. Maybe Chicken Noodle Soup… The point is, hearty beef stew is tough to beat! If you'd rather use your pressure cooker, you can make my Instant Pot Beef Stew rather than going with the slow cooker method.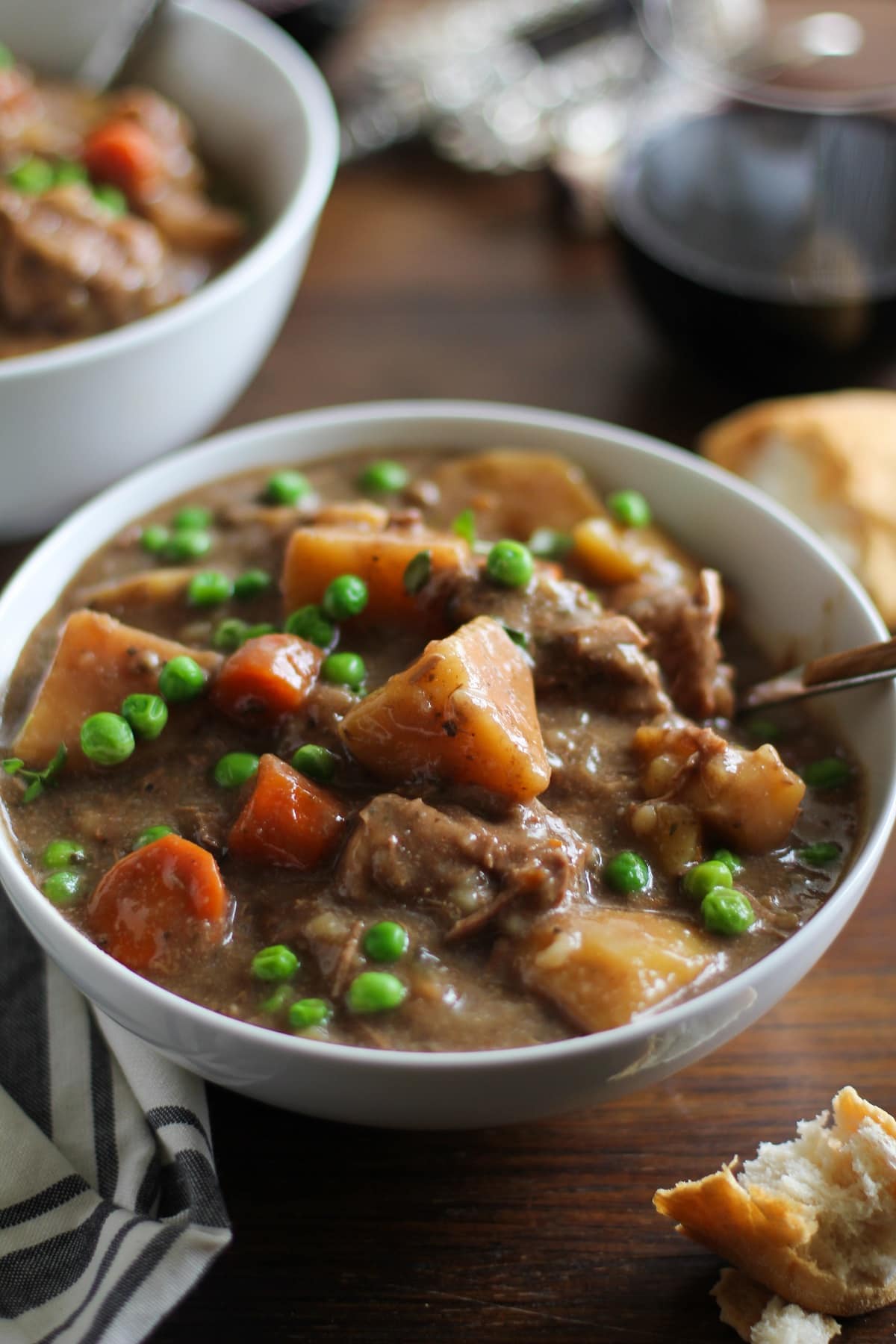 Gluten-Free Dairy-Free Ground Beef Stroganoff – Ideal for those who love creamy, luscious noodles and filling meals! This one doesn't receive accolades for how beautiful it is, but certainly gets rave reviews on its flavor. If you follow a low-carb diet or if you prefer to stick with the steak version, check out my Paleo Beef Stroganoff.
Instant Pot Beef Bourguignon – A classic French beef stew! Tender chunks of meat are smothered in a thick sauce made of red wine (or burgundy) and served with carrots, onion, and potatoes.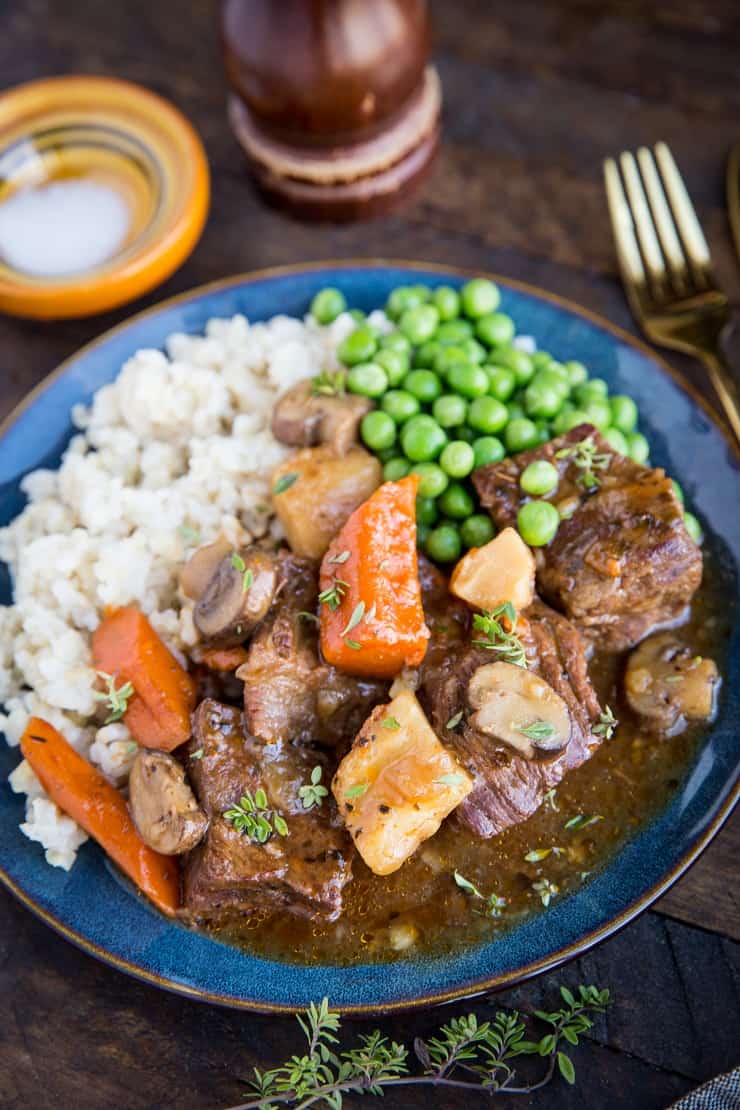 CHICKEN:
Instant Pot Whole Chicken – Fall-off-the-bone insanely tender and flavorful chicken! This is my go-to method for cooking a whole body chicken. I have even included instructions on how to get crispy chicken skin! If you prefer roasting your chicken, check out my Whole Roast Chicken and Vegetables.
Chicken Marsala (Gluten-Free, Dairy-Free) – a gluten-free and dairy-free version of the Italian classic. Tender, juicy chicken breaded to perfection and nestled in a creamy garlic mushroom sauce is magically flavorful yet so easy to make! Serve it with rice, noodles, or veggies.
Wild Rice Chicken Casserole – An all-around feel good meal, this simple casserole recipe is nutritious, filling, and fun for a casual approach to holiday dinner.
Mushroom and Stuffed Chicken Breast – The recipe that made me re-think my relationship with breasts 😉 In all seriousness, stuffed chicken with feta cheese, mushrooms and spinach turns an otherwise boring cut of meat into an absolute dream!
Paleo General Chicken – Looking for a Chinese-inspired meal? Crispy, sweet and tangy General Tso's chicken has been one of my personal favorites since early childhood and has performed well on the blog! Serve it up with Coconut Rice or one of my Fried Rice recipes for a real good time!
Instant Pot Chicken Cacciatore – Over achieving that Italian theme with flying colors, this incredibly flavorful and tender chicken is an absolute classic! My mom's Sicilian partner is obsessed with it, as is the rest of our family.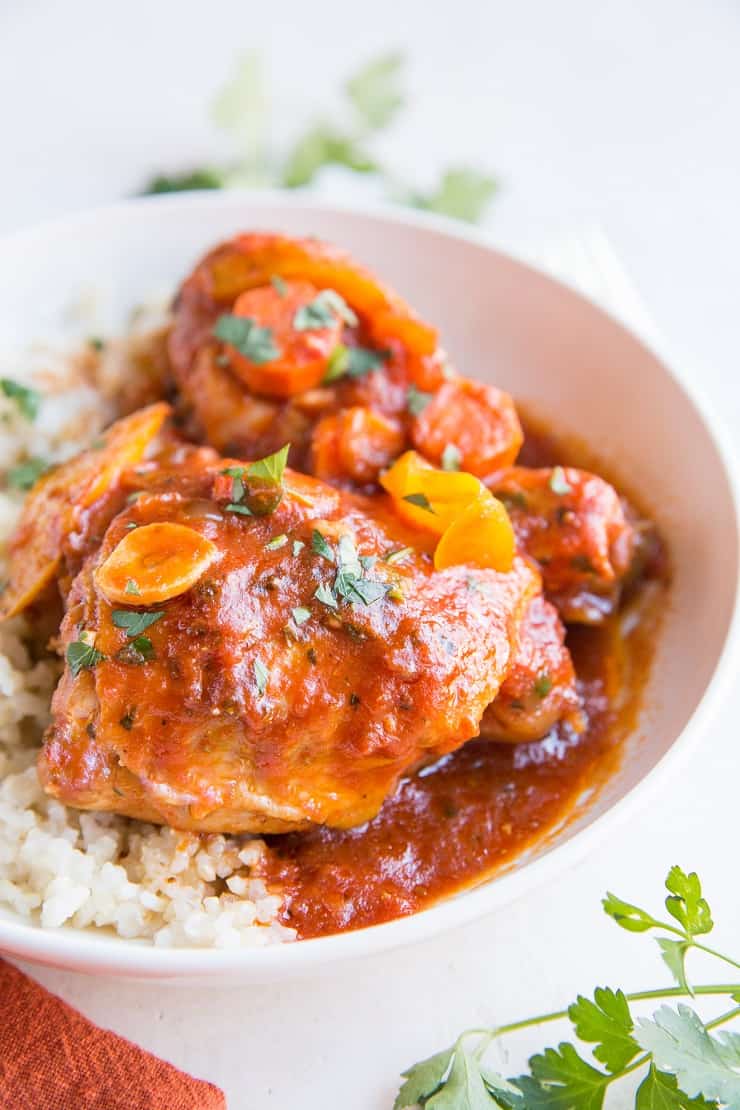 Instant Pot Chicken Tacos – My family makes these all the time! The recipe came from my sister-in-law. In fact, we'll be making this exact shredded chicken for our burrito bowls on Christmas, along with my Instant Pot Mexican Shredded Beef.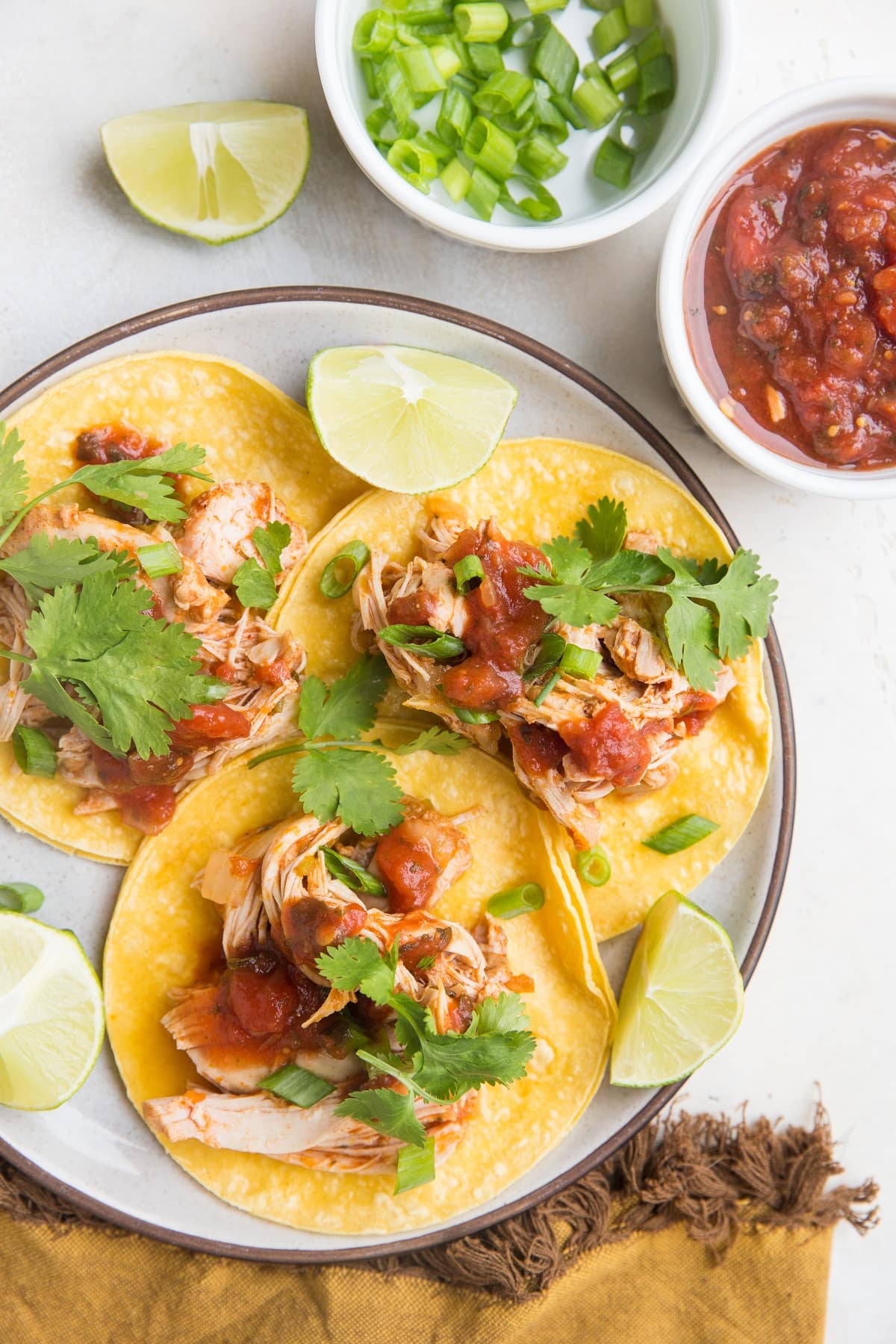 Fish & Seafood:
Mediterranean Salmon in Parchment Paper – A rambunctious, boldly flavored salmon that will knock your socks off and make you never look at salmon the same way again! Sun-dried tomatoes, kalamata olives, pesto sauce, capers (and more) make this salmon out of control flavorful! This recipe continues to be a top performer on my site, over three years after I posted it!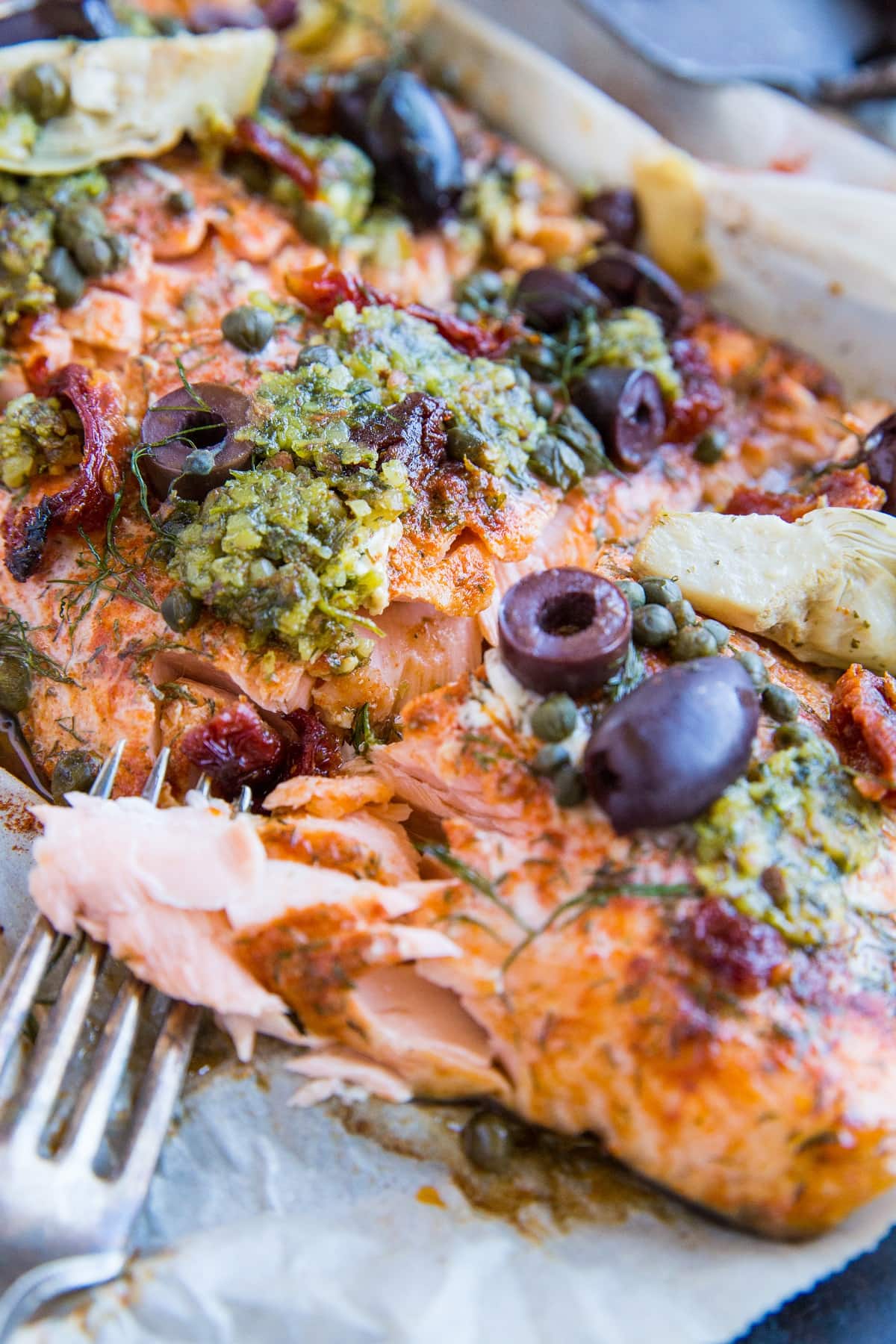 Crispy Skillet Salmon with Lemon Caper Dill Sauce – Crispy yet creamy, this easy Salmon with Lemon Caper Dill Sauce is a fresh and flavorful dinner recipe that covers all the flavor bases! This easy meal takes less than 30 minutes to prepare.
Chili Lime Baked Cod – While this recipe is incredibly simple, it is wildly flavorful and my readers love it, regardless of the time of year! If you're looking to keep the holidays clean, fresh, and simple, this is a great option.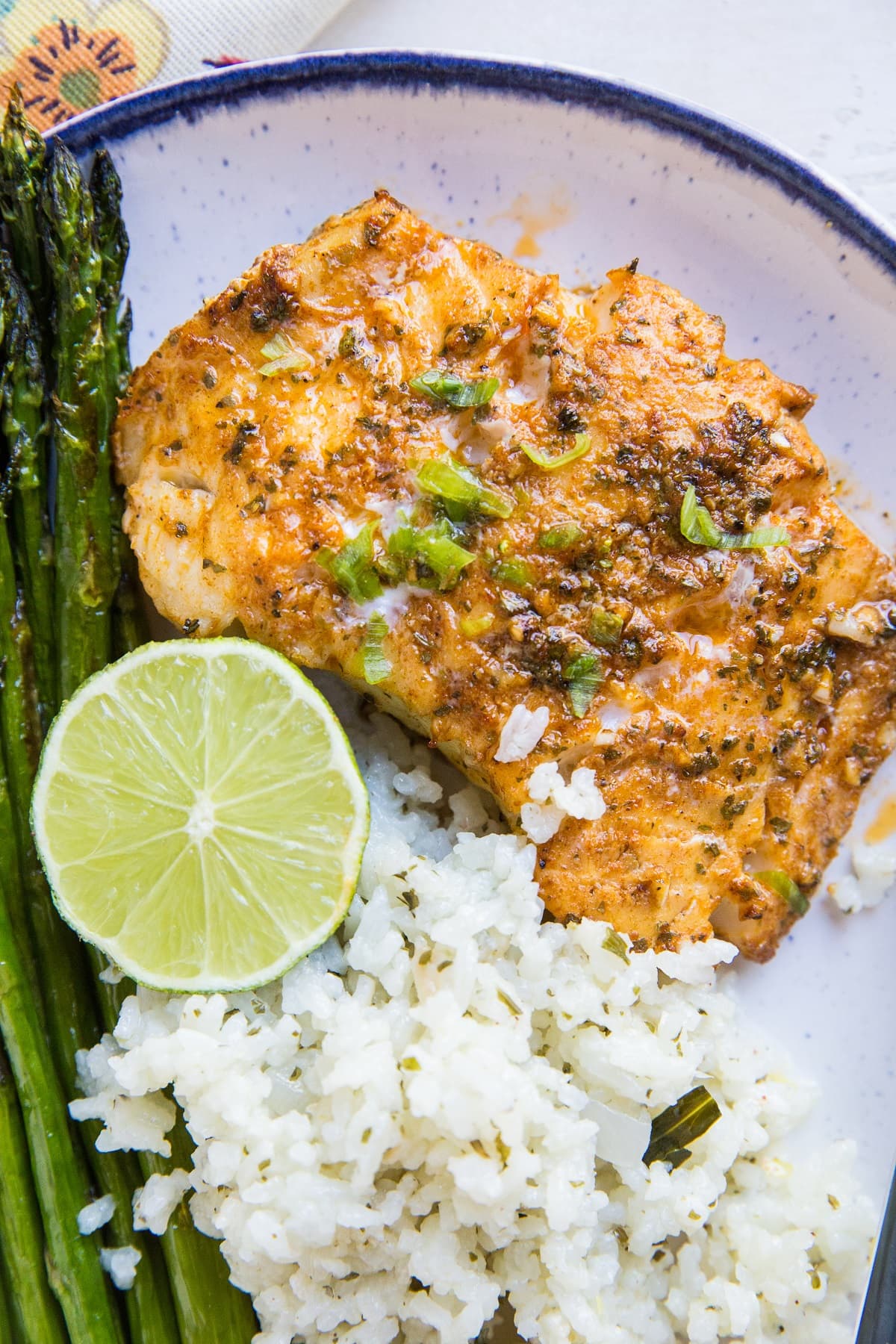 Easy Lemon Garlic Shrimp Pasta – Going the Italian route this year? This easy, creamy and dreamy shrimp pasta is the perfect marriage of comforting carbs meets light, zesty fare.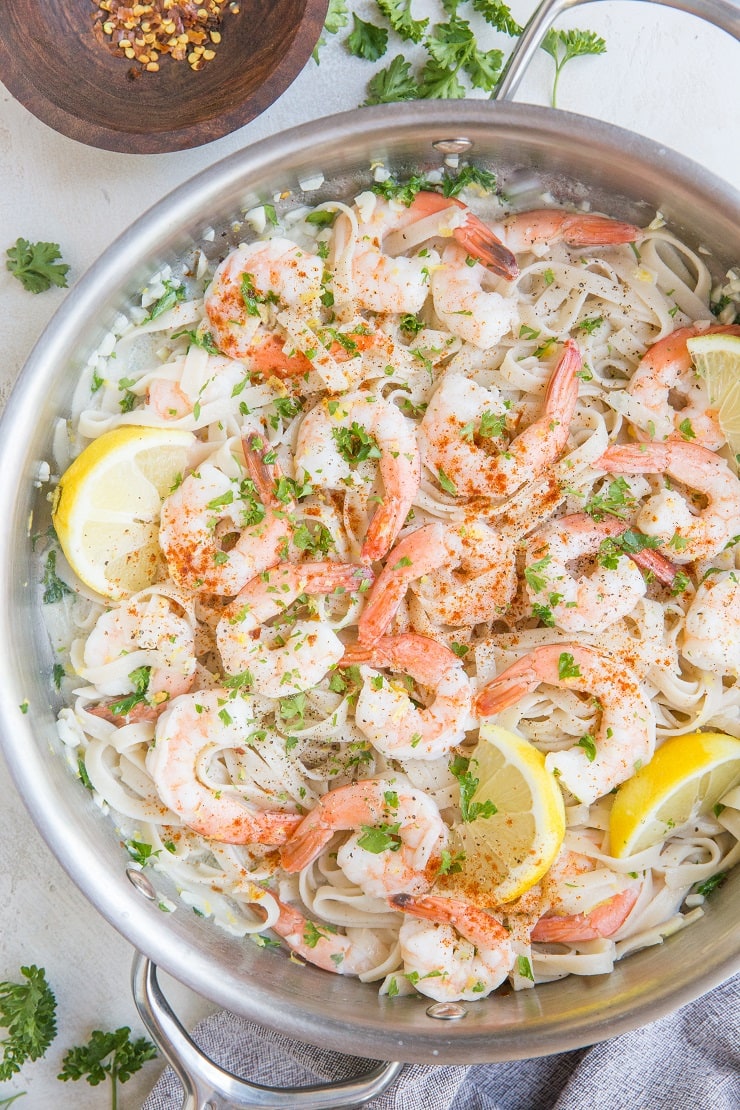 4-Ingredient Mediterranean Stuffed Salmon – You'd never guess so much flavor could come from just 4 simple ingredients! This silly simple salmon recipe continues to be a reader favorite, and for a good reason. It covers all of the flavor bases and is just so easy to make!
Fish Tacos with Mango Salsa – Going with a Mexican theme? Christmas tacos is where it's at! These simple, light and refreshing fish tacos are sure to make you and your family swoon!
PORK:
Creamy Crock Pot Pork Chops with Potatoes and Mushrooms – hearty comfort food at its finest! Full of caramelized onion and garlic flavors with the most delightful creamy mushroom sauce, this amazing slow cooker pork chop recipe is one to remember!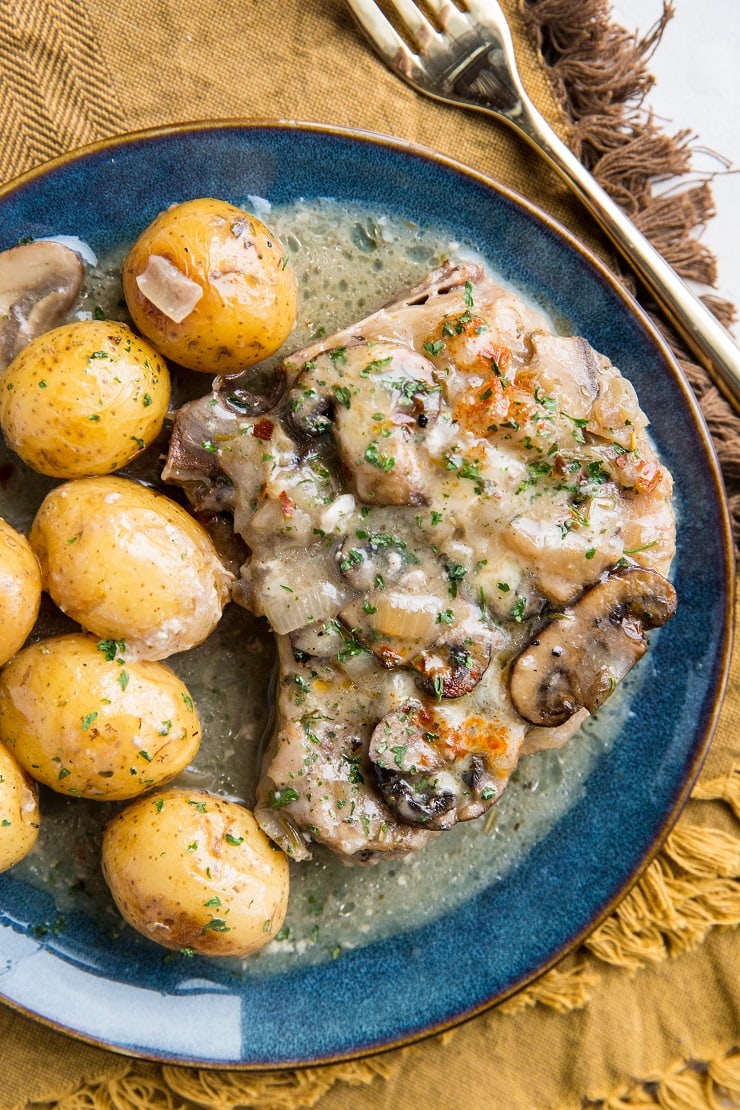 Carnitas Enchiladas – As if carnitas and enchiladas weren't mutually amazing on their own, combining the two makes for an otherworldly meal! If you're going with a Mexican theme this Christmas, this is solid GOLD!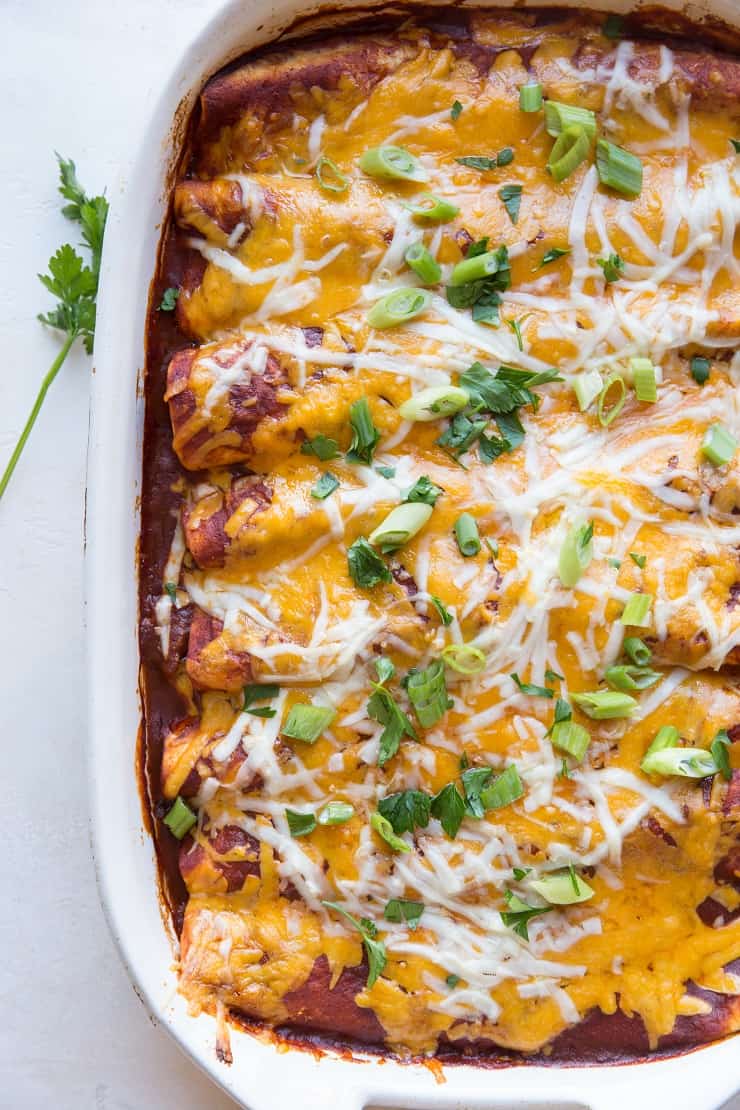 Instant Pot Pulled Pork with Pineapple – A sweet and savory ultra shredded pork recipe that is perfectly tender! Crisp it up in a frying pan after shredding it for crispy shredded pork, and serve it up in tacos, sandwiches, quesadillas, burritos, etc.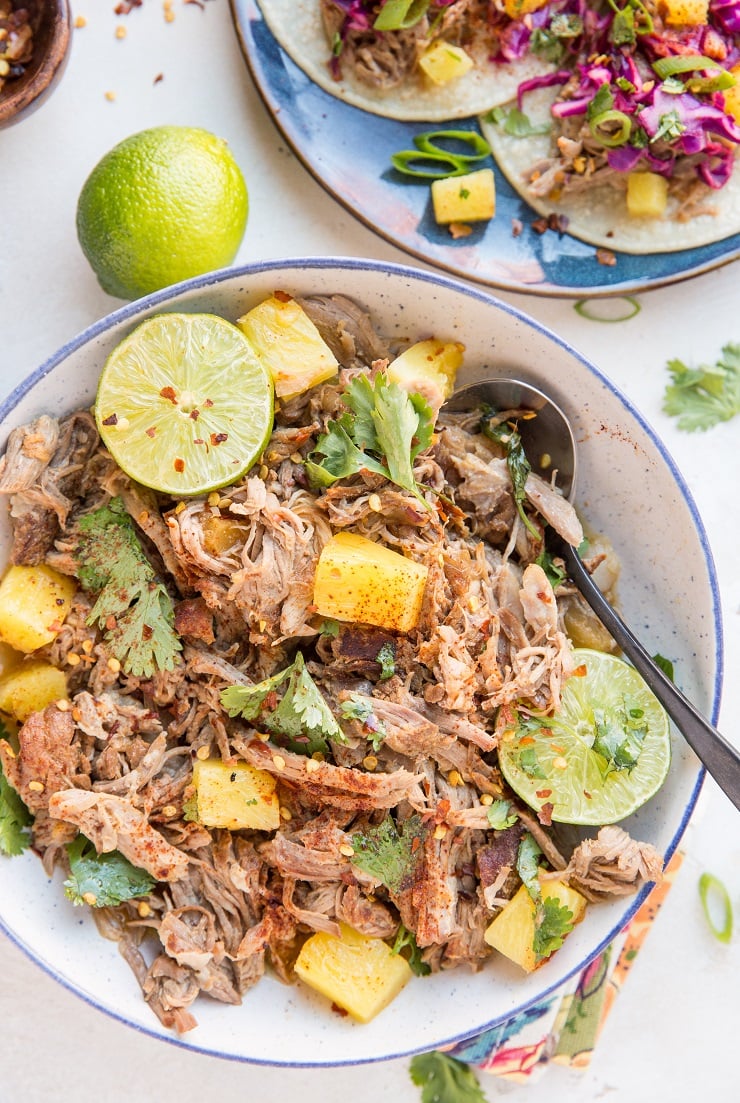 Maple Balsamic Pork Chops with Blueberry Olive Tapenade – An easy yet magical pork chops recipe marinated in maple syrup and balsamic vinegar, and topped with blueberry olive tapenade.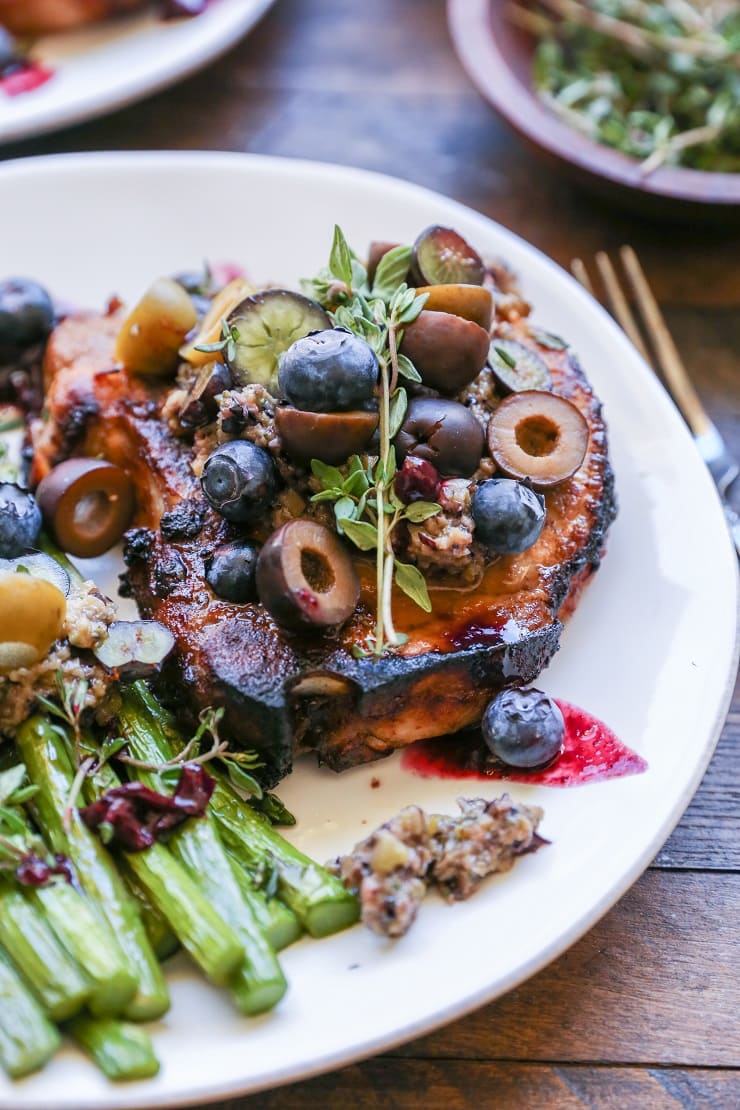 Crock Pot Carnitas Burrito Bowls – An explosion of color, flavor and texture in one amazing bowl! Easy crock pot carnitas made burrito bowl-style with rice, mango salsa, black beans, cabbage, and fried plantains. Make my Spanish Rice to go along with it! And if you prefer using your pressure cooker, make my Instant Pot Carnitas.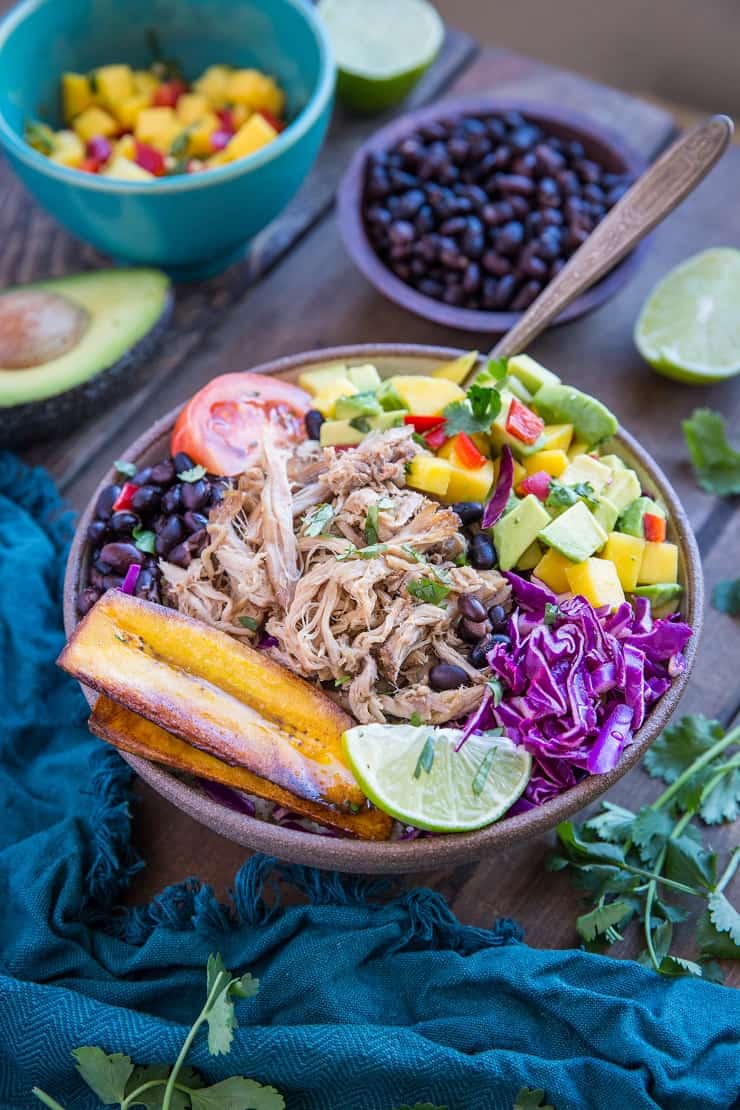 SIDE DISHES:
Looking for large, sharable side dishes to go alongside your Christmas dinner recipe? Here are some options!
What's for dessert? You can check out my Low-Carb Christmas Desserts for sugar-free options, or try my 3-Ingredient Oatmeal Cookies for a healthier treat, The BEST Gluten-Free Chocolate Cake for an indulgent classic that everyone loves, or my Paleo Sweet Potato Pie, which is one of my favorites!
Let me know which of these Christmas dinner ideas you try! Happy holidays to you and yours!
xo