Hearty beef stew made easy in your slow cooker! All it takes is 15 minutes of prep to make the ultimate comfort food. Set it up in the morning and have it ready for an easy dinner by the evening.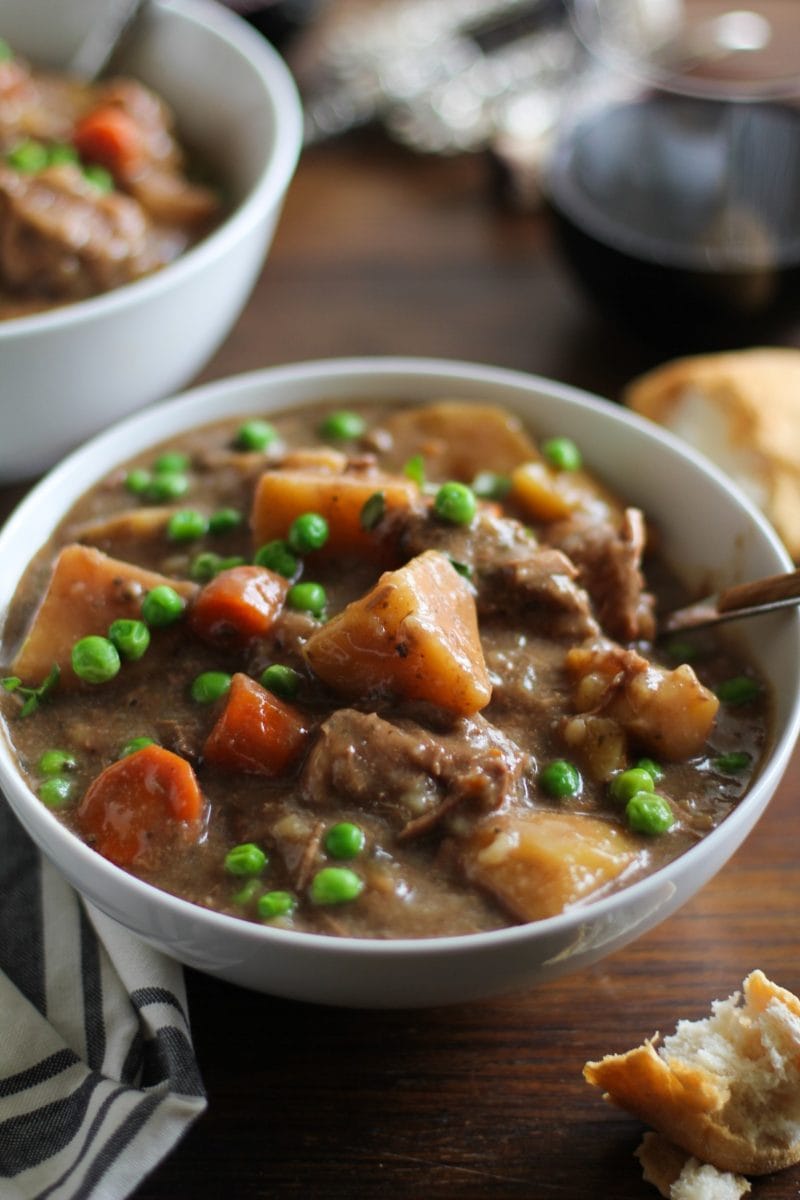 There's something about a classic beef stew recipe that makes life feel so very abundant.
Tender chunks of meat, soft potatoes and carrots in a rich, savory sauce for a comforting one-pot meal? I can't think of a better complete meal to make the best of the cold weather months.
While you can make homemade beef stew on the stove top or Instant Pot for a quicker result, my preferred method is slow cooking it in the crock pot.
One of the best parts about this recipe is it is so remarkably easy to make, yet it results in the best flavor. Truly, you need zero cooking experience to have great success with this meal, as all you do is add every single ingredient to the crock pot, give it a stir, and let it do all the hard work.
Let's discuss the simple ingredients for this easy beef stew recipe.
Ingredients for Slow Cooker Beef Stew:
Vegetables: Onion, garlic, carrot, Yukon gold potatoes, frozen peas. This combination of veggies makes for a lovely hearty stew full of soft hearty and big bold flavor. If there are other veggies you love adding to stew, like celery, parsnips, or tomatoes, feel free to add them in.
Beef Stew Meat: Pick up three pounds of beef stew meat or chuck roast from the meat section of the grocery store. While stew meat is notorious for being a tougher cut of meat, it softens up miraculously during the slow cooking process, resulting in the most tender beef.
Seasonings: Italian seasoning, dried oregano, paprika, salt, black pepper. These seasonings bring a nice herby brightness to the otherwise rich stew.
Liquid: Beef broth (or beef stock) and red wine. I use a full-bodied dry red wine like cabernet sauvignon or Malbec. You can even use white wine instead of red wine if that's what you have on hand. I just like adding wine because it adds an abundance of depth of flavor.
Gluten-Free All-Purpose Flour: Used to thicken the stew to the right consistency, we must add a little flour. Use a gluten-free flour blend like Bob's Red Mill Gluten-Free 1-to-1 Baking Flour or use regular all-purpose flour if you aren't gluten-free.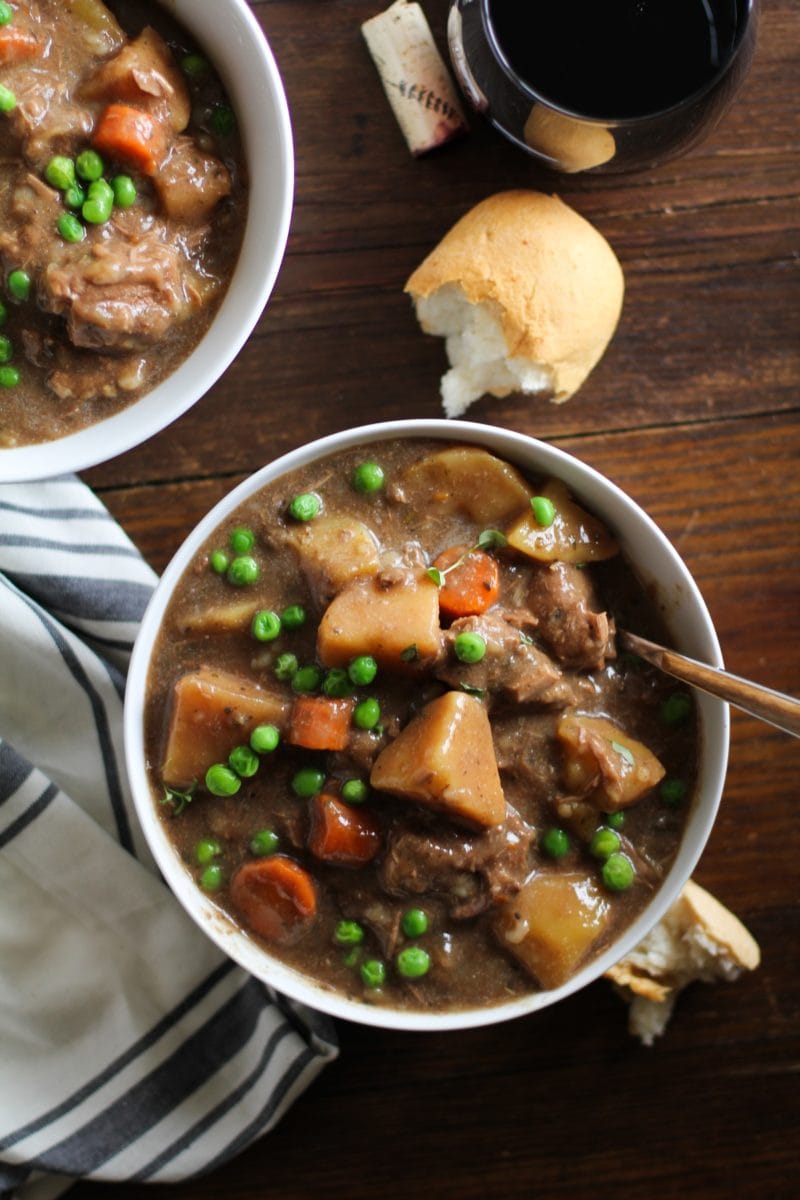 One of the best parts about beef stew is the ingredients are so common that you can find them at all grocery stores.
Recipe Adaptations:
Add in 1 to 2 bay leaves if you like them.
Pour in 1 tablespoon of Worcestershire sauce, soy sauce, fish sauce, or balsamic vinegar for some umami flavor.
You can make this recipe in a large Dutch oven or large pot if you don't own a crock pot.
Make it in your pressure cooker by following my Instant Pot Beef Stew.
If you like a little tomato in your stew, add a little tomato paste (2 to 3 tablespoons) or two chopped vine ripened tomatoes.
Now that we're familiar with the ingredients, let's make the best beef stew!
How to Make Crock Pot Beef Stew:
All you do to prepare the recipe was toss every ingredient into the crock pot and set the thing on low all day.
Because the stew is cooking for so long, I don't see a need to sauté the onions in olive oil ahead of time, or brown the meat. If you like sautéing the onions and browning the meat, feel free to do so over medium-high heat in a large skillet on the stove top.
When there is about 1 to 2 hours left of cooking, transfer some of the broth from the crock pot to a measuring cup and mixed it with flour. I use gluten-free all-purpose flour, but you can also use regular all-purpose flour or a cornstarch slurry.
Pour said flour-broth mixture back into the crock, give it a stir, and let it sit for another 1 to 2 hours. This thickens up the stew quite a bit and makes it ultra comforting. The longer the stew sits, the thicker it gets and the more flavorful it gets.
In fact, I recommend making beef stew one day ahead of time and eat it the next day for the best flavor.
For serving? Bread. Mandatory.
I toast a gluten-free baguette in the oven until it's nice and crispy, slather it with butter, then dip it in the stew. Gluten-Free Cornbread or Almond Flour Dinner Rolls are encouraged too! You can even serve it up with mashed potatoes if you're a potato lover.
How Long To Cook Beef Stew in Slow Cooker:
For the best results, I recommend cooking stew on Low heat for the majority of the day (8 to 12 hours).
If you don't have the time to allow the stew to cook all day, you can cook it on High heat for 5 to 6 hours.
I usually cook beef stew for right around 11 hours. In the past when I have cooked on low heat, I checked it right around 6 and the meat was cooked, but tough. You're going for fork-tender beef for the best experience.
Allowing the stew to cook longer allows the meat to soften up substantially such that it became a mecca of tender meaty bliss. The longer it goes, the more flavorful it will be.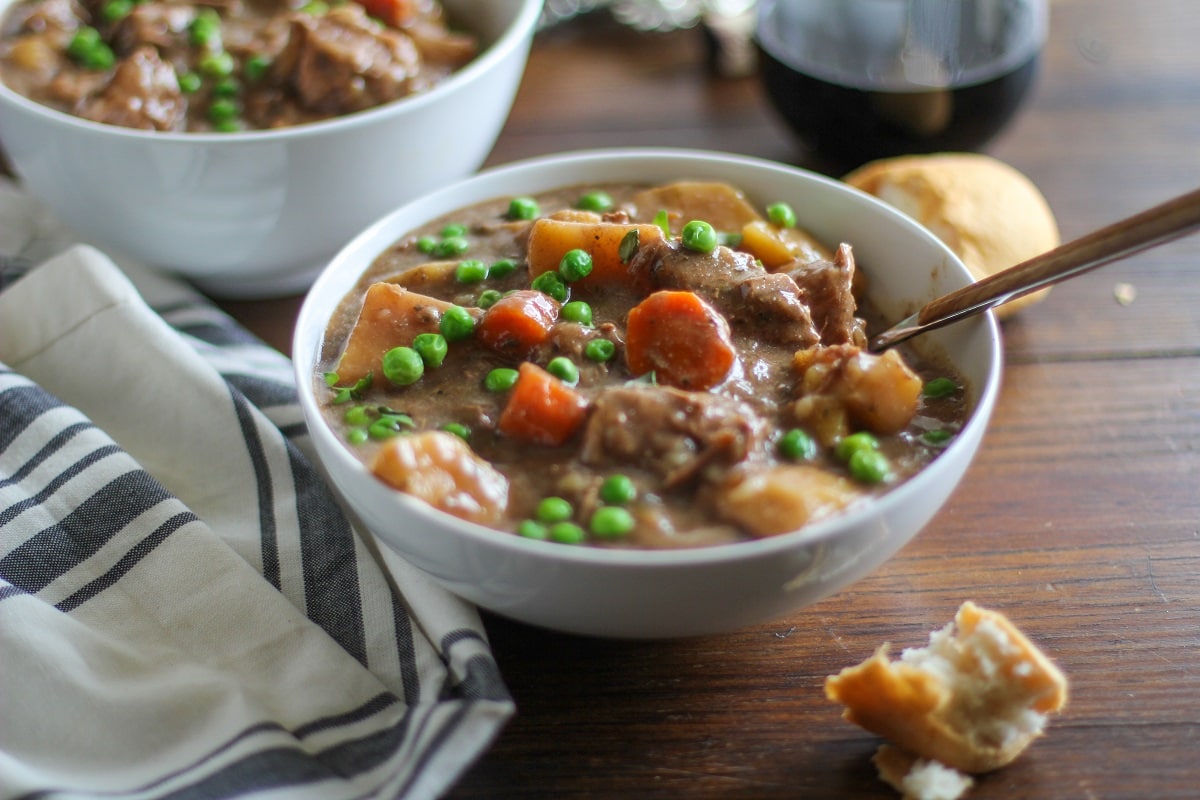 Stove Top Instructions:
Heat olive oil or avocado oil in a large stockpot over medium heat. Add the onion and sauté until softened, about 5 minutes. Scoot the onion off to the side and place the chunks of beef in the bottom of the pot in a single layer. Brown meat for 3 minutes per side.
Add the rest of the ingredients to the pot, using a wooden spoon to scrape the browned bits off the bottom and stir everything well. Cover the pot and bring it to a full boil.
Reduce the heat to low and cook at a gentle simmer for 1 and a half hours, or until the beef is fork tender.
If the stew isn't as thick as you would like it to be, add more flour and allow the stew to continue cooking at a gentle boil over a higher heat until it reaches the consistency you want.
How to Store Beef Stew:
Store leftover beef stew in airtight containers in the refrigerator for up to 10 days.
If you enjoy this easy beef stew recipe, also check out my Slow Cooker Short Ribs, Instant Pot Chicken Stew, Moroccan Chicken Stew, and my Instant Pot Sausage and Cabbage Stew.
Crock Pot Beef Stew
Beef stew made in the crock pot is magically rich and flavorful with the most tender stew meat!
Ingredients
1

medium yellow onion

finely chopped

2

large carrots

peeled and chopped

5

medium gold potatoes

peeled and chopped into large chunks

4

cloves

garlic

minced

3

pounds

beef stew meat

2

teaspoons

Italian seasoning

1

teaspoon

dried oregano

1/2

teaspoon

paprika

Pinch

cayenne pepper

1

teaspoon

sea salt

to taste

3

cups

beef broth

1

cup

full bodied red wine

such as Malbec or Cabernet Sauvignon

1

cup

canned or frozen peas

1/3

cup

gluten-free all-purpose flour*
Instructions
Add all of the ingredients except for the peas and flour to a crock pot and stir well. Secure the lid on the crock pot and cook on Low Heat for 8 to 10 hours, or High Heat for 5 to 6 hours, until meat is very tender and shreds easily with a fork. Once stew has finished cooking, add the canned or frozen peas and stir.

When there is about 2 hours left of cooking, Add 1/3 cup of gluten-free all purpose flour to a small bowl. Ladle 1 cup of broth from the stew into the bowl and stir well. Pour the flour mixture into the crock pot with the stew and stir well. Cover the slow cooker with the lid again and continue cooking for the rest of the time.

The longer the stew sits after adding the flour mixture, the thicker it will become. Stew is always more flavorful the next day (and several days following prep), so if you are able to make it at least one day ahead of time, I would recommend doing so.

Serve stew with choice of bread and butter.
Notes
*Use regular all-purpose flour or a cornstarch slurry instead of gluten-free flour if you'd like.
Nutrition
Serving:
1
of 8
|
Calories:
391
kcal
|
Carbohydrates:
28
g
|
Protein:
46
g
|
Fat:
10
g
|
Fiber:
4
g
|
Sugar:
4
g
This post contains affiliate links, which means I make a small commission off items you purchase at no additional cost to you.
I originally shared this recipe on December 18, 2015. I updated the copy and added a video but the recipe itself is the same.