Instant Pot Chicken Cacciatore is the easiest, most delicious approach to the Italian classic dish! This recipe is goof-proof and results in the most tender fall-off-the-bone chicken in an amazing herby red sauce. Serve it over rice or pasta for the most comforting meal that you'll surely put on repeat.
Chicken Cacciatore is a family favorite…a timeless classic my mom and her partner make regularly, and therefore a dish my siblings and I make for our own households.
It wasn't until recently that I had the bright idea of preparing Chicken Cacciatore in the Instant Pot. For years, I've been making it in my slow cooker, but the thought of whipping it out quicker than what the crock pot could produce was very attractive to me.
WELL. You'll never believe how amazing this healthy chicken recipe is until you try it! It's so easy to make and produces a crazy comforting dinner recipe that the whole family will love.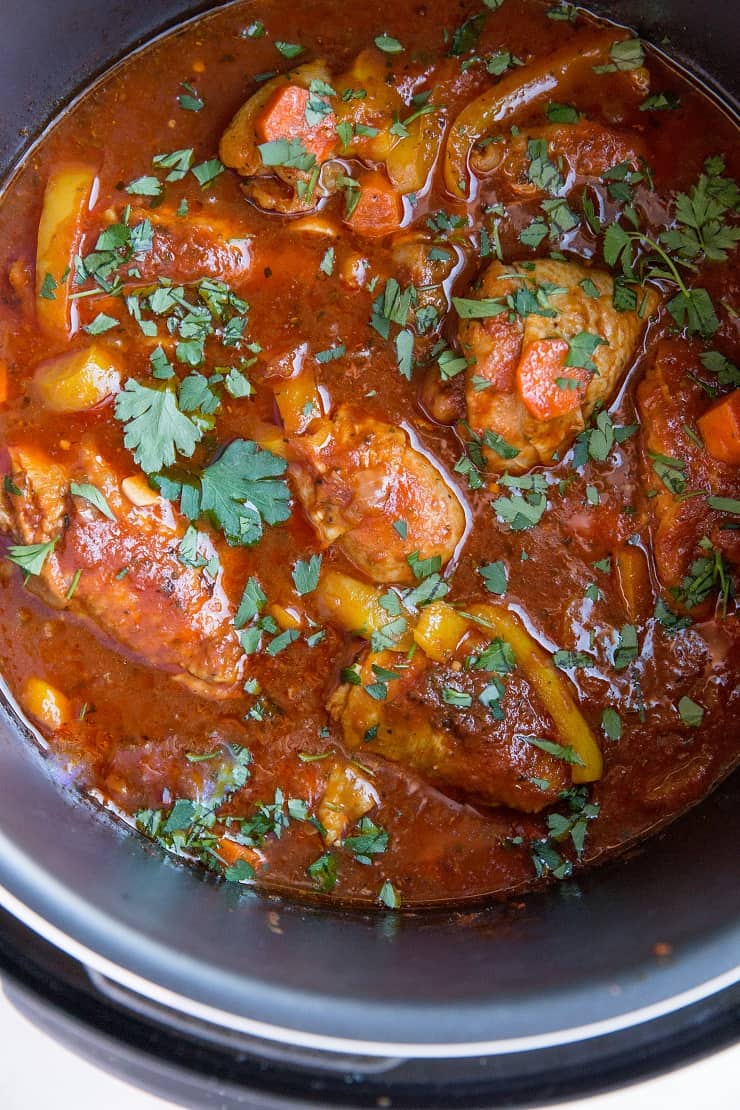 In case you aren't familiar…
What is Chicken Cacciatore?:
A little google search tells me "Cacciatore" translates to "Hunter" in Italian, and "Alla Cacciatore" means "Hunter-Style." Hunter-style is a braised chicken or rabbit dish all done up with onion, garlic, tomatoes, bell pepper, wine, and fresh herbs. This type of dish is either served with pasta or rice (most typically pasta).
While there are many renditions on a classic cacciatore, some without wine, some without bell pepper, some with olives, some with mushrooms, some with capers, I find the combination of ingredients in this recipe right here to be a classic approach and also so scrumptious!
What does chicken cacciatore taste like? A sweet, tangy, tomato-y, herby delight with the most succulent chicken to ever grace your mouth.
Let's make it happen!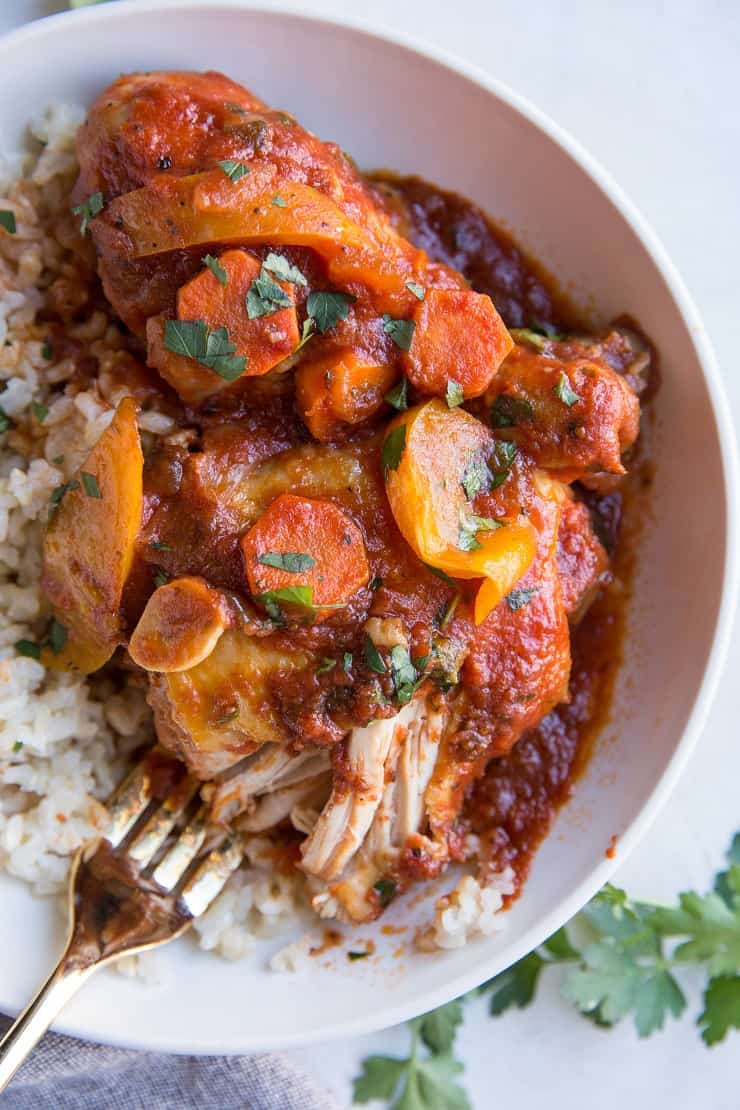 Ingredients for Instant Pot Chicken Cacciatore:
Chicken: while chicken cacciatore can easily be made using boneless chicken pieces, I've always found it turns out extra amazing when using bone-in skin-on chicken. The added fat and the bone ensures you end up with mega flavorful, tender chicken that basically shreds and falls off the bone once it's out of the Instant Pot.
Vegetables: Onion, garlic, carrots, and bell pepper (I use yellow bell pepper but you can use any color you like) are the vegetables I consistently use for chicken cacciatore. The combination results in rich, bold flavor with added sweetness, which is a nice offset to the acidity of the tomato sauce. Some people add celery, whole olives, and/or capers, so feel free to toss any of these in if they're interesting to you!
Sauce: The sauce for this chicken cacciatore recipe consists of crushed tomatoes, chicken broth, and white wine. If you have it on hand, you can substitute 28 ounces of your favorite pasta sauce for the crushed tomatoes, and/or omit the wine if you don't use it in your cooking.
Seasonings: Dried Italian seasoning, sea salt, paprika, and black pepper are all we need to make this easy dinner recipe taste nice and herby and amazing! If you love dried oregano, and/or parsley, toss it in! You can also incorporate fresh herbs if you have them on hand.
Optional Add-Ins:
8 ounces mushrooms

2 ribs celery, chopped

1 cup whole black olives

2 Tbsp capers

⅓ cup sun-dried tomatoes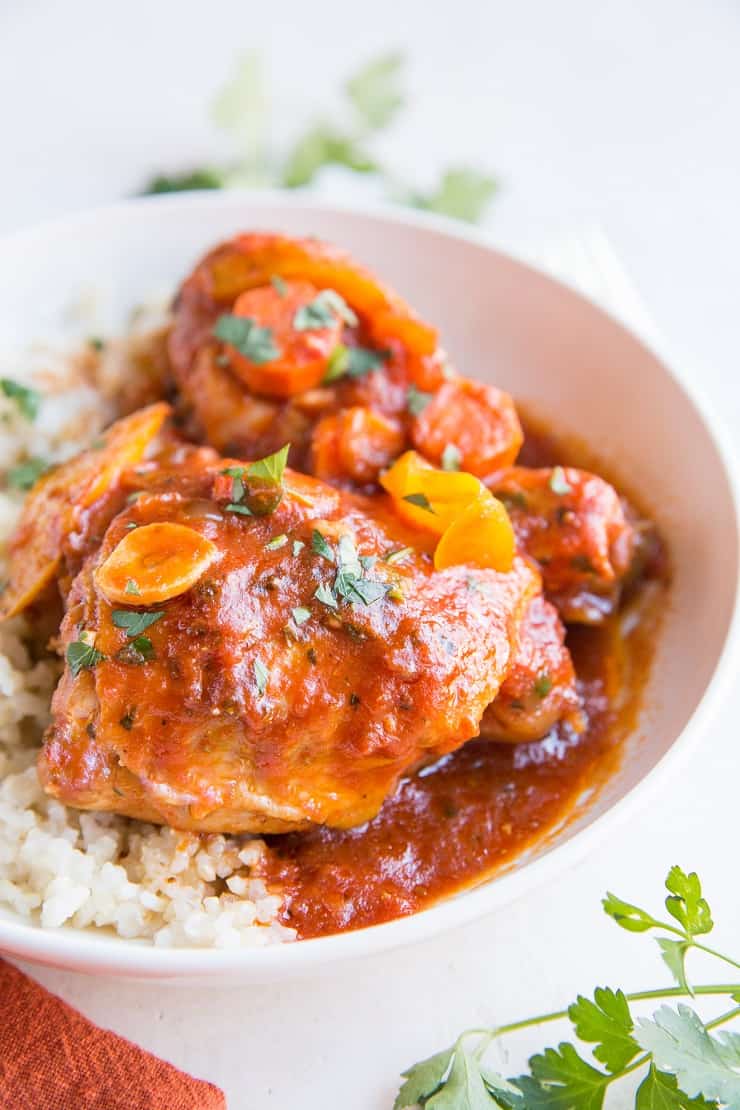 How to Make Instant Pot Chicken Cacciatore:
Sprinkle the chicken pieces with paprika, sea salt and pepper and set aside.
Plug in your Instant Pot and press the 'Sauté' button. Add the avocado oil and allow the pressure cooker to heat up for a couple of minutes, then add the chopped onion. Sauté, stirring occasionally, until onion begins to turn translucent, about 3 to 5 minutes.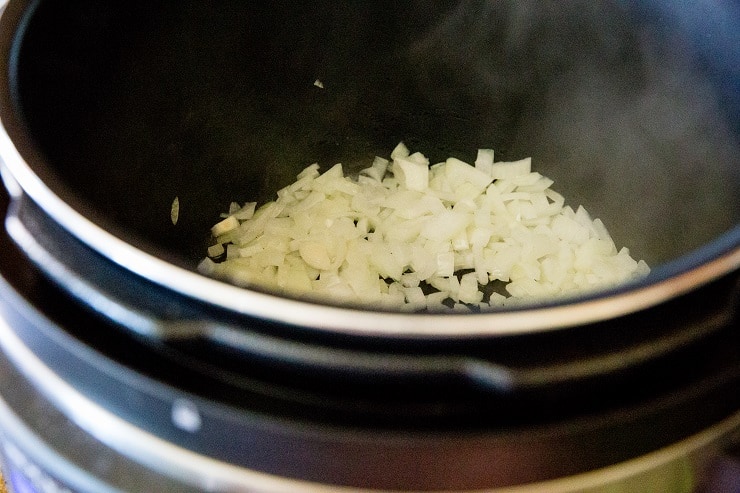 Place the chicken pieces in the Instant Pot, fat-side down and allow them to brown 3 minutes per side – depending on the size of your Instant Pot, you may need to do this step in two batches.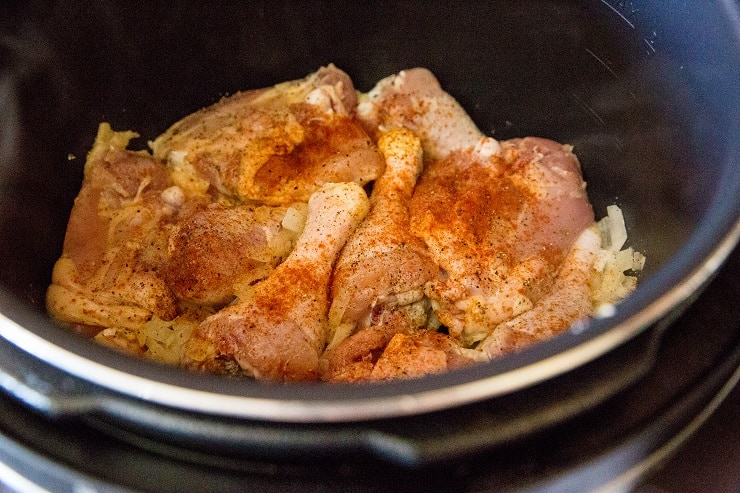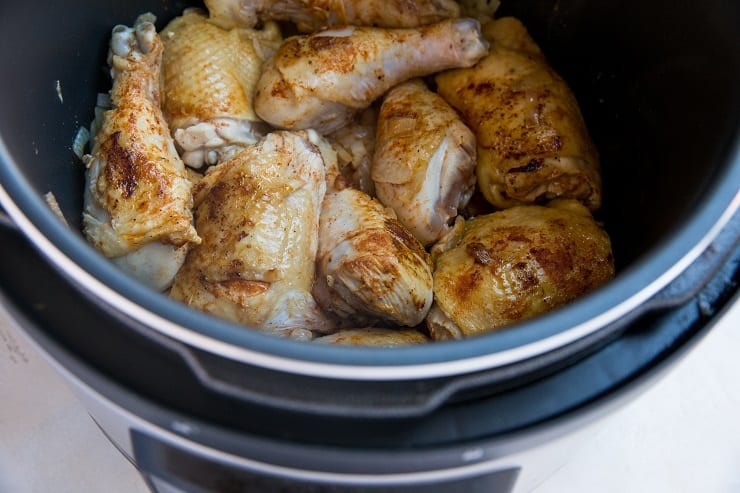 Add the crushed tomatoes, broth, wine, garlic, and Italian seasoning, and stir everything around.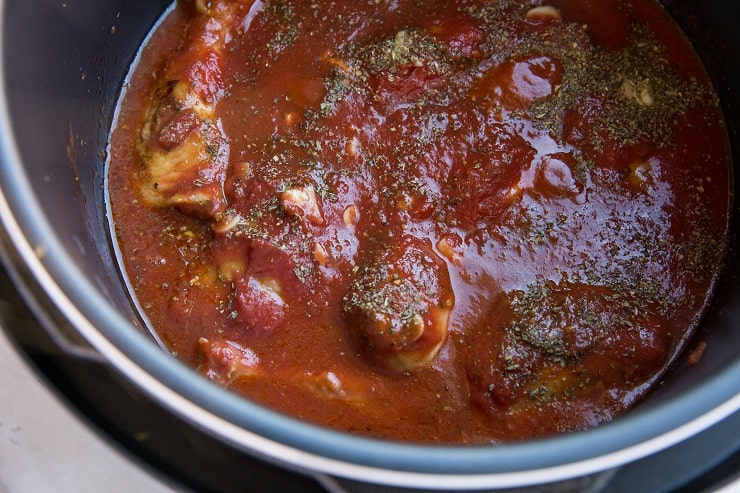 Add the bell pepper and carrots and allow them to rest on top.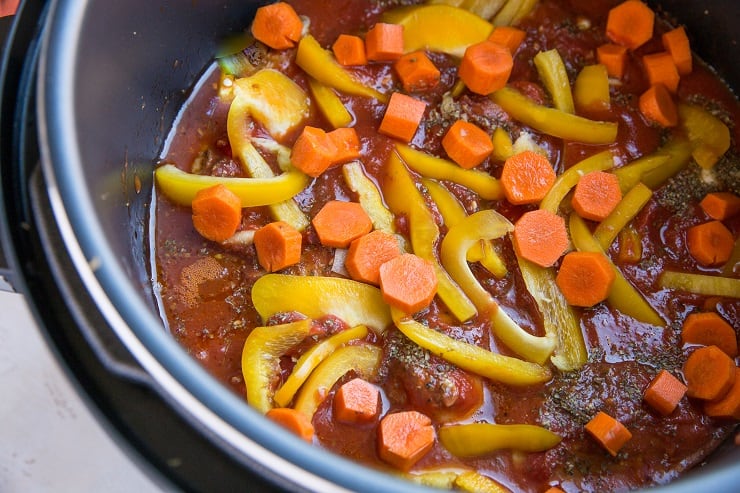 Secure the lid on the Instant Pot, make sure the steam vent is sealed, then press the Manual button and adjust the time for 20 minutes. Allow the pressure cooker to run its course. When finished, allow it to naturally release (or go into Keep Warm mode) for 10 minutes (up to 50).
Manually release any remaining pressure and open the lid. Give everything a big stir and taste the sauce for flavor. Add sea salt to taste.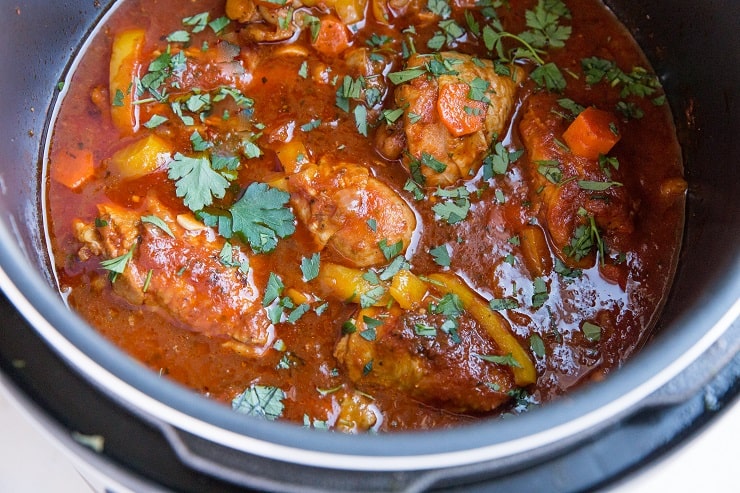 Serve with choice of rice or noodles and enjoy!
For a slow cooker version of this recipe, make my Slow Cooker Chicken Cacciatore!
More Healthy Chicken Recipes: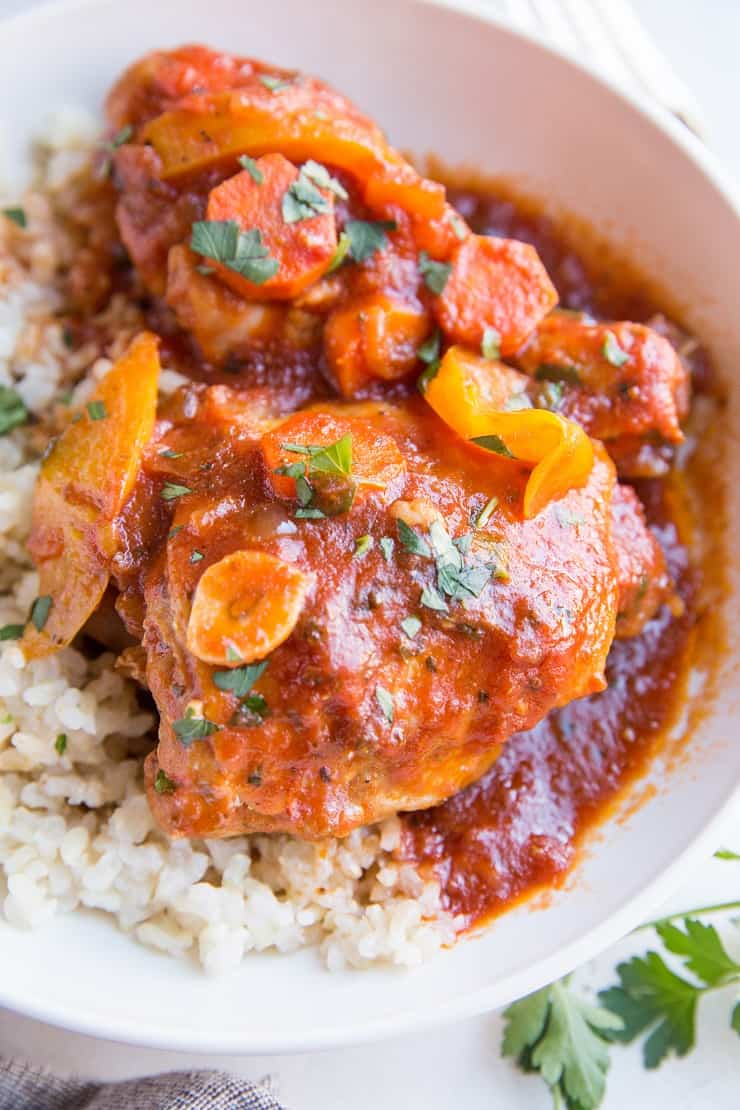 Enjoy!
xo
My cookbook,
Paleo Power Bowls
, is now available! CLICK HERE to check it out. Thank you for your support!
If you make this recipe, please feel free to share a photo and tag @The.Roasted.Root on Instagram!
Instant Pot Chicken Cacciatore
Instant Pot Chicken Cacciatore is mouth-wateringly tender and delicious and is SO easy to make!
Ingredients
2

Tbsp

avocado oil

1

large

yellow onion

chopped

3 1/2 to 4

lbs

bone-in skin on chicken pieces

1

tsp

sea salt

1/2

tsp

black pepper

1

tsp

paprika

1

(28-oz) can

crushed tomatoes

1/2

cup

chicken broth

1/3

cup

white wine

6

cloves

garlic

1

Tbsp

Italian seasoning

2

large

carrots

peeled and chopped

1

yellow bell pepper

or color of choice
Instructions
Sprinkle the chicken pieces with paprika, sea salt and pepper and set aside.

Plug in your Instant Pot and press the 'Saute' button. Add the avocado oil and allow the pressure cooker to heat up for a couple of minutes, then add the chopped onion. Saute, stirring occasionally, until onion begins to turn translucent, about 3 to 5 minutes.

Place the chicken pieces in the Instant Pot, fat-side down and allow them to brown 3 minutes per side – depending on the size of your Instant Pot, you may need to do this step in two batches.

Add the crushed tomatoes, broth, wine, garlic, and Italian seasoning, and stir well. Add the chopped carrots and bell pepper and allow them to rest on top.

Secure the lid on the Instant Pot, make sure the steam vent is sealed, then press the Manual button and adjust the time for 20 minutes. Allow the pressure cooker to run its course. When finished, allow it to naturally release (or go into Keep Warm mode) for 10 minutes (up to 50).

Manually release any remaining pressure and open the lid. Give everything a big stir and taste the sauce for flavor. Add sea salt to taste.

Serve chicken with choice of rice or noodles
Nutrition
Serving:
1
of 6
|
Calories:
350
kcal
|
Carbohydrates:
14
g
|
Protein:
31
g
|
Fat:
21
g
|
Fiber:
6
g
|
Sugar:
8
g