Grain-free Paleo Cornbread with a keto option. This easy recipe requires just a handful of basic ingredients and is perfect for those who follow a low-carb paleo or ketogenic diet.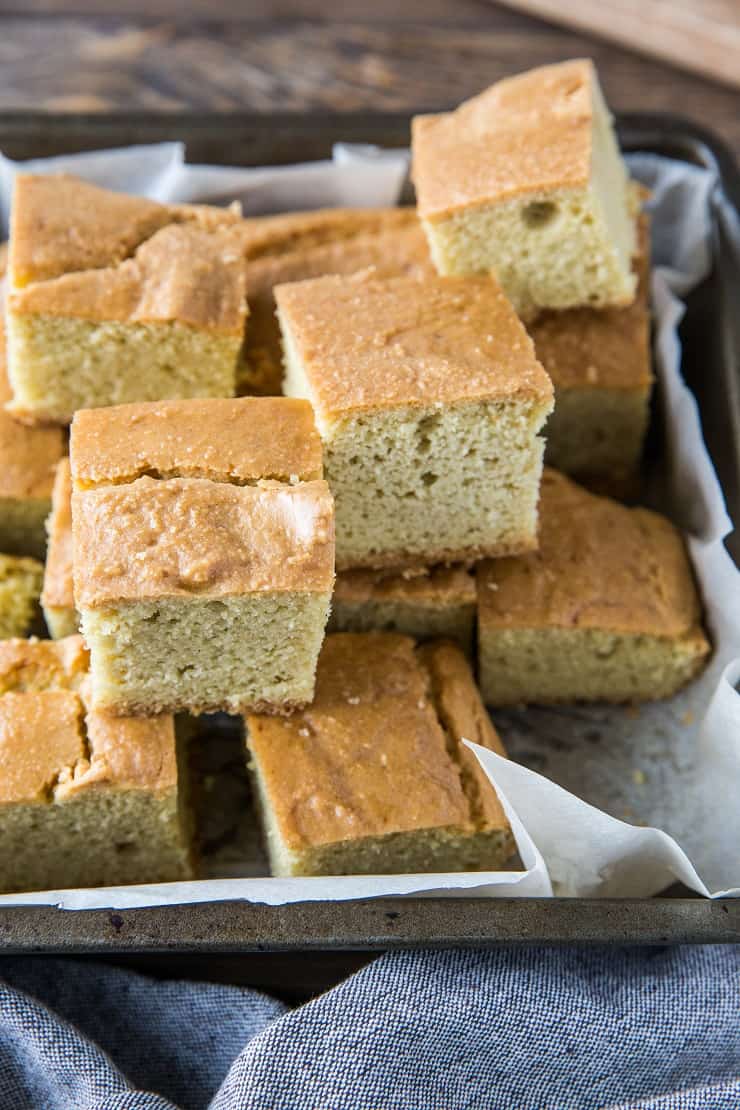 Sometimes I get an unruly hankering for cornbread, which can only really be quenched by….cornbread.
Most of the time when a specific craving hits, there are multiple ways of satisfying it with better-for-me options, but for cornbread? Not so much. It's cornbread or bust.
My digestive system is sensitive to both corn and grain-based flours, so a gluten-free version of cornbread, while better on my system than the fully-leaded version, still causes GI upset.
I set out to make a cornbread-like substance (I'm already great at selling this recipe), and landed on this very simple and straightforward almond flour lookalike.
Does this taste exactly like cornbread? Nay. But it scratches the itch.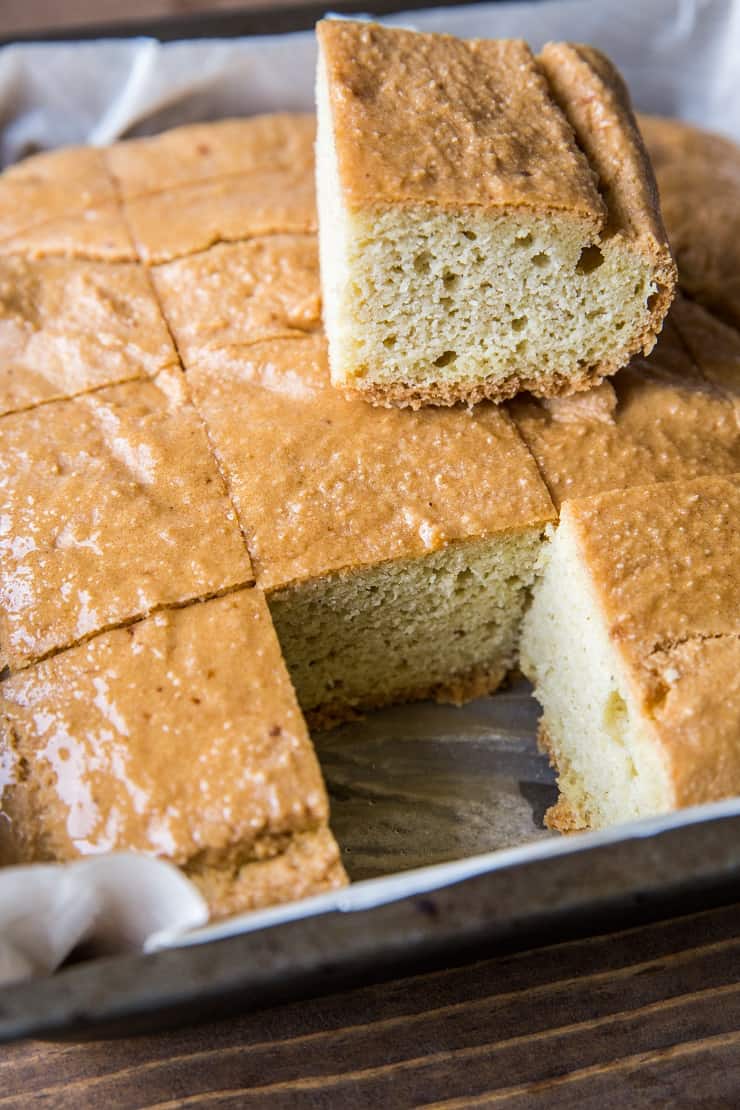 If you love having that hunk of moist, dense, slightly sweet bread to go alongside your soups, stews, and chilis, I daresay this may just do the trick.
To me, Thanksgiving is not complete without some sort of dinner roll or cornbread, so I whipped up this recipe to meet that specific need.
Oh, and if biscuits are more your speed, you can check out my Grain-Free Biscuits recipe.
If your family is like mine and includes a mixed bag of people who tolerate gluten and people who don't, this is a stellar option to set next to your family's traditional dinner roll recipe during your holiday gatherings.
How to Make Paleo/Keto Cornbread
Per usual, I prepare the batter in the blender, but you can also use a stand mixer, mixing bowls, an electric hand mixer, a food processor, you name it.
Simply combine all ingredients, pour into a cake pan, bake, and you're golden!
Don't skip the cider vinegar, sea salt, or sweetener! All three of these ingredients are pivotal in creating a flavor that is similar to cornbread.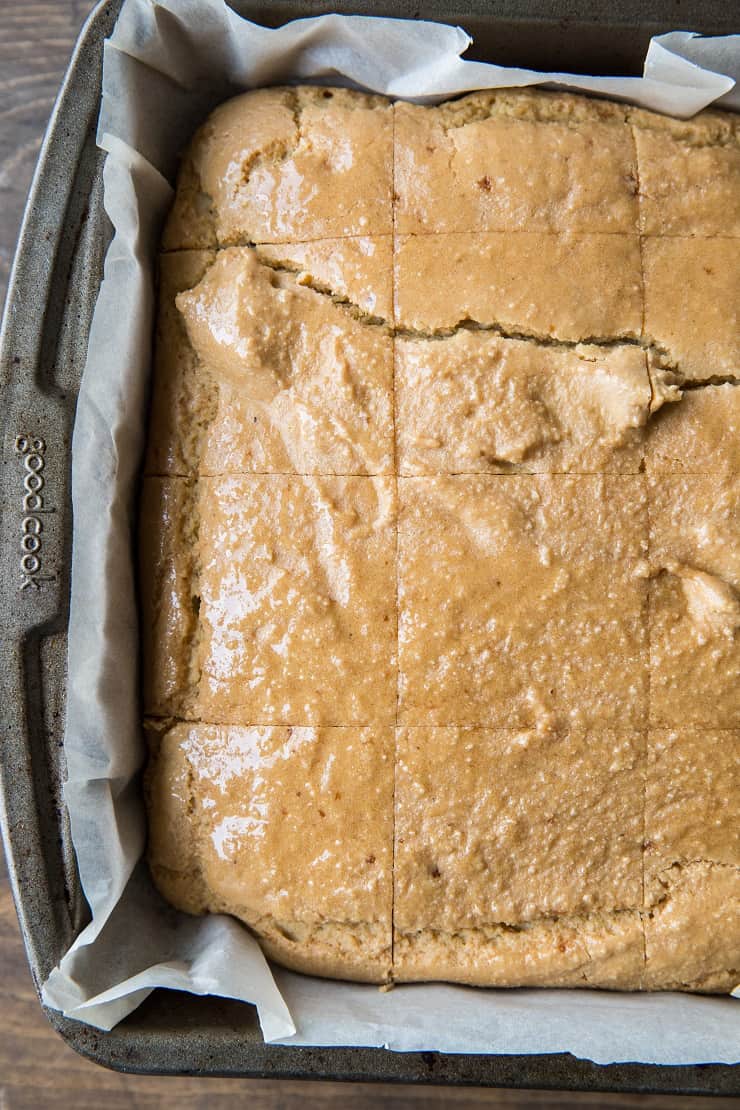 Sweetening Options:
The amount of sweetness here is entirely up to you.
If you like your cornbread in the medium-sweet range like me, you can use a few tablespoons of coconut sugar or pure maple syrup to keep it paleo-friendly.
If you follow a ketogenic diet, simply add 1 to 3 Tbsp granulated zero-sugar sweetener of choice (like Swerve), or ¼ tsp liquid stevia.
In my opinion, you need some level of sweetness to make this taste like real cornbread, so I don't recommend skipping the sweetener, regardless of the type you choose.
Serving Options:
If you're like me and you're a heavy believer that cornbread should be the moistest thing you experience all day, you can melt some ghee or grass-fed butter and drizzle it on top of your hunk of bread.
If you're paleo, feel liberated to drizzle with some raw honey as well!
Paleo Cornbread
Grain-free "cornbread" is a delicious side dish for any meal! Whip it up to go alongside soup, stew, or chili!
Instructions
Preheat the oven to 350 degrees F and line an 8" x 8" baking pan with parchment paper

Add all ingredients to a blender in the order in which they appear on the ingredients list. Blend until well-combined.

Transfer batter to the parchment-lined baking pan and smooth into an even layer. Bake on the center rack of the preheated oven 25 to 30 minutes, or until "cornbread" has risen, formed crags, and is beginning to turn golden-brown.

Turn off the oven and allow bread to sit another 5 to 10 minutes in the warm oven, until it reaches desired level of golden-brown-edness.

Remove from oven and allow bread to cool 10 minutes before slicing and serving.
Notes
*You can use coconut oil, grass-fed butter, avocado oil, etc. in place of ghee
**Use up to 1/4 cup coconut sugar for a sweeter cornbread. You can also replace the coconut sugar with pure maple syrup, granulated zero-sugar sweetener, or 1/4 tsp liquid stevia.
Nutrition
Serving:
1
Slice (of 12)
|
Calories:
195
kcal
|
Carbohydrates:
8
g
|
Protein:
8
g
|
Fat:
16
g
|
Fiber:
3
g
|
Sugar:
4
g