Easy crock pot carnitas made burrito bowl-style with rice, mango salsa, black beans, cabbage, and fried plantains. This super quick and simple approach to carnitas is a winning meal prep dinner recipe.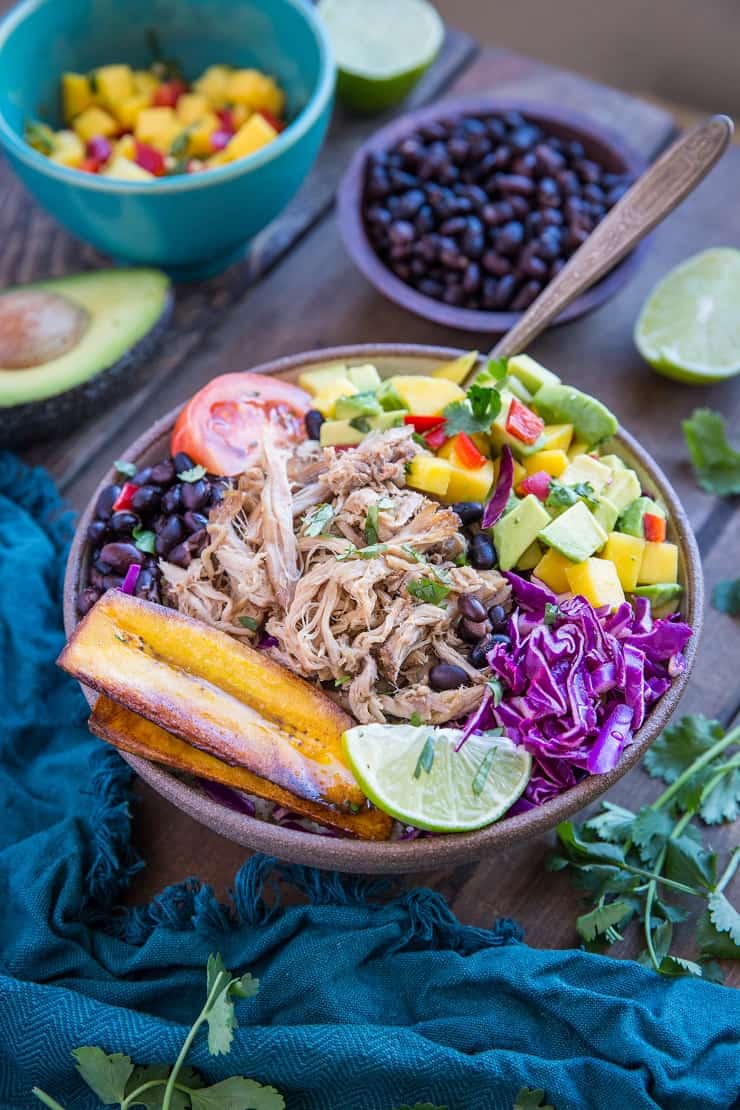 It has been a minute since I've checked in with you all regarding my progress on my upcoming cookbook, so I thought I'd let you in on the latest and greatest. In case this is the first you've heard of it, the tentative title of the book is Paleo Power Bowls, my deadline for the materials is May 1, and after a couple of rounds of editing, the book will be published in November of 2018.
I have finished the recipe development portion of the cookbook (hazaaaaaah!!) for the most part, and am fine tuning the content I currently have. My current project is re-photographing and re-editing certain recipes to ensure the book is seeping with mouth-watering gorgeousness.
This to say, one of my all-time favorite methods of packing a bowl is preparing tender, shredded meat in the trusty crock pot and serving it up with a fresh homemade salsa or sauce along with snappy veggies.
Crock pot carnitas is hands down one of the entrees that never fails to satisfy. For those times you're looking for something clean yet filling, easy yet crowd-pleasing, festive, funky, and colorful, I've got just the meal for you.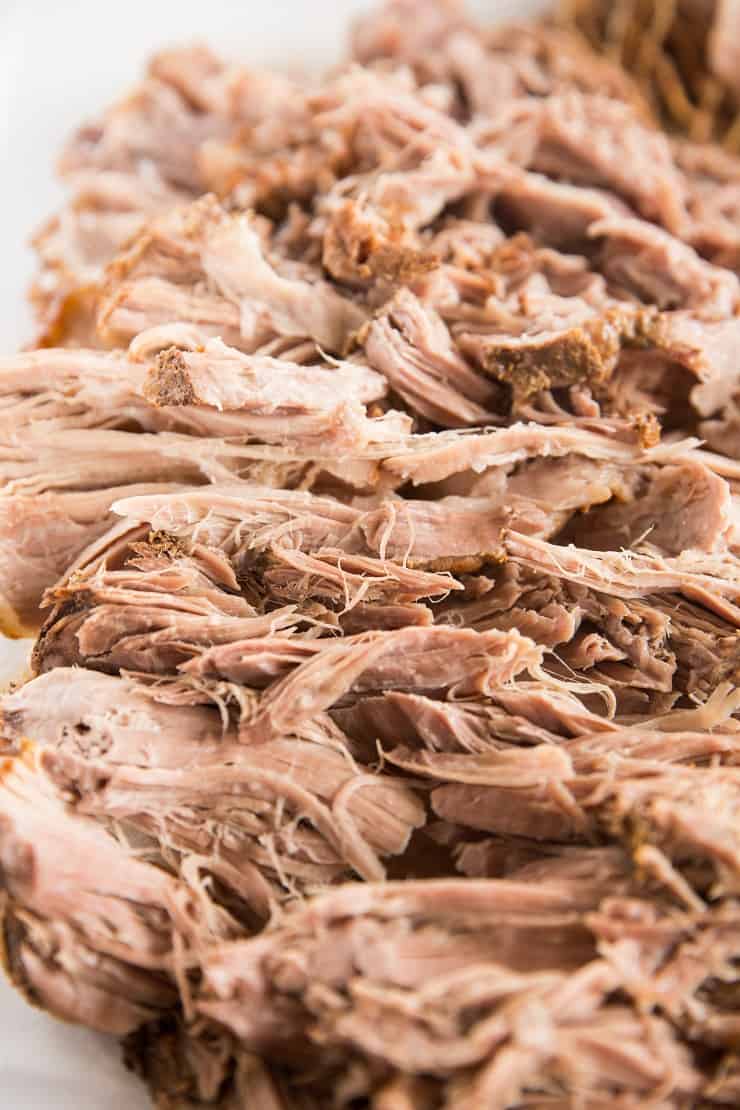 How to Make Crock Pot Carnitas:
Preparing the carnitas portion of this recipe is just the easiest thing ever.
Simply take the pork shoulder roast, rub it with spices, then stick it in your slow cooker with chopped onion, beer, and broth. Turn it on low and cook for 8 to 12 hours, and the most tender, flavorful shredded pork results!
The way I go about preparing carnitas in a crock pot is a bit different from many other carnitas recipes you'll find on the internet. Other recipes suggest chopping the pork shoulder/butt into 2-3-inch cubes before putting it in the crock pot and not adding much liquid. While this method fully works, I prefer keeping the meat whole throughout the slow cooking process and cooking it in beer and for the ultimate flavorful, tender result.
Once the meat has finished slow cooking, I shred it and put it back into its juices so that it stays moist and flavorful.
How to Make Crispy Carnitas:
To crisp or not to crisp? Once the pork has finished slow cooking and I'm ready to serve the carnitas bowls (or use it in the form of carnitas tacos), I like searing the meat in a skillet so that it becomes crispy. This is an optional step, but I always find it to be a winning technique, as you end up with meat that is both moist and crispy.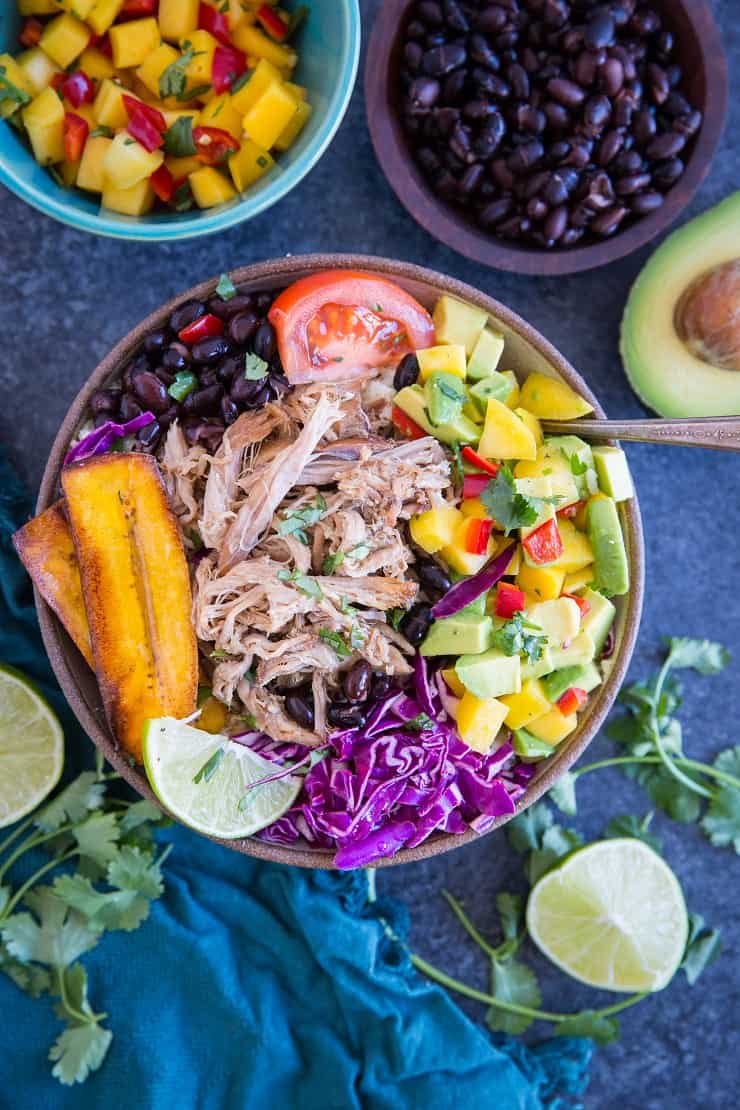 There are plenty of recipe adaptations you can perform on this crock pot carnitas recipe.
For instance, you can change up the spices, omit the beer (if you're gluten-free) and add broth instead, add a bell pepper or jalapeno for more flavor, and/or go wild with garlic. If you have an Instant Pot, feel free to prepare the recipe using your Instant Pot.
Burrito Bowl Toppings:
What do you do to pack a burrito bowl? WELL. I start with either cooked white rice or cauliflower rice.
From there, I add my heaping portion of carnitas, then top it with homemade mango salsa, fresh cilantro (if that's your jam), some fried plantains (you have my permission to skip, although I really must say, fried plantains are the bee's knees), fresh tomato, and some sliced cabbage that has been tossed in lime juice and salt.
You can change up your toppings to your heart's desire. For instance, prepare a red chili salsa, like the one I posted in my Crock Pot Carnitas Tacos with Red Chili Salsa, the orange salsa from my Fish Tacos with Orange Salsa, the strawberry black bean salsa from my Balsamic Grilled Chicken Bowls with Strawberry Black Bean Salsa, or the pineapple salsa from my Shrimp and Avocado Tacos with Pineapple Salsa.
If you love your carnitas a la taco, simply use the meat in your favorite tortilla or lettuce wrap situation. I also love using the leftovers for breakfast (just put an egg on it!). Whatever your approach, you can't go wrong with some perfectly textured meat!
My cookbook,
Paleo Power Bowls
, is now available! CLICK HERE to check it out. Thank you for your support!
If you make this recipe, please feel free to share a photo and tag @The.Roasted.Root on Instagram!
Crock Pot Carnitas Burrito Bowls
This fresh and flavorful carnitas burrito bowl is everything you want in an amazing dinner!
Ingredients
Crock Pot Carnitas
1

small yellow onion

diced, see note*

1

4-pound bone-in pork shoulder roast

1

tablespoon

ground cumin

to taste

1

tablespoon

paprika

2

teaspoons

ground coriander

2

teaspoons

garlic powder

see note*

1

teaspoon

sea salt

1

16-ounce can light beer , I used 805, see note*

1/4

cup

fresh lime juice

to taste
Mango Salsa
2

cups

mango

chopped

1

red chili

seeded and chopped

1/2

cup

red onion

finely chopped, see note*

1

ripe avocado

peeled and diced

2

tablespoons

fresh lime juice

to taste

1

pinch

sea salt
For Serving:
cooked white rice or cauliflower rice

1

14-ounce can black beans, drained, rinsed, and heated

1

vine-ripened tomato

chopped

fresh cilantro

lime wedges

red cabbage

thinly sliced
Instructions
Prepare the Carnitas:
Add the chopped onion to the crock pot. Sprinkle the meat with cumin, paprika, coriander, garlic powder, and sea salt and gently rub into the meat with your hands. Place the meat in the crock pot and add the beer and lime juice. Secure the lid and cook 8 to 12 hours on low.

Transfer the meat to a cutting board and use two forks to shred it. Place the meat back into the crock pot to allow it to soak up the juices. Taste the carnitas for flavor and add more cumin, sea salt, and/or lime juice to taste.
Prepare the Mango Salsa:
Add the ingredients for the mango salsa to a bowl and toss well. Add more lime juice and/or sea salt to taste.
Prepare the Bowls:
Load up bowls with desired amount of cooked rice or cauliflower rice, shredded pork, mango salsa, black beans, tomato, cilantro, and cabbage. Serve and enjoy!
Notes
*Omit the onion, garlic, and beer to make Low-FODMAP
Nutrition
Serving:
1
of 8
|
Calories:
425
kcal
|
Carbohydrates:
42
g
|
Protein:
46
g
|
Fat:
8
g
|
Fiber:
5
g
|
Sugar:
9
g