An easy to follow weekly Paleo Meal Plan featuring six seasonal dinner recipes and one dessert! Complete with a printable grocery list and plenty of variety, these meal plans are designed to make life easy and nourishing!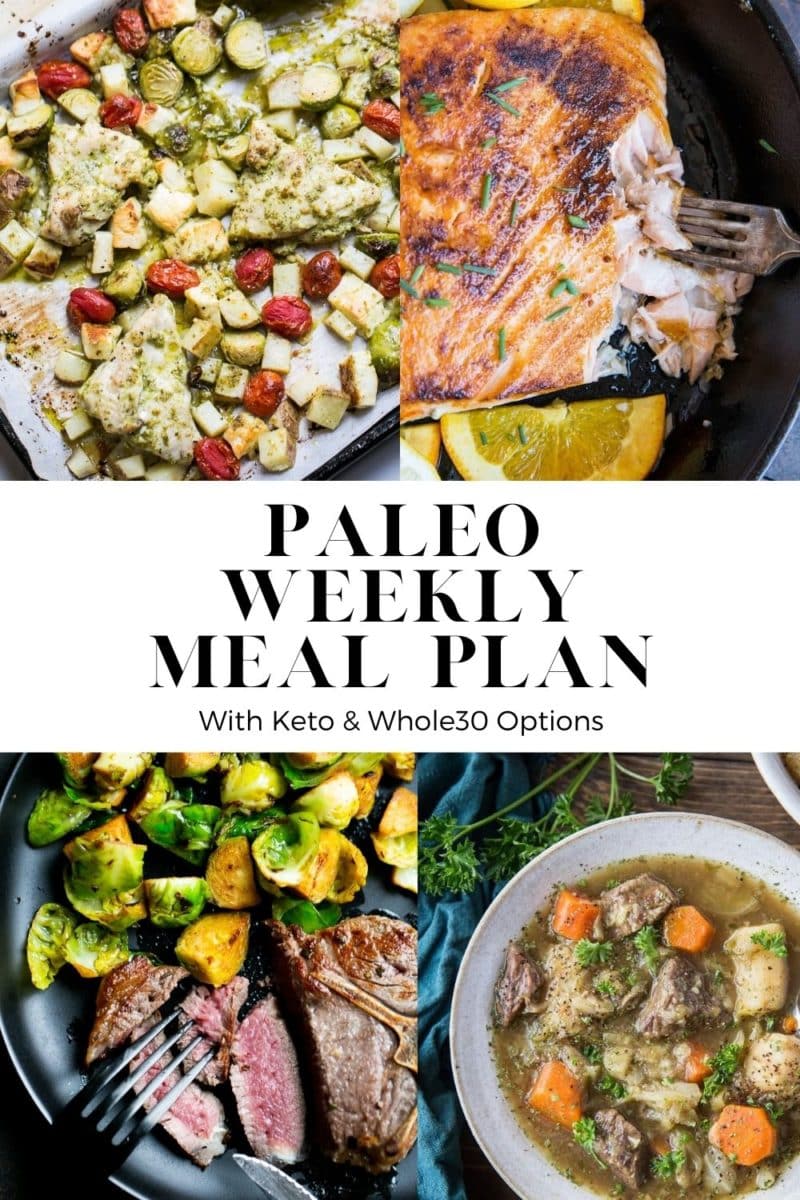 This week's meal plan is loaded with healthy comfort food to keep you feeling full and satisfied during hibernation season, without sacrificing your blood sugar or energy level.
The variety in proteins, produce, and flavors is unprecedented here!
Beef, salmon, chicken, and lamb and all sorts of fresh veggies, this meal plan has it all for those of us who like injecting our diet with a plethora of whole foods.
If you're looking for additional side dishes, check out my Smashed Sweet Potatoes, Turmeric Roasted Cauliflower, or my Brussels Sprout Chopped Salad with Warm Bacon Vinaigrette.
Be sure to print the grocery list at the end of this post to do a one-stop shop for your weekly grocery haul.
One last thing: If you didn't catch my Keto Cinnamon Swirl Bread last week, it has been a huge hit!
And now for the food! I hope you enjoy this week's meal plan.
As always, let me know if you have any questions or requests.
xo
SUNDAY:
Moroccan Paleo Turkey Chili – This paleo turkey chili recipe has a Moroccan twist with a fun spice blend and a couple of unique ingredients! Make it on the stove top, in a Crock Pot slow cooker, or in an Instant Pot!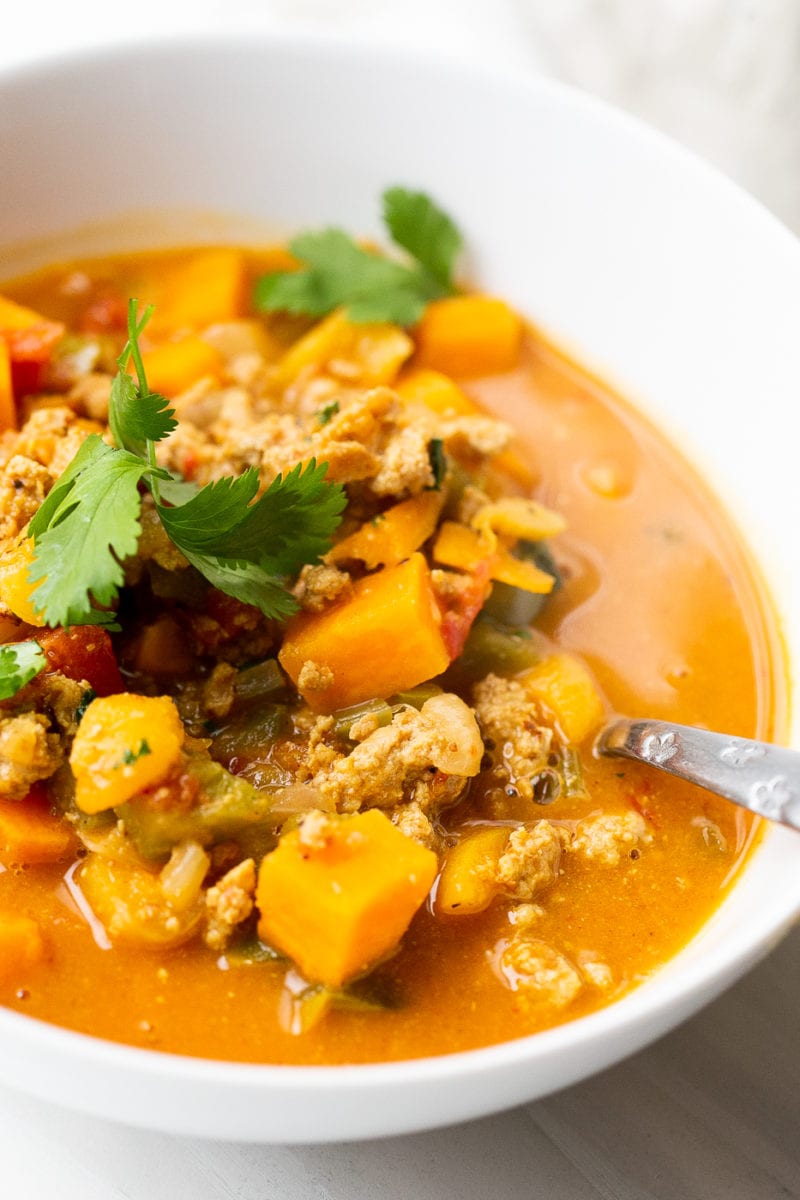 Special Diet: This recipe is paleo. To make it low-carb, swap out the sweet potatoes for small cauliflower florets.
Prep Ahead: The vegetables can be chopped ahead of time.
Substitutions/Notes: Use ground beef or chicken if you'd prefer it over turkey.
MONDAY:
Roasted Vegetable Rice Bowls with Jammy Egg and Pesto – Roasted Vegetable Rice Bowls with pesto sauce and 6-minute jammy eggs make for an amazing lunch or dinner! These easy bowls are loaded with flavor and variety for a nutritious meal.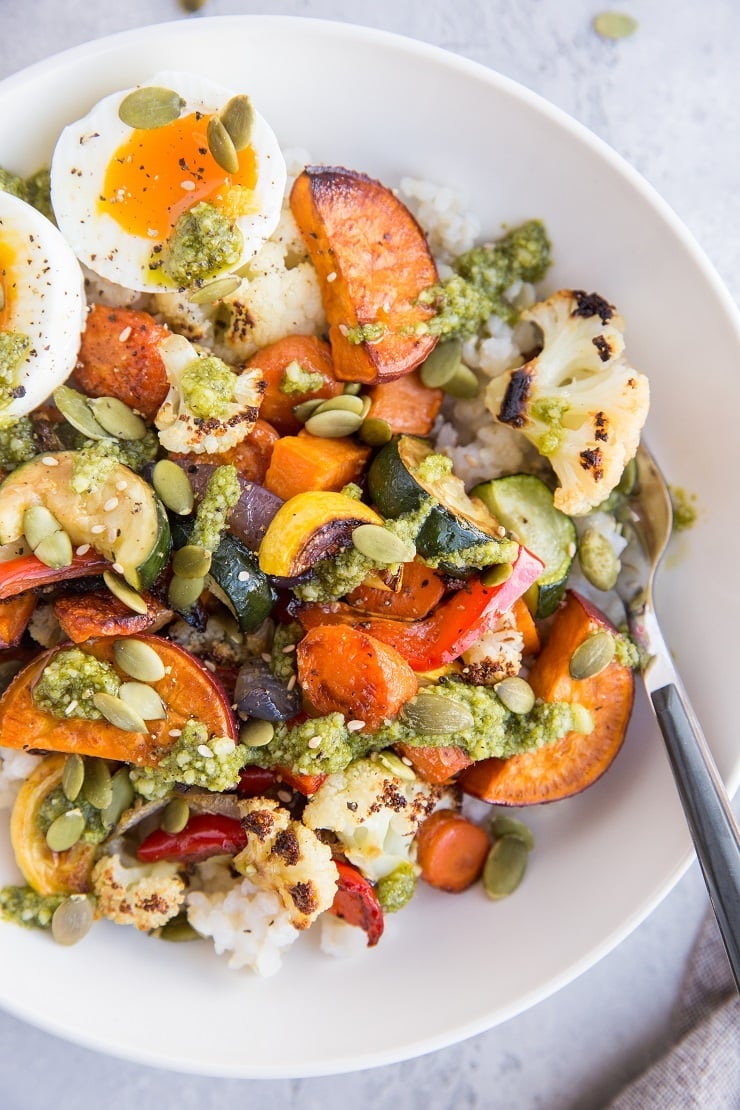 Special Diet Notes: Use cauliflower rice instead of the brown rice to make the recipe grain-free.
Prep Ahead: The rice can be cooked and the veggies can be roasted up to 4 days ahead of time. If you're making homemade pesto sauce, be sure to make enough for Thursday's meal as well!
Substitutions/Notes: Incorporate your favorite vegetables and add in your favorite animal protein such as rotisserie chicken or steak.
TUESDAY:
Lamb Loin Chops with Rosemary & Garlic – These marinated lamb loin chops are perfect for a fancy meal for two that doesn't take much effort! Grill them or cook them in a skillet — they're tender & delicious either way!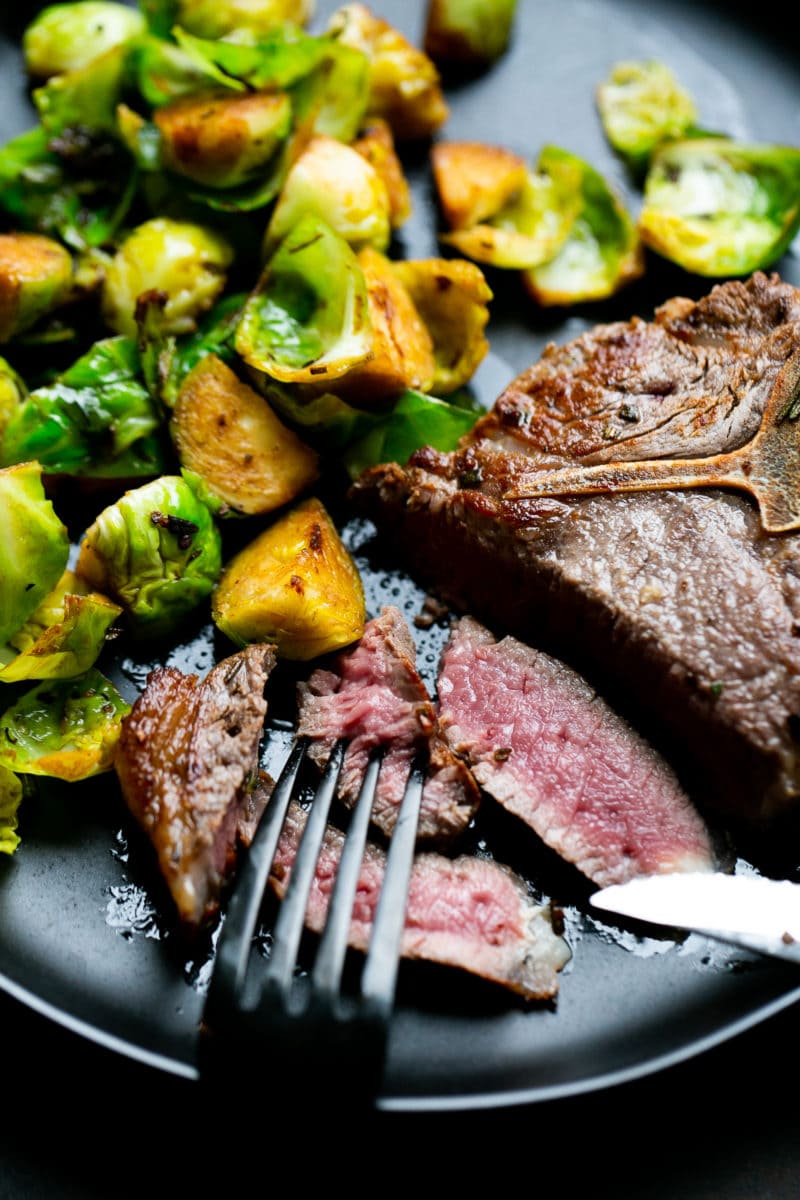 Special Diet Notes: This recipe is paleo, low-carb, and Whole30 friendly.
Prep Ahead: Marinate the chops the day before.
Substitutions/Notes: You can use this marinade for steaks or chicken breasts, too! Add a side salad, some roasted vegetables, or throw some veg in the skillet after you cook the chops for an easy side.
WEDNESDAY:
Orange Butter Lemon Salmon – Tangy, citrusy Orange Butter Lemon Salmon is easy to make and so big on flavor! This easy pan-cooked salmon recipe requires less than 30 minutes to prepare and is a delicious paleo, low-carb, keto main entrée.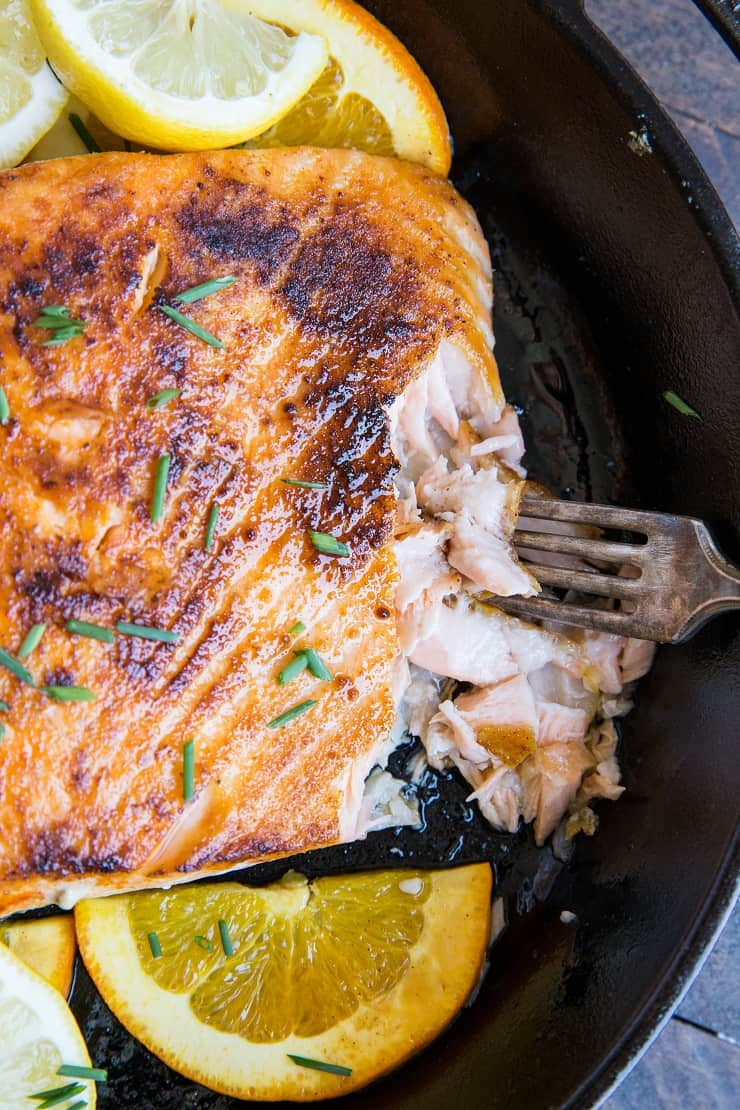 Special Diet Notes: Use ghee to keep the recipe lactose-free and paleo-friendly.
Prep Ahead: This salmon comes together quickly and is best when served fresh off the skillet so no advance prep is needed.
Substitutions/Notes: Substitute other types of citrus such as lime juice and grapefruit juice for the lemon and orange juice. Serve with your choice of sautéed vegetables or roasted vegetables or your side dishes of choice.
THURSDAY:
Baked Pesto Chicken Sheet Pan – Sheet pan meals are always a family favorite for weeknight dinners! This baked chicken pesto sheet pan meal is super versatile, too — swap out the veggies, use your favorite kind of pesto, or just make a big batch of pesto chicken only for some meal prepped protein!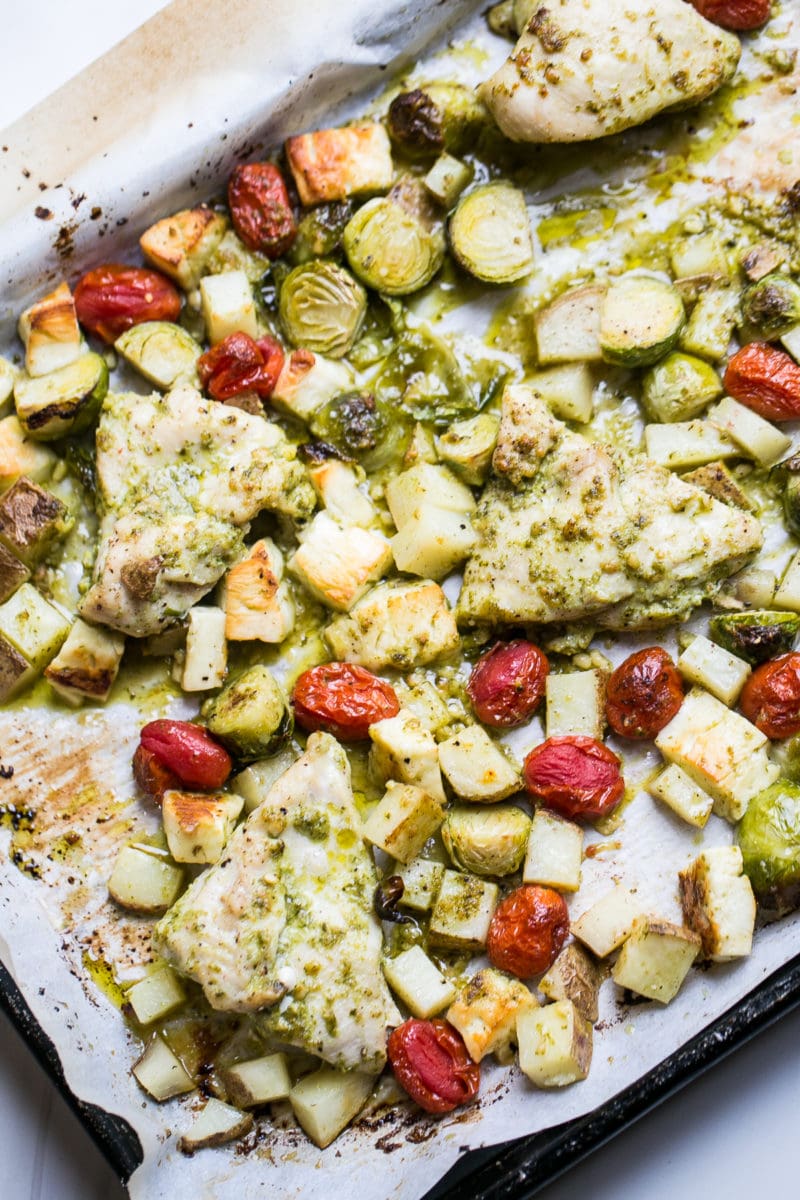 Special Diet Notes: This recipe is gluten-free. If you use dairy-free pesto and omit the Halloumi cheese, this recipe is paleo & Whole30 friendly. Use low-carb vegetables to make it keto-friendly.
Prep Ahead: The chicken and vegetables can be prepped and tossed in the pesto ahead of time. Just spread everything out on a sheet pan and roast when you're ready.
Substitutions/Notes: Use any kind of pesto you like here! Natalie has a dairy-free basil pesto, dill pesto, and cilantro pesto recipes on her site.
FRIDAY:
Instant Pot Irish Beef Stew – A Paleo Irish Beef Stew recipe made quick and easy in your Instant Pot! Enjoy this comforting meal any time of year, but particularly on St. Patrick's Day!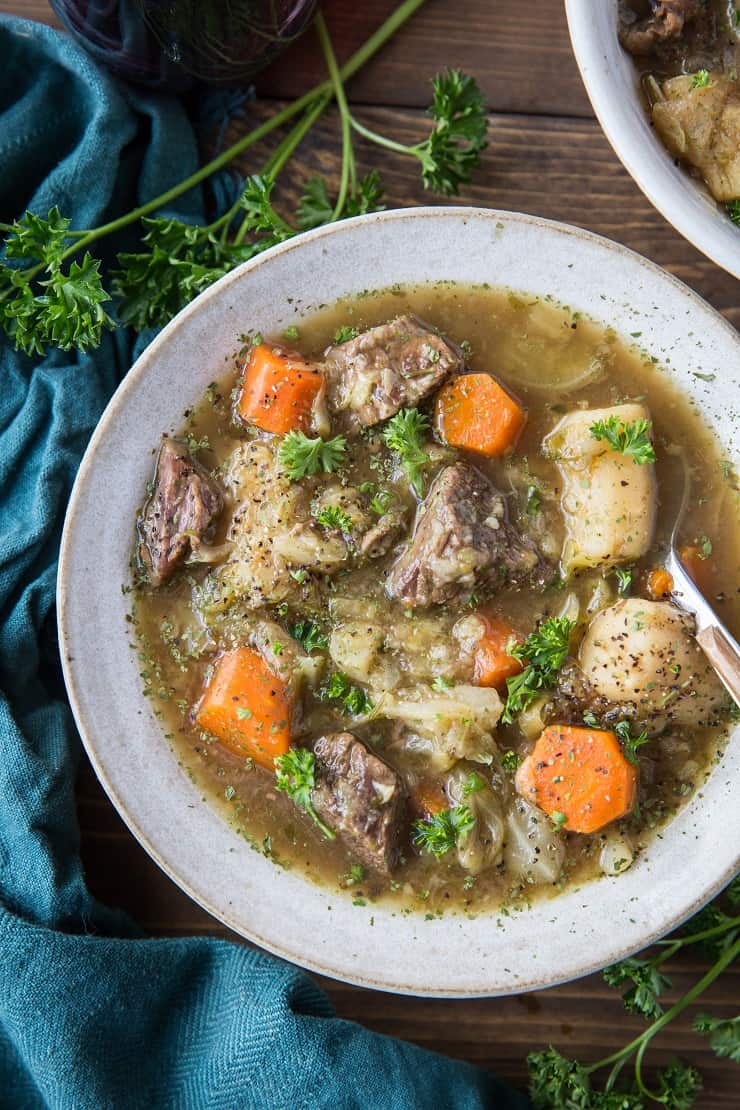 Special Diet Notes: Leave out the red wine or Guinness to make the recipe Paleo and whole30.
Prep Ahead: No advance prep is needed! Recipe comes together quickly.
Substitutions/Notes: Use lamb stew meat and incorporate any other hearty vegetables you love. The recipe includes a slow cooker option too!
DESSERT:
Keto Chocolate Nuggets – Are you in love with those Keto Nuggets from Costco, too? Natalie hacked them into a much simpler recipe you can make at home with any type of chocolate or sweetener you like! Make some of these keto chocolate treats — they're super easy.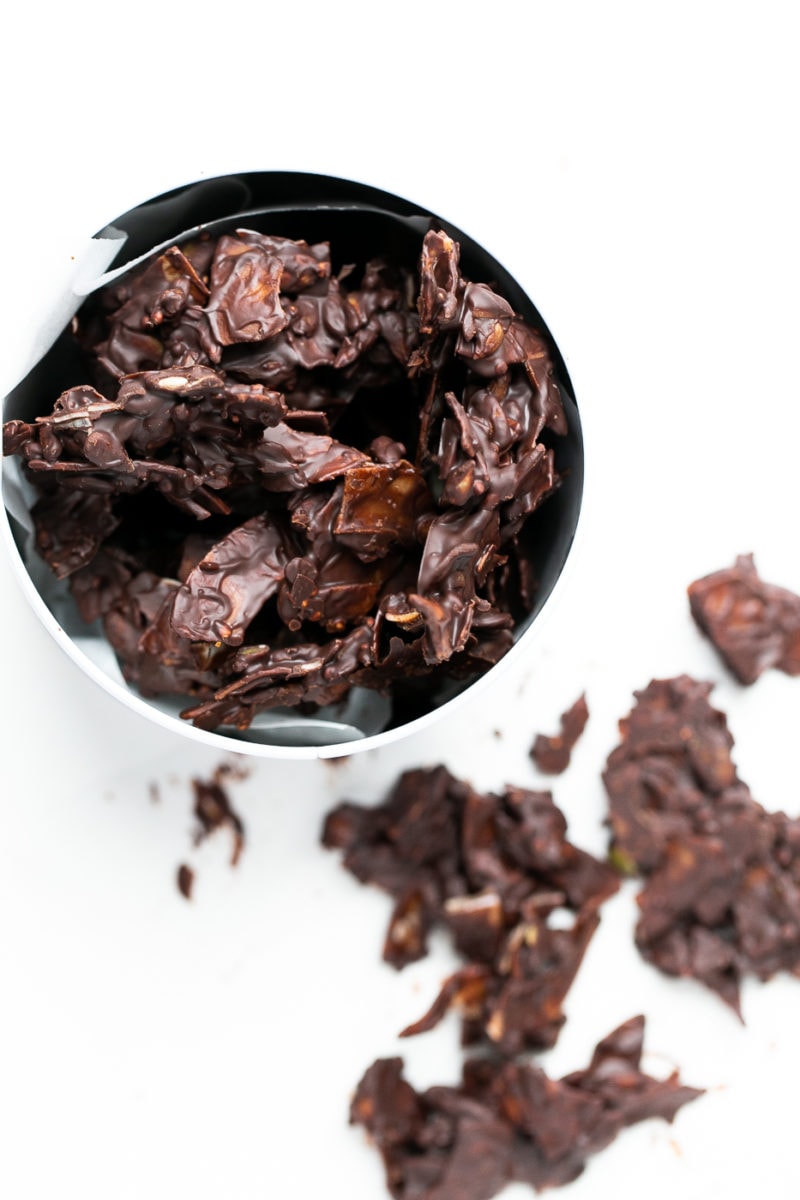 Special Diet Notes: This recipe is keto friendly and paleo.
Prep Ahead: No need to prep ahead. This comes together quickly.
Substitutions/Notes: If you don't need this to be keto, use regular maple syrup and extra dark chocolate. This recipe is nut-free, but you can add nuts if you like. I recommend sliced almonds to keep the texture consistent.
GROCERY LIST:
Click HERE to print this week's grocery list!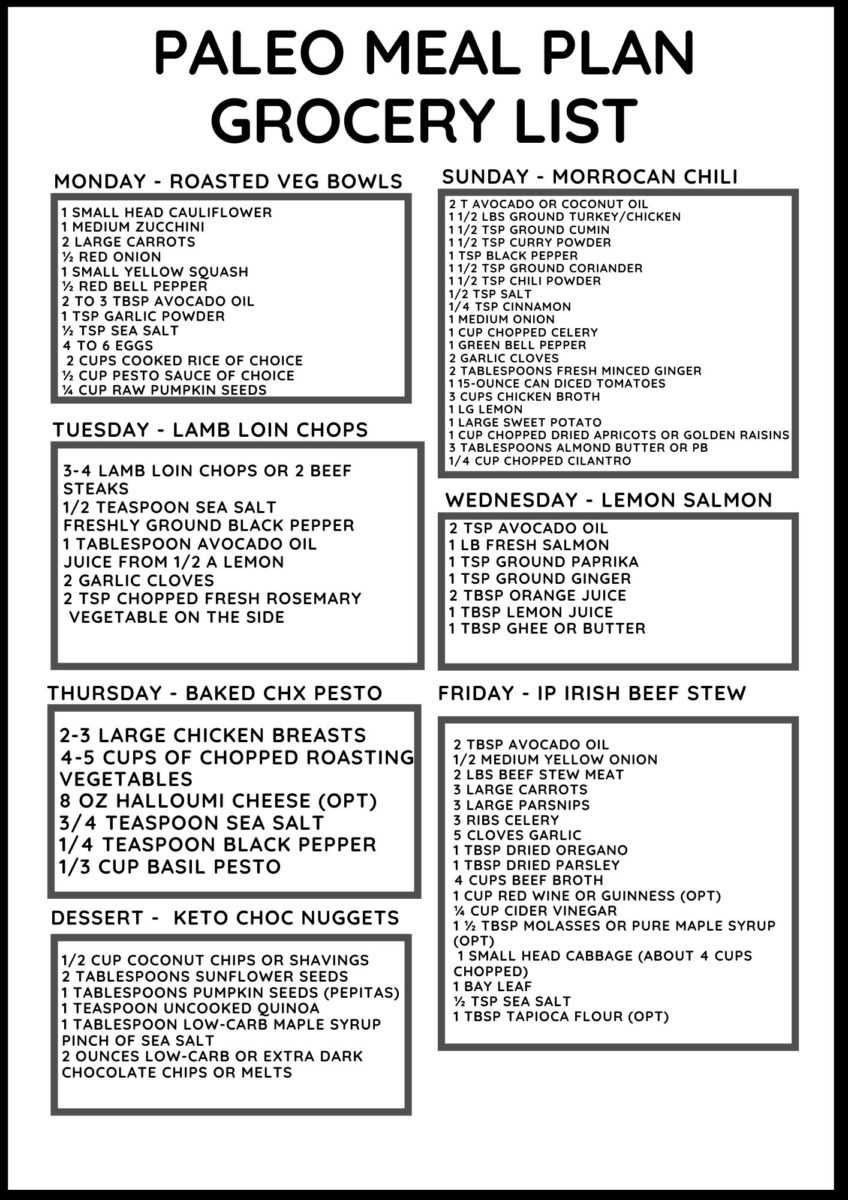 Enjoy!
xo
Previous Paleo Meal Plans: