Brussels Sprout Chopped Salad with Pears, Gorgonzola, and Warm Bacon Vinaigrette is an incredibly flavorful yet nutritious salad recipe – perfect for those of us who love salads that are loaded with goodies!
Oy! This brussels sprout chopped salad tastes like bacon.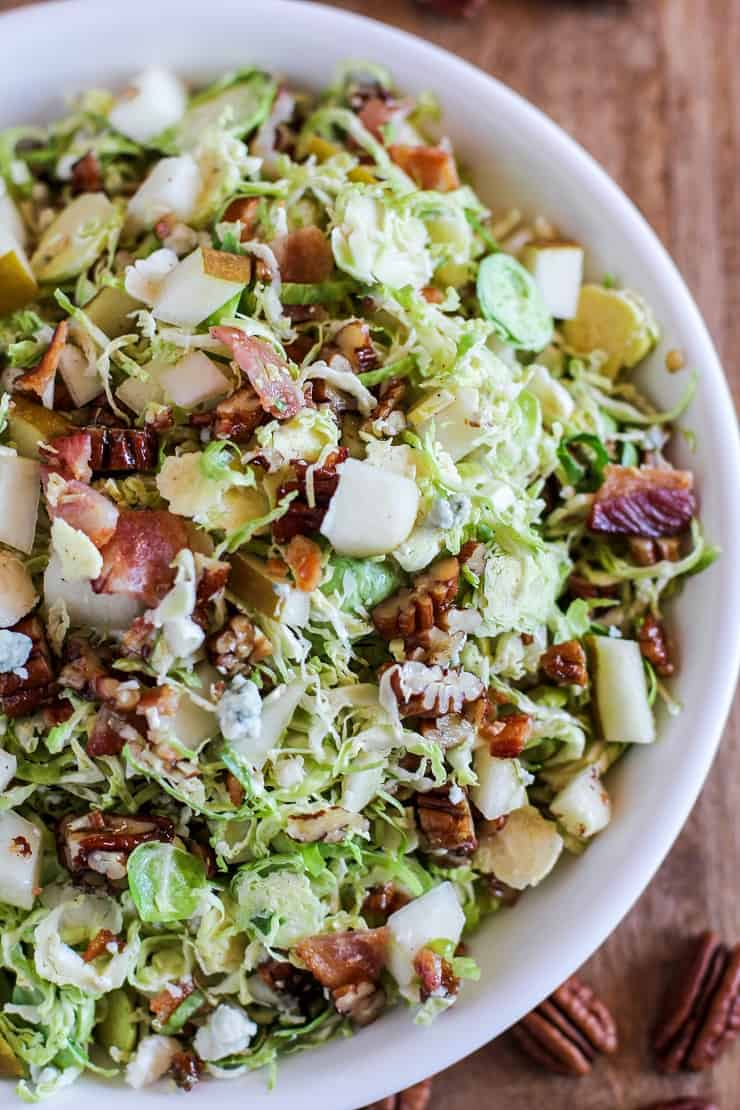 I've never wanted to be a Brussels sprout so badly in my life.
Just look at what's going on in that dang bowl.
I know what you're thinking: Brussels sprouts, Julia…how can I feel anything about this, skinamarinky dinky dinky, skinamarinky doo?
Just give 'er one bite and you'll be drawn to it like a fly to a bug zapper, like Taylor Swift to…herself, like a magnet…to another magnet.
It's filled with all the goodies, like bacon, pears, maple-candied pecans, and blue cheese.
Plus the warm maple-bacon vinaigrette…how could life get any better??
Why are all salads not drenched in bacon fat?
This is what you ask yourself after you've eaten an entire pound of shaved Brussels sprouts because they were doused in what can only be described as liquid heaven.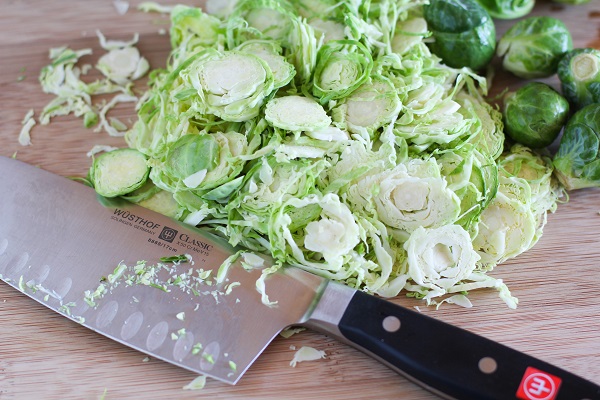 Look at all the chopping that went into this chopped salad. It's a thing of beauty.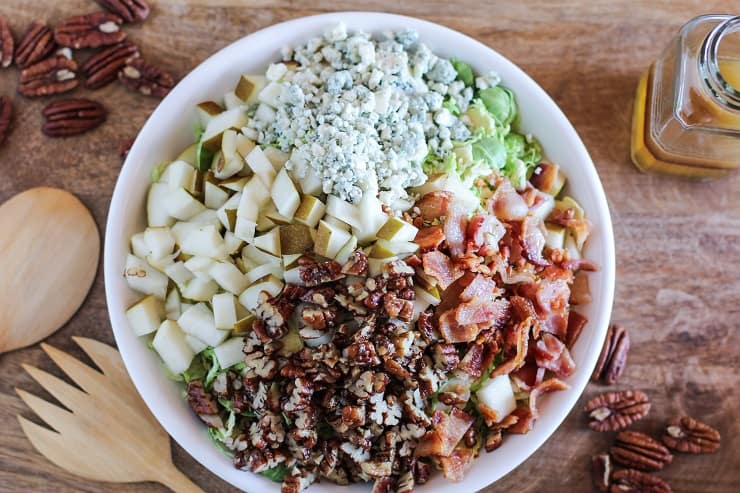 Can You Make Salad with Brussel Sprouts?:
As sure as the sky is blue, you can!
Have you ever enjoyed your Brussels sprouts raw in a brussels sprout chopped salad??
They're really quite edible, especially when they're lubed up in bacon fat.
Thinly sliced Brussels sprouts make for a crunchy and spunky salad.
This one includes bacon, pears, gorgonzola cheese, the most amazing vinaigrette made from bacon drippings, and maple toasted pecans.
You can also add things like kale and cabbage for a mix of greenery textures. But as it stands, the salad covers all the textures and flavors, just like a great salad should.
Fall is rapidly approaching, which means we need to put on our hibernation layer. Meaning, we need to bulk up. Meaning, we need bacon.
99.2% of the time, bacon fat's a real nuisance.
You put your fatty pork strips in your skillet, watch them snap and crinkle, enjoy them crispy critters on your egg mc. muffin, and when all's said and done, you look at your pan like, "well what am I supposed to do now?"
Not this time, my babies. This time, you pour that liquid heaven into a glass and drink it turn it into salad dressing.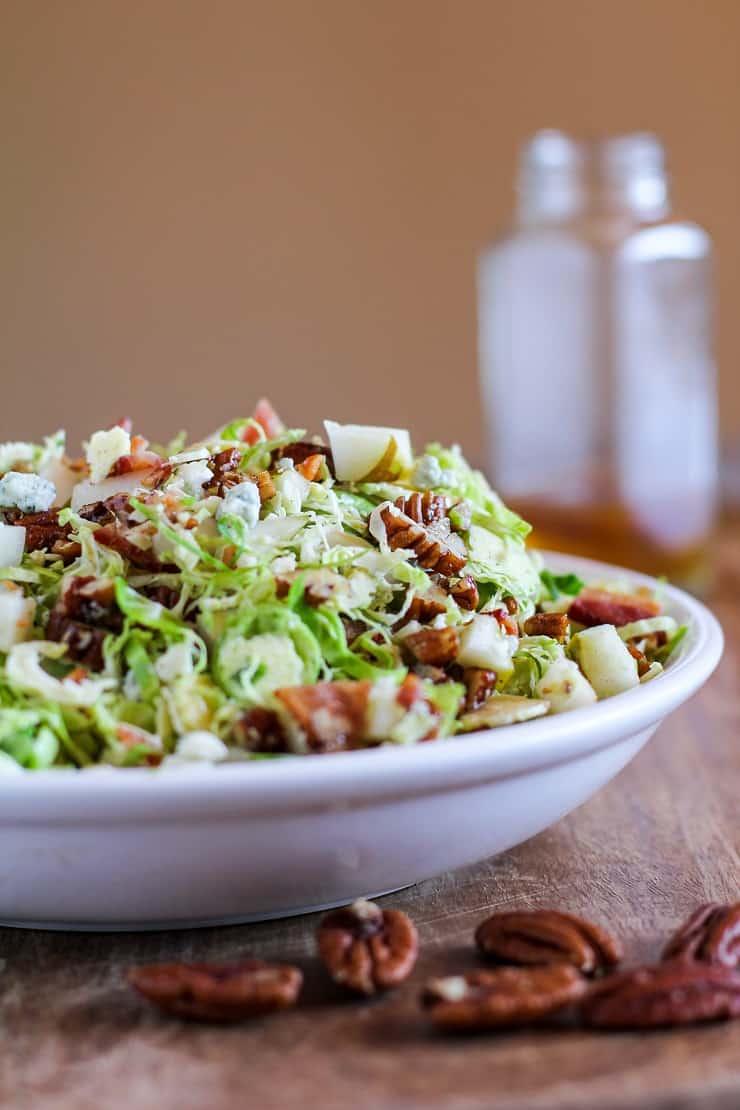 I added cinnamon, cider vinegar, and pure maple syrup to the bacon vinaigrette, which made the dressing even more warm and inviting.
I also candied the pecans in maple syrup and cinnamon, so when the whole salad comes together, it tastes like leaves falling off the tree. And bacon. Mostly bacon.
My drippings bring all the boys to the yard. < – Sorry.
Resistance is futile.
Brussels Sprout Salad with Warm Bacon Vinaigrette
A classic salad recipe for fall and winter, this Brussels Sprout Salad with Warm Bacon Vinaigrette is an excellent side dish or main entrée!
Ingredients
For the Salad:
1

pound

Brussels sprouts

trimmed and thinly sliced

4

slices

bacon

cooked and chopped*

1

ripe bosc pear

chopped

2/3

cup

blue cheese crumbles
For the Maple-Candied Pecans:
For the Warm Maple-Bacon Dressing:
¼

cup

liquid bacon drippings

¼

cup

apple cider vinegar

1

tablespoon

+ 1 teaspoon pure maple syrup

2

cloves

garlic

minced

1/8

teaspoon

ground cinnamon

¼

teaspoon

salt

or to taste
Instructions
Prepare the Warm Maple-Bacon Dressing:
Cook the bacon on a skillet over medium heat until it reaches desired done-ness (I like mine crispy).

Place the strips of bacon on a cutting board, chop, and set aside.

Pour the bacon fat into a measuring cup. Reserve ¼ cup of the fat, and discard any remaining.

Add the remaining ingredients to the measuring cup and whisk well until combined (for a creamy consistency, add everything to small blender and blend until smooth). Set aside until ready to use.
Prepare the Candied Pecans:
Add all of the ingredients for the candied pecans to a small skillet and heat over medium for 5 to 8 minutes, stirring consistently, until the nuts have become toasted and sticky. Note: don't walk away from the nuts because they burn easily.
Prepare the Brussels Sprouts Chopped Salad:
Rinse the Brussels sprouts well. Chop off the rough end, and thinly slice them from tip to tail.

Add all ingredients for the salad to a large serving bowl. Pour desired amount of maple-bacon dressing over the salad, and toss well until everything is coated.

Serve with your favorite entrée and enjoy!
Notes
*Reserve the bacon drippings for the dressing
Nutrition
Serving:
1
of 4
|
Calories:
283
kcal
|
Carbohydrates:
22
g
|
Protein:
12
g
|
Fat:
18
g
|
Fiber:
8
g
|
Sugar:
13
g
Also try my
Shaved Brussels Sprouts Salad
. Get obsessed!