A Healthy Meal Plan with six dinner recipes, one healthier dessert, and a printable grocery list for easy meal prep! This nutrient-dense whole food meal plan is helpful support to a busy lifestyle.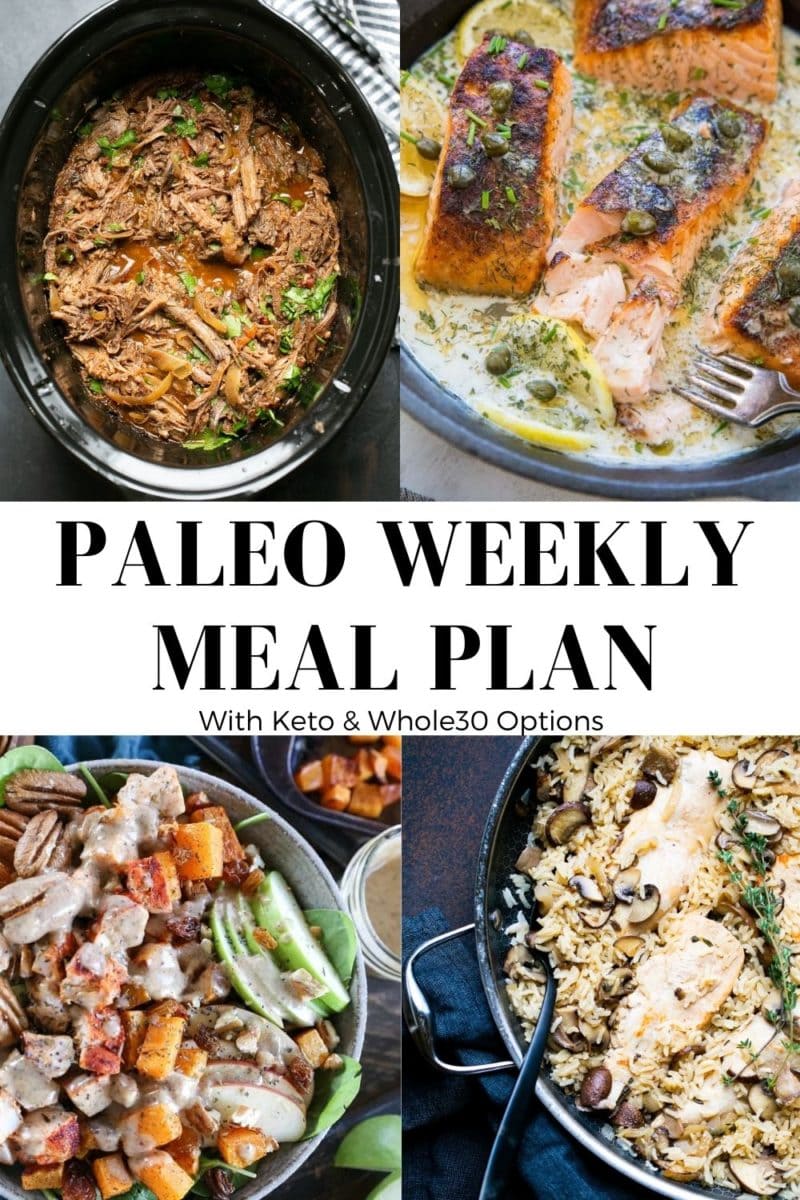 Healthy comfort food, here we come!
This month's healthy paleo meal plan is all about meals that make you feel cozy and satisfied while leaving you feeling energized.
Plenty of variety and color right here! This may just be one of my favorite meal plans yet, because it incorporates so many types of produce, a huge array of flavors, and plenty of protein options.
If you're looking for tasty side dishes to go alongside any of these meals, I recommend my Sautéed Brussel Sprouts with Butter and Garlic or my Balsamic Roasted Vegetables.
Also, if you didn't catch my Paleo Cranberry Orange Vegan Scones I posted last week, they are an absolute hit for breakfast, brunch, or dessert!
And now for the food!
I hope you enjoy this week's meal plan. Let me know if you have any questions or requests for future meal plans by dropping a comment below.
xo
SUNDAY:
Hearty Ground Turkey Soup with Vegetables – An all around feel good soup that leaves you feeling energized and satisfied!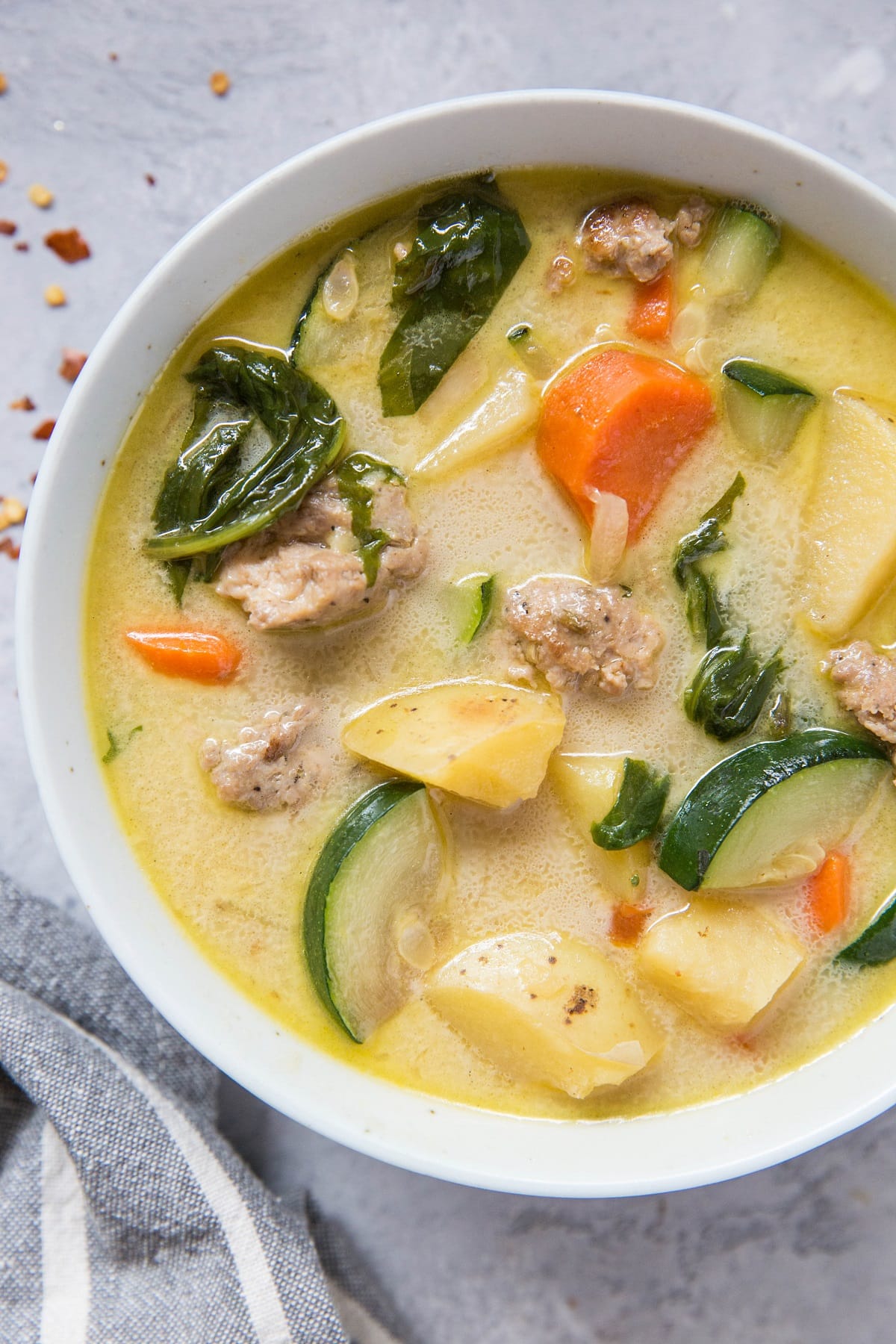 Special Diet: This healthy soup recipe is paleo and whole30. Make it low-carb by omitting the potatoes. You can also omit the onion to make it low-FODMAP.
Prep Ahead: The soup comes together in a flash! No advance prep is needed
Substitutions/Notes: Swap out any of the veggies for your favorites. Cauliflower, broccoli, and bok choy work great. You can use ground beef, Italian sausage, or ground chicken instead of ground turkey if you'd like.
MONDAY:
Chipotle Copycat Barbacoa Beef – This deeply flavorful, tender shredded beef is a copycat version of Chipotle's Barbacoa Beef! I included instructions for both slow cooker and Instant Pot in the recipe notes.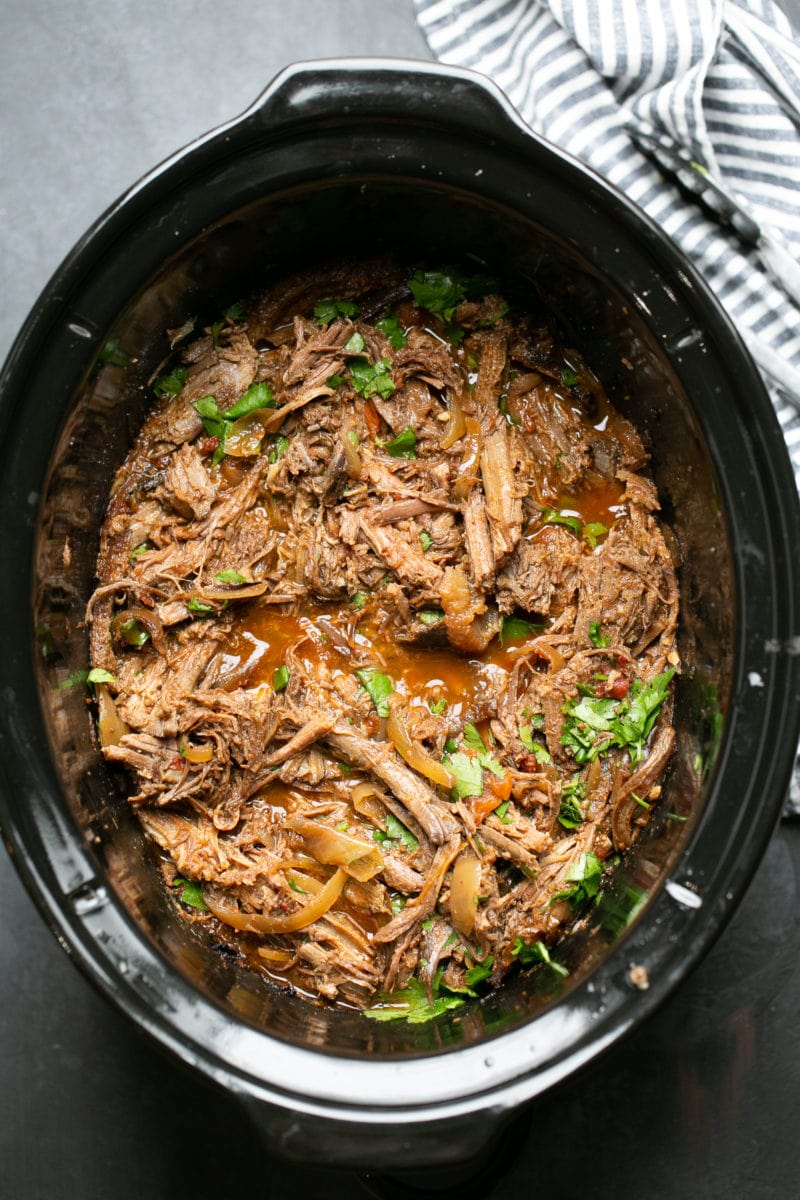 Special Diet Notes: Recipe is paleo, low-carb, keto, & Whole30 friendly.
Prep Ahead: This beef can be made several days in advance and it's freezer friendly!
Substitutions/Notes: Try this recipe with a pork shoulder roast if you like!
TUESDAY:
Roasted Butternut Squash and Chicken Spinach Salad – An amazingly filling salad with roasted butternut squash, chicken, pecans, apples, golden raisins and cinnamon maple cider vinaigrette. Nutritious and delicious well-balanced meal!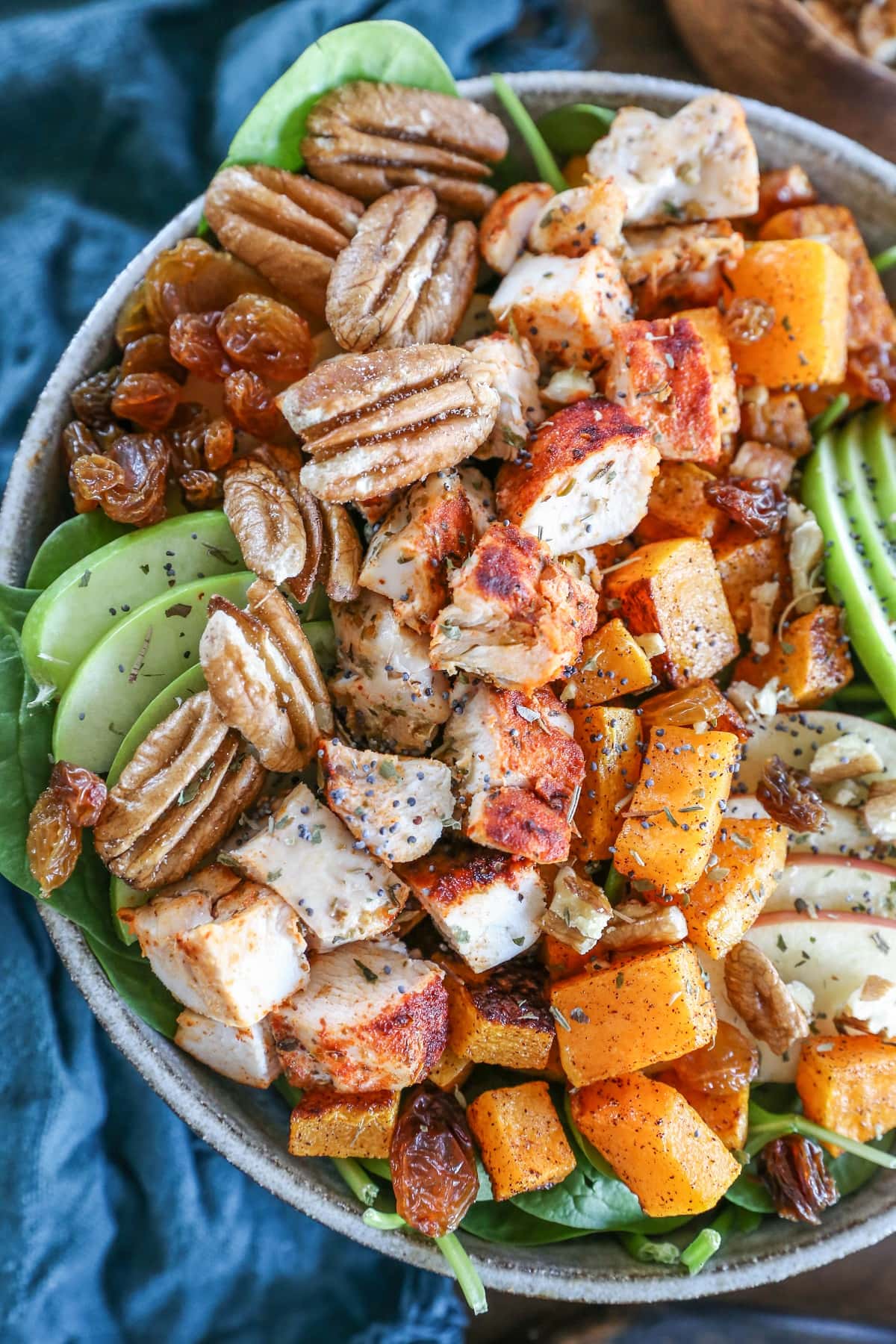 Special Diet Notes: Recipe is paleo! Make it whole30 by omitting the pure maple syrup.
Prep Ahead: The butternut squash and chicken can be roasted up to 3 days ahead of time.
Substitutions/Notes: Use dried cranberries instead of raisins, or swap the vinaigrette out for your favorite store-bought or homemade salad dressing.
WEDNESDAY:
Pureed Beet Soup with Fennel & Citrus – This delicious, creamy beet soup is just as tasty as it is gorgeous! It's fruity and earthy and is served with a sweet apple-fennel slaw. Directions for Instant Pot, slow cooker, and stove top are included in the recipe!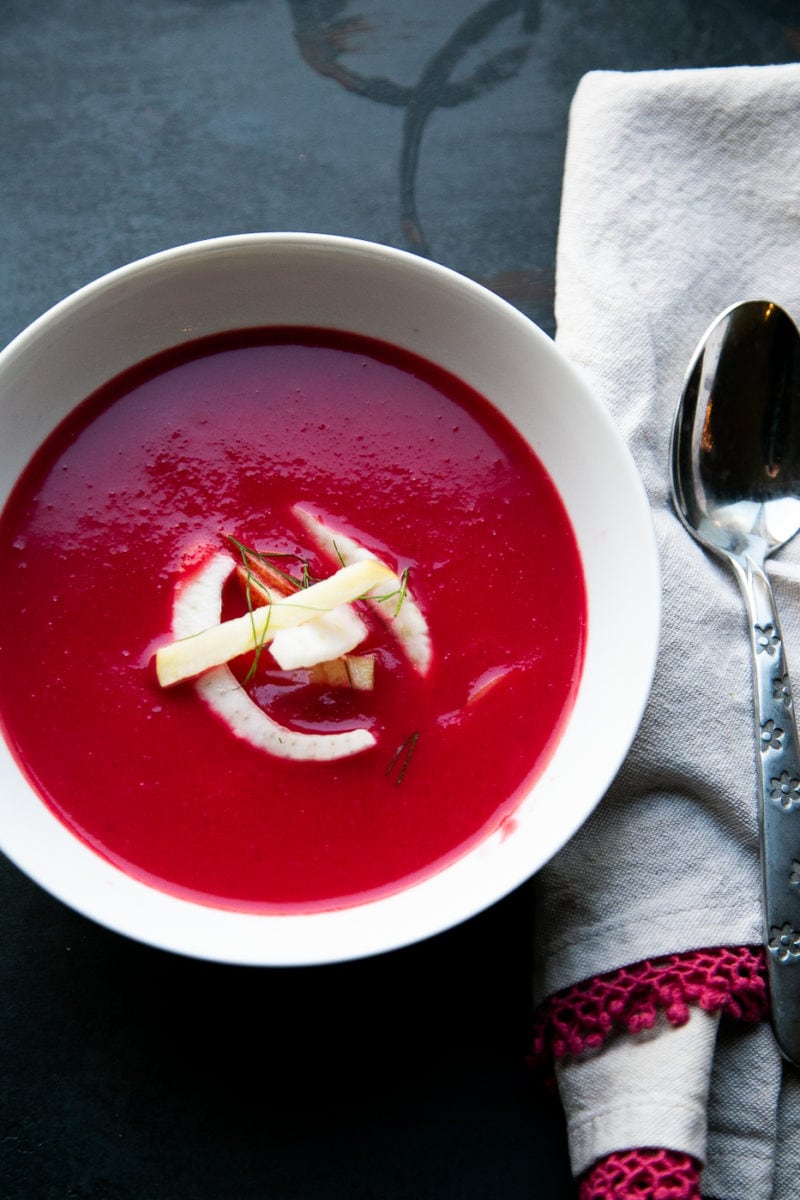 Special Diet Notes: Recipe is paleo & Whole30 friendly. Use vegetable broth to make it vegan.
Prep Ahead: No advanced prep is needed!
Substitutions/Notes: Add some rotisserie chicken for some extra protein.
THURSDAY:
Crispy Skillet Salmon with Lemon Dill Caper Sauce – This fresh and flavorful dinner recipe covers all the flavor bases! Guaranteed, even the salmon averse will love it! This easy meal takes less than 30 minutes to prepare.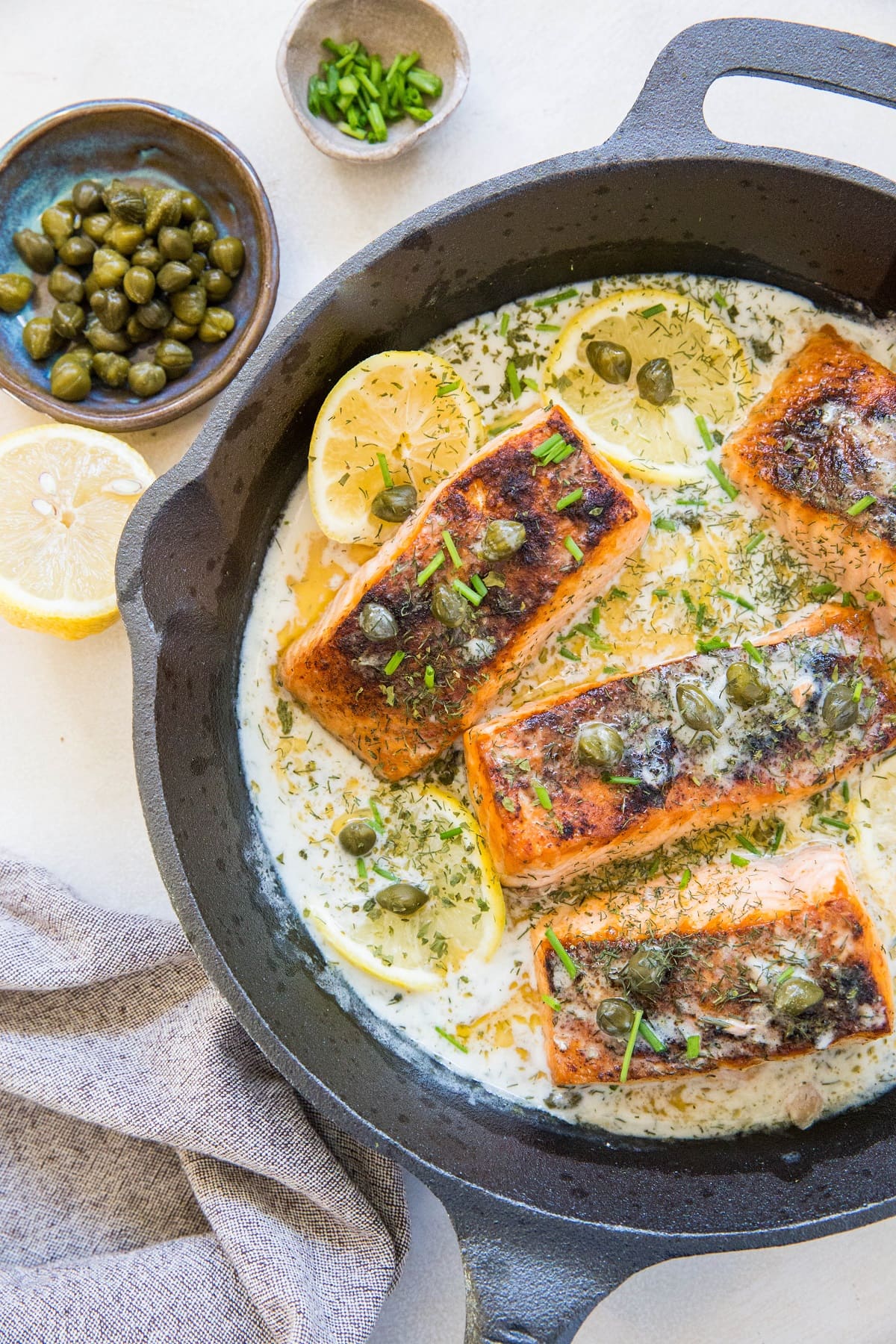 Special Diet Notes: This recipe is paleo, keto, and whole30! Make it Low-FODMAP by omitting the garlic.
Prep Ahead: No advance prep is needed, as the recipe comes together quickly and is best when served fresh!
Substitutions/Notes: Add in some fresh basil, onion, artichoke hearts, and/or sun-dried tomatoes if you'd like. Swap the salmon for your favorite fish – halibut and cod work great too!
FRIDAY:
Chicken Rice & Mushroom Skillet – An easy one-pot meal that is simply scrumptious! Tender chicken, sautéed mushrooms and the most flavorful rice make this lovely dish an absolute dream.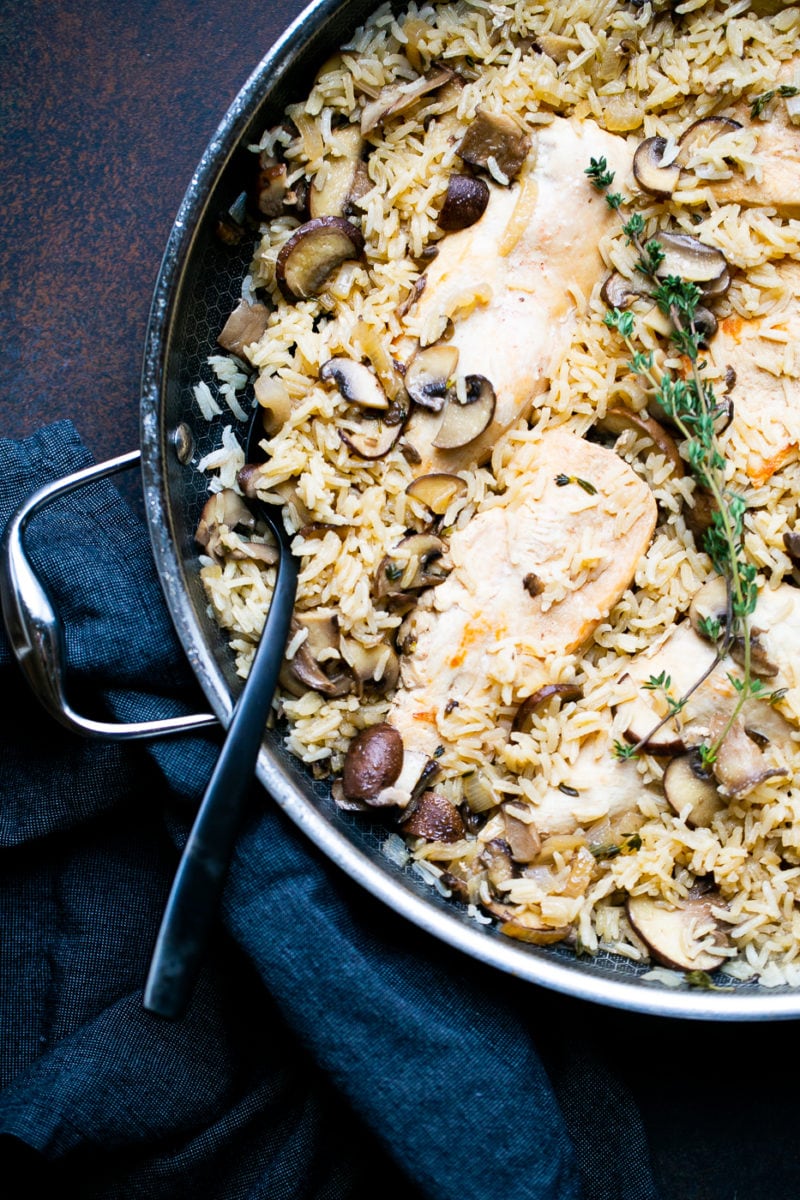 Special Diet Notes: Recipe is gluten-free and dairy-free.
Prep Ahead: No prep ahead needed.
Substitutions/Notes: If you don't eat rice, swap it out for quinoa.
DESSERT:
Paleo Blueberry Coffee Cake – Moist, fluffy, cinnamony paleo blueberry coffee cake made with coconut flour, almond flour, and pure maple syrup. This flavorful cake is perfectly healthy for breakfast, yet sinfully taste enough to enjoy as dessert!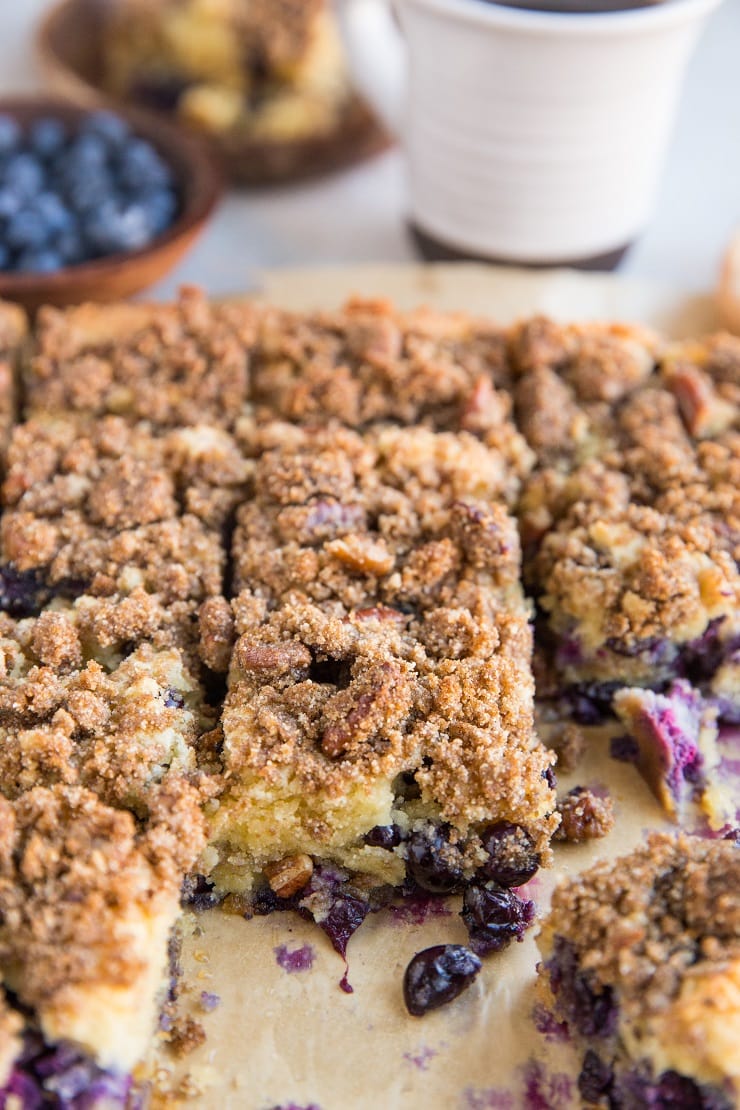 Special Diet Notes: This yummy coffee cake recipe is Paleo!
Prep Ahead: Nothing needs to be prepared ahead of time.
Substitutions/Notes: I don't recommend swapping out the coconut flour for anything else, as the recipe is designed to accommodate the massive absorbency of coconut flour. The rest of the recipe will need to be changed when using a different flour. For almond flour only, follow my Almond Flour Coffee Cake recipe.
GROCERY LIST:
Click HERE to print this week's grocery list!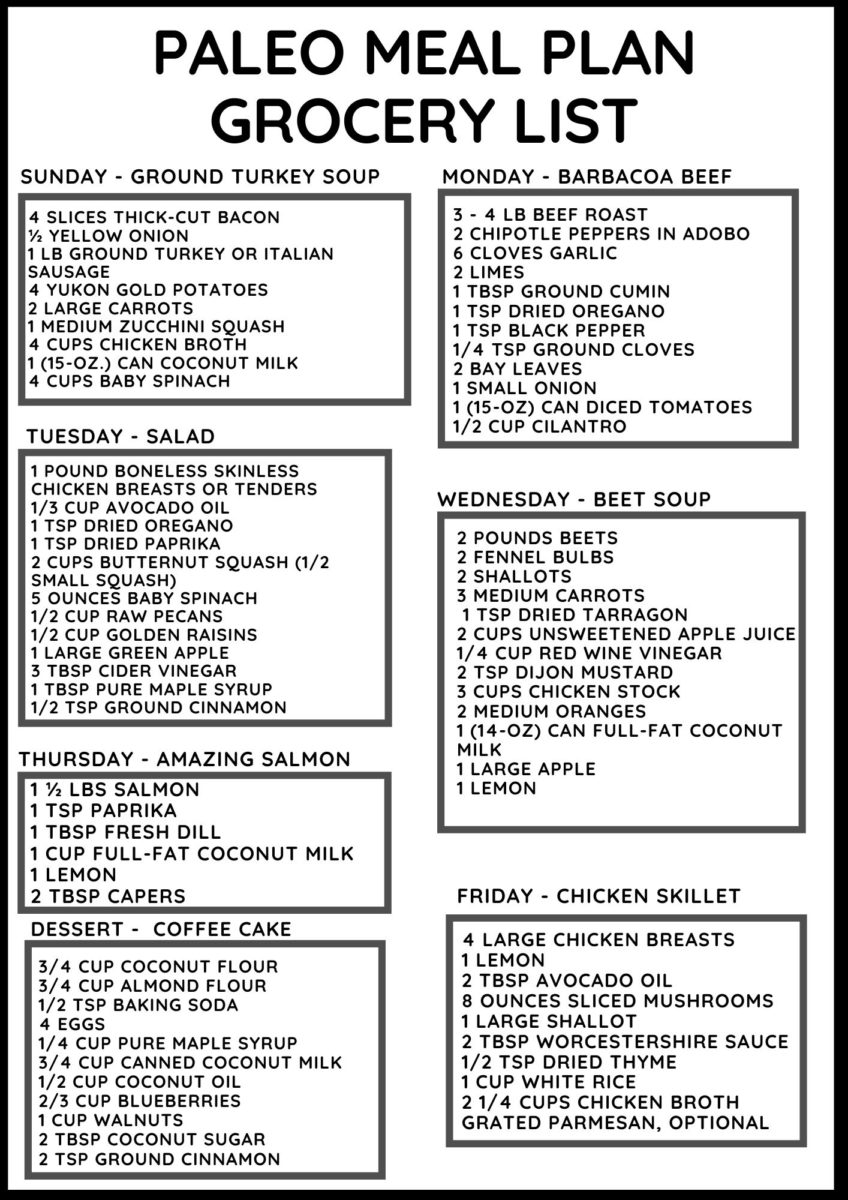 Enjoy!
xo
Previous Paleo Meal Plans: