Tangy, citrusy Orange Butter Lemon Salmon is easy to make and so big on flavor! This easy pan-cooked salmon recipe requires less than 30 minutes to prepare and is a delicious paleo, low-carb, keto main entrée.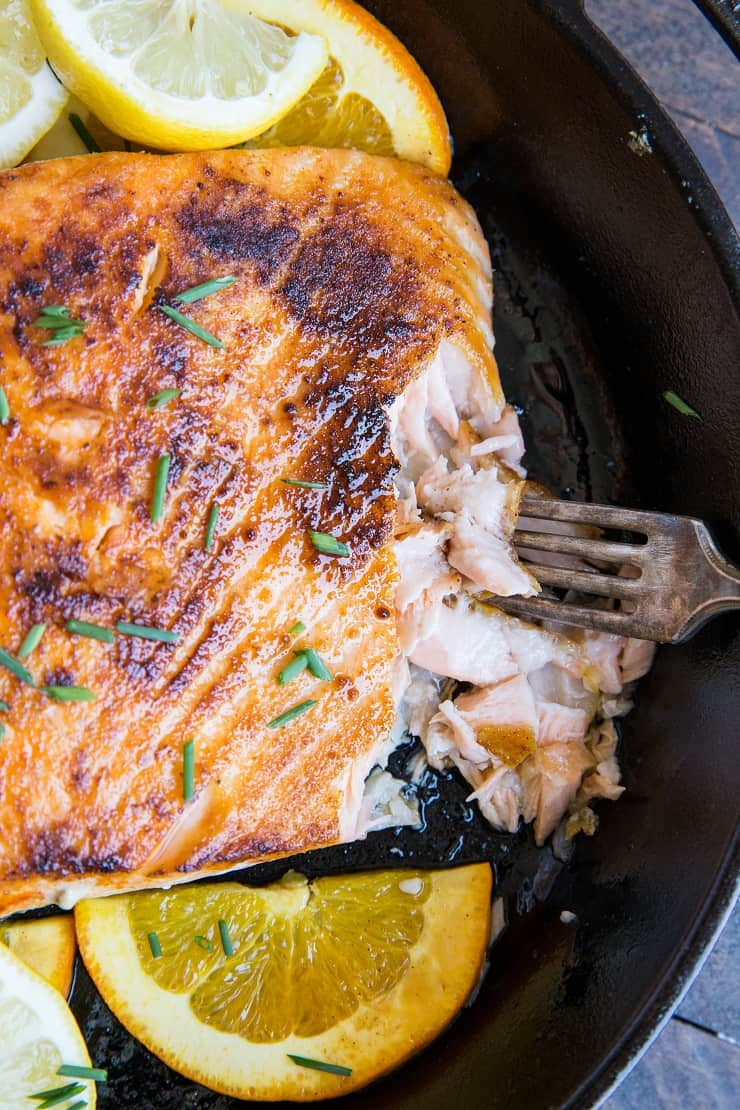 Looking for a healthy, simply low-carb entrée?
This orange butter honey lemon salmon is quick and easy to prepare in your cast iron skillet. It makes the perfect clean weeknight or date night meal.
I've been so focused on grilling or baking salmon that it's been quite a long time since I've made it on the stove top.
Prepared via pan-searing in your cast iron skillet, this salmon turns out perfectly crispy with nice buttery citrus flavor.
At a minimum, you only need 4 ingredients: salmon, orange juice, lemon juice, and ghee (or butter).
Of course, there's always room for improvisation, using your favorite spices and herbs. I like to sprinkle the salmon with paprika and ground ginger for some extra flavor and sometimes I add honey to the sauce to give it added sweetness.
How to Make Orange Butter Lemon Salmon:
We simply heat the ghee in a cast iron skillet. While the ghee is heating, sprinkle the salmon with sea salt and choice of spices.
Stir together the lemon juice, melted ghee and orange juice in a small bowl.
Place the salmon skin-side down on the hot cast iron skillet and cook 3 to 5 minutes, until crispy. Carefully flip the salmon and cook 6 to 7 minutes. Flip one more time (back to the skin side) and cook 2 to 3 minutes, until salmon is cooked through and reaches desired level of crisp.
Remove salmon from heat and pour the citrus sauce over it. It should steam up and burn off fairly quickly.
Serve salmon with lemon and orange wedges and some chopped chives for an amazing main event.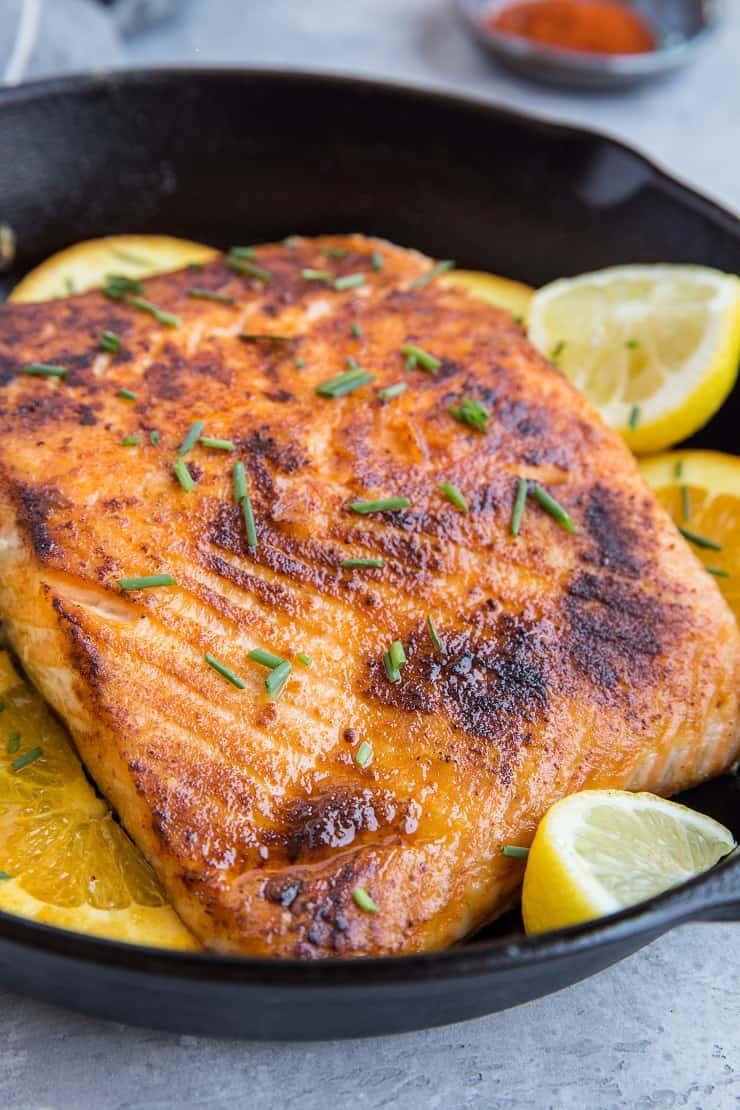 Recipe Adaptations:
Season the salmon with your favorite dried herbs and spices.

Replace ghee with avocado oil, or almond oil (I avoid using olive oil when I'm cooking at high temperatures).

Go all-orange or all-lemon for the sauce portion of this recipe. You can also get crazy creative and use pomegranate juice, beet juice, or even mango/pineapple juice.

Add 1 Tbsp of honey or pure maple syrup to the sauce to additional sweetness. Note: if you make this addition, the recipe will no longer be keto or Whole30

Make it all in the oven by broiling on high for 10-15 minutes (depending on thickness of fish).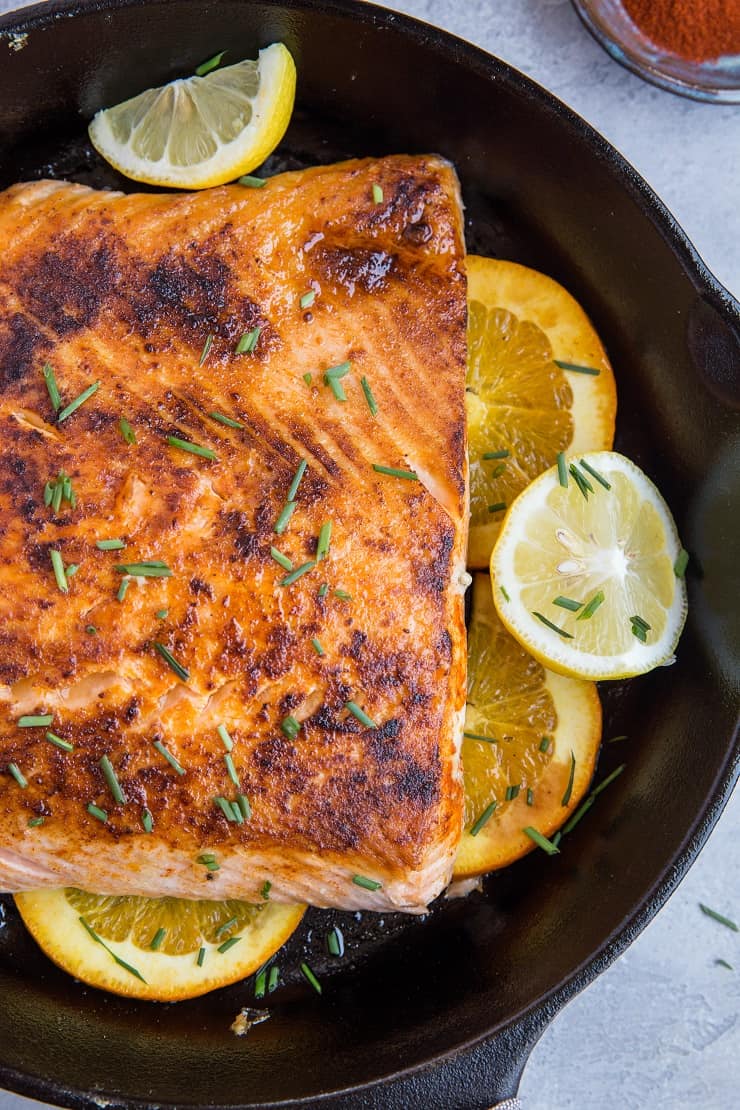 Serving Options:
Side dish options? I thought you'd never ask! Here are some of my recommendations for side dishes you can consume with this lemon salmon:
Enjoy your pan-seared buttery lemon salmon!
My cookbook,
Paleo Power Bowls
, is now available! CLICK HERE to check it out. Thank you for your support!
If you make this Orange Butter Lemon Salmon, please feel free to share a photo and tag @The.Roasted.Root on Instagram!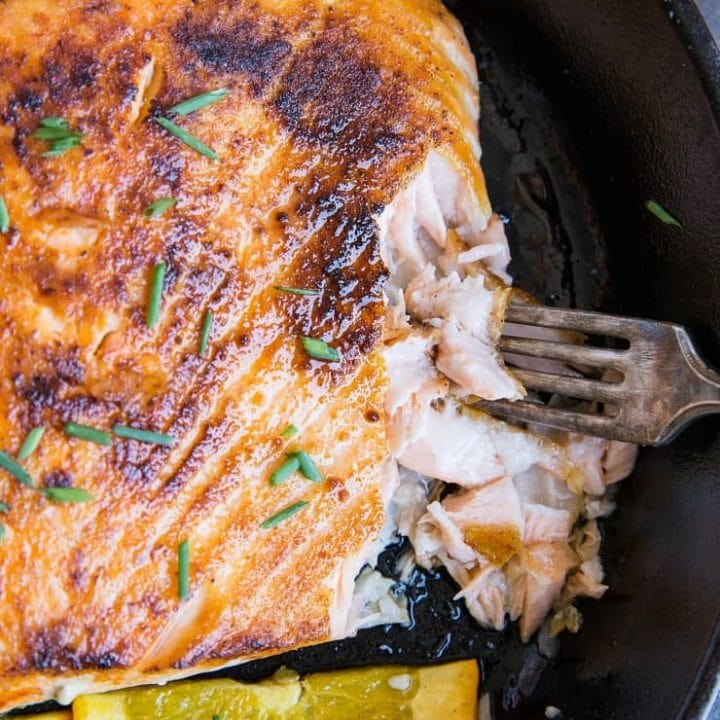 Orange Butter Lemon Salmon
Easy crispy, zesty salmon is sure to win over the whole family!
Ingredients
For the Salmon:
Orange Butter Lemon Sauce:
2 Tbsp orange juice
1 Tbsp lemon juice
Instructions
Heat the oil in a cast iron skillet over medium heat. While oil is heating, sprinkle the salmon with paprika, ground ginger, and sea salt (or choice of spices/herbs). Stir together the ingredients for the citrus butter sauce in a small bowl or jar.
Carefully place the salmon on the skillet skin-side down. Cook until bottom turns golden brown and crispy, about 4 minutes.
Reduce the heat to medium-low and carefully flip the salmon to the flesh side. Cook an additional 3 to 4 minutes, until salmon is cooked-through.
Remove salmon from heat and pour the sauce over the salmon - this will generate some steam, so do this step carefully. Allow salmon to sit until much of the sauce has evaporated.
Serve salmon with choice of side dishes.
Nutrition Information
Yield

2
Serving Size

1 of 2
Amount Per Serving
Calories

340
Unsaturated Fat

0g
Carbohydrates

16g
Protein

48g