This Paleo Weekly Meal Plan includes whole30 and keto options, and is a whole food based meal plan perfect for those looking to eat clean throughout the week. Complete with a printable grocery list, these meal plans are designed to make life easy and nourishing!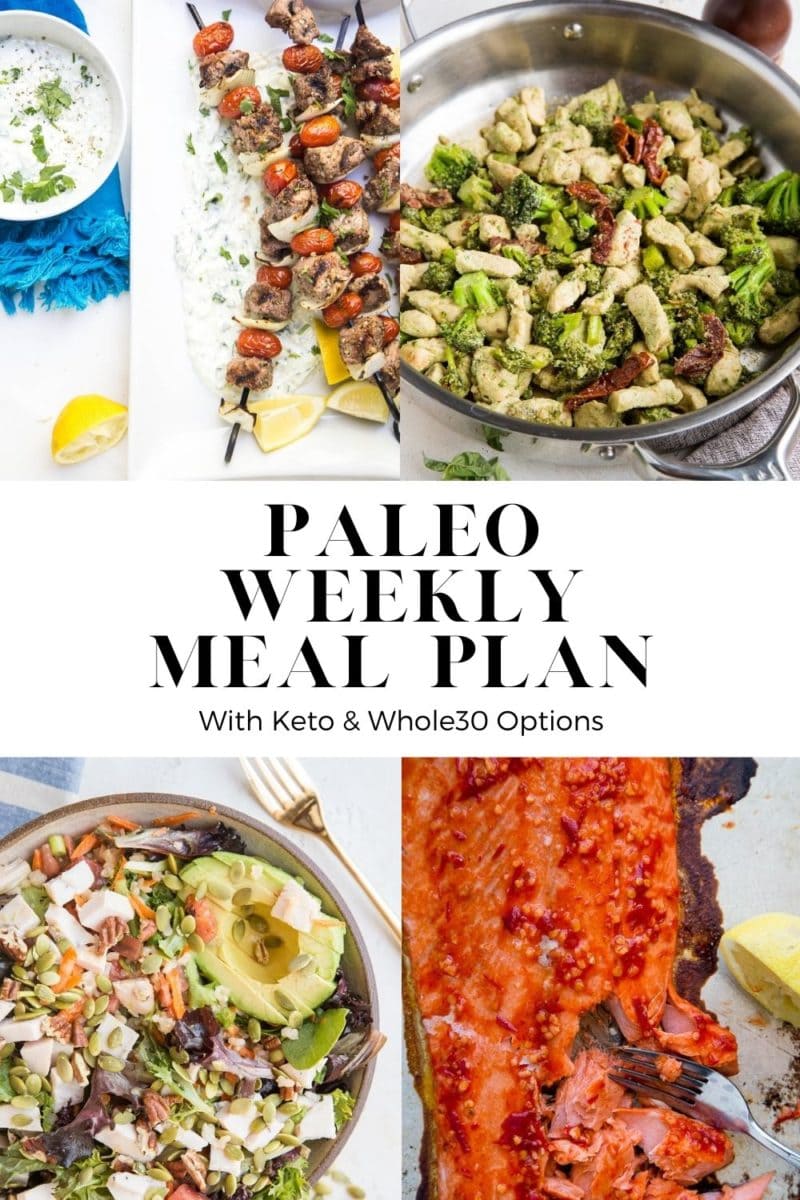 Keeping things fresh and springy, we have some seriously easy, light yet nourishing meals to take you to flavor town this week!
We're in that iconic Spring shoulder season here in the Sierras where one day it's blazing hot and the next day, it's cold, windy, and snowy.
This means I'm toggling back and forth between my go-to salad and my go-to hearty beef and veggies for my meals.
If you're looking for super quick, easy, fresh and flavorful, you've come to the right meal plan! Always seasonally appropriate and loaded with nutrients, these anti-inflammatory meals provide an instant boost to your immune system, not at the expense of enjoyment!
Looking for side dishes to go along with any of these meals? I always recommend My Easy Go-To Stir Fry Vegetables Recipe or my Crowd-Pleasing Roasted Vegetables. Since summer is upon us, my German-Style Potato Salad with Caramelized Onions is a great cold option too!
Be sure to check out my Keto Lemon Poppy Seed Bread I posted a few days ago if you haven't already! It' is FIRE!
And now for this week's menu! I hope you enjoy this week's meal plan.
As always, let me know if you have any questions or requests!
xo
SUNDAY:
Greek Steak Kebabs with Homemade Tzatziki – These steak kebabs are beyond fabulous and only need about 30 minutes of marinating! There's also a dairy-free variation for the tzatziki, so check the recipe notes.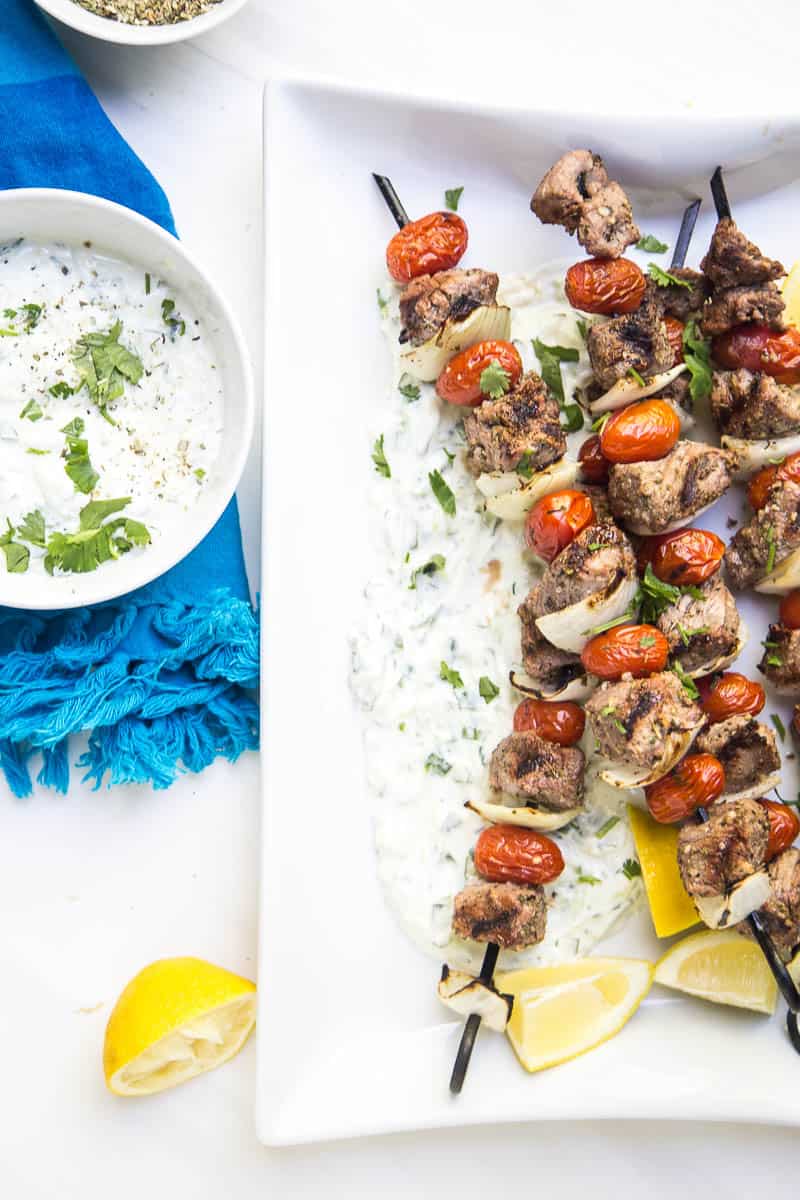 Special Diet: Recipe is primal and low carb.
Prep Ahead: Marinate the steak and make the tzatziki the day before to save time.
Substitutions/Notes: If you're dairy-free, use a mixture of homemade mayo and coconut/almond milk in place of the yogurt.
MONDAY:
Pesto Chicken and Broccoli – The quickest Pesto Chicken and Broccoli recipe made in 5 seconds flat! Okay, maybe not 5 seconds, but this meal comes together in a flash!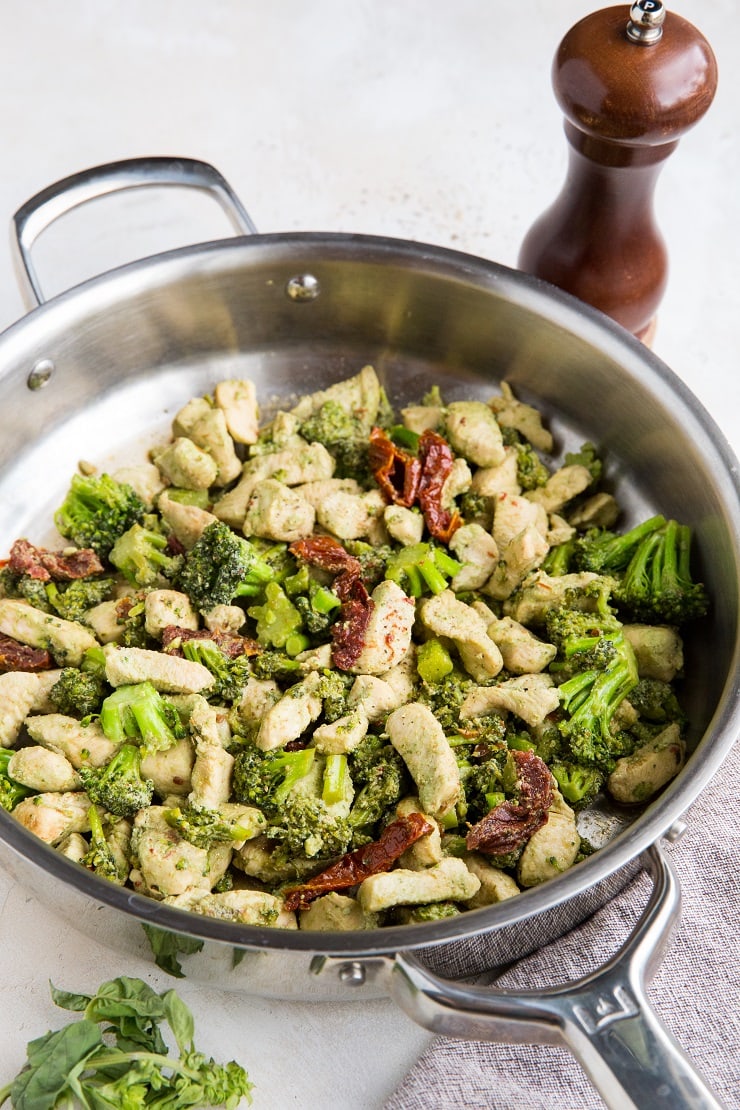 Special Diet Notes: Recipe is low-carb/keto. It can be made paleo and whole30 by using dairy-free pesto sauce.
Prep Ahead: Chicken and broccoli can be marinated up to 24 hours in advance.
Substitutions/Notes: Serve it up with choice of steamed rice, cauliflower rice, or zoodles.
TUESDAY:
Sweet Kale Salad – This is a from-scratch version of the beloved Sweet Kale Salad sold at Costco — with a much cleaner dressing!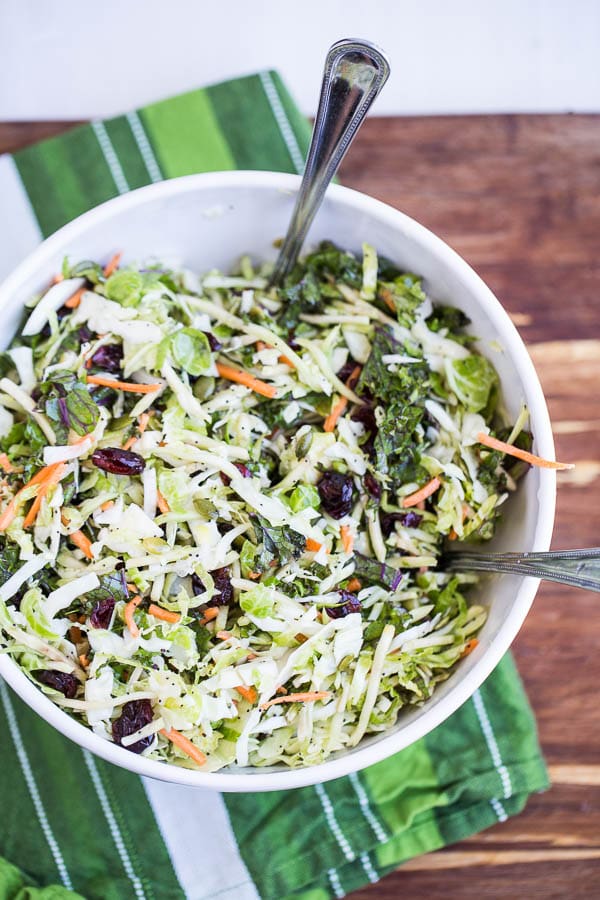 Special Diet Notes: Recipe is paleo.
Prep Ahead: This salad can be made 2-3 days in advance. The dressing alone can be made a couple of days ahead, too.
Substitutions/Notes: Replace the honey with a low-carb sweetener to make this salad low-carb friendly. You can also serve it with some leftover protein or some pre-cooked sausages cooked on the grill.
WEDNESDAY:
Thai Zucchini Noodles with Sesame Almond Ginger Sauce – Thai zucchini noodles with bell pepper, cabbage, carrot, cashews, and a sesame almond ginger sauce. This nutritious meal is paleo and vegan and perfect for whipping up any night of the week!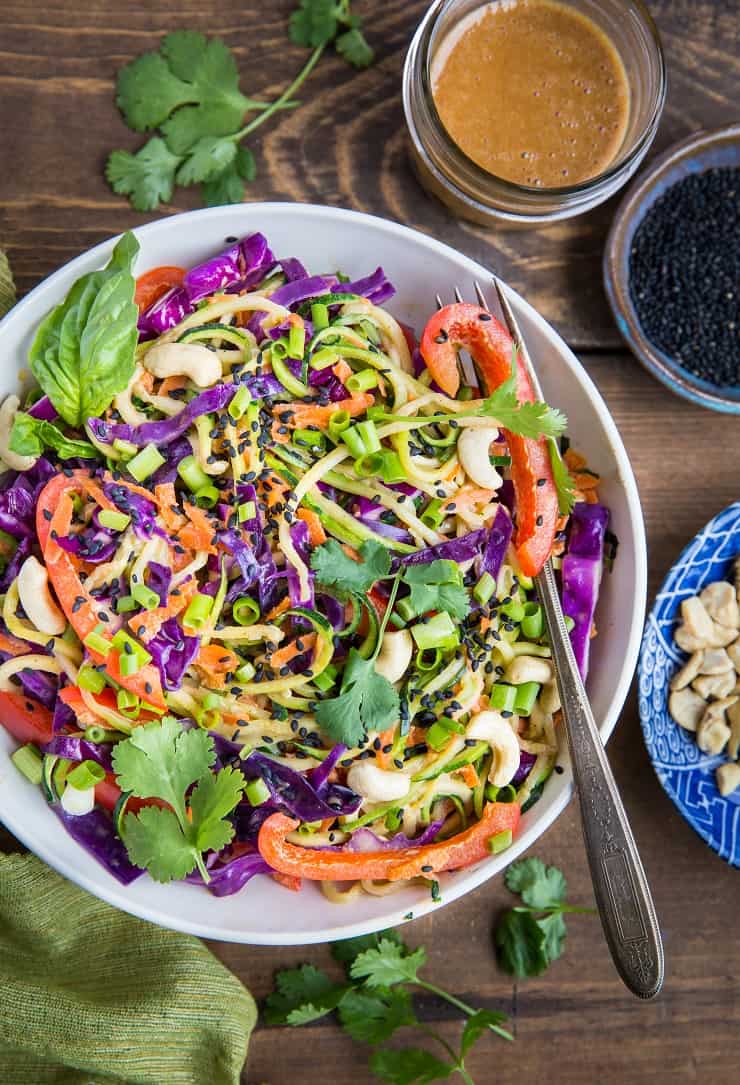 Special Diet Notes: Recipe is vegan, paleo, whole30 and low-carb.
Prep Ahead: No advance prep is needed.
Substitutions/Notes: Add your favorite animal protein (I love broiled salmon with these noodles) or stick with the plant-based version. You can swap the almond butter for creamy peanut butter if you'd like!
THURSDAY:
5-Ingredient Harissa Roasted Salmon – This spicy Harissa Roasted Salmon is a summertime favorite! There are only 5 ingredients and you can make it on the grill, too. Perfect for paleo, keto, and Whole30 eaters.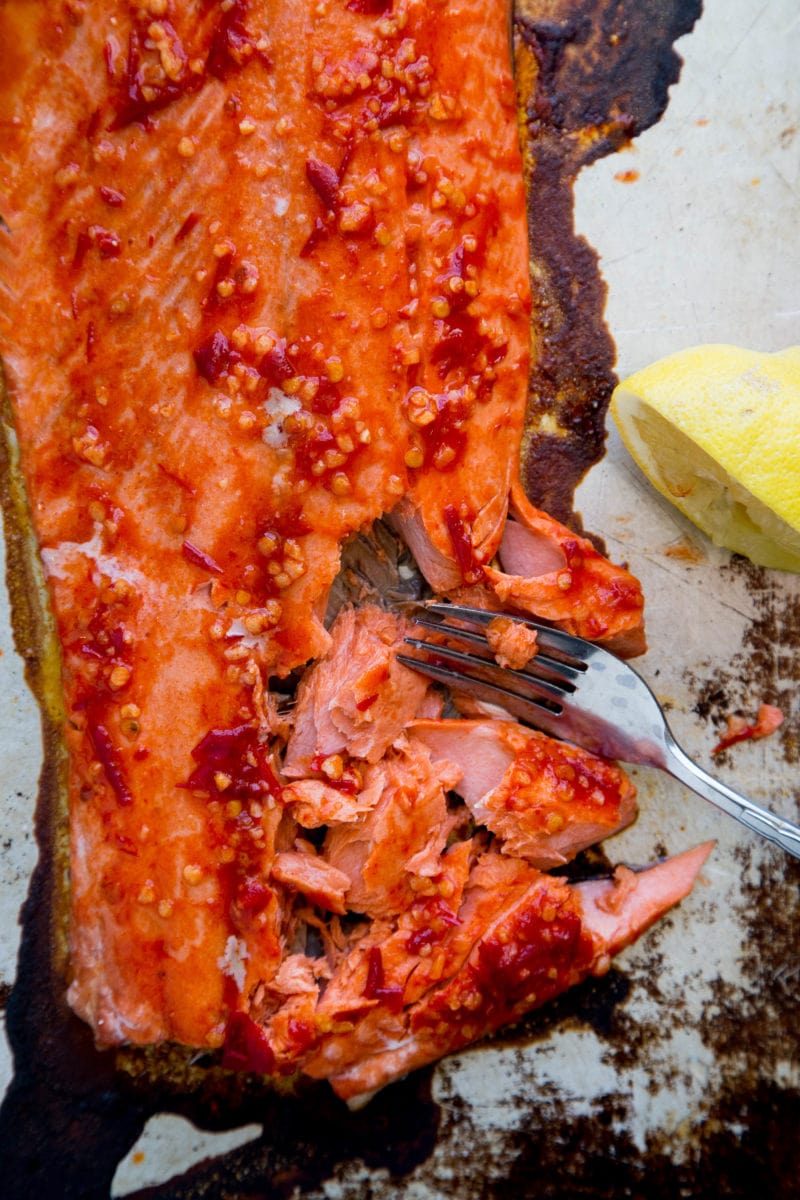 Special Diet Notes: Recipe is paleo and keto friendly.
Prep Ahead: No advance prep necessary.
Substitutions/Notes: Roast some vegetables on the same pan or another pan or serve the salmon with a green salad.
FRIDAY:
My Current Favorite Salad Recipe – An epic filling entrée salad recipe with roasted chicken, spring greens, avocado, pumpkin seeds, pecans, carrot, heirloom tomato, and green onion, all swaddled in Caesar salad dressing. This easy-to-assemble meal is incredibly satiating and loaded with nutrients!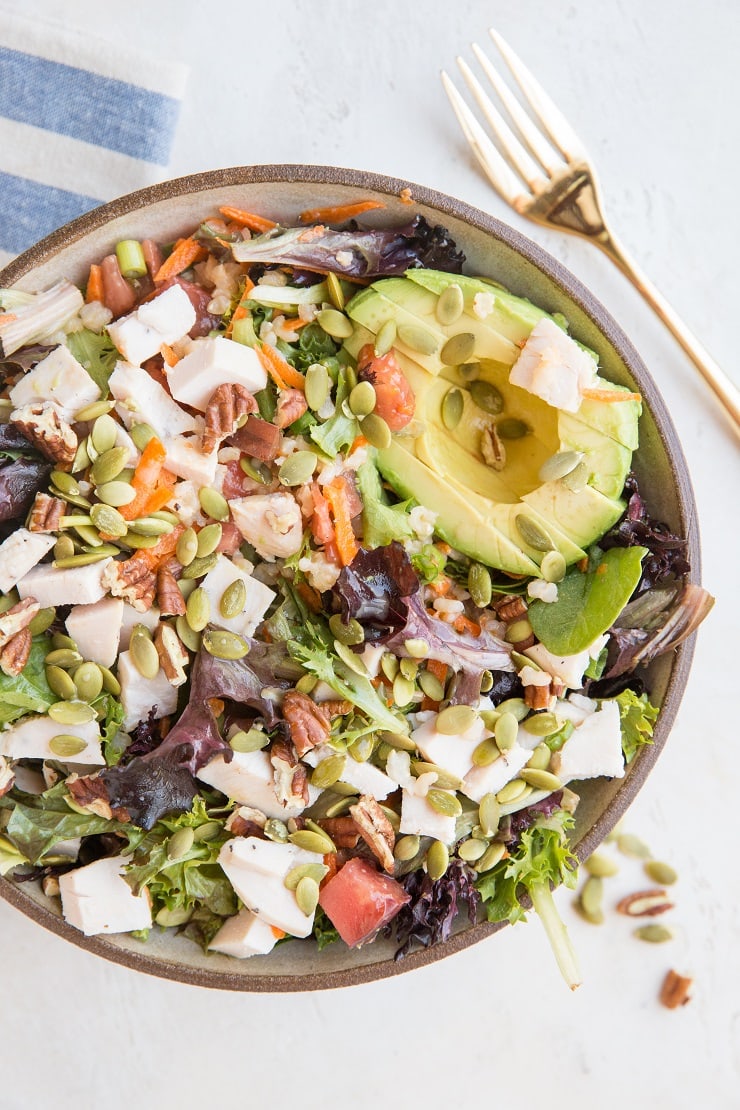 Special Diet Notes: Recipe can be made paleo, whole30, and keto by omitting the brown rice (but it's really good, trust me 😉
Prep Ahead: No advance prep is necessary! If you're making your own salad dressing, that can be done up to 5 days in advance.
Substitutions/Notes: Add in your favorite veggies, nuts, seeds, dried fruit, feta cheese, etc. Swap out the chicken for your favorite animal protein or leave it out for a plant-based meal.
DESSERT:
Paleo Samoa Cookie Bars – Sweet heaven, would you look at these?!! These chewy, caramel-topped cookie bars are a paleo version of the famous Girl Scout Samoa cookies! They're also nut-free.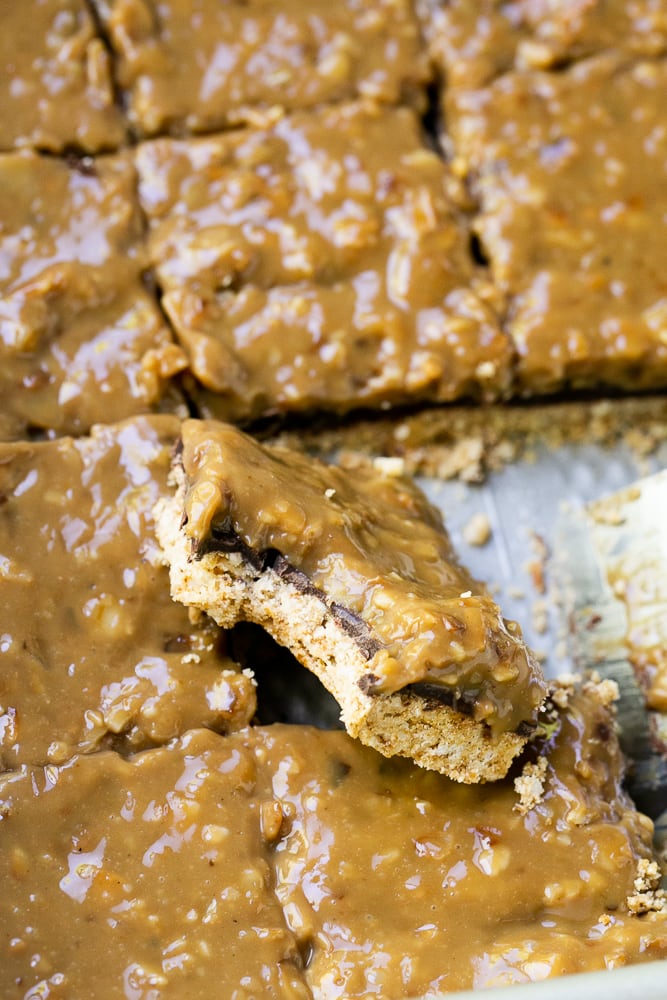 Special Diet Notes: Recipe is paleo and nut-free.
Prep Ahead: You can make the caramel sauce and bake the crust ahead of time if needed.
Substitutions/Notes: Use almond flour instead of cassava flour if you'd like. A 1:1 replacement will work great across most brands, but you may need to add a tad more almond flour if needed.
GROCERY LIST:
Click HERE to print this week's grocery list!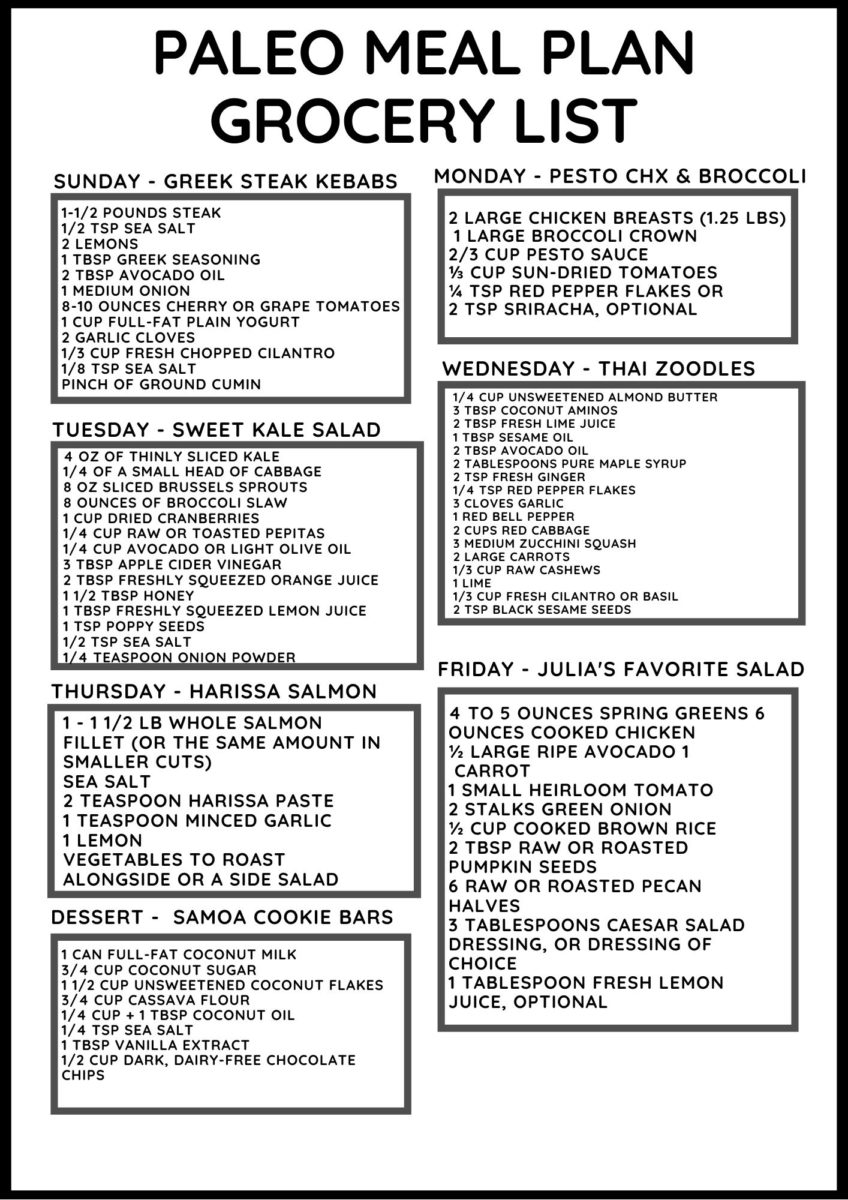 Enjoy!
xo
Previous Paleo Meal Plans: