A Weekly Meal Plan focused on whole foods that is paleo-centric with whole30 and keto options. Featuring six seasonal dinner recipes and one dessert, and complete with a printable grocery list, these meal plans are designed to make life easy and nourishing!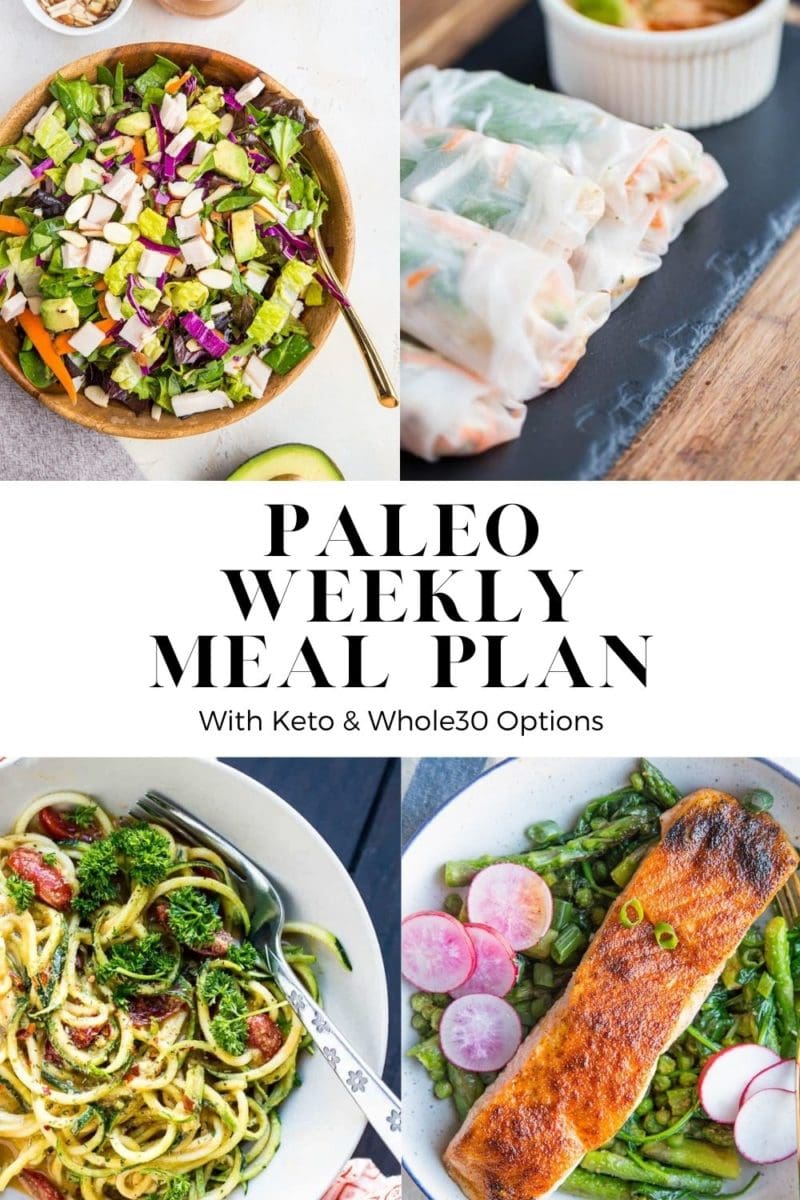 Anyone else craving ALL the fresh vegetables lately?
When the weather begins to warm up, I'm all about variety, color, and crisp spring and summer veggies. This meal plan features plenty of in-season options to re-ignite that flame for produce (or keep it going if it never went out).
If you're looking for sides to go with any of the main entrees, have a gander at my Roasted Vegetables with Garlic Ginger Glaze, or my Roasted Sweet Potato Salad with Spinach and Grapes. Keep it low-carb with my Spanish Cauliflower Rice!
Also, if you haven't checked out my Low-Carb Lemon Cheesecake Bars yet, they've been quite the lil' hit! A perfect creamy no-bake dessert to keep it cool and zesty.
And now for the food! I hope you enjoy this week's meal plan. As always, let me know if you have any questions or requests.
xo
SUNDAY:
Thai Grilled Chicken & "Peanut" Sauce – I love how easy this marinade is to pull together — even during a busy morning! And PLEASE make this "peanut" sauce. It's so SO good and is fabulous over a salad or rice bowl with this grilled chicken and some veggie toppings!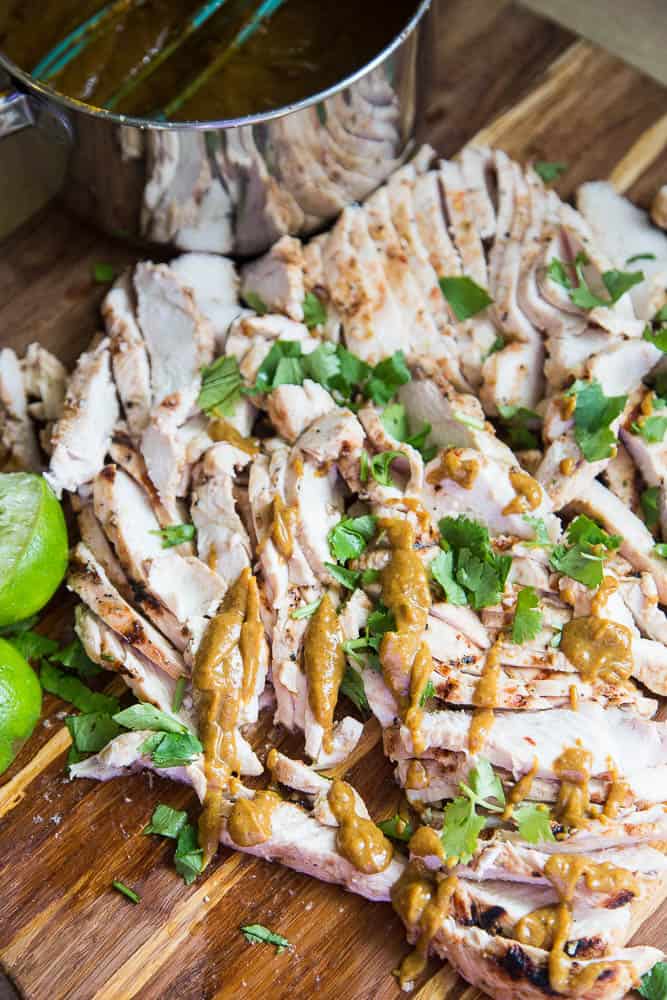 Special Diet: Paleo as is.
Prep Ahead: Marinate the chicken up to 24 hours in advance. You can also make the sauce in advance! Just let it come to room temperature to make it easier to drizzle.
Substitutions/Notes: Use keto-friendly sweeteners to make this low-carb. Omit sweeteners or use pineapple juice to make it Whole30 friendly. Be sure to make enough to have leftovers for Thursday's meal!
MONDAY:
30-Minute Spring Salmon Bowls with Asparagus and Peas – A fresh, vibrant dinner recipe perfect for springtime! These Crispy Salmon Bowls with asparagus and peas celebrate spring produce and are a nutritious low-carb meal and come together lightning QUICK!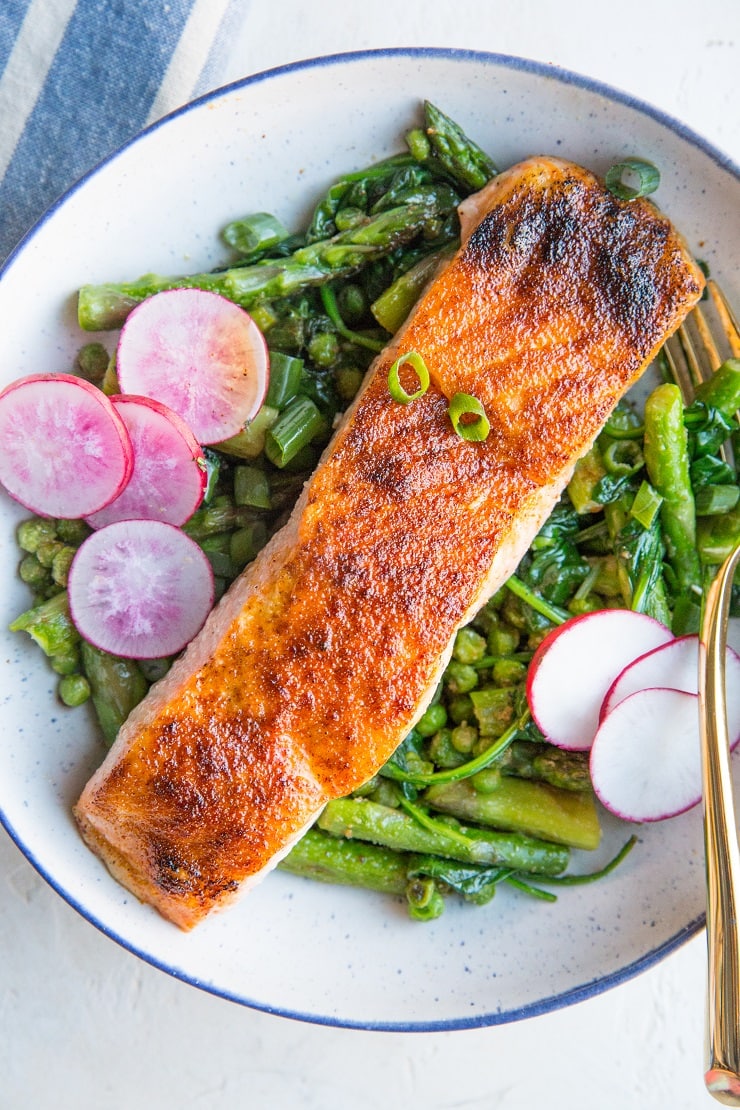 Special Diet Notes: Recipe is keto and can be made paleo and whole30 by replacing the peas with a different vegetable, like broccoli or cauliflower
Prep Ahead: The recipe comes together in 30 minutes or less, so no advance prep is needed!
Substitutions/Notes: Omit the peas to make the recipe whole30 and paleo. Add in your favorite veggies, such as leek, cauliflower, broccoli, etc.
TUESDAY:
5-Minute Cheezy Zucchetti Bowl – Keeping dinner quick, easy, and delicious with this one! This 5-Minute Cheesy Zucchetti Bowl is a great way to eat zoodles and is paleo, low-carb, and vegan!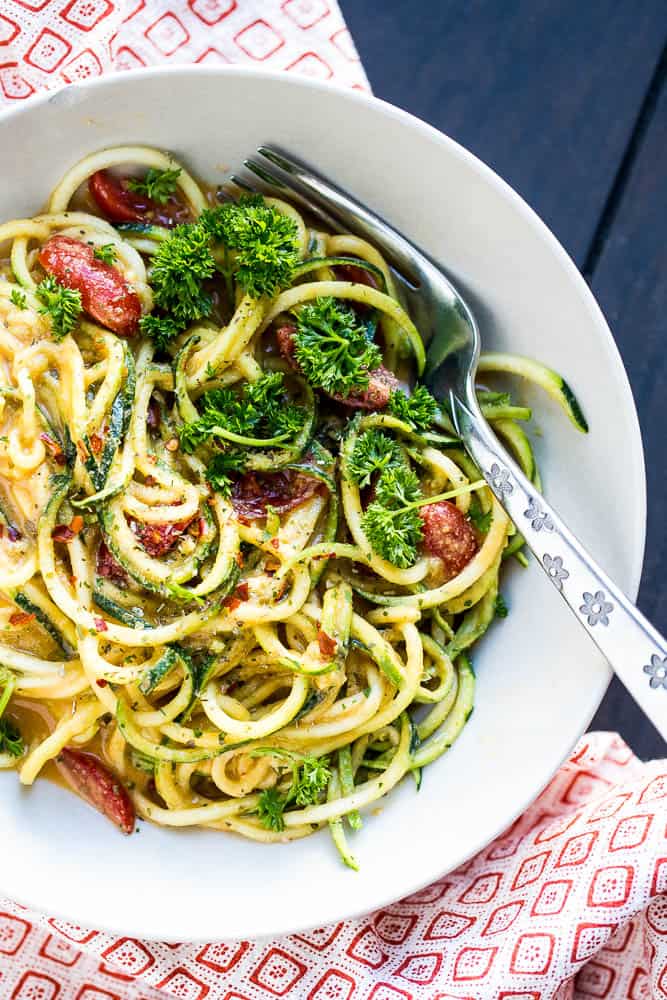 Special Diet Notes: Paleo, Whole30, vegan, & keto friendly as is.
Prep Ahead: Spiralize the zucchini ahead of time or buy some pre-noodled!
Substitutions/Notes: This recipe is for 1 serving. Scale up the ingredients for however many bowls you need to make.
WEDNESDAY:
Instant Pot Pulled Pork with Pineapple – A sweet and savory ultra shredded pork recipe that is perfectly tender! Crisp it up in a frying pan after shredding it for crispy shredded pork!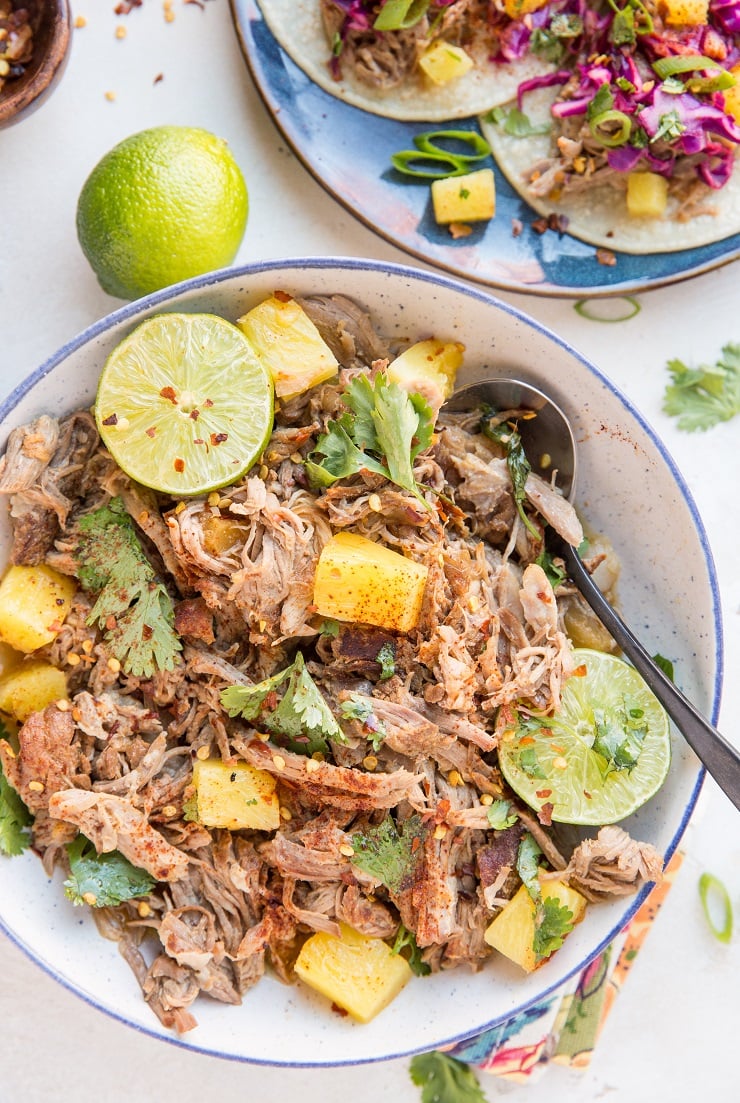 Special Diet Notes: Paleo and whole30.
Prep Ahead: This is a one-pot, set it and forget it adventure, so no advance prep is necessary!
Substitutions/Notes: Use broth instead of apple cider if desired.
THURSDAY:
Thai Chicken Spring Rolls – Thai Chicken Spring Rolls are a light and tasty dinner for a warm summer night, but the real star of this recipe is the "peanut" sauce. It's a Thai-inspired almond butter based sauce that mimics peanut sauce. You'll want to put it on all the things.
Special Diet Notes: If you'd rather make salad bowls out of this and omit the spring roll wrappers, go ahead. They'd be strict paleo.
Prep Ahead: Use leftover chicken & sauce to make this dinner come together quickly!
FRIDAY:
Sesame Turkey Avocado Chopped Salad – Sesame Turkey Avocado Chopped Salad combines delicious fresh vegetables with sliced turkey and an amazing homemade sesame ginger dressing for a crunchy salad that's loaded with goodies. Whip it up for lunch or dinner on repeat!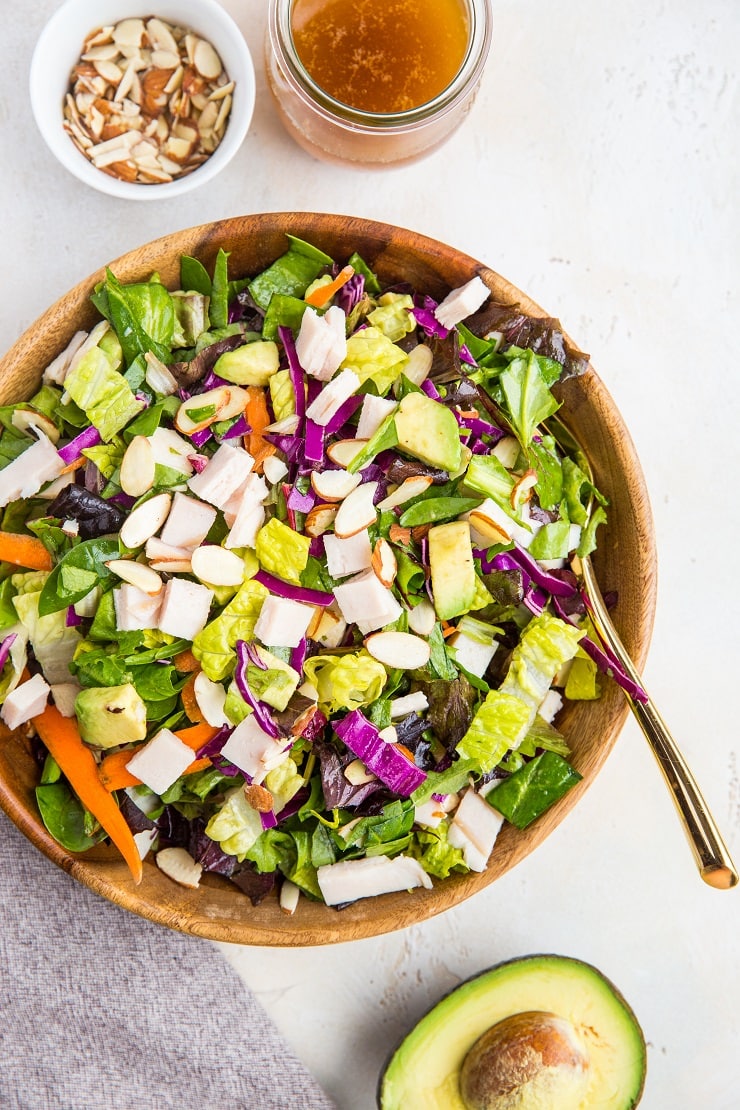 Special Diet Notes: Paleo, whole30, and low-carb!
Prep Ahead: No advance prep is needed, as the salad comes together lightning quick!
Substitutions/Notes: Add in your favorite salad goodies. Feta cheese is amazing in this salad if you do dairy, and fresh blueberries are great too!
DESSERT:
Paleo Cookie Dough Bites – A fun little protein-filled snack that takes just a few minutes to prepare and zero baking! You can make them low-carb or keto if you like by swapping out the sweetener.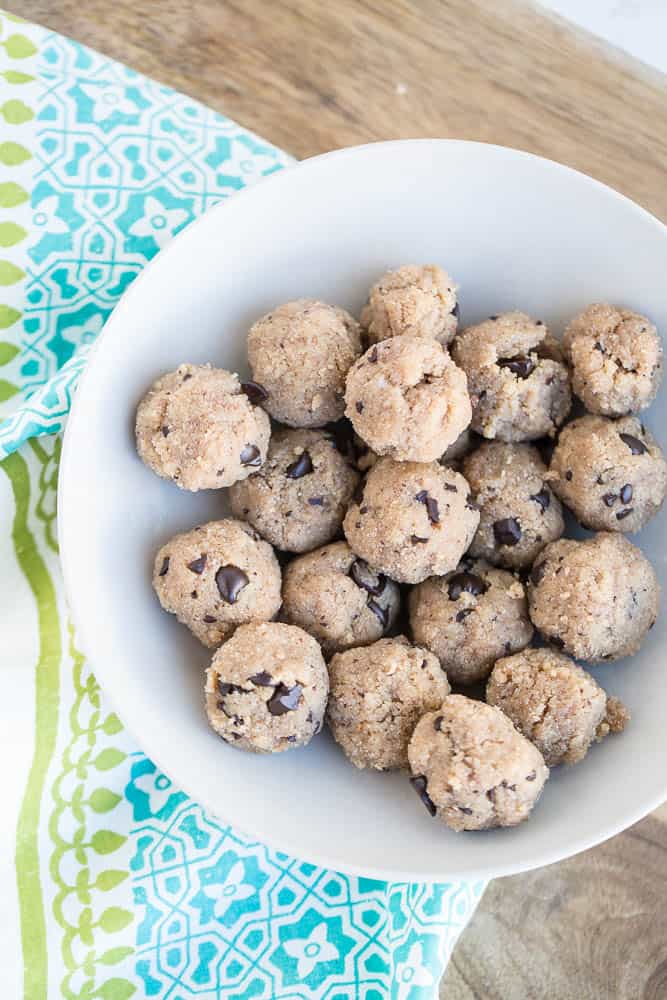 Special Diet Notes: These are paleo as-is. To make them keto, use a low-carb sweetener and stevia-sweetened mini chocolate chips.
Prep Ahead: No need to prep ahead.
Substitutions/Notes: Feel free to use honey instead of maple syrup and any nut butter you like.
GROCERY LIST:
Click HERE to print this week's grocery list!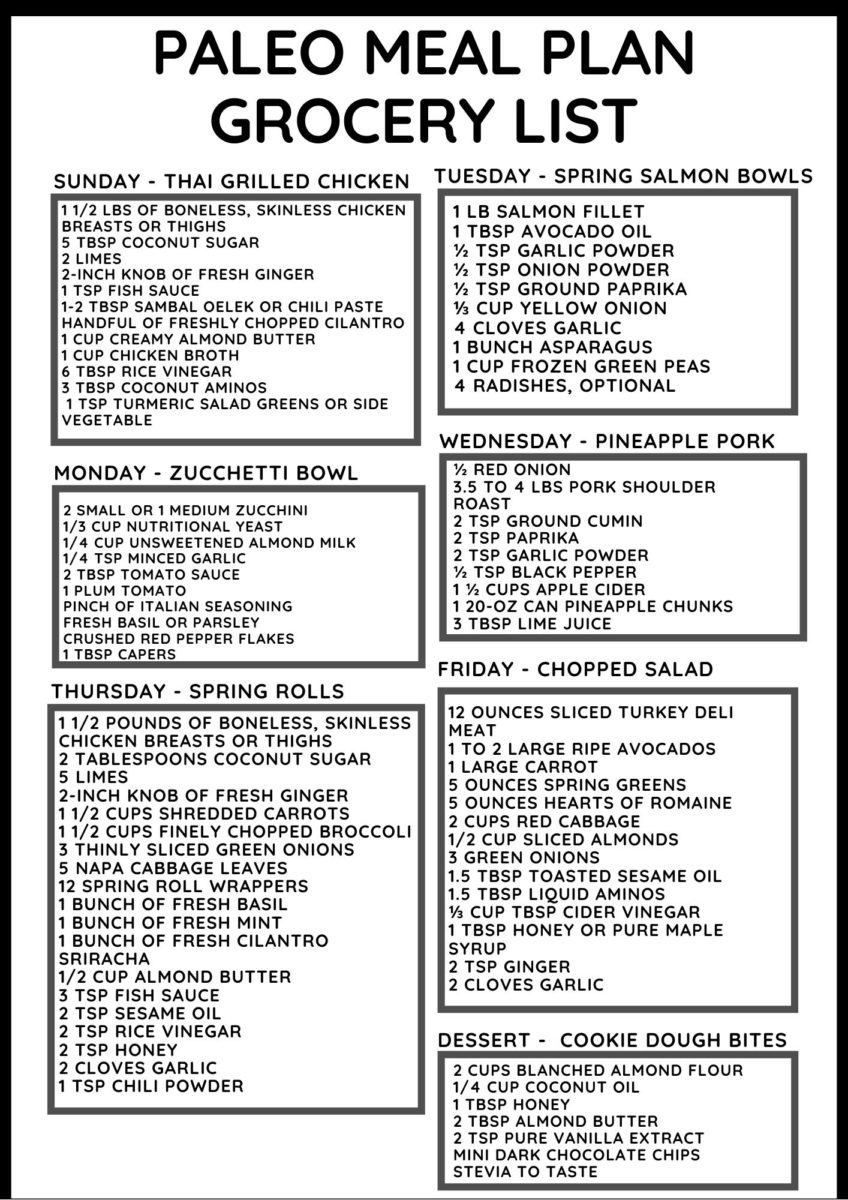 Enjoy!
xo