This week's Paleo Meal Plan features six quick and easy summer dinner recipes and one healthier dessert! Scroll all the way down for a printable grocery list to make meal prepping this week a complete breeze.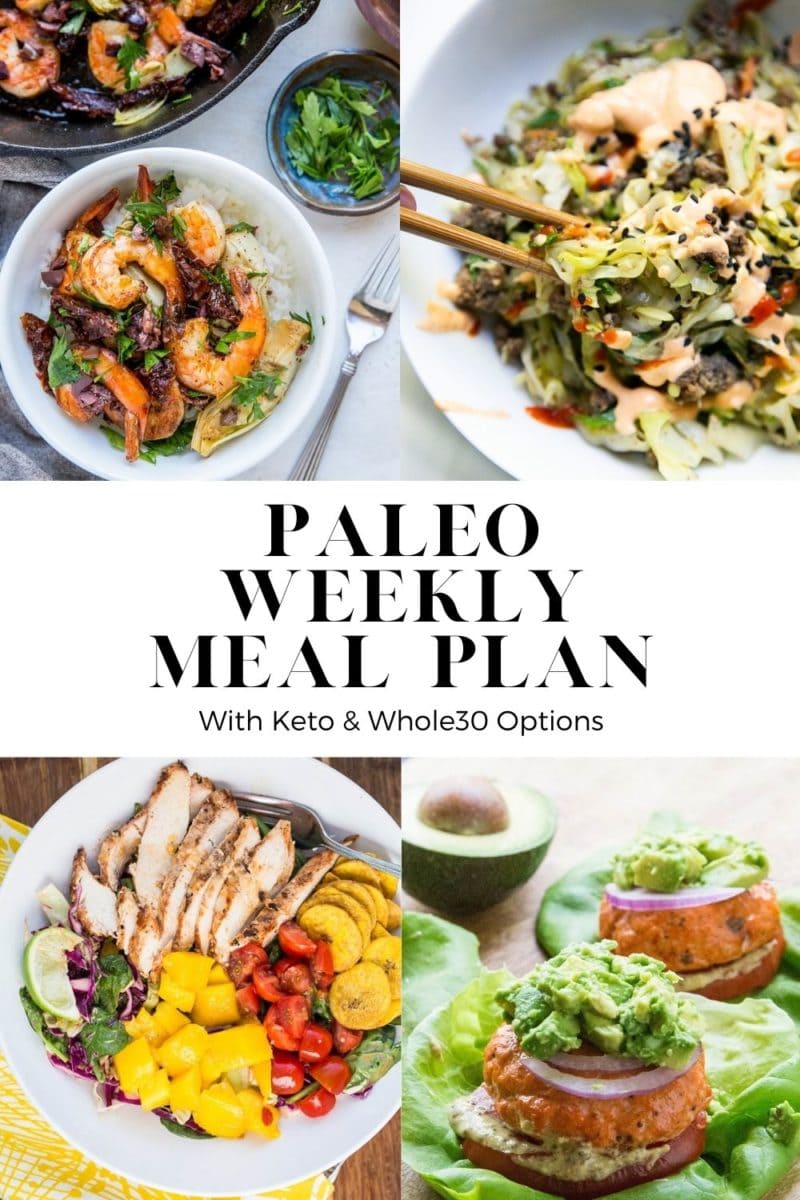 Hey there!
It's been a month since our last meal plan. The summer has been busy, and I imagine you're doing what we're doing and keeping dinner as simple as humanly possible.
Well, we're back with an all-new summer-centric meal plan, full of fresh, crisp salads, and completely breezy meals with fewer ingredients.
The way I see it, we're all keeping busy doing fun summer things and keeping meals super quick in addition to delicious and nutritious is a must.
Do note we have a couple of main entrees only, so you can always serve them with your favorite side dishes. I typically go with sautéed or roasted veggies, but since we're knee deep in summer, an amazing Italian Pasta Salad, Mayo-Free Cole Slaw, or Pea Salad is fabulous too.
Also, if you didn't catch my Keto Cowboy Cookies or my Vegan Paleo Peach Cobbler, be sure to check them out! They've been quite the noise-maker!
And now for the food! I hope you enjoy this week's meal plan. As always, let me know if you have any questions or requests!
xo
SUNDAY:
Grilled Jerk Chicken & Mango Salad – Just a quick rub with some jerk seasoning turns regular grilled chicken into amazeballs grilled jerk chicken! You'll love the colors and flavors and textures in this grilled chicken salad.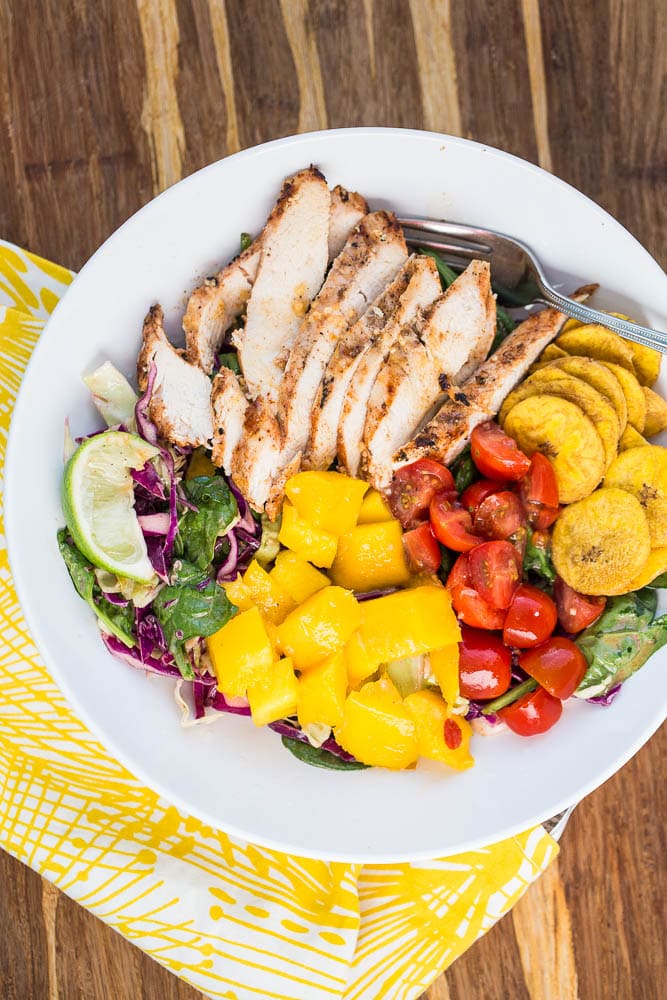 Special Diet: Recipe paleo, Whole30 friendly, and low carb (without the plantain chips).
Prep Ahead: You can marinate the chicken a day or two in advance and prep the dressing a day ahead.
Substitutions/Notes: Use another spicy, flavorful seasoning in place of the jerk seasoning. You can also use fish here instead of chicken — just marinated it up to 4 hours in advance.
MONDAY:
Mediterranean Shrimp Skillet – Quick and easy Mediterranean Shrimp made in a skillet with just 8 fresh, basic ingredients. A deliciously flavorful dinner recipe ready in under 30 minutes!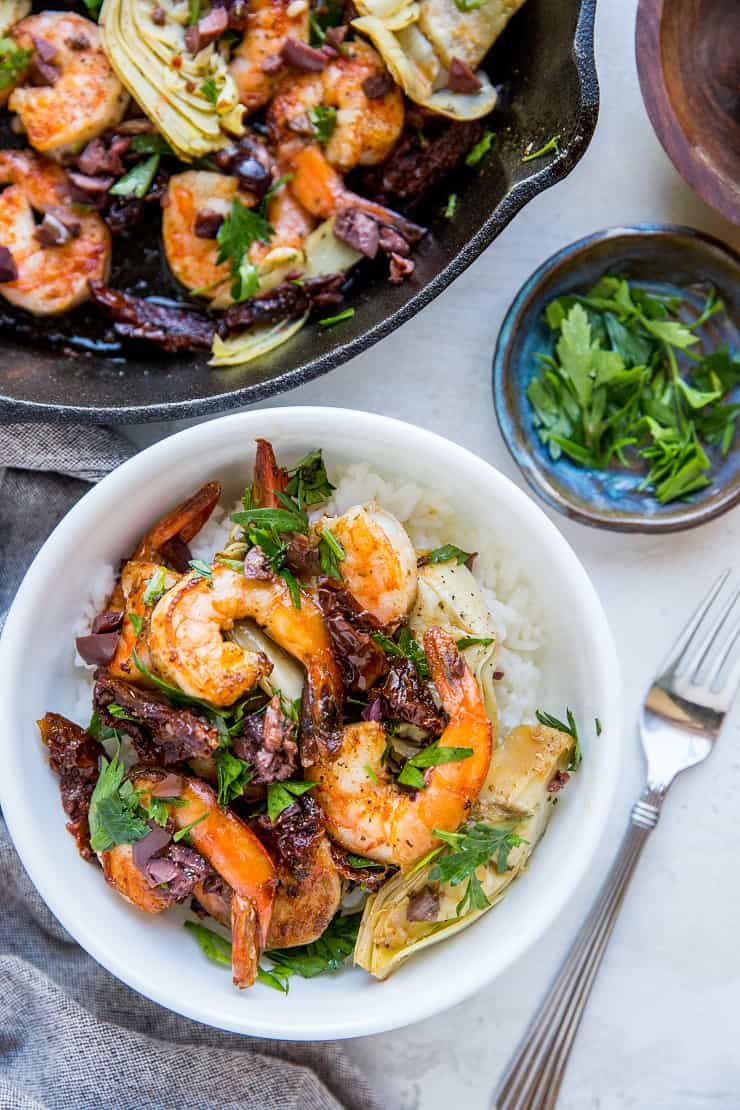 Special Diet Notes: Recipe is paleo, keto, and whole30
Prep Ahead: No advance prep is needed – the recipe comes together in less than 40 minutes!
Substitutions/Notes: Enjoy the dish as is, or serve it up with your choice of cauliflower rice or roasted or sautéed vegetables. Pasta salad or my Greek Potato Salad would be great too!
TUESDAY:
Egg Roll bowls with Sriracha Mayo – Egg Roll in a Bowl is a healthy take on classic Chinese egg rolls without the fried exterior! Spiced ground beef sautéed with loads of fresh veggies are topped with my favorite condiment of all time — 3 ingredient sriracha mayo.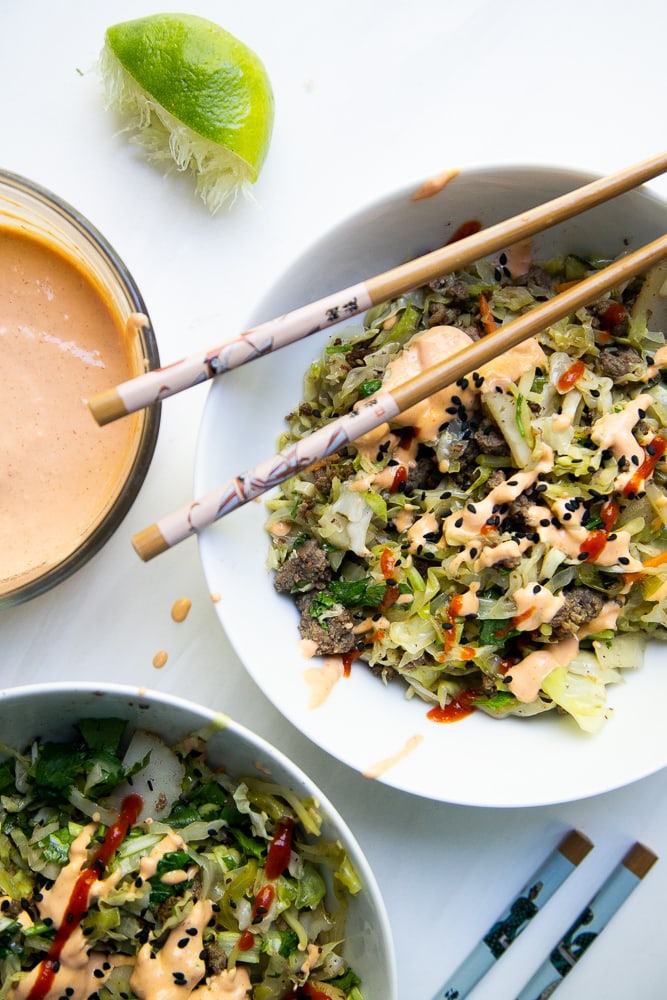 Special Diet Notes: Recipe is paleo. For Whole30, check the ingredients on the sriracha and fish sauce.
Prep Ahead: Cabbage can be shredded ahead of time.
Substitutions/Notes: Use any ground meat you like in this! Substitute the broccoli slaw for some shredded Brussels sprouts or carrots, if you like, too.
WEDNESDAY:
Zucchini and Ground Turkey Skillet – Zucchini and ground turkey skillet with ginger, green onion, baby spinach, coconut aminos and dried herbs adds up to a super clean dinner recipe that comes together in less than 30 minutes!
Special Diet Notes: Recipe is paleo, keto, and whole30! Serve it up as is or enjoy with your favorite side dishes. I always go with an extra side of sautéed veggies or a salad.
Prep Ahead: No advance prep is needed – this recipe comes together lightning fast!
Substitutions/Notes: Use ground beef or chicken instead of turkey. If you do soy, you can replace the coconut aminos with liquid aminos or regular soy sauce. Mix up the dried herbs depending on what you have on hand!
THURSDAY:
Asparagus and Grilled Melon Salad – Have you ever grilled melon? It intensifies and caramelizes the natural sugars and adds a little smokiness. It's divine. I love it in this salad with a punch of heat from the chili paste.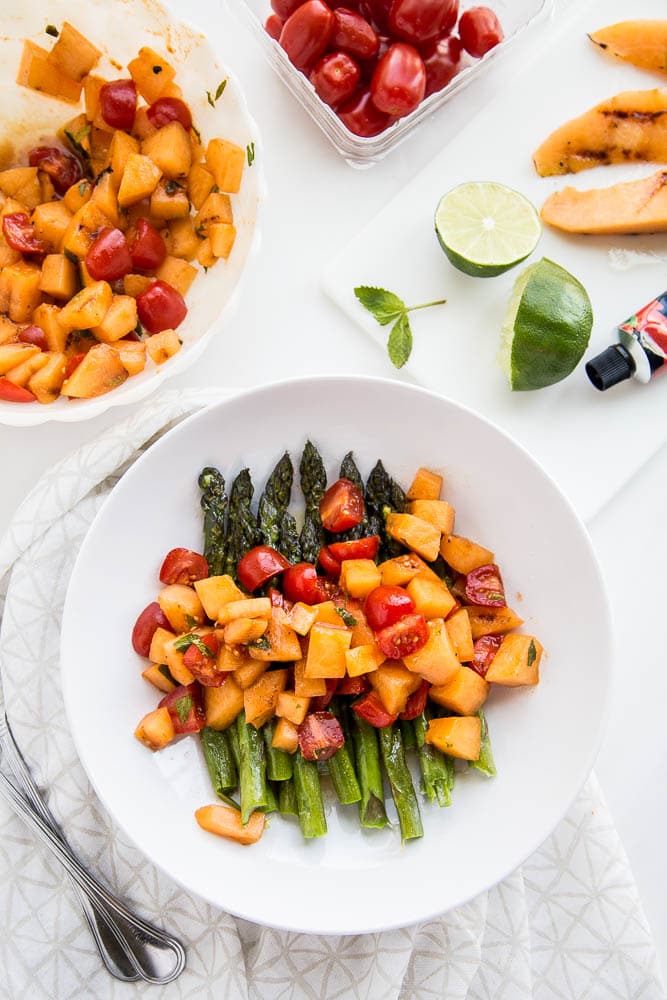 Special Diet Notes: Recipe is paleo — use grass-fed butter if possible. It's also vegetarian.
Prep Ahead: Cut the melon and tomatoes ahead of time.
Substitutions/Notes: Feel free to add some tuna or leftover protein from earlier in the week.
FRIDAY:
Baked Salmon Burgers – Easy baked salmon burgers made with sockeye salmon. Prepare this simple, healthful recipe using fresh salmon in your food processor! Pick up your favorite burger toppings to complete this tasty meal!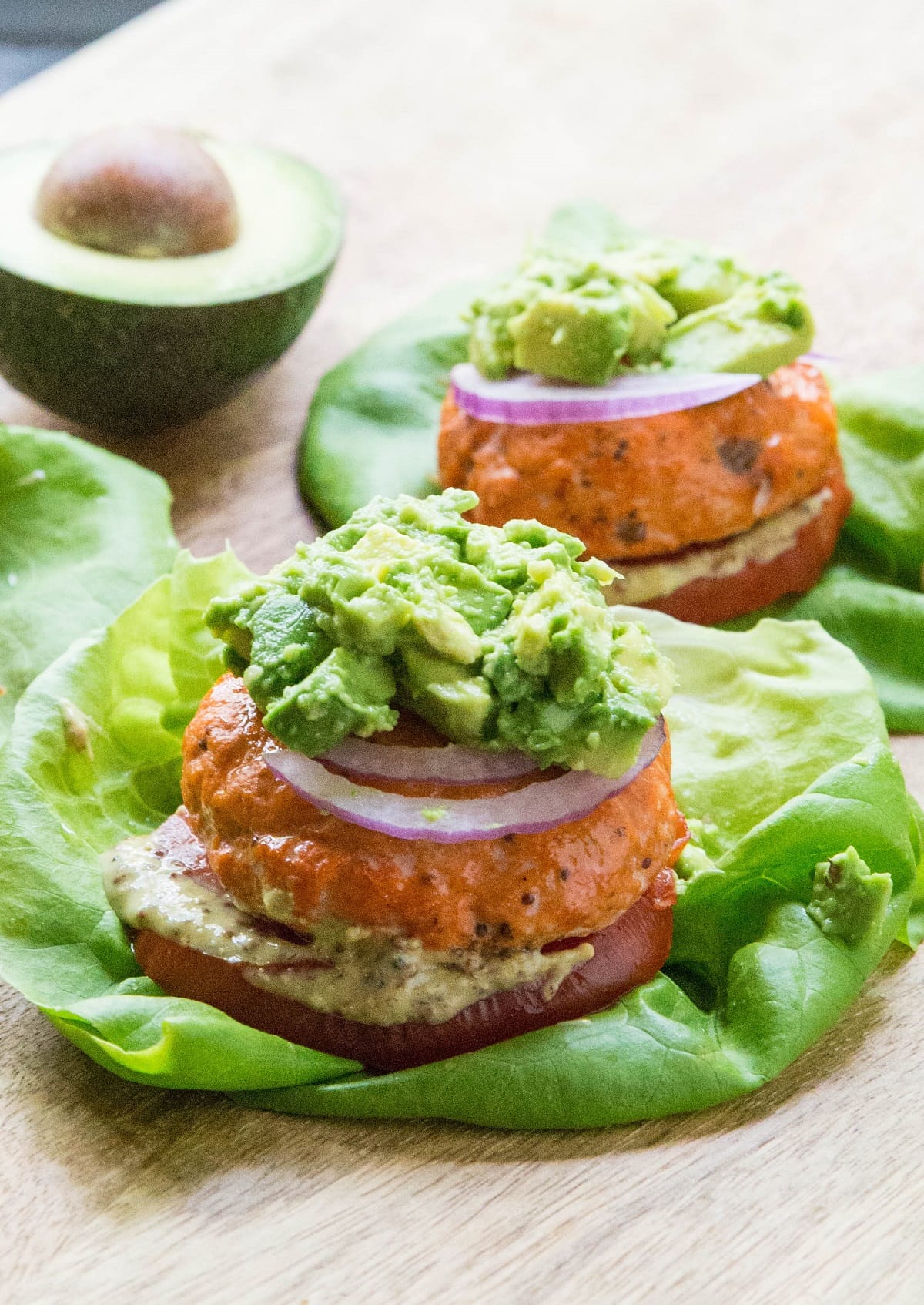 Special Diet Notes: Recipe is paleo, keto, and whole30! Be sure to pick up your favorite burger toppings, such as butter lettuce for lettuce buns (or buns of choice), avocado, tomato, red onion, etc.
Prep Ahead: The burgers come together quickly and are best when served fresh out of the oven – no need to prepare anything in advance 🙂
Substitutions/Notes: Serve the burgers with any additional side dishes. Crispy Sweet Potato Fries are my preference!
DESSERT:
Pink Drink Popsicles – These fruity summer popsicles made with hibiscus tea & strawberries are inspired by the famous Starbucks Pink Drink!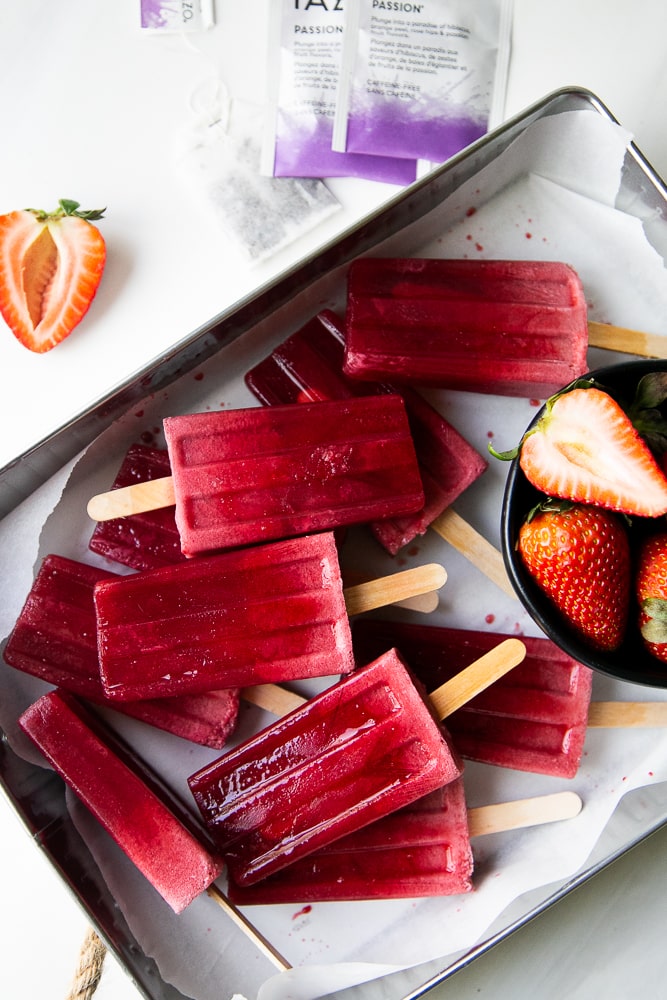 Special Diet Notes: Recipe is paleo friendly. Use a low-carb sweetener to make it low-carb/keto friendly.
Prep Ahead: Since these are frozen you can make them far ahead of time.
Substitutions/Notes: Try using different kinds of tea or frozen fruit to change it up!
GROCERY LIST:
Click HERE to print this week's grocery list!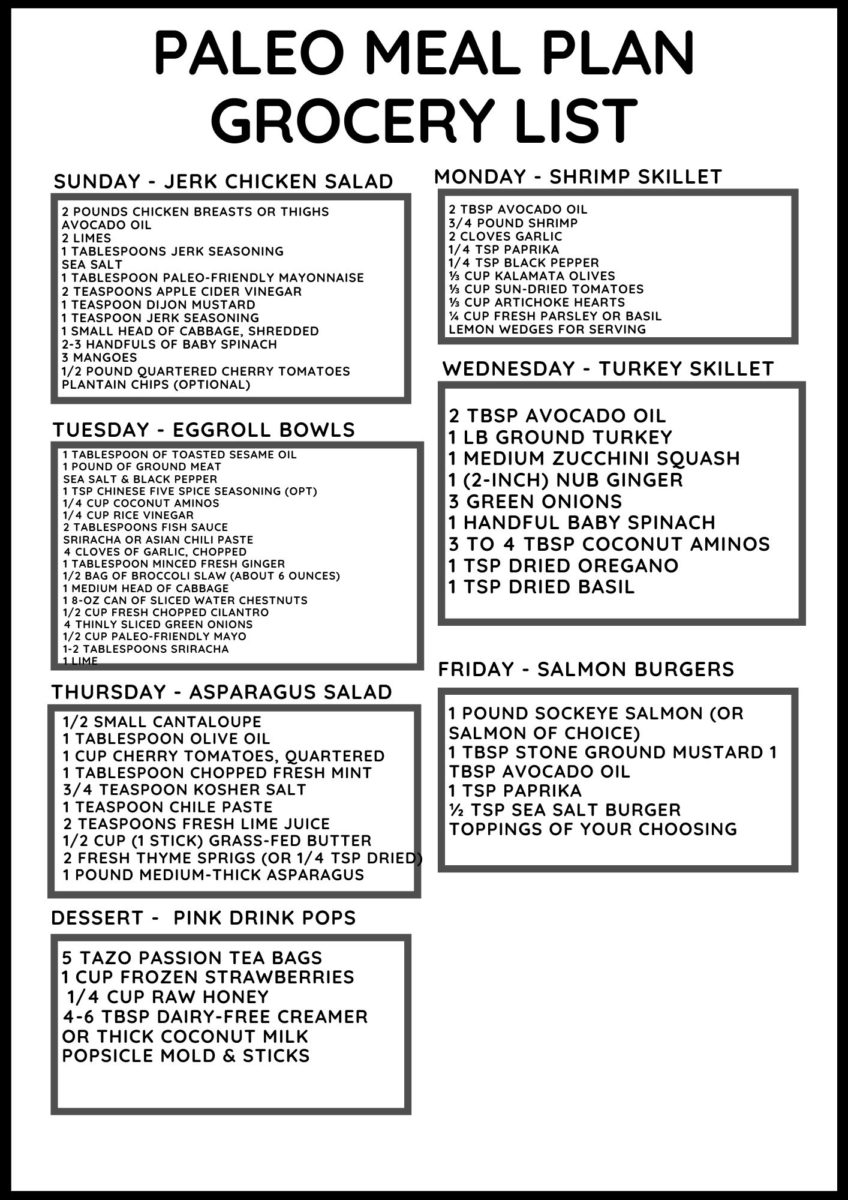 Enjoy!
xo