This week's Paleo Weekly Meal Plan features six seasonal dinner recipes and one dessert! Complete with a printable grocery list, these meal plans are designed to make life easy and nourishing!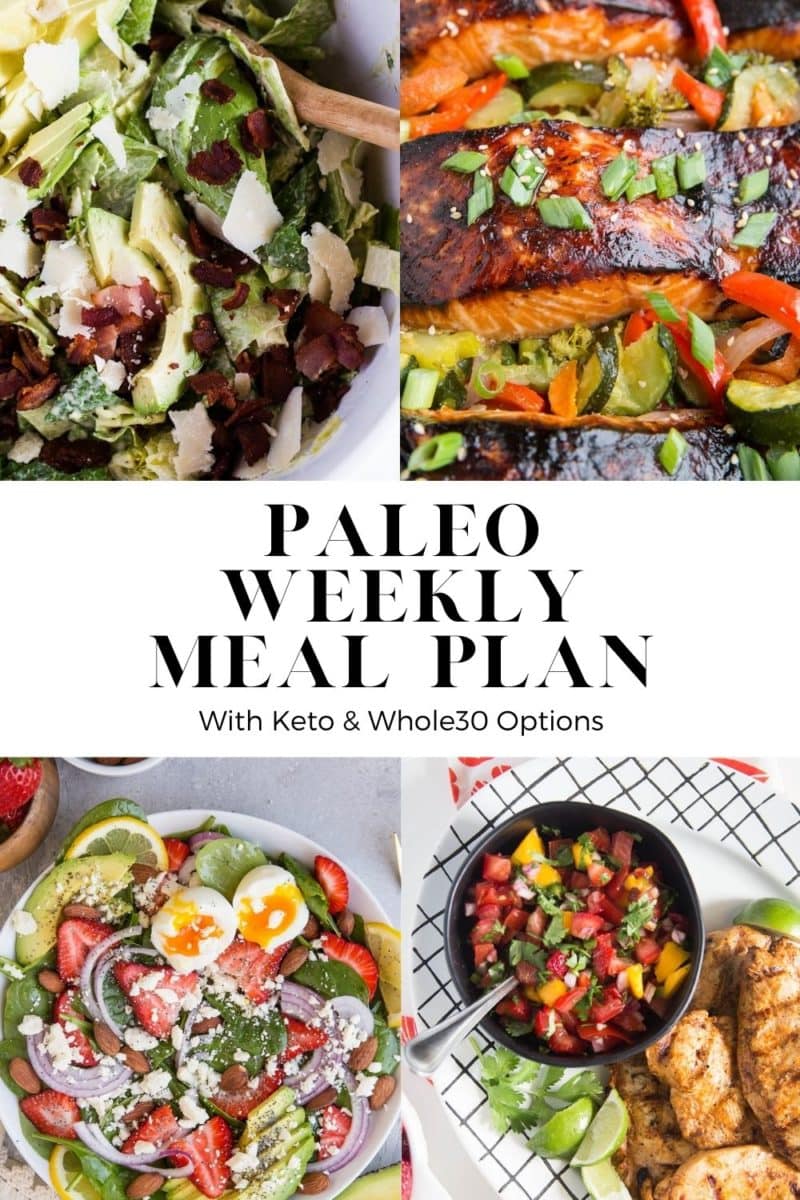 We've catapulted into full-blown summer weather here in Reno, how about you?!
If you're like me and trade comforting stews and curries for salads and light meals when the weather heats up, you'll love this week's meal plan!
We have a couple of salads that are filling yet leave you feeling refreshed, as well as some lighter protein + veggie-centric meals. Geared to make life simple, flavorful, and summer-friendly.
I read an article on Mark's Daily Apple a few days ago about setting up your environment for success if you have health and fitness goals.
The main bullet points: keep the tempting foods out of your cupboards, and grocery shop + meal prep.
While I firmly believe life is for the living and we all tend to be too hard on ourselves when it comes to our food and fitness choices, I do think a little planning goes a long way in being capable of maintaining health goals.
When I meal prep mindfully and know what I'll be eating day to day, I am far less tempted to destroy a pile of takeout and follow it up with any sugar-laden deliciousness I find in the freezer.
This to say – I hope these meal plans are helpful for you in simplifying your life (de-stressing!), and nourishing your body.
Indulging mindfully is important psychologically for maintaining a goal too! Hence the optional dessert included in these meal plans. 😉
Be sure to print out the grocery list at the end of this post to make shopping for your meal prep a breeze!
Also, if you didn't catch my Banana Nice Cream this week, be sure to give it a whirl! It's truly remarkable how satisfying this simple 1-ingredient soft serve is.
And now for the food! I hope you enjoy this week's meal plan. As always, let me know if you have any questions or requests.
xo
SUNDAY:
Easy Teriyaki Salmon – Easy Teriyaki Salmon with roasted vegetables is a mouth-watering delicious and clean meal! This simple recipe can be made any night of the week and even salmon naysayers will love it!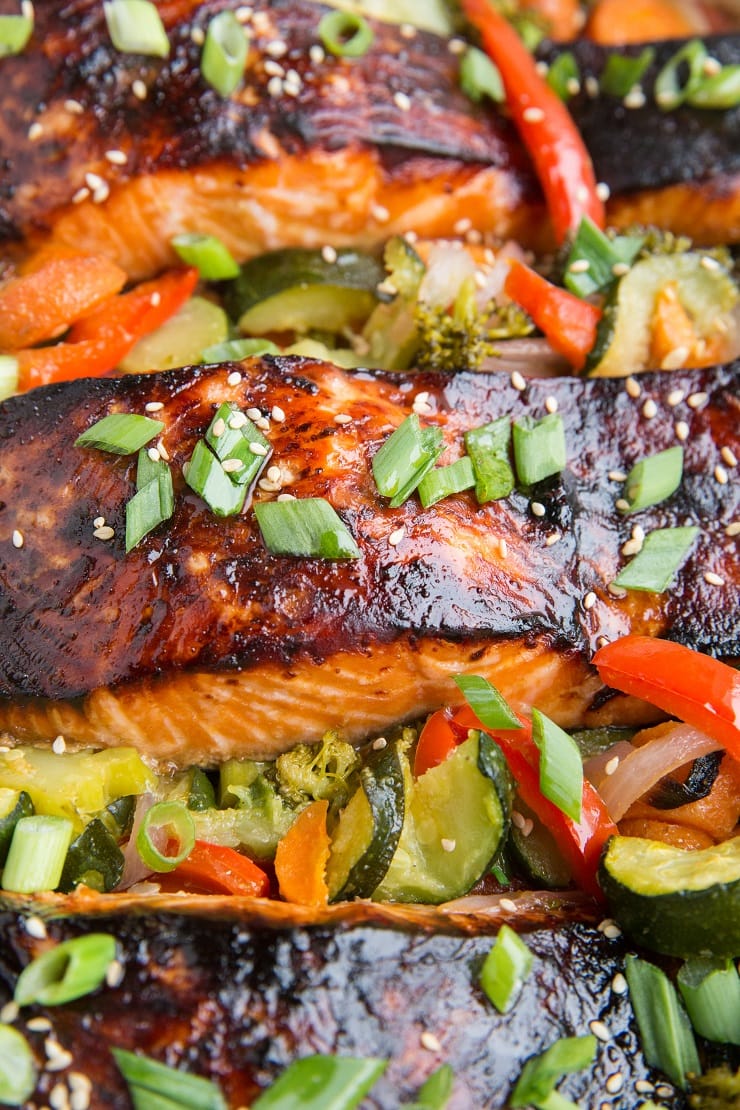 Special Diet: Recipe is paleo and whole30
Prep Ahead: Marinate the salmon up to 12 hours in advance.
Substitutions/Notes: Use your favorite veggies and/or teriyaki sauce. Use store-bought Paleo teriyaki sauce, make homemade Paleo Teriyaki Sauce, or use your favorite!
MONDAY:
Grilled Chipotle Lime Chicken with Strawberry Mango Salsa – Fiery chipotle flavors mix with the sweet, fruity salsa for a whirlwind of flavor. This is an easy grilled chicken recipe to throw together on a summer weeknight.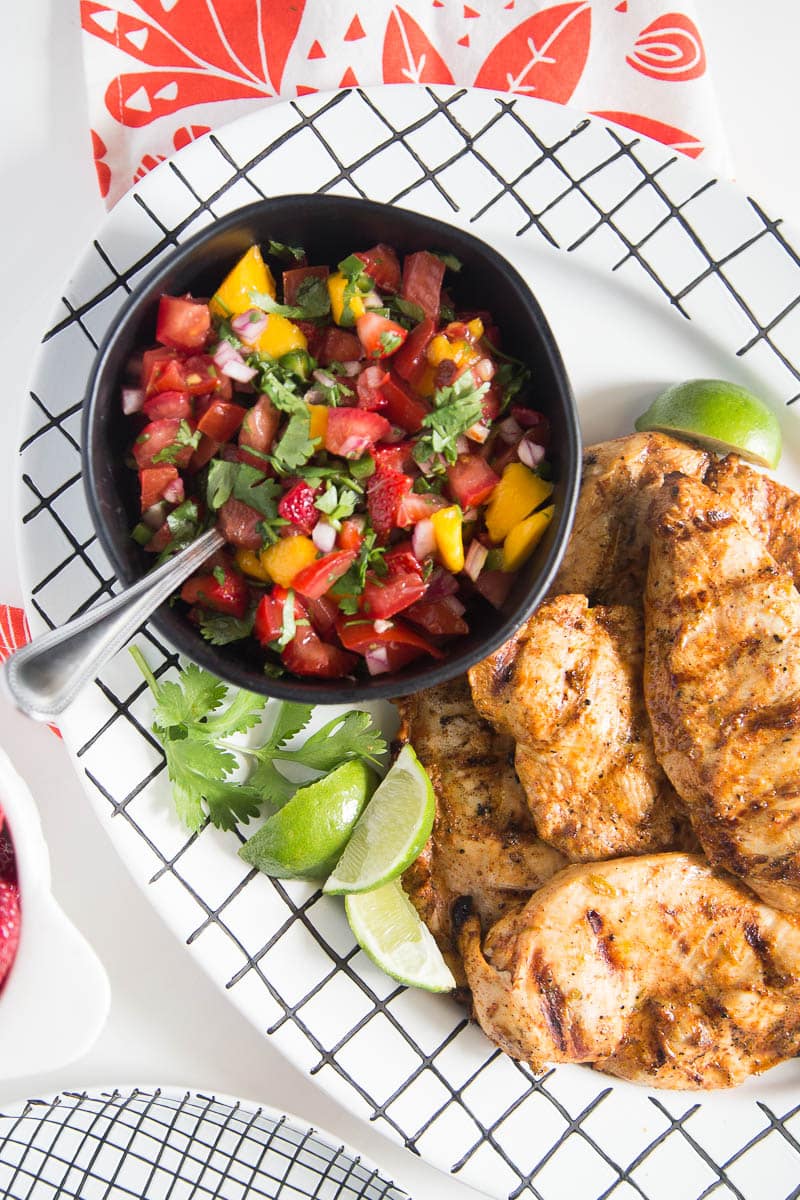 Special Diet Notes: Recipe is paleo. Use 1/2 tsp dried chipotle powder in place of the chipotle peppers to make it whole30 friendly
Prep Ahead: Marinate the chicken up to 18 hours ahead and make the salsa 1-2 days beforehand.
Substitutions/Notes: Use pineapple in place of the mango if you like. And if you can't find chipotles in adobo sauce, use 1/2 tsp dried chipotle powder.
TUESDAY:
Strawberry Spinach Salad with Poppy Seed Dressing – Strawberry Spinach Salad with Poppy Seed Dressing, avocado, roasted almonds, red onion, 6-minute jammy egg, and feta cheese is famously delicious! An epic crowd-pleaser, this salad is great for any summer gathering.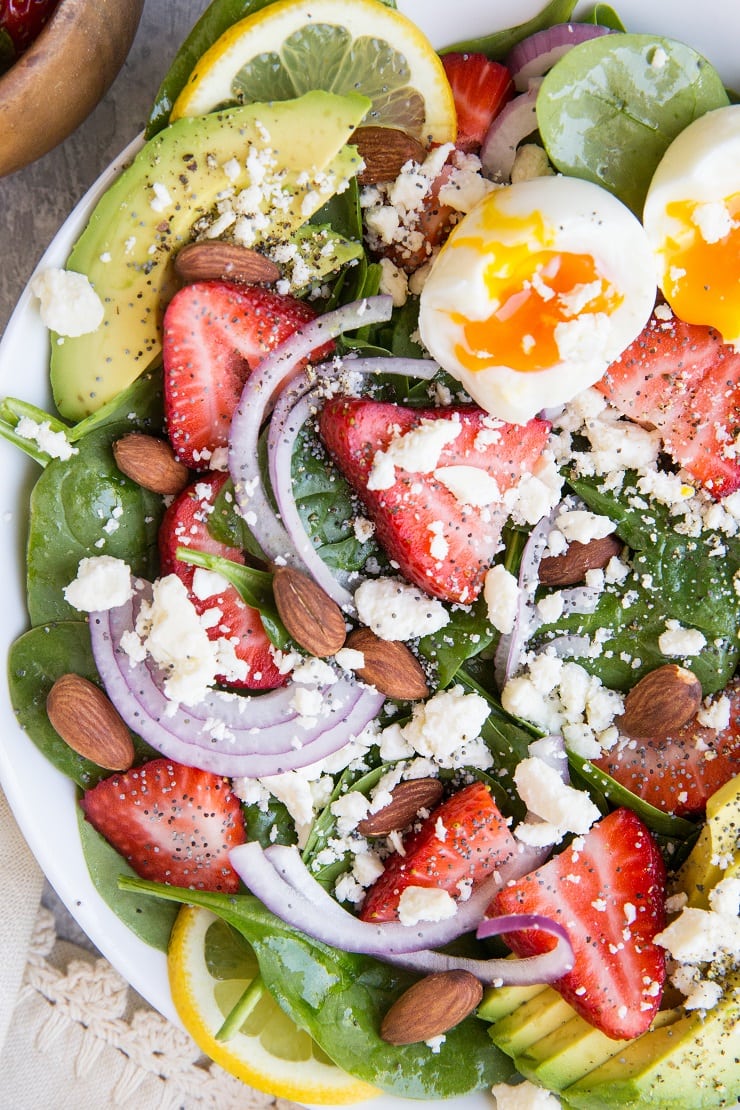 Special Diet Notes: Recipe is Paleo/Primal. Make it dairy-free and whole30-compliant by omitting the feta cheese
Prep Ahead: Make the dressing up to 5 days in advance or use your favorite store-bought or homemade dressing.
Substitutions/Notes: Add in your favorite salad goodies. Grated carrot, radishes, cabbage, chicken or salmon are all great choices!
WEDNESDAY:
Simple Roasted Tomato Soup – This soup is just as its described — simple. All you need are some perfectly ripe summer tomatoes and a handful of other ingredients to make the best tomato soup. It also freezes nicely, which is nice if you happen to get a tomato soup craving in February.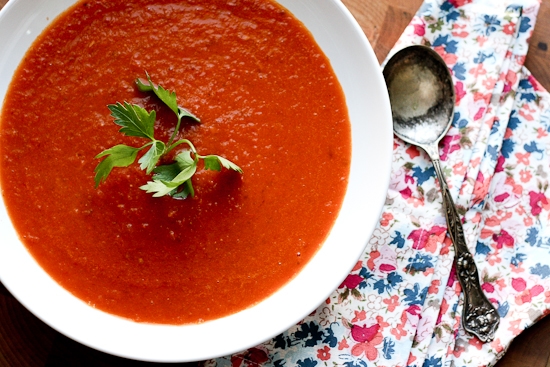 Special Diet Notes: Recipe is paleo & Whole30 friendly.
Prep Ahead: Vegetables can be roasted a few days ahead.
Substitutions/Notes: Stir in some basil pesto, infused olive oil, or add some chili flakes for some heat.
THURSDAY:
Basil Crispy Baked Chicken – Basil Crispy Baked Chicken is fresh, herby, flavorful main entrée. You're not going to believe how easy this finger-lickin' good, juicy tender chicken thigh recipe is!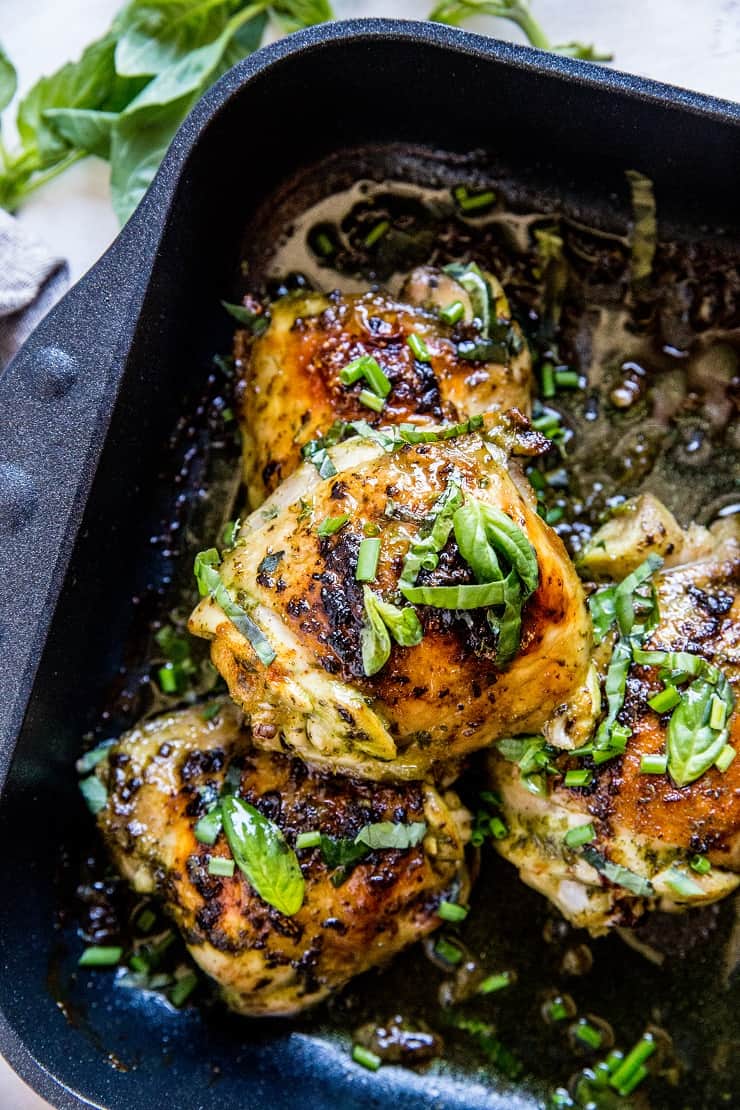 Special Diet Notes: Recipe is paleo, keto, and whole30
Prep Ahead: Marinate the chicken up to 24 hours in advance
Substitutions/Notes: You can grill the chicken instead of baking it! We do both in my household! Serve with choice of sides. I go with Stir Fry Vegetables or Roasted Vegetables.
FRIDAY:
Avocado Bacon Parmesan Salad – Avocado + bacon + Parmesan is such a loveable combination. The tangy avocado dressing pulls everything together. The lettuce? Merely a vehicle for greatness.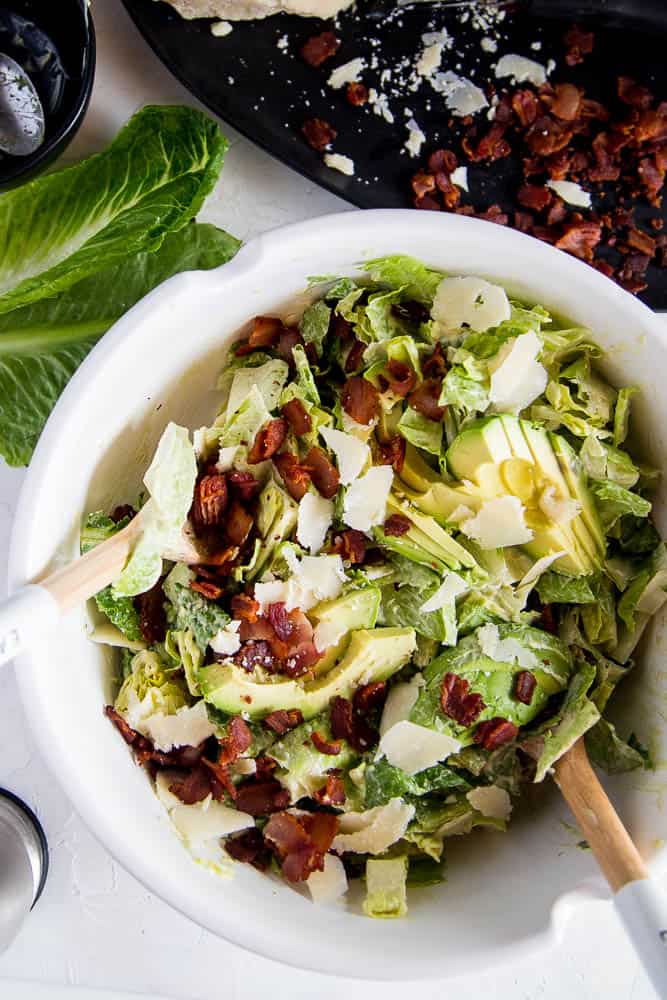 Special Diet Notes: Recipe is primal. Omit the parmesan and use more mayo in place of the sour cream to make it completely dairy-free.
Prep Ahead: Make the dressing 1-2 days in advance.
Substitutions/Notes: Swap out the bacon for some leftover grilled chicken or salmon from earlier in the week.
DESSERT:
Paleo Blueberry Cake – Grain-Free Paleo Blueberry Cake made dairy-free and refined sugar-free. This delicious blueberry delight couldn't be easier to make and is a lovely breakfast for sharing.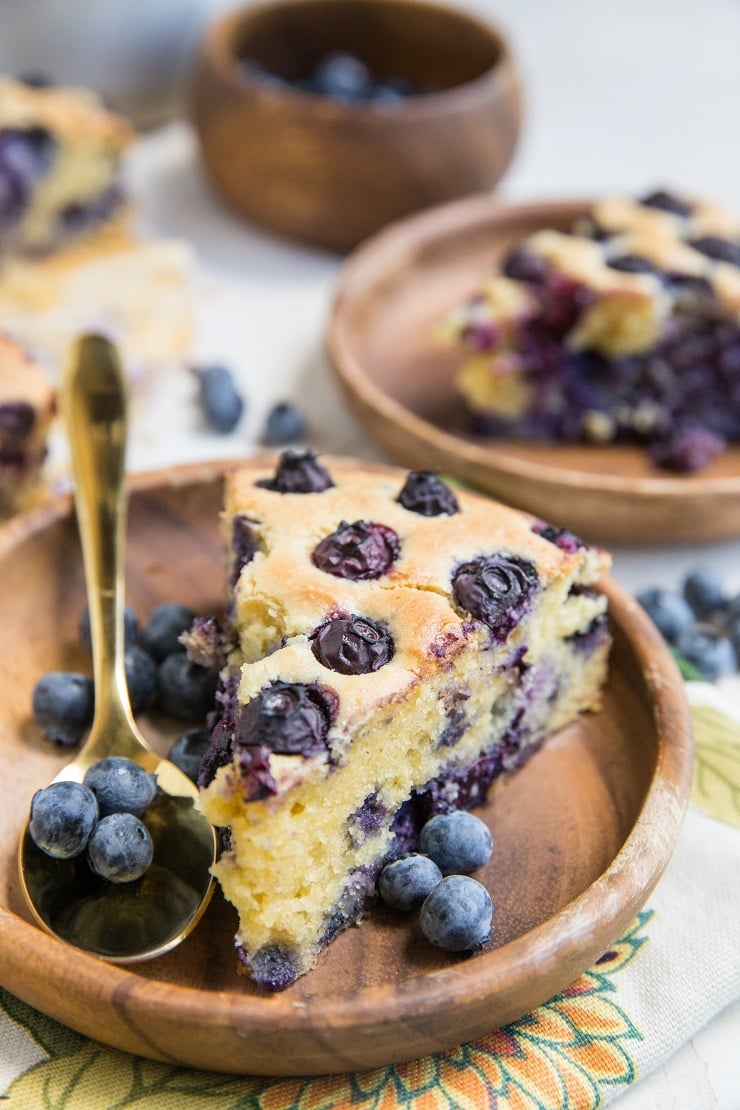 Special Diet Notes: The cake is paleo!
Substitutions/Notes: Use strawberries, raspberries, or blackberries instead of blueberries if you'd like. You can replace the almond flour with hazelnut flour (don't replace it with coconut flour!).
GROCERY LIST:
Click HERE to print this week's grocery list!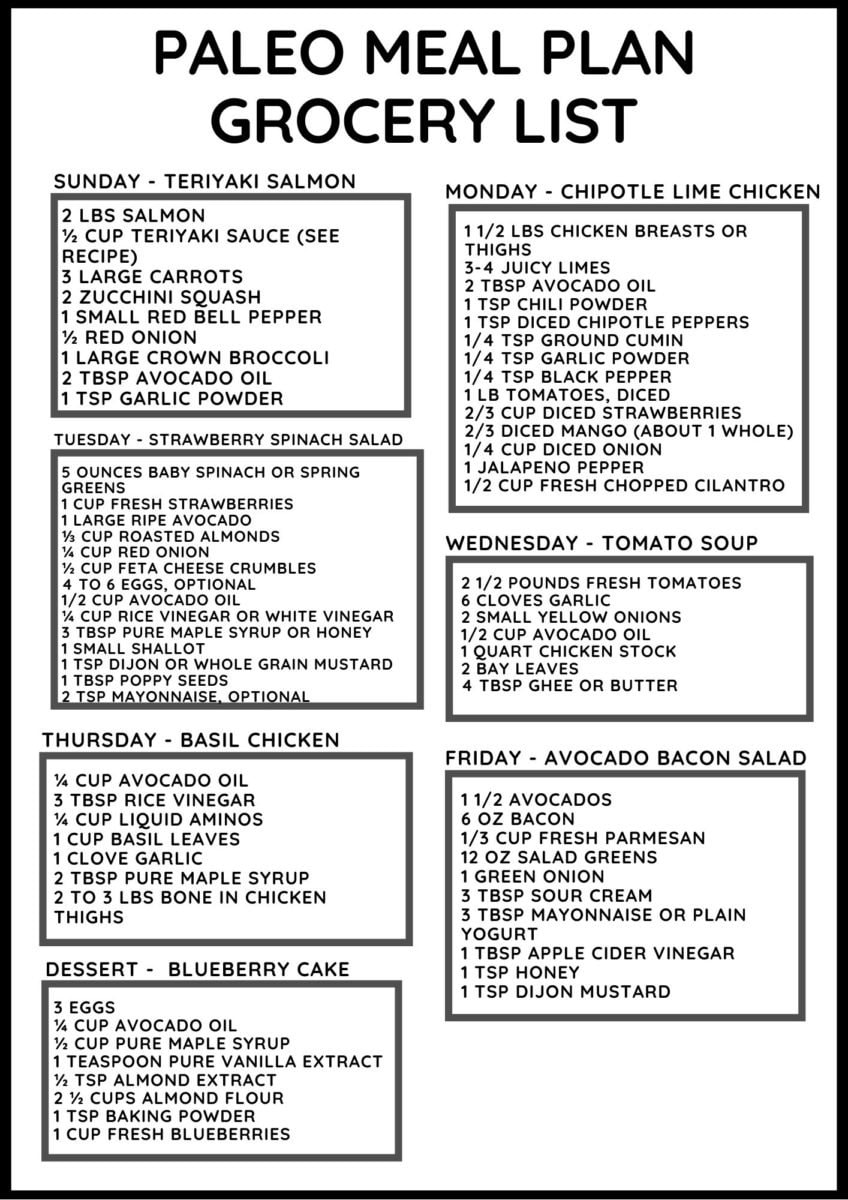 Enjoy!
xo
More Meal Plans: