This week's Paleo Weekly Meal Plan features six seasonal dinner recipes and one dessert! Complete with a printable grocery list, these meal plans are meant to make weeknight eats easy and nourishing!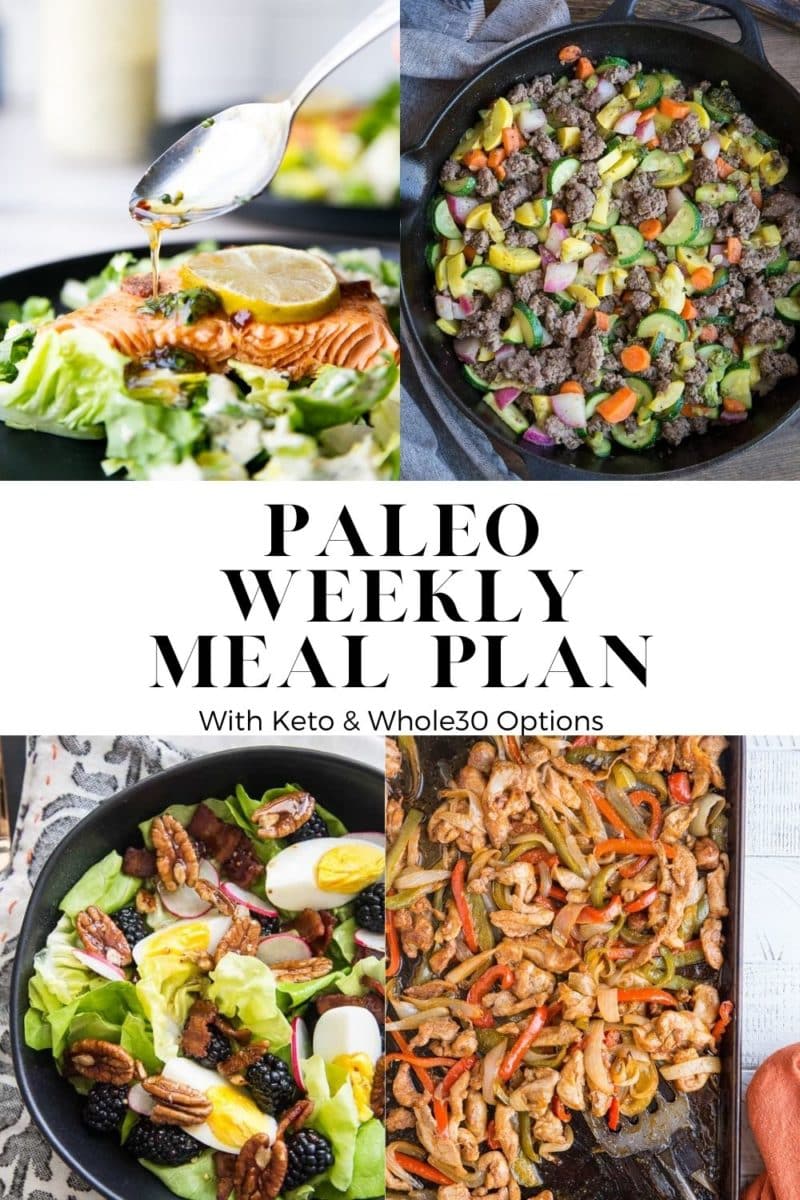 Happy weekend to ya! What are you up to this weekend?
Is it heating up where you live?
Per usual in the Sierra Nevada during the springtime, we're getting a lot of variability – some days are hot and sunny, others cold and windy. Nevertheless, I don't know about you, but I'm ready for summertime food!
For me, this means lots of fresh salad, quick and easy meals, as well as anything off the grill.
Before we get to the meal plan, if you need some Mother's Day Brunch ideas, my Grain-Free Morning Glory Muffins and Paleo Vegan Lemon Poppy Seed Scones are always huge hits! Don't let the fact that they're healthier fool you – they are loved by all!
And now for this week's menu! I hope you enjoy it. As always, let me know if you have any questions or requests.
xo
SUNDAY:
Paleo Chinese Chicken Salad – Light and nourishing Chinese Chicken Salad with sesame ginger dressing that is soy-free, sugar-free, and healthier. This easy salad is filling and nutritious!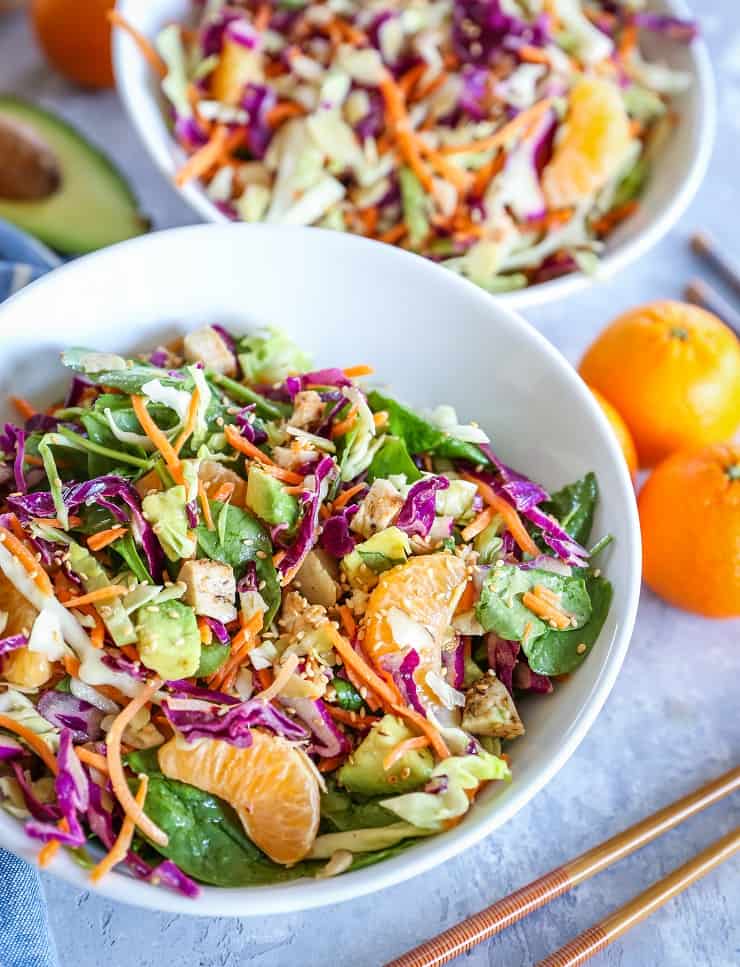 Special Diet: Recipe is Paleo. It can be made whole30 by omitting the honey from the dressing
Prep Ahead: Make the salad dressing up to 1 week in advance!
Substitutions/Notes: Use your favorite store-bought sesame ginger salad dressing to omit some of the prep, and/or use leftover or rotisserie chicken instead of preparing chicken.
MONDAY:
Sweet Chipotle Salmon with Hot Honey Glaze – This simple salmon has a triple punch of sweet, smoky, & spicy! The honey glaze is a MUST and is super easy to make.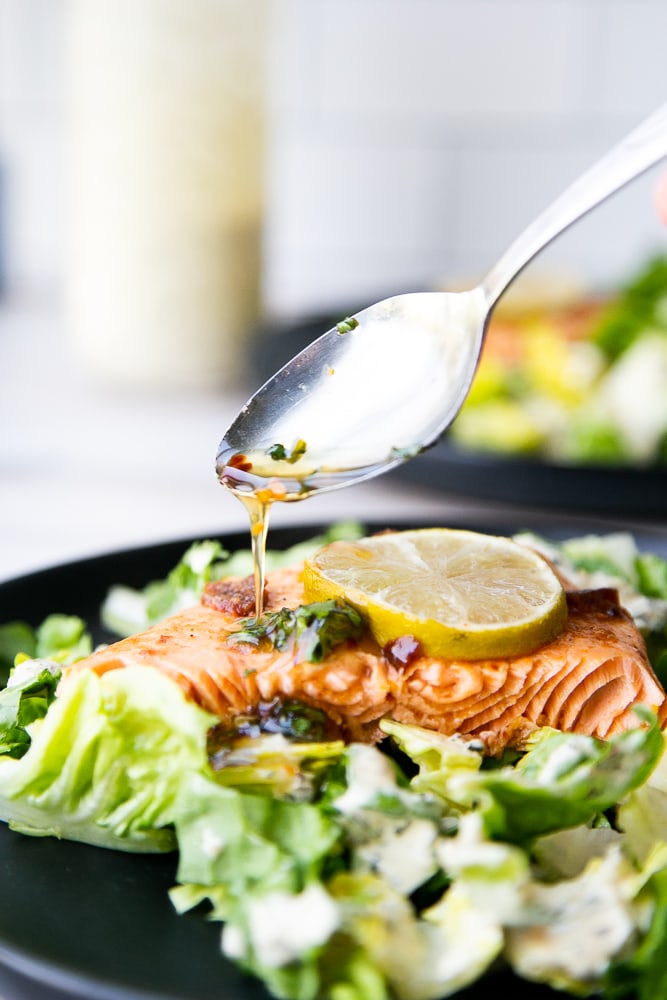 Special Diet Notes: Recipe is paleo as is.
Prep Ahead: You can make the honey glaze up to a week in advance.
Substitutions/Notes: To make this Whole30 friendly, omit the glaze and the coconut sugar from the salmon rub. Also, use 1/2 tsp dried chipotle powder in place of the diced chipotles in adobo sauce.
TUESDAY:
30-Minute Vegetable and Ground Beef Skillet – This nutritious recipe only requires 8 ingredients – a plethora of fresh vegetables and grass-fed ground beef! It's the perfect meal for those who follow a paleo, keto, low-carb, or low-FODMAP diet.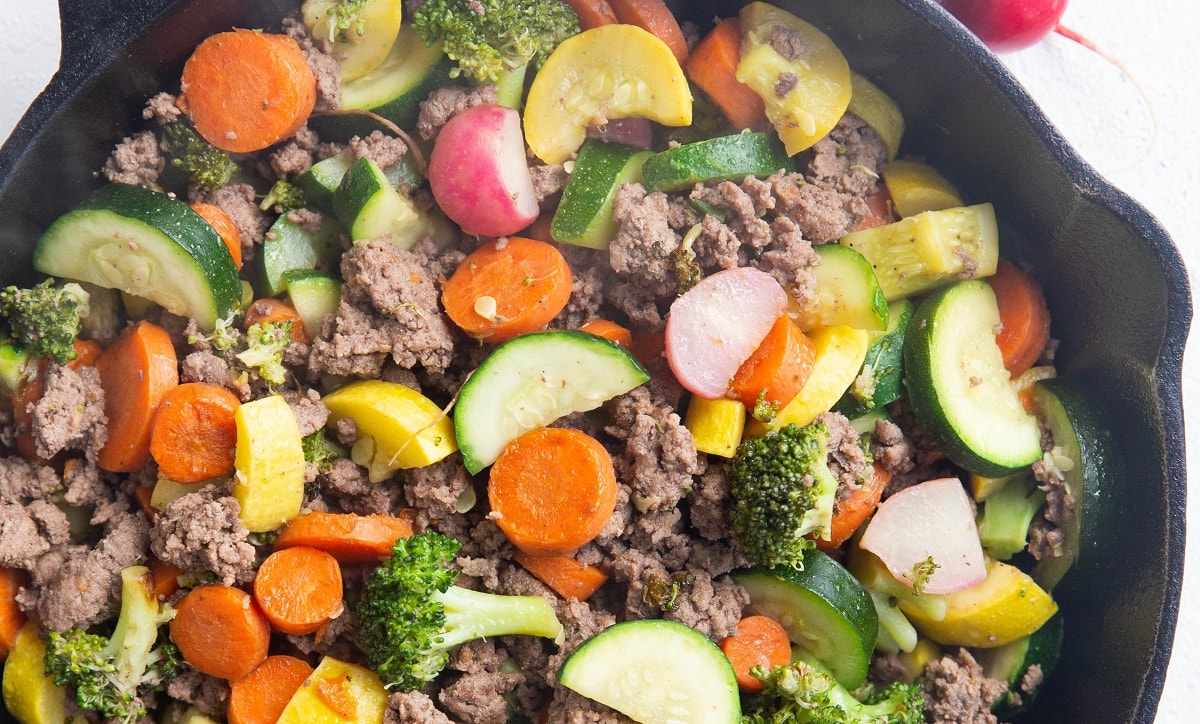 Special Diet Notes: Recipe is paleo, whole30, keto, and low-FODMAP
Prep Ahead: No advance prep is needed!
Substitutions/Notes: Use your favorite veggies and/or swap out the ground beef for ground chicken or turkey.
WEDNESDAY:
Blackberry, Bacon, & Egg Salad with Maple Vinaigrette – Bacon and blackberries are such a great combination! Make extra hard-boiled eggs and maple dijon vinaigrette so you can make it for easy weekday lunches!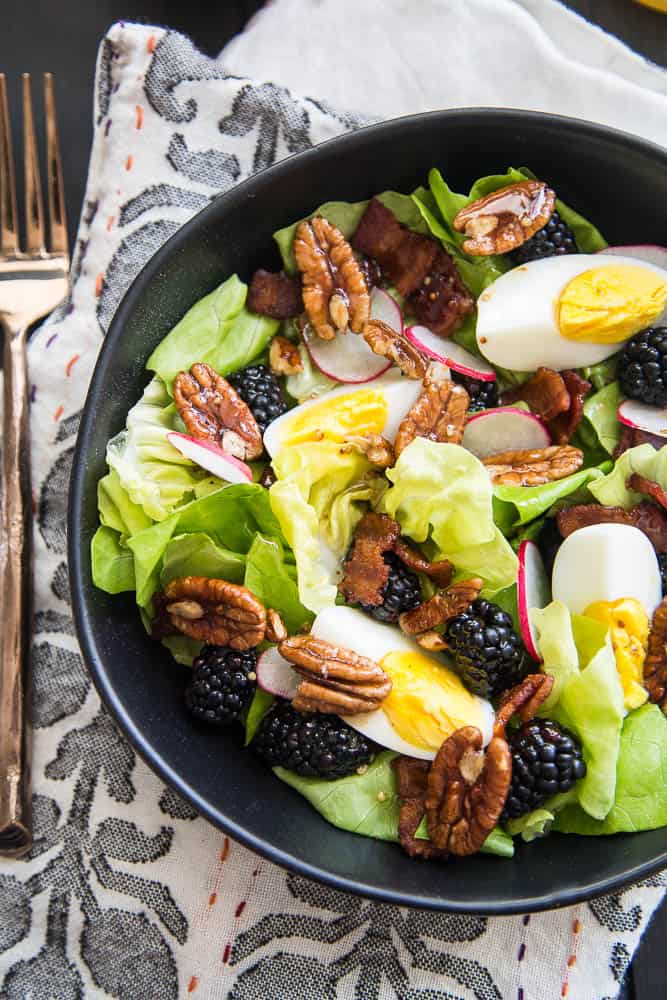 Special Diet Notes: Recipe is primal as is with grass-fed cheese. Omit the cheese to make it strictly dairy-free.
Prep Ahead: Boil the eggs and cook the bacon ahead of time for quicker prep.
Substitutions/Notes: Swap out the blackberries for strawberries or raspberries. Use any kind of nut you like, candied or otherwise.
THURSDAY:
Sheet Pan Chicken Fajitas – All you need is a few basic ingredients and a large sheet pan to make this meal happen. The chicken turns out amazingly tender with a nice crisp and the peppers and onions are loaded with flavor!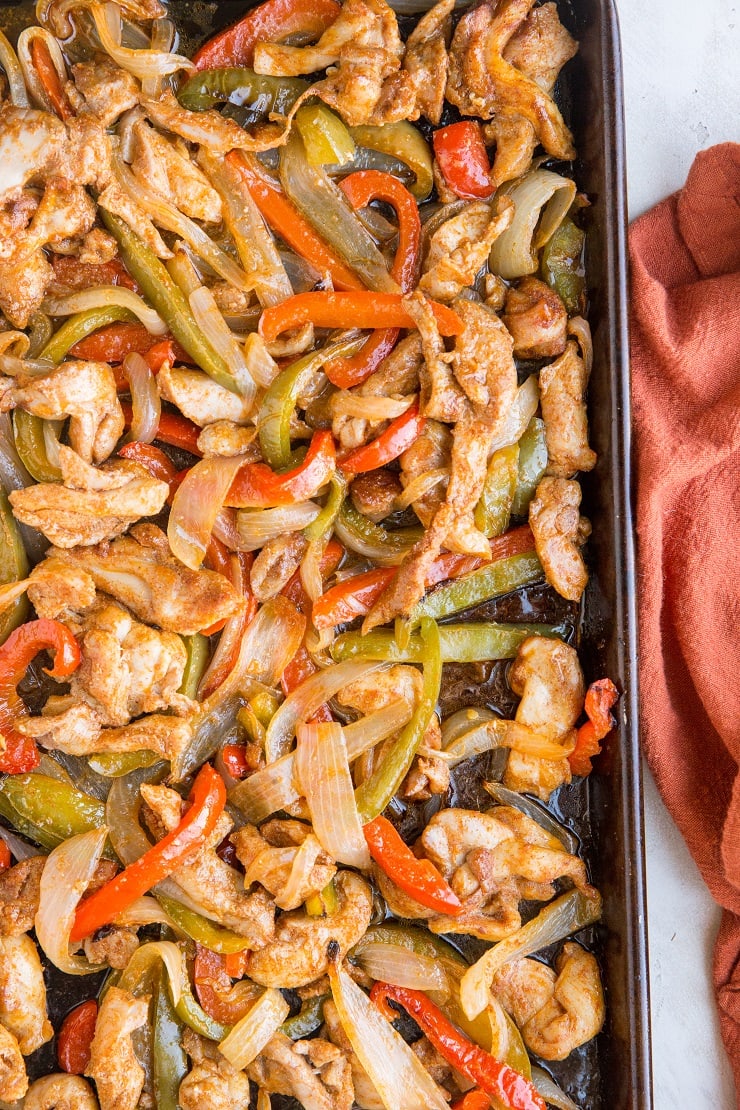 Special Diet Notes: This chicken fajitas recipe is paleo, whole30, and keto.
Prep Ahead: Chicken can be marinated up to 48 hours in advance.
Substitutions/Notes: Serve it up according to your nutritional needs – use it for tacos, burritos, or serve with cauliflower rice and roasted veggies to keep it low-carb.
FRIDAY:
15-Minute Sun-Dried Tomato & Spinach Omelet – Pureed sun-dried tomatoes (or sun-dried tomato pesto) is a great way to liven up a basic omelet!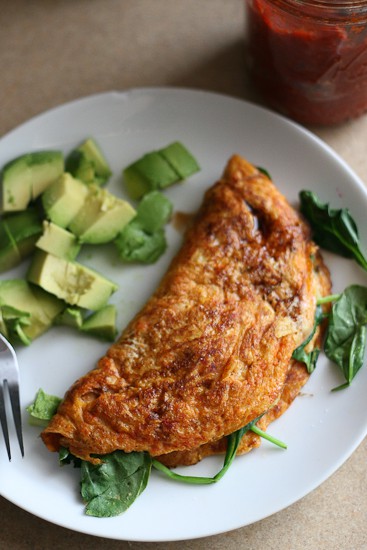 Special Diet Notes: Recipe is primal and low carb with grass-fed cheese. Omit cheese to make it dairy-free and Whole30 friendly.
Prep Ahead: If you choose to use sun-dried tomato puree, do this ahead of time.
Substitutions/Notes: Use baby kale or another hearty green in place of the spinach if you like.
DESSERT:
Flourless Avocado Brownies – Flourless Avocado Brownies are an easy grain-free, refined sugar-free paleo dessert recipe. The brownie batter is made easily in your food processor and only requires a handful of basic ingredients.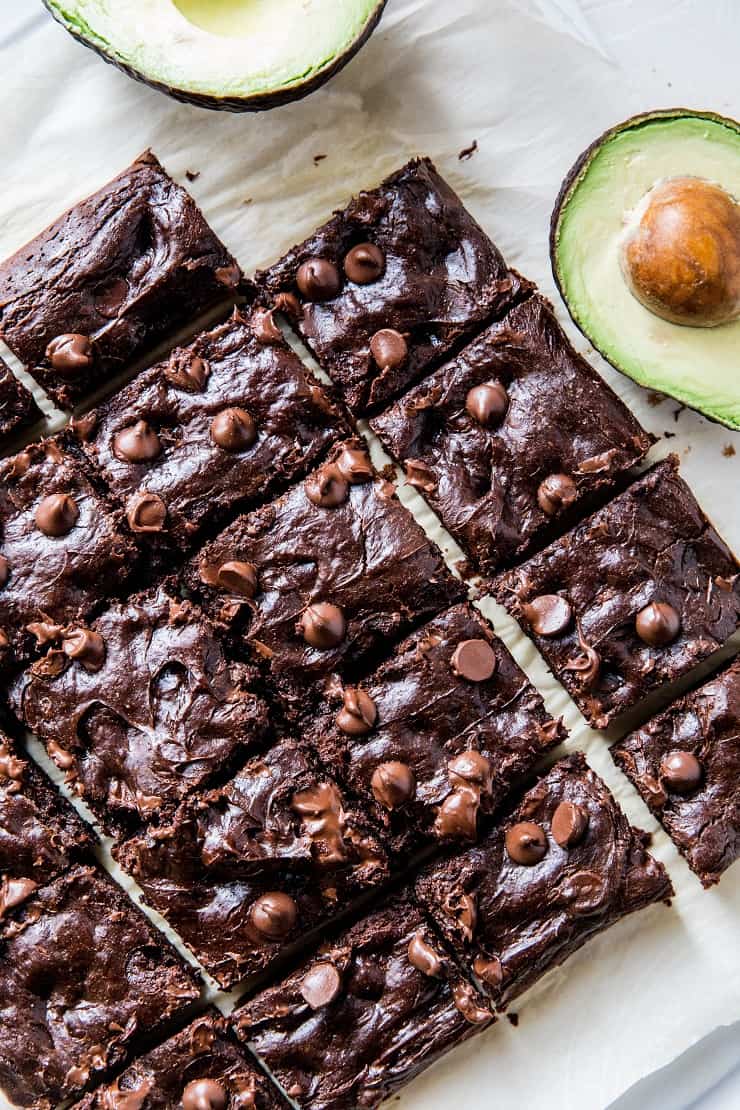 Special Diet Notes: Paleo!
Substitutions/Notes: Use brown sugar or sugar-free sweetener (to make them low-carb/keto) instead of coconut sugar, and/or regular cocoa powder instead of raw cacao powder.
GROCERY LIST:
Click HERE to print this week's grocery list!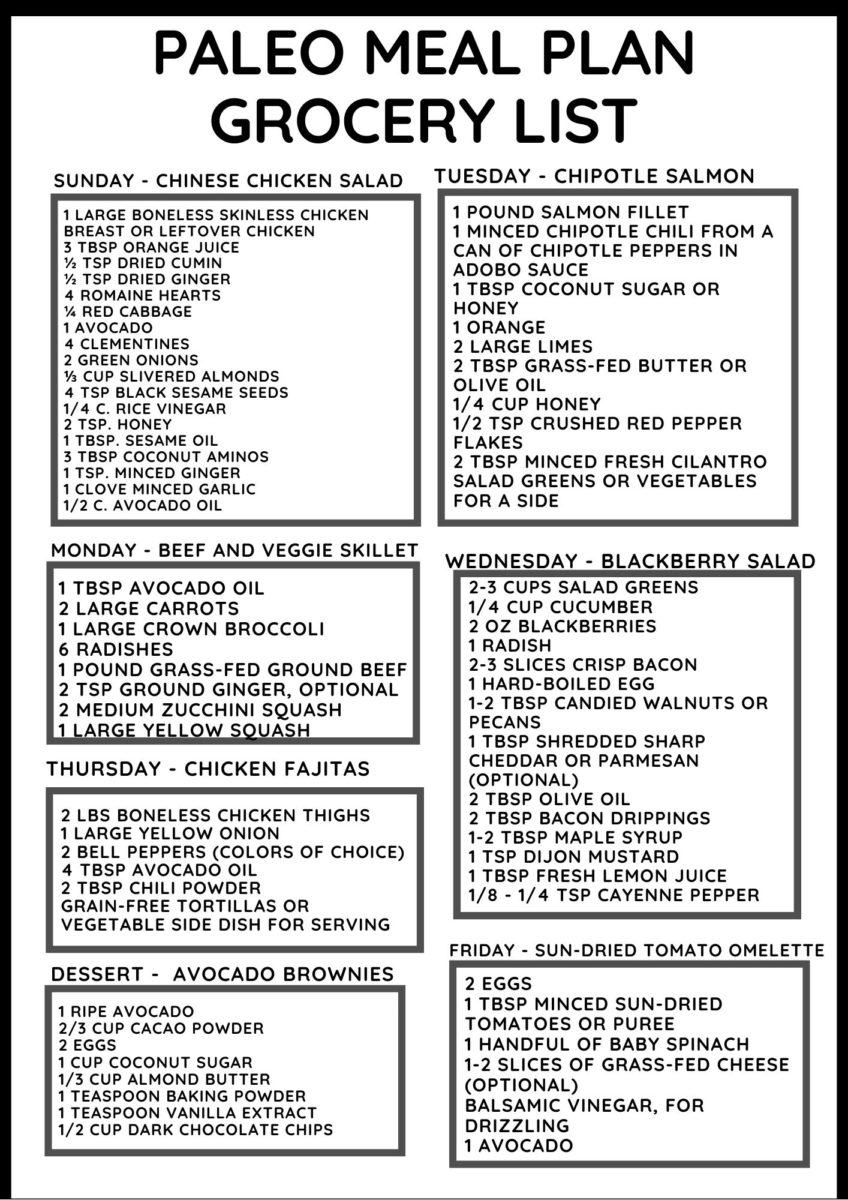 Enjoy!
xo