21 Healthy Summer Dinner Recipes to keep you satisfied, nourished, energized and feeling your best during the heat of the year! These seasonal wholesome meals are perfect for omnivores who love whole foods!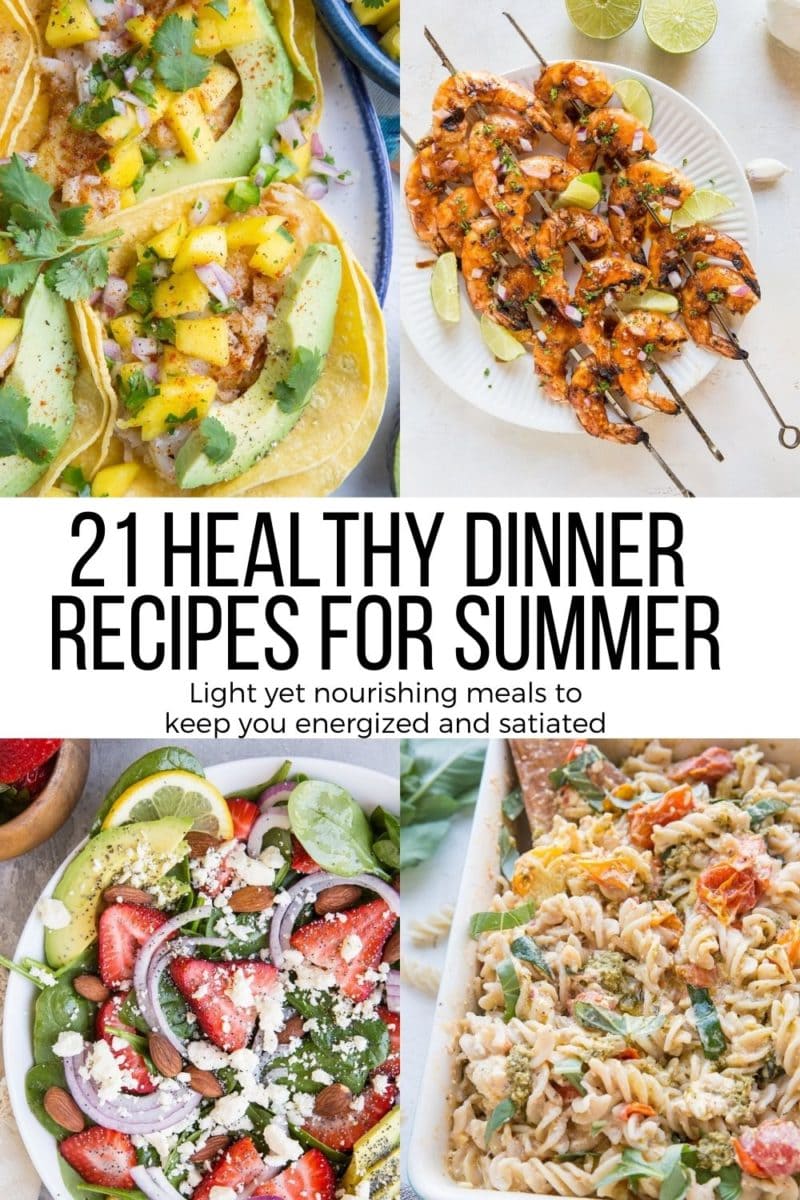 If you're anything like me, summer comes and goes in a flash and before you know it, it's time to put on that winter layer and go into hibernation mode.
This summer, I'm trying to turn over a new leaf by sticking with light yet satiating meals to keep me energized through the hot summer months.
Does heat make you feel sluggish?? It does for me, but I find low-inflammatory meals make my body feel more adapted to high or low temperatures.
I don't know about you, but I always feel best when I'm feeling quick and bouncy, especially when the weather warms up and it's hiking, mountain biking and trail running season.
This isn't a call to go on a highly restrictive diet or go crazy shedding weight for "bikini season," it's more a testament to whole foods and their power to make me feel clear headed, strong, and teaming with energy. If you're of the mindset that maintaining solid focus and energy is a priority, I trust you'll love these healthy summer dinner recipes!
They're seasonal, fresh, and include plenty of protein and veggies to keep you feeling nourished while not cutting out any major food groups.
I hope you enjoy these tasty summer dinner recipes and that they become a staple in your home during the hot weather months!
21 Healthy Summer Dinner Recipes:
Fish Tacos with Mango Salsa – The easiest, most delicious and fresh fish tacos with mango salsa is an incredible way to celebrate your love for tacos. This easy recipe takes less than 20 minutes of prep and cook, leaving you plenty of time to enjoy your long summer days.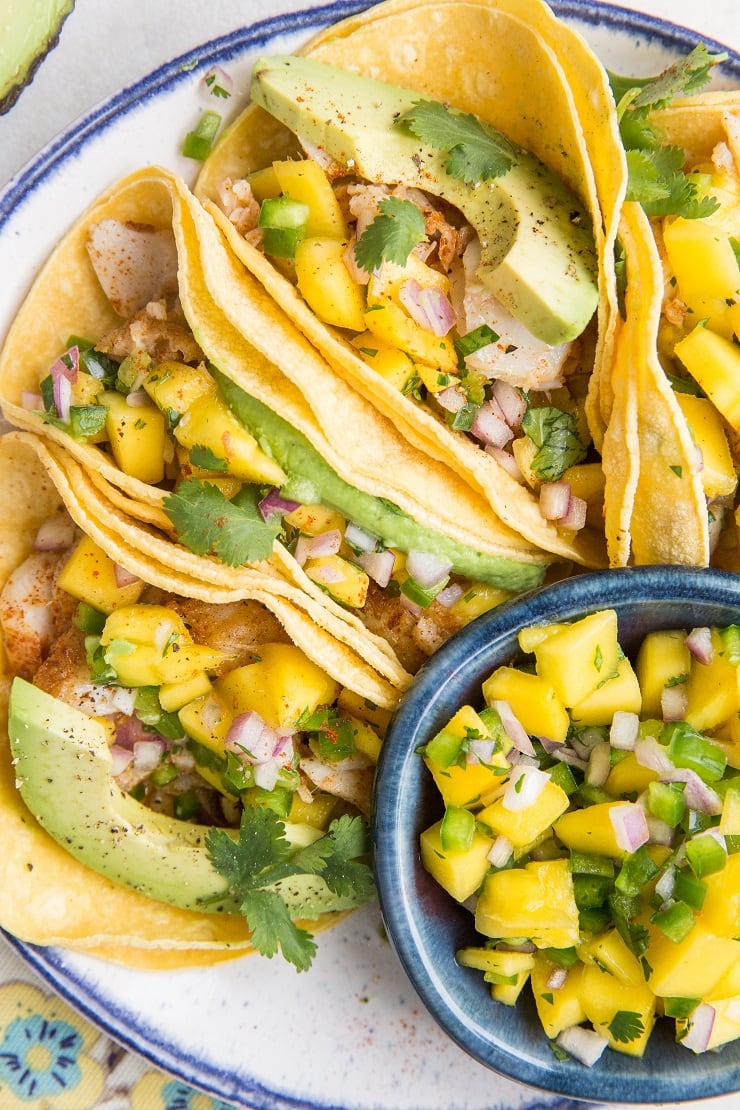 Baked Feta Pasta – Gluten-Free Baked Feta Pasta is an incredibly creamy, rich, mouth-watering experience! An ideal meal to replenish your glycogen levels after a fun day adventuring outside! If you're into pasta, tomatoes, or feta, you'll go bonkers over this easy pasta recipe!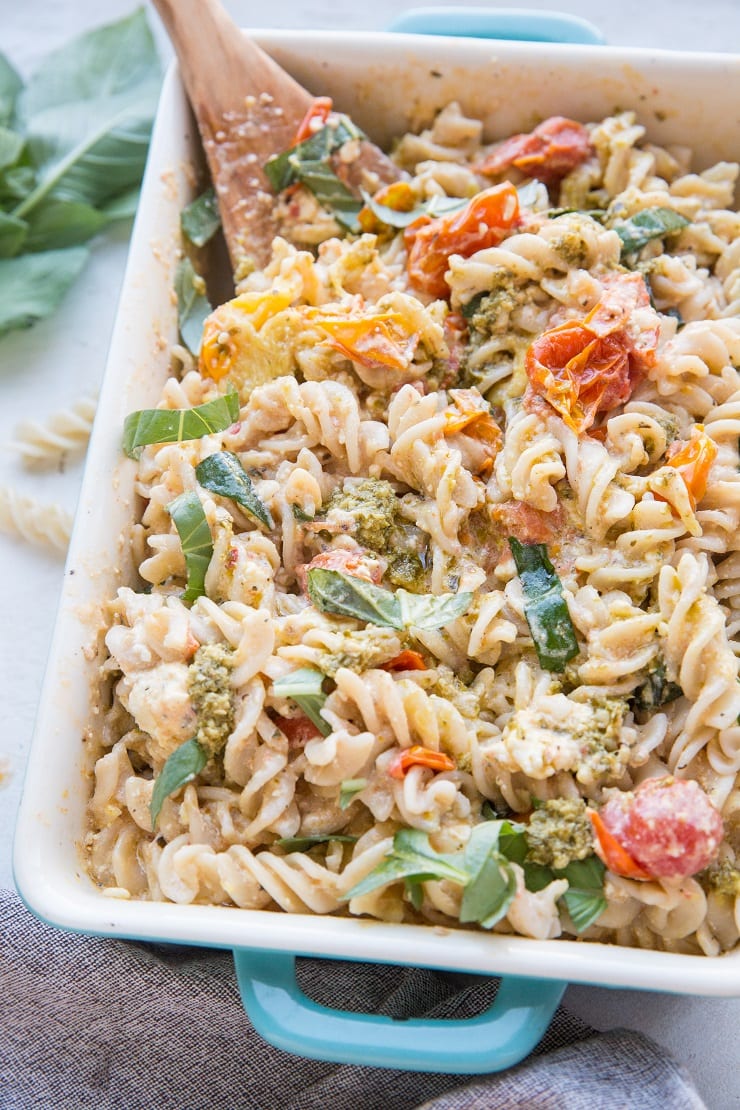 Paleo Chinese Chicken Salad – Light and healthy Paleo-Friendly Chinese Chicken Salad with a fresh sesame ginger dressing that is soy-free, sugar-free, and free of canola oil. This easy salad is filling and nutritious, covering all the flavor bases!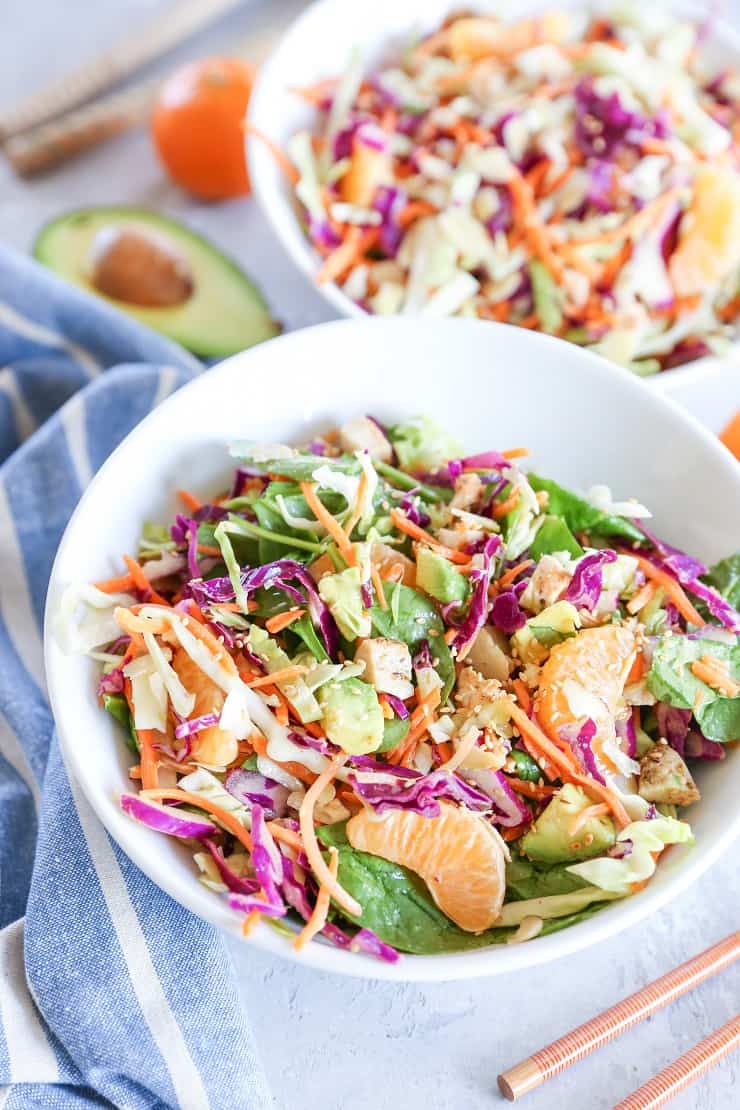 Salmon Poke Bowls – Are you a fan of sushi?! These easy Salmon Poke Bowls with Crab Salad, seaweed salad, brown rice, and avocado are packed with flavor and give you a marvelous sushi experience in the comfort of your own home!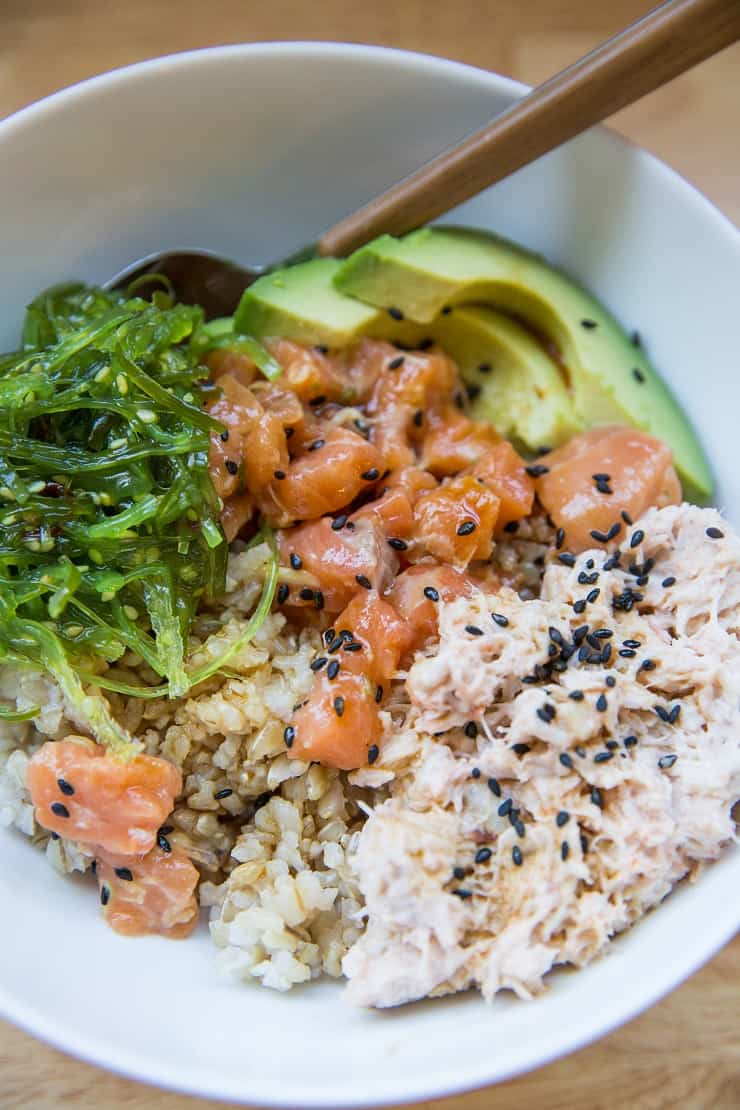 4-Ingredient Mediterranean Stuffed Salmon – Easy stuffed salmon with feta, sun-dried tomatoes, and spinach. This quick and easy healthy dinner recipe only requires 4 ingredients (not counting oil and sea salt), and comes together in about 40 minutes.
Chili Lime Grilled Shrimp Skewers – Sweet, tangy Chili Lime Glazed Grilled Shrimp can act as an appetizer or main entrée! This quick and easy recipe requires only a few basic ingredients and hardly any time to prepare. Serve it up with Roasted Sweet Potato Salad with Spinach and Grapes for a lovely pairing.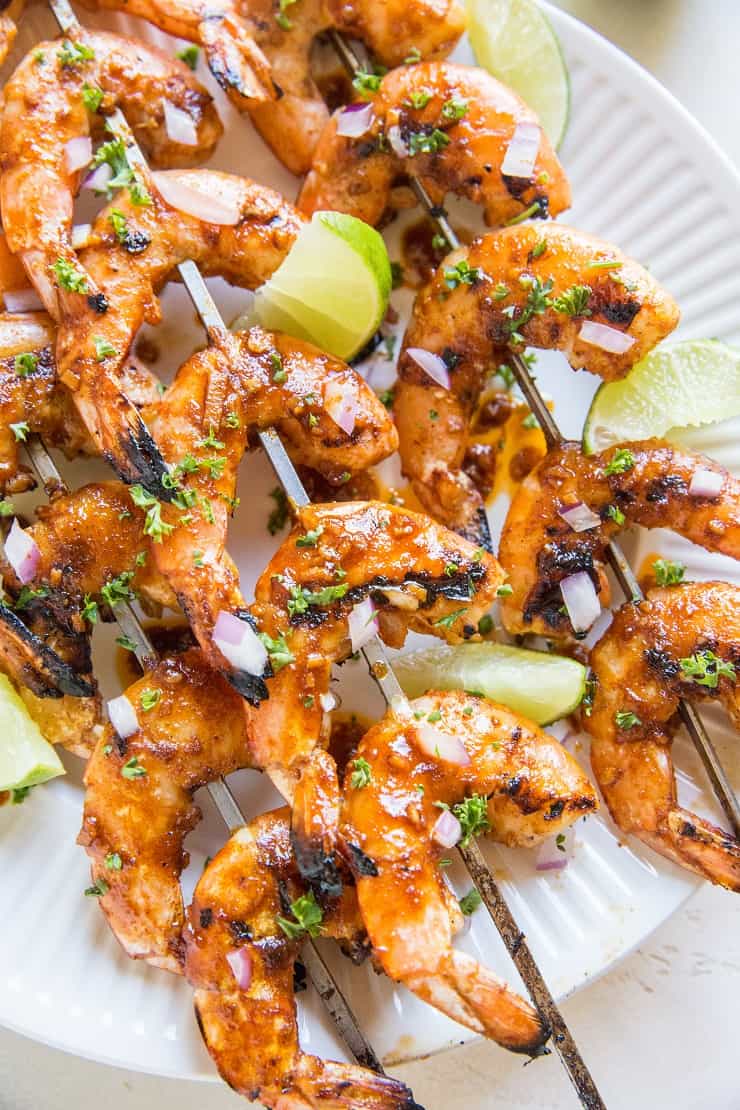 Orange Ginger Grilled Chicken – This simple grilled chicken recipe is zesty, crispy, and packed with flavor! This easy-to-prepare recipe requires only a few basic ingredients and hardly any time to make! Pair it up with Lemon Garlic Rosemary Rice and/or Grilled Sweet Potatoes, Zucchini and Yellow Squash for an amazing well-rounded meal!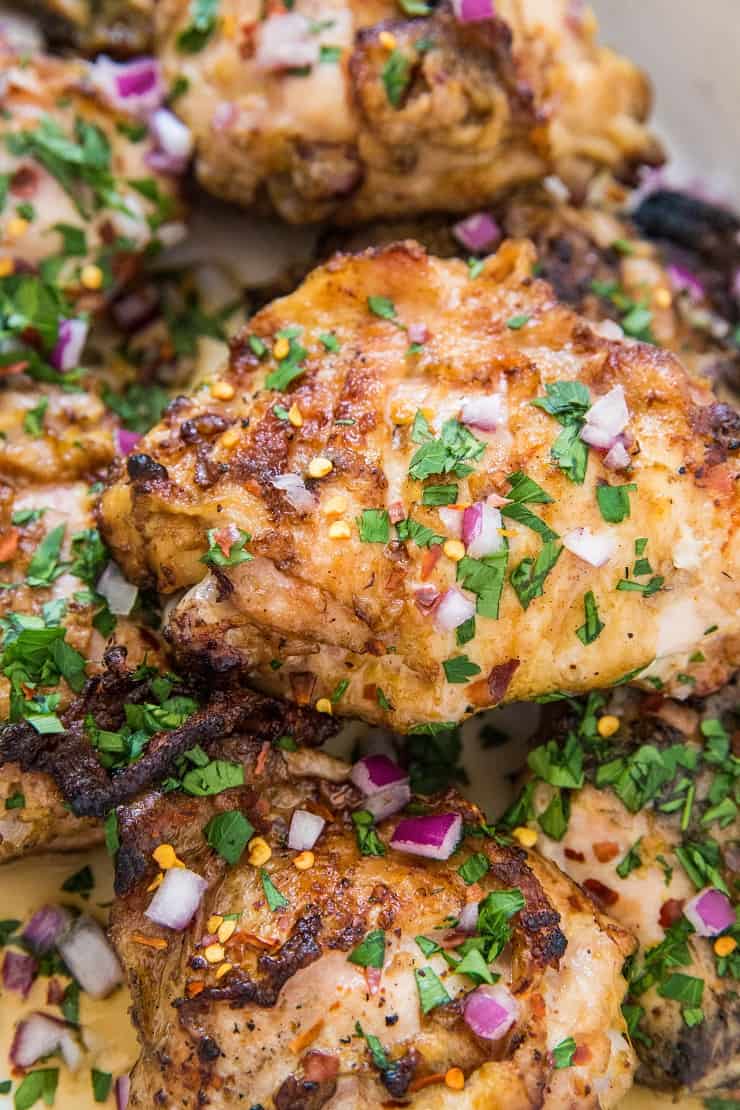 Grilled Vegetable Avocado Quesadillas – Trust me, avocado quesadillas are just as amazing as the cheese version! Grilled vegetable and avocado quesadillas with chipotle cashew cream is a unique take on the classic quesadilla! This fresh, delicious vegan quesadilla recipe is fun, nutritious, and quite the crowd pleaser!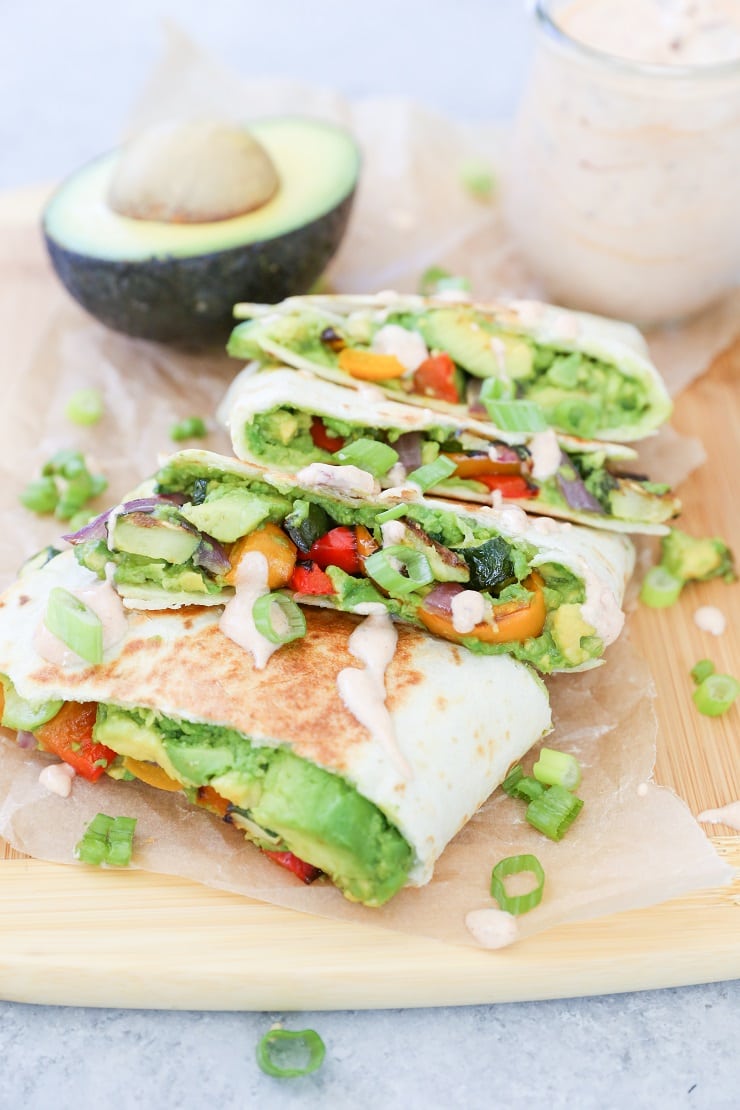 Chicken Burrito Bowls – Whipping up a healthy yet satisfying burrito bowl is SO quick and easy! Use your favorite homemade and store-bought toppings, as well as rotisserie or leftover chicken for an amazing meal.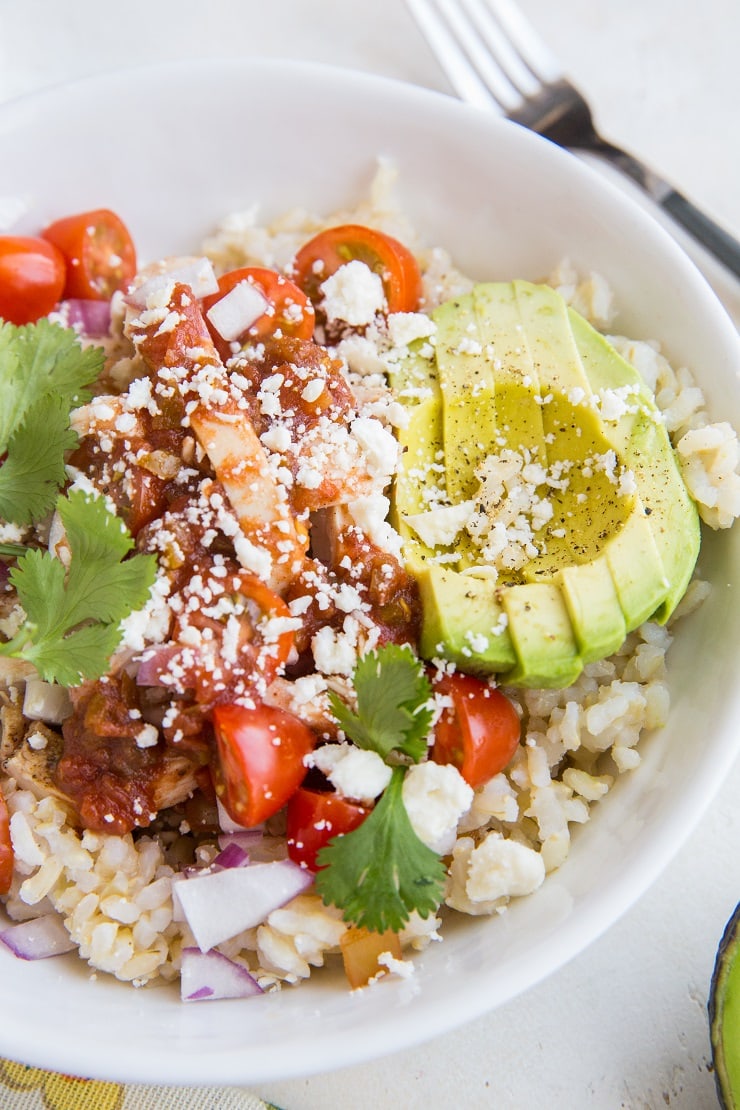 Stuffed Zucchini with Turkey Sausage, Sun-Dried Tomatoes, and Spinach – Stuffed Zucchini with turkey Italian sausage, sun-dried tomatoes, basil and spinach is a flavorful, comforting yet light dinner recipe. This clean meal is paleo, keto, and and an amazing way of celebrating zucchini season.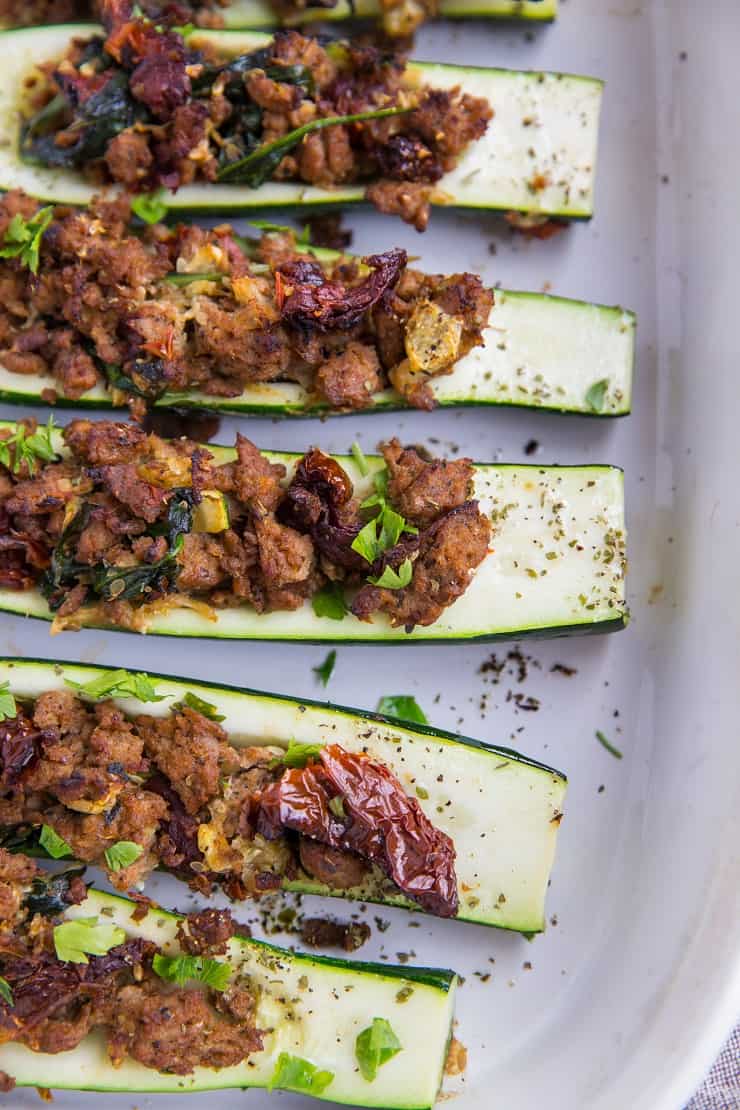 Burger Bowls with Sweet Potato Fries and Chipotle Sauce – How do you like your hamburgers? These burger bowls with chipotle sauce, mixed greens, sauerkraut, pickled beets, carrot, and avocado are a colorful, healthful, low-carb approach to your favorite burger. Change it up with your choice of add-ins!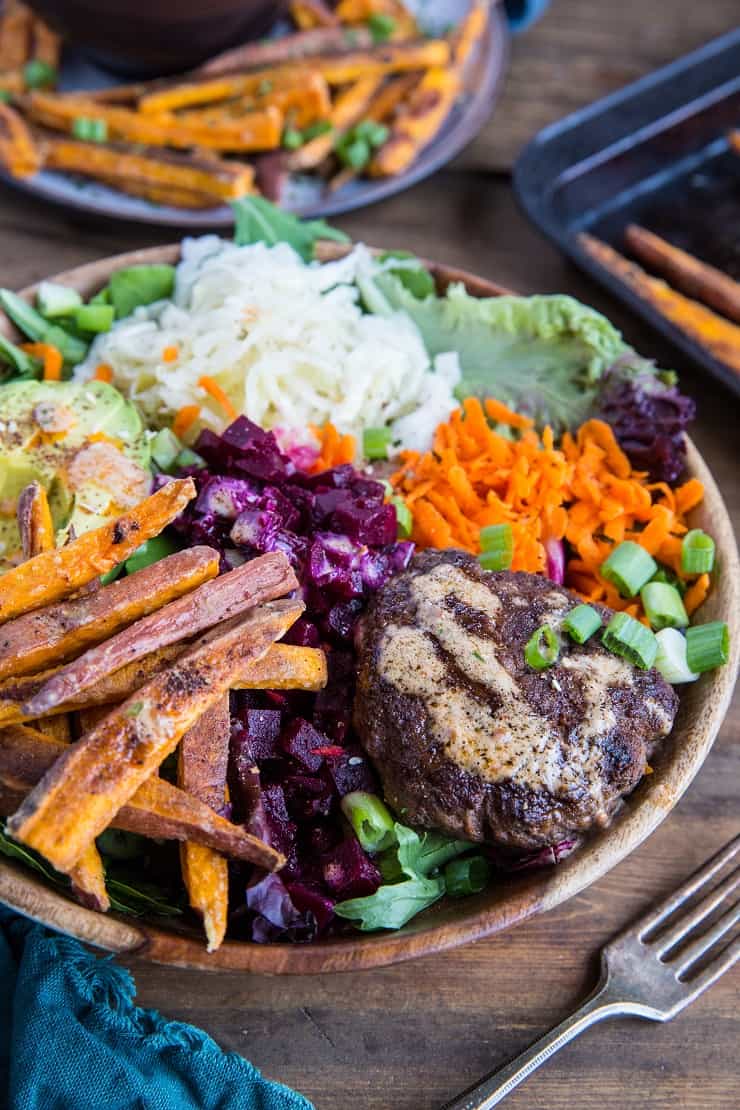 Shrimp Taco Salad with Avocado Chimichurri Sauce – Crunchy, vibrant taco salad with sautéed shrimp, jicama, cabbage, tomato (and more!), tied together with a healthful creamy avocado chimichurri dressing. This easy recipe takes no longer than 30 minutes to make and is a well-balanced meal.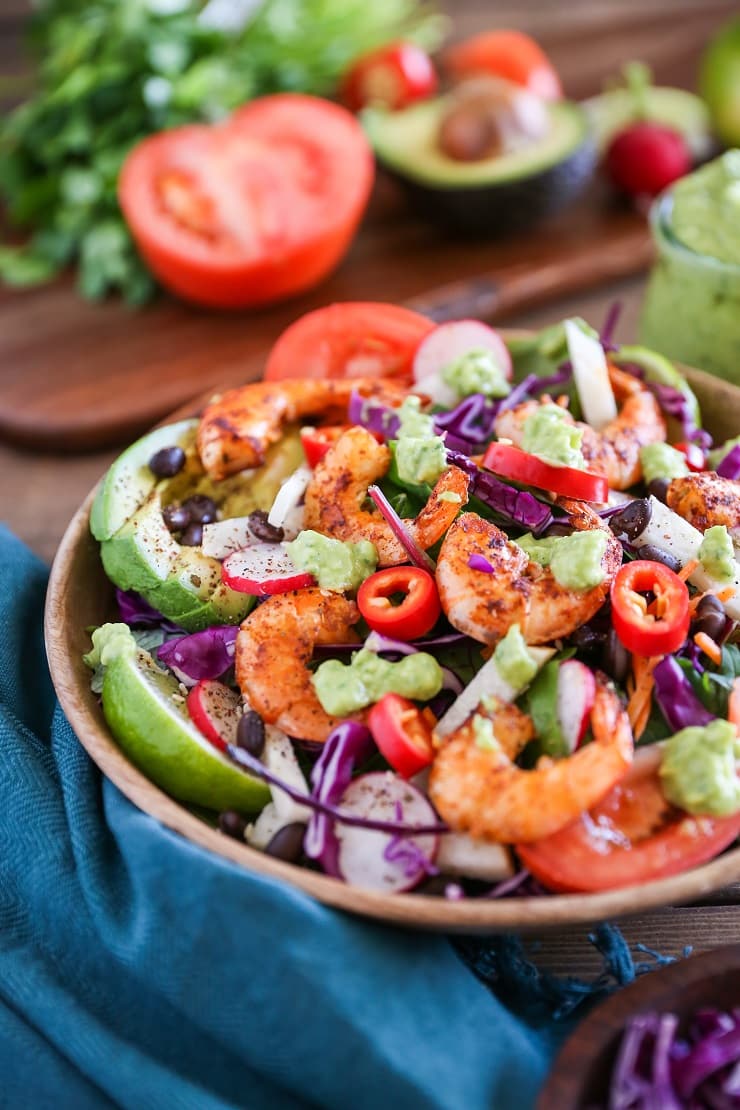 Grilled Chicken Kabobs – Grilled Chicken Kabobs with vegetables are a fresh, flavorful sharable healthy dinner recipe perfect for grilling season! Marinate some chicken, skewer it up, fire up the grill, and enjoy! Serve these kabobs with Italian Pasta Salad, or Greek Potato Salad for a balanced, delicious meal!
Cod Salad with Basil Walnut Pesto – Fresh green salad with cod, avocado, cherry tomatoes, and basil-walnut pesto is so easy to make and a quick and delicious dinner that can be prepared any night of the week. This healthy recipe is all-things low-carb, low-FODMAP, paleo, keto, and Whole30.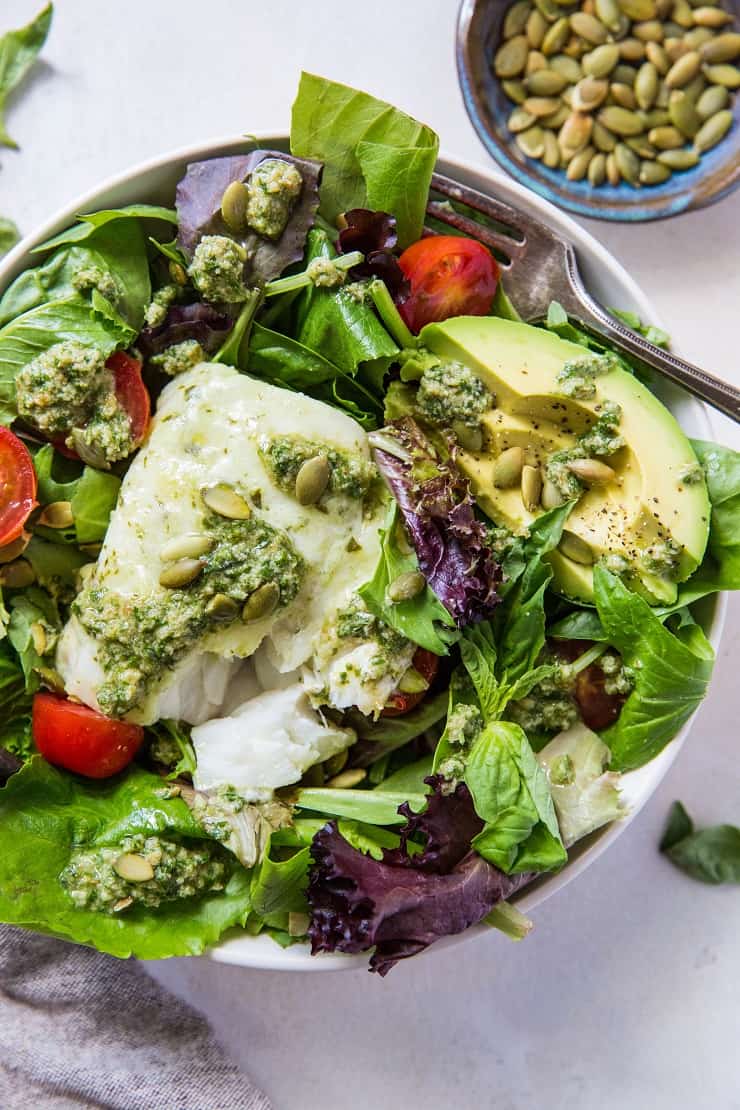 Orange Ginger Baked Halibut with Blueberry Avocado Salsa – Orange Ginger Baked Halibut with Blueberry Avocado Salsa is a fresh, flavorful healthy dinner recipe! Serve it up with Easy Asian Cucumber Salad, German-Style Potato Salad with Caramelized Onions, or Mango Edamame Quinoa Salad for an otherworldly meal.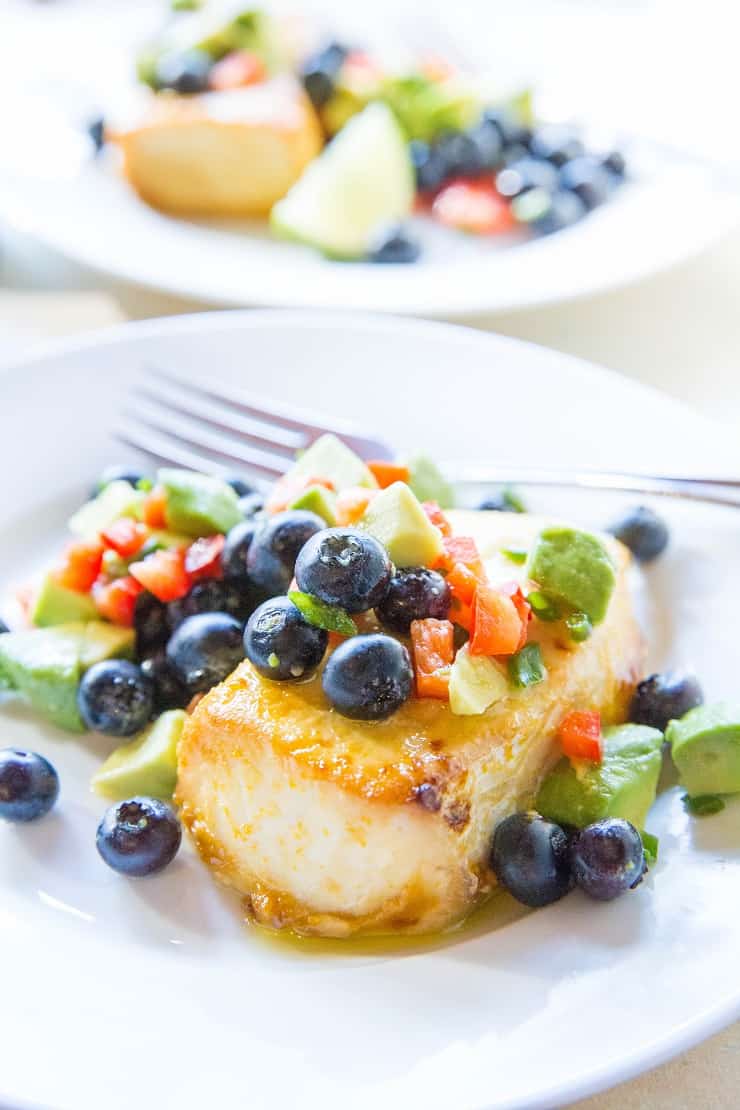 Asian Salmon Burgers – Asian salmon burgers with fresh ginger, garlic, and liquid aminos. Serve as a salad with fresh greens, pickled ginger, avocado, and cilantro for a fresh and flavorful entrée.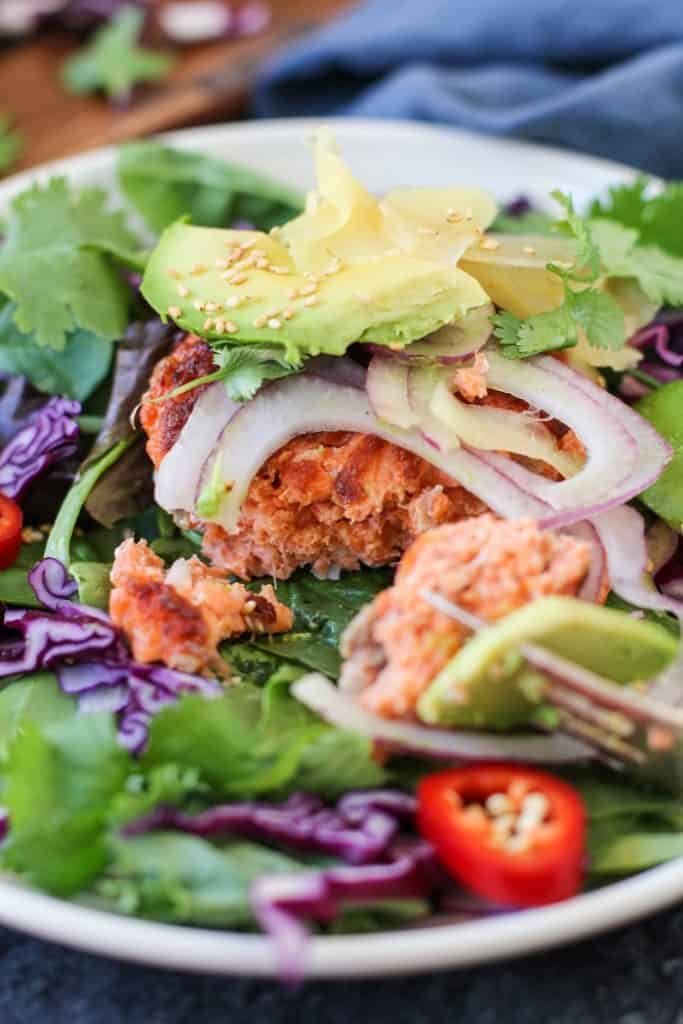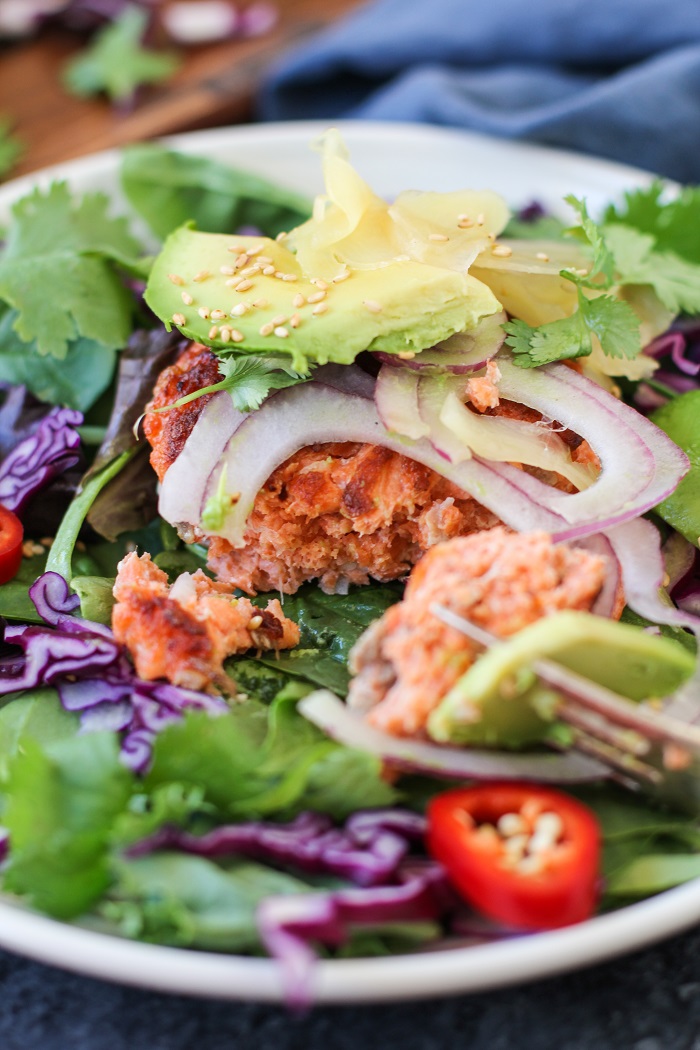 Sesame Ginger Cashew Chicken – Sesame ginger cashew chicken with broccoli is a marvelously flavorful dinner recipe that takes no more than 40 minutes to make from start-to-finish!
Strawberry Spinach Salad with Poppy Seed Dressing – Strawberry Spinach Salad with Poppy Seed Dressing, avocado, roasted almonds, red onion, 6-minute jammy egg, and feta cheese is famously delicious! An epic crowd-pleaser, this salad is great for any summer gathering.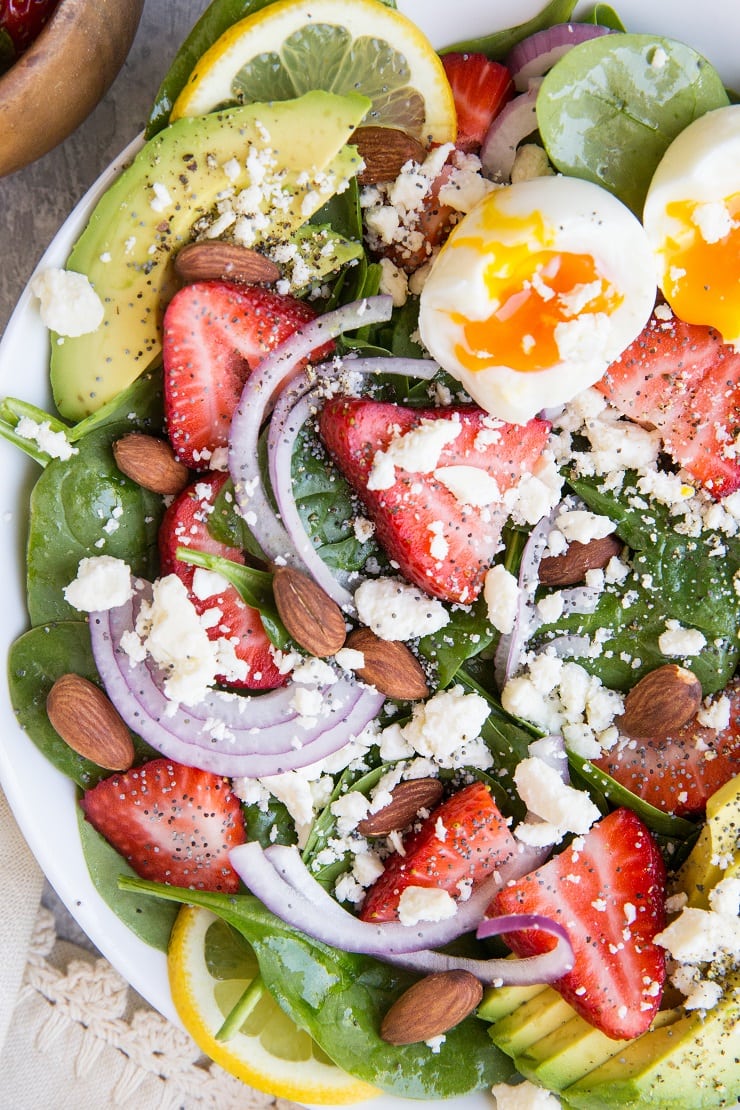 Lemon Garlic Foil Packet Shrimp – Foil Packet Shrimp with lemon, garlic and butter is a quick and easy method for making shrimp. This recipe includes instructions on how to grill shrimp in foil packets as well as baking instructions. Serve it up with Mediterranean Quinoa Salad or Basil Fried Rice for an amazing meal!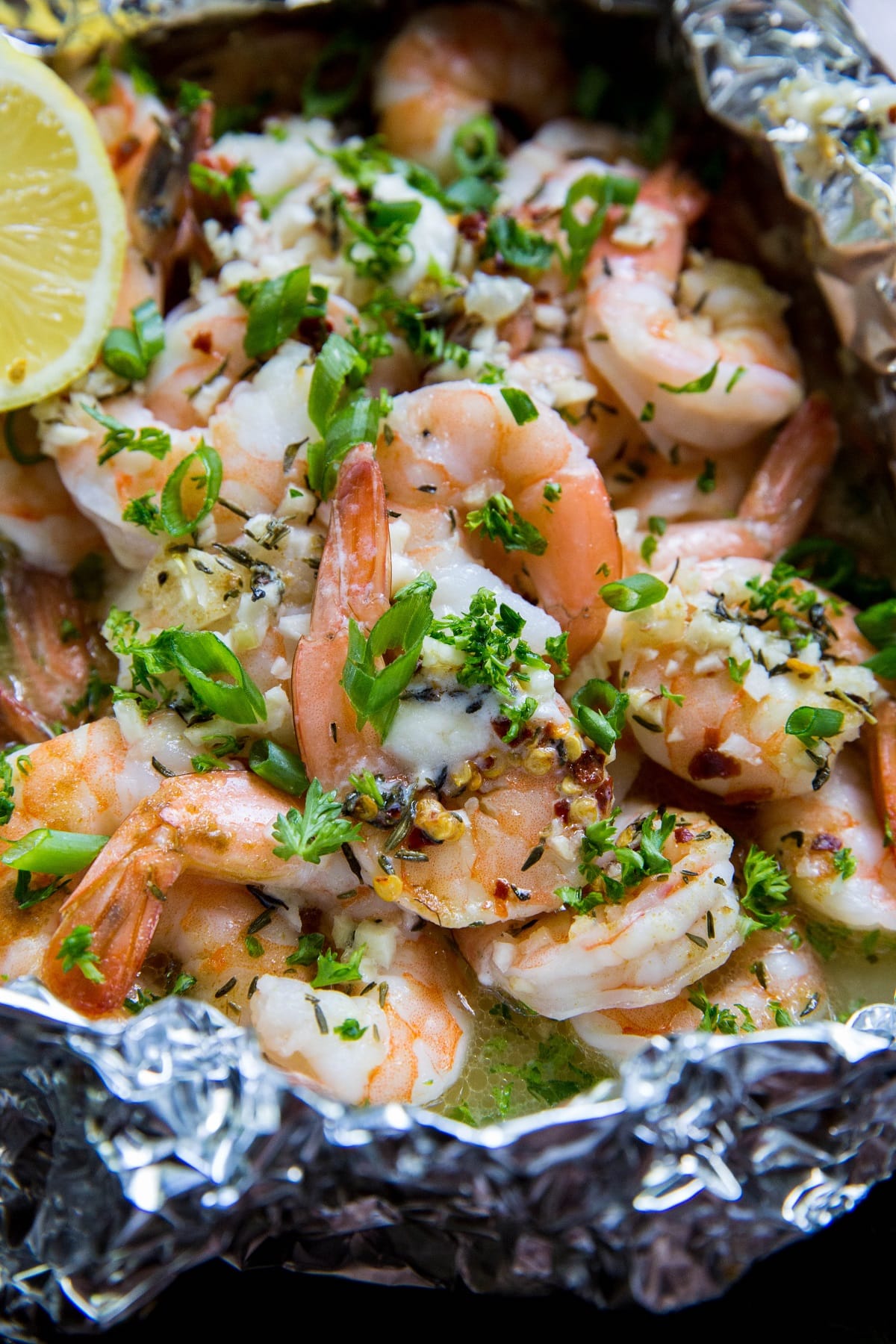 Vegan Red Curry Zucchini Noodle Bowls – These plant-based vegan red curry zucchini noodle bowls with asparagus, bell pepper and yellow squash are fresh, frisky, and comforting while keeping it low-carb.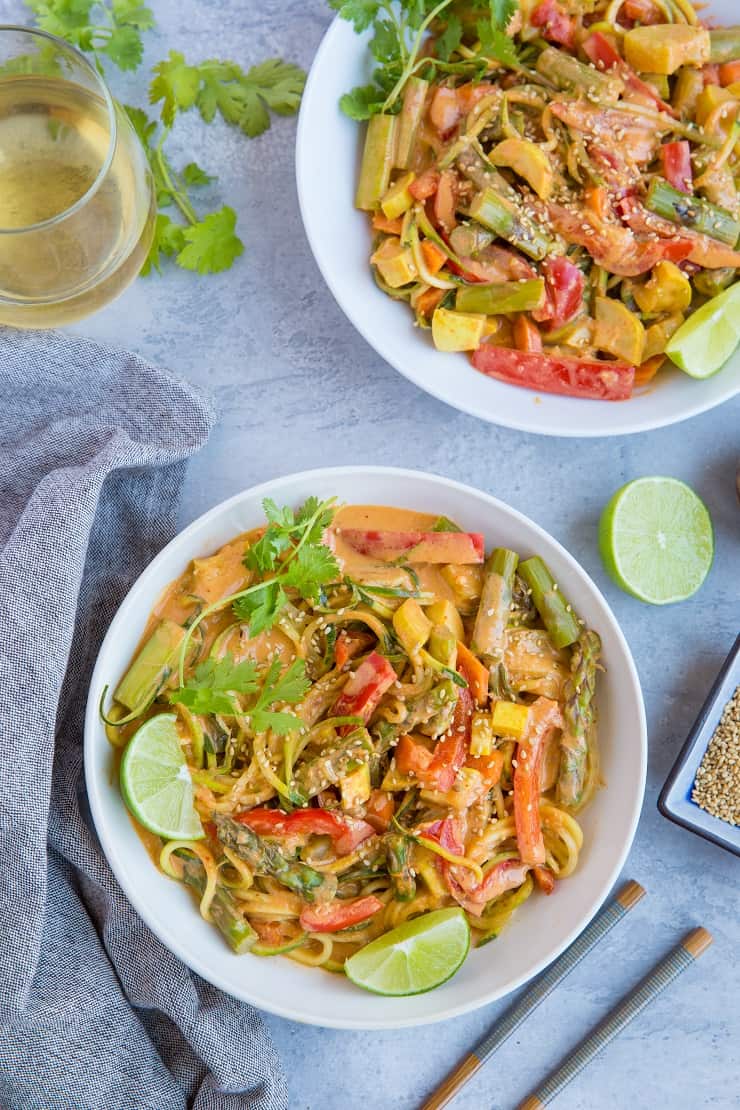 Asian Turkey Burgers with Zucchini Noodles – Asian Turkey Burgers with zucchini noodles is a mega palate-pleasing clean and healthy dinner recipe. Paleo, Whole30, Low-Carb, Keto? Gotcha covered!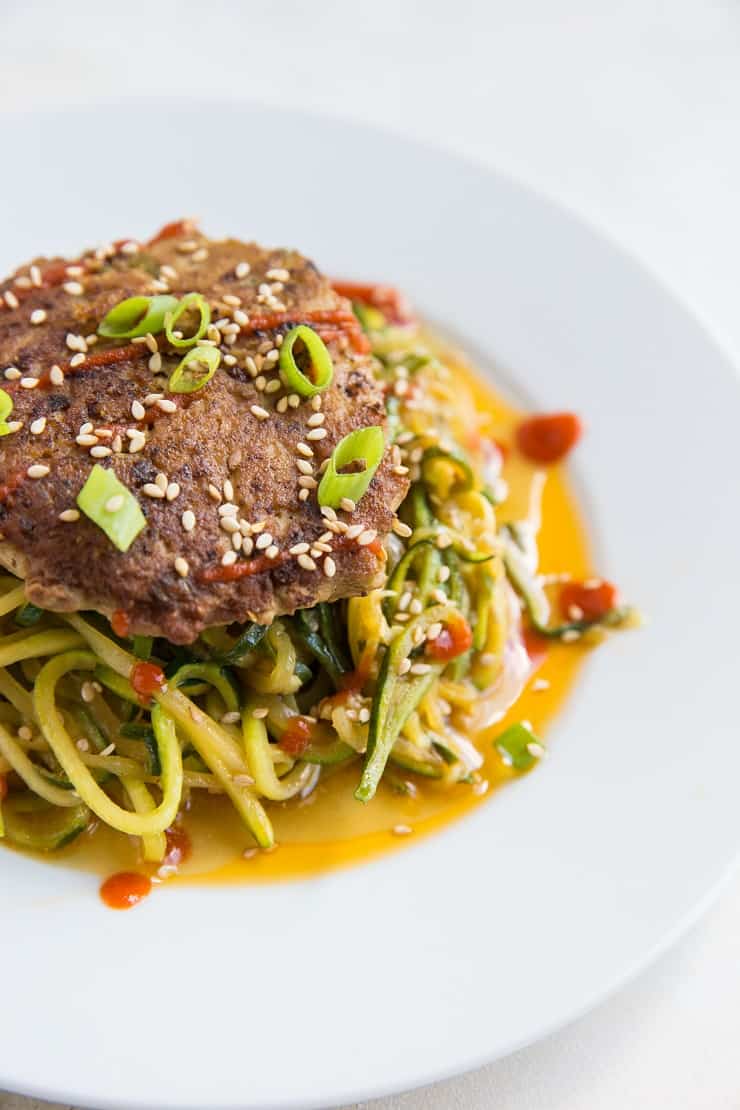 Finish it off with Banana Nice Cream and/or Low-Carb Mixed Berry Cobbler to put the cherry on top!
If you follow a Low-FODMAP Diet for optimizing gut health, be sure to check out my 40 Low-FODMAP Dinner Recipes.
Enjoy!
xo