Quick and easy Banana Nice Cream is a no-churn, dairy-free, vegan, and paleo treat made only with banana! This divine dessert recipe does wonders to satisfy your sweet tooth!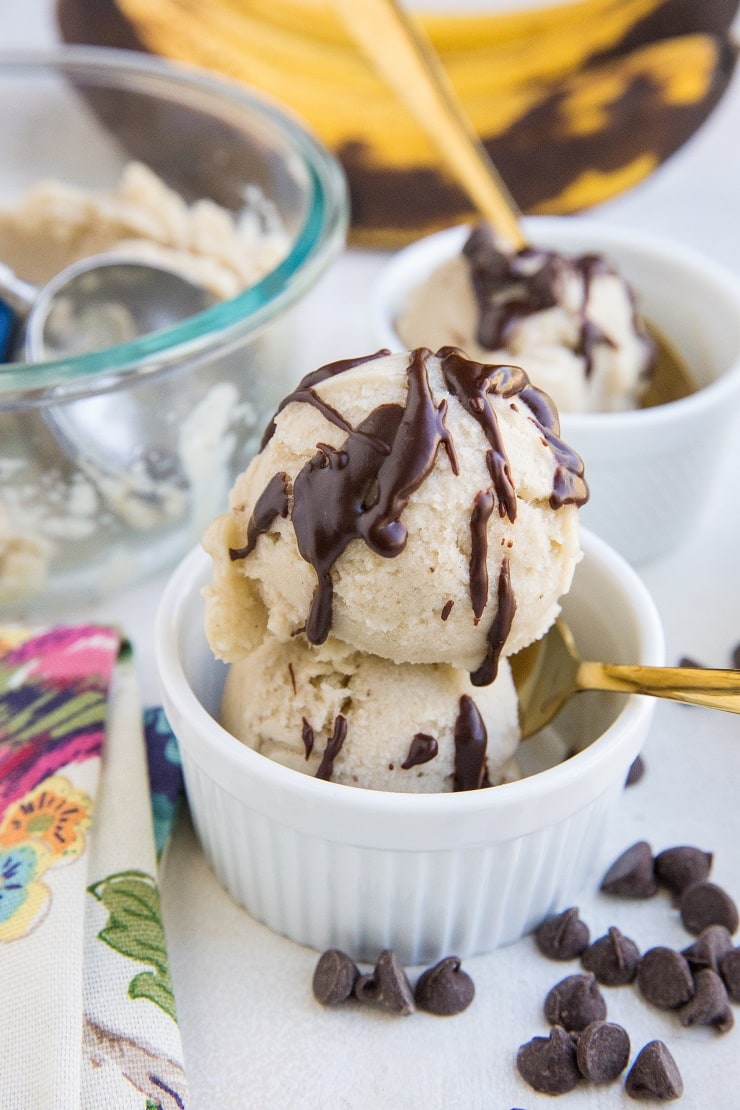 My guess is you've heard of Nice Cream already…but have you made it yet??
Nice cream is probably the easiest ice cream recipe one could ever make and it requires zero funky maneuvers.
No tempering eggs, no added sweetener, no ice cream maker…just you, your blender, and frozen ripe bananas.
The only catch is you absolutely do need a high-powered blender (with the tamper that comes with it) or a good food processor in order to prepare the recipe.
So long as you have some insanely ripe bananas and a jet-powered blender, you're on your way to a magnificent treat!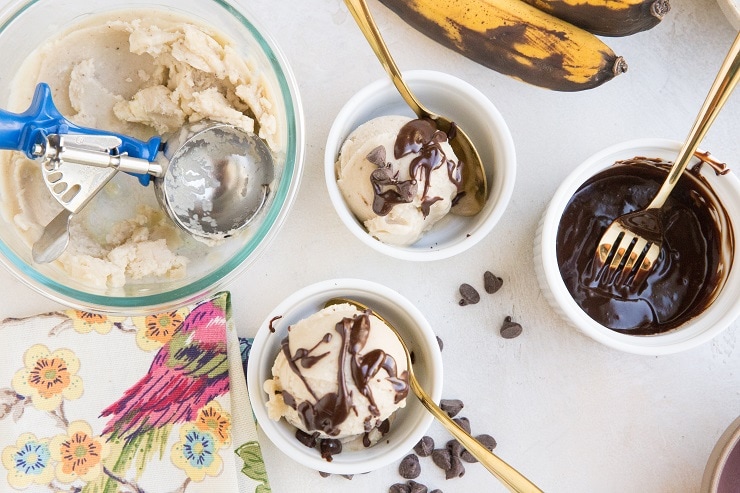 What is Nice Cream?:
For those of you who aren't familiar, the term "nice cream" applies to ice cream that's made out of whole foods. No dairy, eggs, or sugar!
In this sense, coconut milk based ice cream sweetened with a natural sweetener still falls under the nice cream category, but the mother of all nice creams is the OG banana nice cream.
I was a regular eater of banana nice cream when I first went paleo 12ish years ago.
The craving for something sweet after dinner would strike, and whipping up a quick soft serve-like ice cream using frozen bananas always hit the spot!
You can use any amount of bananas you'd like, but my blender seems to require three or more or else the job won't get done. If you own a Vitamix or a small food processor, you can easily do one banana at a time.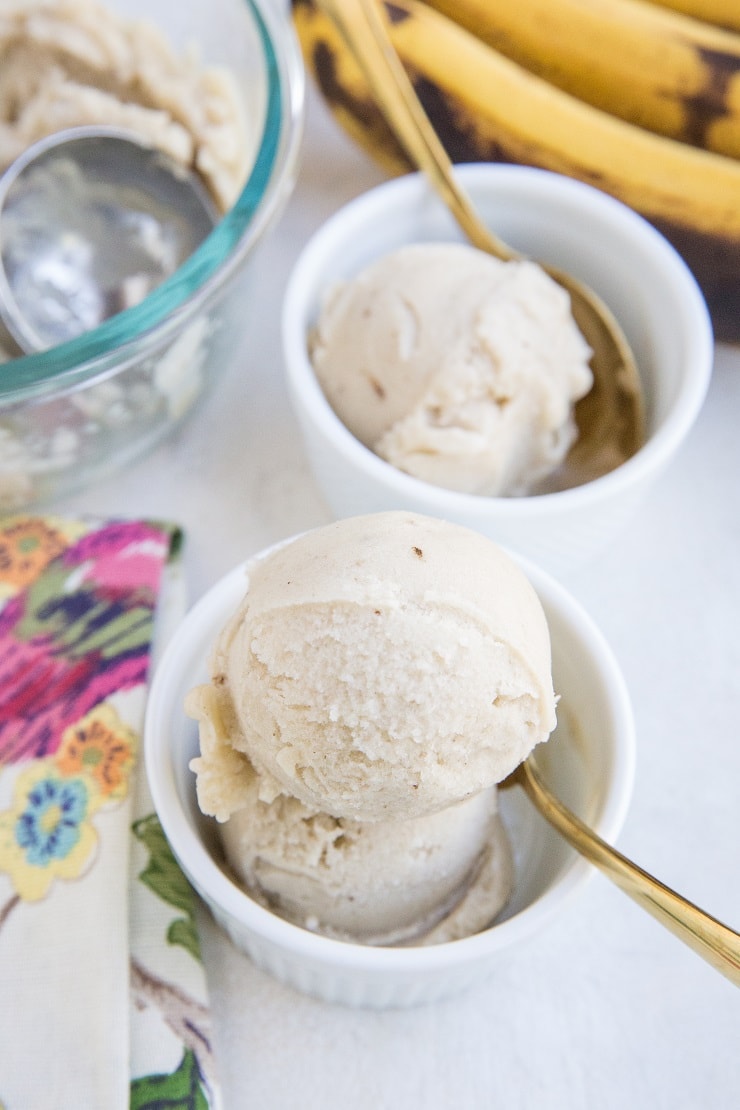 The only challenging part about making this 1-ingredient paleo vegan ice cream is the actual blending, but just have faith in your blender, and don't be afraid to really work that tamper!
How to Make Banana Nice Cream:
Start by freezing your bananas. Peel them and place them in a large zip lock bag. If you'd like, you can break them in half or smaller chunks. Freeze until completely frozen (at least 4 hours, but overnight is better if possible).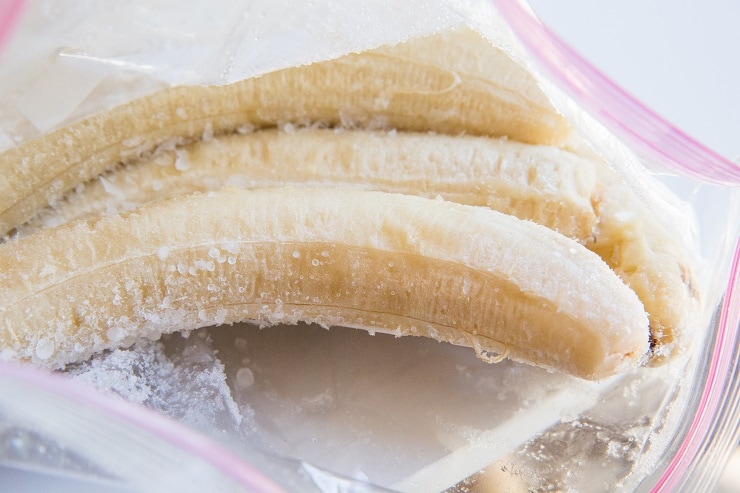 If you're trying to freeze the bananas quickly, you can slice them into rounds about ½-inch thick and freeze them on a baking sheet to speed up the process.
Place desired amount of bananas (I do 3 or more at a time and freeze the leftovers) in a high-powered blender. Secure the lid firmly and take out the removable center out of the lid.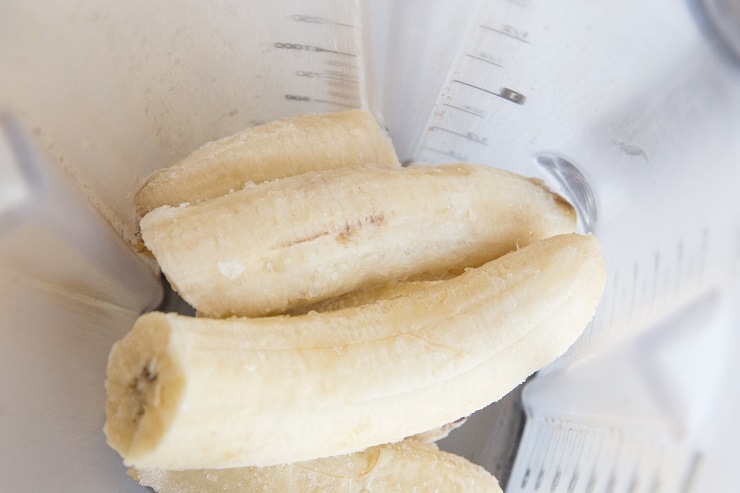 Insert the tamper inside of the hole through the lid. It is crucial that you put the lid on first before inserting the tamper – the blender is designed such that the tamper can shove food into the blade but not actually hit the blade itself.
If you don't follow protocol, you'll have a mess on your hands (and a broken tamper…possibly a broken blender…and certainly no nice cream). Trust me, I tested a lidless tampering ten years ago and it wasn't my finest decision.
In case you aren't familiar, the tamper is that long plastic thing with a handle that came with your blender 😉 It is crucial for making banana nice cream, unless you're using a food processor.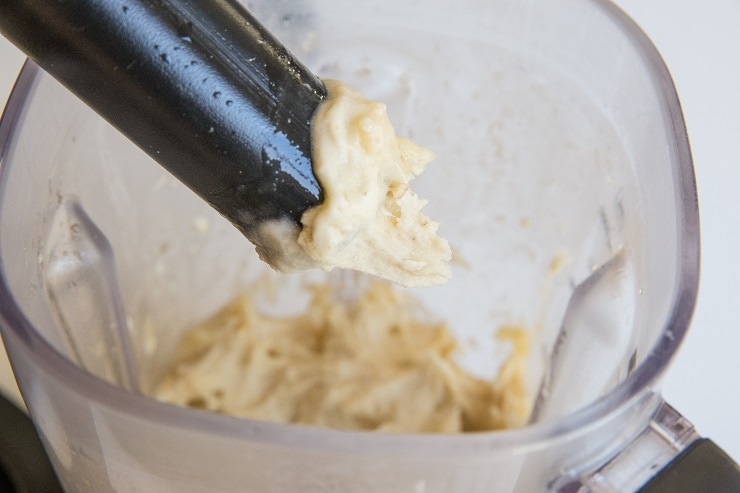 As I was saying…
After the lid is secure and your tamper is properly inserted through the hole in the top of the lid, switch the blender on low to medium speed until the bananas are broken up.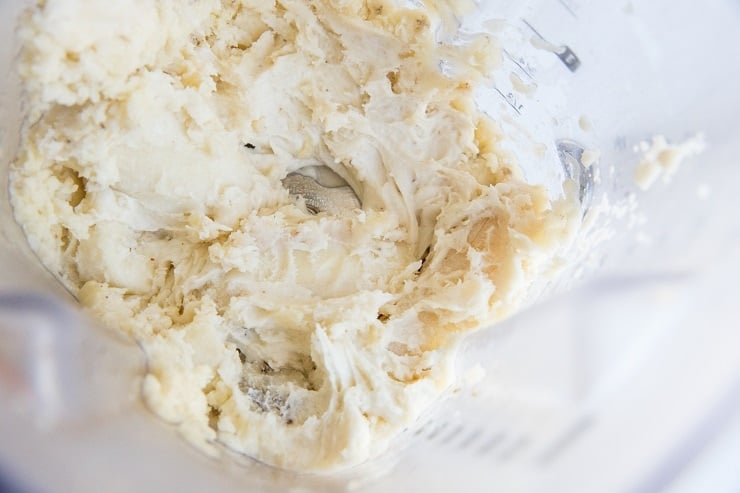 Turn the blender up to medium-high speed and use the tamper to mash and stir while the blender is blending. This requires a bit of time and elbow grease – just keep going until all of the banana chunks have sufficiently blended and you're left with a thick, creamy soft serve ice cream.
For help blending, add full-fat canned coconut milk! I use only two tablespoons for a three banana batch.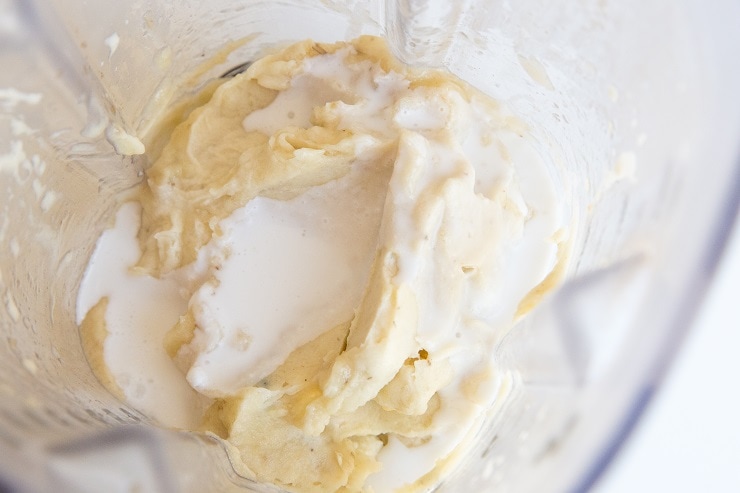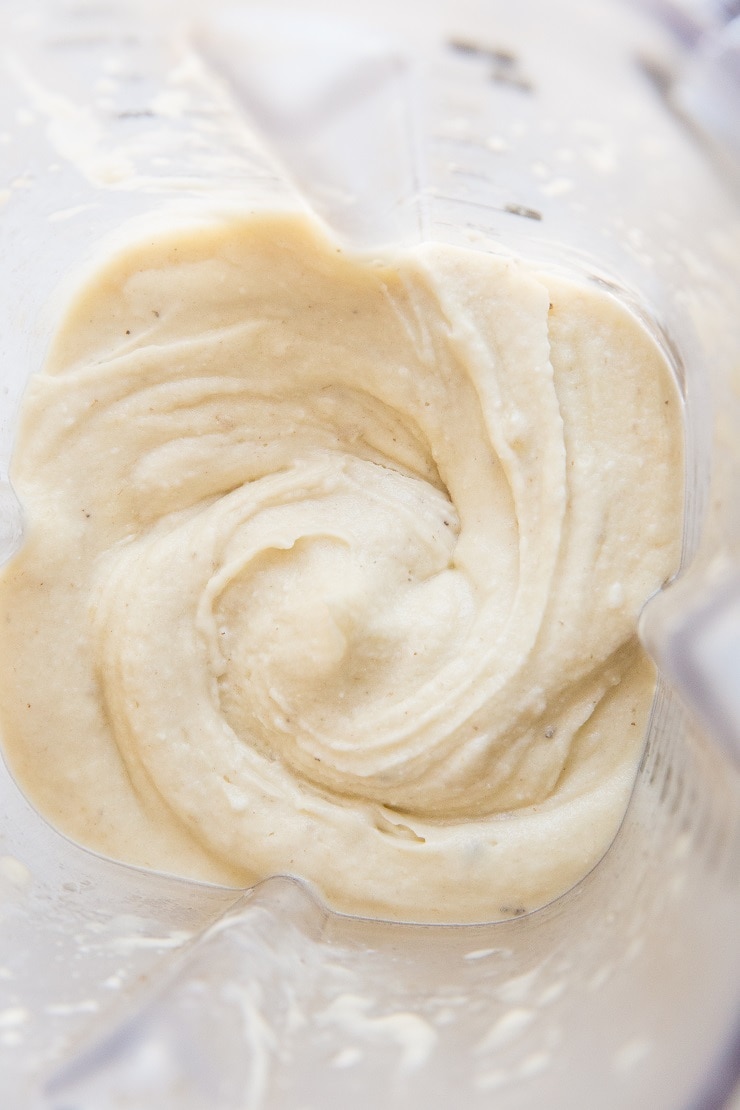 Now your banana nice cream is ready!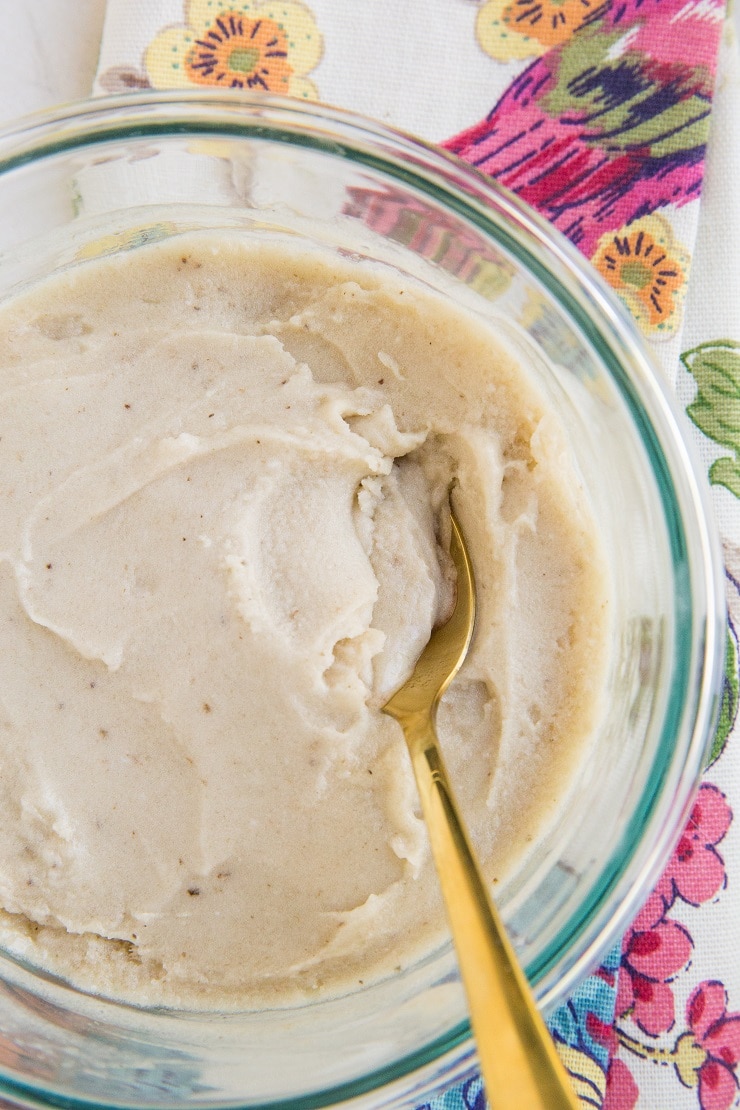 You can eat it straight away as is, drizzle it with chocolate sauce or Paleo Chocolate Magic Shell, or your favorite toppings (a scoop of Nuttzo is amazing!).
For a thicker ice cream-like consistency (or to store leftovers), transfer the nice cream to a freezer-safe container and freeze for at least 1 hour. At this point, you'll be able to scoop the nice cream into nice scoops!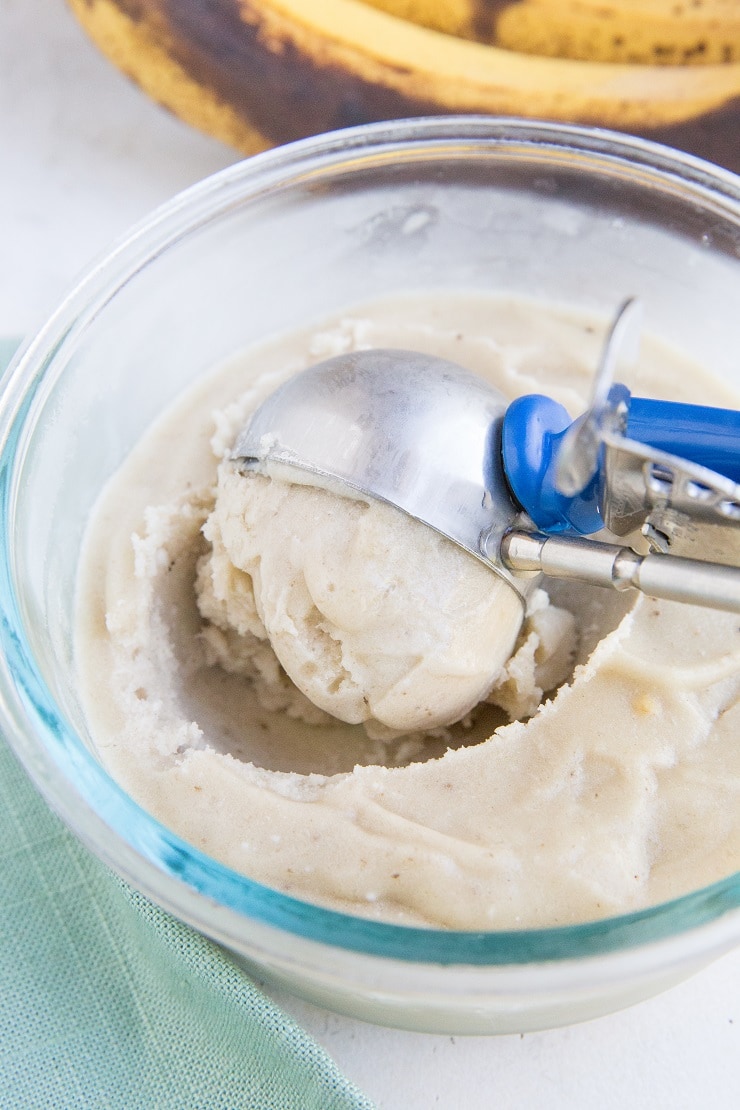 That's it! Your ticket to incredibly delicious, creamy vegan paleo ice cream!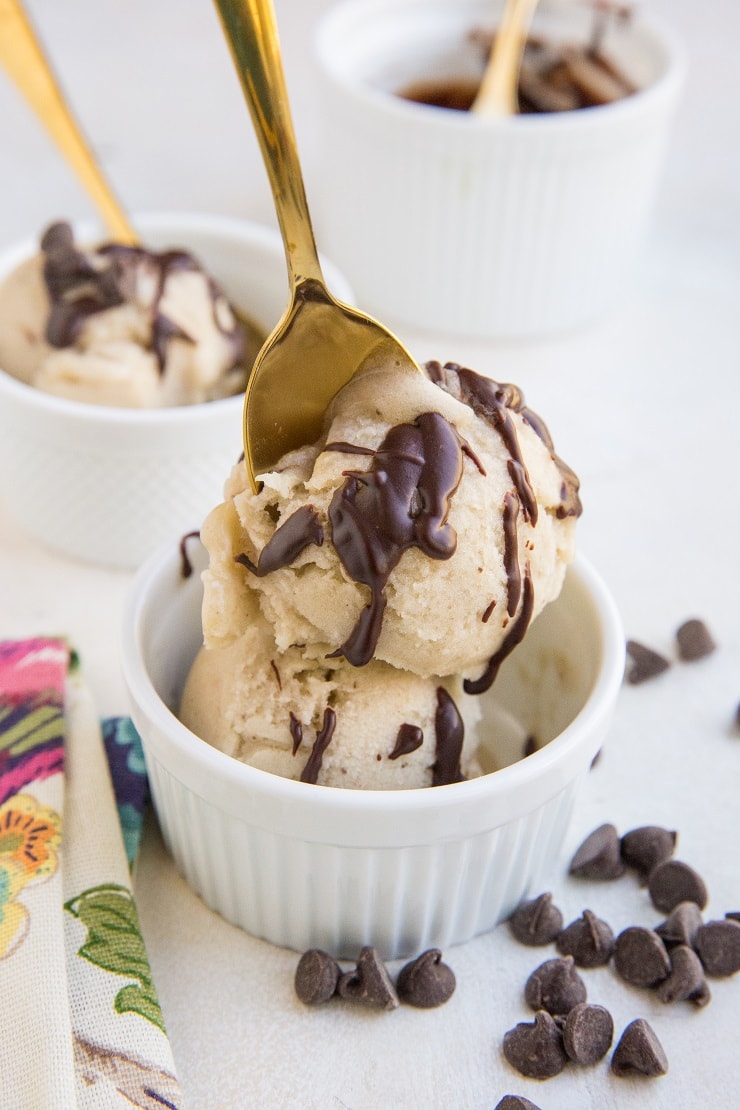 More Nice Cream Recipes:
My cookbook,
Paleo Power Bowls
, is now available! CLICK HERE to check it out. Thank you for your support!
If you make this recipe, please feel free to share a photo on Instagram and tag @The.Roasted.Root!
Banana Nice Cream (Paleo, Vegan, No-Churn)
1 ingredient, no dairy, eggs, sugar or ice cream maker needed! This easy nice cream recipe is amazingly rich and creamy yet healthful!
Ingredients
3

large ripe bananas

frozen*
Instructions
Peel and freeze the bananas for at least 4 hours.

Add bananas to a high-powered blender or food processor.

Remove the center insert from the lid and secure the lid on the blender. Insert the tamper through the hole in the top of the lid.

Turn the blender on medium-low speed and blend until the bananas have broken up and appear powdery.

Increase the speed to medium-high or high and use the tamper to stir and mash the bananas until they are completely creamy. This will take some time and effort!

If needed, you can add a couple tablespoons of full-fat canned coconut milk to help the bananas blend.

Either serve immediately or transfer to a sealable freezer-safe container until ready to consume.
Notes
*Use any amount of bananas you'd like! Mine performs best with 3 to 6.
If needed, add 2 tablespoons of full-fat canned coconut milk to help the bananas blend.
Nutrition
Serving:
1
of 3
|
Calories:
133
kcal
|
Carbohydrates:
34
g
|
Protein:
2
g
|
Fat:
1
g
|
Fiber:
4
g
|
Sugar:
18
g