Mediterranean quinoa salad with spinach, sun-dried tomatoes, kalamata olives, feta, and a lemon vinaigrette. This healthy salad recipe makes the perfect light vegetarian meal, or side dish for sharing with friends and family.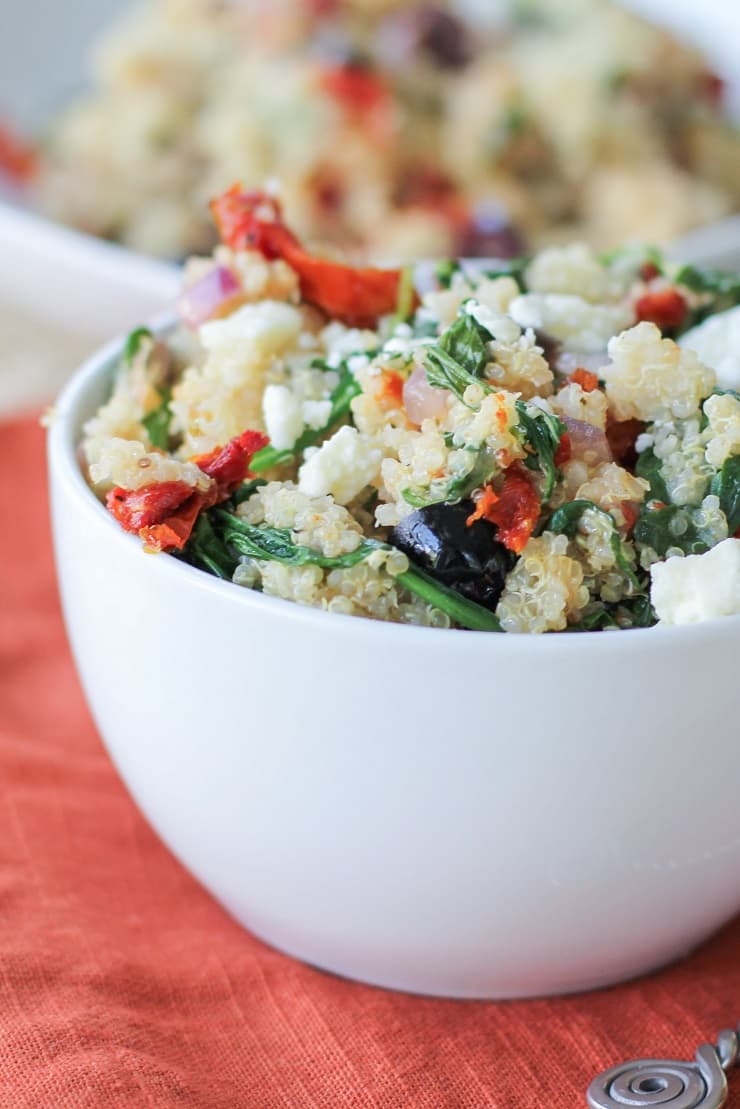 I often ask the manacle (get it? Bah-de-haaa!) what he thinks and feels about specific recipes I make. What a loaded question, right? I typically ask this question when I've had too much wine and am having difficulty scrounging around for words to spitter spackle together a blog post.
And this is no exception.
On this occasion, the question went, "Garrett, what do you think and feel about that Mediterranean quinoa salad I made a while back." The answer went, "Uhhh…it made me feel like I was in the Mediterranean…uhhhh….floating on a yellow raft."
Do what now?
Men…
Boys.
Men.
Quinoa salad.
I guess.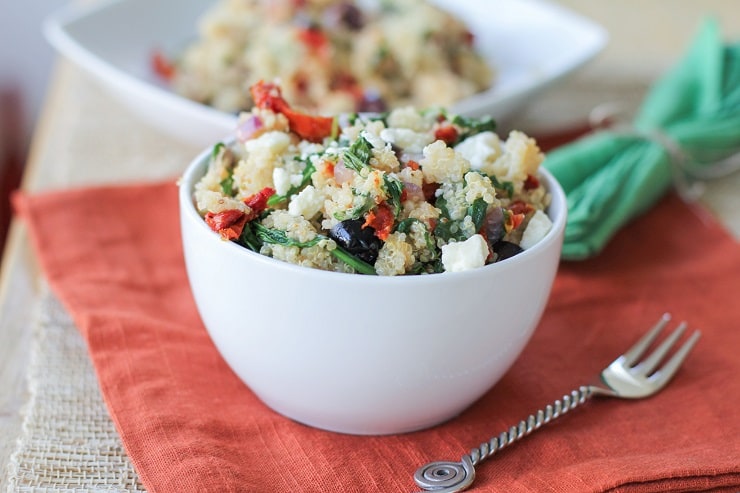 And so what you reaaaaaaally need to know is this: This quinoa salad is jamboree packed with goodies to bring to your barbecues this sizzlin' summer. Add grilled chicken to it to make it a filling entree, or serve it as a side dish!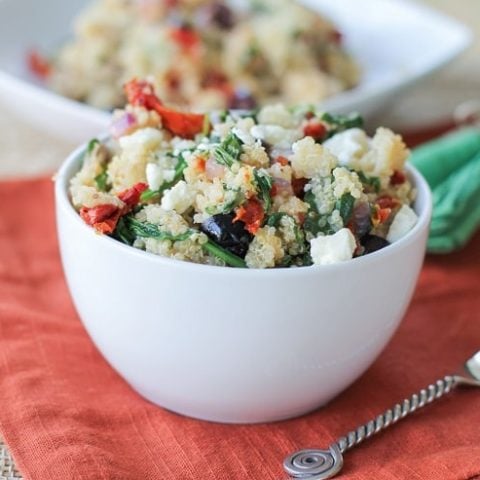 Mediterranean Quinoa Salad
Nutritious easy quinoa salad loaded with Mediterranean goodies like sun-dried tomatoes and feta makes for an incredible side dish!
Ingredients
2 cups dry quinoa
2.5 ounces baby spinach
1/2 large red onion, chopped
1 cup sun-dried tomatoes, julienne cut, drained
1 cup kalamata olives, pitted and halved
2 tablespoons fresh lemon juice
4 ounces feta cheese crumbles
Instructions
Prepare the quinoa according to package instructions. Use a larger pot than necessary so that you have room to add spinach once the quinoa is finished cooking. (note: the key to a great quinoa is rinsing it very well and/or soaking it before cooking!)
While the quinoa is cooking, sauté the red onion over medium heat in a couple teaspoons of olive oil, until it is completely soft and browned, about 10 to 15 minutes. Set aside.
In a mixing bowl, whisk together the olive oil, vinegar, and lemon juice.
Once the quinoa is finished cooking, remove it from the heat and add the baby spinach to the pot, putting the cover back on to help steam the spinach. Allow the spinach to steam and soften about 5 minutes and then mix it in to the quinoa.
Add the quinoa, spinach, sauteed onions, sun-dried tomatoes, olives, and feta cheese
Pour the oil/vinegar/lemon dressing and sea salt over the salad and toss everything together until coated. Taste the salad for flavor, and add more sea salt and/or lemon juice to taste.
Nutrition Information
Yield

6
Serving Size

1 g
Amount Per Serving
Unsaturated Fat

0g