20 Healthy Crock Pot Recipes to keep you feeling nourished! These straight-forward whole food recipes are easy to make in your slow cooker and I'm willing to bet they will become household staples!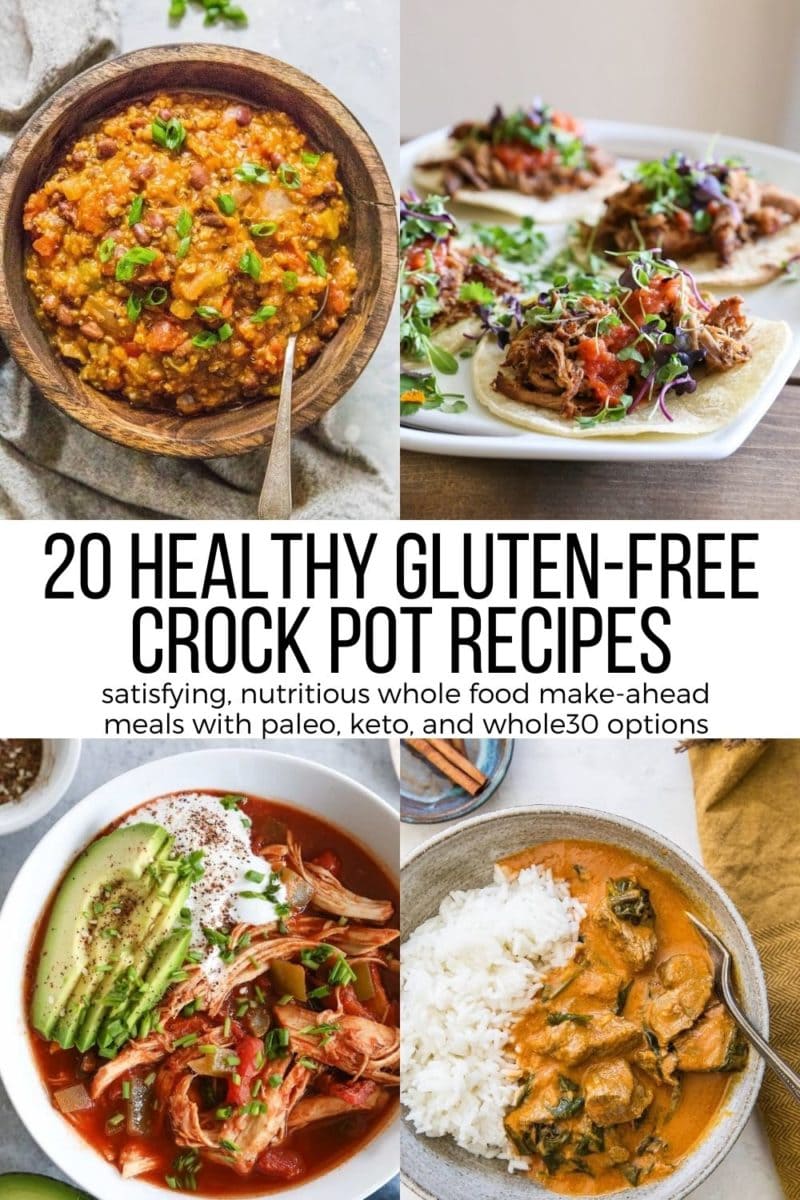 No matter the time of year, it's always a great time to slow cook! Minimal prep, easy cleanup, incredibly flavorful comfort food? Let's go!
My slow cooker typically lives on the counter during the fall and winter months, but I'm no stranger to using it during the heat of the summer as well.
If you're looking for healthy, comforting crock pot recipes to keep meal prep fresh and simple, you're in a good place!
I have rounded up all of my favorite crock pot recipes from this site for your slow cooking enjoyment. Keep this post on hand for those times you're in the mood for a make-ahead meal!
Prefer using your pressure cooker over a slow cooker? Most of the recipes here include instructions for Instant Pot preparation as well as crock pot instructions.
As an alternative, you can check out my archive of Instant Pot recipes.
But let's get slow cooking!
Let me know which recipes you make and feel free to drop a comment with any suggestions for slow cooker recipes you'd like to see in future posts!
Ready, set, set it and forget it!
20 Healthy Crock Pot Recipes to Make This Fall:
Crock Pot Vegan Pumpkin Chili – Vegan Pumpkin Chili with black beans and quinoa is a hearty meal perfect for fall and winter. This meatless chili is easy to adapt using your favorite vegetables and beans.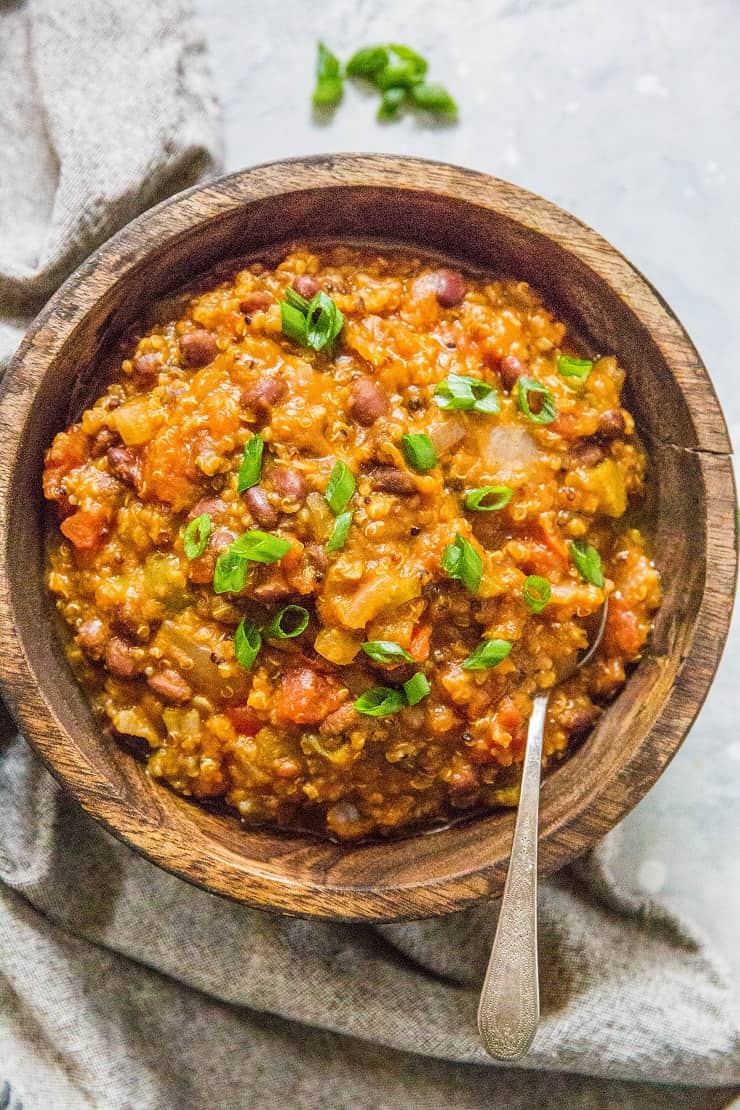 Slow Cooker Ropa Vieja (Cuban Shredded Beef) – Ropa Vieja, or tender Cuban-style shredded beef, is stewed in a pepper tomato sauce. With slow cooker and pressure cooker instructions, you can make this delicious recipe in either your crock pot or Instant Pot!
Crock Pot Carnitas Burrito Bowls – Easy crock pot carnitas made burrito bowl-style with rice, mango salsa, black beans, cabbage, and fried plantains. This super quick and simple approach to carnitas is a winning meal prep dinner recipe.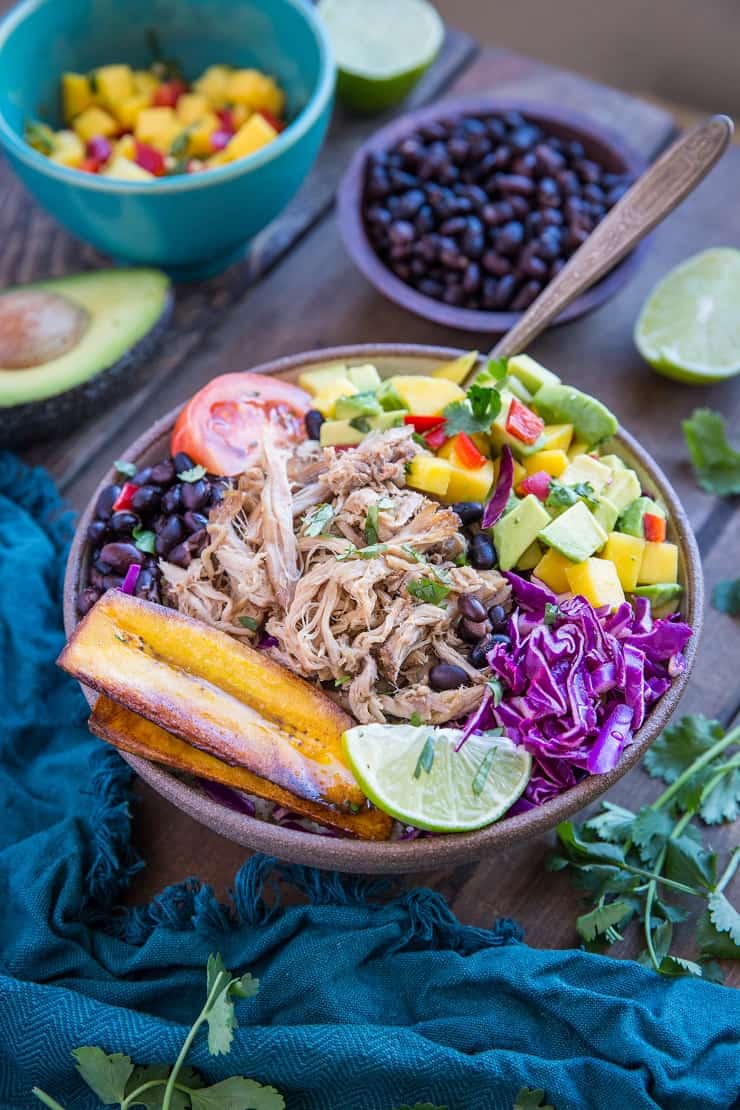 Slow Cooker Chicken Enchilada Soup – Slow cooker chicken enchilada soup with shredded chicken – a flavorful healthy whole30, paleo, keto dinner recipe made conveniently and easily in the crock pot. This post also includes an Instant Pot option!
Crock Pot Pulled Pork and Apples – Tender, flavorful crock pot pulled pork and apples made easily in your slow cooker. Only a few ingredients are needed to prepare this cozy fall meal meal.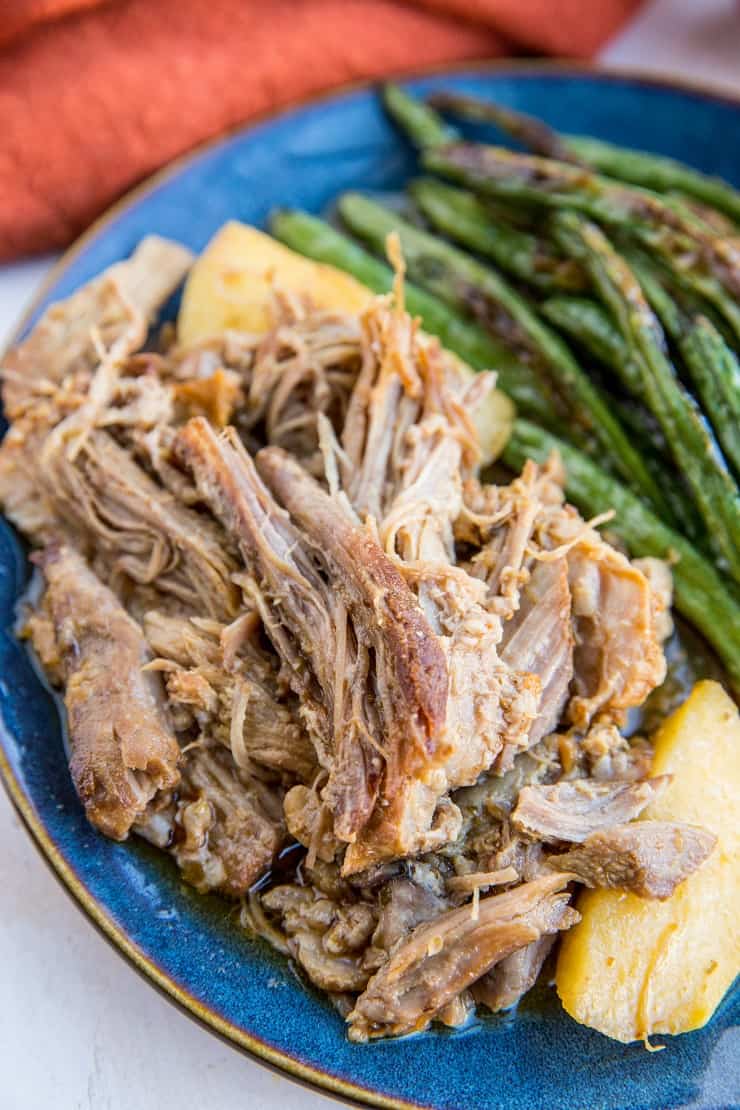 Crock Pot Shredded Chicken Chile Verde Burrito Bowls – Easy chicken chile verde burrito bowls made conveniently in your slow cooker! This recipe only takes minutes to prepare and results in a marvelous well-balanced meal to enjoy any night of the week.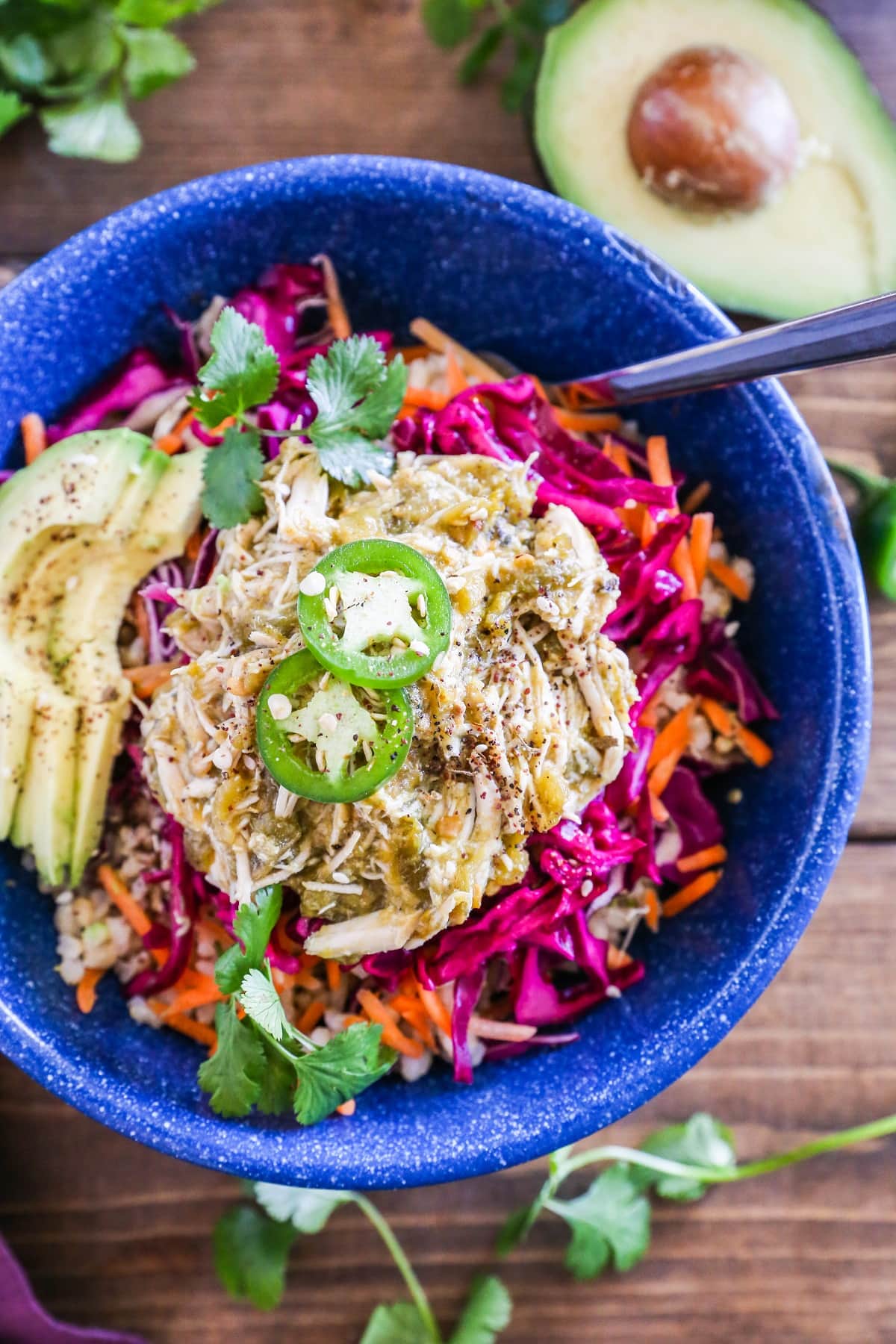 Crock Pot Creamy Kale and Sausage Soup – Sausage soup with kale and sun-dried tomatoes made easily in your slow cooker! This creamy soup recipe is paleo, whole30 approved, and keto friendly!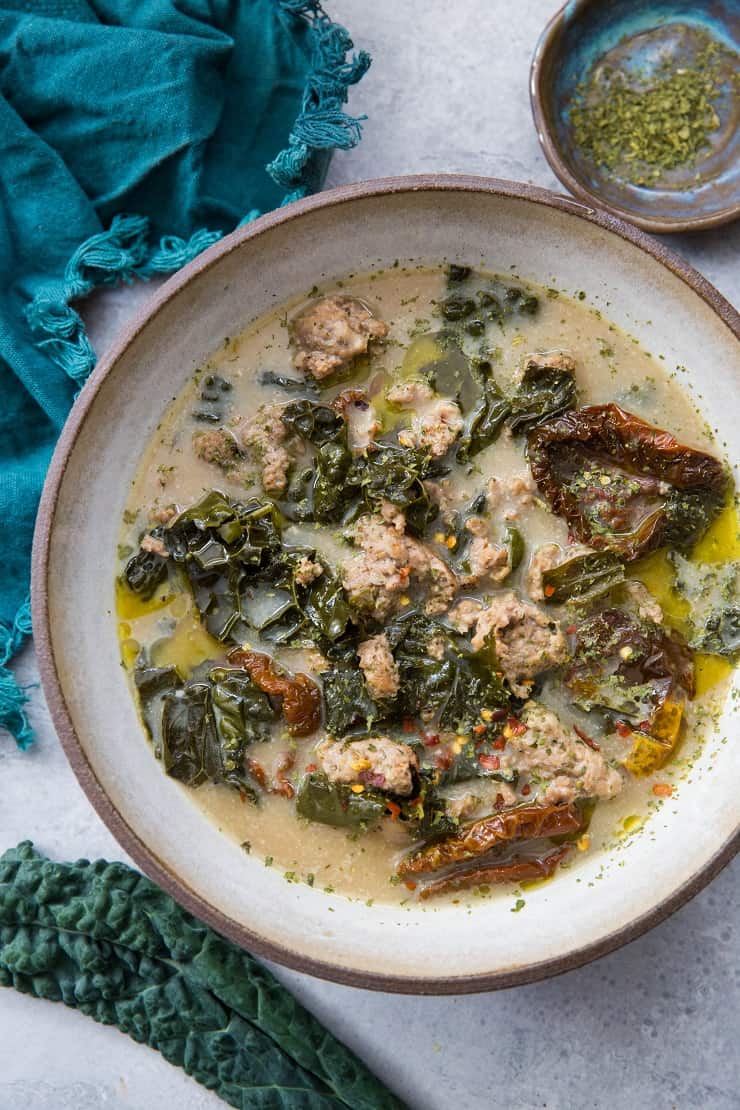 Crock Pot Citrus Pork Chili – Comforting citrus pork chili with mango made easily in your slow cooker. This crock pot recipe is easy to make ahead of time for any night of the week, or any special occasion.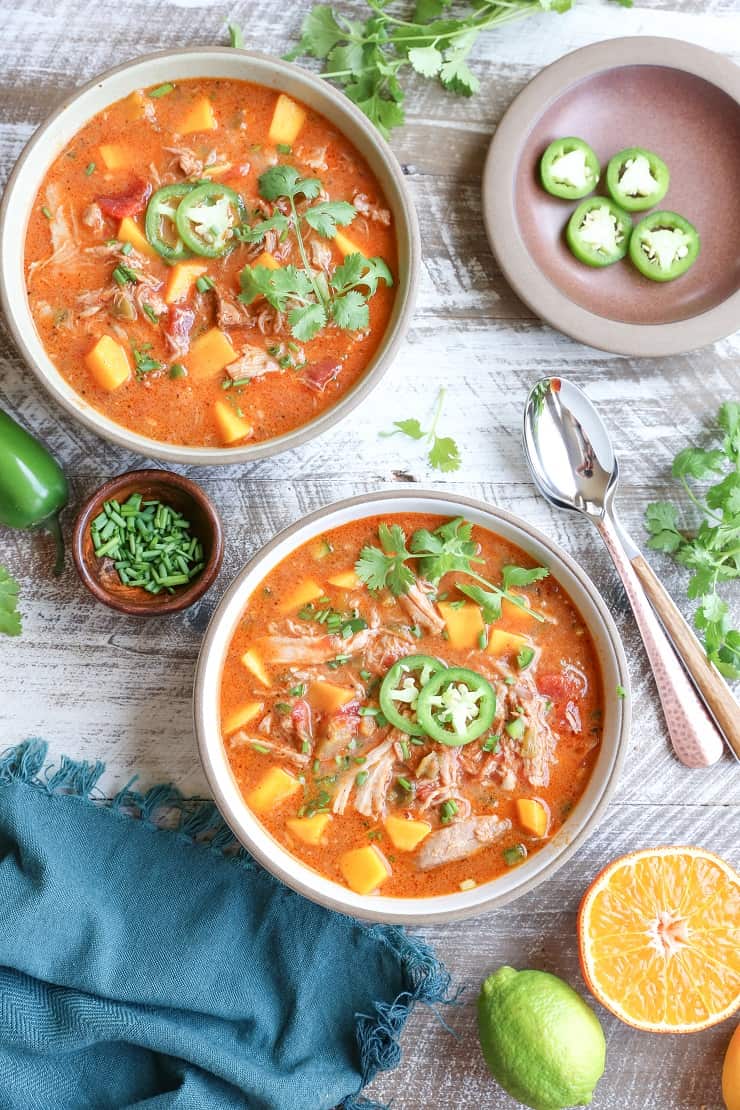 Crock Pot Barbacoa Beef Tacos – Hot off the press: a 4-ingredient shredded barbacoa beef recipe that'll knock your socks off! Made simply in the crock pot, this recipe for barbacoa beef is great in tacos, enchiladas, burritos, and more.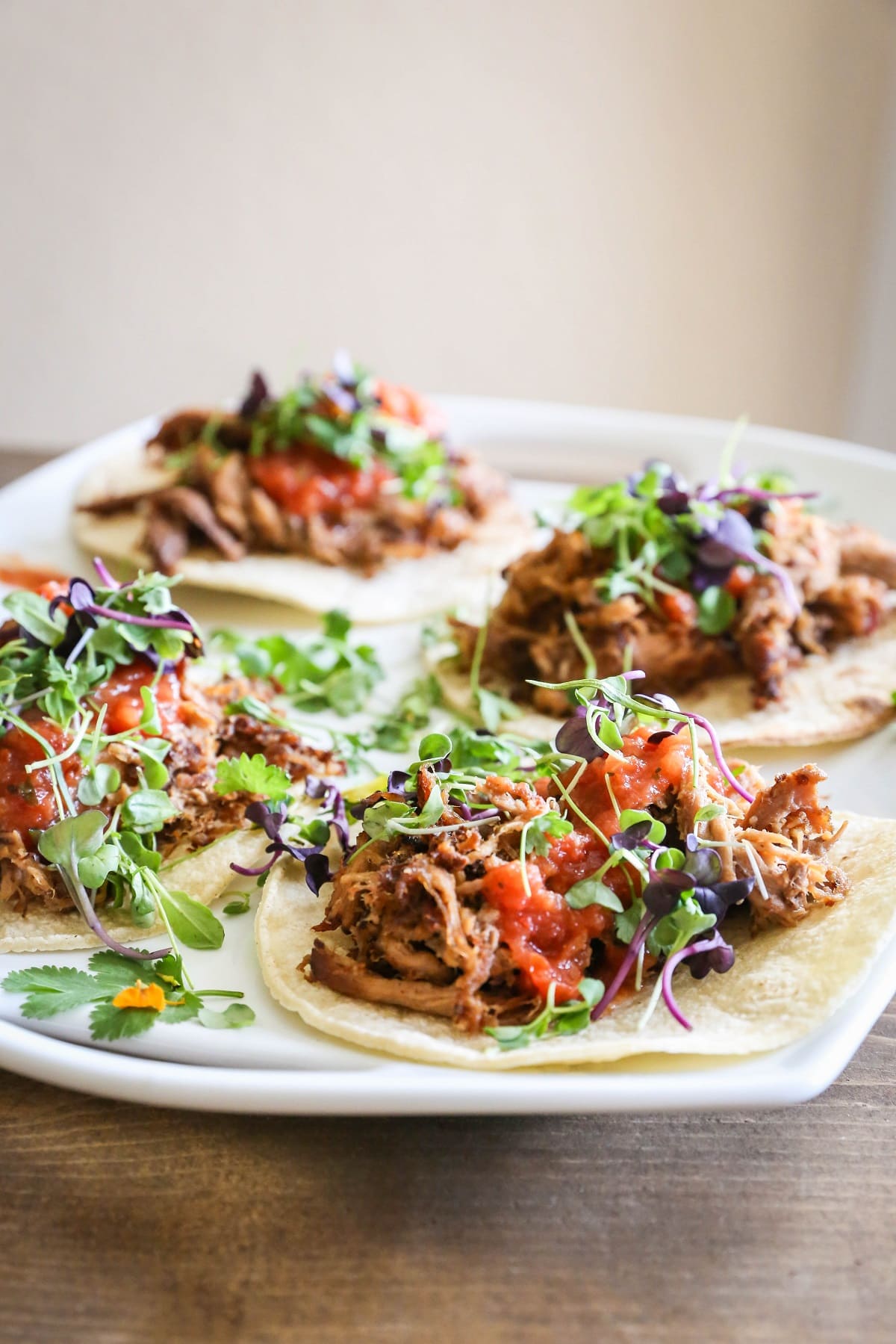 Boozy Crock Pot Bison and Sweet Potato Chili – Crock pot bison and sweet potato chili with a whisky infusion. This bean-free chili is vegetable-infused and is a clean and hearty meal.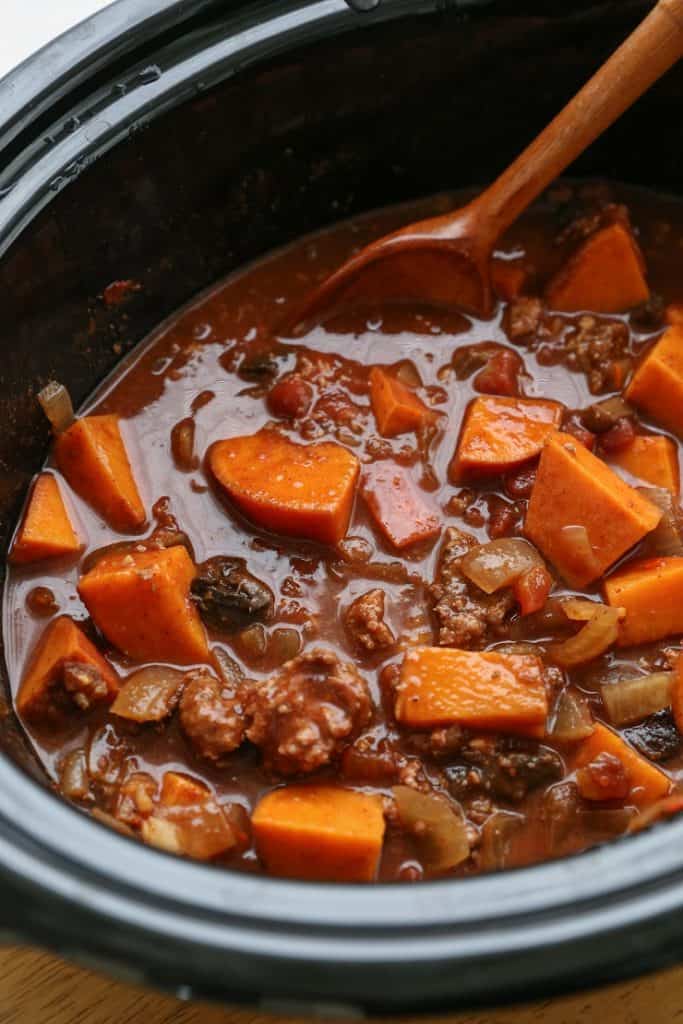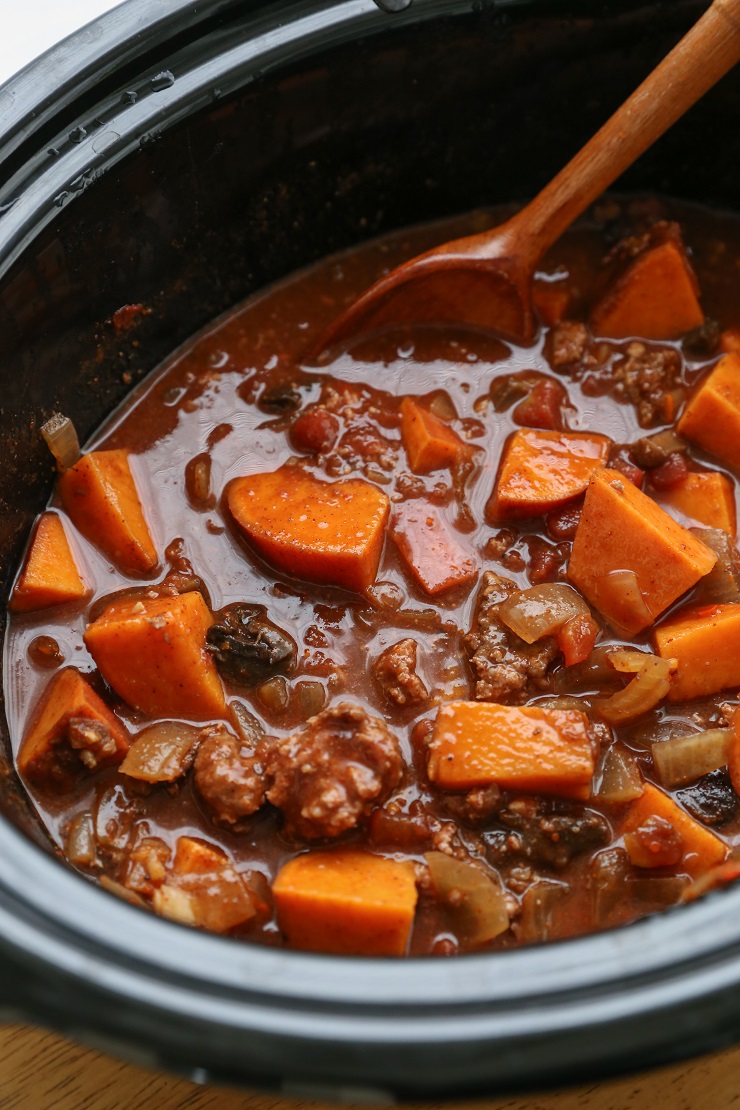 Slow Cooker Barbacoa Beef Burrito Bowls – Slow cooked barbacoa beef with turmeric rice, cabbage slaw, and a homemade maple barbecue sauce. These filling bowls are paleo-friendly and packed with fresh, delicious ingredients.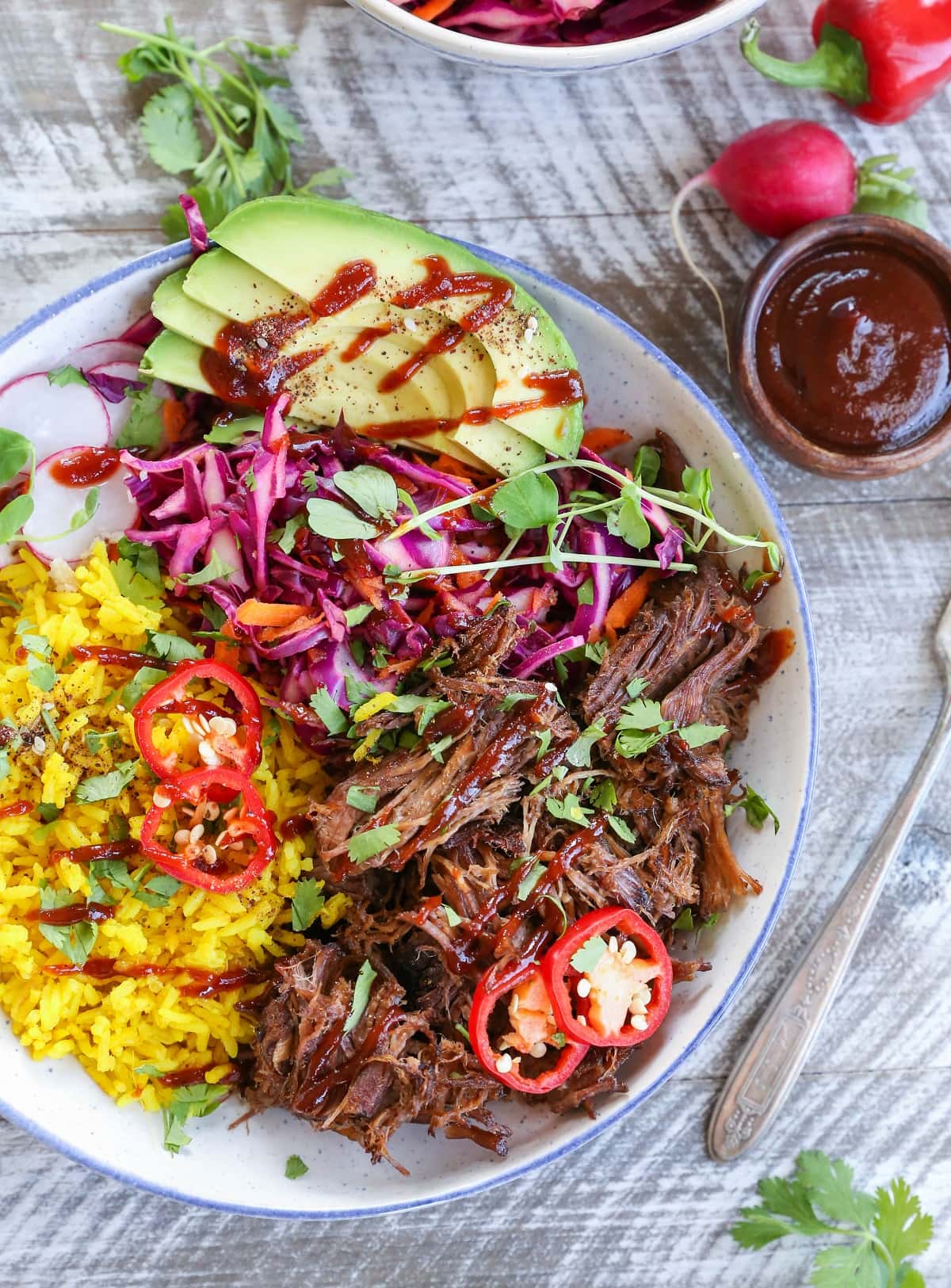 Crock Pot White Chicken Chili– The easiest, most delicious white chicken chili you'll ever make! Slow cooked in a crock pot, this healthy chili recipe is packed with flavor while still healthful and light.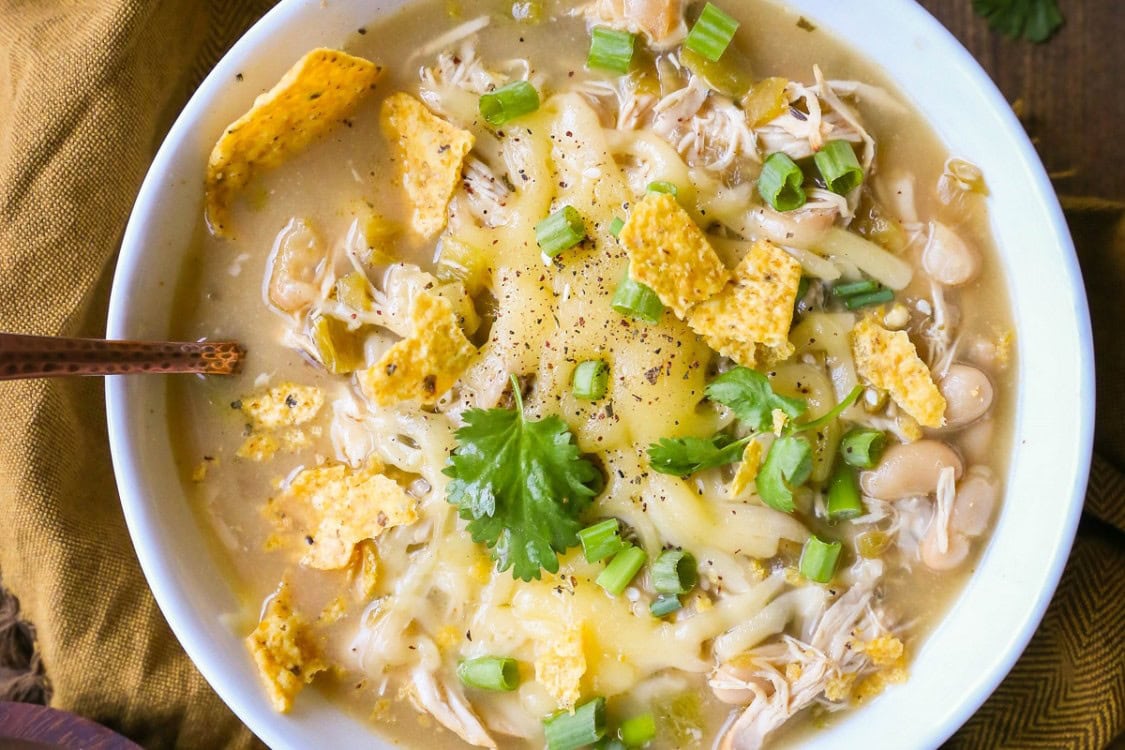 Slow Cooker Lamb Curry – Tender, flavorful Crock Pot Lamb Curry made easy in your slow cooker. The meat turns out so rich and well-textured, and is seasoned to perfection! Serve with basmati saffron rice for a great comforting meal!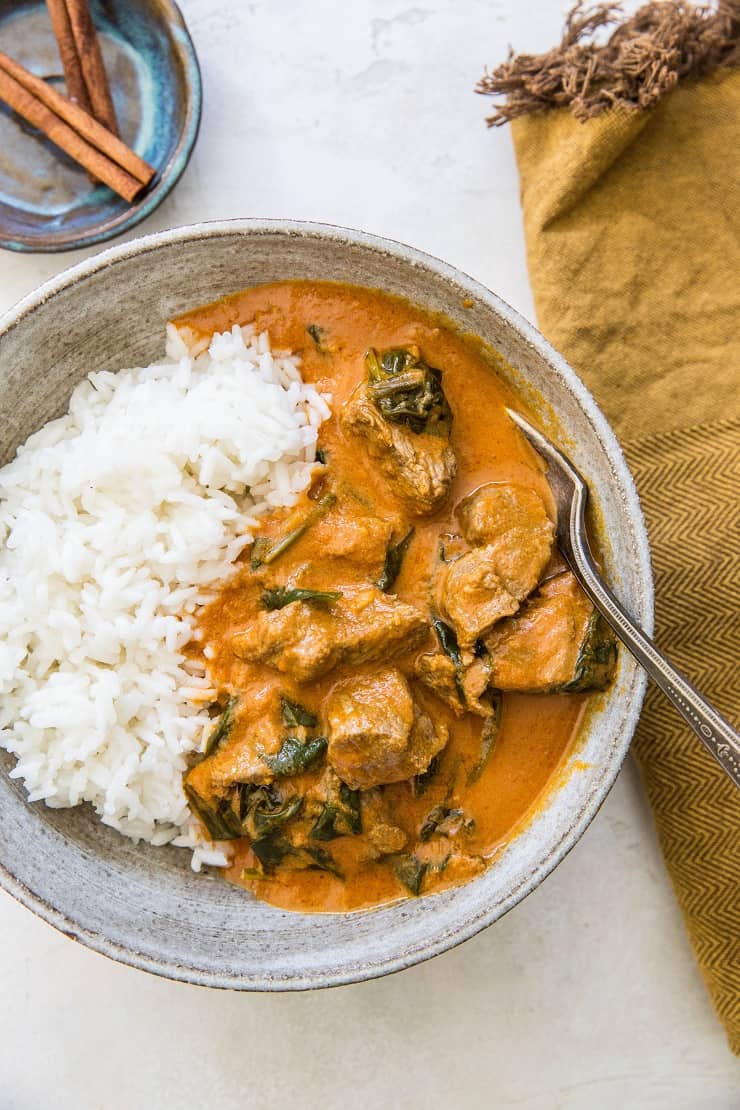 Crock Pot Chicken Artichoke and Kale Soup – Hearty and healthy Crock Pot Chicken Artichoke and Kale Soup – a simple recipe that requires few ingredients and is made easily in your slow cooker!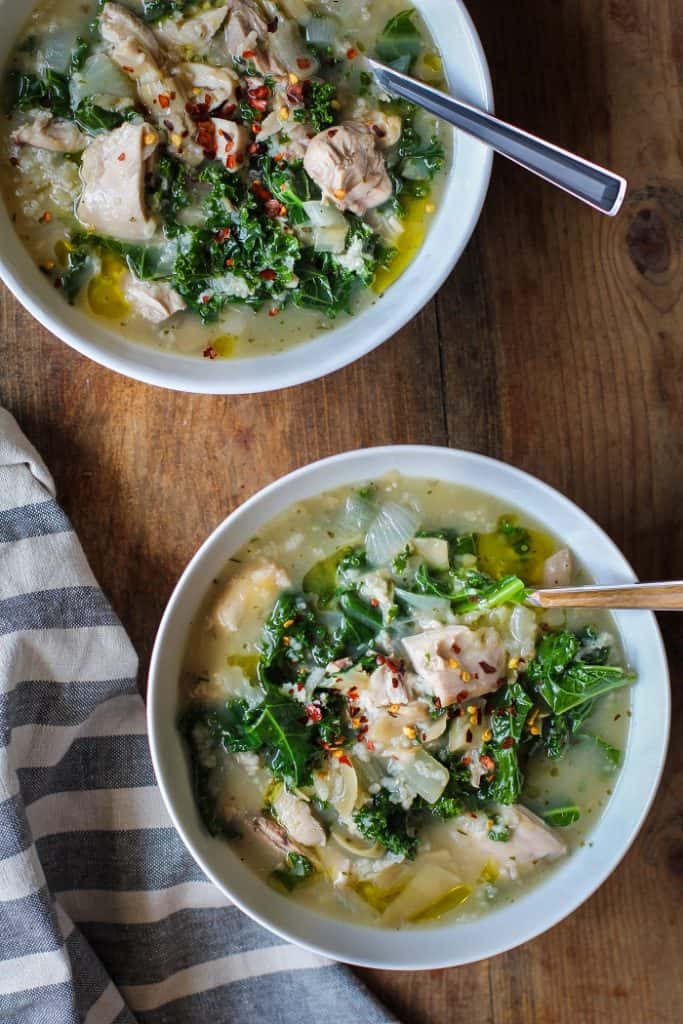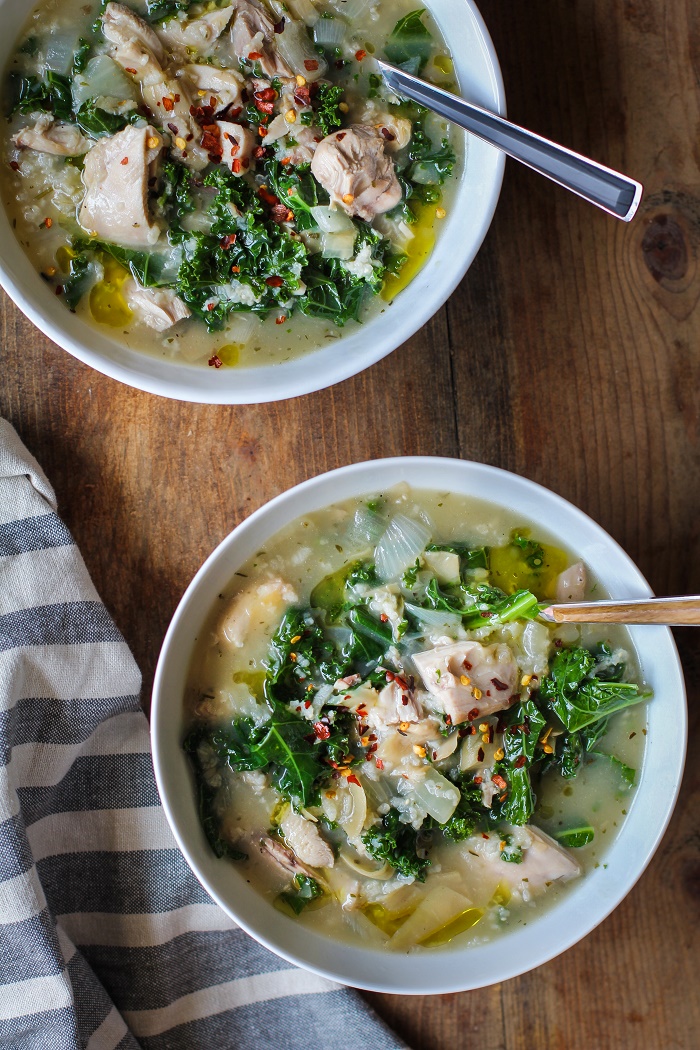 Crock Pot Beef Stew – Hearty beef stew made easy in your slow cooker! All it takes is 15 minutes of prep to make this comforting meal!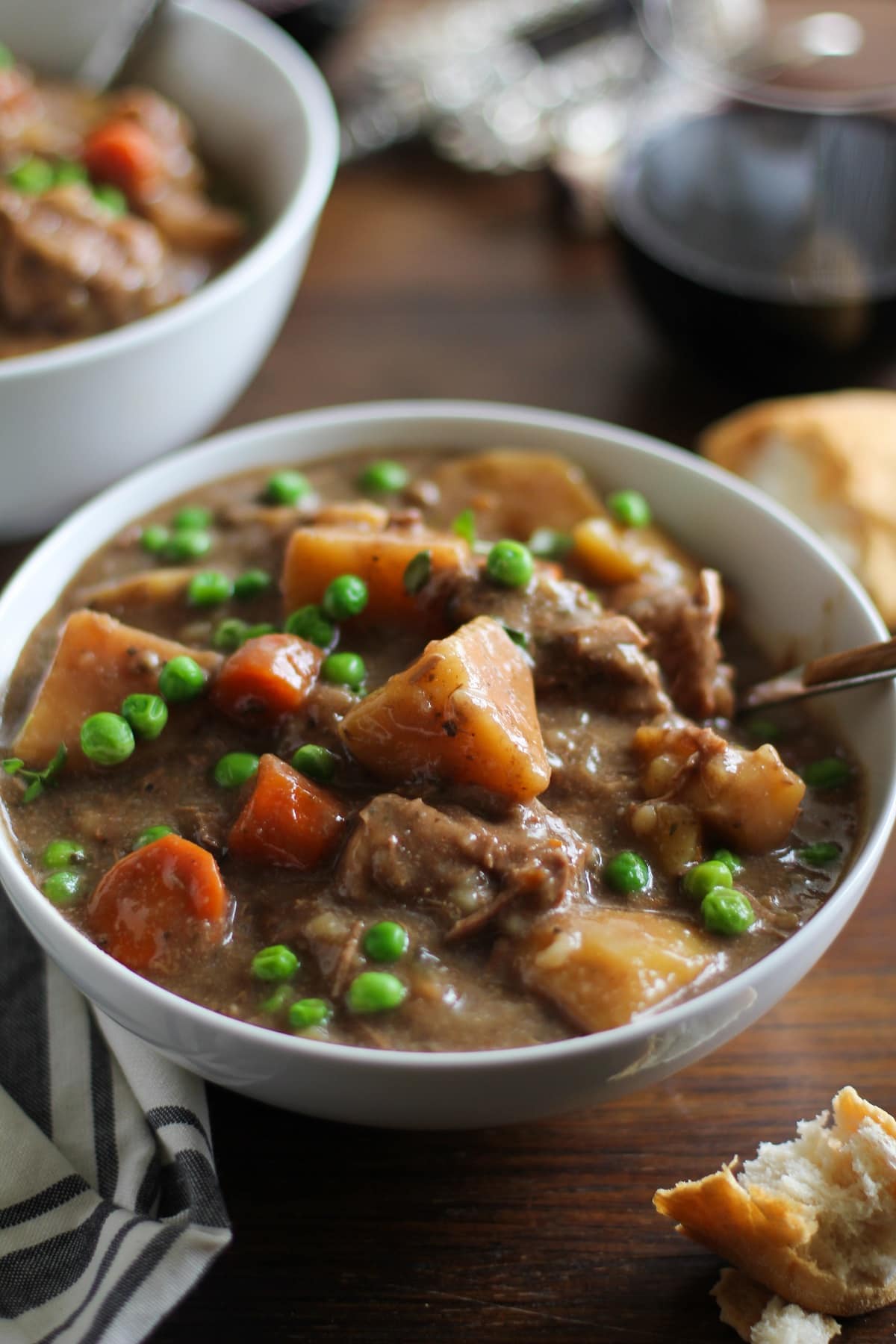 Crock Pot Chicken and Rice Soup – Hearty, healthy crock pot chicken and rice soup, made in the comfort of your slow cooker!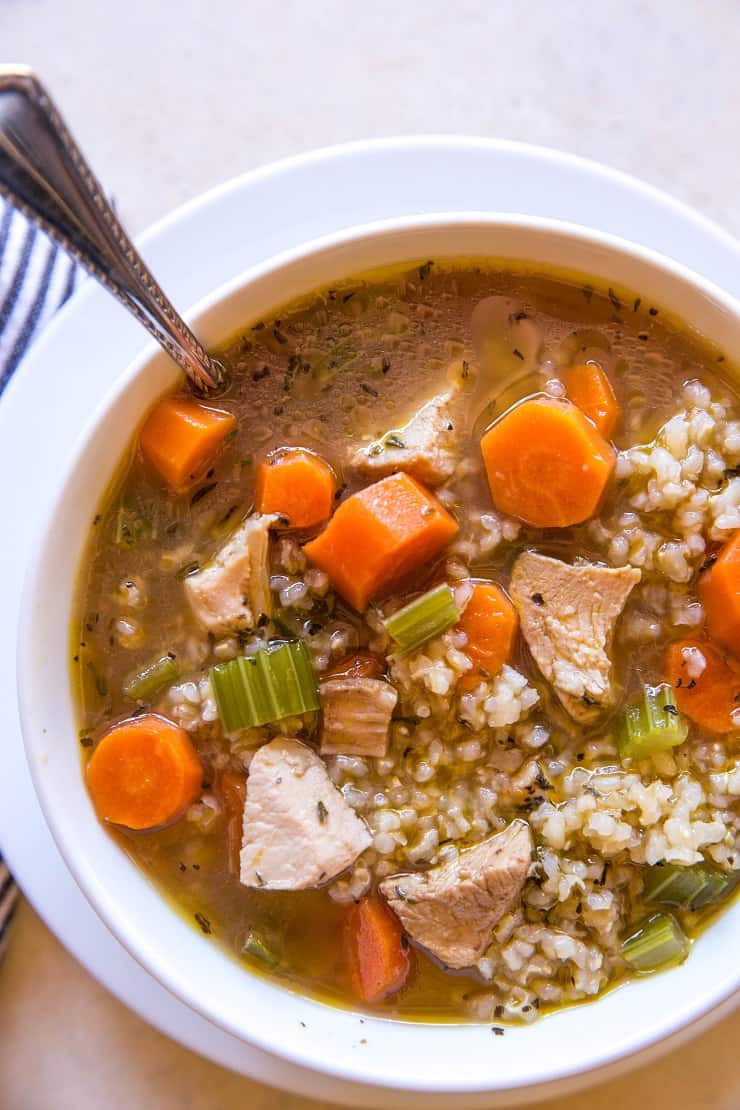 Crock Pot Rice Pudding (Vegan) – Crock pot rice pudding recipe made dairy-free and refined sugar-free. This easy slow cooker rice pudding requires minimal ingredients and turns out so thick and creamy!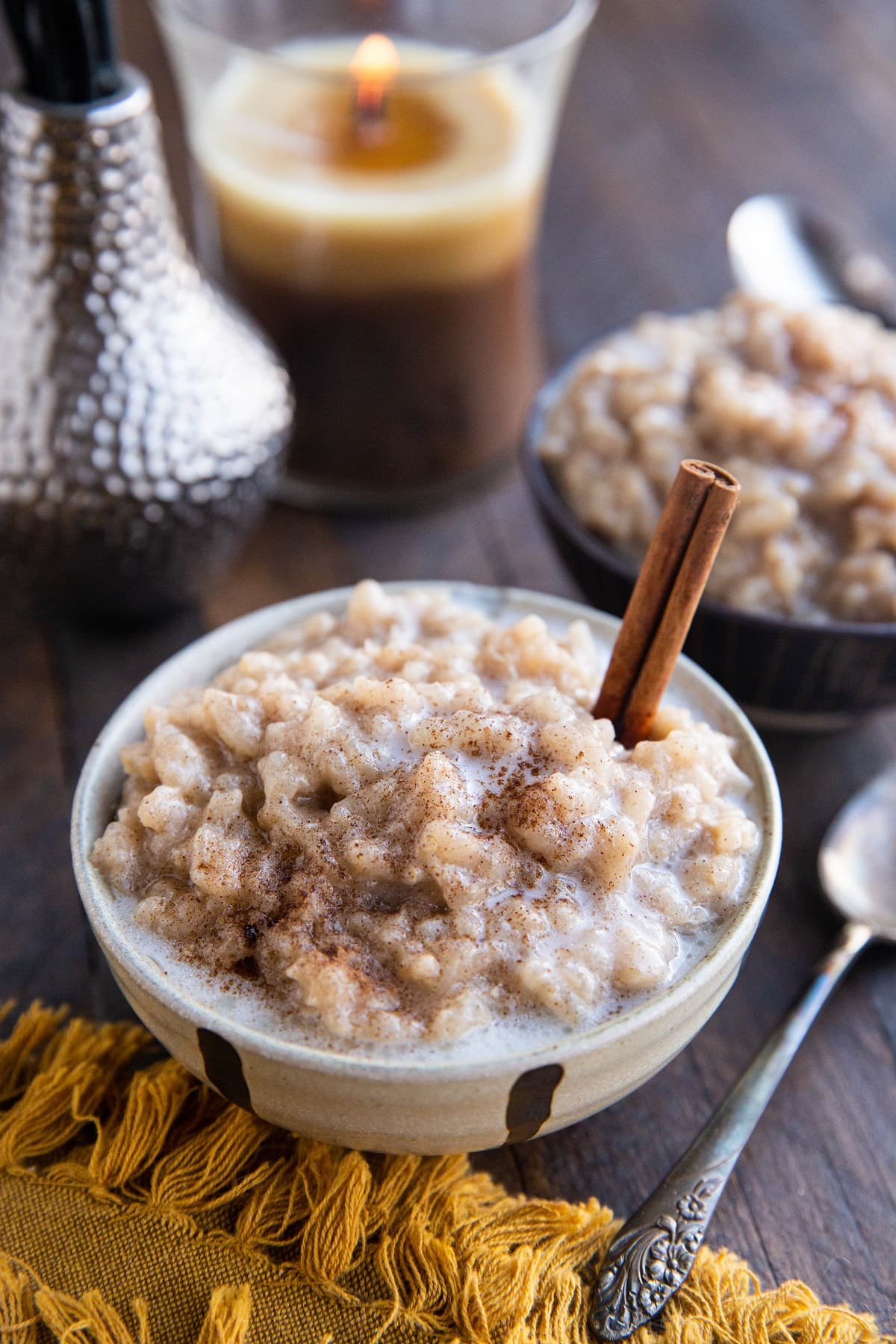 Apple Cinnamon Steel Cut Oatmeal – Creamy, warmly-spiced Apple Cinnamon Crock Pot Steel Cut Oatmeal is a marvelous make-ahead breakfast to share with family. Set it up the night before and have delicious oatmeal in the morning!
Slow Cooker Bison Roast with Mashed Rutabaga – Slow cooker bison roast with mashed rutabaga and roasted carrots makes for a tasty evening in with your special someone.
Crock Pot Tunisian Lentil Stew – A warmly-spiced plant-based stew recipe with lentils and plenty of seasonings. Hearty, filling, easy to make, and huge on flavor!
Looking for more? You can also check out my 35 Crock Pot Recipes from around the web 🙂
Enjoy!
xo