Tender, flavorful Crock Pot Lamb Curry made easy in your slow cooker. The meat turns out so rich and well-textured, and is seasoned to perfection! Serve with basmati saffron rice for a great comforting meal!

My crock pot works hard.
Six months out of the year, it lives on the counter and has the daunting task of slow cooking our household meals for hours and hours on end with no break. We're real crock pot slave drivers in this house. We stuff it, set it, forget it and periodically give it a nice pat on the lid. We love crock.
Other than a random steam spurt from time to time, there are minimal complaints from crock because the remaining six months of the year, Ol' Reliable enjoys a prime piece of pantry real estate in its second home next to all of the baking flours. It makes us look like we know what we're doing in the kitchen, and we in turn give it plenty of resting time during the summer months. That's teamwork, that's good eating.
Last week, I proudly took part in Faith Gorsky's cookbook launch. That girl is very impressive with wonderful cultured taste in food. I'm excited to make my way through each and every one of her Middle Eastern recipes. When she asked me to make and post her recipe for Saffron Rice with Golden Raisins and Pine Nuts, I knew a good curry dish would surely have to accompany it. Ergo, Ol' Reliable was tasked with slow cooking Saffron Rice's accompaniment and as always, Ol' Reliable performed marvelously.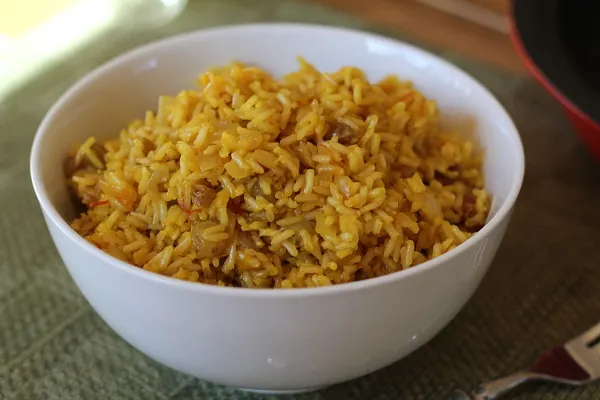 Here's the haps – maybe you're new to ethnic food; maybe you're a seasoned ethnic food-eur; either way, the crock pot is a fool-proof, easy method for making mounds of delicious, tender meat curry. Serve it up with your favorite rice or couscous and you'll be giving your crock a pat on the lid.
Slow Cooker Lamb Curry
Total Time:
8 hours
10 minutes
Easy Crock Pot Lamb Curry is so flavorful, rich, and satisfying!
Ingredients
1 large yellow onion, diced
1 tablespoon grapeseed oil
6 cloves garlic, minced
1 tablespoon fresh ginger, grated
2 pounds lamb stew meat
1 tablespoon ground cumin
2 teaspoons ground coriander
1/8 teaspoon ground cloves
¼ teaspoon ground turmeric
½ teaspoon red pepper flakes
½ teaspoon paprika
¼ teaspoon ground cinnamon
1 teaspoon salt or to taste
2 cups chicken or beef broth
4 cups baby spinach, chopped (fresh or frozen works)
1/3 cup plain yogurt
Instructions
Sauté onion over medium heat with one tablespoon of oil for 5 minutes.
Add garlic and grated ginger and continue sautéing until onion is translucent and everything is very fragrant, another 2 to 3 minutes.
Add sautéed onion mixture to your crock pot.
Add the remaining ingredients, except for the spinach and yogurt, to the crock pot. Stir and put crock pot on low setting
Cook for 6 hours.
Just before you're ready to serve, add the baby spinach and yogurt to the lamb curry. Stir and allow to sit until spinach is wilted.
Serve with saffron rice and enjoy!
Nutrition Information
Yield

6
Serving Size

1 of 6
Amount Per Serving
Calories

255
Total Fat

11g
Unsaturated Fat

0g
Carbohydrates

2g
Fiber

0g
Sugar

0g
Protein

34g