Hearty, healthy crock pot chicken and rice soup, made in the comfort of your slow cooker!
This recipe also includes an Instant Pot option for making chicken and rice soup in your pressure cooker.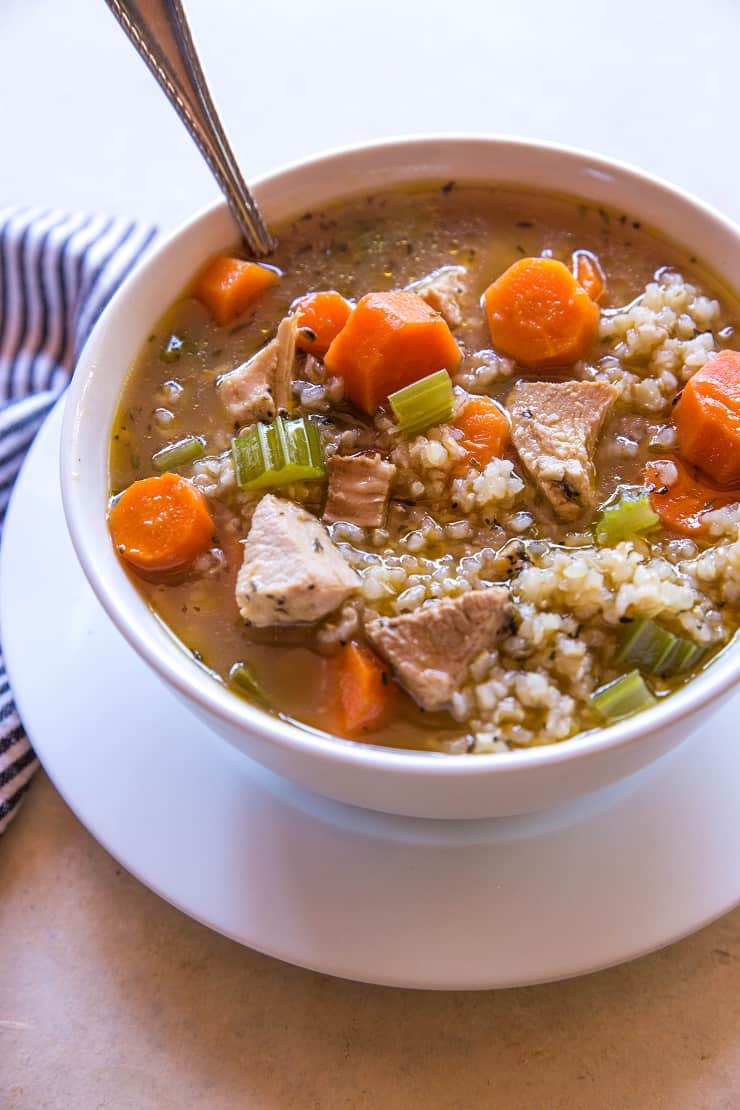 Let's talk weather. It is truly all I can think about. More specifically, I'm so ready for Hell Niño, it's not even funny.
Gimme that snow, let the precip come tumbling down in the most epic of volumes!
I can't wait to get my car stuck in snow burm, float down the mountain through a sea of powder on my snowboard, and warm up next to a fire with a beer stein full of hot toddy…as in the biggest single hot toddy known to man.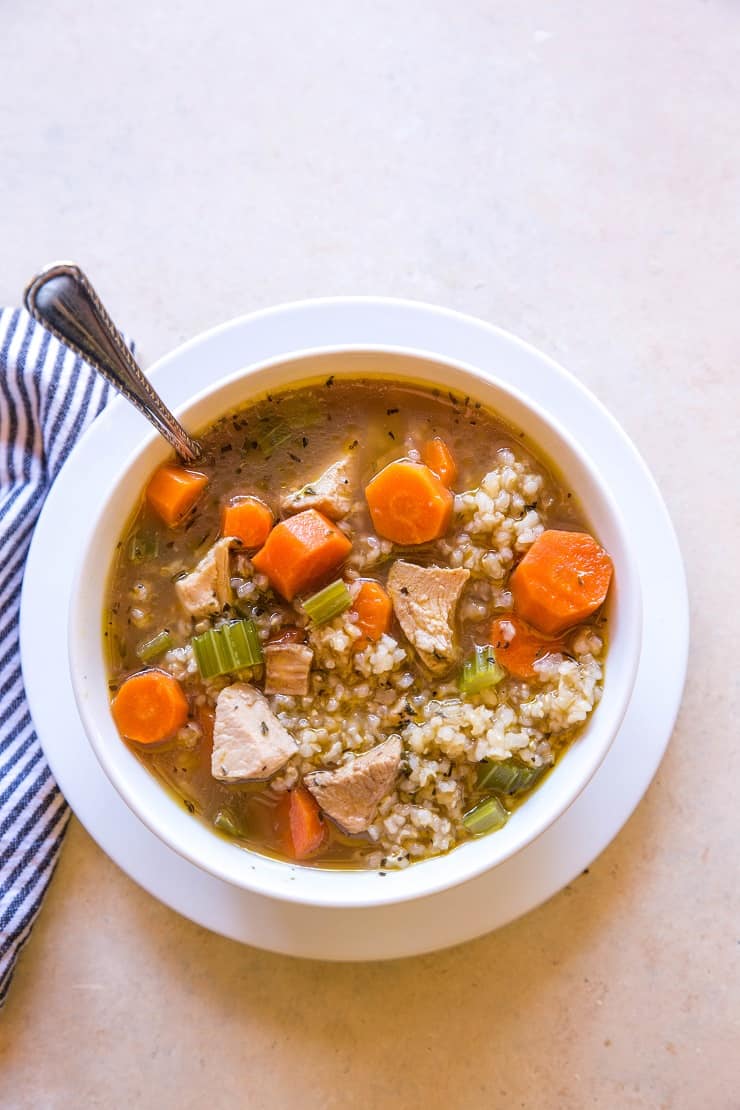 Truth: amidst all this snow discussion, here on the West side, we're having the most gorgeous Indian Summer. Blue skies, perfect trail running//mountain biking conditions…soup weather by no stretch of the imagination.
But the sunny jort weather isn't stopping my craving for comfort food, and certainly hasn't withheld me from dusting off my crock pot and leaving it on the kitchen counter until next summer.
Nor have I quit fantasizing about getting snow-locked inside my house with piles of white fluff up to the roof.
While crock potting definitely seems like the cheater cheater pumpkin eater way of preparing meals, I can't help but love it. Set it, forget it, let it stew for hours, and eat it hot out of the pot.
I love the hefty volume of foods I can prepare in my crock – it certainly makes lunches easier, and is always helpful for feeding guests slash random passersby.
How to Make Crock Pot Chicken and Rice Soup:
Quite honestly, if you want to you can simply toss every last ingredient in the crock pot, cover it, and set it to low for 4 to 6 hours.
If you like bold onion flavor in your soup, you can pre-sauté the onion and other vegetables. I do this extra step because I feel it gives the soup amazing flavor.
Simply add a small amount of cooking oil to a skillet and sauté the onion, carrots, celery, and garlic until very fragrant. Add in the spices/herbs, and sea salt and sauté an additional minute.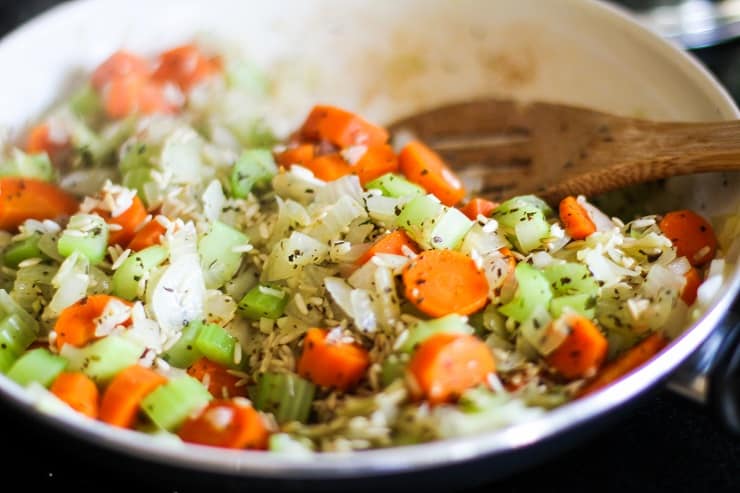 Once the vegetables have softened up a bit, add them to your slow cooker, along with the remaining ingredients.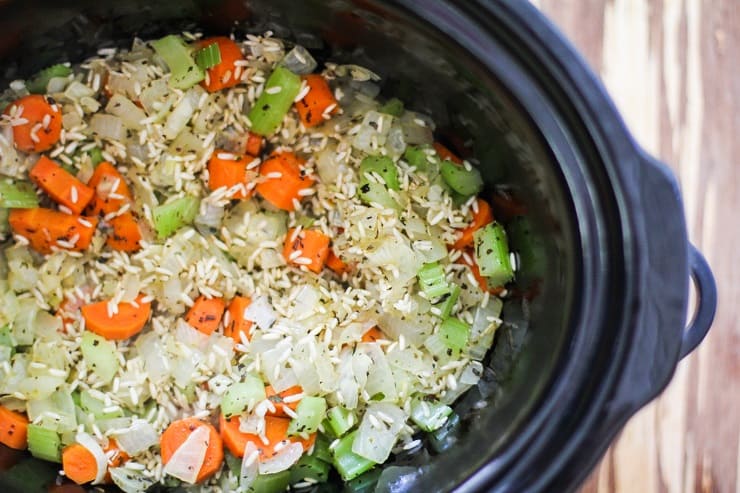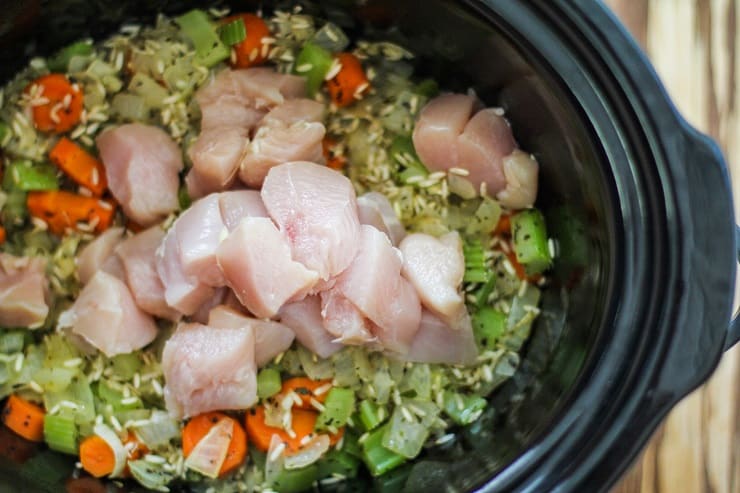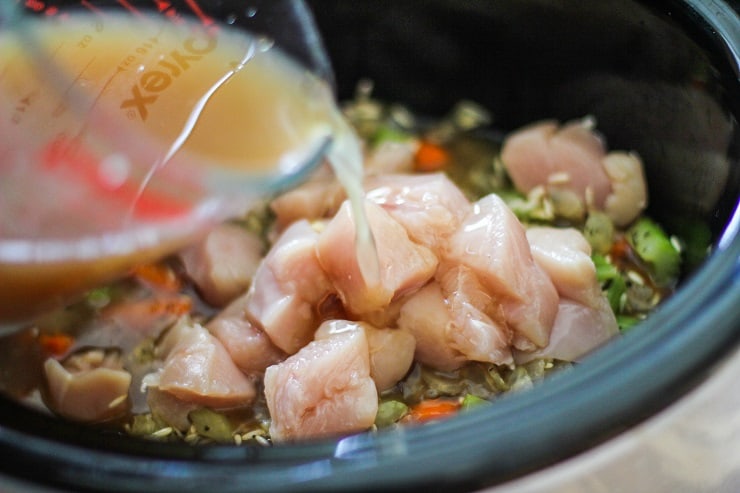 Set on low, and slow cook for 4 to 6 hours, or until the rice is cooked through.
Serve with your choice of crackers, bread, etc.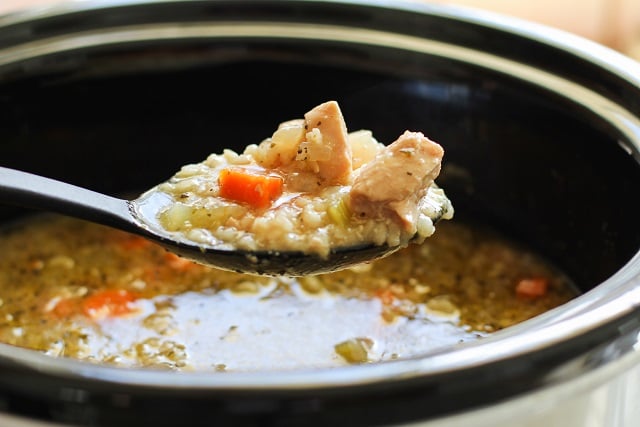 Isn't it funny how sometimes the easiest recipes turn out tasting the best? This slow cooker chicken and rice soup is a breeze to prepare, and it turns out with so much chicken-y herby flavor, and is so thick and comforting. A win for weeknight meal prep!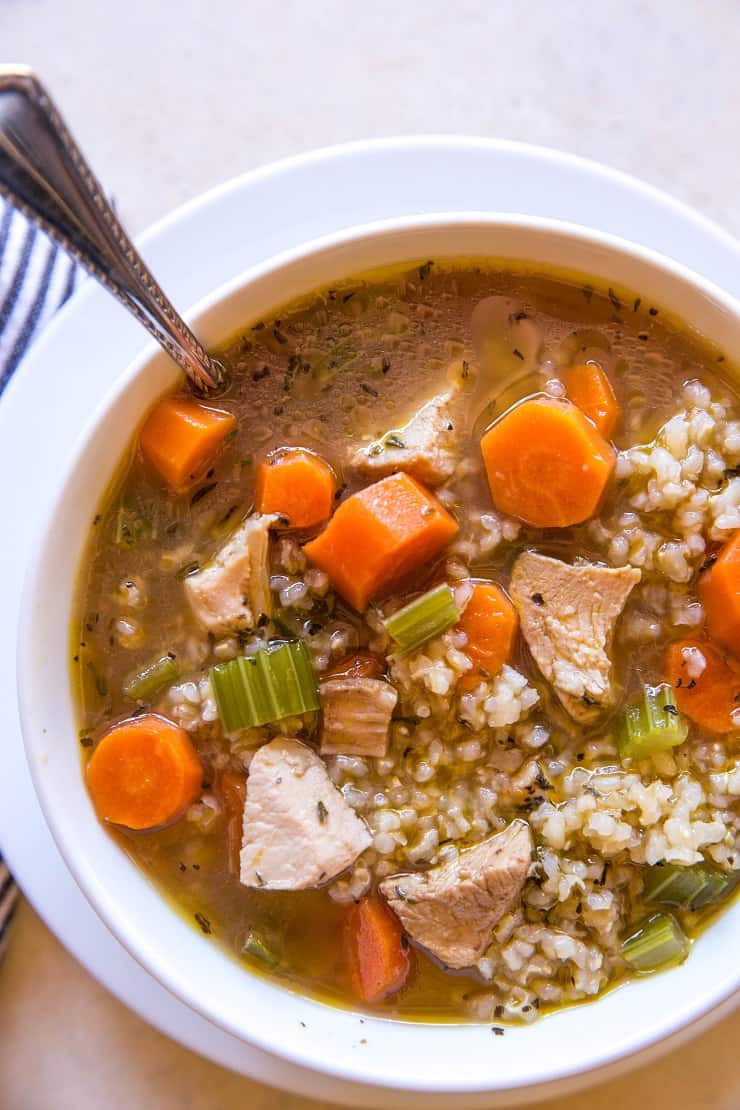 The chicken comes out super tender and it's so filling and satisfying, you may as well double the recipe so that you have soup for days.
Instant Pot Instructions:
Plug in your Instant Pot and press the Sauté button. Add the oil and allow pot to heat up for a couple of minutes. Add the onion and chicken and brown the meat for 1 to 2 minutes (avoid cooking it through).
Add the remaining ingredients to the pot and secure the lid. Press the Soup/Broth function and set the time to 15 minutes, keeping the vent sealed. Allow the pressure cooker manually release (go into the Keep Warm mode) for 10 minutes.
Release the pressure by turning the steam valve to venting and let all of the pressure release. Once the pressure has released, you can remove the lid and serve the soup!
My cookbook,
Paleo Power Bowls
, is now available! CLICK HERE to check it out. Thank you for your support!
If you make this Crock Pot Chicken and Rice Soup, please feel free to share a photo and tag @TheRoastedRoot on Instagram!
Crock Pot Chicken and Rice Soup
An easy recipe for crock pot chicken and rice soup. A healthy meal for any night of the week!
Instructions
Place the rice in a bowl and cover with water. Soak for 10 to 15 minutes, then drain.

While the rice is soaking, saute the vegetables. To do so, add the olive oil to a large skillet, along with the onion, carrots, and celery. Saute over medium-high heat, stirring occasionally, until vegetables have softened, but are still al dente, about 8 minutes. Add the garlic, all the seasonings, and salt and saute another 2 minutes.

Transfer the rice, sauteed vegetables, broth, and wine to a large (6-quart) crock pot. Add the raw chopped chicken and stir.

Cover the crock pot and place on the lowest setting. Cook 4 to 6 hours, or until chicken is cooked through, rice is puffy, and vegetables have softened. Taste soup for flavor and add salt as desired.

Serve heaping bowls with gluten-free crackers or bread.
Nutrition
Serving:
1
of 4
|
Calories:
424
kcal
|
Carbohydrates:
20
g
|
Protein:
41
g
|
Fat:
18
g
|
Fiber:
3
g