Hearty, healthy chicken and rice soup, made in the comfort of your slow cooker!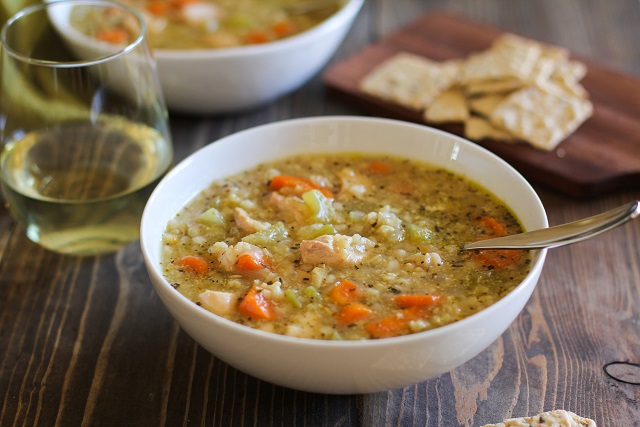 Let's talk weather.
It is truly all I can think about.
More specifically, I'm so ready for Hell Niño, it's not even funny.
Gimme that snow, let the precip come tumbling down in the most epic of volumes EVAH! I can't wait to get my car stuck in snowburm, float down the mountain through a sea of powder on my snowboard, and warm up next to a fire with a beer stein full of hot toddy…as in the biggest single hot toddy known to man.
Truth: amidst all this snow discussion, here on the West side, we're having the most gorgeous Indian Summer. Blue skies, perfect trail running//mountain biking conditions…soup weather by no stretch of the imagination.  But the sunny jort weather isn't stopping my craving for comfort food, and certainly hasn't withheld me from dusting off my crock pot and leaving it on the kitchen counter until next summer. Nor have I quit fantasizing about getting snowlocked inside my house with piles of white fluff up to the roof.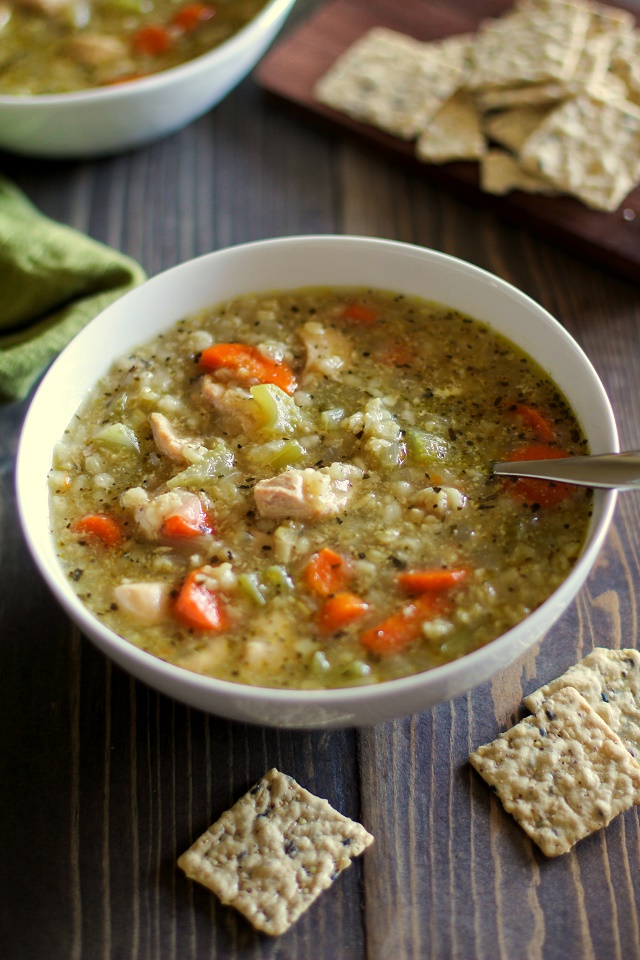 While crock potting definitely seems like the cheater cheater pumpkin eater way of preparing meals, I can't help but love it. Set it, forget it, let it stew for hooooours, and eat it hot out of the pot. I love the hefty volume of foods I can prepare in my crock – it certainly makes lunches easier, and is always helpful for feeding guests slash random passersby.
That being said, this super simple slow cooker chicken and rice soup is my jam! All I do is a little pre-saute on the veggies to make sure they soften up enough in the crock, and set it on low. Sure, it's nothing special, surprising, or revolutionary, but it sure is one of those recipes you want on hand when Hell Niño has its way with us.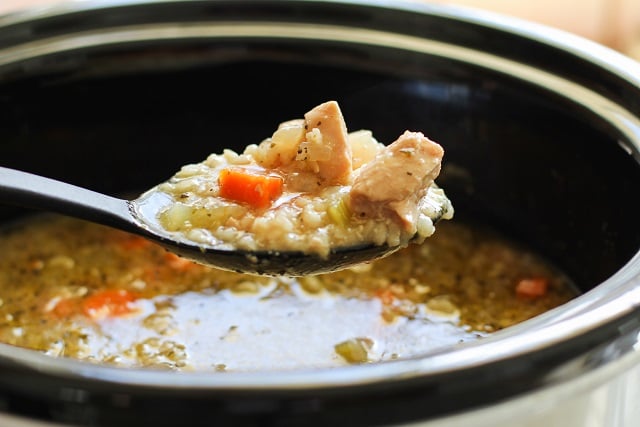 Isn't it funny how sometimes the easiest recipes turn out tasting the best? This slow cooker chicken and rice soup is a breeze to prepare, and it turns out with so much chicken-y herby flavor, all thick and comforting-like. The chicken comes out suuuuuper tender and it's so filling and satisfying, you may as well double the recipe so that you have soup for days.
To get the full tutorial on how to make this Slow Cooker Chicken and Rice Soup, check out my article published on eHow. Or simply follow the recipe below!
Crock Pot Chicken and Rice Soup
Print
Ingredients
3

tablespoons

olive oil

1

large yellow onion

chopped

2

large carrots

peeled and chopped

2

stalks celery

chopped

4

cloves

garlic

minced

2

teaspoons

Italian seasoning

1

teaspoon

dried oregano

1

teaspoon

dried basil

Pinch cayenne pepper

optional

½

teaspoon

sea salt

to taste

½

cup

dry brown rice

1

pound

boneless

skinless chicken breasts, chopped

4

cups

low-sodium chicken broth

1/4

cup

dry white wine

optional
Instructions
Place the rice in a bowl and cover with water. Soak for 10 to 15 minutes, then drain.

While the rice is soaking, saute the vegetables. To do so, add the olive oil to a large skillet, along with the onion, carrots, and celery. Saute over medium-high heat, stirring occasionally, until vegetables have softened, but are still al dente, about 8 minutes. Add the garlic, all the seasonings, and salt and saute another 2 minutes.

Transfer the rice, sauteed vegetables, broth, and wine to a large (6-quart) crock pot. Add the raw chopped chicken and stir.

Cover the crock pot and place on the lowest setting. Cook 4 to 6 hours, or until chicken is cooked through, rice is puffy, and vegetables have softened. Taste soup for flavor and add salt as desired.

Serve heaping bowls with gluten-free crackers or bread.