Slow cooker bison roast with mashed rutabaga and roasted carrots makes for a tasty evening in with your special someone.
This recipe comes from Brian Kavanagh's cookbook, Paleo Date Night.
A common misconception that comes with restricted diets is that food becomes less romantic.
During the times I get bored or overwhelmed by restriction, I find myself in that mind trap as well; however, when I take a step back, I always come to the same conclusion: Clean food is damn sexy.
Not only are clean meals fresh, mouth-watering, nourishing, and attractive, but they make you feel sexy. I can't remember a time that I downed macaroni and cheese and wanted to go for a roll in the hay immediately after. But slow-cooked meat with fresh seasonal roasted vegetables? Now we're talking.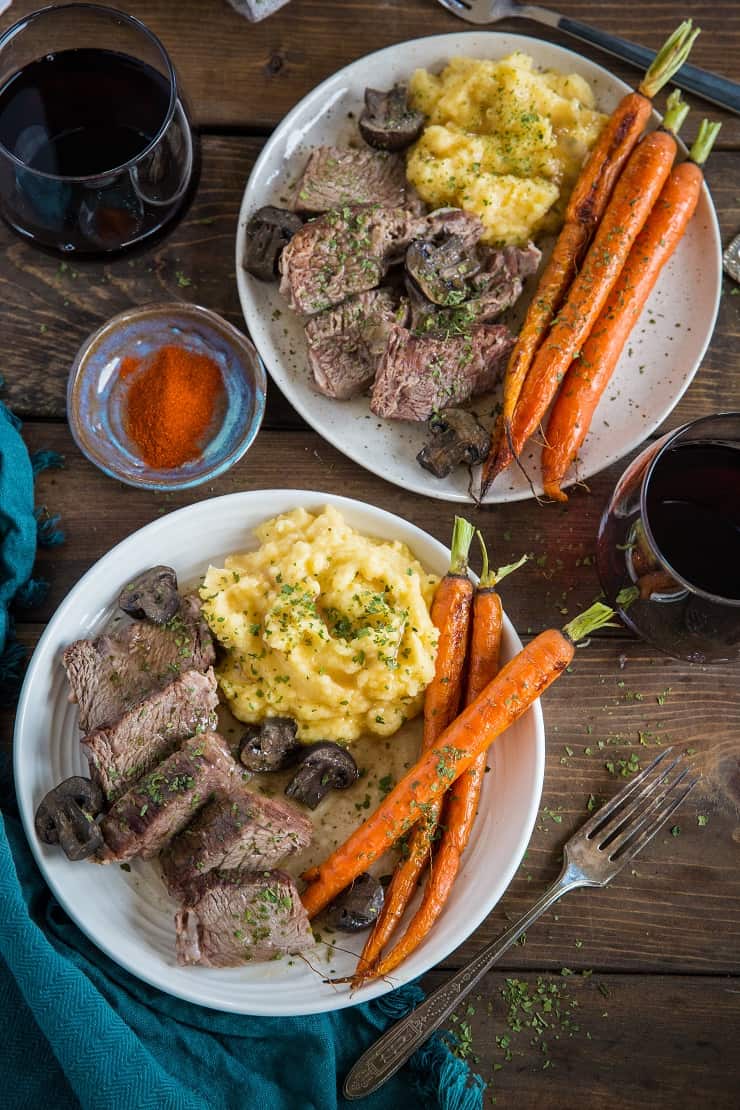 It's logical, right? Certain foods restrict blood flow and cause inflammation or belly bloat and discomfort, where other foods are low-inflammatory, digest easily without causing a ruckus, and even have a natural aphrodisiac effect. To summarize: keep date night paleo and good things will happen.
This recipe comes straight out of Brian Kavanagh's cookbook, Paleo Date Night. The book is exactly as it sounds: delicious paleo meals for a special night in with your special someone. Each recipe is expertly designed for a romantic evening and will surely impress your person.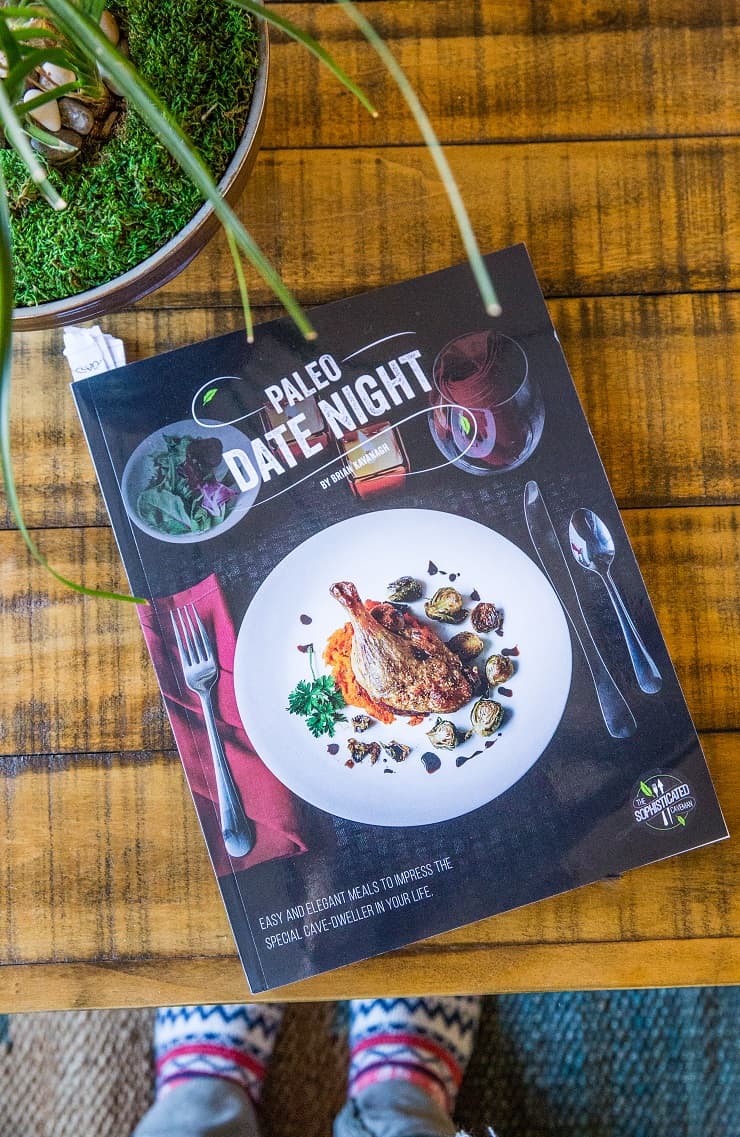 If you're new to Brian's work, he's my bud and blogger behind The Sophisticated Caveman. If you don't already read his blog or follow him on Instagram, I highly suggest you do! His inspiring photos always make me drool and inspire me to make good use of seasonal produce.
I can't sing enough praises about Paleo Date Night. Not only does Brian make a date night in super approachable with his fresh and mouth-watering meals, but he makes the process entertaining as well. Each section has a pithy little introduction, and all recipes have a short blurb, all of which are humorous and make the whole food prep experience that much more inviting.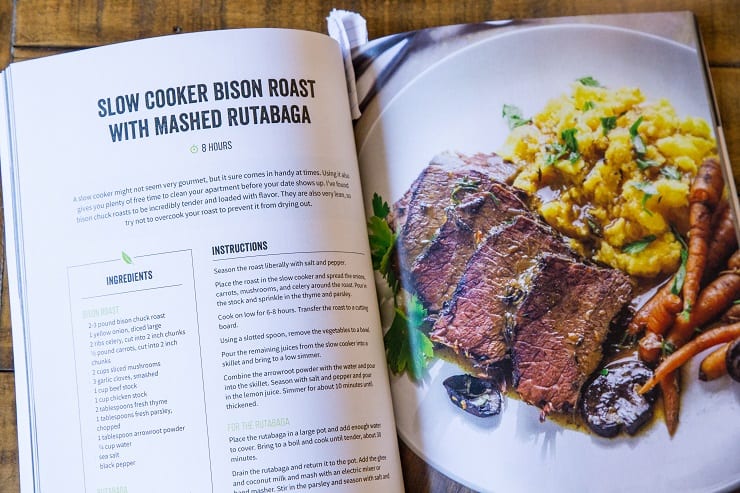 As I took a gander at each recipe, I wanted to make every single one. Here are some of the recipes I'm dying to make:
Crab Chowder
Chicken, Radish, and Avocado Salad with Creamy Bacon Basil Dressing
Herbed Lamb Chops with Roasted Rainbow Beets, Pureed Turnips, & Pistachios
Crispy Duck Legs with Balsamic Cherry Sauce, Pan-Fried Brussels Sprouts, & Mashed Rutabaga
Pan Roasted Chicken Breast with Creamy Mushroom Sauce & Sautéed Spinach
The list goes on, but those are at the tippy top. 😀
Who is this book meant for? Everyone. But to be more specific, if you're into nutritious meals, have dietary restrictions, and/or enjoy preparing sweet and sensual meals for your main squeeze, this book is your JAM.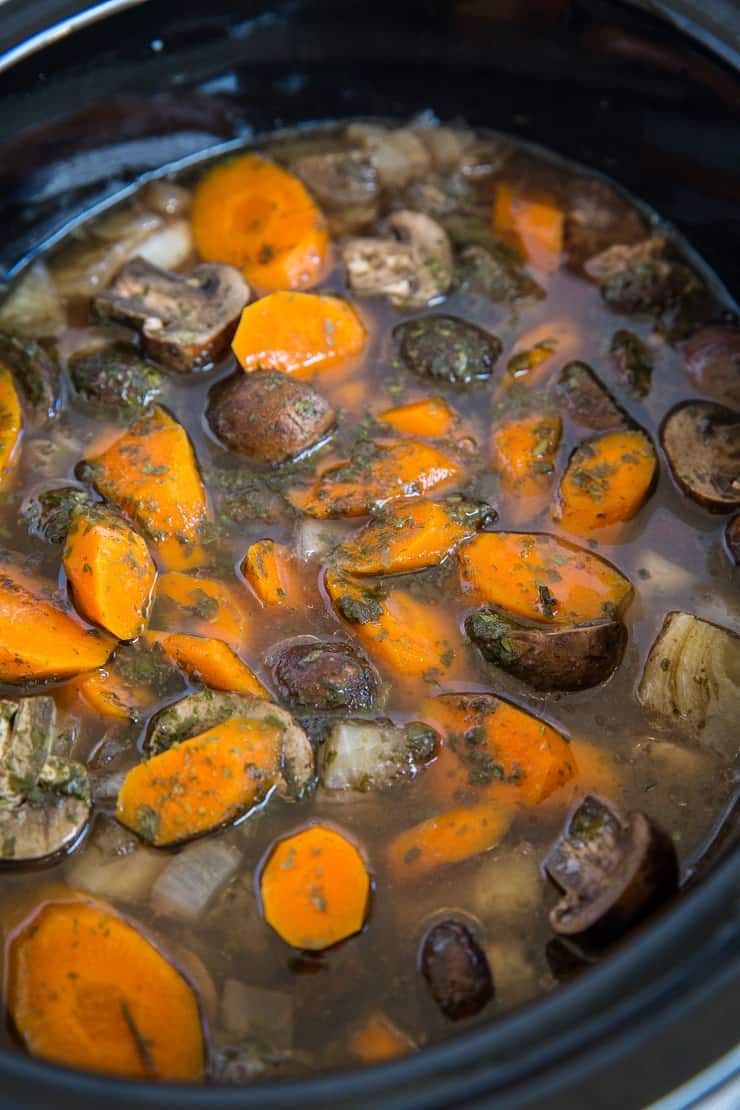 So this slow cooker bison roast with mashed rutabaga…my friends…what a freaking treat! The meat turns out with so much flavor, which is mind boggling considering it calls for only a few basic ingredients.
You guys, the mashed rutabaga, OH MY GOD, the mashed rutabaga. First of all, if you've never mashed a rutabaga, drop everything including your car keys right now and mash one! The mashed rutabaga portion of this recipe calls for ghee and coconut milk, so when everything is mashed together it tastes like this silky-smooth, buttery wet dream. And I'm not even sensationalizing it.. that's how good it is.
The one thing I did differently from the recipe is I cooked carrots both in the slow cooker with the meat and also roasted some. I do love slow cooked carrots, but find the texture of roasted carrots to be oh-so satisfying. You can go either direction!
Check out Brian's book, Paleo Date Night, and don't forget to Keep Date Night Paleo! 😉
Let's get it on!
Slow Cooker Bison Roast with Mashed Rutabaga
Bison roast slow cooked with vegetables makes for a nutritious, amazing meal! Loaded with health benefits and easy to make!
Ingredients
Bison Roast:
1

2 to 3-lb bison chuck roast, or beef roast

1

medium yellow onion

diced*

1/2

pound

carrots

peeled and chopped into 2″ chunks

2

cups

mushrooms

halved

3

cloves

garlic

minced*

2

cups

beef stock

2

Tbsp

dried thyme

1

Tbsp

dried parsley

1

teaspoon

sea salt

to taste

1

Tbsp

arrowroot powder
Instructions
Make the Bison Roast:
Season the roast liberally with salt and pepper. Place roast in the slow cooker and spread the onions, carrots, mushrooms, and garlic around the roast. Pour in the broth and add in the dried thyme and parsley.

Secure the lid on your slow cooker and cook on low for 6 to 8 hours, until bison is very tender. Transfer roast to a cutting board and allow it to rest while you're preparing the gravy.

Pour the juices from the crock pot into a saucepan (you can use a slotted spoon to remove the vegetables and place them in a bowl for serving). Heat the juices to medium-high and bring to a gentle boil. Add the arrowroot flour and whisk well until gravy has thickened, about 3 to 5 minutes. Taste for flavor and add sea salt to taste.

Cut the bison roast into chunks for serving.
Mash the Rutabaga:
Place rutabaga in a large pot and add enough water to cover. Bring to a boil and cook until tender, about 20 to 30 minutes.

Drain rutabaga and return it to the pot along with the remaining ingredients. Mash with an electric mixer or masher until rutabaga reaches desired level of creaminess (note: you can also mash the rutabaga in a blender for the creamiest consistency). Add in the parsley and season to taste with sea salt.

Serve bison roast with slow cooked vegetables, a drizzle of gravy, and mashed rutabaga.
Notes
*Omit the onion and garlic for Low-FODMAP
Nutrition
Serving:
1
of 5
|
Calories:
396
kcal
|
Carbohydrates:
10
g
|
Protein:
60
g
|
Fat:
8
g
|
Fiber:
2
g
|
Sugar:
5
g
This post contains affiliate links, which means I make a small commission off items you purchase at no additional cost to you.