Creamy, warmly-spiced Apple Cinnamon Crock Pot Steel Cut Oatmeal is a marvelous make-ahead breakfast to share with family. Set it up the night before and have delicious oatmeal in the morning!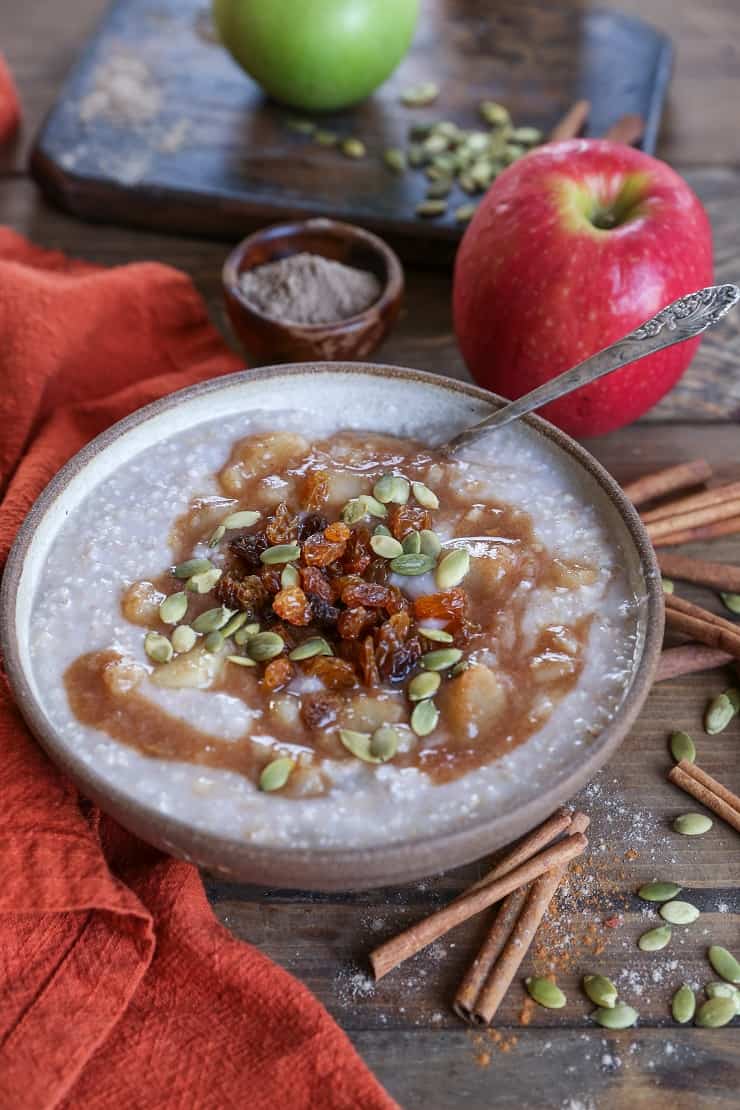 Have you ever made steel cut oatmeal in your crock pot?
If you've made steel cut oats, you know it can be time-consuming to prepare it on the stove top. It requires 30 to 40 minutes of cook time, and because it can boil over easily, it needs to be monitored. My solution to this? Preparing steel cut oats in the crock pot!
The major benefit to this recipe is you simply put all the ingredients in a crock pot, give it a stir, and let it sit on low heat. You'll end up with plenty of oatmeal that you can bring to work for breakfast throughout the week, or you can make this for friends and/or family when you're entertaining overnight guests.
Recipe Notes:
I will say, you'll definitely want to use full-fat canned coconut milk in this recipe to ensure the oatmeal doesn't stick to the sides of your crock pot. The coconut milk will make the steel cut oatmeal super thick and creamy and delicious!
While you can serve the steel cut oatmeal with almond milk, I don't recommend using almond milk for the cooking portion of this recipe, as it has a tendency to separate.
You can replace the pure maple syrup with honey or brown sugar if that's your preference over pure maple syrup.
If you're looking to serve more than 4 people, simply double the recipe!
Enjoy your morning porridge!
Apple Cinnamon Crock Pot Steel Cut Oatmeal
The coziest fall breakfast, this Apple Cinnamon Crock Pot Steel Cut Oatmeal is the perfect way to start the day!
Instructions
Add all of the ingredients to a crock pot and stir well.

Place crock pot on the low setting for 7 to 9 hours, until the liquid has been absorbed. If possible, stir the oatmeal part of the way through.

Serve generous portions of oatmeal with your sweetener of choice (honey or pure maple syrup recommended), almond milk, coconut milk, or regular milk, plus additional raisins and walnuts.
Notes
*You can also use buckwheat grouts or buckwheat porridge for this recipe
**Replace ghee with unsalted butter or vegan butter spread to keep the recipe vegan