Comforting citrus pork chili with mango made easily in your slow cooker. This crock pot recipe is easy to make ahead of time for any night of the week, or any special occasion. The recipe for this mouth-watering chili comes from Natalie Perry's new cookbook, The Big Book of Paleo Slow Cooking!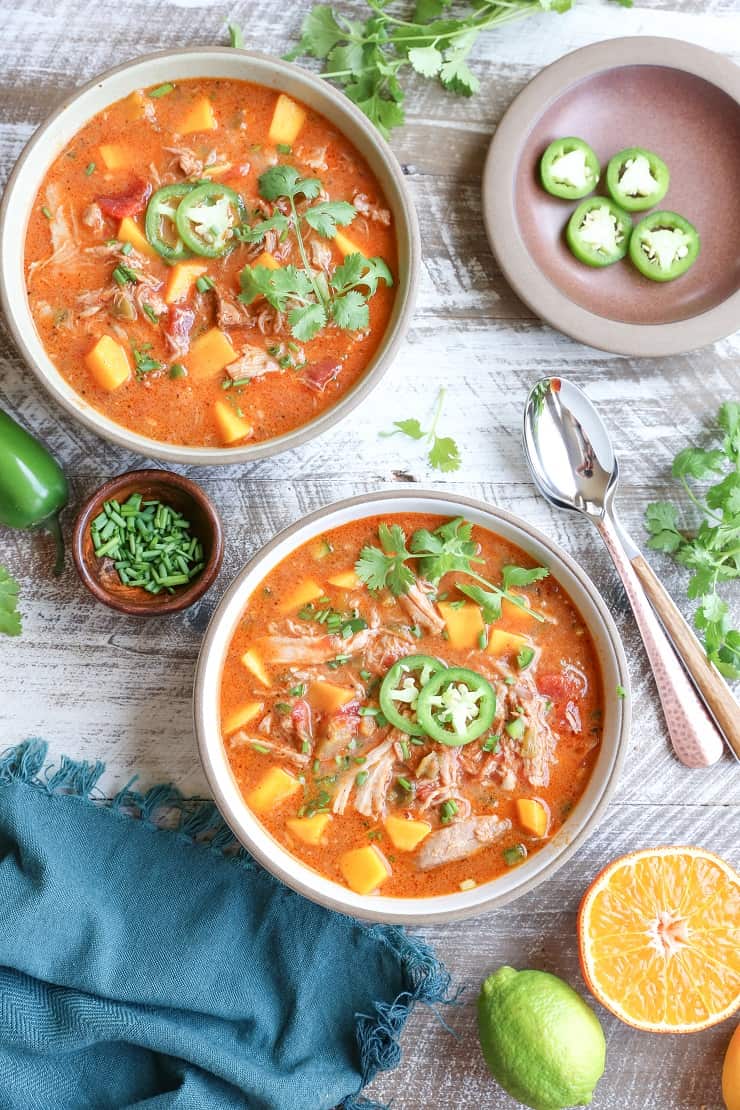 Oh hey, Tuesday! My, how time has flown by since my last recipe post!
Garrett and I met his family in Oregon for the long weekend, where we spent a few days wine tasting before running a half marathon together. Something about wining, dining, and exerting yourselves as a team is so bonding!
This was my third half marathon, and I didn't do as much pre-training as my past events. Because of this, I didn't set a goal, but I did want keep up with Garrett and his brother, because running with people is far more entertaining than running alone, can I get an amen? So in sticking with their pace, I actually ended up setting a personal record! Insert bells and whistles emoji here.
The whole weekend was a complete blast, and although summer is unofficially coming to a close, I'm holding onto the warm summer months with all my might. While summer may be inching its way out the door, I'm excited for the cozy fall months, football season, and the comfort foods that ride along with colder weather.
Which brings me to my next topic of conversation: chili. There's just something about the dish that I find incredibly shareable, satiating, and comforting. WUHL, let me just tell you about my favorite chili recipe I've ever come across in all my years. THIS ONE!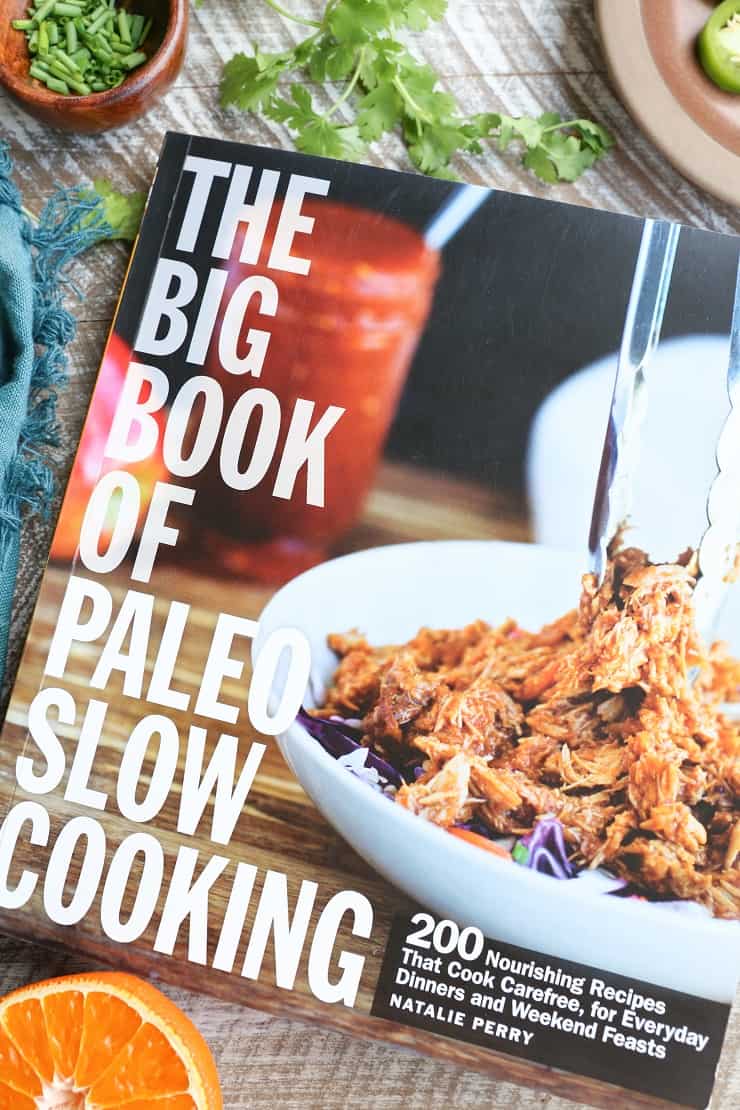 This recipe comes from Natalie Perry's new cookbook, The Big Book of Paleo Slow Cooking. If you follow my Instagram stories, you saw me rave all about it, as the book is absolutely amazing! I've known Natalie for almost six years – basically since I started The Roasted Root – as her blog, Perry's Plate was one of the first blogs I started following. It just so happens that Natalie lives in Reno, too, so we've met up a few times over the years and have stayed in touch. Her work is incredibly inspirational, her recipes are squeaky clean yet so healthful, and she's so sweet and genuine to boot!
Natalie's book includes 200 recipes for everyday dinners and weekend feasts, tips on optimal slow cooking and what type of slow cooker to use, and her photographs are gorgeous and enticing! As I went through her book, I couldn't stop taking note of recipes I wanted to make. I do a lot of slow cooking year round (particularly in the winter), as I find the process incredibly convenient and the end result is always over-the-top flavorful and delicious. Combine whole food meals with the art of slow cooking, and you instantly have my full attention!
The book is broken into dish type and meat type. There's a huuuuge section on soup, and within the dinner section, you'll find recipes for poultry, beef, pork and lamb, and seafood. There is also a section on vegetable side dishes, and even a section on dessert! I love that Natalie uses all sorts of seasonal ingredients, making it a super useful resource for slow cooking any time of year.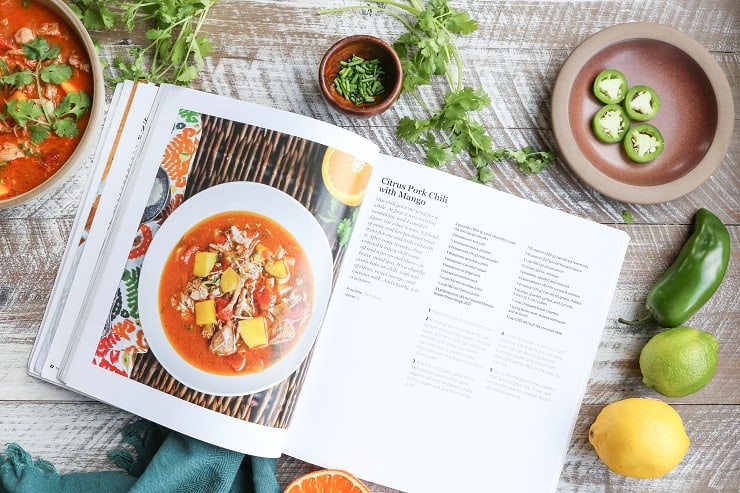 Some of the recipes I want to make out of this book include, but are not limited to:
Southwest Chicken and Summer Vegetable Soup

Thai Chicken Coconut Soup

Blackberry Chipotle BBQ Chicken with Carrots and Sweet Potatoes

Chicken and Andouille Sausage Lettuce Wraps with Creamy Celery Slaw

Sun-Dried Tomato Turkey Meatballs in Marinara

Taqueria-Style Shredded Beef

Cocoa Chili Crusted Tri-Tip with Potatoes

Balsamic Apple Pork Loin Roast

Caribbean Jerk Pork Chops with Mango Salsa

Thai Pulled Pork Tacos with Creamy Slaw

Chorizo Shepherd's Pie with Orange-Scented Sweet Potatoes

Shredded Lamb Korma

Jambalaya with Roasted Cauliflower Rice

Dijon-Braised Beets

Pumpkin Spice Cake with Chocolate Pecan Struesel

Nut-Free Fudgy Brownie Cake
And you guys, the list goes on. I water at the mouth each time I even take a glimpse at the cookbook!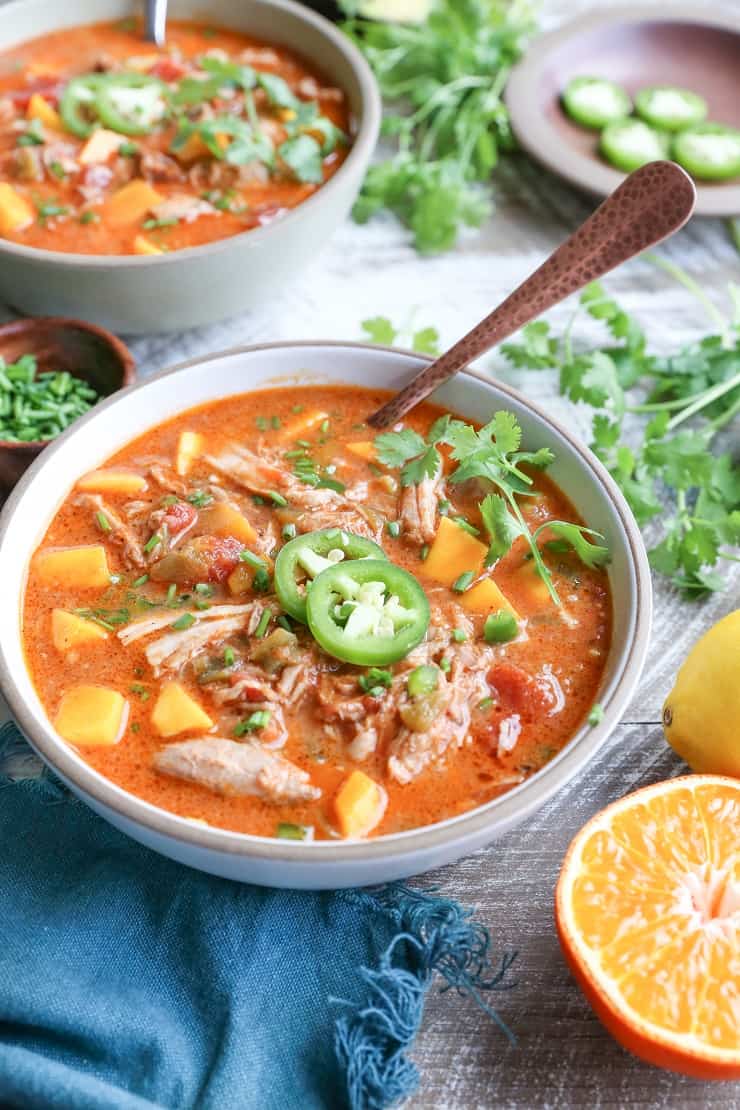 Okay! Onward to this chili!
This Citrus Pork Chili with Mango comes together seamlessly in your crock pot and the flavors are so big, it'll bring you to tears! The shredded pork? So tender and tasty. The tangy citrus, creamy-sweet mango, and spicy kick? Perfect compliments to the pork, and a perfect balance to each other. Way I see it, this chili is an awesome dish to set up in the morning and enjoy with friends and family during any football gathering or simply any night of the week, any time of year.
I made a few changes to the recipe, only out of laziness. For instance, Natalie's recipe calls for a pork shoulder roast cut into chunks. I left my roast whole and shredded it once it was finished slow cooking just to save the step of chopping the roast (my grocery store didn't have a pre-chopped roast). I also used pure maple syrup instead of coconut sugar, but you can easily swap it back. I left my chili cooking all day (upwards of 10 to 12 hours), which resulted in incredibly tender pork and a super flavorful chili. Garrett and I both ate the chili with a little bit of forbidden rice, which was amazing for soaking up the flavorful broth.
The recipe makes a lot (enough to feed 6 to 8), and freezes well! Garrett and I powered through the entire batch in a few days because we loved it so!
You can pick up your copy of The Big Book of Paleo Slow Cooking right meow on Amazon!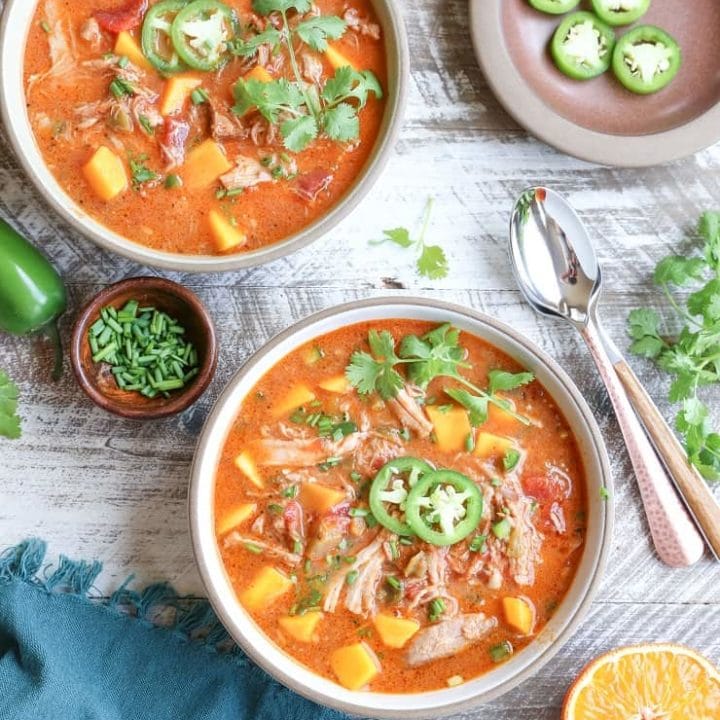 Crock Pot Citrus Pork Chili with Mango
Total Time:
6 hours
20 minutes
Incredibly rich and flavorful Citrus Pork Chili with mango is an amazing balance of sweet, savory and tangy, covering all the flavor bases!
Ingredients
2 pounds pork shoulder roast
1 15-ounce can diced tomatoes, undrained
1 8-ounce can tomato sauce
1 4-ounce can diced green chilis
1 teaspoon orange zest
1 teaspoon lemon zest
1 mango, peeled, pitted, and diced
1/2 cup fresh cilantro, chopped, optional
Instructions
Place the pork shoulder roast in your crock pot and sprinkle with sea salt, chili powder, and ground cumin.
Add the next 8 ingredients (diced tomatoes through ghee) and stir well. Secure the lid on your slow cooker and cook on low for 6 to 10 hours, or on high for 3 to 4.
Transfer the pork shoulder to a cutting board and use two forks to shred it. Transfer the meat back into the crock pot, and add the mango, cilantro, and coconut milk. Continue cooking another 15 minutes before serving.
Nutrition Information
Serving Size

1 grams
Amount Per Serving
Unsaturated Fat

0g