Hot off the press: a 4-ingredient shredded Barbacoa Beef Recipe that'll knock your socks off. Made simply in the crock pot, this recipe for barbacoa beef tacos is also great in enchiladas, burritos, and more.
This post is sponsored by Rojo's Salsa.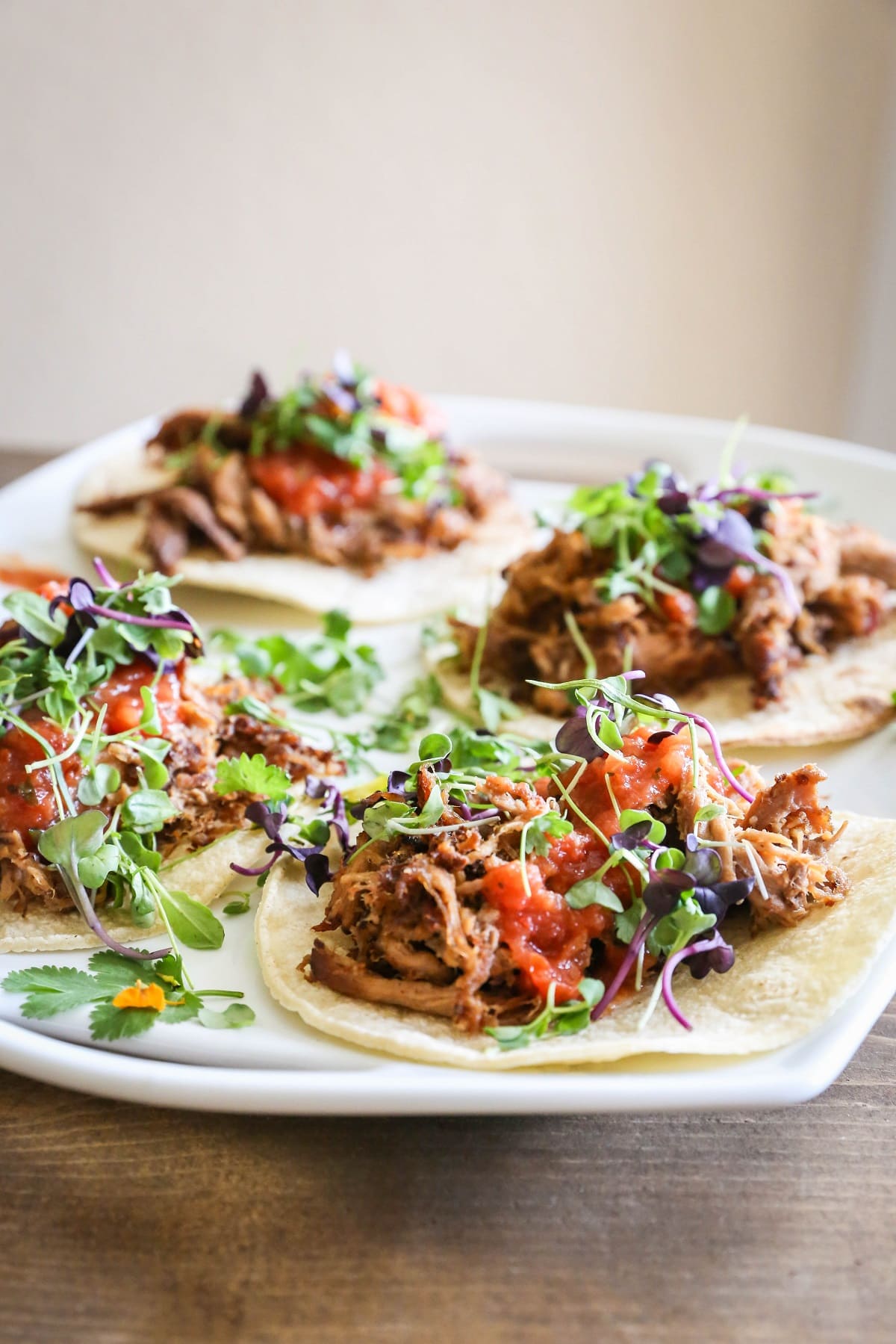 Did you assume barbacoa beef required 17 bazillion ingredients, at least 3.2 days, the good tidings of technicolor mythical creatures, and magical fairy dust?
Because I did.
That is, until I made this recipe using only 4 ingredients, 10 minutes of time, my own wishful thinking, and a high-five from my neighbor.
Barbacoa is a type of cooking method that originates from the Caribbean.
Traditionally, barbacoa beef is slow-cooked over an open flame (barbecued, hence the name, barbacoa), or in a pit dug in the ground.
I didn't realize this until I set out to prepare it at home and realized the authentic version is a far cry from how we tend to make it nowadays.
While I absolutely love the thought of preparing traditional barbacoa, I thought I'd bring you this insanely easy take on it.
Who knows? Maybe now that we know how little it takes, we'll barbacoa more often!
Note: If you have converted to the ways of the Instant Pot, follow my recipe for Instant Pot Barbacoa Beef!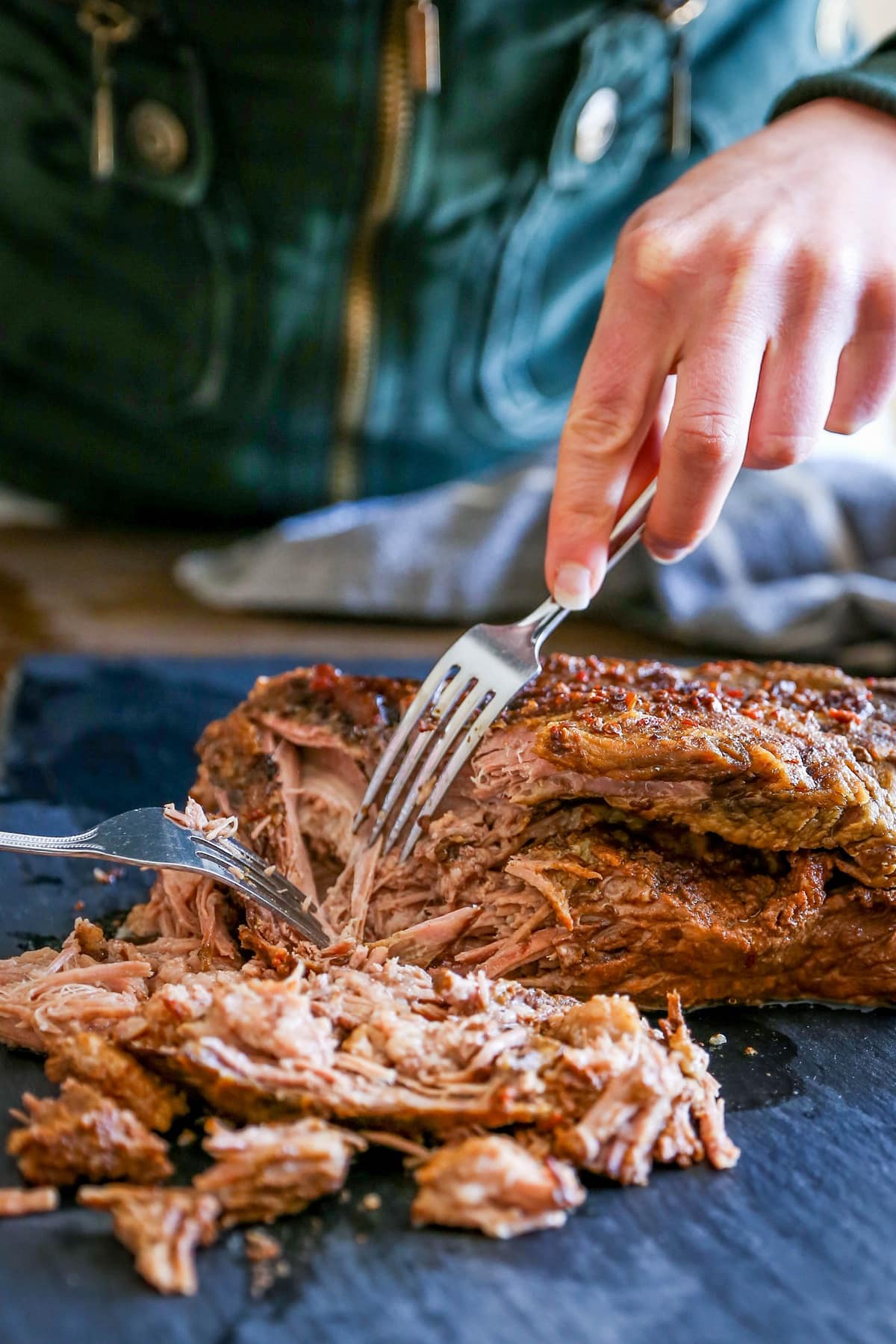 This recipe is so silly simple, it's actually quite comical.
Upon tasting the barbacoa beef, you'll be shocked the recipe only calls for a few ingredients – it's one of those meals you'll happily make over and over because not only is it nice and tender and flavorful, but it requires so very little effort to come together.
Taco toppings? I kept this fiesta very simple. I serve up these tacos with microgreens and store-bought salsa. If I'm feeling frisky, I'll whip up my Easy Salsa Verde.
Ingredients for Barbacoa Beef Tacos:
Beef: Use any cut of beef roast you like. I often use a bone-in beef roast but also use chuck roast occasionally.
Beef Broth
Ground Cumin
Chipotle Peppers in Adobo Sauce
Corn or Flour Tortillas
Toppings of Choice
I love pico de gallo, red onions or white onions, cilantro, and sometimes cotija cheese. I often use store-bought salsa, such as Rojo Salsa.
You may remember me raving about Rojo's salsa in my post, How to Build the Ultimate Healthy Breakfast Bowls.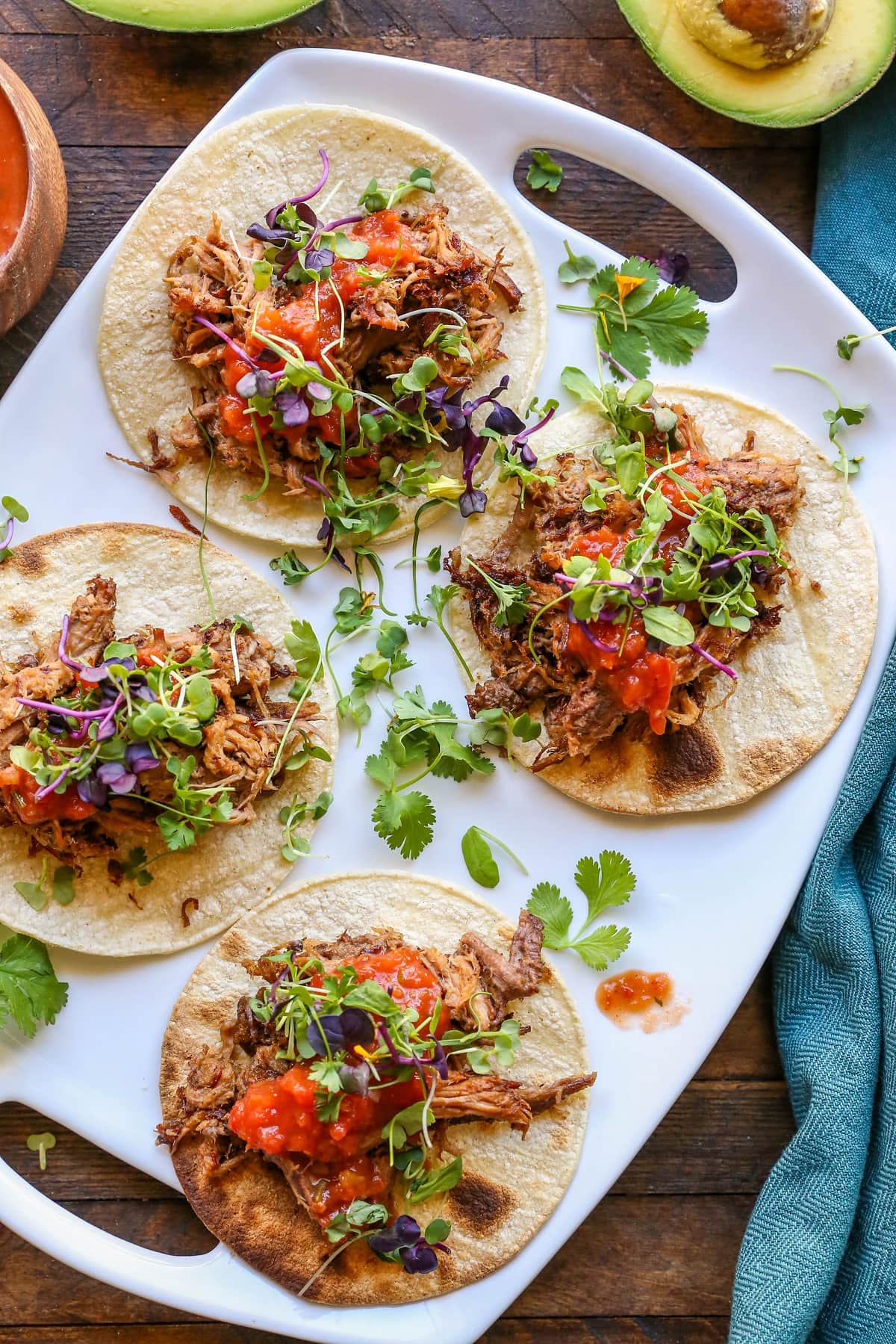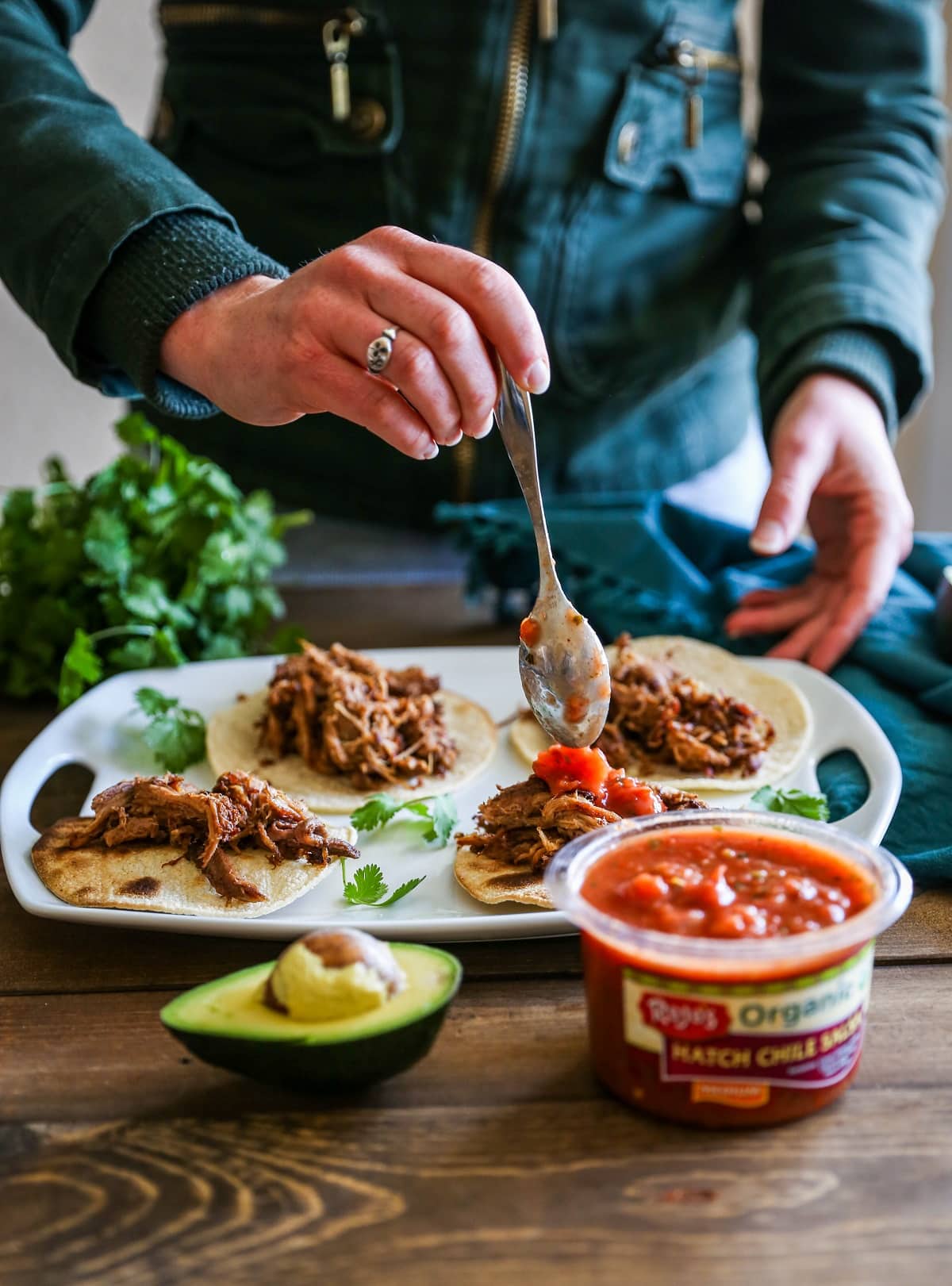 How to Make Barbacoa Beef:
The order of operations here is simple.
Blend adobo chilis with beef broth and cumin in a blender to create a sauce.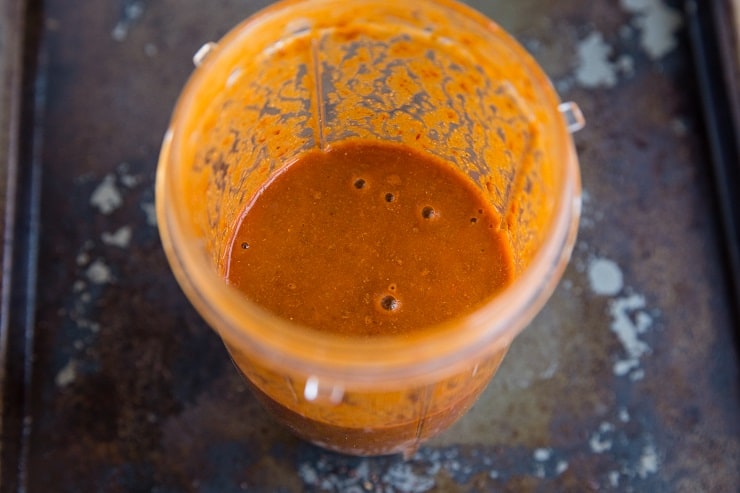 Stick the beef in the crock pot, pour the sauce in, cover that puppy up, set it on low and cook for 8 to 12 hours. I set up the recipe late one evening and had it going in the crock pot for a solid 12 hours. Once the meat it ready, shred it up and put it back in the crock to soak up some juices.
A couple notes about the recipe: I used a bone-in beef chuck roast and have also made this with beef brisket, but you can really use any type of beef roast. I love the way the both the roast and the brisket turned out because the fat marbled throughout the meat resulted in super tender shredded beef.
You can also add onions and garlic to the crock pot, but I made the recipe without and thought it was bonkers delicious without.
How to Make Crispy Shredded Beef:
When I make barbacoa and carnitas in a crock pot, I like searing the shredded meat in a hot cast iron skillet to help give it a little crisp.
To do this, you simply heat your skillet to medium-high and once it's all the way hot, use tongs to carefully add some of the shredded barbacoa beef.
You may want to turn on the vent and use a splatter screen, because the fat will begin to splatter all helter-skelter like. Let the meat sit, turning from time to time, until much of the liquid has burned off and the meat has a bit of a char to it.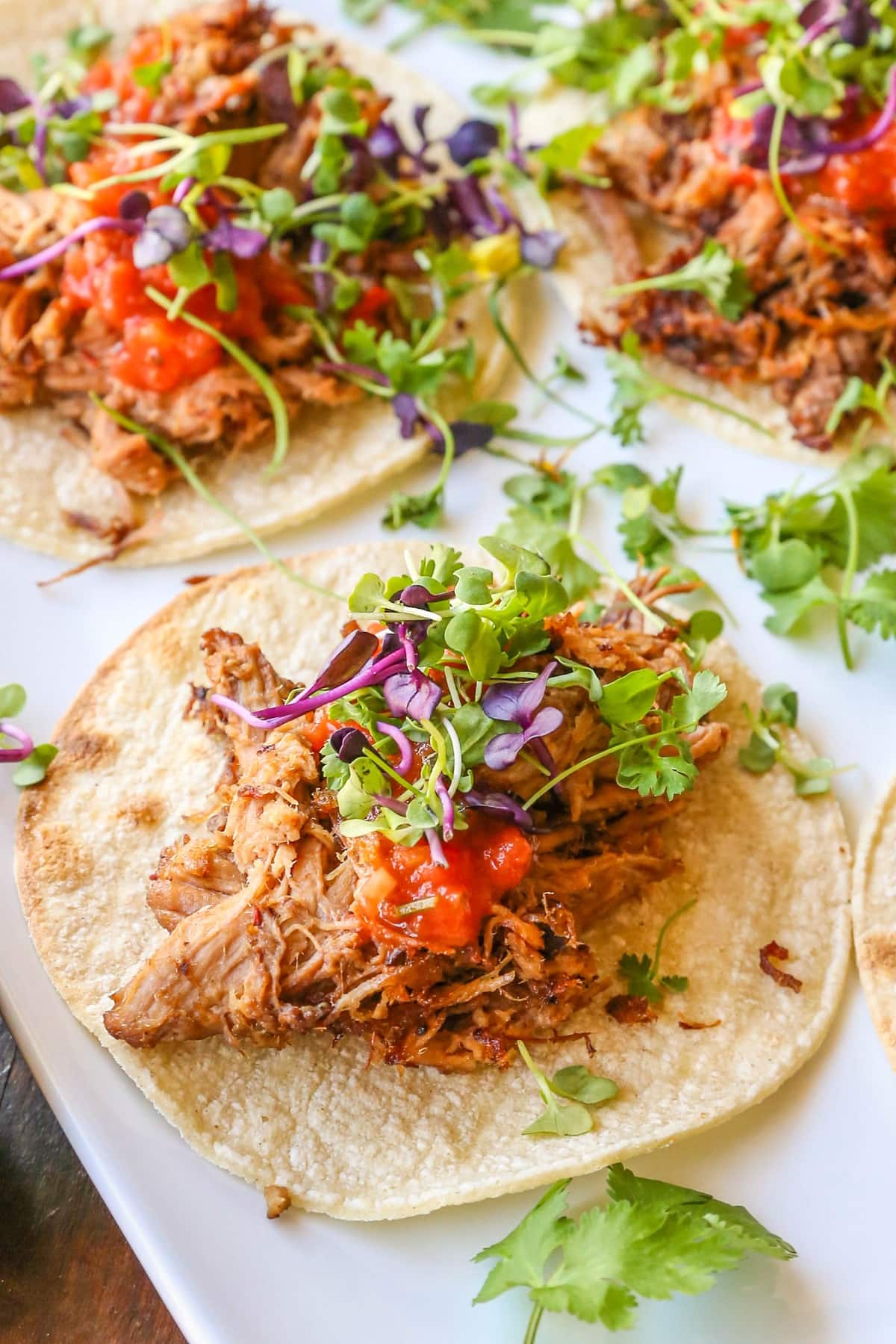 Stick it on warm tortillas, add some fresh microgreens and a dollop (slash waterfall) of salsa, and enjoy!
You can also use leftover barbacoa beef in my Barbacoa Beef Burrito Bowls recipe.
With Cinco de Mayo coming up, I'm thinking this is the perfect dish to make for entertaining friends and family.
It makes enough to comfortably feed 6 (more like 8), and one of the best parts to cooking in a slow cooker is the minimal post taco feast cleanup.
Because cooking should be one of the easiest things we do all day…
My cookbook,
Paleo Power Bowls
, is now available! CLICK HERE to check it out. Thank you for your support!
If you make this Crock Pot Barbacoa Beef Tacos recipe, please feel free to share a photo and tag me at @The.Roasted.Root on Instagram!
Crock Pot Barbacoa Beef Tacos
Crock Pot Barbacoa Beef Tacos are easy to prepare and packed with flavor
Ingredients
Barbacoa Beef:
1 4-

pound

bone-in beef chuck roast

2

cups

beef broth

1

tablespoon

ground cumin
For Serving:
Corn or flour tortillas

heated

Microgreens or shredded cabbage

optional

Salsa
Instructions
Prepare the Barbacoa Beef:
Place the beef in your crock pot and sprinkle with salt. Add the broth, chilis in adobo sauce, and ground cumin to a blender and blend until smooth. Pour this mixture into the crock pot and cover. Set on low for 8 to 12 hours.

When the barbacoa beef is ready, transfer the beef roast to a cutting board and use two forks to shred it. Transfer the shreds back to the crock pot for 15 minutes (or more) to absorb the juices.
Prepare the Tacos:
If you love crispy barbacoa beef, heat a cast iron skillet to medium-high. Transfer some of the barbacoa beef (just enough for 1 layer) to the hot skillet and allow it to cook, stirring every 2 minutes or so, until the beef is nice and crispy, about 6 to 8 minutes total. Repeat this process until you have enough crispy beef for serving. If you're fine with tender shredded beef, you can skip this step and go straight to taco formation.

Heat up your choice of flour or corn tortillas. Load the tortillas up with barbacoa beef and micro greens, and top them off with store-bought or homemade salsa.
Nutrition
Serving:
1
Taco (of 20)
|
Calories:
265
kcal
|
Carbohydrates:
5
g
|
Protein:
16
g
|
Fat:
25
g
|
Fiber:
1
g
|
Sugar:
1
g
This post contains affiliate links, which means I make a small commission off items you purchase at no additional cost to you.