Easy chicken chile verde burrito bowls made conveniently in your slow cooker! This recipe only takes minutes to prepare and results in a marvelous well-balanced meal to enjoy any night of the week.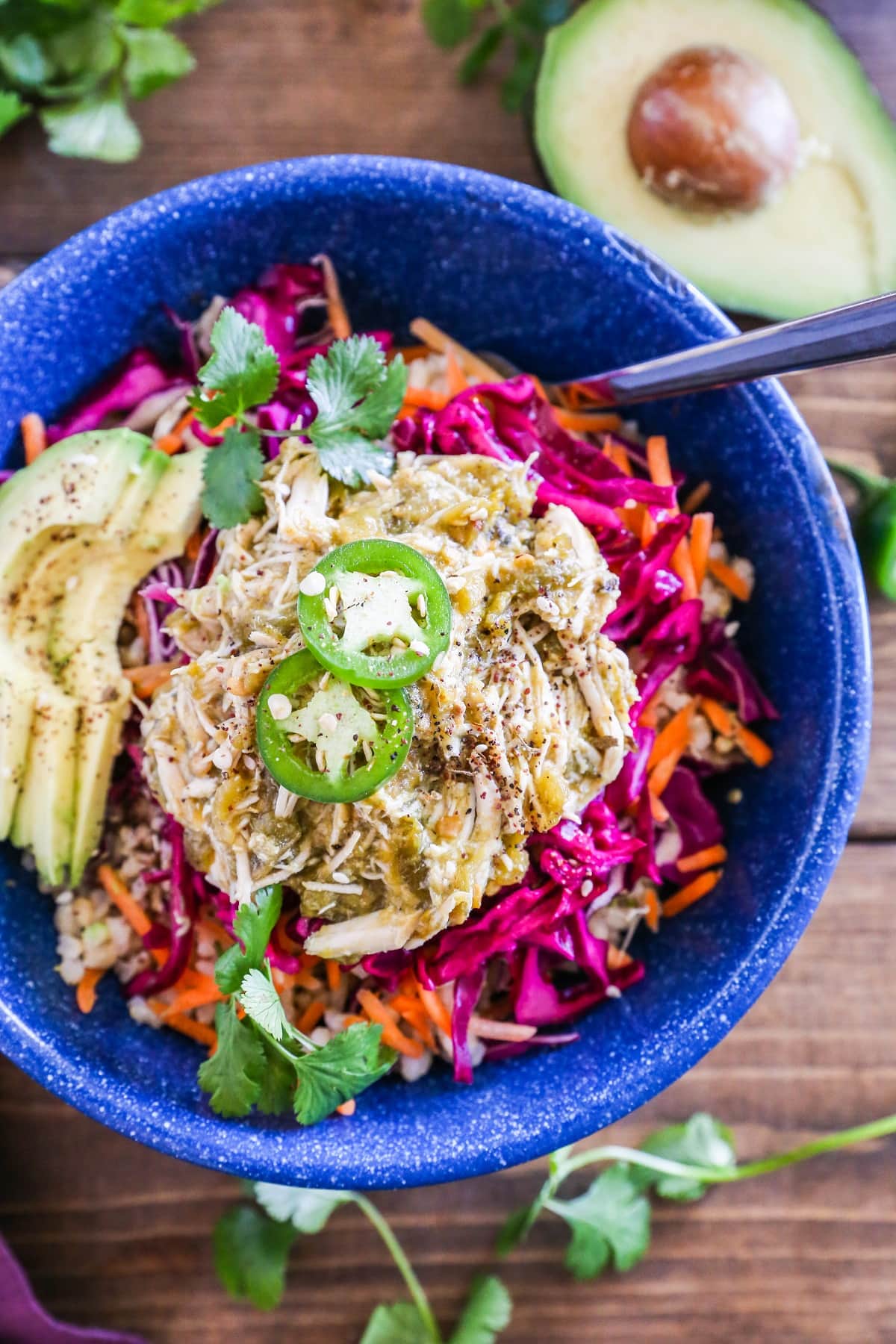 Happy almost Labor Day Weekend!
I thought I'd leave you with another steamy bowl of goodness before the long weekend begins! In fact, it's an easy one to share with friends and family without putting out a ginormous amount of effort (you'll see why in a bit).
Garrett and I are heading up to Bend, OR today and will be travelling to McMinville on Friday for a half marathon we'll be running on Sunday.
Are either one of us feeling particularly prepared for this 13-mile romp?
Nay.
We've been slacking on the training, but I always find the energy at events to be super inspiring, so I think the combination of our puny training runs and the adrenaline will make us pull through.
Fingers crossed. More will be revealed!
Labor Day Weekend marks my blogiversary, as I posted my very first recipe for Almond Ginger Scones on my site six years ago on Labor Day.
Funny enough, I was in Bend, OR when I posted it, so it kinda feels like the whole thing is coming full circle in a way.
I typically don't make a big deal out of the blogiversary, but I will say THANK YOU! I am so grateful to have you here, no matter how long you've been a follower.
Your presence means the world to me! <3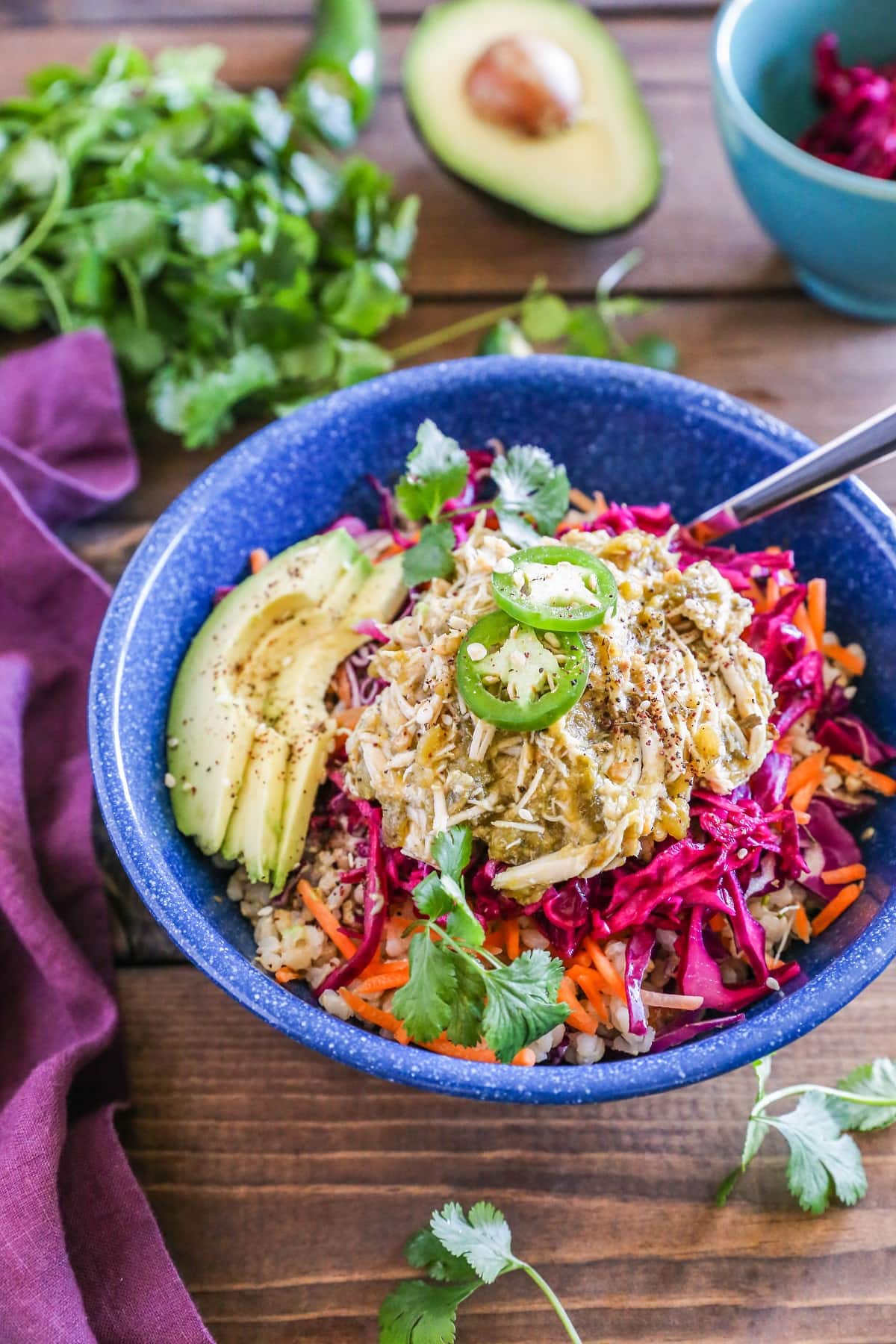 How to Make Crock Pot Chile Verde Chicken:
You just toss some boneless chicken breasts and some chile verde salsa (aka green salsa) in a crock pot, walk away, and several hours later you have just the most incredible main dish.
Let's talk salsa options.
Truthfully, I love just pouring in a jar of quality store-bought green chili salsa, but if you're wanting to make this dish entirely from scratch, follow the green salsa recipe from my Chile Verde Chicken Enchiladas recipe.
If you're paleo and decide to go the store-bought route, just be sure to read the ingredients on the back of the jar, as many store-bought salsas contain sugar.
I use 505 Southwestern Hatch Green Chile Salsa (<- not sponsored! I just love) each and every time because the flavors are super developed and yield an amazing tasting shredded chicken.
Do note, this particular salsa isn't technically paleo because it contains a little bit of canola oil.
Back to my story!
We slow cook the chicken in nothing more than salsa, shred it up, then make tasty bowls out of it. Get creative with your burrito bowl add-ins!
Burrito Bowl Toppings:
I'm always a fan of brown rice, black beans, a quick cabbage slaw (literally just red cabbage, lime juice, and salt), avocado, and maybe some shredded cheese. I also like to go the roasted pepper/guacamole/black bean route.
Sour cream, romaine lettuce, and salsa? Toss it in!
Recipe Adaptations:
Tailor these bowl add-ins to your dietary needs, my friends!
You can add roasted or sautéed bell pepper, guacamole, sour cream, whatever your heart desires. you can serve this on top of cauliflower rice to keep it grain-free, or turn the meat into a taco or burrito situation.
This is one of those meals I've made over and over because of how quick (and pleasing!) it is.
If you're looking for something ultra quick to throw together over the weekend, I'm thinking a build-your-own burrito bowl bar is a fabulous way of pleasing all the peeps.
If you're feeding more than 3 or 4, simply double (or triple) the recipe for the chicken.
xo
Crock Pot Shredded Chicken Chile Verde Burrito Bowls
Tender shredded chile verde chicken made in the slow cooker results in amazingly flavorful and delicious meat! Perfect for burrito bowls, tacos, enchiladas and more!
Ingredients
Quick Cabbage Slaw
1/2

head red cabbage

thinly sliced

1

cup

grated carrot

3 to 4

tablespoons

fresh lime juice

to taste

1

teaspoon

sea salt

to taste
For the Bowls
5 to 6

cups

cooked brown rice

2

large avocados

peeled and sliced

1/2

cup

fresh cilantro

chopped

lime wedges

for serving
Instructions
Prepare the chicken
Place the chicken breasts your slow cooker along with the salsa. Stir everything around so that the chicken is well-submerged. Place crock pot on low and cook for 4 to 6 hours, until chicken is cooked through. Transfer chicken to a cutting board and use two forks to shred it. Place shredded chicken back in the crock pot to soak up the salsa until you're ready to serve.
Make the slaw:
Add the cabbage and carrot to a mixing bowl and drizzle with lime juice and sea salt. Use your hands to massage everything together. This process will help break down some of the fibers in the cabbage so that it's softer to chew. Taste slaw for flavor and add more lime juice and/or sea salt to taste.
Make the Bowls:
Add cooked brown rice to 4 bowls, followed by desired amount of slaw, shredded chicken, avocado, cilantro, and any other toppings you'd like (such as black beans, shredded cheese, sour cream, more green salsa, etc). Serve and enjoy!
Notes
*You can also use bone-in peices or boneless chicken tenders
Nutrition
Serving:
1
of 5
|
Calories:
524
kcal
|
Carbohydrates:
50
g
|
Protein:
48
g
|
Fat:
12
g
|
Fiber:
9
g
|
Sugar:
3
g