Good morrow! What are we doing for brunch this weekend?
My uuuge family is getting together on Easter Sunday, which will include the usual smattering of ham/eggs/baked goodies/adult bevvies, etc. While most of us will not be in short supply of leftovers, the ladies and I put together a healthy meal plan for the week, per ush, to keep you on track. We have salad, open-faced sammies, vegetable noodle bowls, grain bowls, and chicken salad to keep you well fed and nourished. Have a looksy, and enjoy your holiday!

Monday
Strawberry Fields Panzanella Salad with Strawberry Balsamic Vinaigrette from Flavor the Moments.
Prep Ahead: The croutons may be made in advance and stored in an air tight container. Chicken may be added to make this even heartier!
Tuesday
Spring Vegetable Pad Thai from The Roasted Root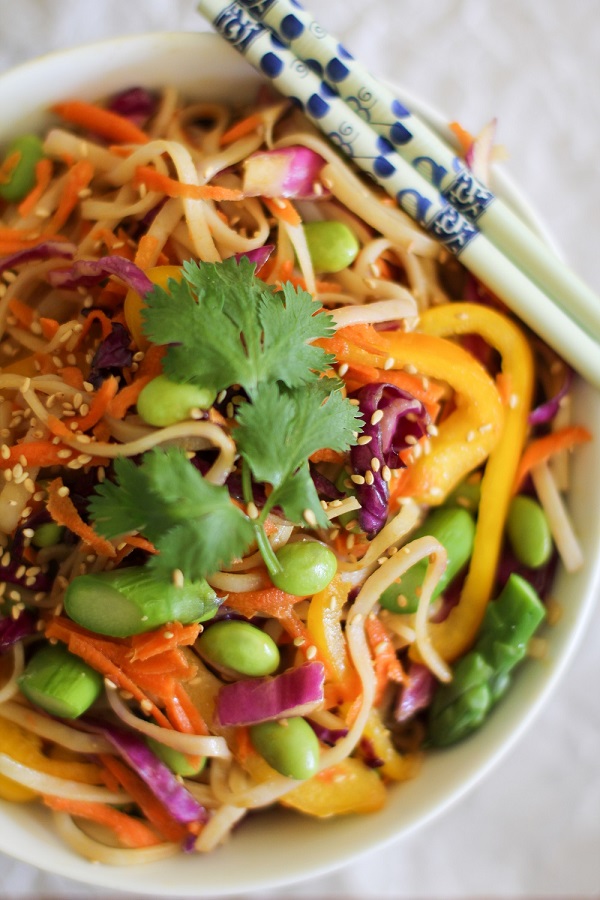 Prep Ahead: The rice noodles can be cooked ahead of time and reheated when ready to serve. You can also prepare the sauce and chop the vegetables ahead of time.
Protein Option: Add chicken, shrimp, or tofu!
Wednesday
Apple Prosciutto and Goat Cheese Open Faced Sandwich from Cook Nourish Bliss.
Prep Ahead: The arugula pesto can be made in advance to save time (although the whole meal comes together in about 15 minutes!).
Vegetarian Option: Leave off the prosciutto. You can add a quick sprinkle of chopped nuts or even cooked chickpeas if desired instead.
Thursday
Green Goddess Quinoa Bowls from greens & chocolate.
Prep Ahead: You can make the quinoa and green goddess dressing ahead of time.
Protein Option: You can add roasted chicken breast, shrimp, or beef if you'd like!
Friday
Hawaiian Chicken Salad from Spoonful of Flavor.
Prep Ahead: The chicken salad can be prepped in advance and stored in a sealed container until ready to serve. You can also purchase store-bought rotissere chicken to save time.
Click HERE to print the grocery list below:
Click HERE to print the customizable weekly menu: