A Weekly Healthy Meal Plan with keto, paleo, and whole30 options. A gluten-free, dairy-free meal plan that the whole family will love! Print out the grocery list to snag all your groceries for the week in one haul!
This week's meal plan is all about fresh and refreshing meals, getting everyone ready for warmer weather!
What I love about this meal plan is each healthy dinner recipe can be kept light or turned into a more filling affair.
From delicious simple tacos and kabobs to incredible salads and an amazing chicken recipe, this meal plan is protein-centric with plenty of fresh seasonal produce to keep you feeling vital.
Looking for some healthy side dishes to pair with your dinners this week? Some of my favorite in-season sides are my Roasted Sweet Potato Salad with Spinach and Grapes, The Best Broccoli Salad, Amazing Avocado Salad, and Easy Asian Cucumber Salad.
Also, if you didn't catch my Almond Flour Zucchini Crumb Cake, you'll love it for breakfast, snack, or dessert!
And now for the food! I hope you enjoy this week's meal plan.
As always, let me know if you have any questions or requests.
xo
SUNDAY:
Crispy Salmon Salad with Cabbage and Peanut Dressing – A huge, filling, nutritious salad with perfect crispy salmon, cabbage, carrots, cashews, sliced almonds, dried cranberries, and an amazing peanut dressing to tie it all together.
Special Diet: This recipe can be made paleo-friendly by using almond butter instead of peanut butter for the dressing.
Prep Ahead: Marinate the salmn up to 24 hours ahead of time if you'd like.
To save time, buy pre-shredded green cabbage and red cabbage. You can make the dressing up to 5 days ahead of time if you'd like.
The salad is best when served fresh so I recommend making it the same day or the 2 days before you intend to eat it.
Substitutions/Notes: Subsitute any of your favorite veggies or nuts/seeds. You can use a store-bought dressing to save time, or use any homemade dressing you prefer.
The quickest way of preparing this recipe is purchasing pre-shredded cabbage.
MONDAY:
Fiesta Chicken Nuggets – These tasty gluten free chicken nuggets are also grain free and have a Tex Mex twist! They're especially delicious when paired with an amazing dipping sauce.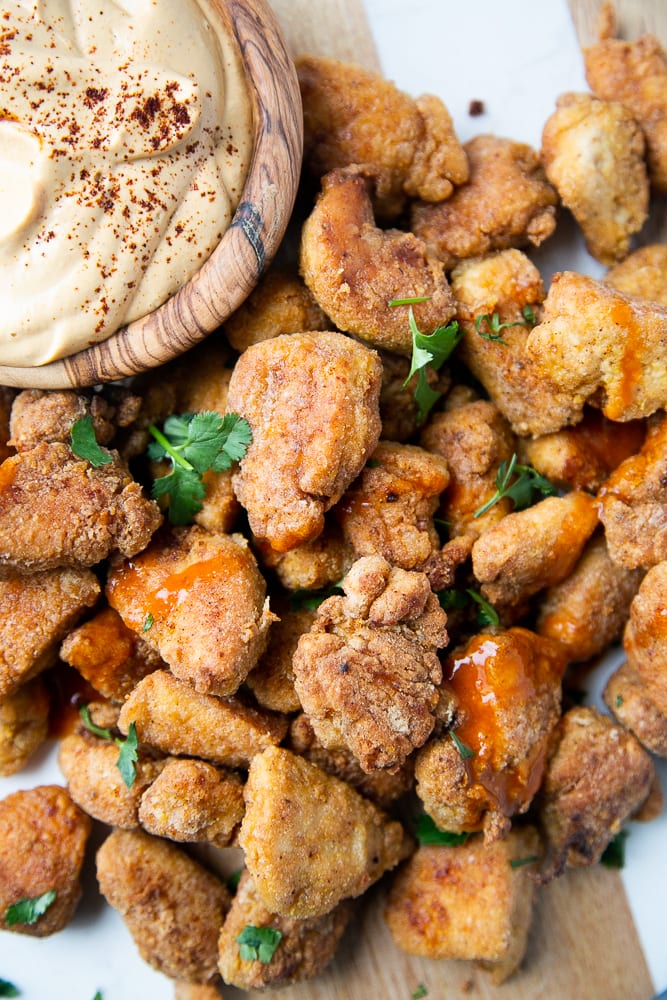 Special Diet Notes: This recipe is paleo as is.
Prep Ahead: You can make Natalie's Chipotle Vegan Queso ahead of time.
Substitutions/Notes: If you'd like to make these classically seasoned chicken nuggets, replace the taco seasoning with any kind of low-salt or salt-free basic seasoning you like.
You could also dip these in guacamole instead of the cashew queso sauce, too.
TUESDAY:
Carne Asada Tacos – Authentic Carne Asada Tacos are easier to make than you'd think! Steak gets marinated to perfection in a delicious zesty marinade, then cooked to your desired doneness on the grill or stove top.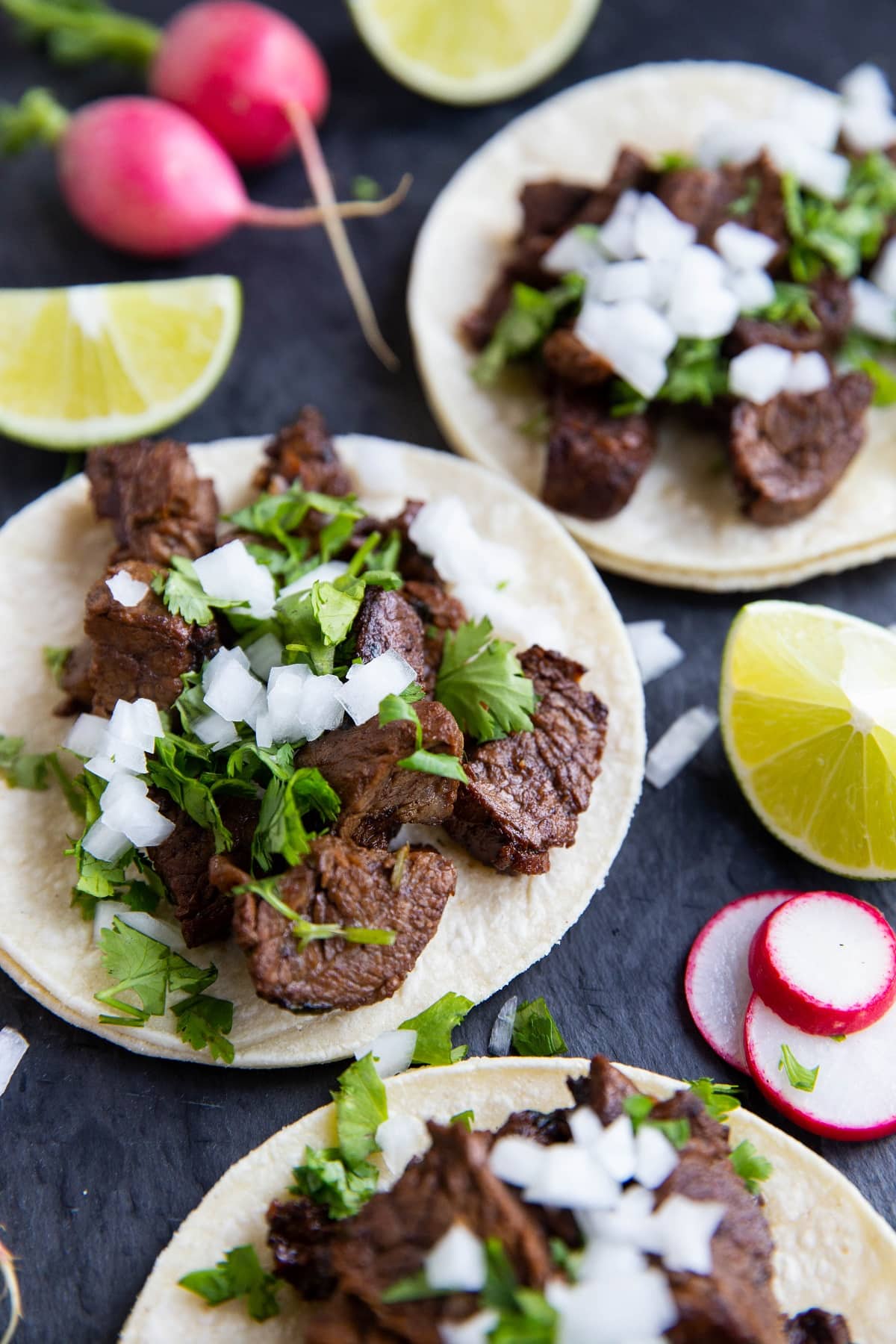 Special Diet Notes: Make the recipe paleo or Whole30 by using grain-free tortillas. For a low-carb option, use low-carb tortillas.
Prep Ahead: The carne asada can be marinated up to 2 days ahead of time. You can also cook the carne asada in advance and reheat it when you're ready to make the tacos.
Substitutions/Notes: Pick up any of your favorite taco toppings! Traditional carne asada tacos are just meat, chopped onions and fresh cilantro, but you can add any salsa, cheese, guacamole, etc. Make my Spanish Rice or Instant Pot Black Beans to pair with the tacos!
WEDNESDAY:
Greek Steak Kabobs – These steak kebabs are beyond fabulous and only need about 30 minutes of marinating! There's also a dairy-free variation for the tzatziki, so check the recipe notes.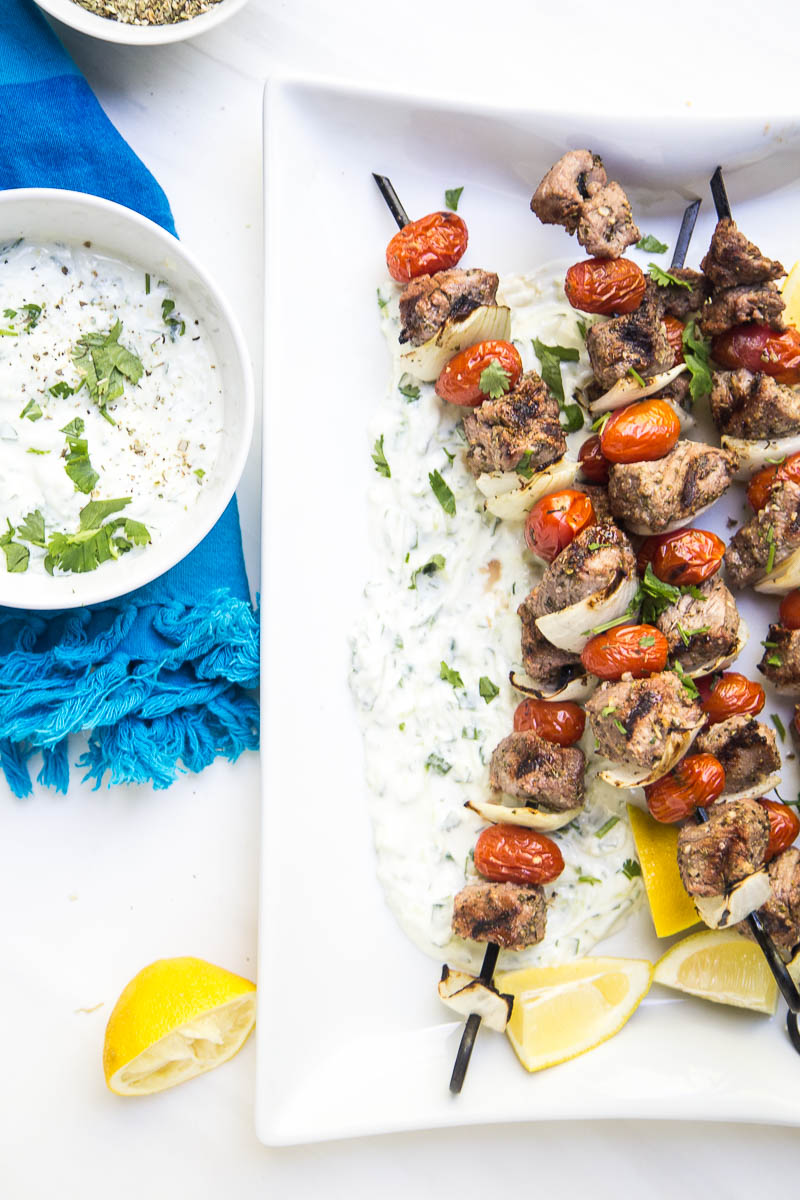 Special Diet Notes: Recipe is low carb and can be made dairy free by using dairy free yogurt.
Prep Ahead: The components can be made a day ahead of time — marinating the steak, cucumber yogurt salad, and tzatziki. So al you need to do is assemble the kabobs and grill them.
Substitutions/Notes: You can use chicken for this recipe as well! Natalie has a great recipe for Greek Seasoning if you need one or can't find a store-bought equivalent.
THURSDAY:
Chicken and Spinach Breakfast Casserole – Chicken and Spinach Breakfast Casserole with Sun-Dried Tomatoes and Feta makes for a delicious high-protein breakfast! Make it for breakfast, brunch, or meal prep!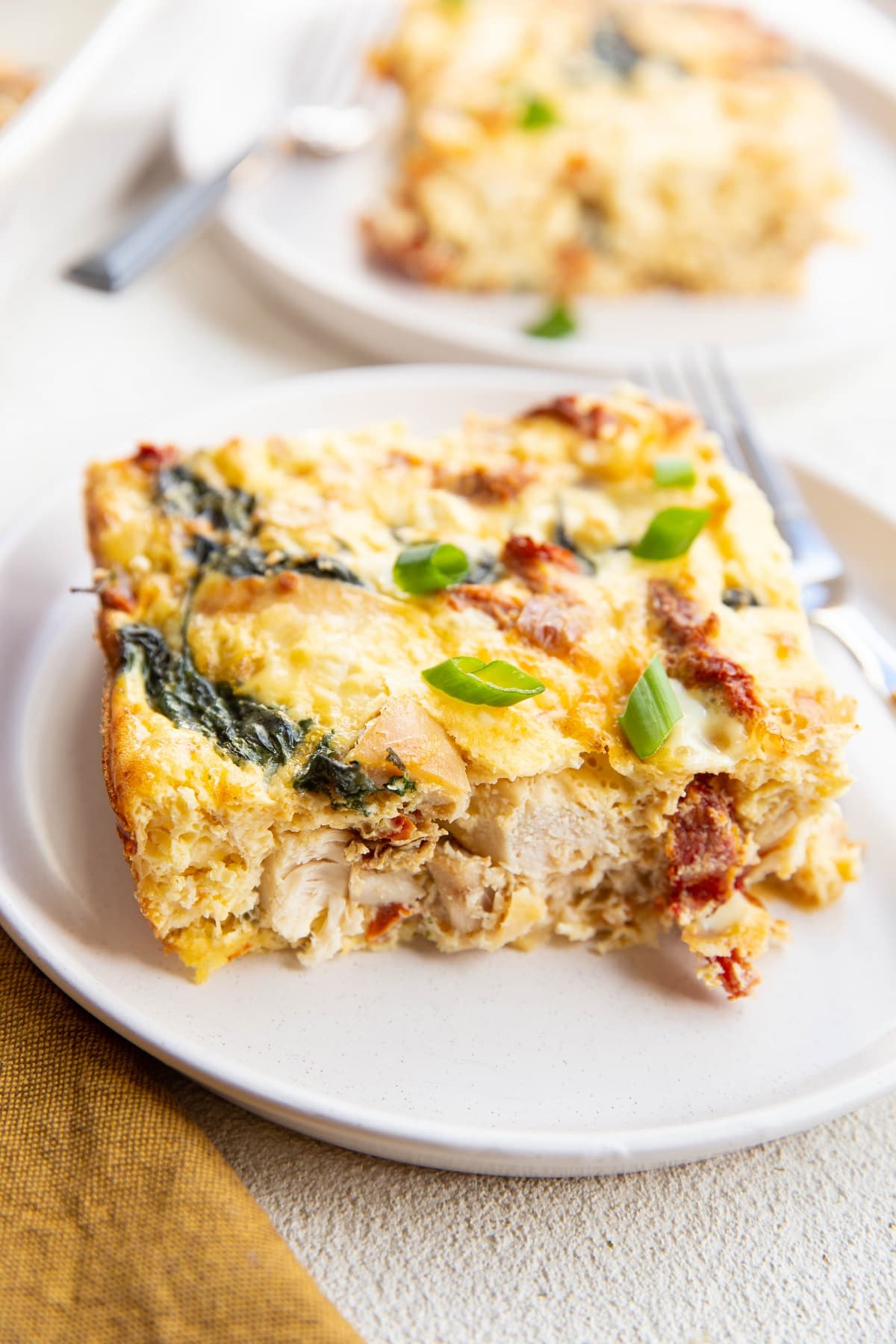 Special Diet Notes: This recipe is paleo, whole30, and low-carb.
Prep Ahead: No advance prep is needed, but this casserole saves very well so you can make the whole thing 1 week ahead of time.
Substitutions/Notes: Add in any of your favorite veggies such as broccoli, cauliflower, or cherry tomatoes. You can also add goodies like chopped artichoke hearts, kalamata olives, and roasted bell peppers for even more flavor.
FRIDAY:
Avocado Bacon Parmesan Salad – Avocado + bacon + Parmesan might the objectively best combination of all time. The tangy avocado dressing pulls everything together. The lettuce? Merely a vehicle for greatness.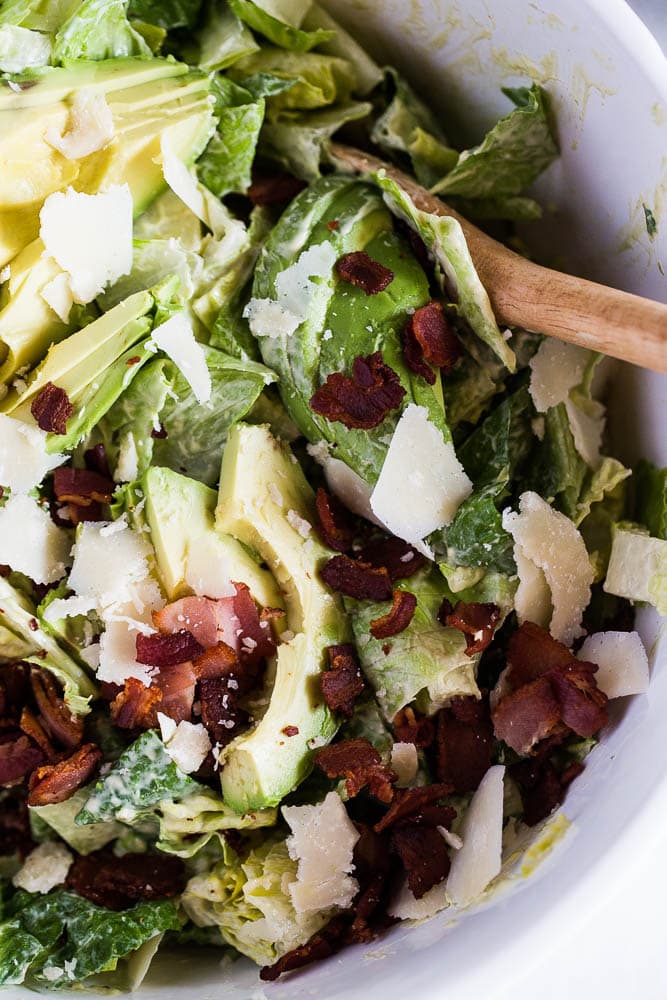 Special Diet Notes: This recipe is gluten-free and low carb.
Prep Ahead: You can make the bacon in advance if you like.
Substitutions/Notes: Serve this with any extra protein from earlier in the week if you need it to be a more substantial meal.
DESSERT:
3-Ingredient Blueberry Popsicles – 3-Ingredient Blueberry Coconut Milk Popsicles that require 5 minutes of prep! The hardest part is waiting for the popsicles to freeze. Dairy-free, refined sugar-free, and vegan, these creamy blueberry popsicles taste like an absolute treat but are a little more health-conscious than the store-bought popsicle counterpart.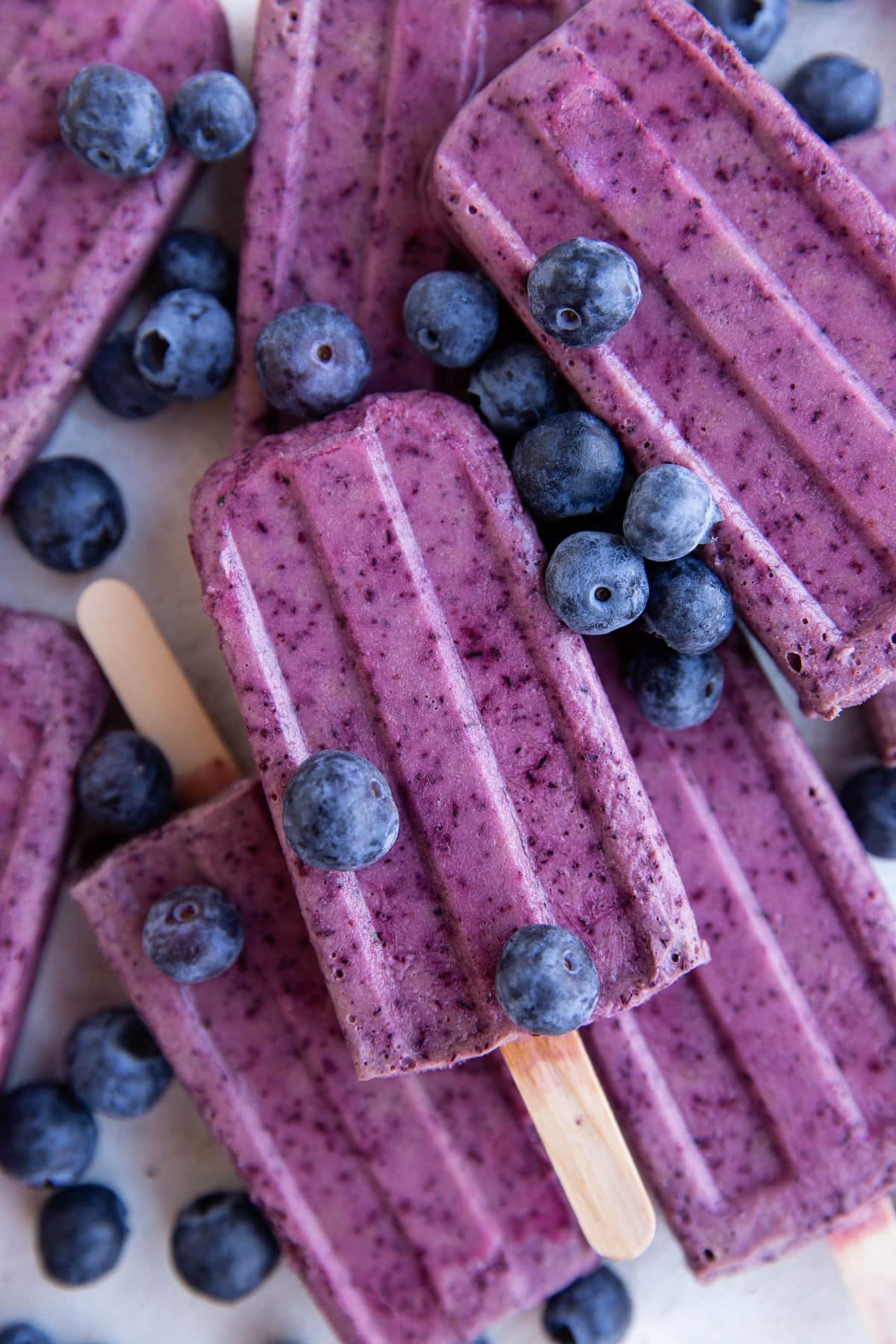 Special Diet Notes: Recipe is paleo. Make it low-carb or keto by swapping out the pure maple syrup for your favorite sugar-free powdered sweetener or granulated sweetener.
Prep Ahead: The blueberry mixture takes only a split second to prepare in your blender, so no advance prep is needed
Substitutions/Notes: Swap out the blueberries for your favorite fruit. Strawberries, raspberries and peaches are all great options.
GROCERY LIST:
Click HERE to print this week's grocery list!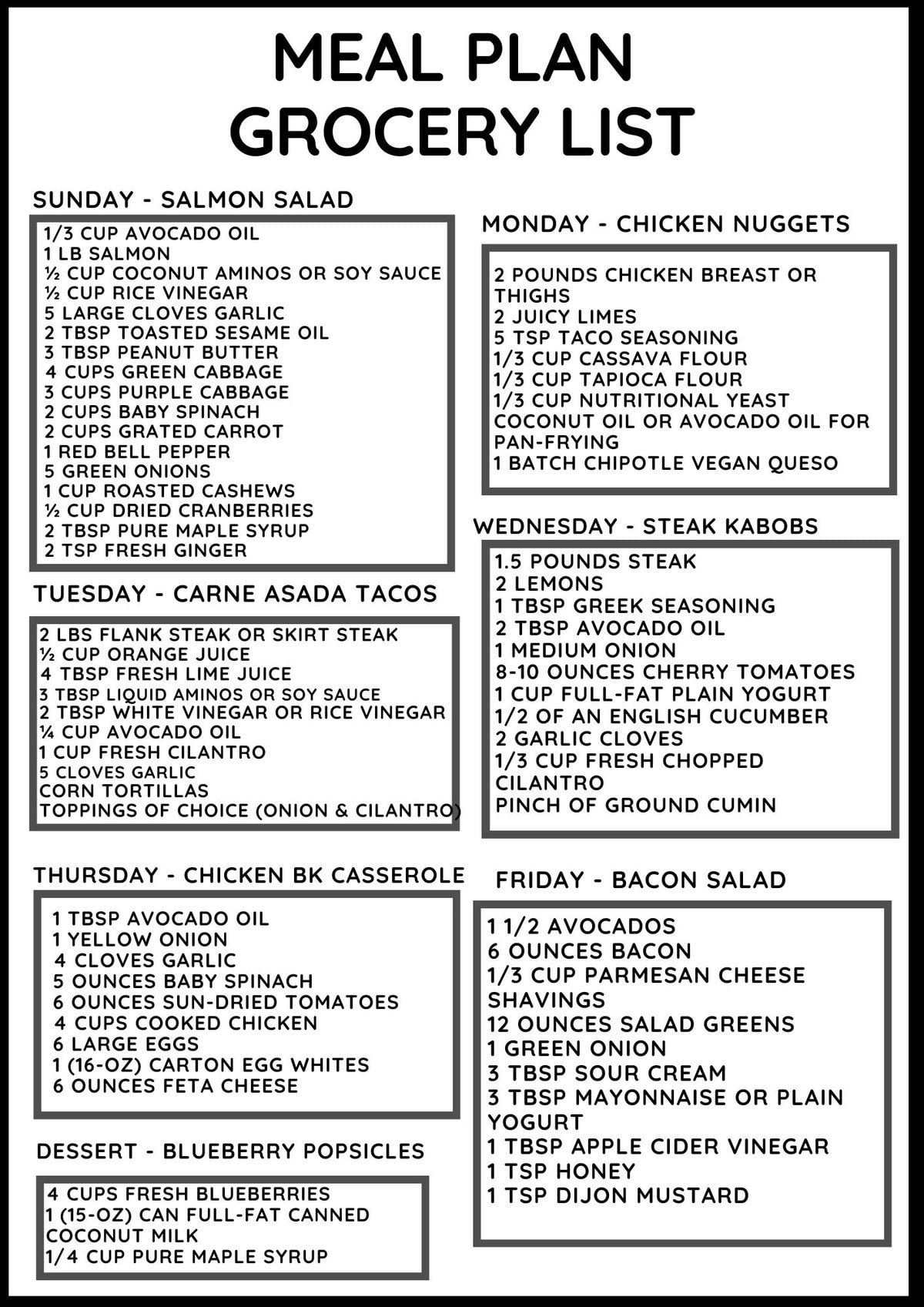 Previous Meal Plans:
Consult the archives for more healthy meal plans to meal prep a different plan every single week!
Enjoy! xo