A Healthy Weekly Meal Plan featuring six easy to prepare dinner recipes and one refreshing dessert! Complete with a printable grocery list, these meal plans are designed to make meal prep simple and nourishing!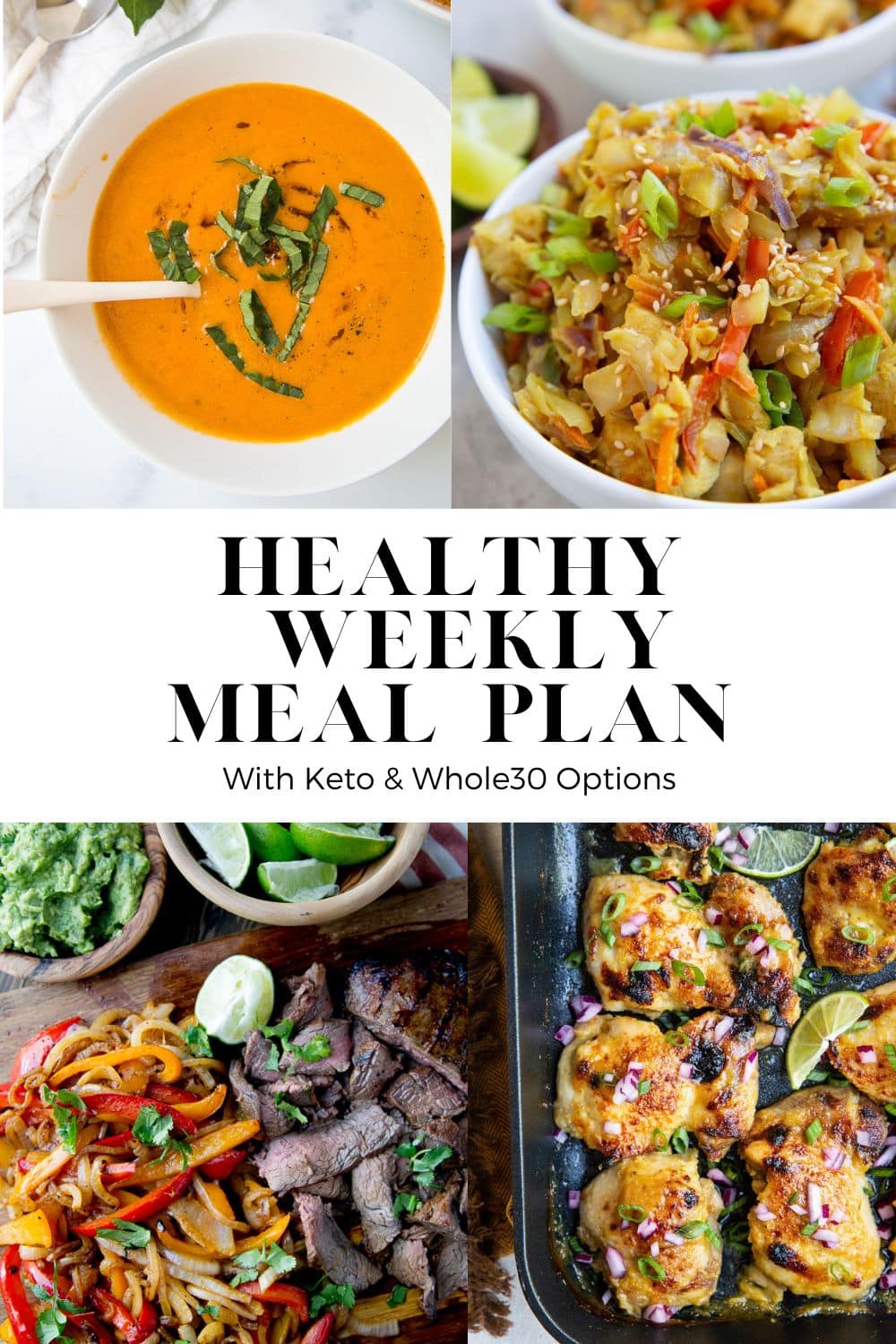 Between marinated steak fajitas, a sultry chicken thigh recipe, refreshing tomato soup, a Thai-inspired bowl (and more!), this week's meal plan is packing ALL the flavors!
Not only do we have a wide variety of cuisines coming at you for this week's easy meal plan, but everything is relatively quick and low-fuss to prepare.
Be sure to print the grocery list at the end of the post if you like to snag all your groceries for the week in one haul.
Looking for some great make-ahead side dishes? My Big Batch Roasted Vegetables is the perfect way to meal prep a big batch of veggies. In addition, my Cucumber Tomato Salad and Greek Lentil Salad are also great healthy side dishes to go alongside your summer meals!
If you didn't catch my 5-Ingredient No-Bake Oatmeal Peanut Butter Cookies, they have been a major hit! They're so easy to whip up and are just the loveliest treat that requires no baking.
And now on to the meal plan!
Enjoy this week's food lineup and as always, feel free to let me know if you have any requests for future meal plans.
SUNDAY:
Simple Roasted Tomato Soup – Use up some extra garden tomatoes in this simple and flavorful Roasted Tomato Soup! Swirl pesto into it or dip a grilled cheese sandwich, or freeze it and save it for a cold day during the winter.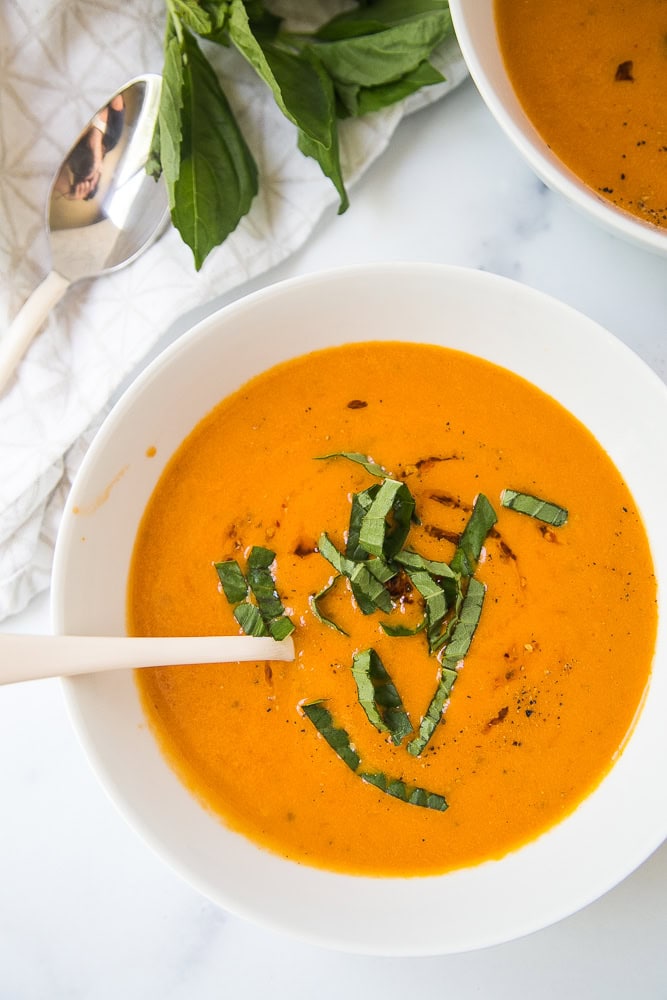 Special Diet: Recipe is paleo-friendly and vegetarian using vegetable stock.
Prep Ahead: Vegetables can be roasted ahead of time.
Substitutions/Notes: Serve with a simple salad or add some leftover protein to make a heartier meal.
MONDAY:
Thai Chicken and Cabbage Bowls – Thai Chicken and Cabbage Bowls feature fresh vegetables like bell pepper, carrots, ginger and garlic, tender chicken breasts, and a delicious sauce to bring everything together. This delicious dinner recipe is the ideal clean eating meal, full of protein, carbs and fiber.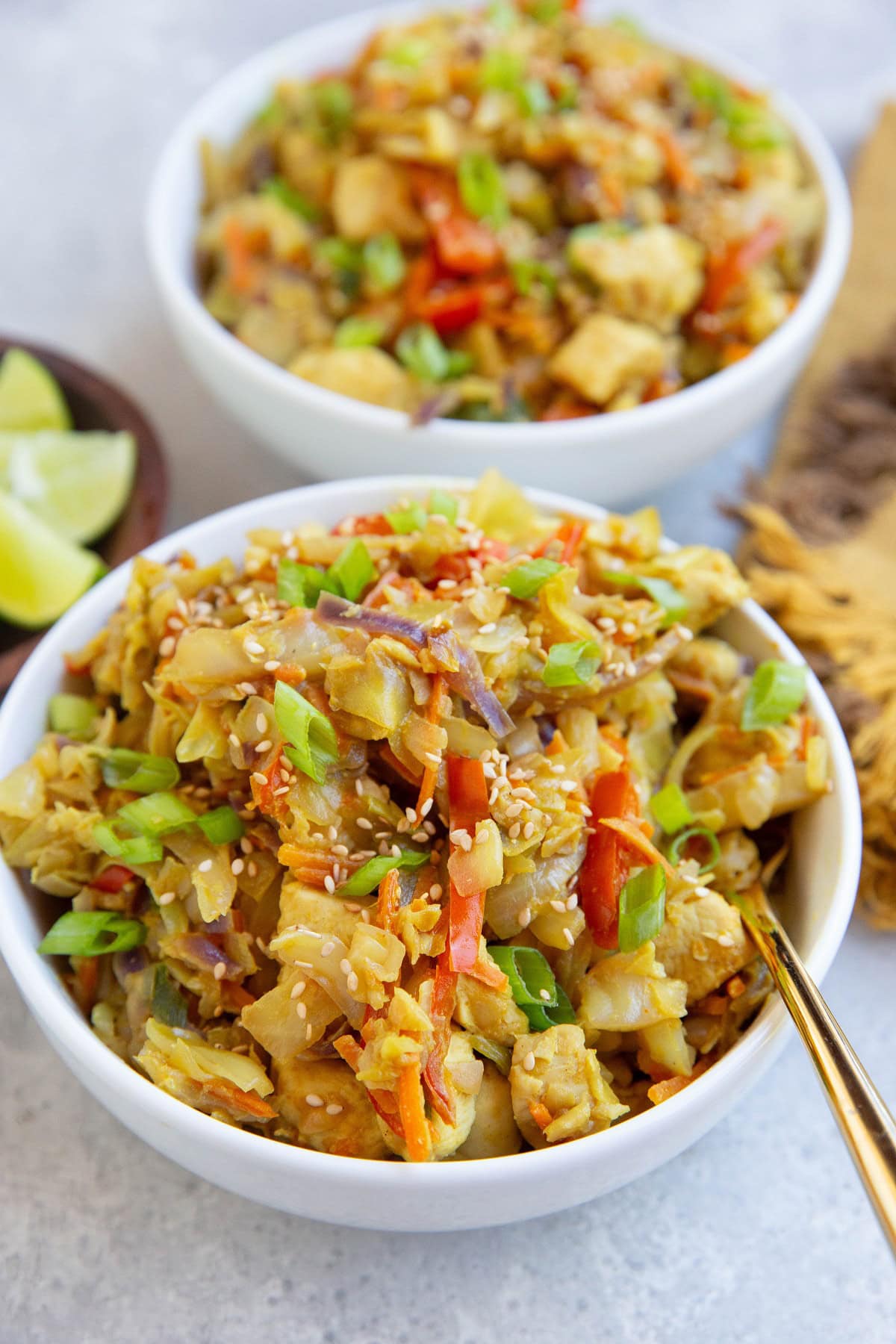 Special Diet Notes: Recipe is paleo-friendly and can be made whole30 compliant by omitting the pure maple syrup from the sauce.
Prep Ahead: This recipe comes together relatively quickly, so no advance prep is needed. If you'd like to make the sauce ahead of time, you can do so up to 5 days in advance.
Substitutions/Notes: Swap out any of the vegetables with your favorite vegetables. broccoli, cauliflower, bok choy and zucchini are all great options. You can replace the chicken with any type of ground meat.
TUESDAY:
Marinated Steak Fajitas – Flank steak and veggies are marinated in a smoky marinated with a touch of heat to make these super flavorful fajitas! Use them to make traditional fajitas or throw them on a salad. Save the leftovers for breakfast or dinner the next day.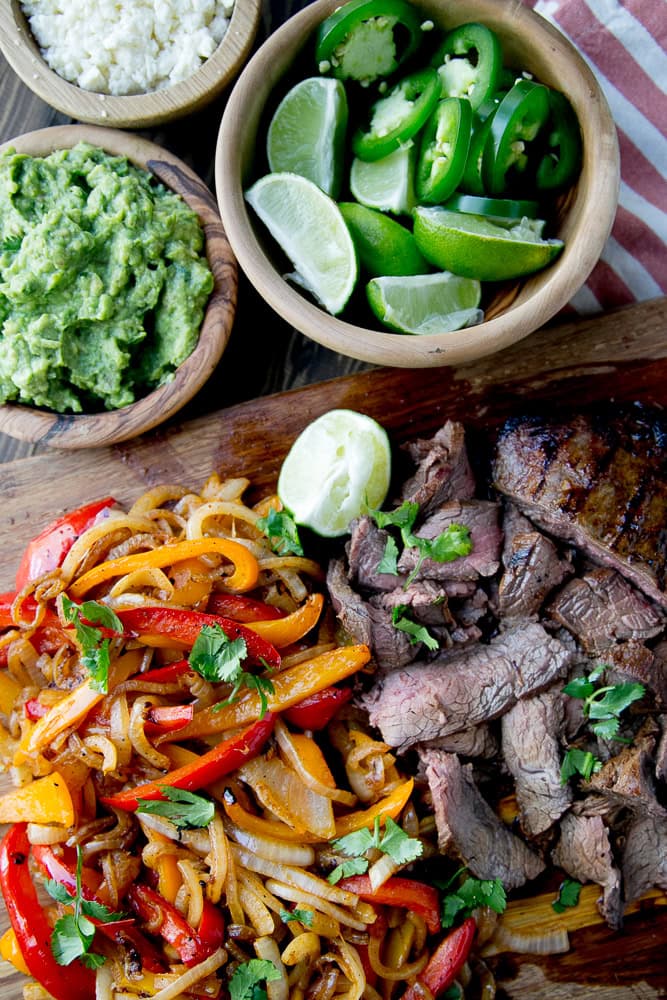 Special Diet Notes: The meat and vegetables are paleo friendly. Serve it over some salad greens with some guacamole or sliced avocados if you don't want to use tortillas.
Prep Ahead: The meat can be marinated up to a day in advance.
Substitutions/Notes: Use Natalie's Smoky Chipotle Taco Seasoning in this recipe or swap it out for your favorite taco seasoning.
WEDNESDAY:
Easy Canned Salmon Salad – Easy Canned Salmon Salad recipe with canned salmon, avocado, pickles, fresh herbs, pepperoncinis, and more. A mayo-free healthy salmon salad recipe for a high-protein lunch or dinner.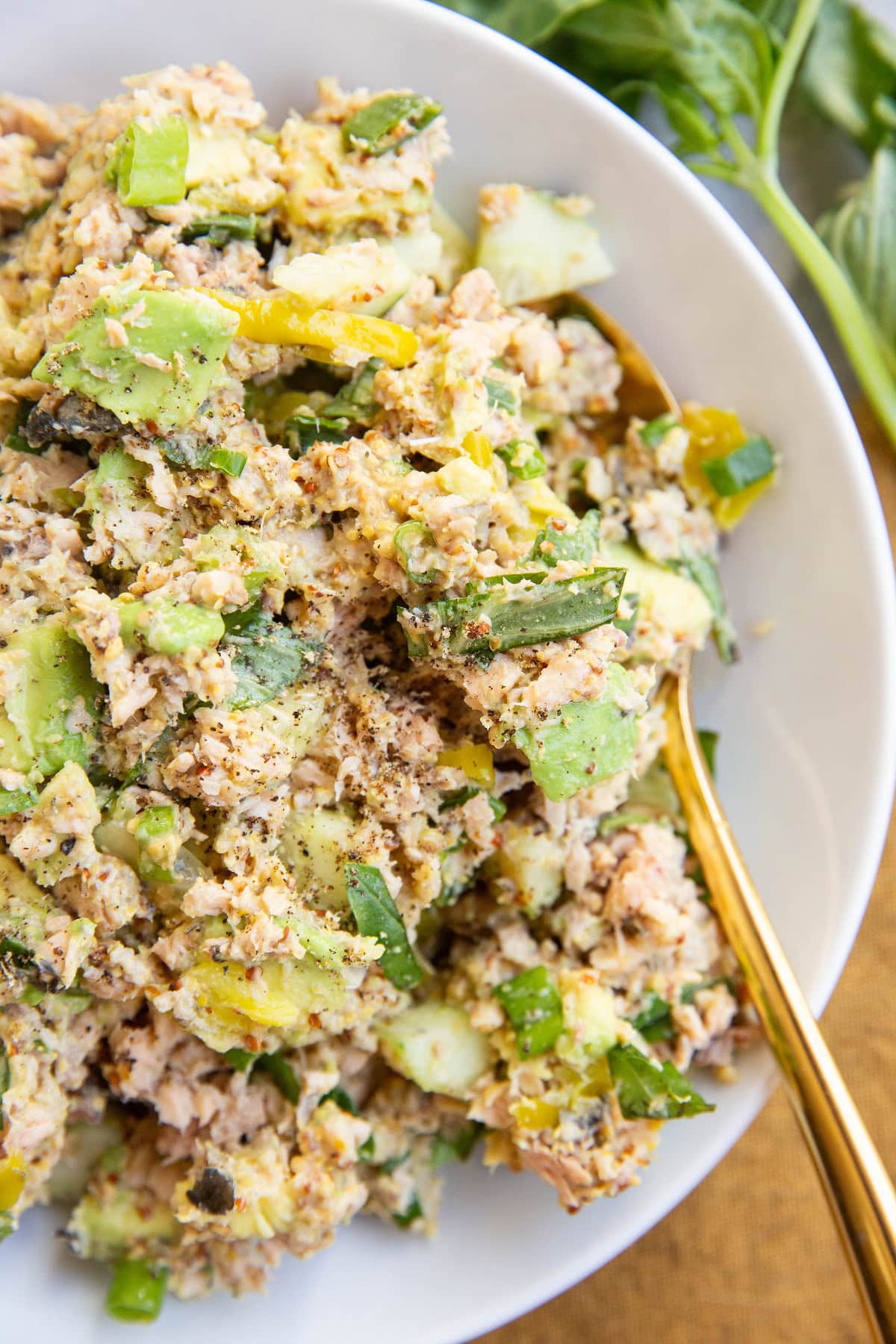 Special Diet Notes: Recipe is paleo, low-carb, and whole30
Prep Ahead: Recipe is best when served fresh. If you want to make it in advance, mix everything but the avocado together then add the avocado just before eating.
Substitutions/Notes: Use canned tuna or canned chicken as a replacement for canned salmon. See blog post for all sorts of adaptations.
THURSDAY:
Spicy Shrimp Rolls (Or Bowls) – Make these Spicy Shrimp Rolls at home for a fun, easy dinner! You can make them as spicy or as mild as you like. Just pull out some frozen shrimp and you can have these shrimp rolls (or bowls!) on the table in under an hour.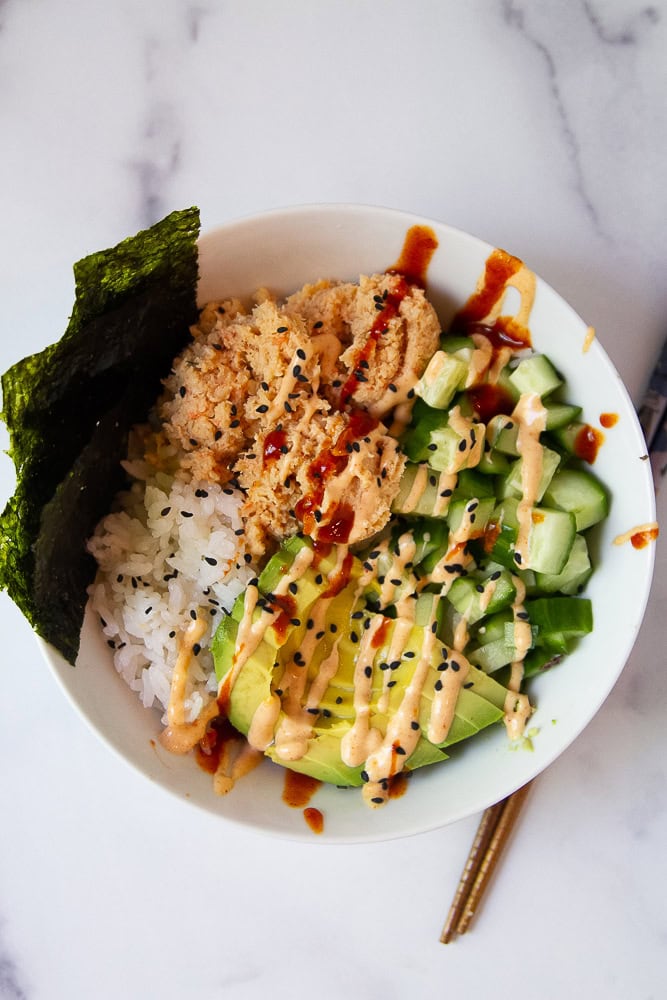 Special Diet Notes: This recipe is gluten-free and dairy-free. The shrimp salad itself is paleo-friendly if you use avocado-oil mayonnaise. Make it keto by using cauliflower rice.
Prep Ahead: The shrimp salad and cucumbers can be prepped a day or two in advance. It's better if the sushi rice is at room temperature when you use it, so I recommend making it earlier in the day or the day before and let it sit out for a few hours to get the chill off.
Substitutions/Notes: If you're wanting this to be grain-free, use Roasted Cauliflower Rice and turn the recipe into Spicy Shrimp Bowls instead of sushi rolls.
FRIDAY:
Cuban Mojo Chicken Thighs – Baked Mojo Chicken Thighs feature a delicious Cuban Mojo marinade, resulting in a citrusy glazed, tender chicken with incredible flavor and texture. Serve the chicken along with your favorite sides and toppings like rice, beans, plantains, avocado, fresh cilantro, etc.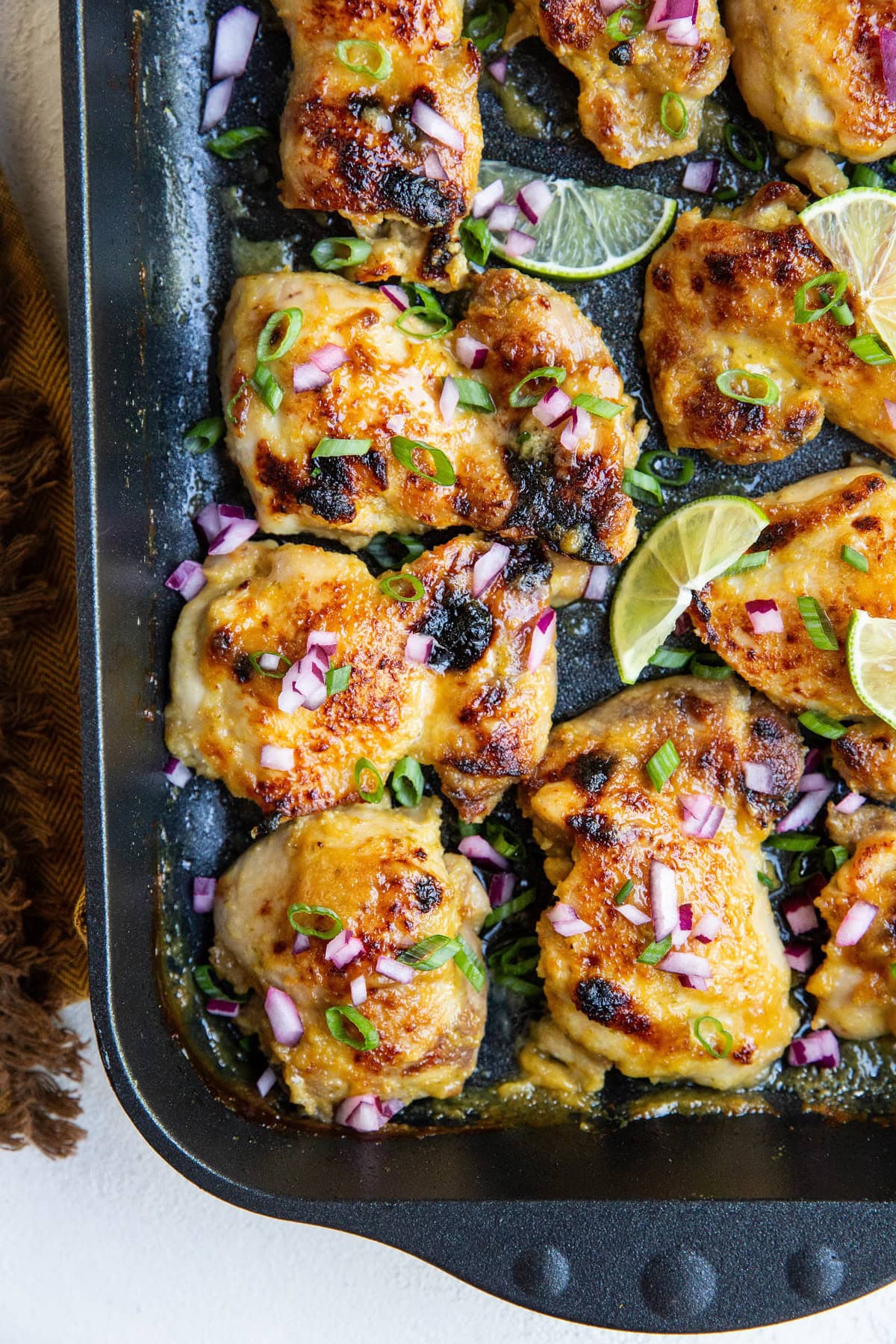 Special Diet Notes: Recipe is paleo-friendly. To make it whole30 or low-carb, omit the pure maple syrup.
Prep Ahead: The chicken can be marinated up to 24 hours in advance.
Substitutions/Notes: Use any combination of fresh citrus for this Cuban chicken recipe.
DESSERT:
The Best Strawberry Frozen Greek Yogurt – This strawberry frozen Greek yogurt is DELICIOUS and crazy easy — just blend up a few ingredients in the blender and pour it into your ice cream machine! Greek yogurt gives it a boost of protein and frozen strawberries make it easy to make this easy summer dessert anytime you like.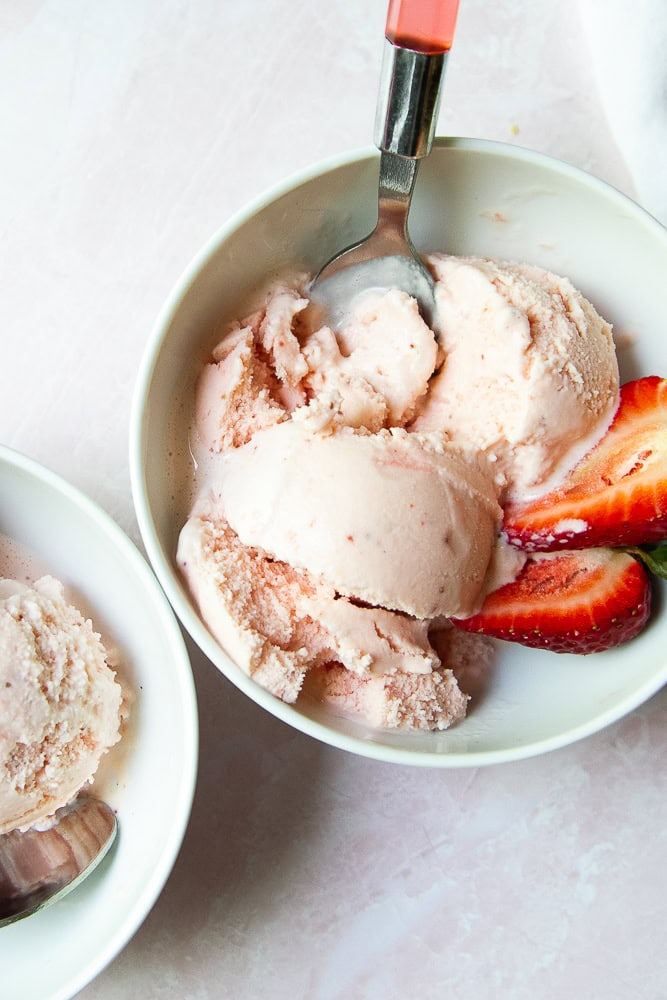 Special Diet Notes: Recipe is gluten-free and low in sugar depending on the sweetener you use.
Prep Ahead: Make ahead not necessary unless you'd like it firmed up in the freezer for a few hours before you serve it.
Substitutions/Notes: Swap out the strawberries for frozen raspberries or blackberries if you like. If you're wanting this to be dairy-free, you'll need to find some dairy-free Greek yogurt.
GROCERY LIST:
Click HERE to print this week's grocery list!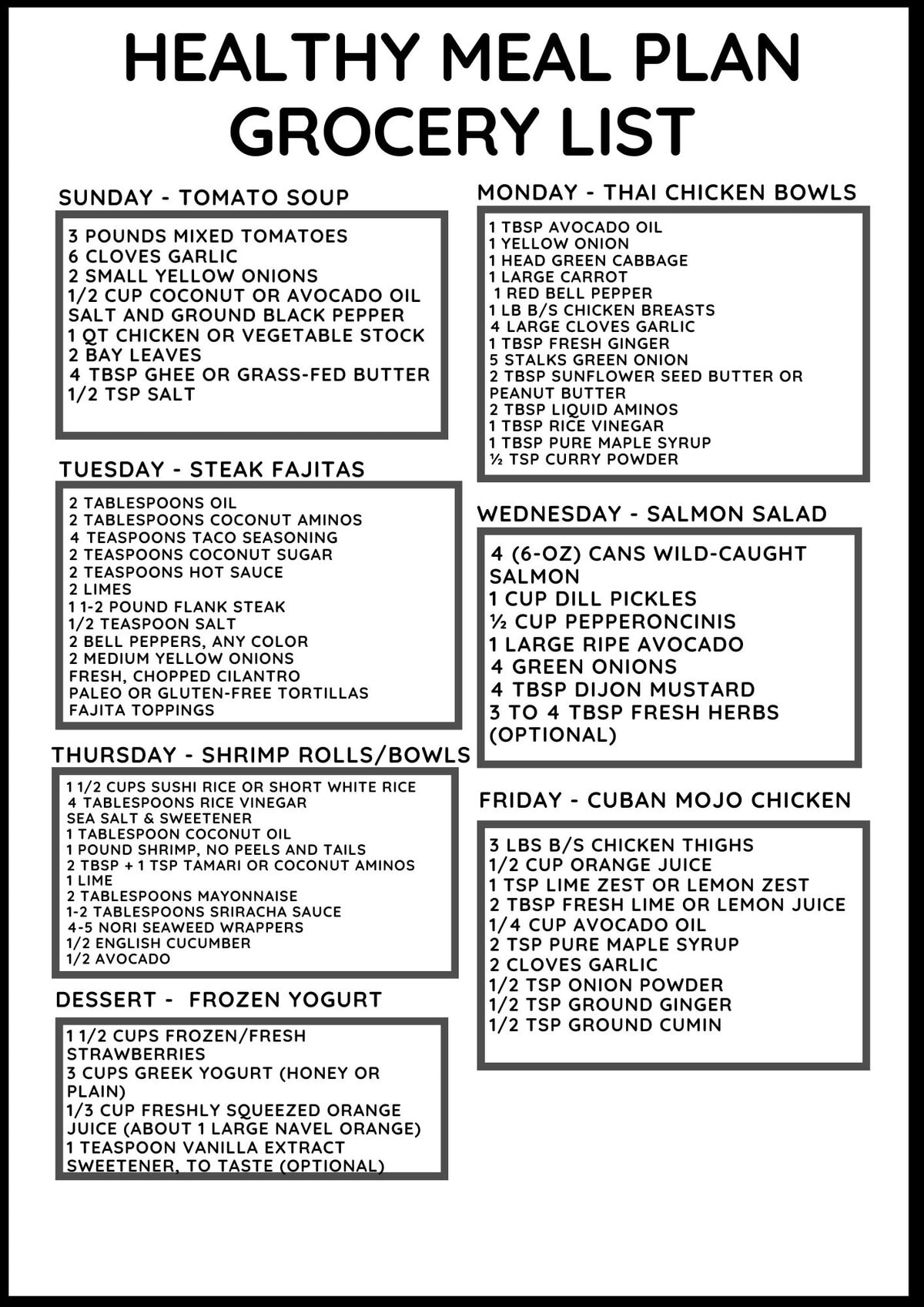 More Healthy Meal Plans:
Enjoy!
xo