Our Healthy Meal Plans features six seasonal dinner recipes and one healthier dessert! All of the recipes are whole food based with paleo, keto, and whole30 options. Be sure to print out the grocery list included in this post to snag all of your groceries for the week in one haul.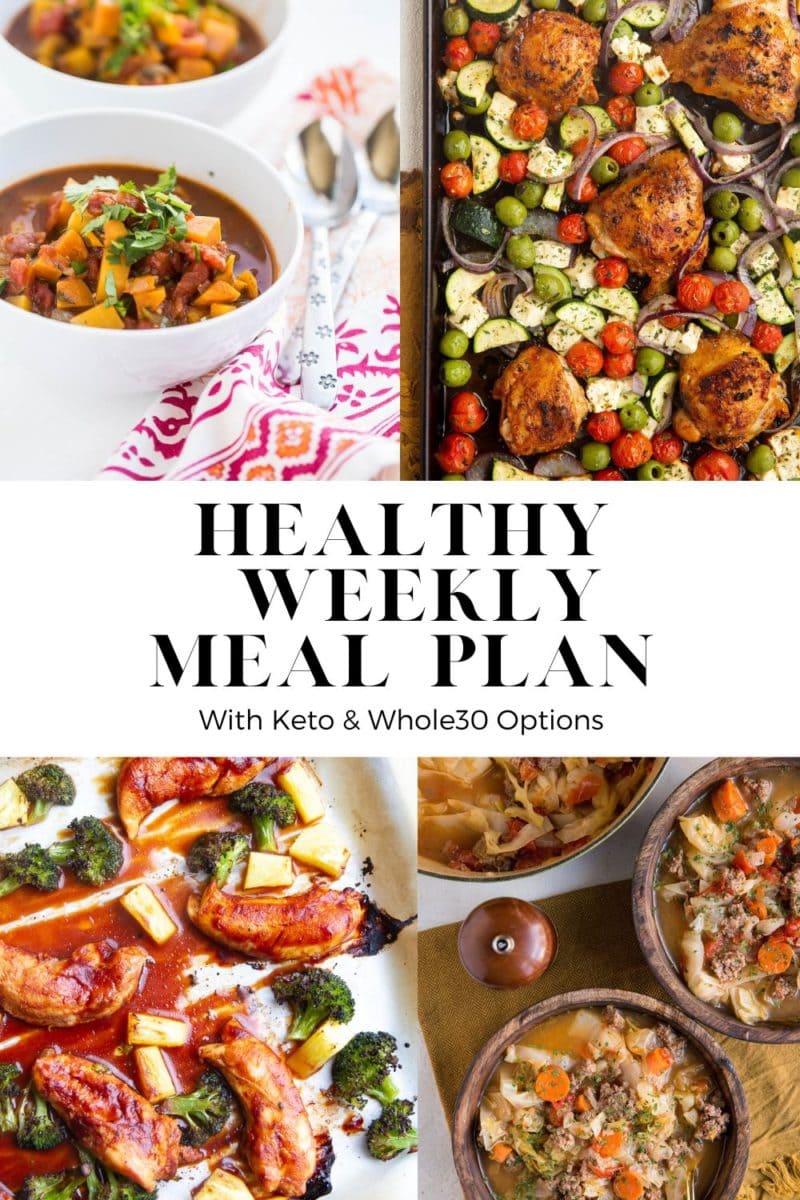 This week's meal plan is all about easy comfort food!
I just know you're going to love the simplicity and the freshness of all these flavorful meals.
During the chilly months of the year, I always find myself craving big, hearty meals, and foods that make me feel full.
For me, this means getting in plenty of protein and fiber, because both are highly satiating and leave you feeling energized and satisfied rather than catatonic. 😉
We've designed this meal plan to cater to your every comfort food desire, featuring all sorts of wild flavors and fresh produce.
If you'd like to add some side dishes to your meals, I love whipping up my Big Batch Roasted Vegetables to eat alongside any meal throughout the week!
My Perfect Roasted Carrots, Creamy Roasted Garlic Hummus, and Smashed Sweet Potatoes with Garlic Butter and Honey are some of my absolute favorites.
Also, if you didn't catch my 5-Ingredient Healthy Blueberry Oatmeal Cookies, be sure to give them a try! They disappear in a split second in my household 🙂
And now for the food!
I hope you enjoy this week's healthy meal plan.
As always, let me know if you have any requests or questions.
xo
SUNDAY:
Ground Beef & Cabbage Soup – An incredibly simple soup recipe, ideal for those looking for a belly-pleasing meal without much effort! If you're new to making soup, this one's a great introduction, as it only requires 10 basic ingredients and zero fancy tricks.
Special Diet: This low-carb recipe is paleo, whole30 compliant, and keto friendly.
Prep Ahead: There's no need to prepare anything in advance for this easy recipe.
Substitutions/Notes: Use ground chicken or turkey instead of ground beef. Feel free to add your favorite veggies, like cauliflower, broccoli, or spinach. You can also add 1/2 cup of dry white rice if you aren't following a low-carb or grain-free diet.
MONDAY:
Sweet Chipotle Salmon – This simple yet wildly delicious Chipotle Salmon has a triple punch of sweet, smoky, & spicy! The hot honey glaze is a MUST and is super easy to make.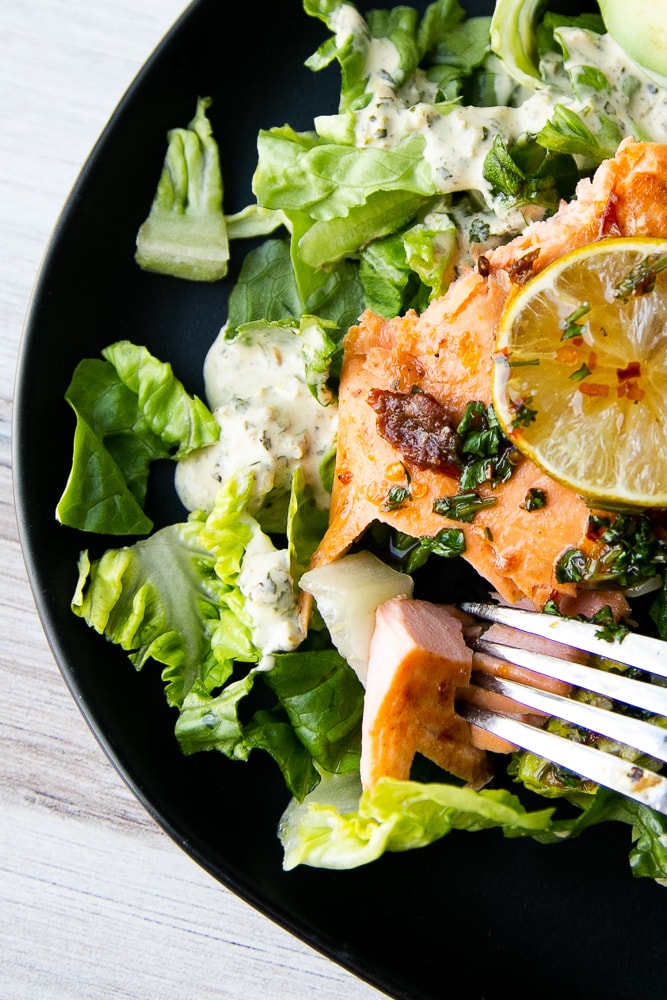 Special Diet Notes: Recipe is paleo as is.
Prep Ahead: If you make the Hot Honey, you can do this a day or two ahead of time.
Substitutions/Notes: I love making a batch of Hot Honey Cilantro Glaze on this! Serve it over some salad greens or grains with your favorite veg.
TUESDAY:
Mediterranean Sheet Pan Chicken – Marinated chicken thighs, fresh vegetables, olives, and chunks of feta cheese baked on a single sheet pan makes for the freshest, most flavorful easy dinner recipe!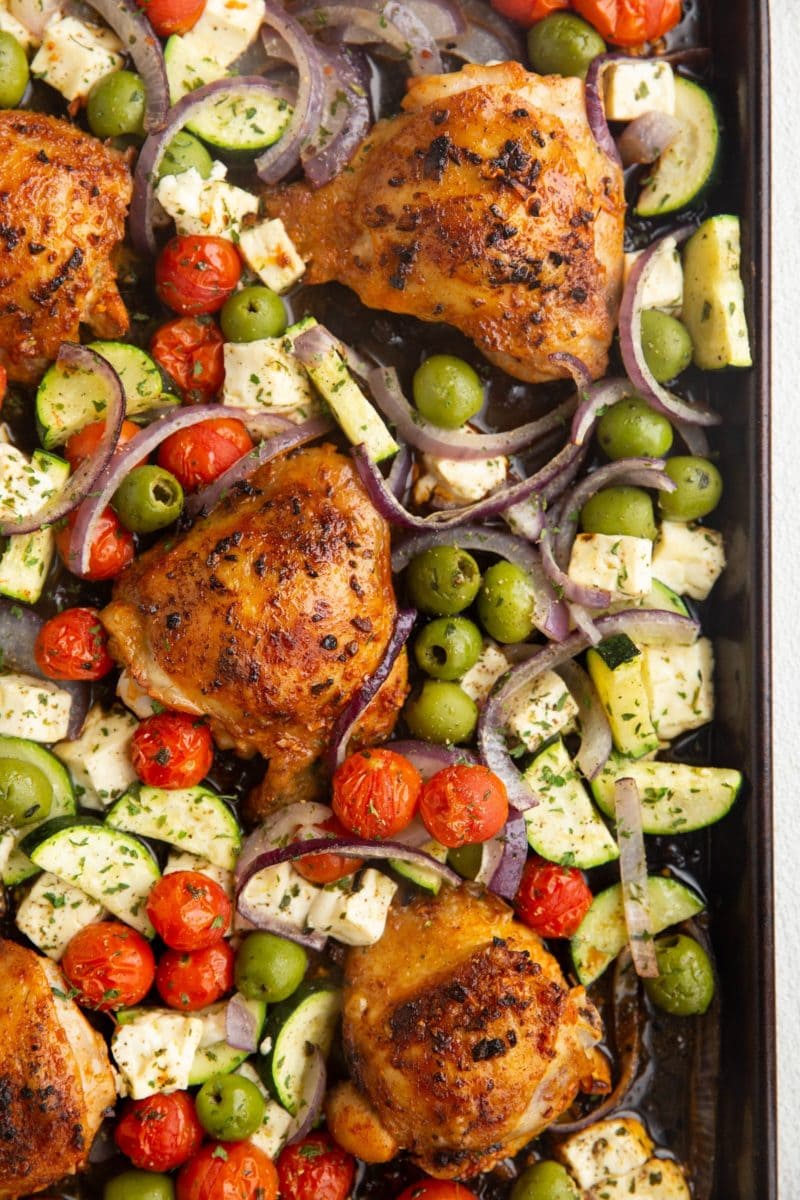 Special Diet Notes: This recipe is low-carb and keto friendly. It can be made paleo or whole30 by omitting the feta cheese.
Prep Ahead: Marinate the chicken up to 24 hours in advance.
Substitutions/Notes: Mix and match your favorite vegetables. Broccoli, cauliflower, bok choy, sweet potatoes, and butternut squash are all great options. Serve it up with Mediterranean Chickpea Salad for the freshest, most delicious balanced meal!
WEDNESDAY:
Hawaiian BBQ Chicken Sheet Pan Meal – This easy meal is ready in 30 minutes! Tender chicken is coated with a yummy glaze made from BBQ sauce, pineapple juice, soy sauce, and ginger. Pair it with some pineapple chunks and your favorite quick-roasting vegetable for an easy meal over rice.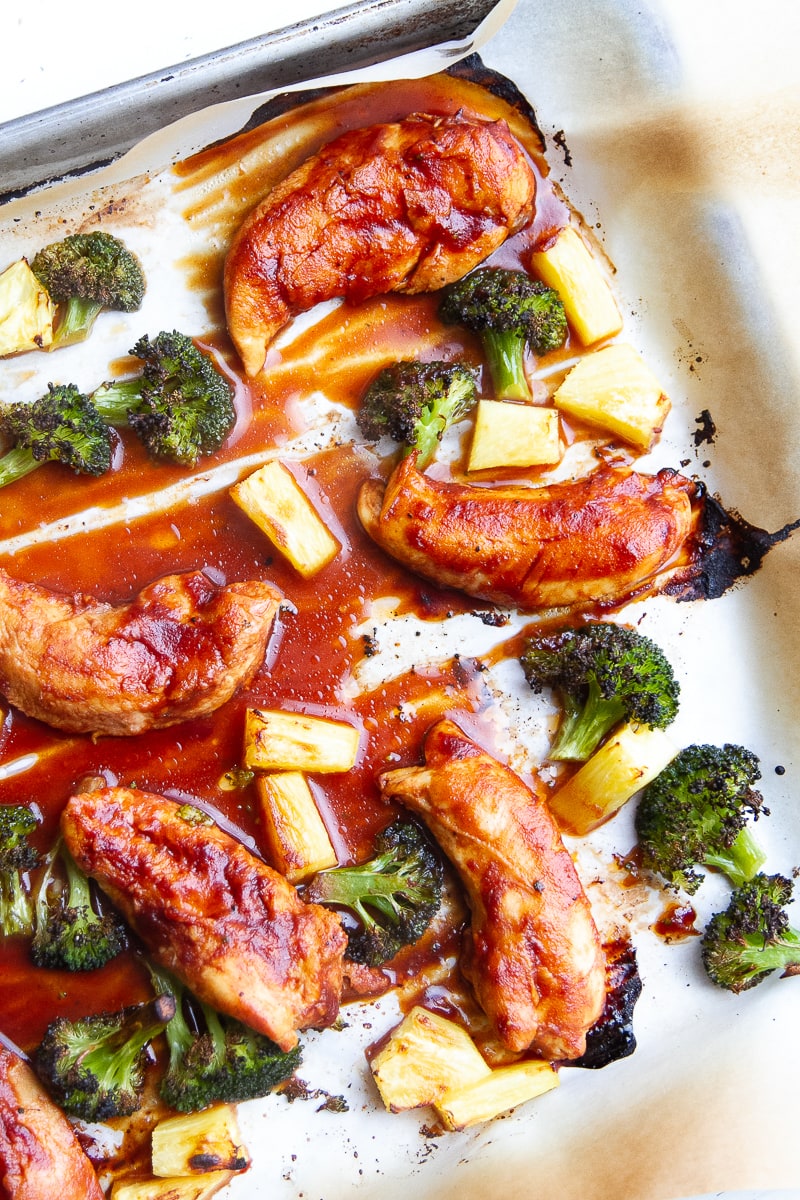 Special Diet Notes: If you make your own BBQ sauce or find a paleo-friendly one, this recipe is easily made paleo friendly. It's also gluten/grain/dairy free if served with cauli rice and salad greens.
Prep Ahead: If you're using a fresh pineapple, prepping it ahead of time will save you a few minutes.
Substitutions/Notes: I recommend any of Primal Kitchen's BBQ sauces since they're naturally sweetened. If you want to make your own, here's a good recipe: Honey Lime Ginger BBQ Sauce.
THURSDAY:
Crock Pot Mexican Shredded Beef – This easy Crock Pot Mexican Shredded Beef is simple to prepare and results in the most fall-apart tender, flavorful, delicious shredded beef! Use it for tacos, burritos, burrito bowls, taco salads, nachos and more!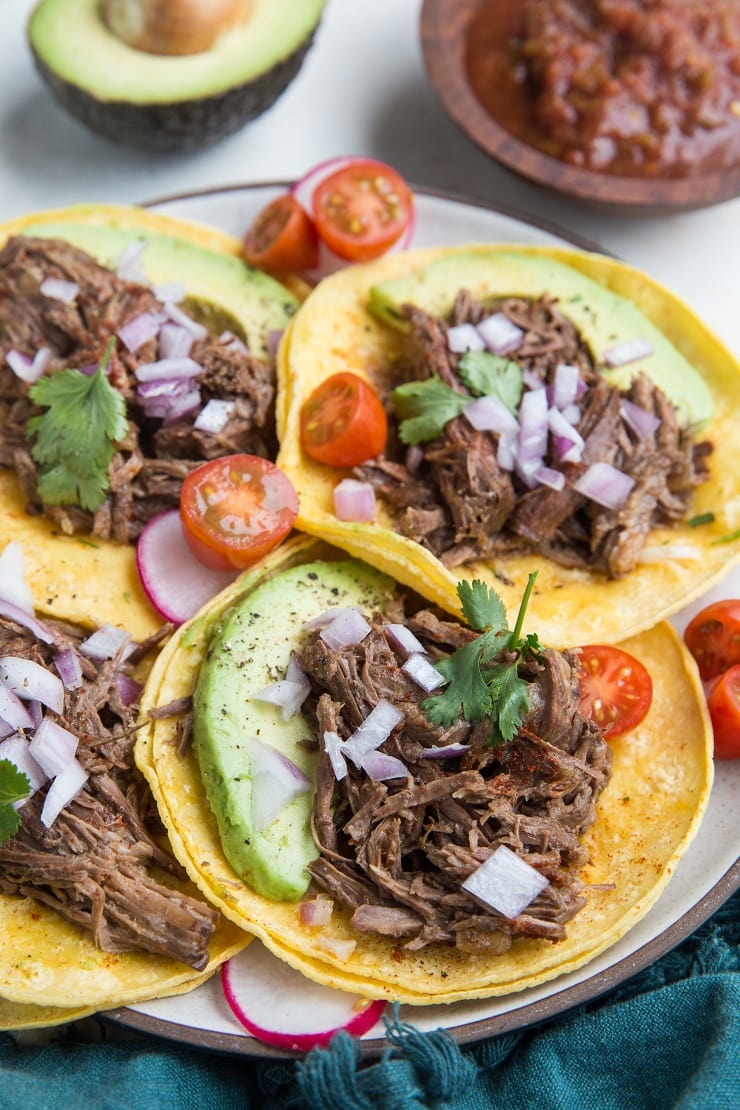 Special Diet Notes: The recipe itself is paleo friendly and can be made keto or whole30 by omitting the coconut sugar. Use the ground beef for tacos, burritos, or burrito bowls using any type of tortillas, rice, and toppings you like. There are plenty of serving suggestions in the recipe post.
Prep Ahead: The actual prep for this recipe doesn't take much time, and no advance prep is needed.
Substitutions/Notes: Pick up any of your favorite toppings for tacos, burritos, or burrito bowls.
FRIDAY:
Vegetarian Paleo Chili – This paleo vegetarian recipe for chili is a hearty, meatless meal that pleases everyone! The unique blend of spices pulls out the flavors from the sweet potato and squash so beautifully!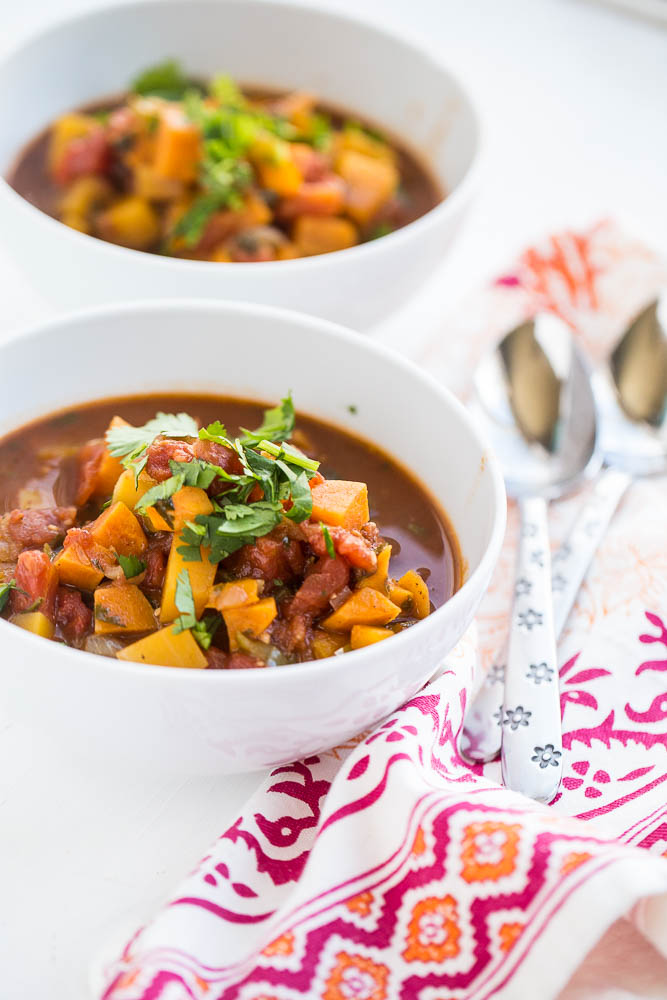 Special Diet Notes: This recipe is paleo, vegetarian, and Whole30 friendly.
Prep Ahead: You can chop the vegetables a day or two ahead of time.
Substitutions/Notes: If you need more protein in this recipe, add some of Julia's leftover Mexican Shredded Beef from Thursday!
DESSERT:
Healthy Sweet Potato Brownies – The yummiest fudge brownies that you'd never guess are grain-free, refined sugar-free, dairy-free and flourless! Moist and rich, made with wholesome ingredients for everyday eating and special events alike!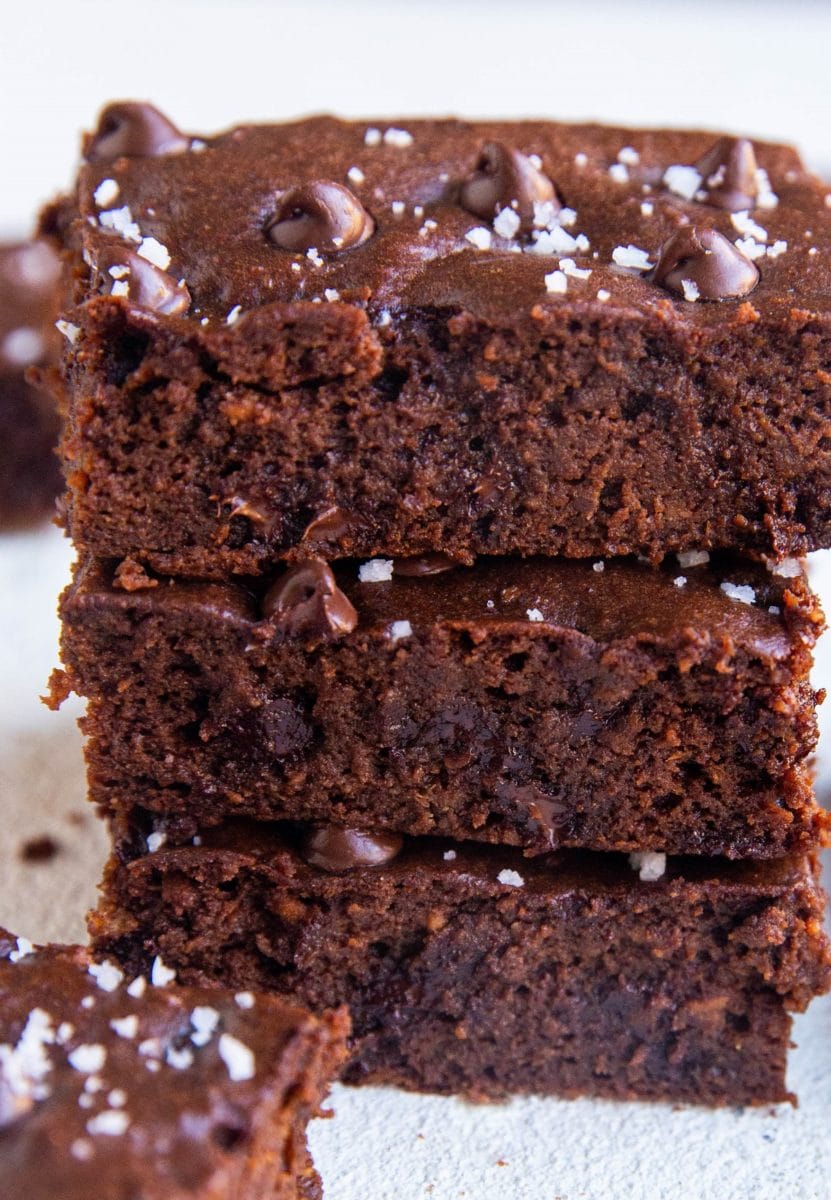 Special Diet Notes: These brownies are grain-free, refined sugar-free, dairy-free and paleo friendly. You can make them lower in sugar (lower carb) by replacing the pure maple syrup with sugar-free syrup and use sugar-free chocolate chips.
Prep Ahead: Cook the sweet potato up to 3 days ahead of time
Substitutions/Notes: You can replace the sweet potato with butternut squash or pumpkin. Use peanut butter if you prefer it over almond butter.
GROCERY LIST: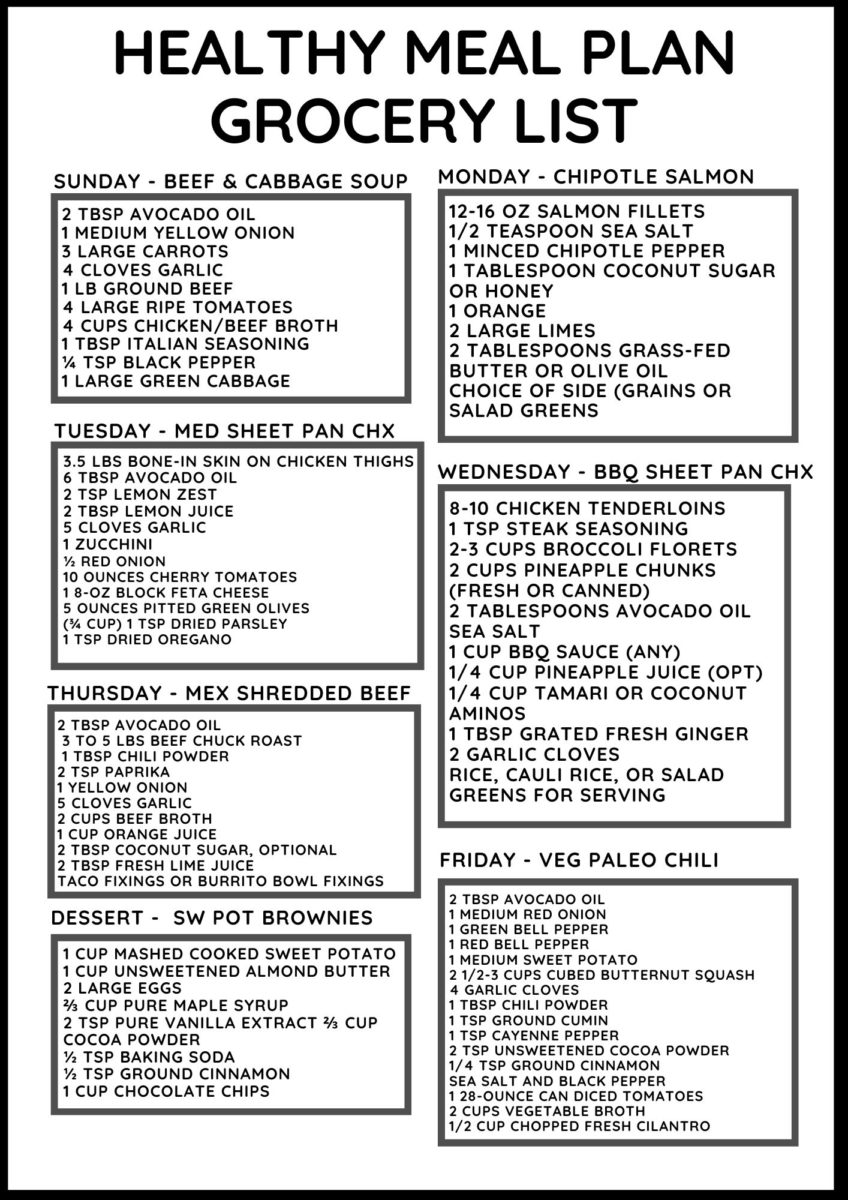 Click HERE to print this week's grocery list!
Enjoy! xo
More Healthy Meal Plans: