This week's Healthy Weekly Meal Plan features six seasonal dinner recipes and one luscious dessert! Complete with a printable grocery list, these meal plans are designed to make life easy and nourishing!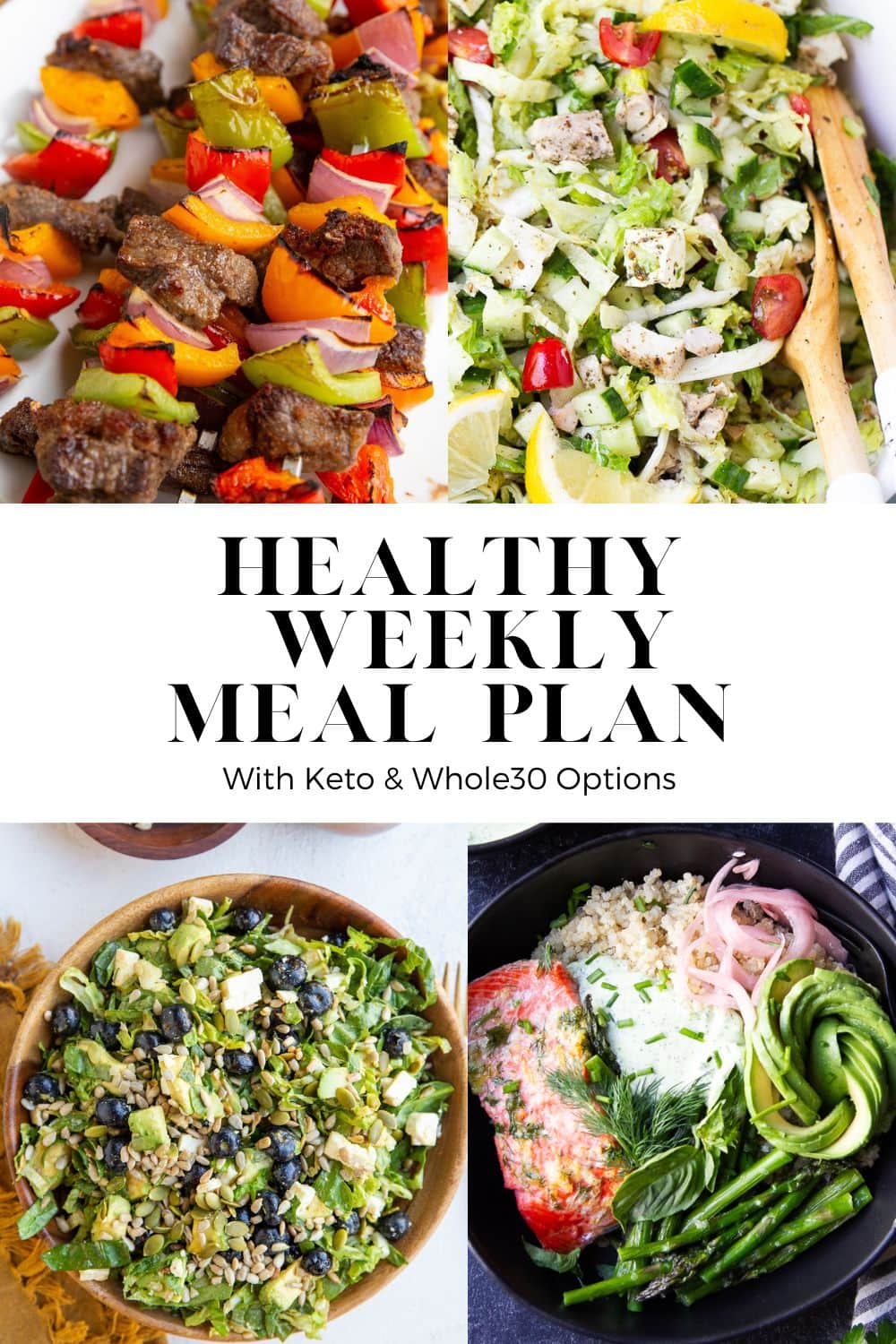 We're back with another Healthy Meal Plan, featuring spring and summer dinner recipes!
Now that the warm weather is here to stay, we're focusing on light and refreshing meals as well as some grilling recipes.
The goal is to keep the heat low and the food refreshing 🙂
If you're looking for some healthy side dishes to serve with your meals, I've got you. My Easy Go-To Stir Fry Vegetables Recipe or my Crowd-Pleasing Roasted Vegetables are fabulous veggie-centric options with lots of variety.
In addition, I've been loving my Chickpea Broccoli Salad and The Best Fruit Salad lately.
If you didn't catch my Dairy-Free Chocolate Ice Cream or my Raspberry Crumb Bars, they have been my favorite treats now that the weather is heating up.
And now, let's do some meal prep!
As always, let me know if you have any questions or requests.
xo
SUNDAY:
Grilled Za'atar Chicken Salad – This easy grilled chicken salad! It's filled with marinated za'atar grilled chicken, spiced grilled feta, lots of crisp veggies, and a simple lemon-herb dressing!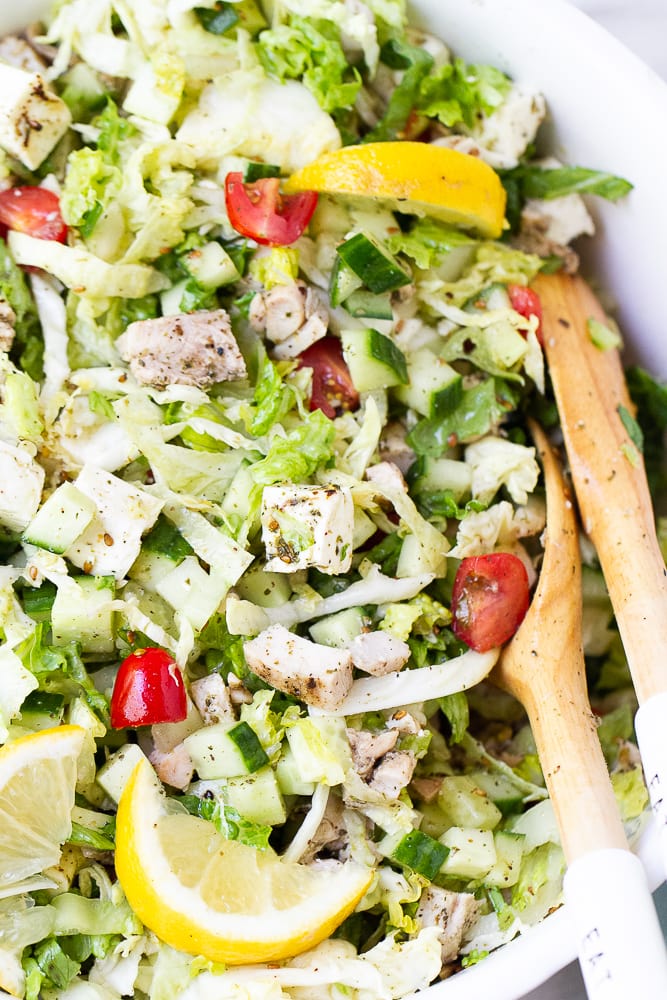 Special Diet: Salad is gluten free and low-carb friendly. Can be made dairy free & paleo friendly without the feta.
Prep Ahead: Chicken and feta can be grilled ahead of time. Veg can be chopped ahead of time, too. Just combine everything with the dressing immediately before serving.
Substitutions/Notes: Swap out the cucumbers and tomatoes for any small chopped vegetables you like. You can also use halloumi cheese instead of feta.
MONDAY:
Grilled Steak Kabobs – This recipe includes instructions for grilled steak kabobs as well as baked steak kabobs for those without an outdoor grill.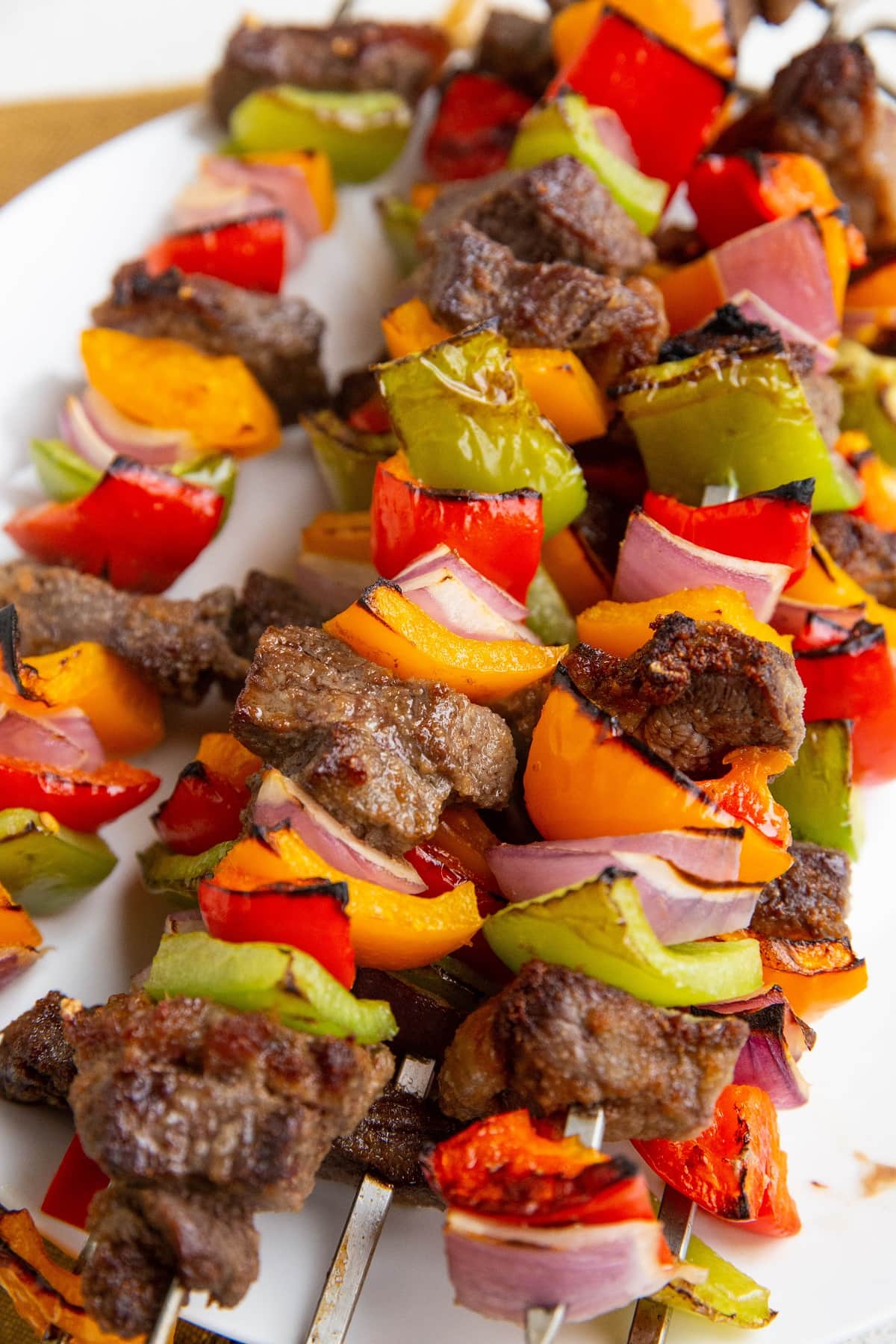 Special Diet Notes: This recipe is low-carb and can be made paleo by using coconut aminos instead of liquid aminos.
Prep Ahead: You can marinate the steak up to 24 hours in advance.
Substitutions/Notes: Use your favorite grilling veggies, like zucchini, yellow squash, and/or cherry tomatoes.
TUESDAY:
Bacon Cobb Lettuce Wraps – Cobb salad meets BLT meets lettuce wrap — drizzled with a creamy mustard sauce for a summertime favorite. Light, refreshing, and delicious!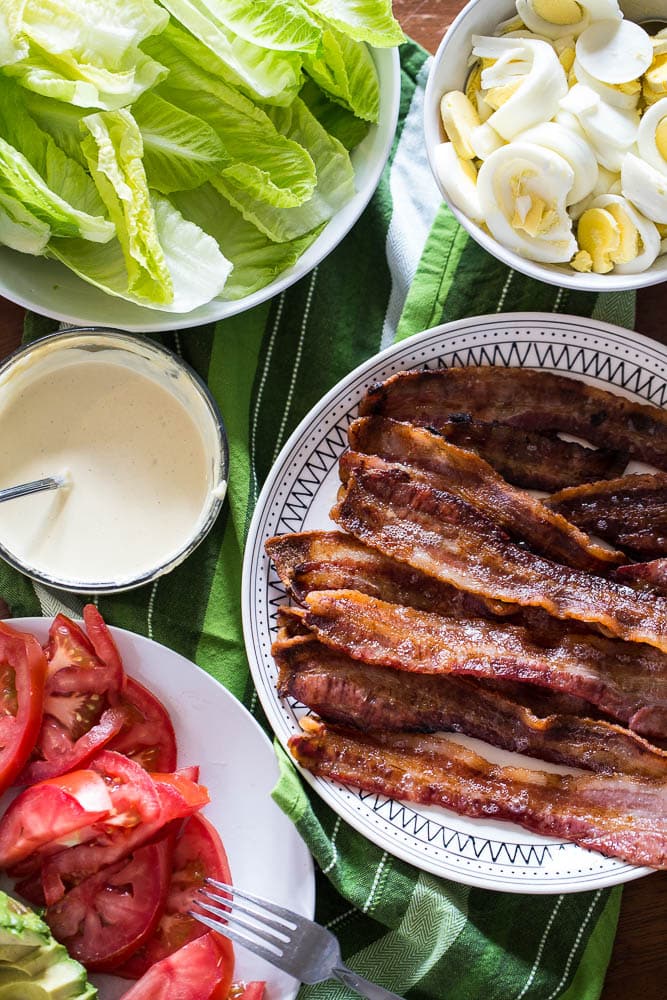 Special Diet Notes: These lettuce wraps are paleo, low-carb, and Whole30 friendly with compliant bacon.
Prep Ahead: Bacon can be cooked and all the components can be made ahead of time.
Substitutions/Notes: If you don't want to use bacon, you can use some grilled chicken or steak.
WEDNESDAY:
Blueberry Avocado Sunflower Seed Chopped Salad – A side salad or light main dish for any occasion! This Blueberry Avocado Sunflower Seed Chopped Salad with balsamic vinaigrette is sure to impress! Add your favorite protein for a balanced meal!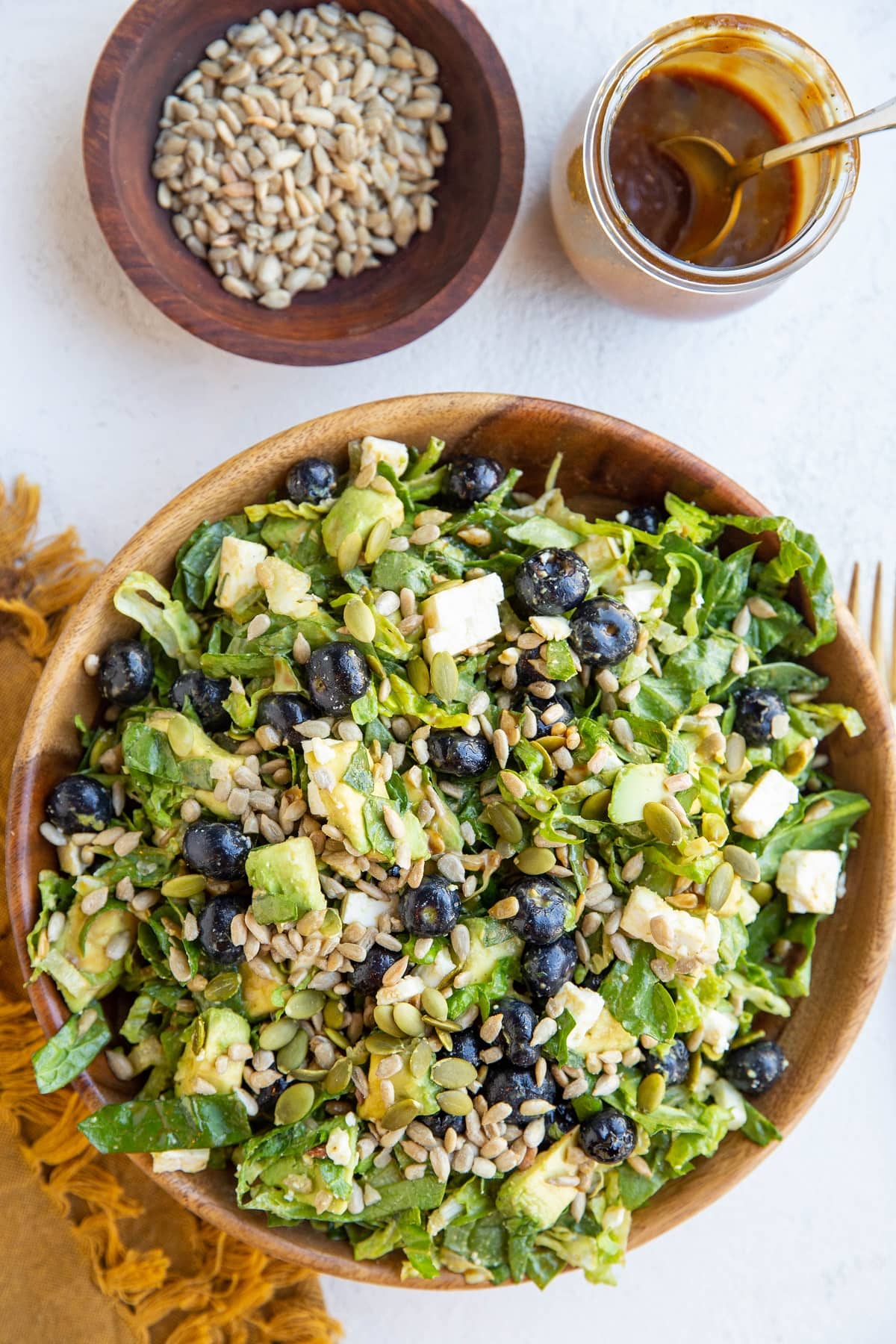 Special Diet Notes: Recipe can be made paleo-friendly by omitting the feta cheese or using a raw milk cheese.
Prep Ahead: If you're making the balsamic vinaigrette, it can be made up to 1 week in advance. Aside from that, no advance prep is needed.
Substitutions/Notes: Add type of animal protein for a complete meal. I like grilled steak, rotisserie chicken or crispy broiled salmon. You can also mix up the vegetable selection by adding your favorite salad veggies such as carrots, celery, tomatoes, sprouts, etc.
THURSDAY:
Salmon & Asparagus Green Goddess Bowls – Roast some salmon and asparagus, buzz up some green goddess dip, and you're well on your way to the springiest bowls you've ever eaten. You'll love the garlic, lemon, & fresh herb flavors in this light, yet hearty, bowl.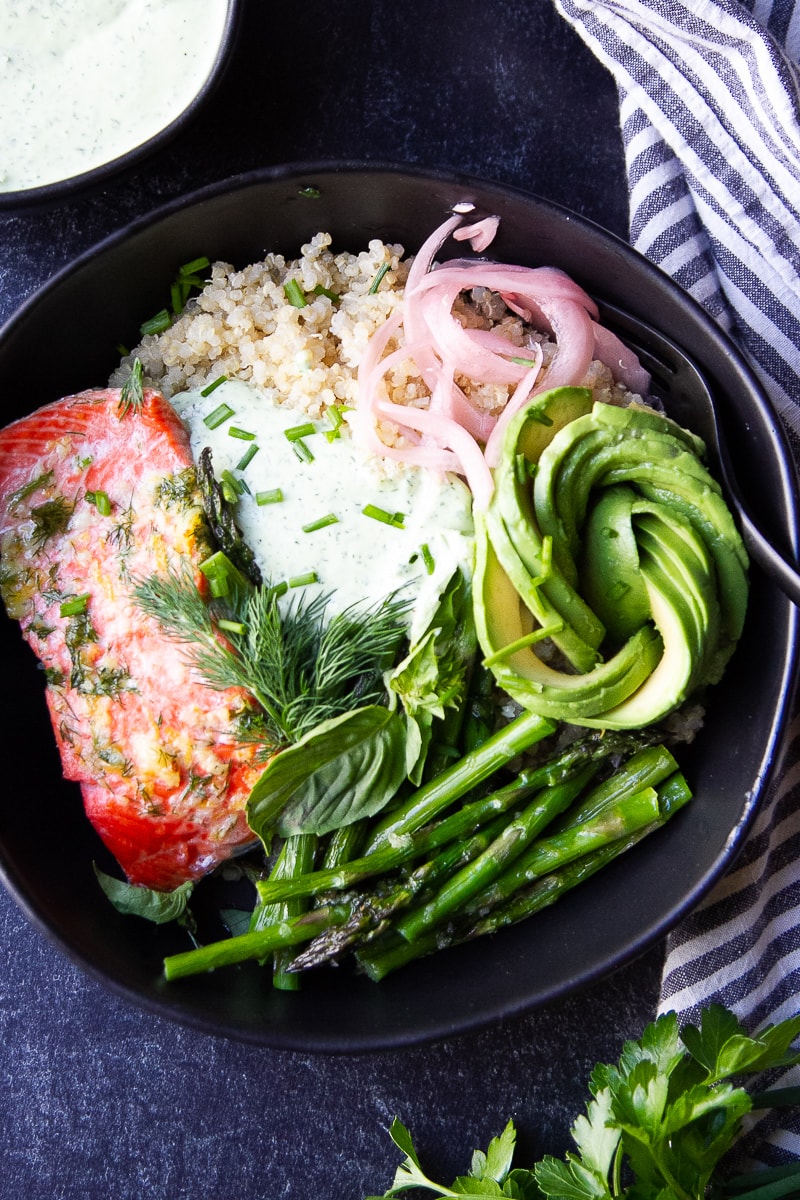 Special Diet Notes: These goddess bowls are gluten-free and low carb friendly. Can be made dairy free by using all mayonnaise in the green goddess dressing instead of Greek yogurt.
Prep Ahead: The Green Goddess dressing can be made up to 5 days ahead of time.
Substitutions/Notes: Use a different type of fish if you like. Any firm white fish would work here, or even thinly sliced chicken cutlets or tenders.
FRIDAY:
Mediterranean Sheet Pan Shrimp – This fresh and flavorful easy one pan meal is perfect for weeknight dinners and meal prep. It features delicious shrimp, cherry tomatoes, red onion, zucchini, feta cheese, and kalamata olives. Plus, it is easy to customize!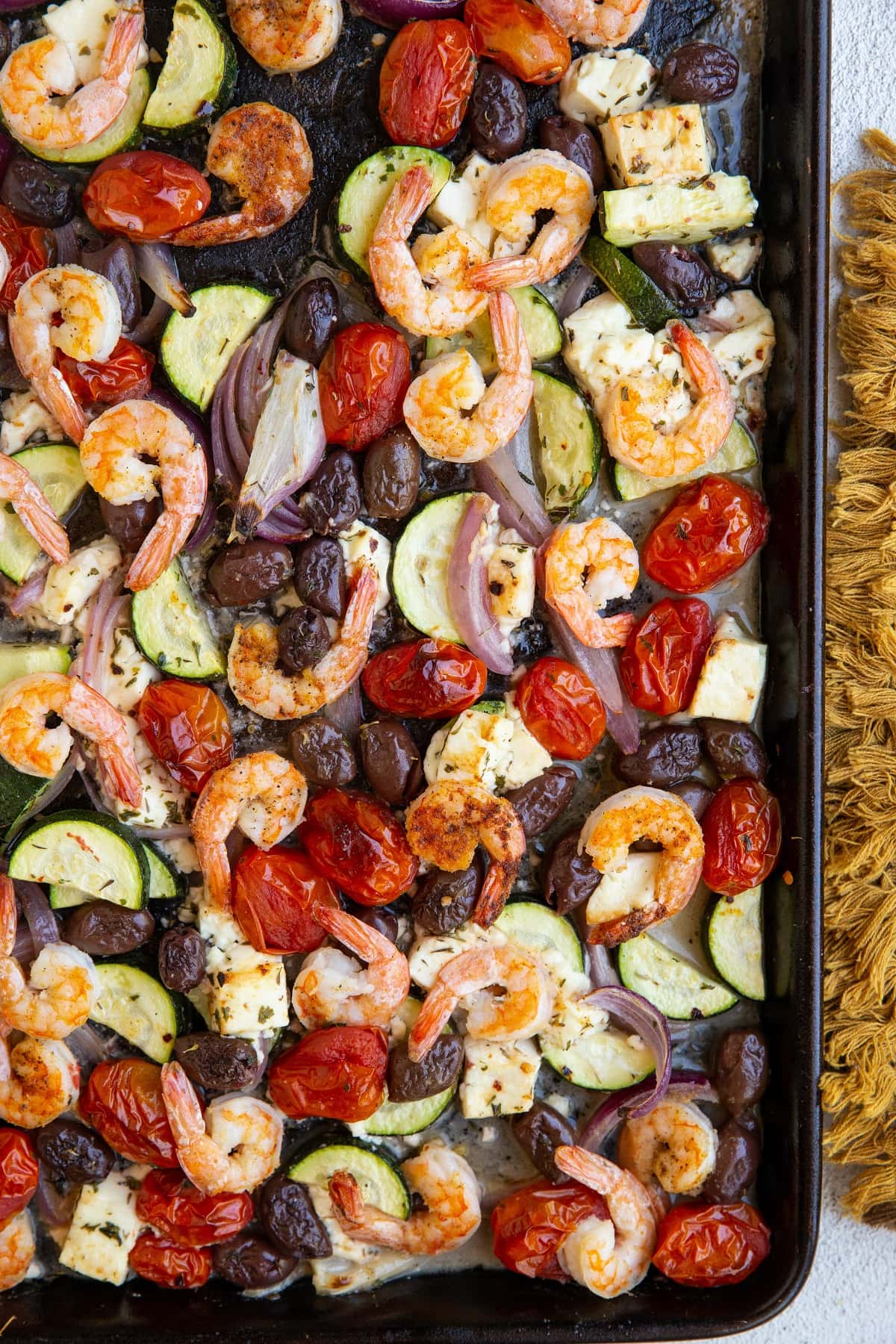 Special Diet Notes: This easy recipe is low-carb and can be made paleo by using raw milk cheese or omitting the cheese.
Prep Ahead: Marinate the shrimp up to 12 hours in advance if you'd like.
Substitutions/Notes: Incorporate your favorite veggies for roasting, such as broccoli, cauliflower, carrots, yellow squash, etc. You can use crumbled feta cheese instead of block feta if you prefer.
DESSERT:
Flourless Chocolate Peanut Butter Brownies – These delicious chocolate peanut butter brownies are flourless, naturally sweetened, and only call for five basic ingredients. They're like a peanut butter cookie and a brownie gave each other a very special hug.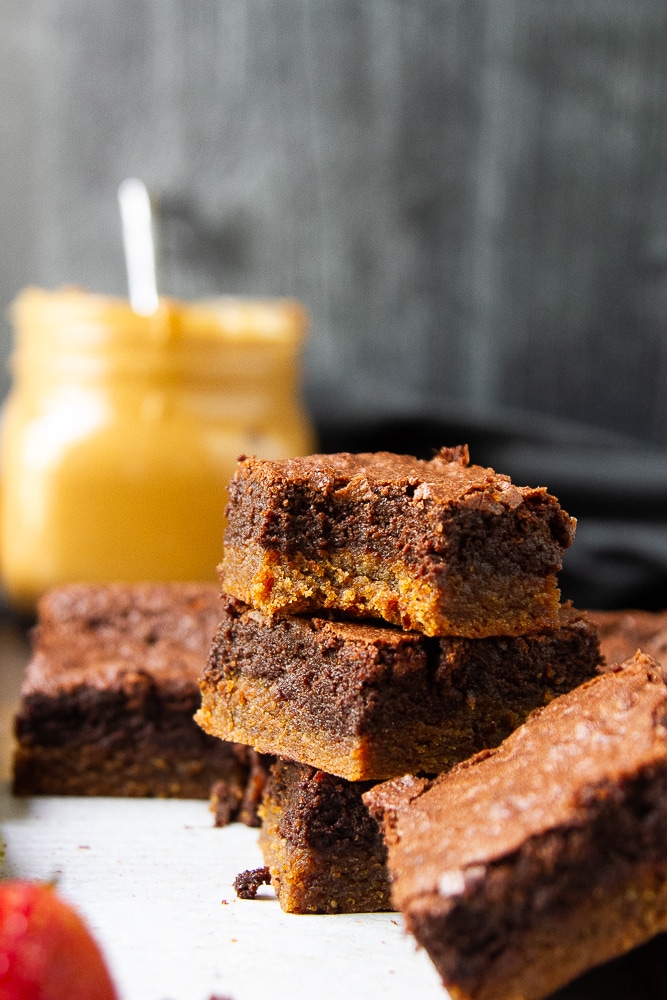 Special Diet Notes: These decadent, delicious brownies are gluten free and grain free. And you'd never know it! Use coconut oil and dairy-free chocolate to make it dairy free.
Prep Ahead: Advance prep isn't recommended since you'll be whipping egg whites.
Substitutions/Notes: Swap out the peanut butter for another kind of nut butter if you like. Or another type of granulated sweetener for the coconut sugar.
GROCERY LIST:
Click HERE to print this week's grocery list!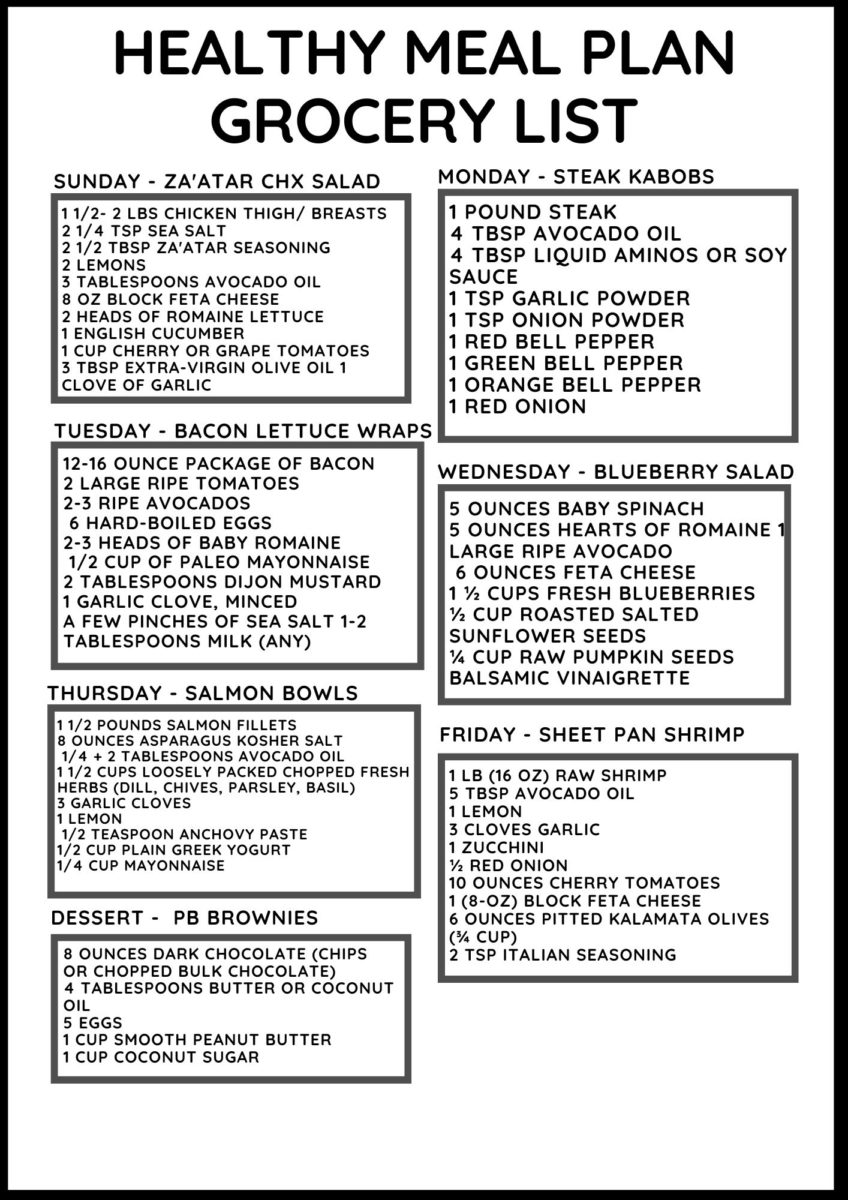 Enjoy!
xo
Previous Healthy Meal Plans
Keep the meal prep alive by digging into our archive of past meal plans!