A Healthy Weekly Meal Plan complete with a printable grocery list to make healthy meal prep a breeze. This gluten-free meal plan includes options for various diets like paleo and keto.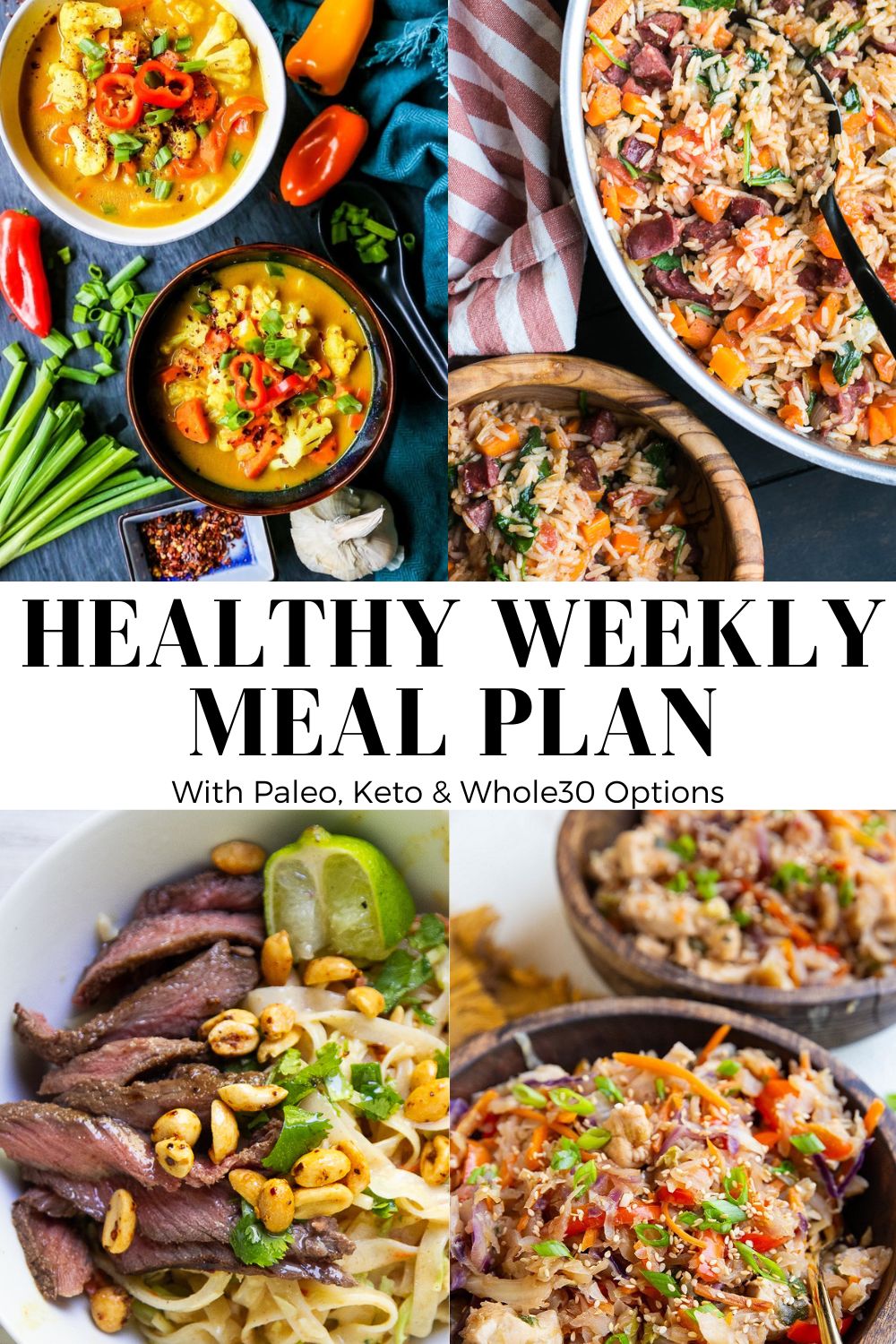 September is a great month for food because we still have plenty of summer produce available with fall produce making its way into the grocery stores.
In this sense, light summer meals are still readily available in addition to fall comfort foods.
This week's healthy meal plan celebrates the shifting seasons with summer-centric meals as well as fall-centric meals.
If you're looking for additional healthy side dishes to add to this week's menu, be sure to check out my Air Fryer Asparagus and my Crispy Cauliflower Potato Cakes.
Also, if you didn't catch my Double Chocolate Oatmeal Zucchini Bread, it has been a big hit! And it tastes like chocolate cake, so there is that.
And now for the food!
I hope you enjoy this week's meal plan.
SUNDAY:
Teriyaki Chicken and Cabbage Bowls – Featuring fresh vegetables, homemade teriyaki sauce, and tender chicken breasts. This nutritious dinner recipe is easy to toss together and results in a high-protein meal with plenty of fiber and micronutrients.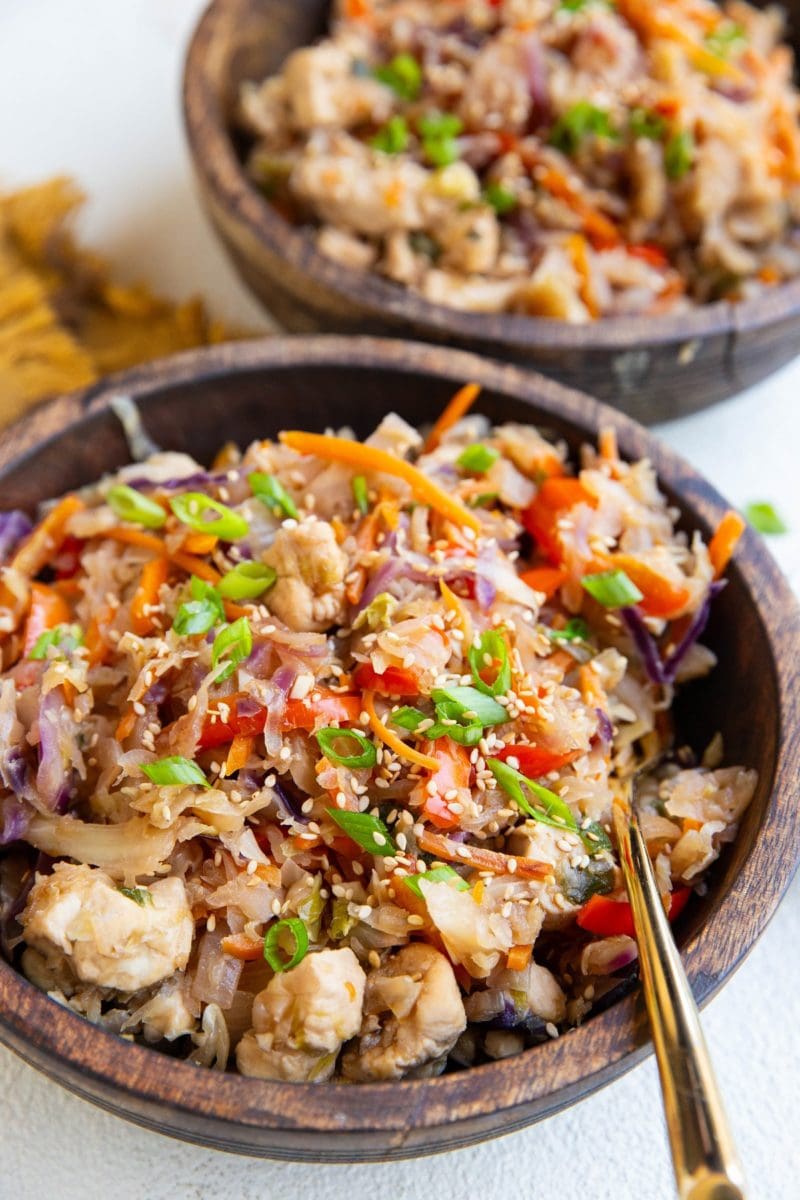 Special Diet: This recipe is paleo friendly when you use coconut aminos and is moderate-carb with lots of fiber.
Prep Ahead: There's no need to prepare anything in advance because the recipe comes together quickly and you can prep as you go.
Substitutions/Notes: Swap out any of the veggies for your favorites. Broccoli, cauliflower, and zucchini are all great options. Use ground beef or turkey instead of chicken. You can also use coleslaw mix and pre-cooked chicken or leftover chicken to save time.
MONDAY:
Cold Thai Peanut Noodles with Steak – Tender rice noodles are mixed with fresh shredded vegetables, tossed with an easy peanut sauce and topped with marinated steak. Perfect for hot weather!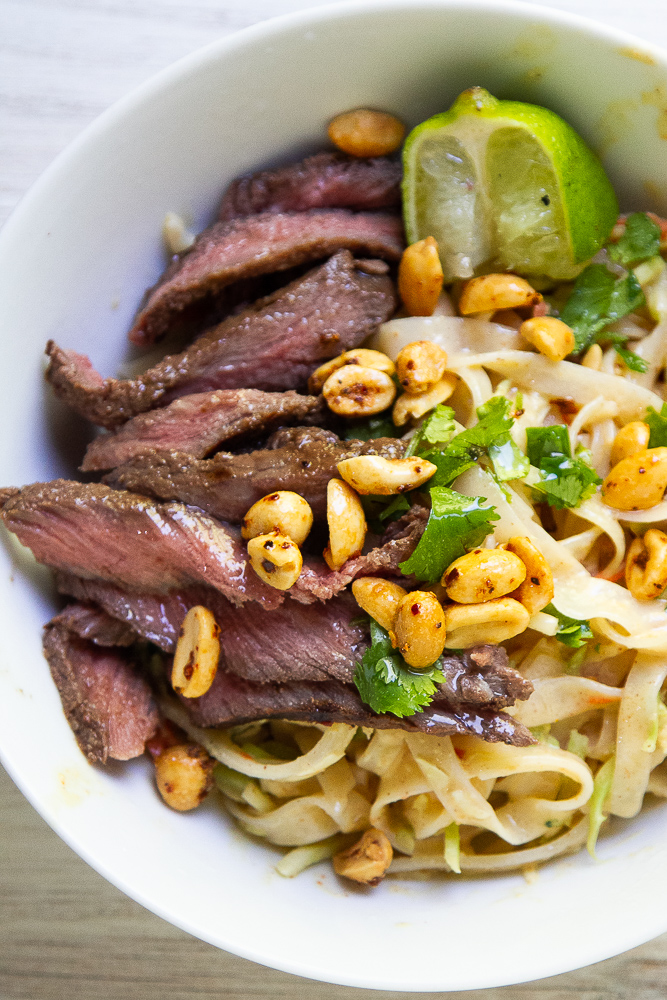 Special Diet Notes: This recipe is gluten and dairy free. You can make it grain-free and low carb by using zucchini noodles instead of rice noodles as well as a low carb sweetener.
Prep Ahead: No need to prep ahead.
Substitutions/Notes: Shrimp or chicken would be great in place of steak. See the recipe notes for tips.
TUESDAY:
Southwest Chicken Chopped Salad – This loaded Chicken Chopped Salad with fresh vegetables, tender chicken and yummy cheese is an energizing and filling meal! Perfect for any time of year, this easy to make entrée salad recipe is so versatile and leaves you feeling great!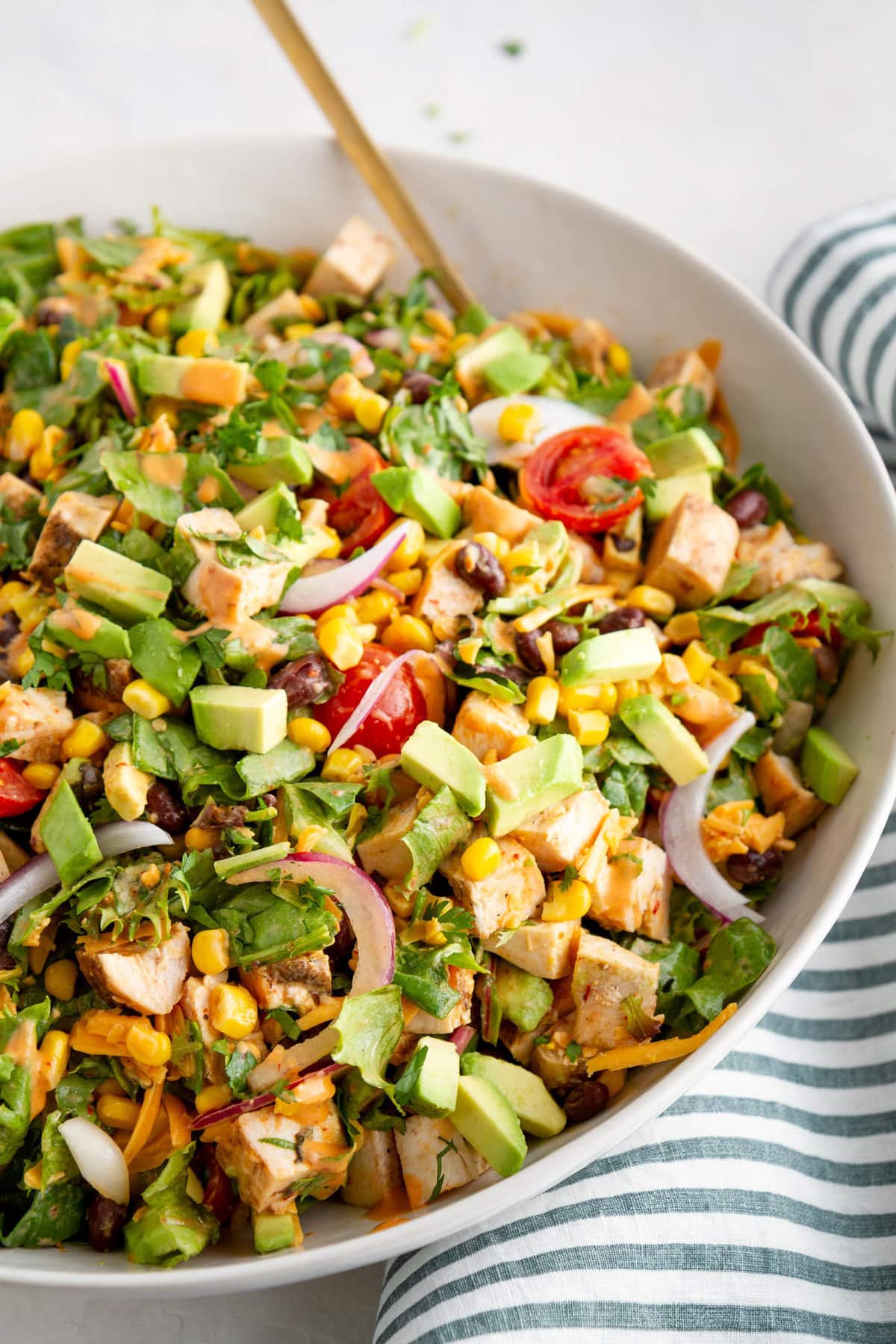 Special Diet Notes: This recipe doesn't follow a specific diet, but can be made low-carb by omitting the corn and beans or lowering the amount used.
Prep Ahead: The dresing can be made up to 3 days ahead of time. If you're cooking chicken (rather than using pre-cooked store-bought chicken), the chicken can be made up to 5 days in advance.
Substitutions/Notes: Use any of your favorite homemade or store-bought salad dressings for the recipe. Mix in any additional vegetables like carrots, broccoli, bean sprouts, celery, etc. Omit the cheese and use a different dressing to make the recipe dairy-free.
WEDNESDAY:
Ahi Tuna Poke Bowls – These easy Ahi Tuna Poke Bowls with Spicy Mayo are a quick dinner idea and are naturally gluten and soy-free! They can also be made to be paleo, keto, or Whole30 compliant. (See recipe notes.)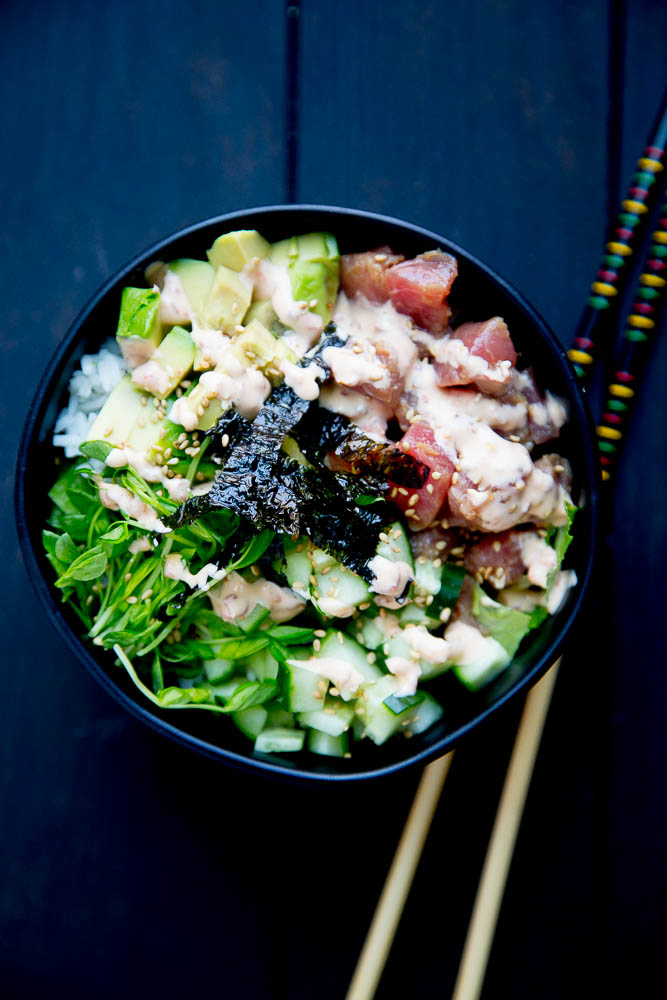 Special Diet Notes: Using salad greens or cauliflower rice as a base, this recipe is paleo friendly and low carb.
Prep Ahead: You can make the spicy mayo ahead of time.
Substitutions/Notes: If you're leery about using raw fish, try using a diced, seared tuna steak or some cooked shrimp.
THURSDAY:
Vegetable Coconut Curry Soup – Hearty Vegetable Coconut Curry Soup with aromatic curry coconut milk broth. This easy vegan, whole30 and paleo-friendly soup recipe comes together in just over 30 minutes.
Special Diet Notes: Recipe is low-carb, paleo, and whole30 friendlly.
Prep Ahead: This recipe saves well and can be made up to 7 days ahead of time, but no advance prep is needed.
Substitutions/Notes: Mix in your favorite soup veggies. You can add protein like chicken, ground turkey, or shrimp if you'd like.
FRIDAY:
Easy Cajun Sausage & Rice Skillet – This easy sausage & rice skillet is an easy, delicious, comforting one-pan meal. It's ready in about 30 minutes, and the whole family will love it.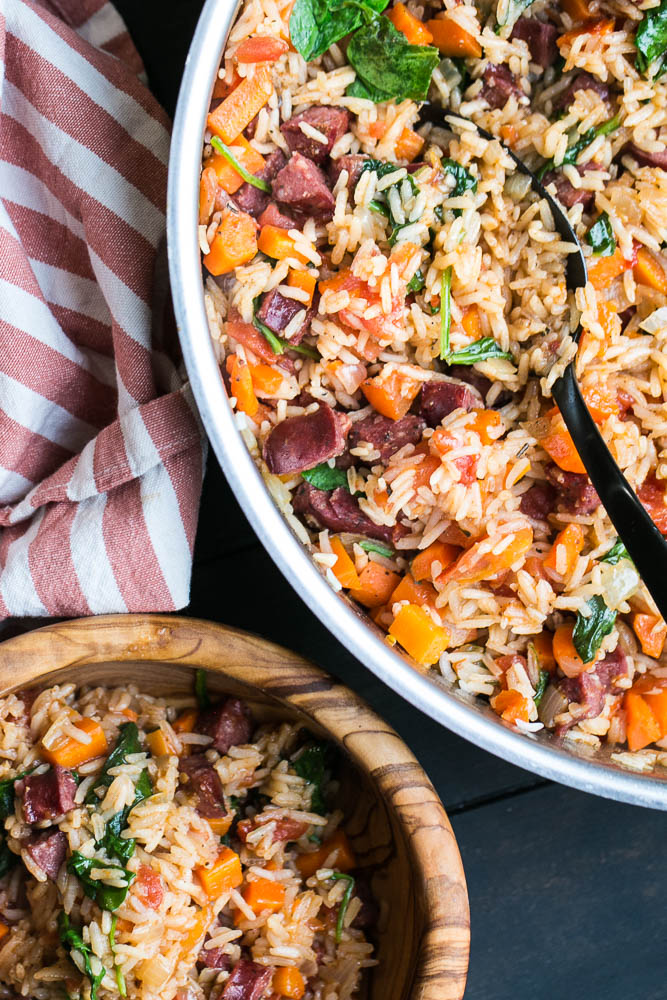 Special Diet Notes: This recipe is gluten and dairy free as is.
Prep Ahead: No prep ahead is needed.
Substitutions/Notes: Use any kind of pre-cooked sausage you like, such as andouille sausage or smoked sausage.
I don't recommend using brown rice or wild rice because it requires much more time to cook and will result in overcooking the rest of the ingredients in the process.
DESSERT:
5-Ingredient No-Bake Oatmeal Peanut Butter Cookies – These easy no-bake peanut butter cookies are made with all wholesome ingredients for a healthier treat. Perfect for enjoying all summer long when it's too hot to bake!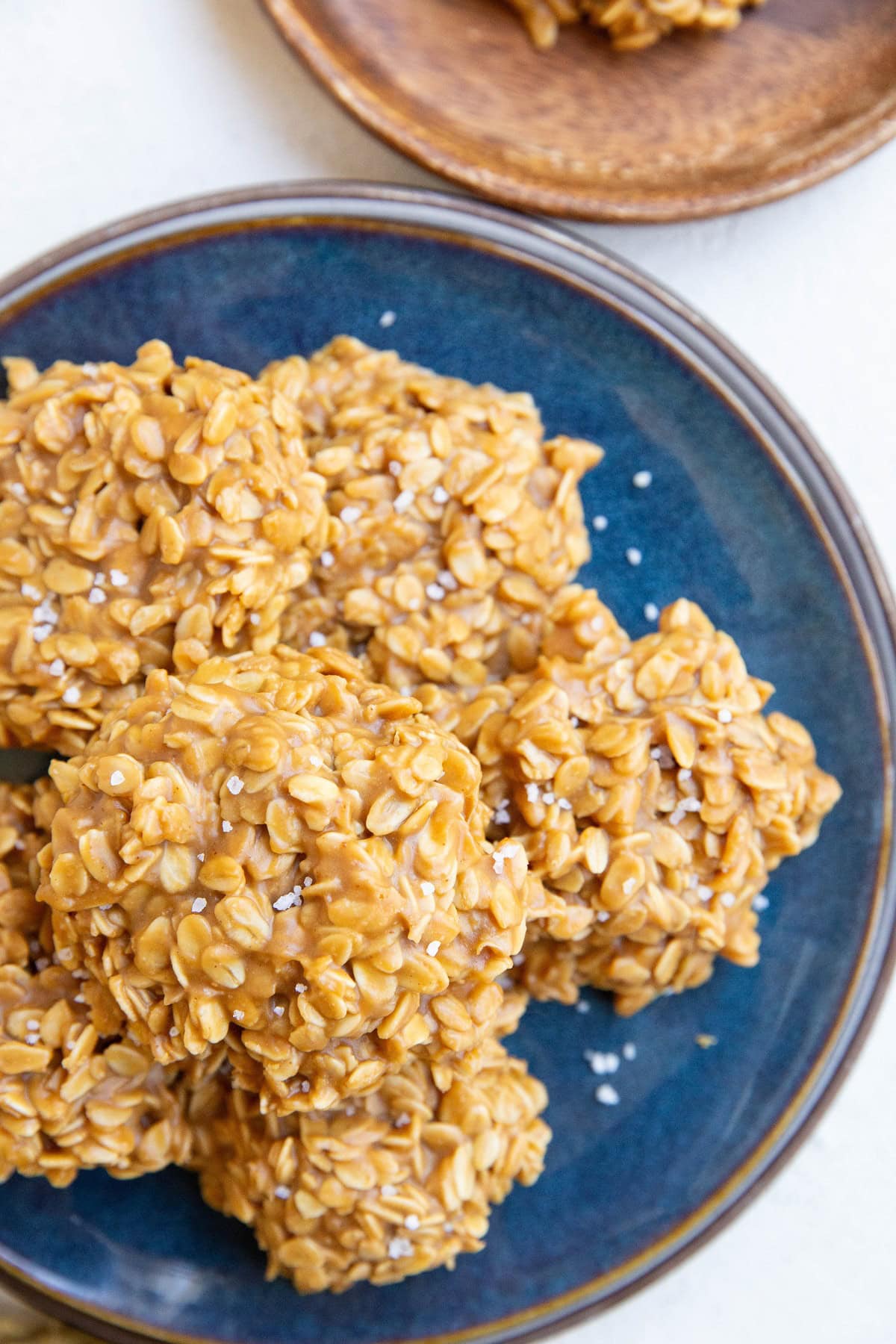 Special Diet Notes: This recipe doesn't follow a specific diet. For a grain-free cookie recipe, make my Almond Flour Chocolate Chip Cookie Bars.
Prep Ahead: No advance prep is needed! This recipe comes together quickly.
Substitutions/Notes: Swap out the pure maple syrup for honey or use almond butter instead of peanut butter.
GROCERY LIST:
Click HERE to print this week's grocery list!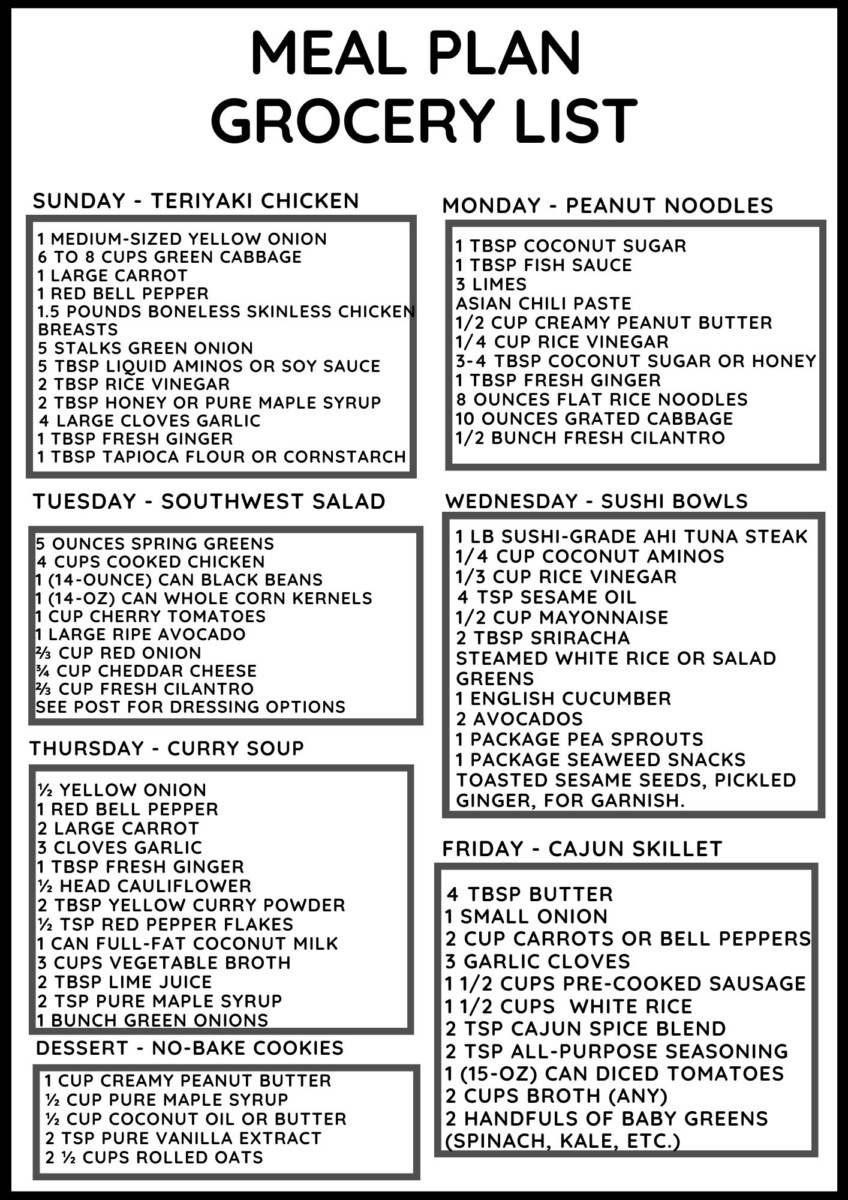 Enjoy! xo
Looking to stay consistent with meal prep? Check out our previous healthy meal plans for plenty of variety and ease of prep.
Previous Healthy Meal Plans: