This week's Healthy Weekly Meal Plan features six quick and easy dinner recipes and one healthier dessert! Complete with a printable grocery list, this meal plans is designed to make life easy and nourishing!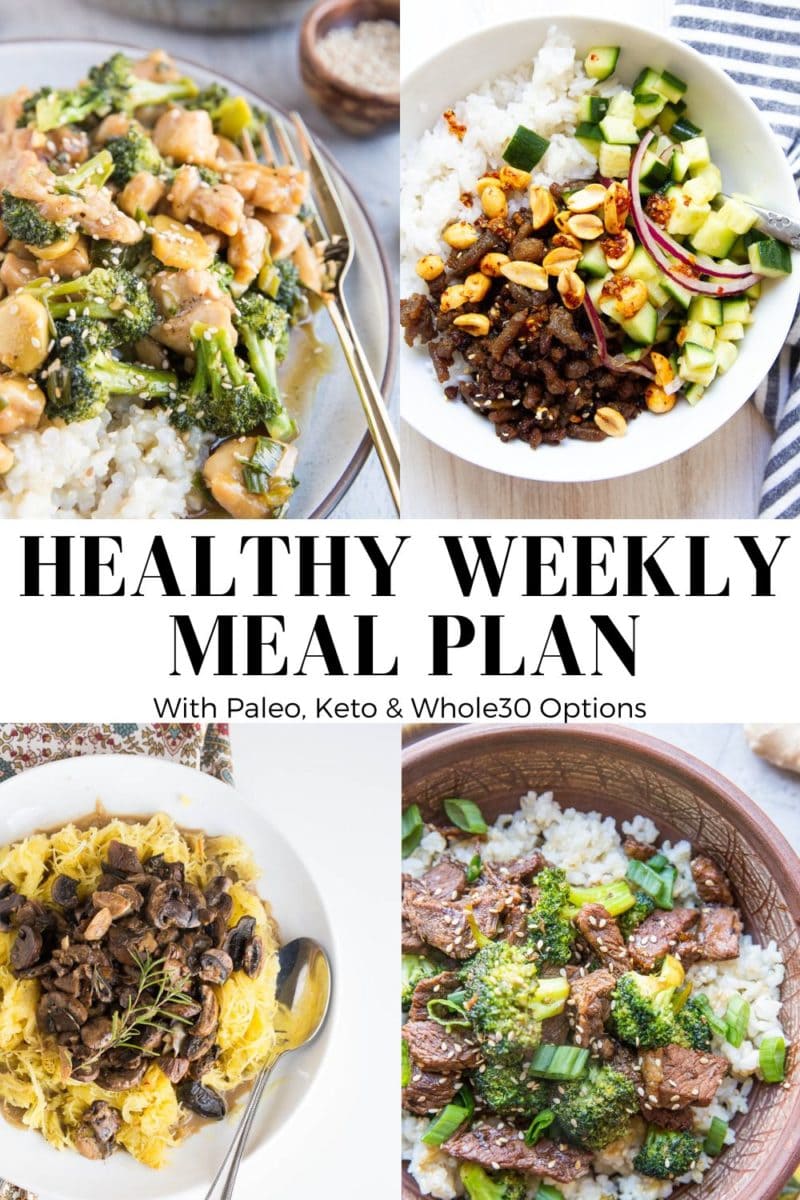 We all know the holiday season can be busy and stressful, so this week's healthy meal plan is all about simplicity.
Simple ingredients, recipes that require hardly any time or effort to make, yet are still nourishing and delicious!
When life gets busy, easy healthy meals are my saving grace!
I'm all about 30-minute meals when life gets busy, and this time of year is where those meals thrive.
If you're looking for some tasty, healthy side dishes to serve with these meals, I recommend my Big Batch Roasted Vegetables (as always) because you prepare them once and have vegetables for the whole week. My Shaved Brussel Sprout Salad with Roasted Butternut Squash is always a crowd-pleaser this time of year as well.
Also, if you haven't tried my 6-Ingredient Oatmeal Raisin Cookies, I am positively obsessed! They're so easy to whip up and very versatile.
And now for the food!
I hope you enjoy this week's meal plan.
As always, let me know if you have any questions or requests. xo
SUNDAY:
Instant Pot Cheeseburger Soup – This Instant Pot Cheeseburger Soup has all the classic cheeseburger flavors. Tangy mustard, tart pickles, and a creamy tomato sauce to bring it all together. Nutritional yeast adds a "cheesy" flavor for those who are dairy-free.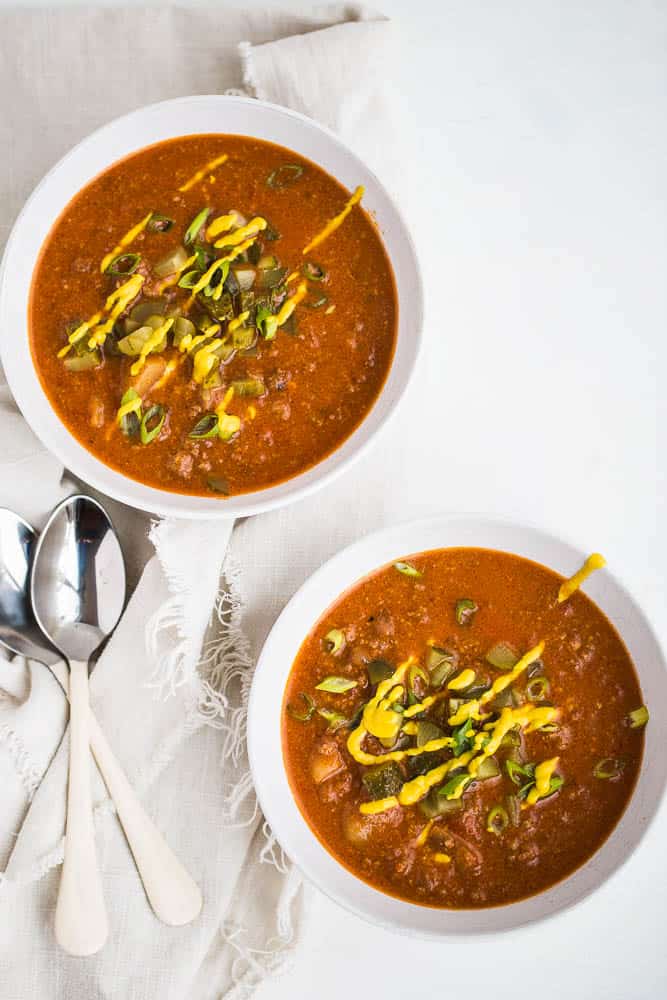 Special Diet: Recipe is paleo friendly.
Prep Ahead: No need to prep ahead. Although this soup can be made completely 3-4 days in advance and reheated to serve.
Substitutions/Notes: If you're avoiding white potatoes, use sweet potatoes or cauliflower florets instead.
MONDAY:
30-Minute Creamy Lemon Garlic Chicken – This quick and easy chicken recipe is a miracle meal! Loaded with creamy, zesty garlicky flavor, you'll never look at bland chicken breast the same way!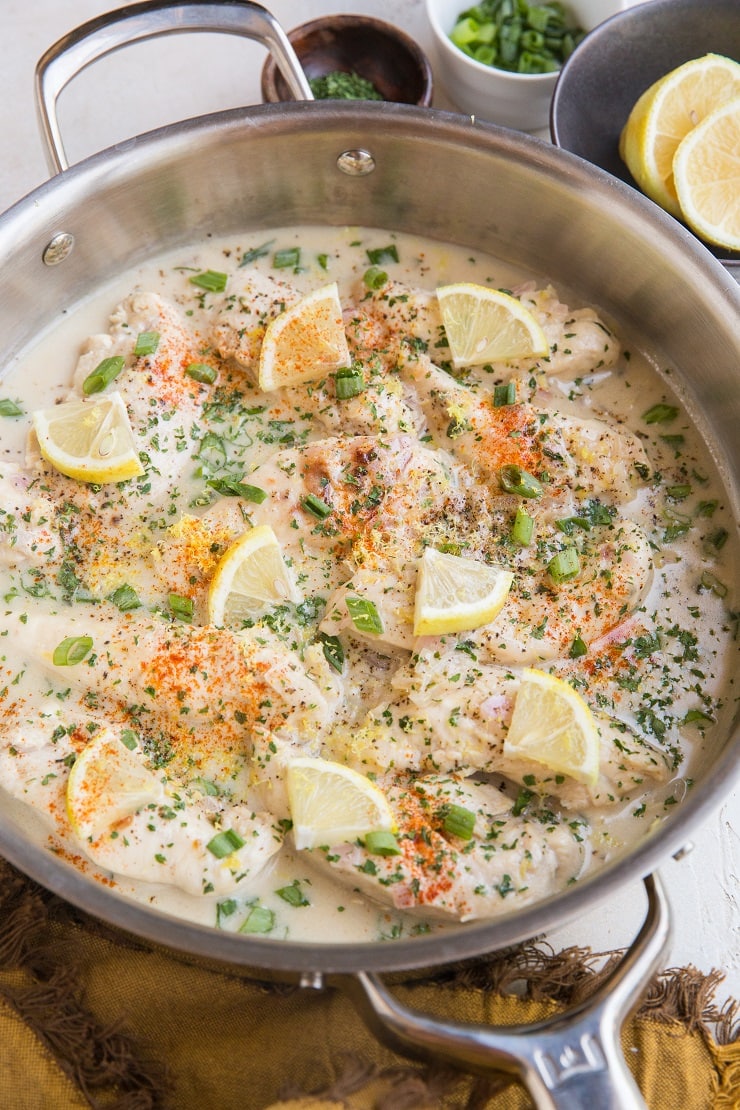 Special Diet Notes: This easy chicken recipe is dairy-free, gluten-free, paleo, keto, and whole30
Prep Ahead: A lightning quick recipe, there is no need to prepare anything in advance.
Substitutions/Notes: If you aren't dairy-free, you can replace the canned coconut milk with half & half or heavy cream (see notes in the post). Serve it with my Lemon Garlic Rosemary Rice for an otherworldly meal!
TUESDAY:
Spicy Ground Turkey Bowls with Coconut Rice – These Asian-inspired spicy ground turkey bowls come together quickly and are a tasty weeknight dinner served alongside dreamy coconut rice and some marinated cucumbers. Don't stress — it can be as spicy or mild as you prefer.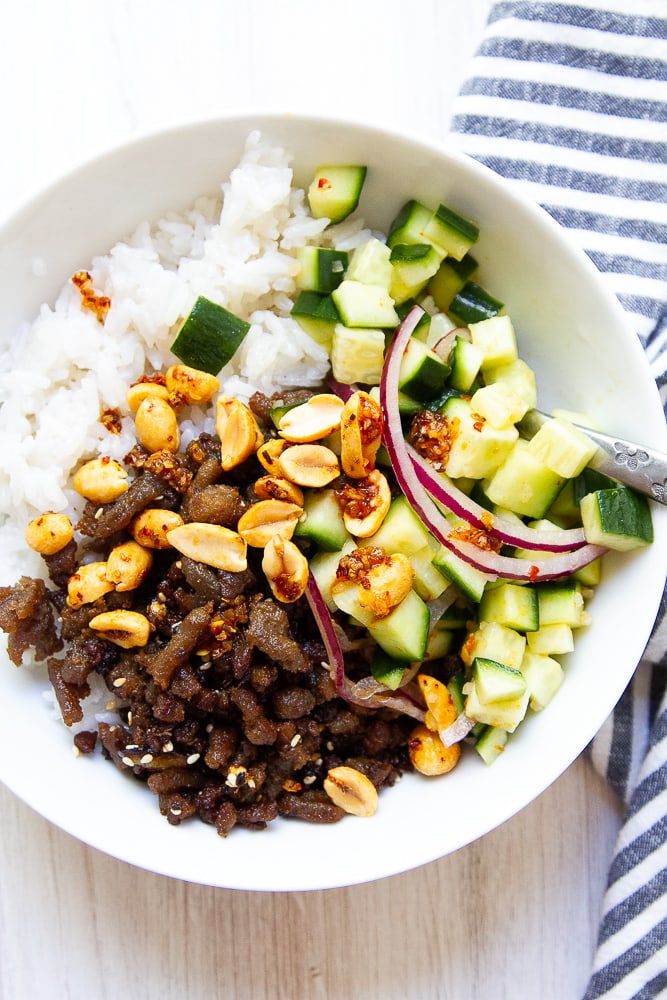 Special Diet Notes: Recipe is gluten and dairy, free. If you're avoiding rice, just make regular cauliflower rice or try Natalie's Roasted Cauliflower Rice and use coconut aminos to make it paleo friendly.
Prep Ahead: You can prep the marinated cucumbers 2 to 3 days in advance if you like.
Substitutions/Notes: Use ground chicken or beef in place of the turkey. The peanuts are a fun garnish, but cashews would be a good substitute.
WEDNESDAY:
30-Minute Sesame Ginger Broccoli Beef Stir Fry – Sesame Ginger Garlic Broccoli Beef Stir Fry is lightning quick to throw together any night of the week! This simple recipe requires straightforward ingredients and makes for a filling meal.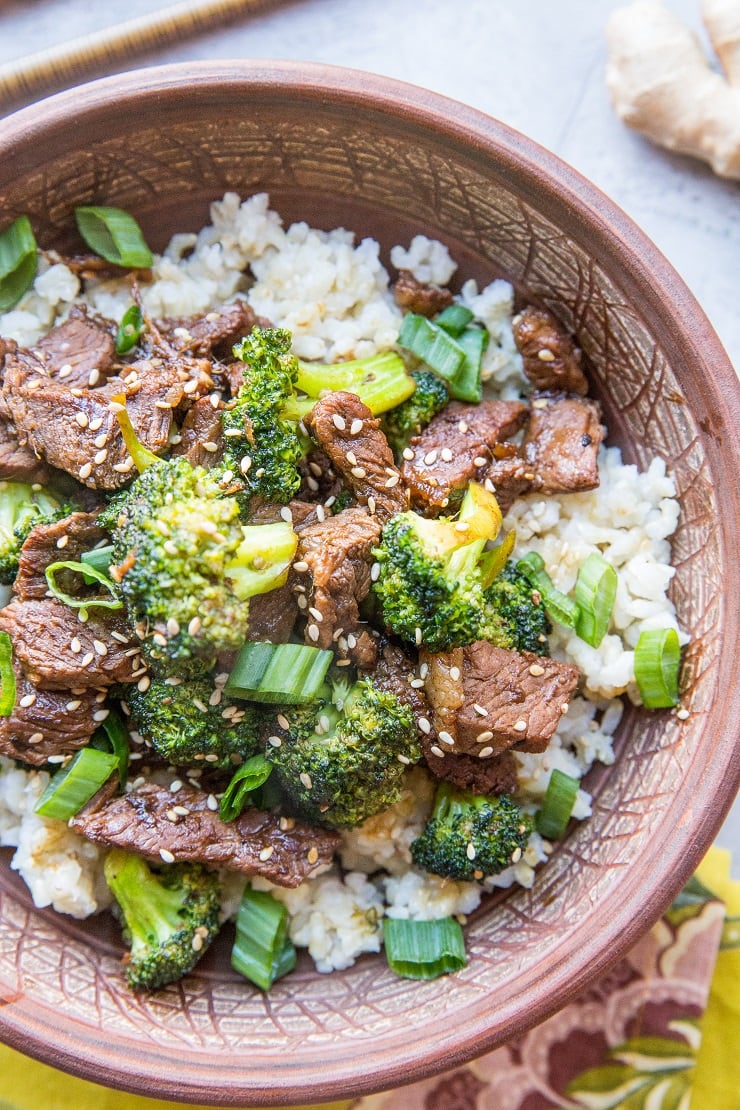 Special Diet Notes: Paleo, whole30, and low-carb (as long as you serve it with a low-carb side).
Prep Ahead: This healthy broccoli beef recipe comes together so fast, there's no need to do anything ahead of time!
Substitutions/Notes: Serve it up with coconut rice, cauliflower rice, or Kimchi Fried Rice. Add any veggies you like to the stir fry, such as zucchini, carrots, or bok choy.
THURSDAY:
Spaghetti Squash with Roasted Mushroom Sauce – Rich and creamy mushroom sauce swaddles perfectly cooked spaghetti squash for a delicious vegetarian meal.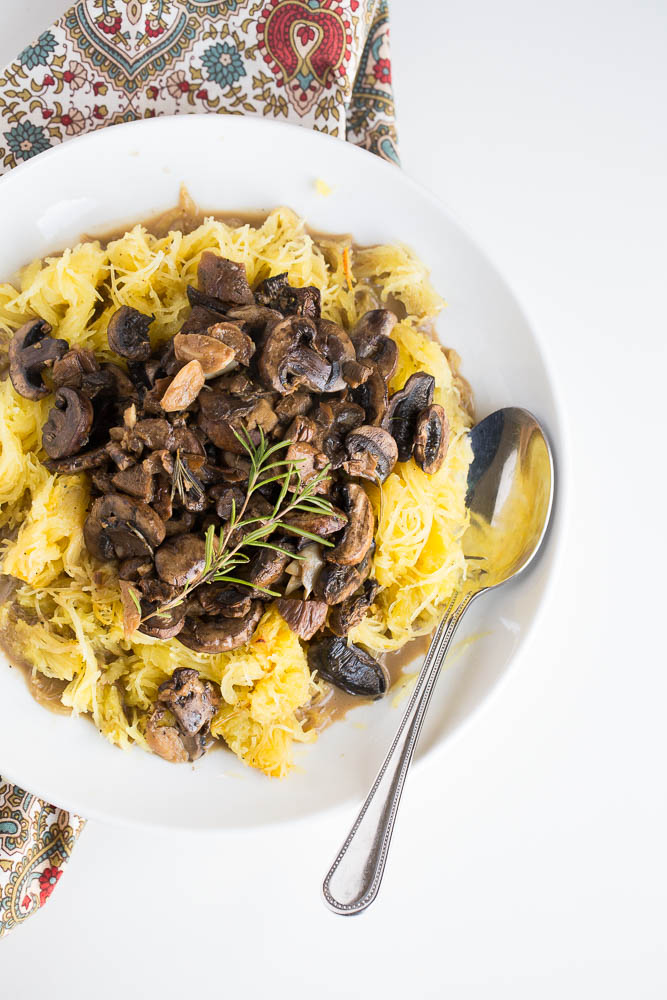 Special Diet Notes: Recipe is vegetarian, paleo friendly, and low carb.
Prep Ahead: No need to prep ahead.
Substitutions/Notes: If you can't find dried mushrooms, just replace them with 4-6 ounces of baby bella mushrooms.
FRIDAY:
30-Minute Paleo Mongolian Chicken – This simple recipe is loaded with flavor and can easily be made any night of the week. Make a double or triple batch to meal prep it!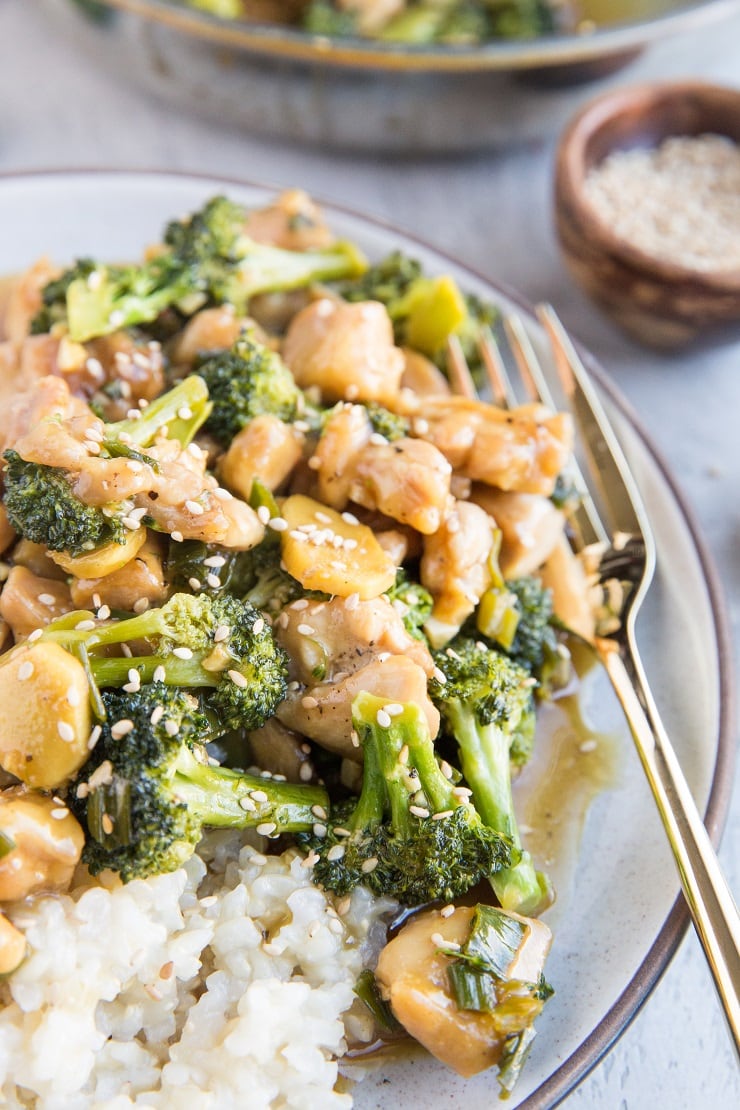 Special Diet Notes: This simple recipe is paleo, low-carb, and whole30
Prep Ahead: Because this recipe comes together so quickly, no advance prep is needed.
Substitutions/Notes: Swap the chicken for steak or ground turkey. Add any of your favorite veggies. Serve Mongolian chicken with your choice of side dish, such as steamed rice or vegetables.
DESSERT:
Homemade Peppermint Bark – This dark chocolate homemade peppermint bark recipe is easy to make, and I included an option to make it keto and dairy-free, too!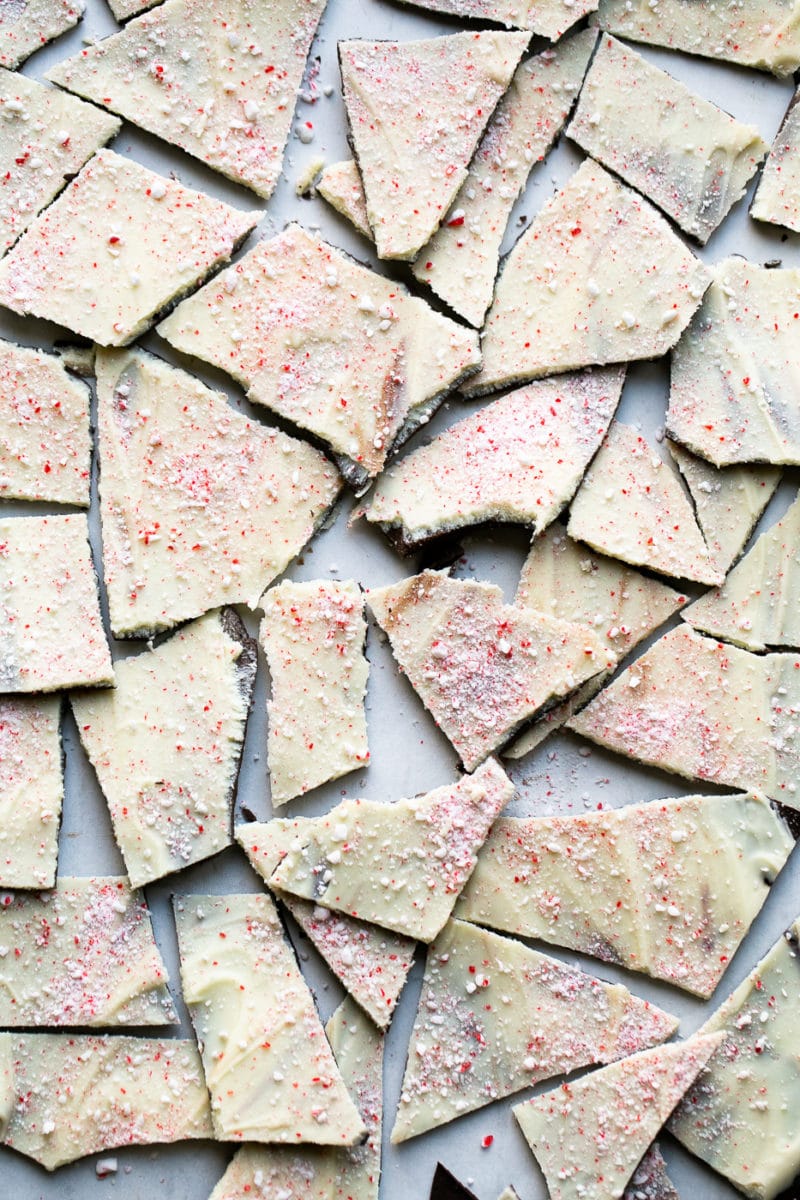 Special Diet Notes: Recipe can be made low carb and dairy free by using low carb and/or dairy free chocolate, like Lily's. The candy canes are fun, but if you'd rather omit them, feel free to.
Prep Ahead: Bark can be made a week or so in advance.
Substitutions/Notes: Chocolate bark is such a versatile treat! Try omitting the peppermint oil and topping a single layer of chocolate with chopped nuts, dried fruit, or your favorite holiday candy.
GROCERY LIST:
Click HERE to print this week's grocery list!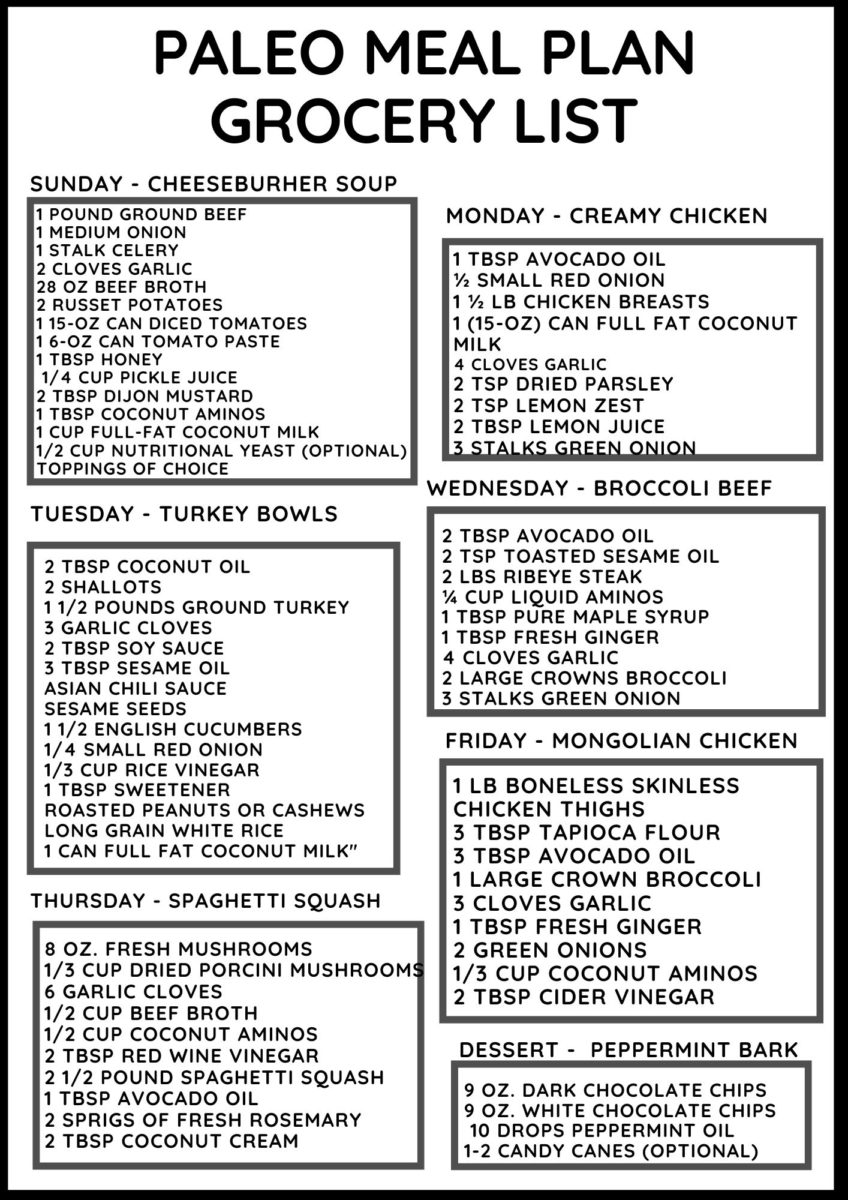 More Healthy Meal Plans:
Enjoy! xo